Do you know what a layered curly hairstyle can do to your curls? If you've never worn layers in your hair, then it's probably hard to envision the magic that occurs with just a few snips. Your hair might be weighing down your curls, pulling them into lank, limp shapes that make you feel blah about your coiffure. Eff that. You may need to see it to believe it, but once you do, you'll be clamoring for layers.
Layered Curly Hairstyles to Let Your Natural Curls Shine
Curly hairstyles with layers allow your curls to shine. Without layers, hair hangs heavy. It lacks shape, form, and definition. Your curls probably end up frizzy or wavy and lank. No one wants that. It makes you feel self-conscious about your beautiful spirals, but you should be showing them off and rejoicing that you have them. Here are nearly two dozen examples of how to show some love to your curly locks.
#1: Short, Spunky Layers
Layered curly hairstyles are fun because they always present an illusion. It's impossible to tell how long (or short) your hair is when it's curly. Adding short layers will thus introduce a variety of lengths. Some fall to your jaw, others brush your forehead, and still, others touch your shoulders.
#2: Long Layered Spirals
Longer layers add lift, bounce, and volume to your hair. You have more texture and variation, plus a snip here or there will take the weight off of your curls, allowing them to be springier.
#3: Body Waves
The layering in this hairstyle is subtle, but it lightens the load. The curls have more shape, which will give your locks lots of body. Look at that form and fullness—talk about hair envy!
#4: Movement and Length
The secret to movement when you have spiraled locks is to experiment with curly hairstyles with layers. That's one way to keep your curls long but not limp or shapeless. Otherwise, the weight of your curls can pull them flat, so although you have long hair, it will look limp and lifeless without some variation.
#5: Boho Lush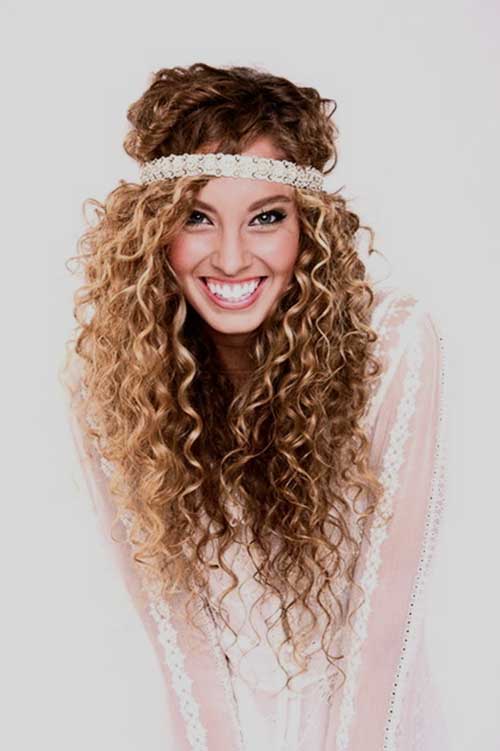 Wear it long, lush, and crazy curly to let your inner Bohemian goddess shine through. Notice how the shape of the hair, even with the headband, is full and even.