Do you know what a layered curly hairstyle can do to your curls? If you've never worn layers in your hair, then it's probably hard to envision the magic that occurs with just a few snips.
Your hair might be weighing down your curls, pulling them into lank, limp shapes that make you feel blah about your coiffure. Eff that. You may need to see it to believe it, but once you do, you'll be clamoring for layers.
Layered Curly Hairstyles
Curly hairstyles with layers allow your curls to shine. Without layers, hair hangs heavy. It lacks shape, form, and definition. Your curls probably end up frizzy or wavy and lank. No one wants that. It makes you feel self-conscious about your beautiful spirals, but you should be showing them off and rejoicing that you have them.
Here are some examples of how to show some love to your curly locks using layers.
1. Blonde Ombre Curly Hair
Whenever you want a look that gives your ringlets dimension, opt for a curly hairstyle with bangs and layers. Keep the mane in medium length and go for baby bangs, blonde highlights, and an ombre.
2. Short Curly Hair with Glasses
If you are tired of all those long detangling and washing procedures, it's time to try something new: a short layered curly hair. Get a shot bob and style a fabulous sombre that will perfectly match your rounded glasses.
3. Medium Curly Black Hair
When your hair is in between, not too curly and not wavy, a medium layered curl hairstyle is the best choice. The hairdo will maintain the volume, and it will make the layers beautifully fall one over each other.
4. Long Layered Curly Hair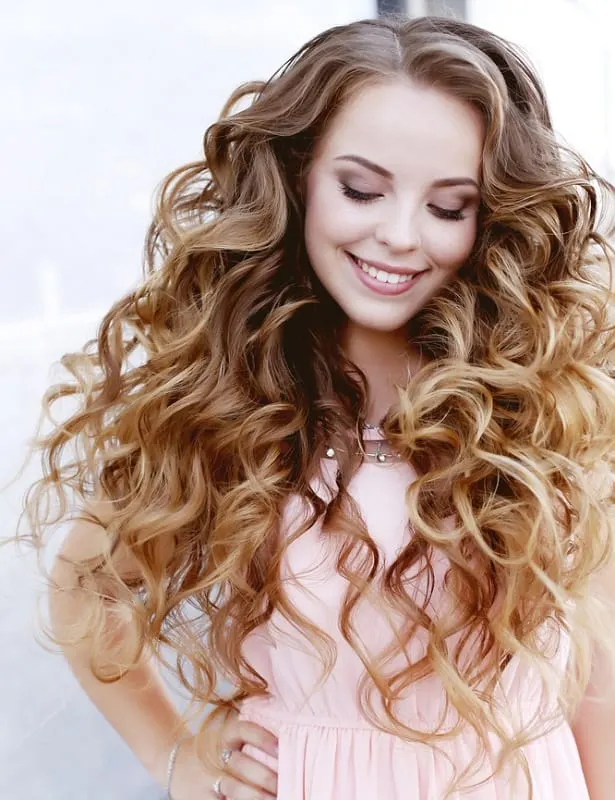 There's no such thing as too much volume, and the image above can prove it. If you have thick long hair, go for a sombre that will make your mane look sun-kissed and a long layered curly hairstyle to obtain that princess look.
5. Bouncy Long Layered Curly Hairstyle
A layered haircut for thick curly hair will not only make your hair beautifully fall on your back and shoulders, but will also define your waves and ringlets. They will gain movement and keep their bounce.
6. Layered African American Curly Hair
Because your hair is so dense, if you go for a blunt cut, you will obtain that most hated triangle-shaped mane. You definitely want to avoid that, so ask your hairstylist for choppy layers on curly hair. They will look amazing on your coils.
7. Auburn Layered Curly Hair
Face framing layers on curly hair do such a great job, especially when you have thick and voluminous hair. Define the curls with your favorite products and wear your bangs on one side.
8. Layered Natural Hair
Layered natural curly hair simply arranges by itself. If you need to give your African-American coils some bounce and better definition, use your favorite jam, and you won't need to worry about your hair the whole day.
9. Shaggy Blonde Layered Curly Hairstyle
Your hair never gets a gorgeous shape, and you are out of ideas on styling it? Try shaggy layers on curly hair, and you will immediately see the difference. Say bye-bye to those unruly locks!
10. Layered Curly Hair with Highlights
If you are out of ideas when getting a hairdo, a layered curly hair with highlights will give each ringlet bounce, and they will mesmerizingly fall on your back. Define the curls with some dark blonde highlights, and they will shine so bright.
11. Short Red Layered Curls
Layered red curly hair can look astonishing in all lengths, but if you want the change to be as dramatic as it can, go for a bob hair cut with bangs tossed on one side. You will look fierce and elegant at the same time!
12. Blonde Gray Layered Curly Hairstyle
No wonder that silver locks are so popular right now! When you want to give your mane that marvelous modern metallic touch, opt for a sombre that keeps the roots in a sandy blonde hue and transits to a gorgeous gray hair.
13. Short, Spunky Layers
Layered curly hair is fun because they always present an illusion. It's impossible to tell how long (or short) your hair is when it's curly. Adding short layers will thus introduce a variety of lengths. Some fall to your jaw, others brush your forehead, and still, others touch your shoulders.
14. Long Layered Spirals
Longer layers add lift, bounce, and volume to your hair. You have more texture and variation, plus a snip here or there will take the weight off of your curls, allowing them to be springier.
15. Body Waves
The layering in this hairstyle is subtle, but it lightens the load. The curls have more shape, which will give your locks lots of body. Look at that form and fullness—talk about hair envy!
16. Movement and Length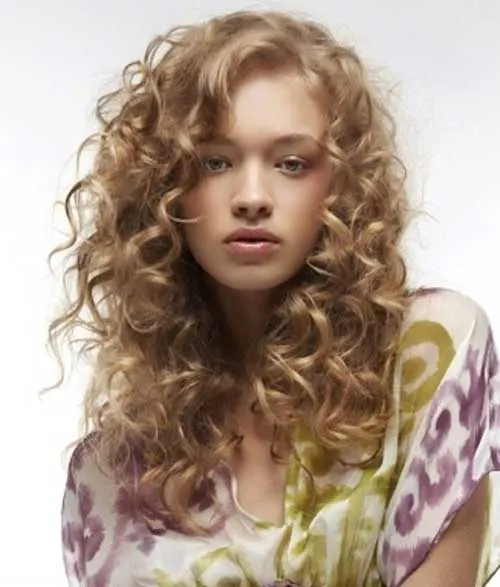 The secret to movement when you have spiraled locks is to experiment with curly hairstyles with layers. That's one way to keep your curls long but not limp or shapeless.
Otherwise, the weight of your curls can pull them flat, so although you have long hair, it will look limp and lifeless without some variation.
17. Boho Lush
Wear it long, lush, and crazy curly to let your inner Bohemian goddess shine through. Notice how the shape of the hair, even with the headband, is full and even.
18. Tousled to Death
Tousled curls always look sexy. Maintain a signature bedhead coif by keeping your curls short, and your layers shagged. Consider the bangs as the first layer and use them as a guide.
Layered Vs. Non-Layered Curly Hair
19. Retro Curls
Eager for a head covered with full, lush curls? Opt for a layered curly hair with a retro skew. Short layers and styling products that are specifically designed for curls will help you pull off the look. Try to let your hair dry naturally whenever possible, as well.
20. Side Parted
With straight hair, layers can affect how you part your hair because it can run the risk of appearing uneven if you part it in a different direction than the one in which it was cut. That's never a worry with curry layers. Change your part on the daily; your layers will never look uneven.
21. Come Out Swinging
You gotta love it when you see a photo of a hairstyle, and you can see the movement in it. These curls have layers all the way down. That's why you can tell that they will swing and bounce each time the model moves. That's what you want, curly ladies.
22. Volume to Spare
One of the primary reasons to ask your stylist for a curly layered haircut is that it's a foolproof way to get volume without a lot of products. Layered curls automatically have lift. However, you won't need to spray on an entire can of hairspray to keep them sky high.
23. Extreme Layers
It's rare to even see the layers in a curly coif. When they're visible, it's on purpose. It's a statement. Beyond that, extreme layers are ideal for extremely long hair—again, you have to lighten the load.
24. Short and Sassy
This cut has layers hiding everywhere—and they're uneven! Anytime you're in the market for an edgy haircut; uneven layers are the way to go. That creates a perpetual bedhead appearance that makes styling a breeze.
25. Romantic Curls
Layers truly are essential for long spiraled curls. You don't want them to lose their shape or become frizzy. While an excellent hair care regimen is also necessary, you can't underestimate the importance of a layered curly haircut that results in shape, movement, and a smooth, silky texture.
26. Stacked Layers
Look close, and you'll spot three primary levels of layers in this cut. The shortest layer is right below the crown, then there's a mid-length layer, and finally one near the ends.
Taking this approach will make things easier when you're ready to grow out your hair—the layers won't take forever to catch up to each other.
27. Shoulder Length Curls
Without layers, a hairstyle such as this one would be heavy, limp, and boring. The layers make the curls full and bouncy. Look—you could stack coins in those beauties.
28. An '80s Attack
Crispy curls were ubiquitous in the '80s and '90s, but this full, textured cut still has some pull. Try to go with a more flexible styling product, though—that alone will help you avoid the crispiness.
29. Curly Cascade
Naturally curly hair with layers is always the way to go. Your natural curls need help to live up to their full potential. See how high the shortest layers begin? That's how you end up with lush, voluminous curls no matter what the texture.
30. Beach Waves
Wavy hair is the bee's knees, but if you're not careful, the length and weight of your hair can pull the shape right out of them. You can request layers without losing any of your length. However, if you want to try to turn your waves into curls, then shorter layers are the answer.
Mixing straight hair with curls is an interesting way to go. The combination is eye-catching, and the juxtaposition will add a fresh aspect to your everyday look. Your shortest layer will be about the same level as your bangs.
32. Lion's Mane
If you want to put the spotlight on your spirals, then this is the layered curly hairstyle for you. A series of layers make coiled curls springy and bouncy. You won't even need any products to get out-of-this-world volume.
33. Layered Lob
Take your wavy locks to the next level by chopping them short. A lob like this one, a layered bob, will make both waves and curls more pronounced. Gotta love the tousle, too.
34. Mid-Length Layers
Medium-length hair can come off as boring and blah, even if it's curly, coily, or kinky. Placing a few layers will make your curls more defined. They move, have texture, and look healthier.
35. Flawless Coils
There's nothing prettier than a curly layered haircut with flawless curls that spiral down. The flow here is perfection. With a cut like this, the side part is genuinely all you need to create volume.
You have to take care of your curls. Everyone you know is secretly envious of them, so show them off to their best advantage with a layered curly hairstyle that flatters your features and your hair type.