Thick hair is considered to be one of the most difficult types of hair to manage when it comes to hair cutting and styling. From long hours of blow-drying to detangling the strands until the comb starts breaking.
After many struggles of taming thick hair, nothing seems right except chopping them off without knowing the right kind of haircut that would look good according to the face shape. However, having thick hair isn't a bad thing, but getting the wrong haircut will definitely kill the right adjustments the hair needs to survive in.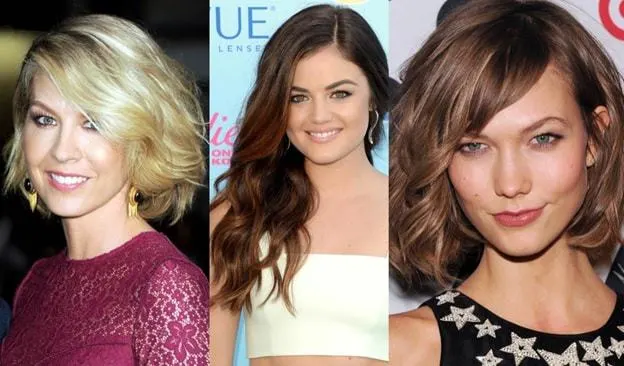 So, to bring an exceptionally classy look too thick hair; a layered haircut would just do the right job to bring an effortless, natural-looking finish to the hair. Here are 50 types of layered haircuts that are perfect for thick hair.
Popular Layered Haircuts for Thick Hair
Thick hair can also be managed and styled in no time if you pick the perfect haircut. Here are some popular layered haircuts that will intensify the beauty of your thick hair.
1. Blended long layers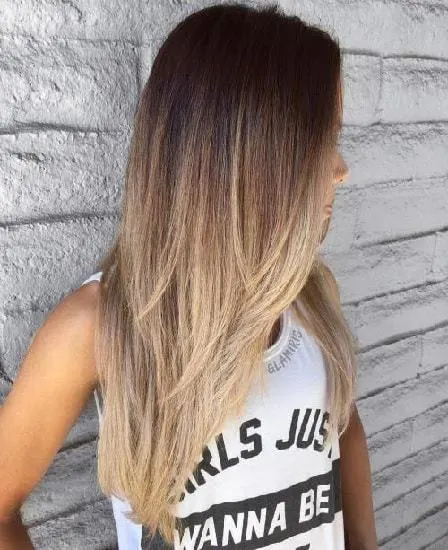 This is perfect for weighing down thick hair for more of a natural blend with layers at the end to reduce the heaviness. It would perfectly go with straight long hair and create a gorgeous overall look for any day.
2. Swoopy collarbone bob layers
Bob haircut is quite the new trend in town and is just the right cut for shoulder length hair. Adding in some layers would give more volume to the hair and a very modern look to the face.
3. Stacked bob haircut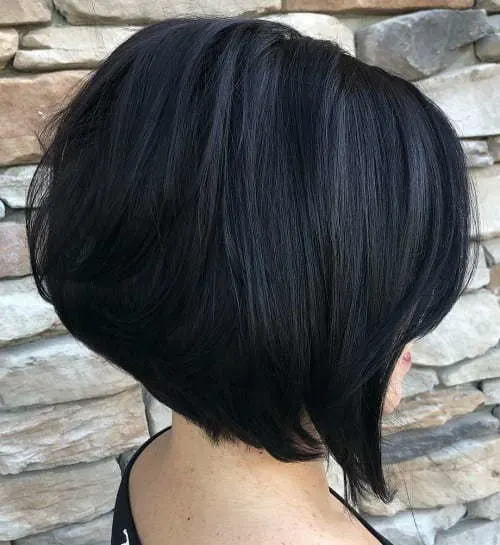 Another form of a bob haircut is having them cut in stacked layers. This is for having more of a sleeker look with sharp structure and shape. This would go well with above the shoulder length hair with side-swept bangs in the front.
4. Thick, long and luscious waves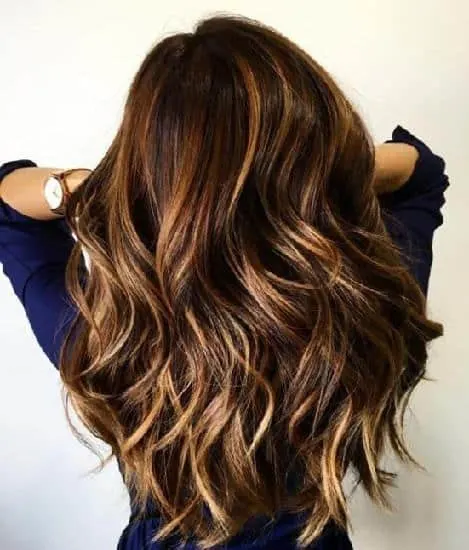 In order to have the perfect balance between thickness and longer length, adding in layers that create waves would be the right thing to do. The hair would become lighter in weight and would create more bounce towards the end of the hair.
5. Fancy Angled cut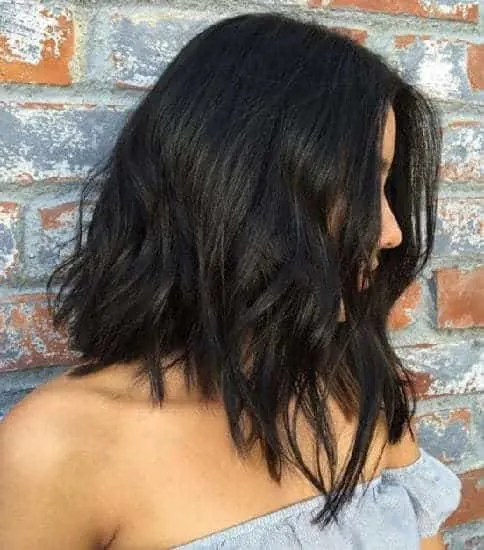 Now, this is one of the most popular haircuts that everyone desires but is too afraid to go with. For those who don't like much shorter hair and prefer keeping the length longer can go for this angled haircut. The hair is cut in such a way that as the hair comes forward it is longer towards the face, which gives the face more frame and layers in the front.
Some don't like showing big foreheads or prefer looking younger than the actual age, so keeping long layers with blunt bangs would do wonders of hiding and giving the face more frame to work with.
Curly hair is the most difficult to manage, especially if its short and the hair is voluminous and frizzy. To tame down the frizz and to give the hair more life, adding in levels of layers would solve the problem and let the hair fall gently over the shoulders.
8. Layered V-cut
This is the most demanded layered haircut for very long, straight hair. Not only does it create a beautiful frame to the face, but it gives more movement to the hair when properly styled.
9. Rippling layers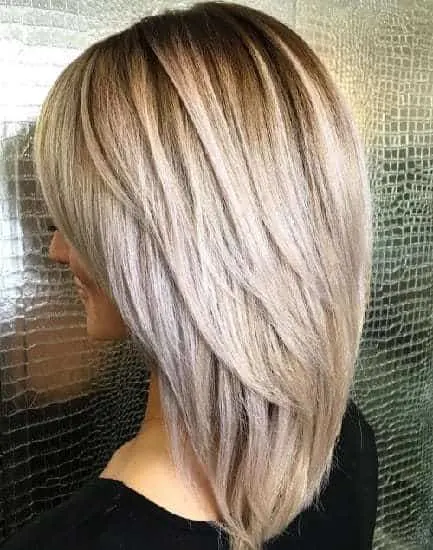 This is for medium length straight hair. Almost the same as the layered V-cut, it gives the hair wonderful texture that well defines each layer with a ripple effect.
To create that perfect frame for the face and dramatic flicks in the hair; adding some layers with side-swept bangs would give an overall graceful look to the face. This is the best option to go for if the hair is medium-length and needs not to be styled every day.
11. Messy Blonde Ginger Hair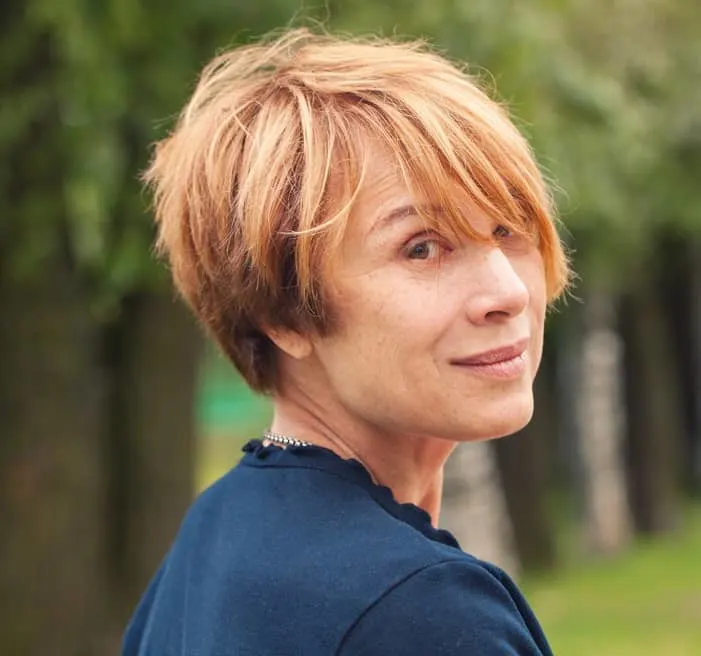 A layered pixie haircut will flatter any older woman with thick hair. If you want to make a powerful impression and to express your personality, you can opt for a blonde ginger color that will marvelously suit your fair skin with pink undertones.
12. Low Ponytail with Scarf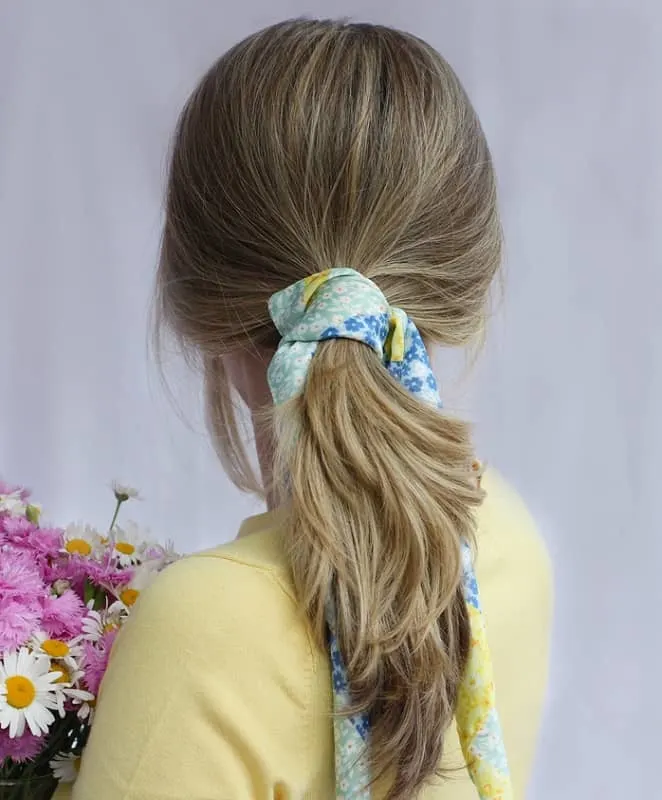 Long thick straight hair with layers looks gorgeous however you choose to style it. Opt for an ashy blonde color with very thin highlights and pin it in a low ponytail. Tie it with a colored scarf.
13. Dark Brown Bob
This chin-length layered haircut is perfect for those lucky ladies who have thick hair. You can tousle it just a little to get a slightly messy look and toss your bangs on one side.
14. Burgundy Ginger Ombre
Go for a medium length layered haircut for thick hair and opt for a burgundy ginger ombre that will make you look fierce and so damn hot. Create short rounded bangs that will look flawless on the forehead and create some waves to the tips.
15. Pink Highlights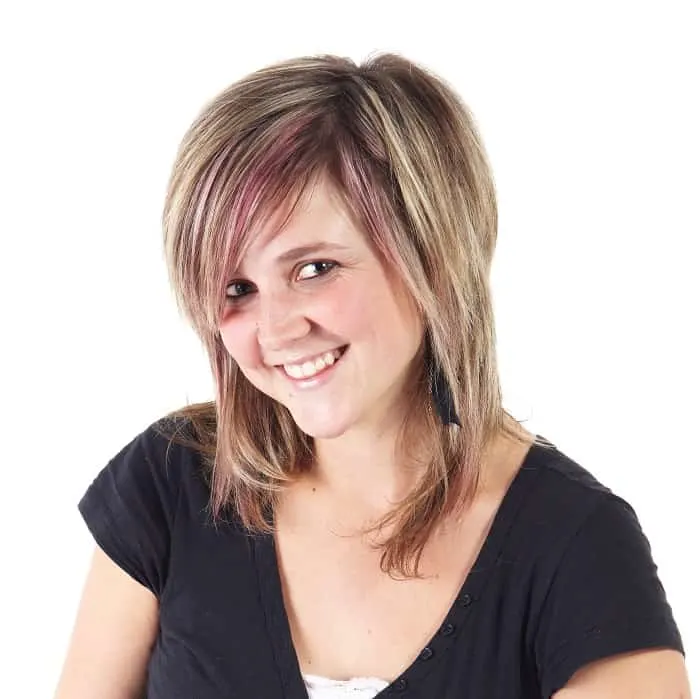 Go for choppy layers and blonde highlights if you want to gain more texture for that marvelous thick hair. For your bangs, you can add a pinch of color and style just a few pale purple highlights.
16. Boyish Mauve Hair
Short thick hair with layers can provide a fabulous tomboy look for all those girls who love a more masculine hairdo. Opt for a fade and a quiff and dye your hair in a mauve color.
17. Toffee Blonde Bun
First, you need to pick a gorgeous blonde color that will represent you and we encourage you to go for a Toffee nuance. Roll your bangs and pin them in a messy low bun in the nape area. You can pull off a few thin strands and let them carefully fall.
18. One Sided Braid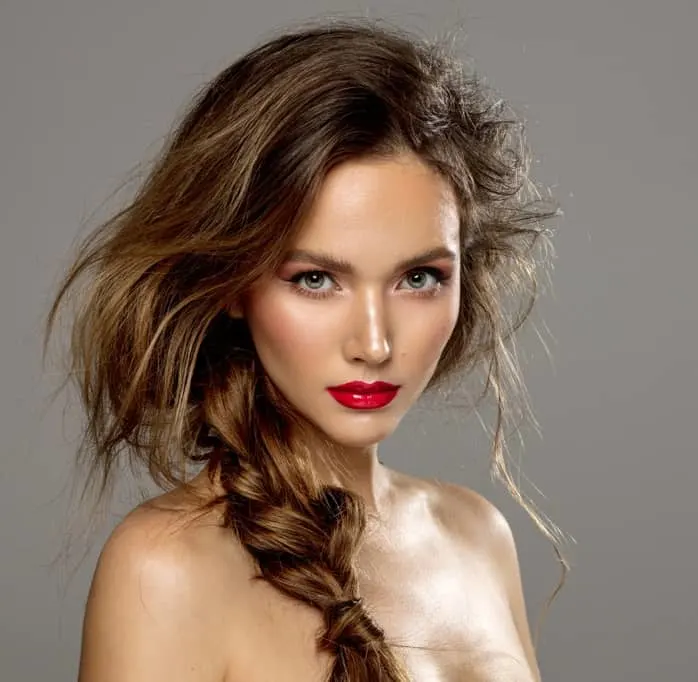 This glowing brown hair looks so sexy on women with blue eyes. If you suit this pattern, highly tousle your hair and gather it all on one side, creating a braid. To secure the hairdo, use a strand of hair and wrap it at the ends.
19. Curly Bun Updo
If you are one of those women who are blessed with thick curly hair, a top bun will make your face look elongated, and the updo will have a lot of volume.
20. Layered Long Hair with Highlights
A feathered layered haircut will make any thick hair look like you had a thousand dollars makeover. You can mix some blonde highlights with a warm brown shade for the base and the outcome will be spectacular.
21. Side Swept Pixie Bob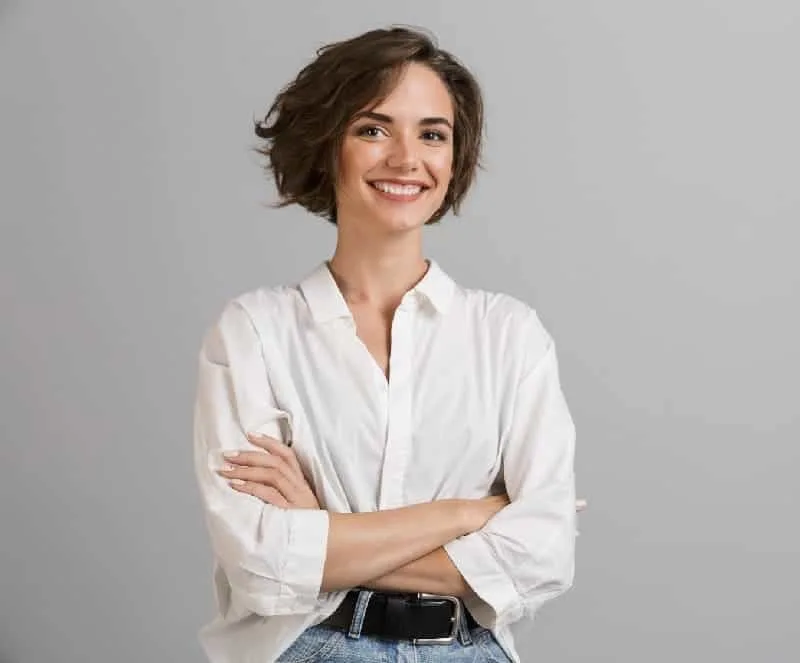 Pixie bobs will not only make you feel elegant and glamorous but they are low maintenance hairstyles that you must try at least once. Wear your bangs on one side and create simple loose waves.
22. Textured Lose Curls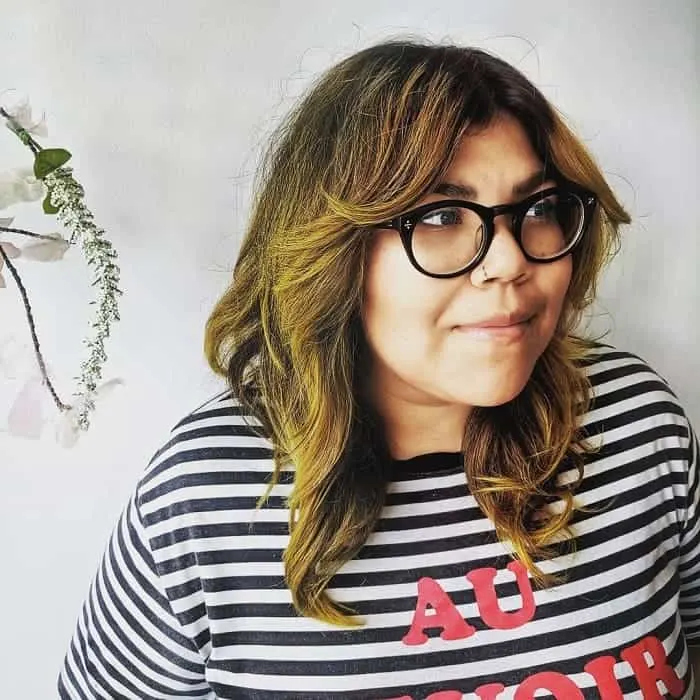 On your dark hair basis, style thin yellow highlights that will give a mind-blowing texture to your hair. Go for a middle section and some curtain bangs, and if you want better definition, create just a few curls or waves.
23. Asian Hair with Wispy Bangs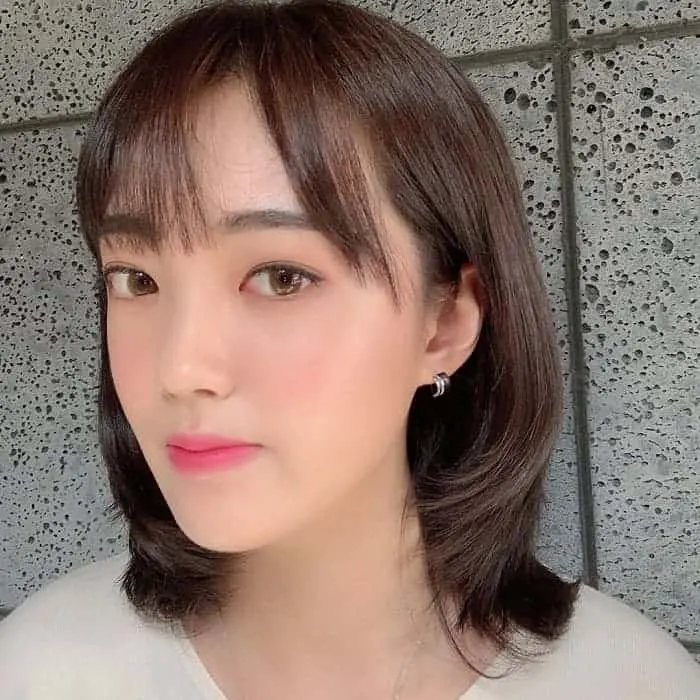 Wispy bangs are quite trendy, and you can beautifully arrange them on your forehead. Get a medium haircut, a layered bob if you want to define the tips.
24. Honey Blonde Balayage
When you have such thick long hair, your styling options are quite vast. Layer it and ask your colorist to create a great transition from a brown shade to a warm honey nuance. A balayage will work like a charm on you.
25. Long Curly Hair with Straight Bangs
Go for straight blunt cut bangs that cover your eyebrows and create layers for that long thick mane. Build full curls using a diffuser, and you'll have a whole new mind-blowing look.
26. Elegant Pixie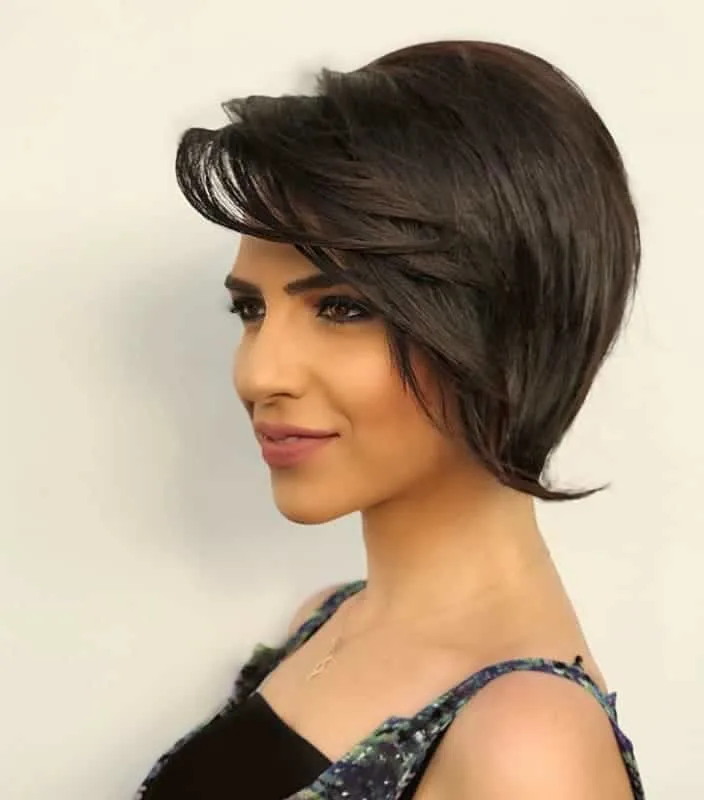 A long pixie can look unexpectedly elegant, and if you use some setting spray, you can build up voluminous bangs that will instantly transform you into the queen of the night. Get ready to have all eyes on you.
27. Chocolate Blonde Ombre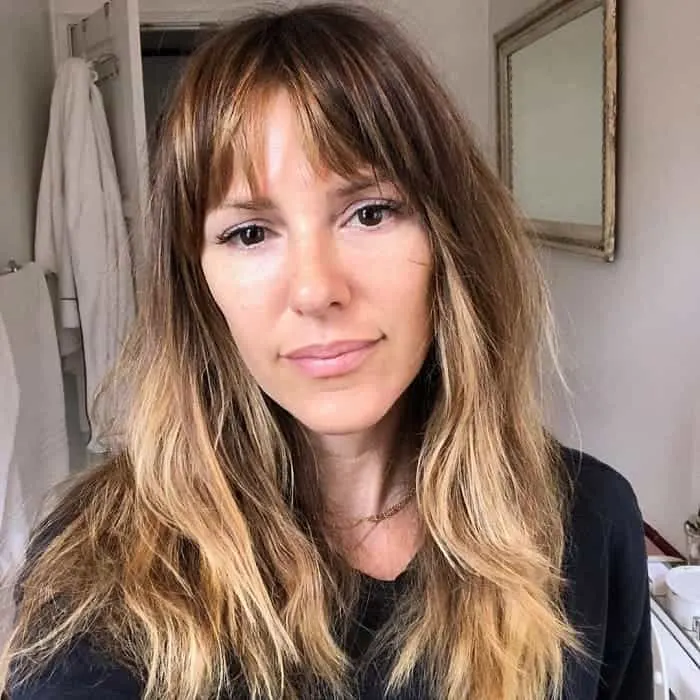 A chocolate blonde ombre will look fabulous on thick hair, especially if you have layers that will provide even more volume. If you want that messy effect, tousle your hair, and you will look incredibly chic.
28. Straight Layered Hair with Bangs
When you want a flawless straight hair, you have to admit that the straightening iron is your best friend. Use it on your medium hair and if you have a large forehead, get a fringe that you can easily toss on one side.
29. Long Highlighted Hair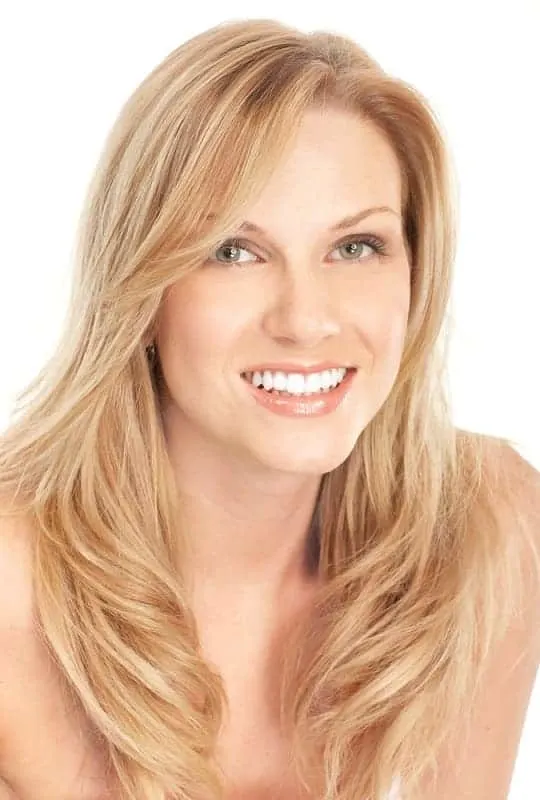 Opt for a mix of buttery and honey blonde colors on this long thick hair if you want a mane that matches that perfect white skin. If you have blue or green eyes, they will capture everyone's attention.
30. Platinum Blonde Pixie Cut
Opt for a platinum blonde pixie haircut if you want to look fabulous. Your thick hair will build a stunning fringe and if you wish for great contrast, maintain your eyebrows in their dark natural color.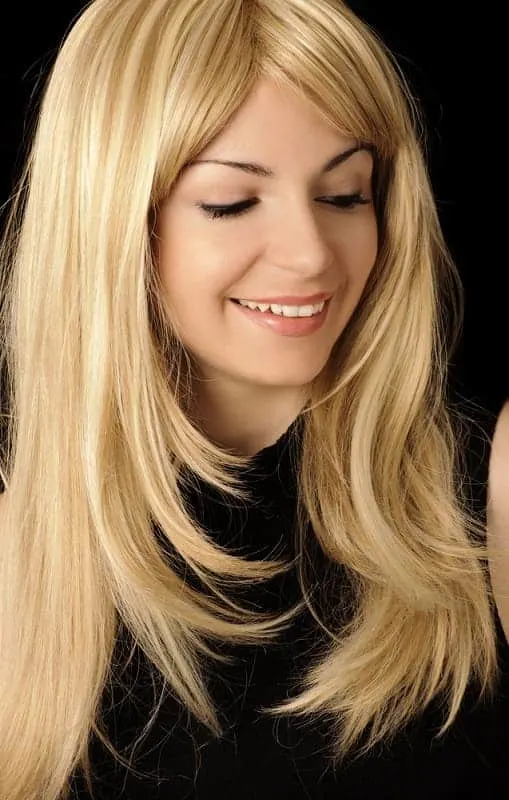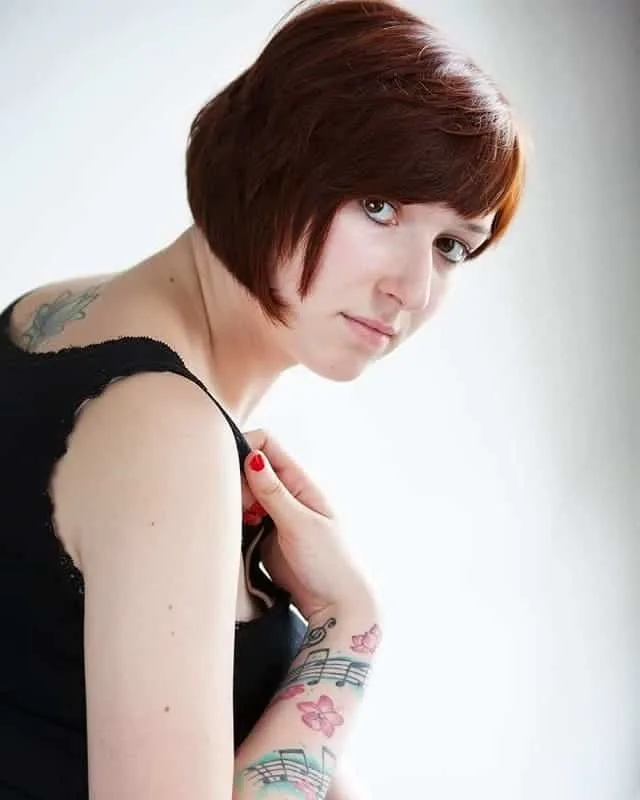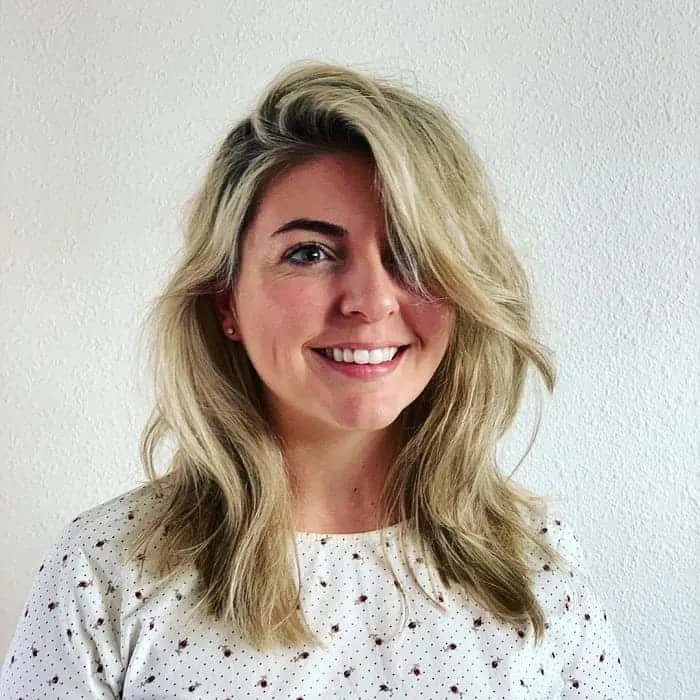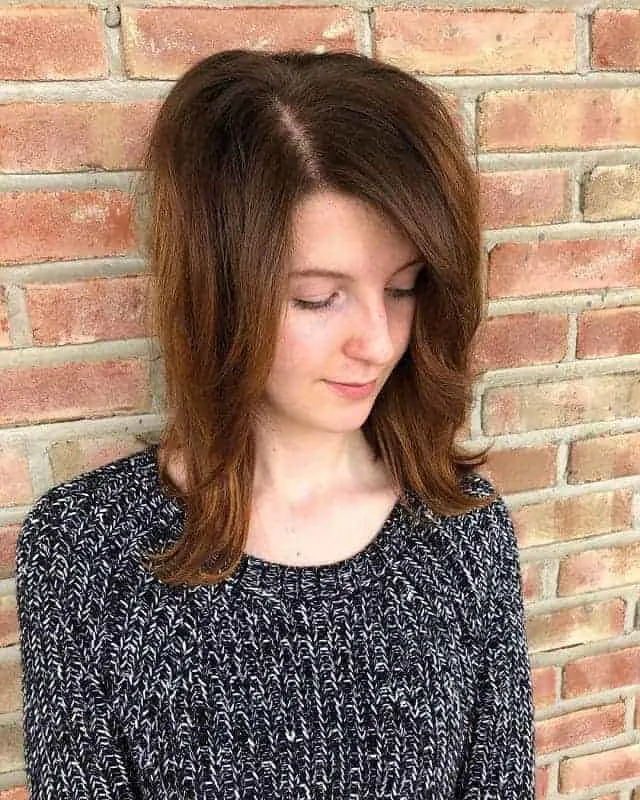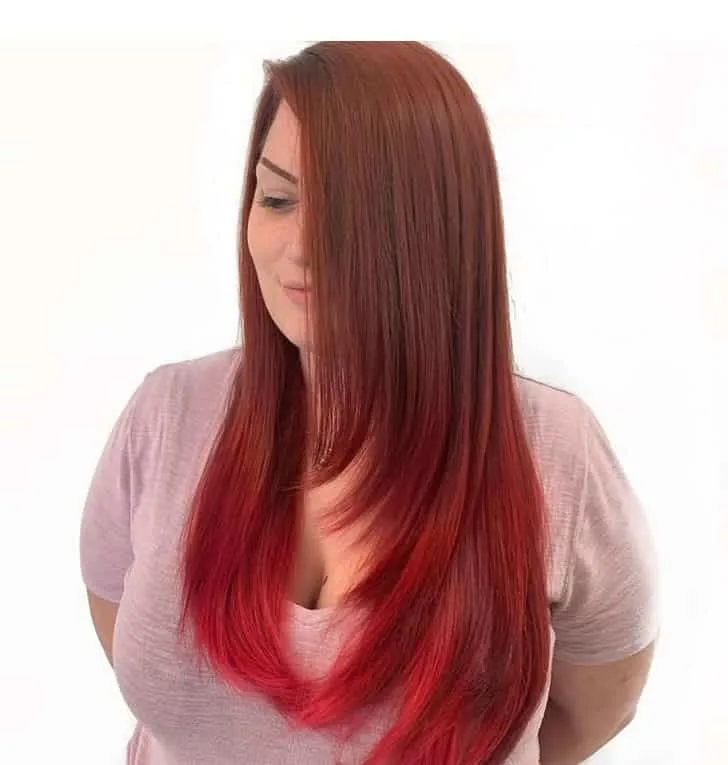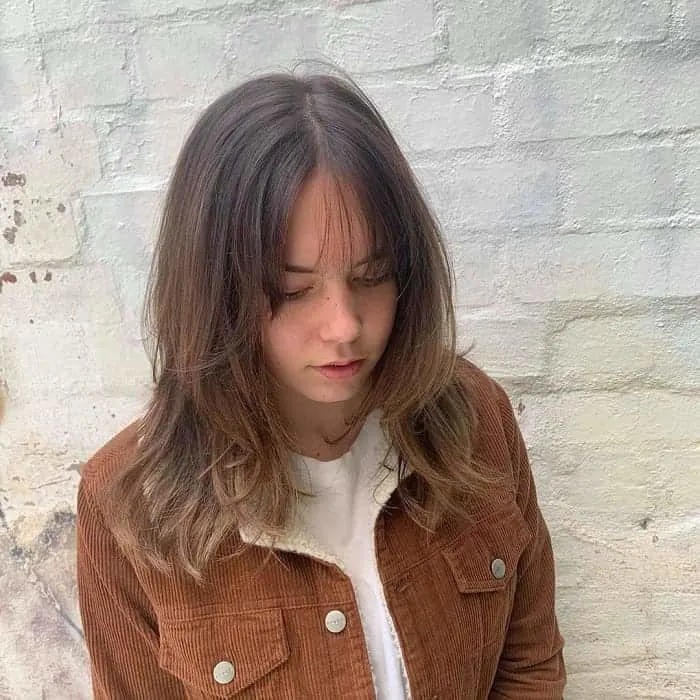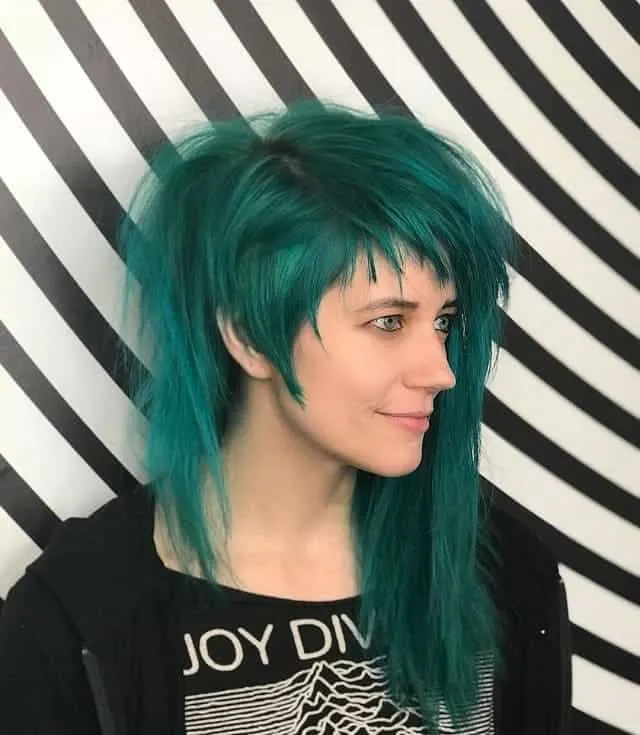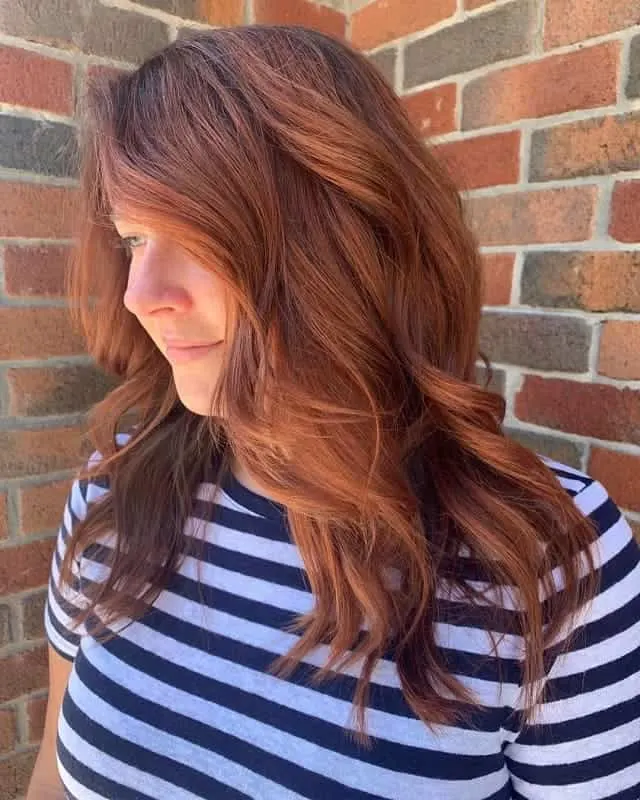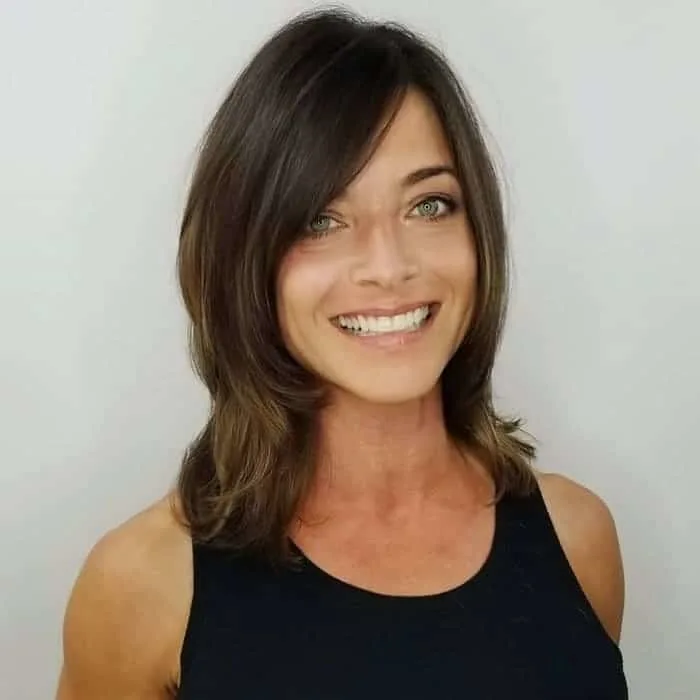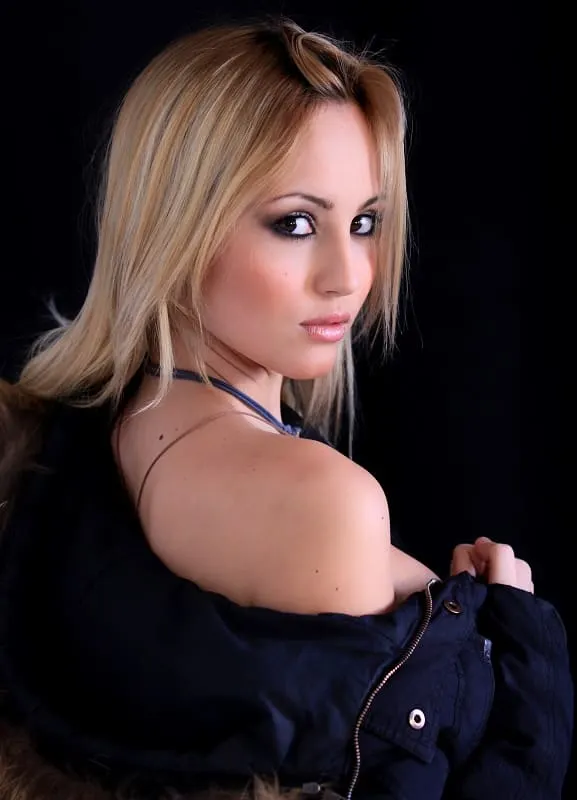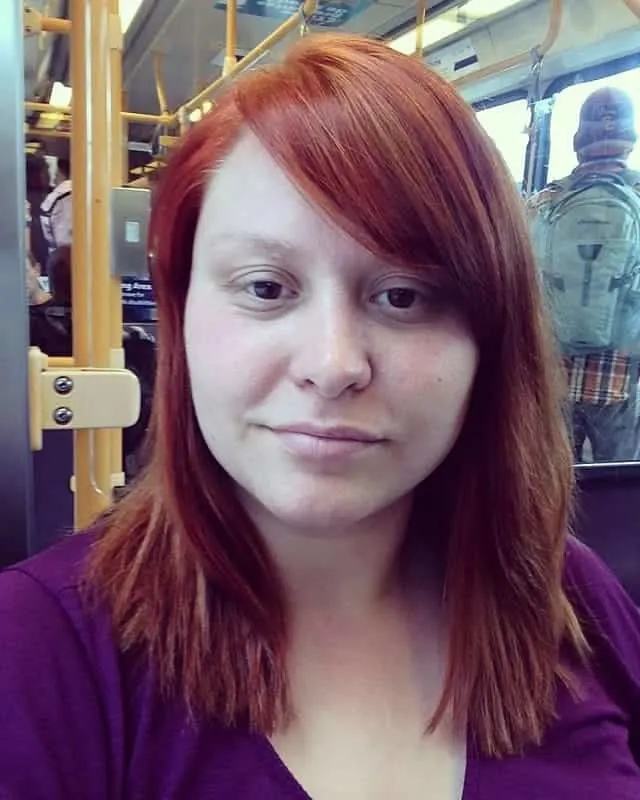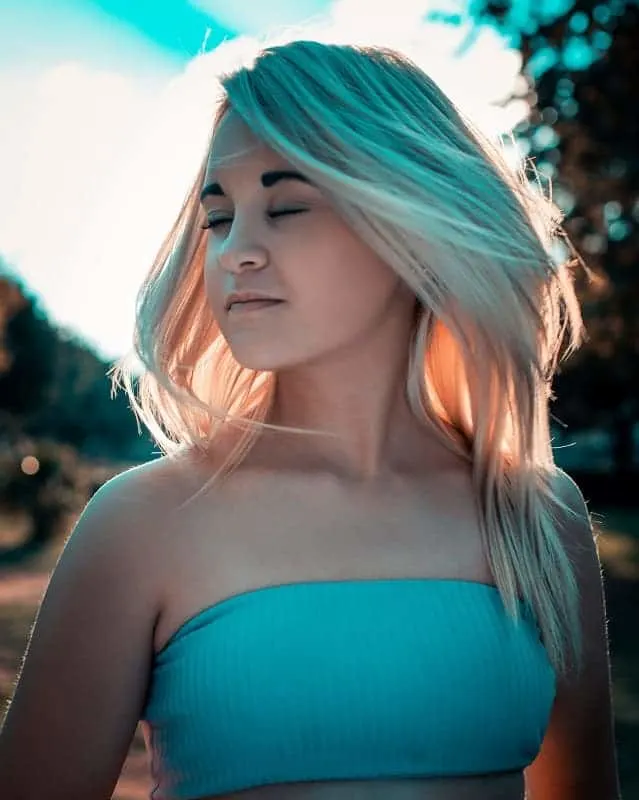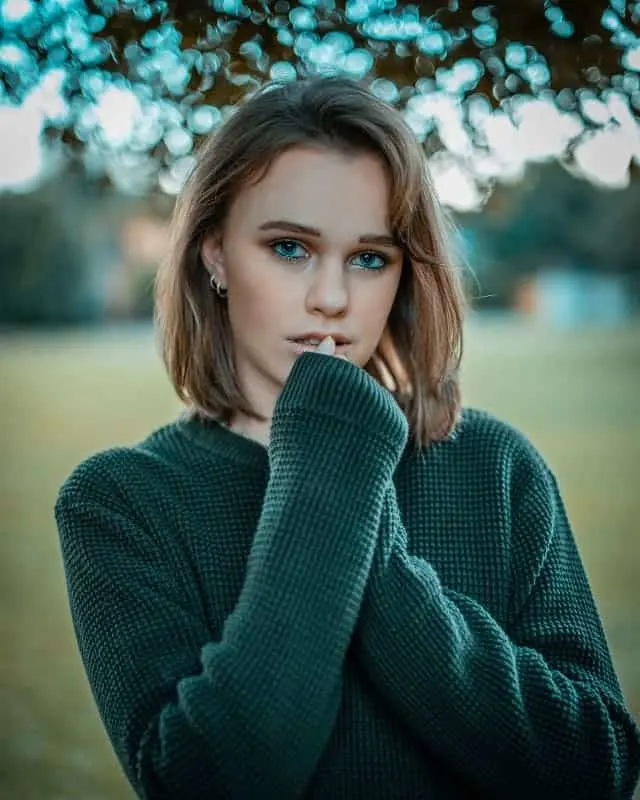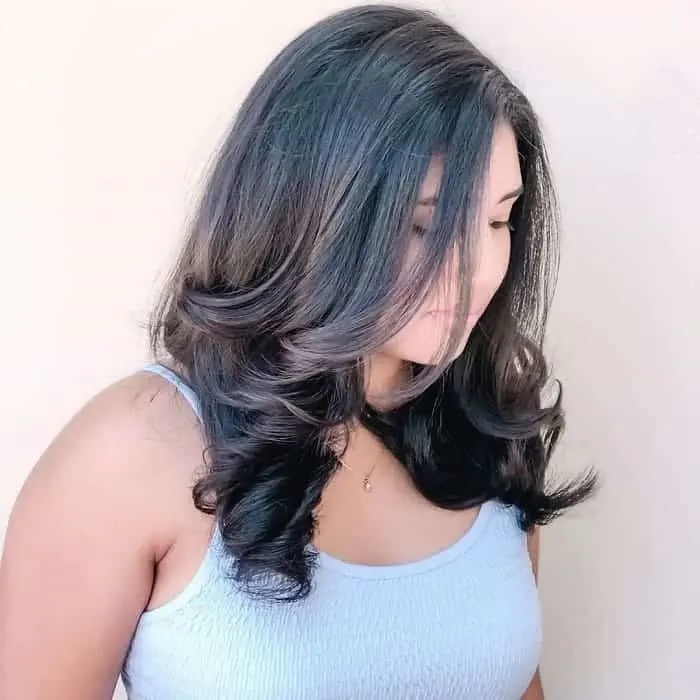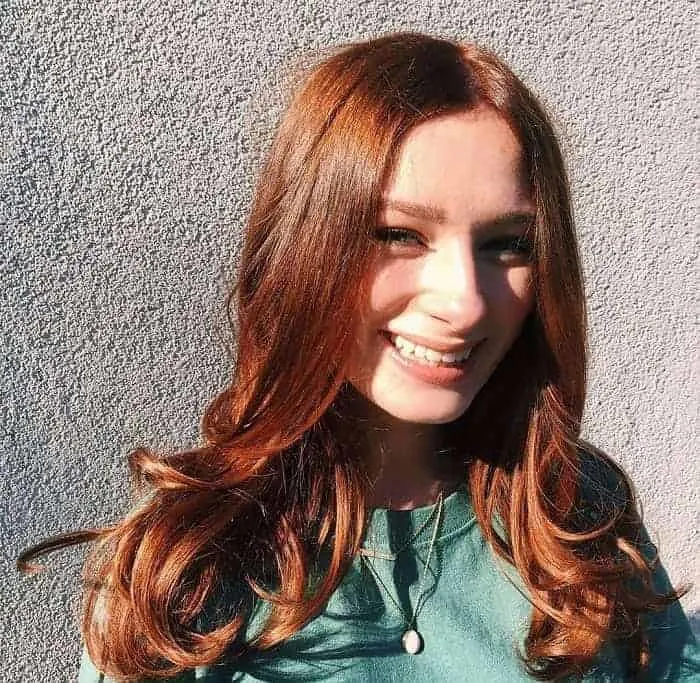 There's a whole lot of variety when it comes to layer haircuts for thicker hair, from long wavy layers to shorter bob or lob haircuts. This all depends on the right lengths, and a number of layers cut in the hair and the right type of framing with front bangs along with point-cut ends if needed.