Many women over 50 with glasses fall into a rut of thinking they need to cut their hair short just because they're older. However, age is no longer as big of a factor when it comes to how you wear your hair.
In fact, if your goal is a haircut that makes you feel youthful, then you need to consider a layered hairstyle.
No matter what type of hair you have, adding layers is one of the easiest ways to give it structure and shape. If you have thin hair, layers will make it look thicker.
On the other hand, if you have thick hair, layers can take the bulk out and make it easier to style. Bonus: layers are great for flattering glasses!
Sophisticated Layered Hairstyles for Over 50 with Glasses
After seeing our list of the best-layered hairstyles for women over 50 who wear glasses, your hair woes will disappear!
1. Wavy Hair Swept Back
One of the easiest ways to give long hairstyle layers is by loading the ends up with large waves. Then use your fingers to work in a little mousse, sweeping the hair back from your face.
If your glasses are round, the swooped waves in this hairstyle will flatter the shape.
2. Straight with Long Layers
Whether your hair is naturally straight or you're fine giving your hair a blowout every day to make it straight, adding layers will help you create a sleek hairstyle.
Aim the blowdryer outward so the layers are swooped to flatter your half-rim glasses.
3. Wavy Hair with Side Parted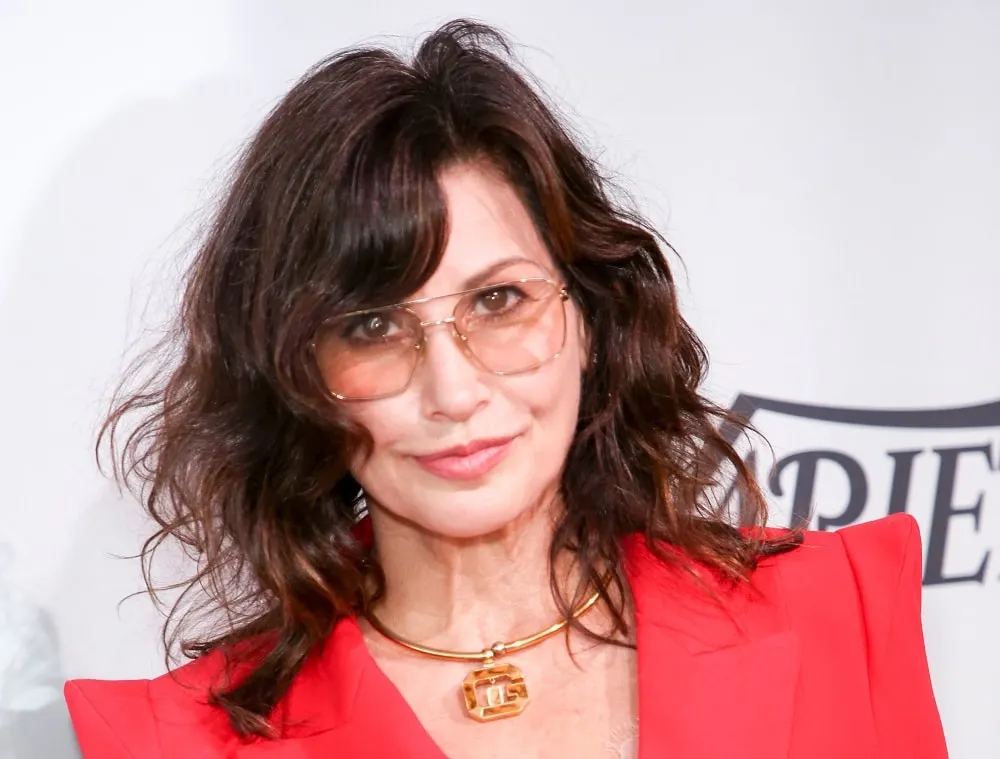 Feel youthful again with soft waves cascading in your hair. A shoulder-length haircut with a simple side part is a manageable length for any woman over 50.
These gold full-rimmed geometric glasses complement a rich dark brown hair color.
4. Thick Hair with Side Bangs
Are you struggling to style your thick hair? Ask your stylist to add in long layers to take the bulk out. You can even add a bang to soften the style.
You can wear cat eyeglasses with a side bang and color your hair golden blonde. It will instantly make you look at least 10 years younger.
5. Shaggy Straight Layers
For an edgier layered hairstyle, straighten your hair and create a spiky texture by using your fingers and a bit of product to shape your hair.
These short shaggy layered bob stand out with a mix of calico colors, as well.
6. Short Thin Layers with Parted Side
For women over 50 whose hair is thin and mostly straight, we recommend going short above the shoulders.
Lots of short layers will give your hair structure and shape, and a side part is all the styling you need. If you have a slender face, opt for rectangular glasses.
7. Wavy Feathered Hair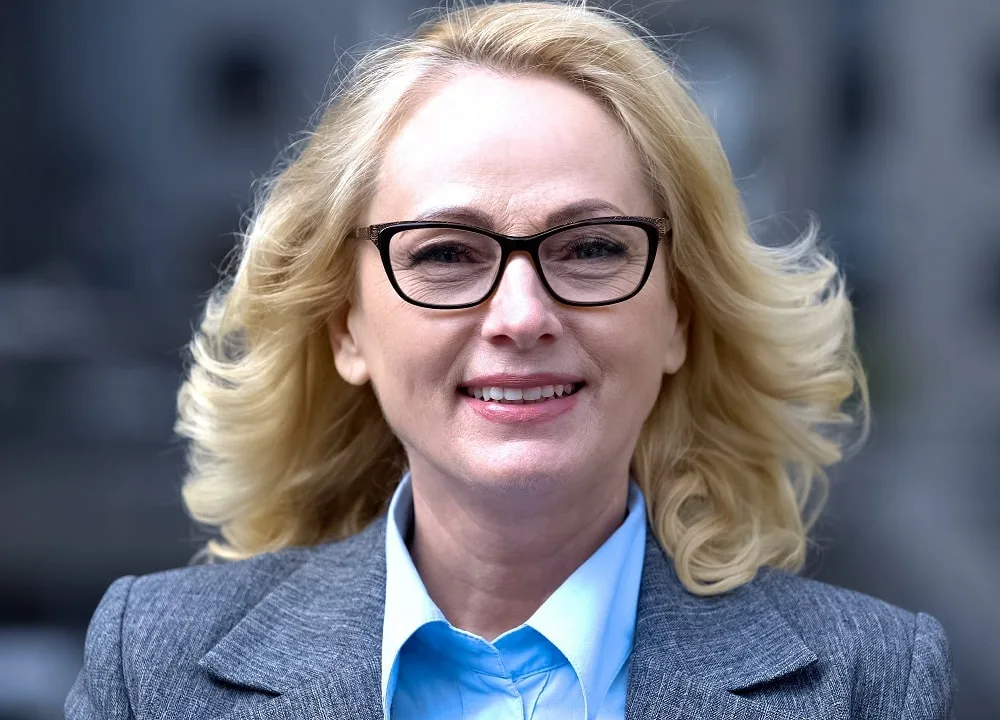 To bring out your hair's natural texture, ask your hairstylist for feathered layers, which focus on the ends of the hair.
It's a great look for women who want easy styling. Finger comb with mousse or give hair a blowout, directing the hair away from your face for a sexy windblown look.
8. Blonde Hair with Brown Highlights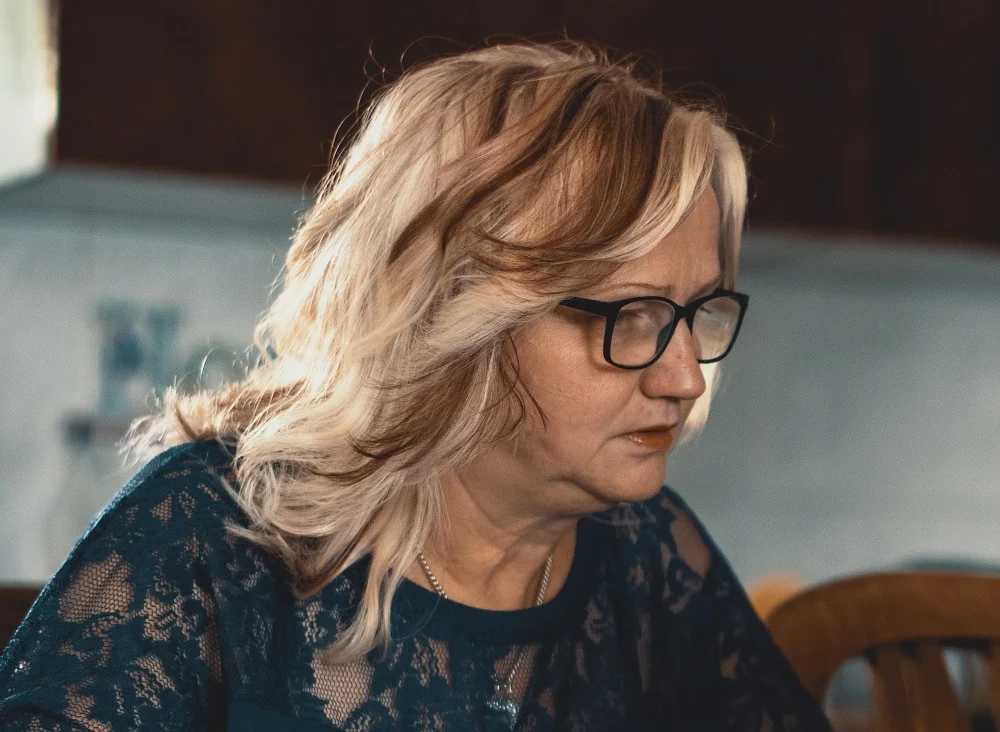 Even women over 50 can rock sexy curtain bangs. If you want to give it some contrast, add soft highlighting up front in a medium or light brown, which will also look great with a dark pair of glasses.
9. Layered Spiral Curls with Black Glasses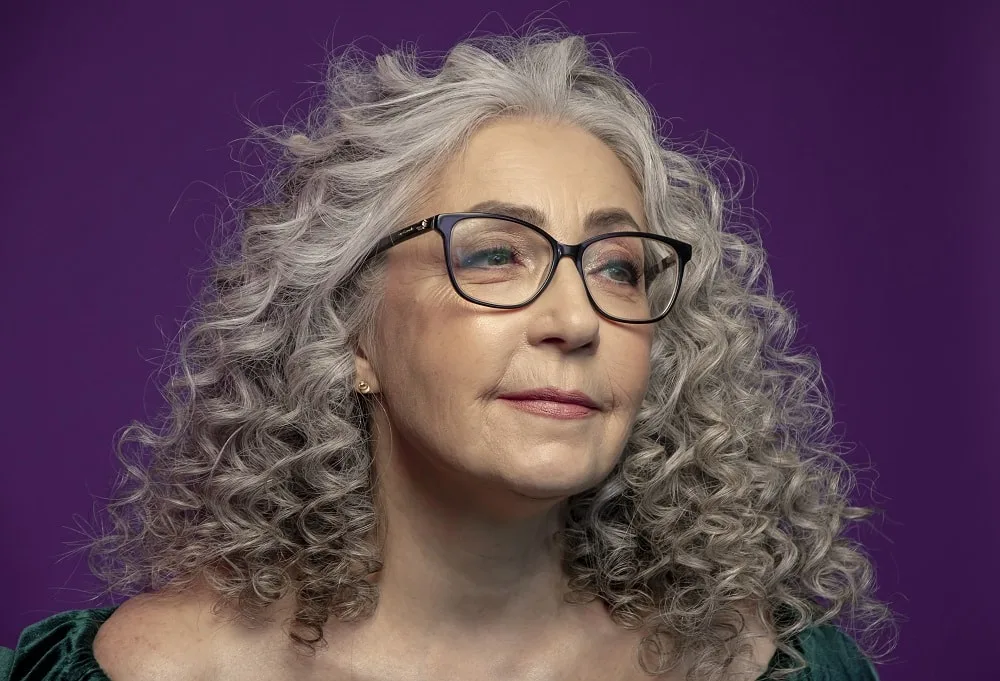 A layered perm is a great option for women over 50 with thick curly hair. The perm will help define curls and the layers will turn long hair into something more structured. Sweep the hair back away from your face to put all the attention on your eyes.
10. Tousled Pixie
A pixie cut is such a cute haircut at any age. If you're feeling brave enough, make the chop to this chic short length with highlights. Finger comb the hair toward one side to give your locks a tousled look.
11. Medium Hair with Bangs and Wavy Ends
Another great option for women who don't want to spend a lot of time on hairstyling is this medium-length haircut with soft wavy ends. Round out the cut and give framing to your glasses with softly cut bangs.
12. Long Wavy Hair with Thick Bangs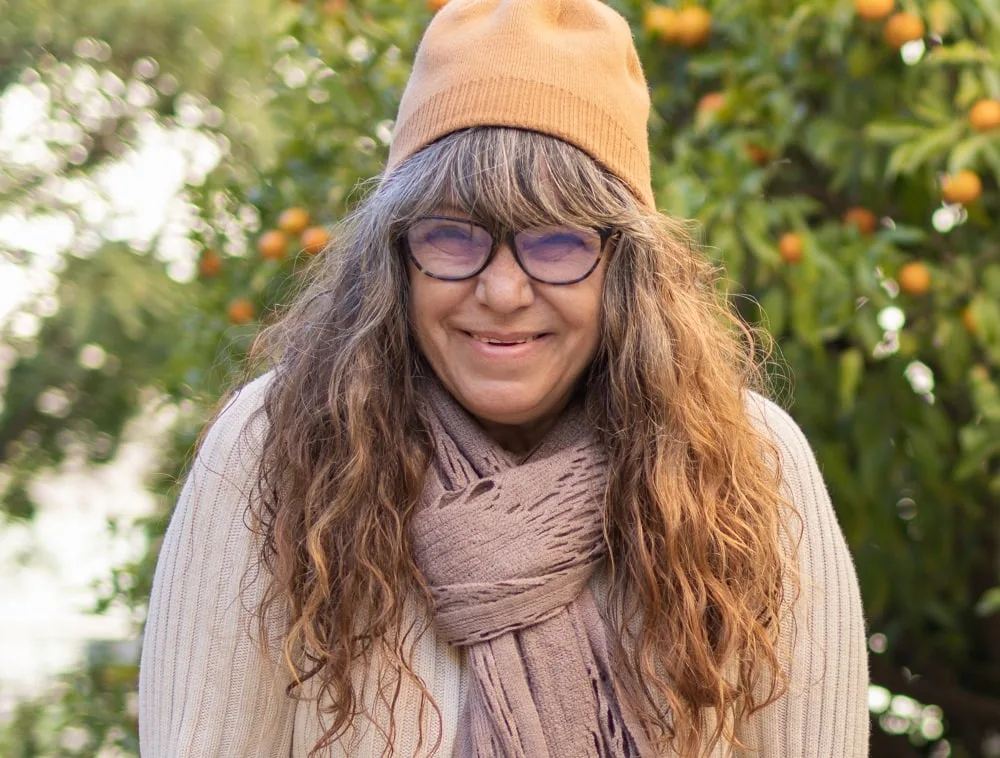 There's no need to chop off your hair if you like having it long. Instead, opt for layers around your face that can nicely blend into thick bangs that graze the top of your glasses. With or without a cute beanie, this look is a winner.
13. Blonde Layers with Middle Parted Bangs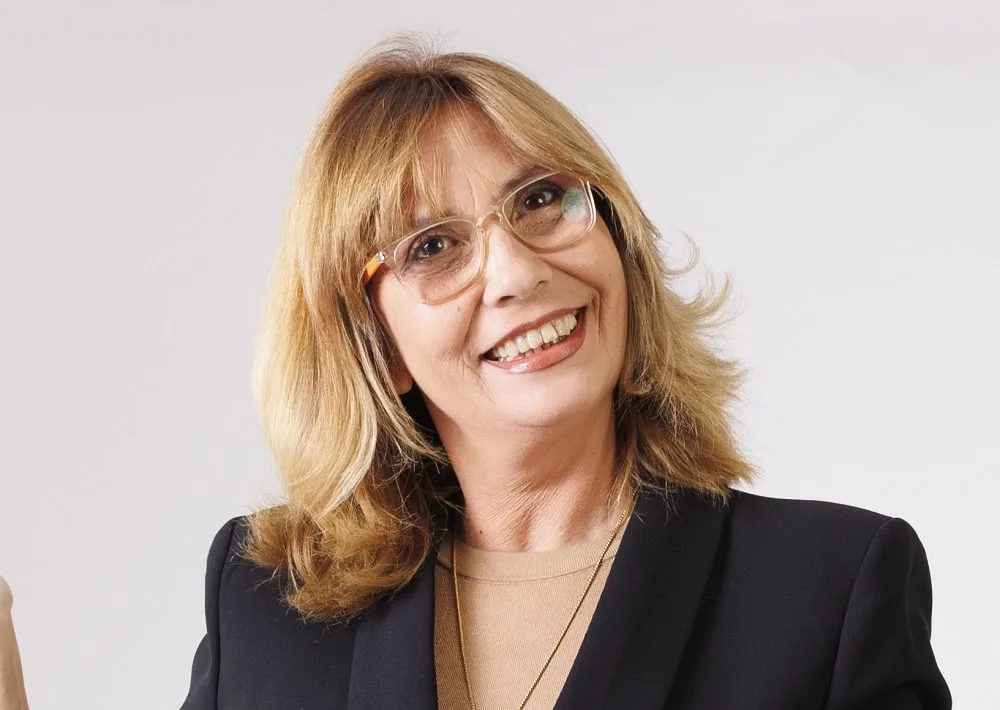 For hair that has minimal texture, layers will create the illusion of a fuller more shapely mane. We love how this shoulder-length haircut is styled with face-framing and flipped out layers. The soft, thin bangs parted in the middle are a great match with glasses.
14. Wavy Layered Bob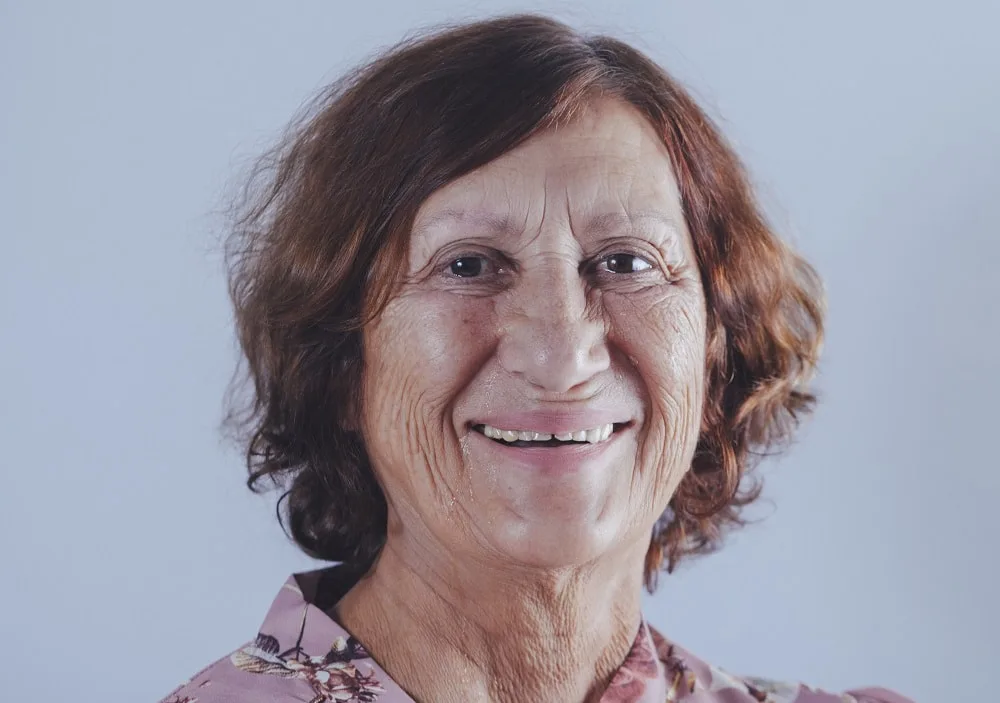 It's impossible not to feel refreshed and youthful when you're rocking a chic bob. Not only is the short length easy to maintain, but the wavy layers also give the mane added bounce.
15. Gray Layered Waves with Rectangle Frames
An elegant layered hairstyle is just the way to proudly rock gray hair. Make a small side part and load up the hair from mid-shaft down with large waves. These narrow-framed glasses are a great fit for the look.
Layers can be incorporated in all sorts of hairstyles for women over 50. If you're wanting a change in your current hairstyle, their versatility and ability to transform boring hairstyles into masterpieces makes them a no-brainer. You may even decide you need a new pair of glasses to go with your new look!