Layered hairstyles are versatile and the proper way to get that most wanted oval face shape (the face shape considered to be perfect). Women over 50 are seen styling layered hair the most for a reason. They are easy to maintain!
Adding layers to different hairstyles and colors can uplift the end look easily. Use layers, short or long cuts, all sorts of bangs to find the best haircut and opt for a color that is suitable for your personality. Mix these, and your hair will work to your advantage, making you look cool, glamorous and youthful.
How to Choose A Suitable Layered Hairstyle for Women Over 50?
Layered hairstyles can be real game-changers for women over 50 if paired with the right color. As you get older, your skin color also lightens, so the nuances you used to wear when you were 18 will no longer suit you.
Therefore, you need to know how to choose the color according to your skin tone. So, if you want highlighted features, use black. But remember, black also makes you show your real age, or even worse, can age you. On the other hand, blonde and warm nuances will smoothen your features, so if you want a fresh, younger look, try blonde and lighter tones.
If you are ready to discover how to pair colors with layered haircuts for women over 50, scroll down and uncover the examples below!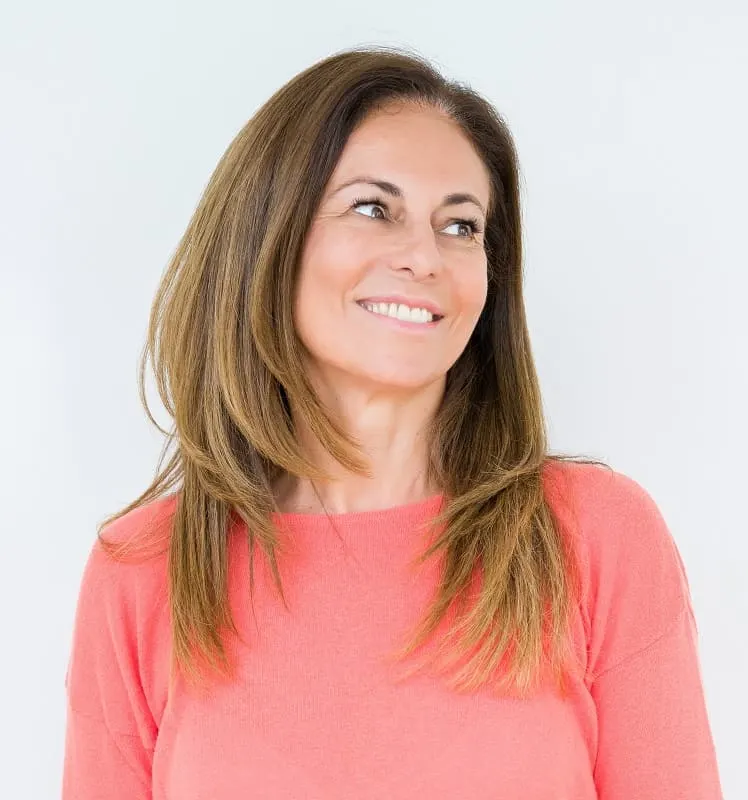 Create stunning layers that frame your face and fall on your shoulders and back. Opt for a balayage to get that dazzling light on each strand.
If you want a fresh look that makes you feel and look younger, a warmer color is the way to cut down a few years.
2. Layered Waves with Brown Tips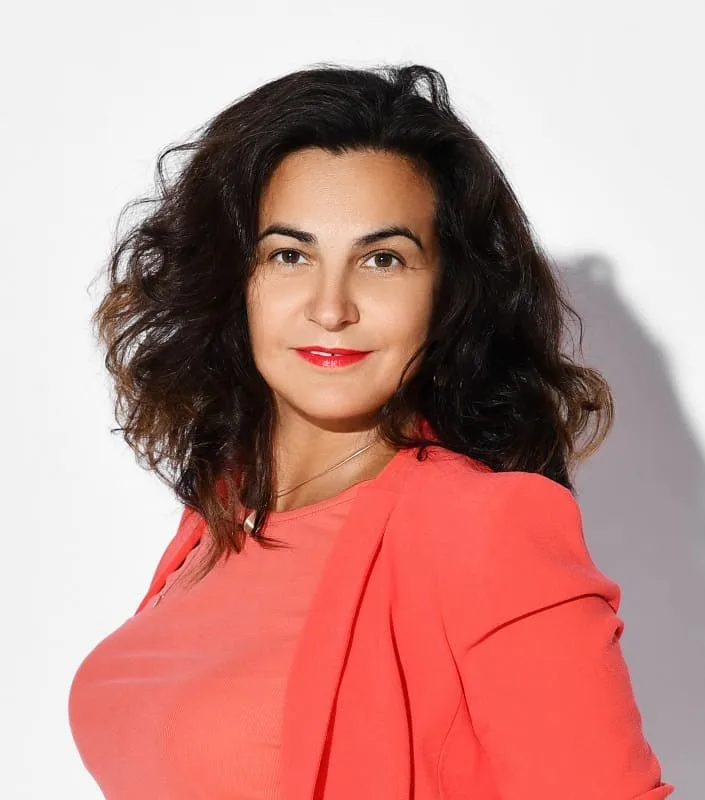 When you have gorgeous thick hair, you must show off that stunning volume. Opt for a layered haircut with brown dyed tips. Swipe the top section on one side and slightly wave the mane.
3. Classic Curls
If you adore your curls, you must find the best way to give them value and bounce. Layer them and enlighten the tops. Keep your hair medium length, reaching the shoulders.
Use a shampoo for curly hair that is specially designed for curls. They will look smooth and gain movement.
4. White Layered Hair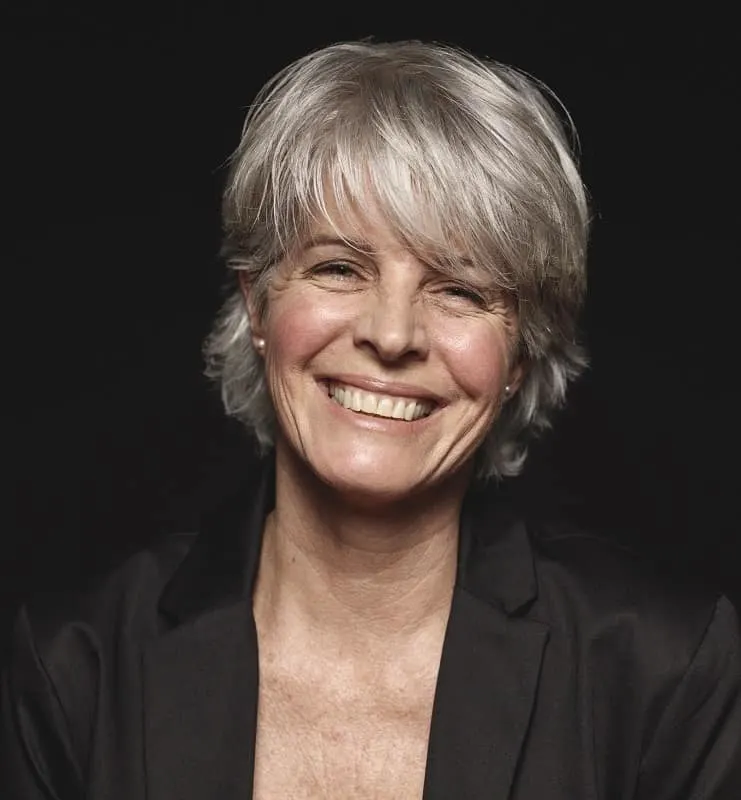 This haircut is classical! You have probably seen it a thousand times, but you have to accept that it suits women over 50 so well.
It features natural pigment loss, layers, short hair and long bangs that are arranged on the forehead, oriented on one side.
5. White Hair with Bangs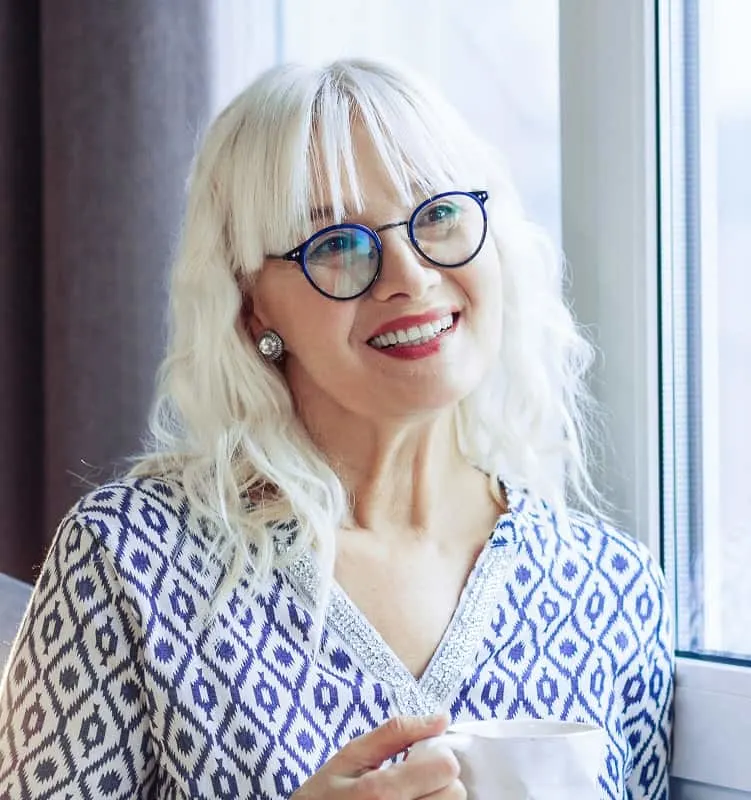 Are you already worrying about the white threads? Why wait for the full transition? Opt for a full white look with layered mane and bangs that cover your eyebrows.
Cut them in a straight line and use a straightening iron to make them look flawless. A picture-perfect hairstyle for over 50 women with glasses.
6. Copper Curls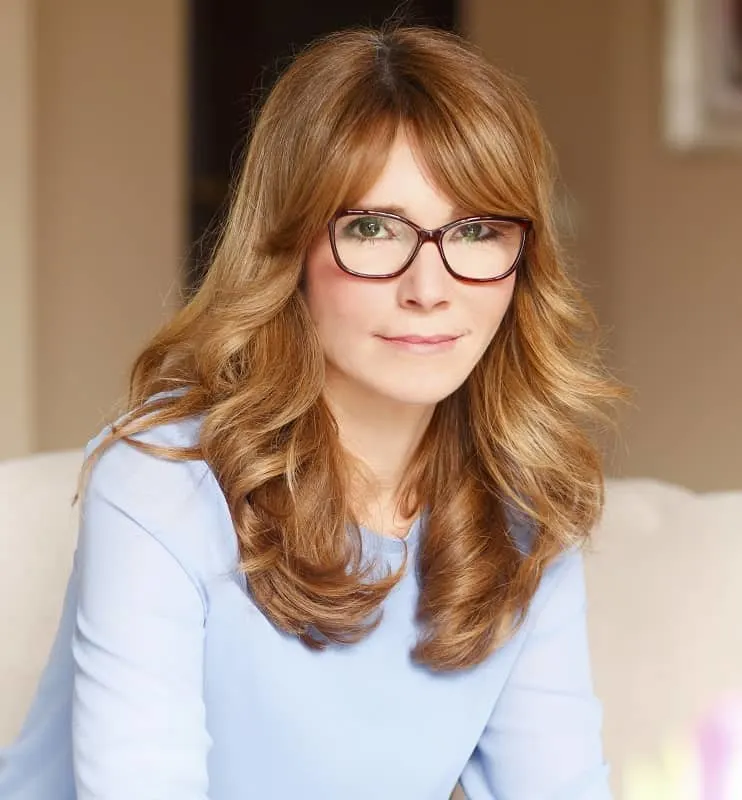 Copper curls and waves will have different lengths and shapes if you opt for a long layered haircut for women over 50.
Also, get curtain bangs that are curved and longer on the sides. Choose a pair of glasses with a matching frame.
7. Black Coils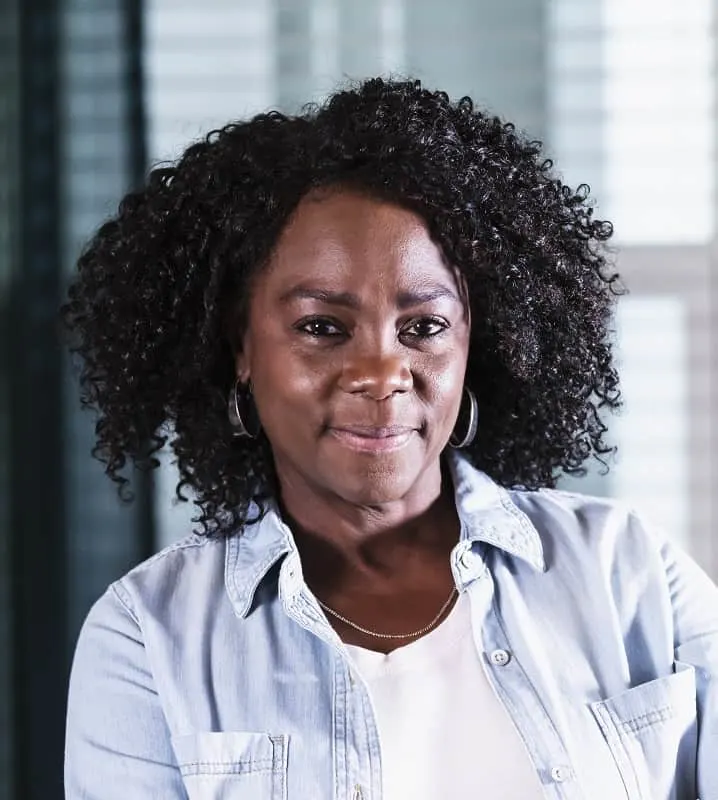 If you are lucky enough to have such a rich and extremely curly hair, all you need to do is get a layered haircut for black women over 50.
Don't cut your hair at home, but go to a hairstylist that knows her way around with these coils.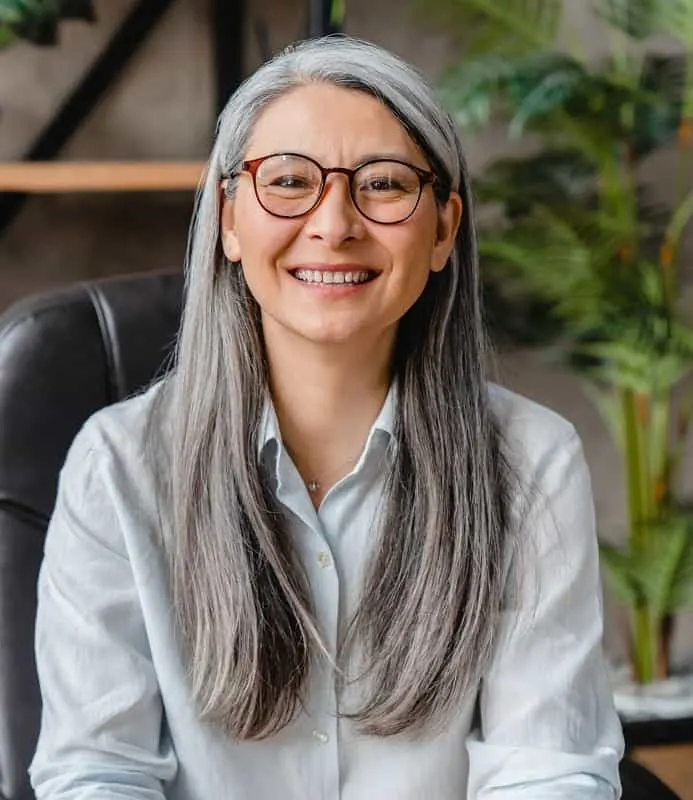 The aging process has its own way of creating a balayage and some highlights. But we have to agree that even if the whites and grays are predominant, this salt and pepper look is so gorgeous and can suit all women, not only Asians.
9. Light Brown Hair with Glasses
When you hit 50, you will probably want to adopt a more elegant, simple, and classic style. Go for layered hair and gorgeous auburn hair color.
Style a few thin blonde highlights and use a rounded brush to style the tips outwards. Get bangs and toss them on one side.
10. Fierce Red Hair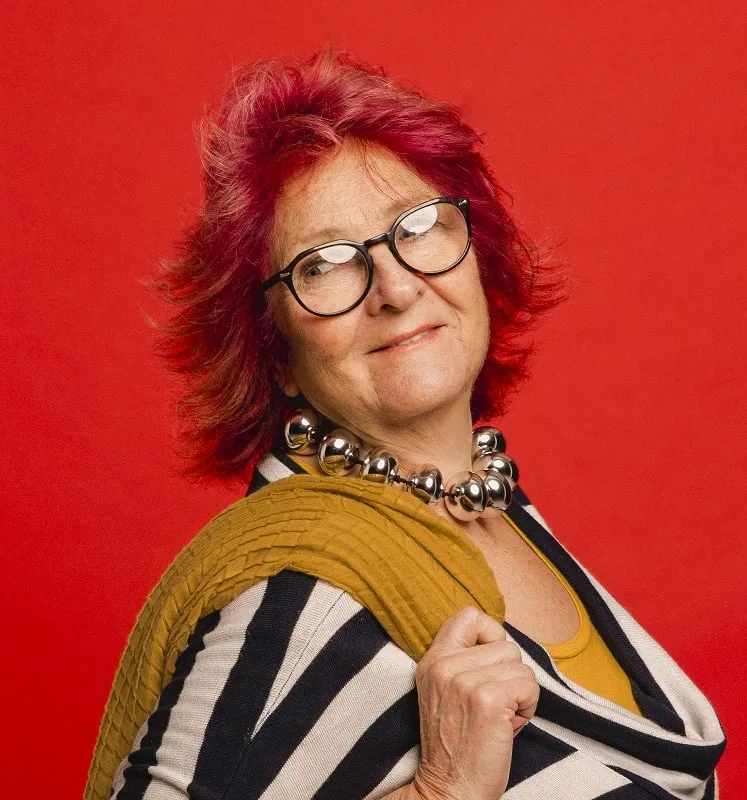 You should express your personality and your free spirit through your look! Don't be afraid to get a layered, spikey hair dyed in a fiery red color to get that fresh cool vibe. Wear fashionable rounded glasses and a big necklace.
11. Messy Champagne Blonde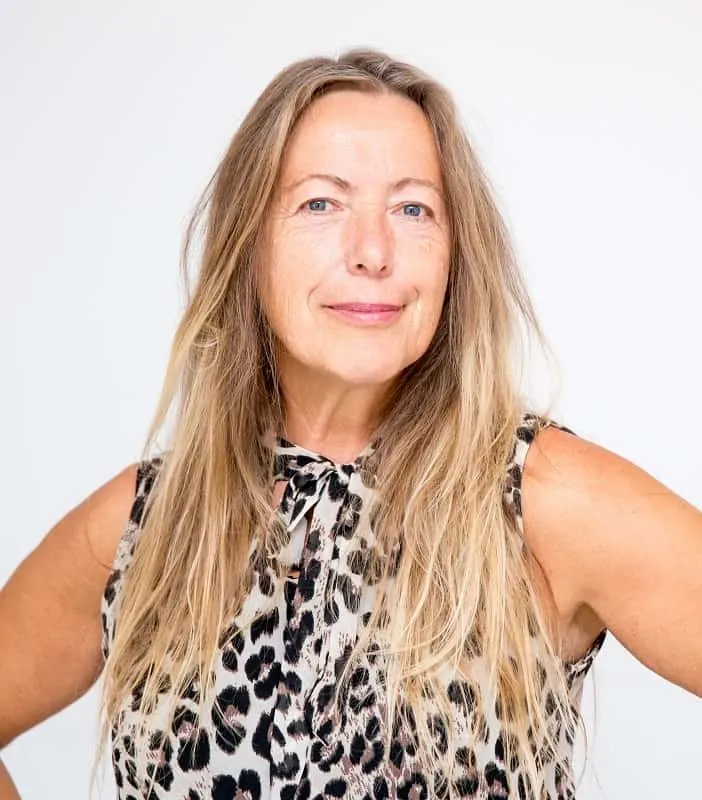 Even if you are a woman over 50, that doesn't mean you can't show off your rebellious side. Opt for a long layered blonde hairstyle.
This will gorgeously suit your fair skin and blue eyes. Keep the hair tousled to express your rebellious nature.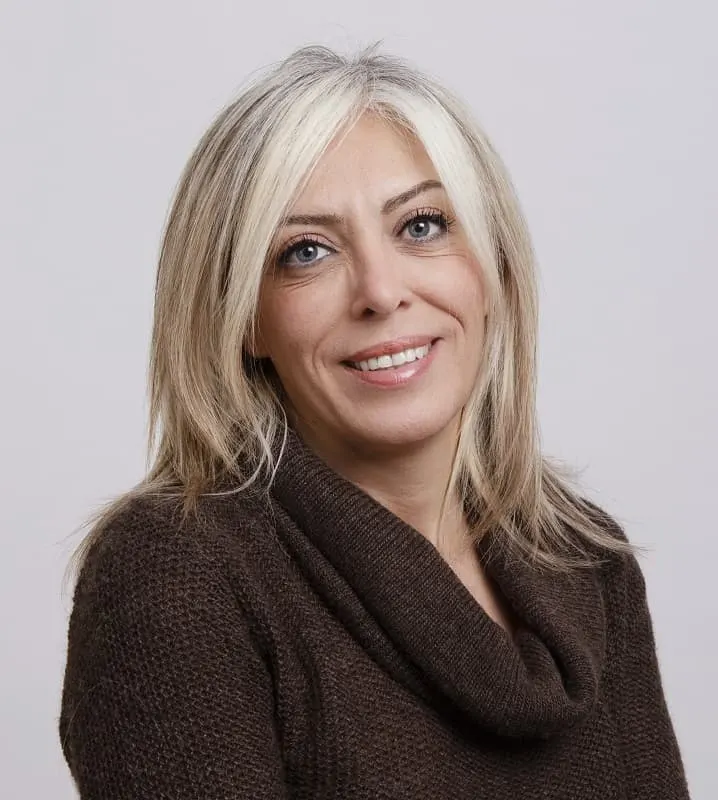 When you want a haircut that is not too much of a struggle and easy to maintain, the idea above is exactly what you need.
Opt for highlights and multiple hair colors to hide your grays and make them blend with the other nuances.
13. Curly Hairstyle for Square Face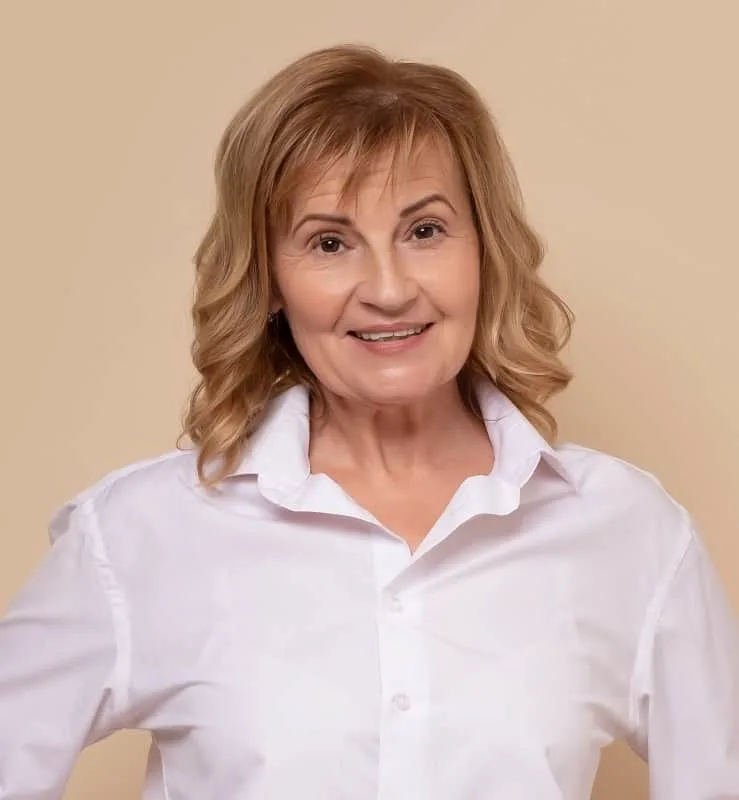 If you're an over 50 lady with a square face shape, you need a hairstyle that diminishes the large forehead and smoothes that prominent jawline.
Opt for a layered haircut, curl your hair, and get bangs that you can swipe on one side.
14. Salt and Pepper Hair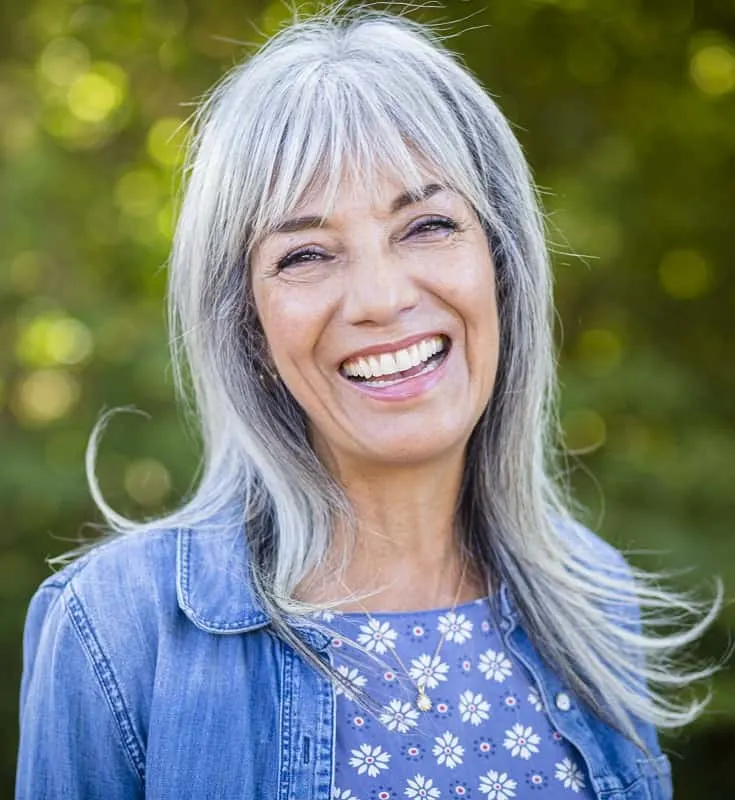 Salt and pepper hair can hardly be achieved with hair dyes when you are young. Therefore, as you get older, it will be such a shame not to feel blessed by this stunning color mix. Get some wispy bangs and layer and straighten your hair.
15. Ombre for Fair Skin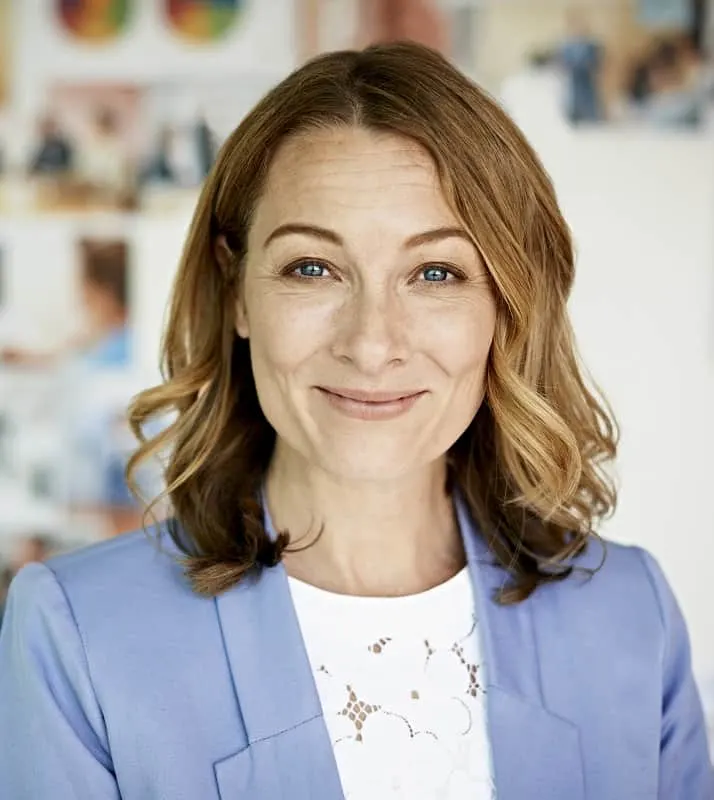 When doing an ombre, start with a dark blonde color that transitions into a delicious honey shade. Pull off some layers and use a flat iron to curl your hair if you want a romantic look.
16. Ginger Curls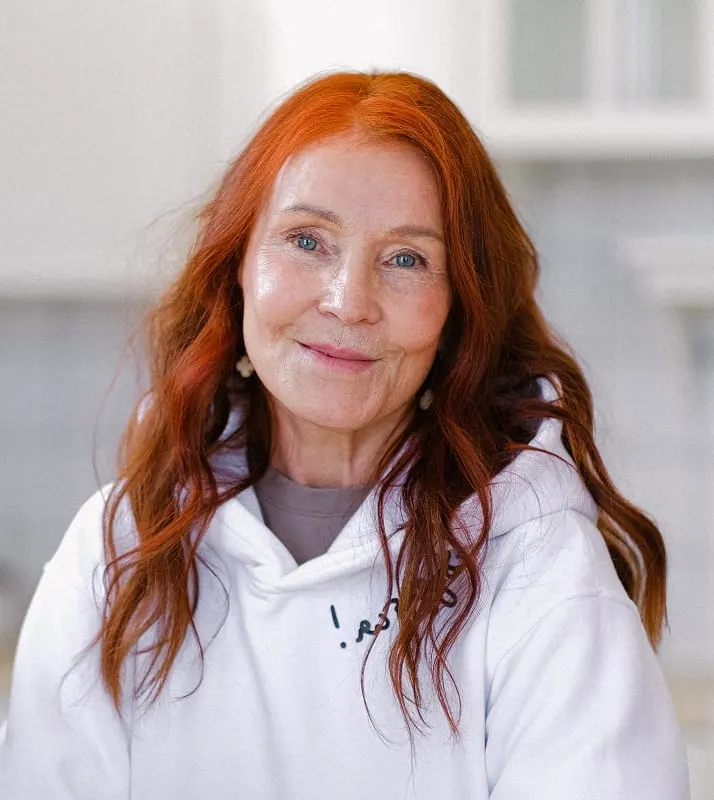 An ombre ginger hair color is perfect for a layered haircut for over 50 with pale skin and blue eyes.
So, opt for a bright orange for your roots and gradually darken the color towards the tips. Also, use a wand to curls your hair and make it look glamorous.
17. Layered Hair with Extensions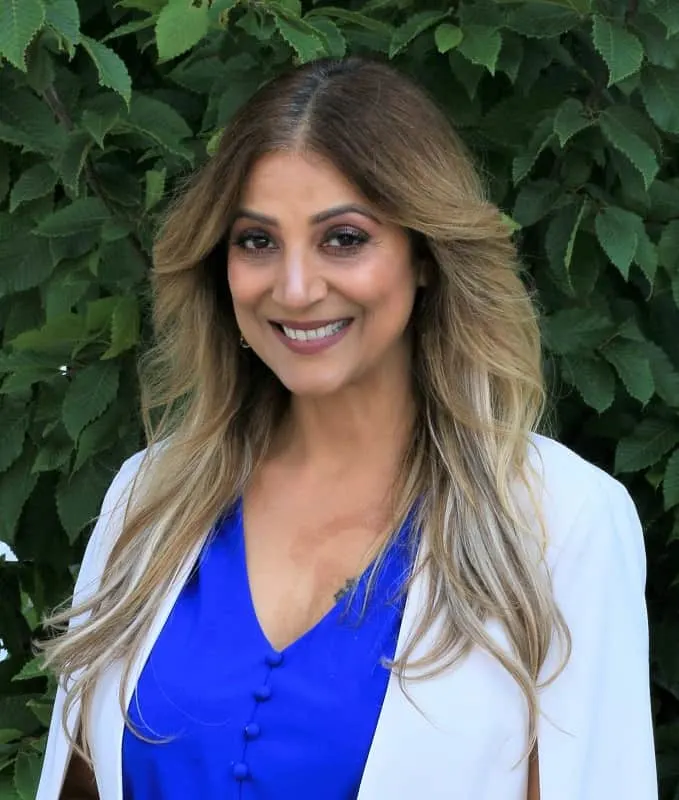 Firstly, part your hair in the middle, style an ombre that keeps your roots' natural color and switches to a dusty blonde.
Secondly, attach the long hair extensions and slightly wave your tresses. Finally, make sure people won't be able to see the clip-ins.
18. Asian Black Hair

Most Asian women have gorgeous black or dark brown hair. As you get older, get a jet black hair dye if you want to maintain that ebony nuance.
Also, if you are tired of that forever-straight hair, you can opt for a digital curl.
19. Retro Look

Retro looks are back in trend! If you loved the rounded tips and the cat-eye glasses, here is your chance to change your look!
Opt for that specific frame that has pointy corners and use a round brush when drying your hair.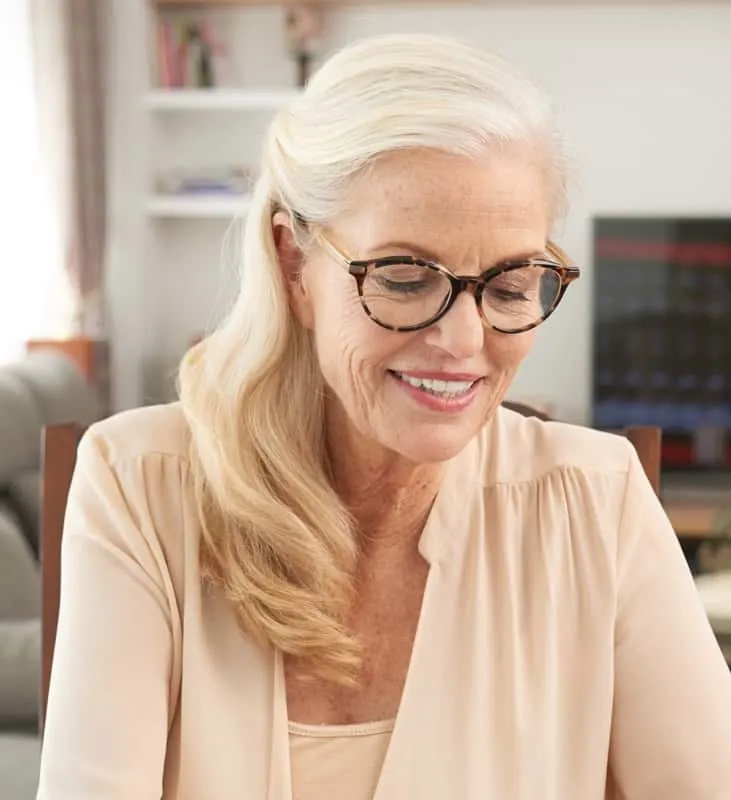 Women over 50 who embrace their white hair can sport so many elegant and classy looks that are so suitable for their age.
Like this example, wearing your layered hair on one side will make you look so refined.
Layered hairstyles are ideal for women over 50, whether they want to style a classic and retro look, or a hairdo that makes them feel young and fresh. However, no matter what you choose, the layering technique is a good friend when you want to build dimension and give your gray hair a wonderful shape.