Bob haircuts are probably one of the most versatile cuts out there. And what's not to love about them, especially as a woman over 50, when you can adapt your trim to your face shape or hair texture?
Therefore, for a pixie bob, the best option will be the cat eye glasses, while round glasses work hand in hand with a classic cut.
Stunning Bob Cuts for Over 50 Ladies Who Wear Glasses
To discover some of the best ideas for women over 50 who wear glasses, scroll down and learn the best ways to pair a bob hairstyle with your frames.
1. Layered Side Bangs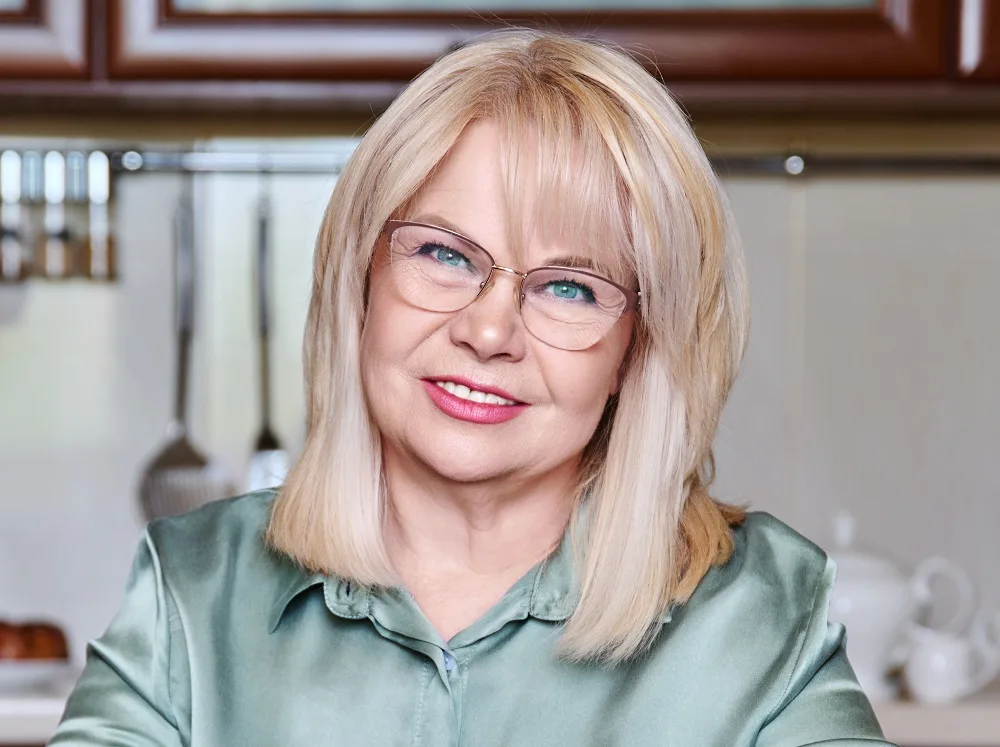 When you choose a long bob haircut, you can style layers for the upper part. This way, you will emphasize the crown area and include feathered bangs that you can flip to the side.
Choose a platinum blonde color and light honey lowlights that will create depth.
2. Curly Bob with Geometrical Glasses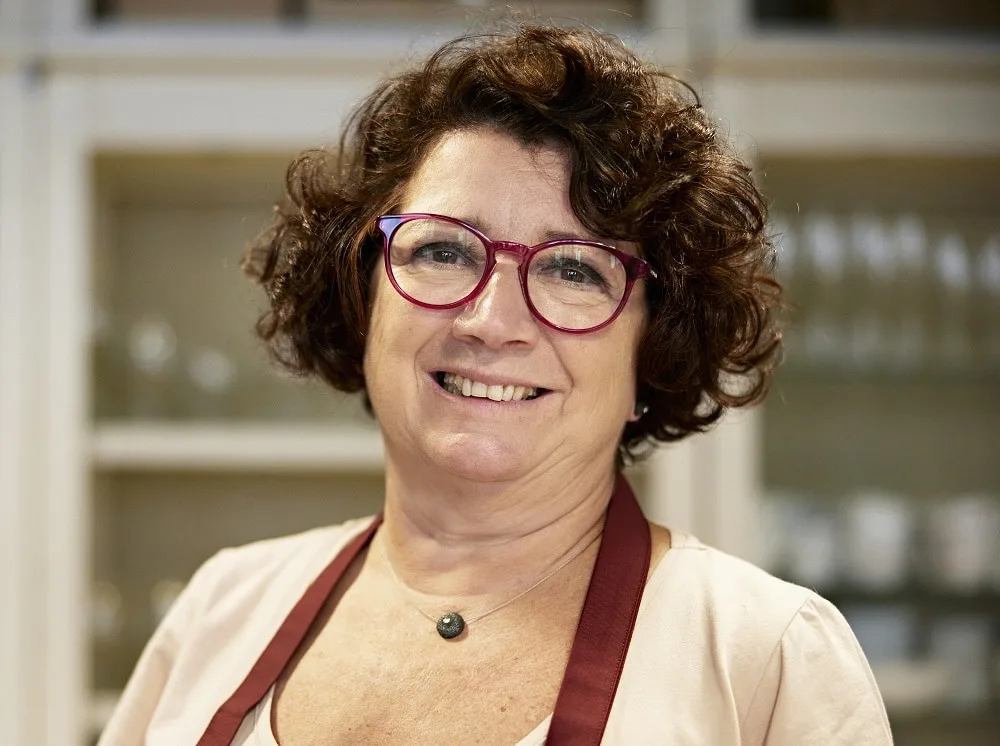 Bobs and eyeglasses are a match made in heaven. If your hair is naturally curly, it is mandatory to go for layers that will give your ringlets shape and bounce.
Opt for geometrical frames for your glasses because they work fabulously with a bob haircut.
3. Layered Pixie with Rectangle Glasses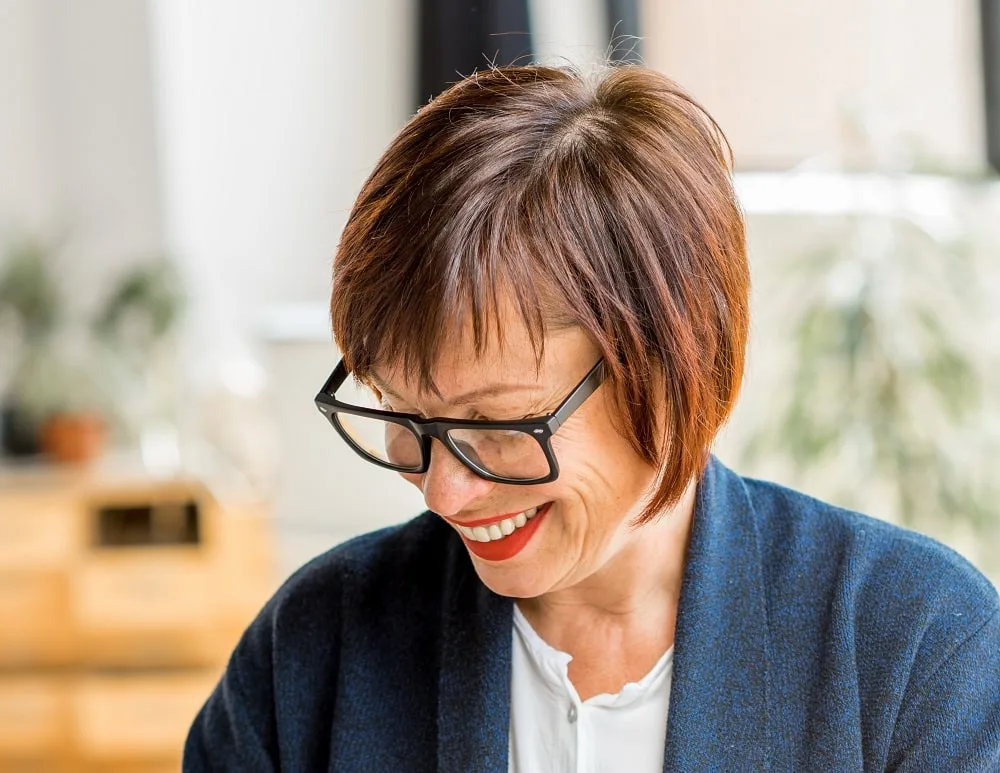 If you have a round face, choose a pair of rectangle eyeglasses like the one above. Also, a pixie bob hairstyle with layers and feathered bangs will help you complete the look.
Slightly swipe those bangs to the side and tousle them on the forehead.
4. Wispy Bangs With Bob + Thick Frames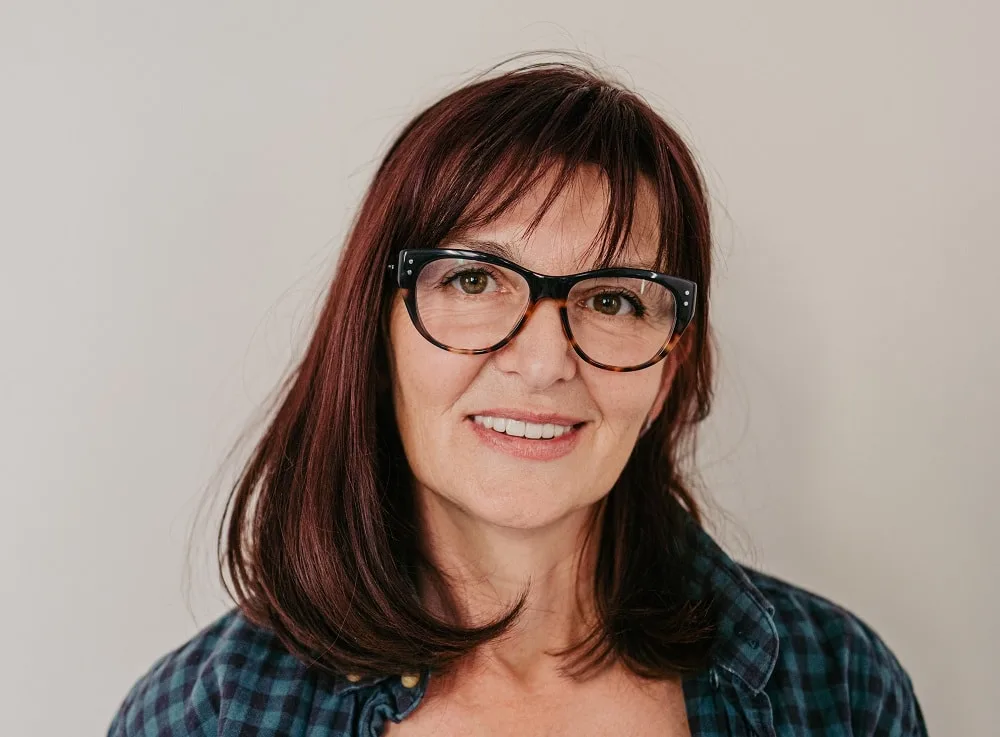 Long wispy bangs with a bob look perfect when you want to elongate your face and create great framing. Include bangs in your new look and keep them feathered on your forehead.
Add a pair of oval glasses with colors that match your hair color.
5. Salt and Pepper Curly Bob and Round Eyeglasses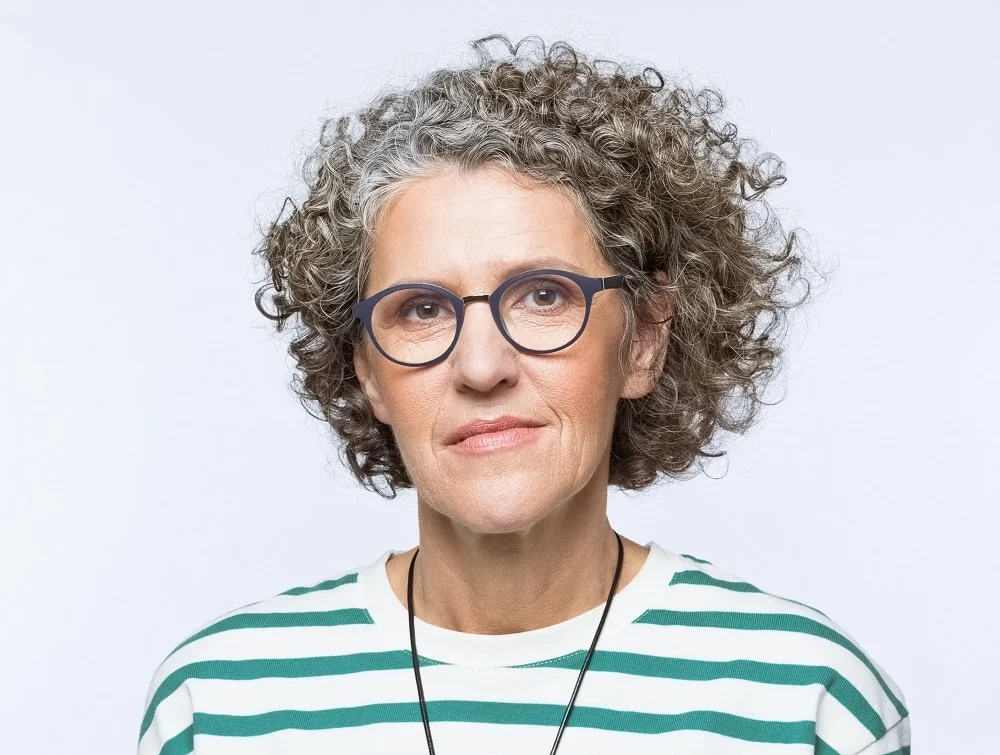 You should know what shape of eyeglasses look better on different hairstyles. Round glasses beautifully work with curly bob. Create stacked layers so the hair has a rounded shape, but keep the top longer so you can swipe it to the side and still preserve the shape.
Choose a dark blue color for your glasses, especially when you are a woman in her 50s who wants to look modern.
6. Wavy Shoulder Blunt Cut and Rectangle Glasses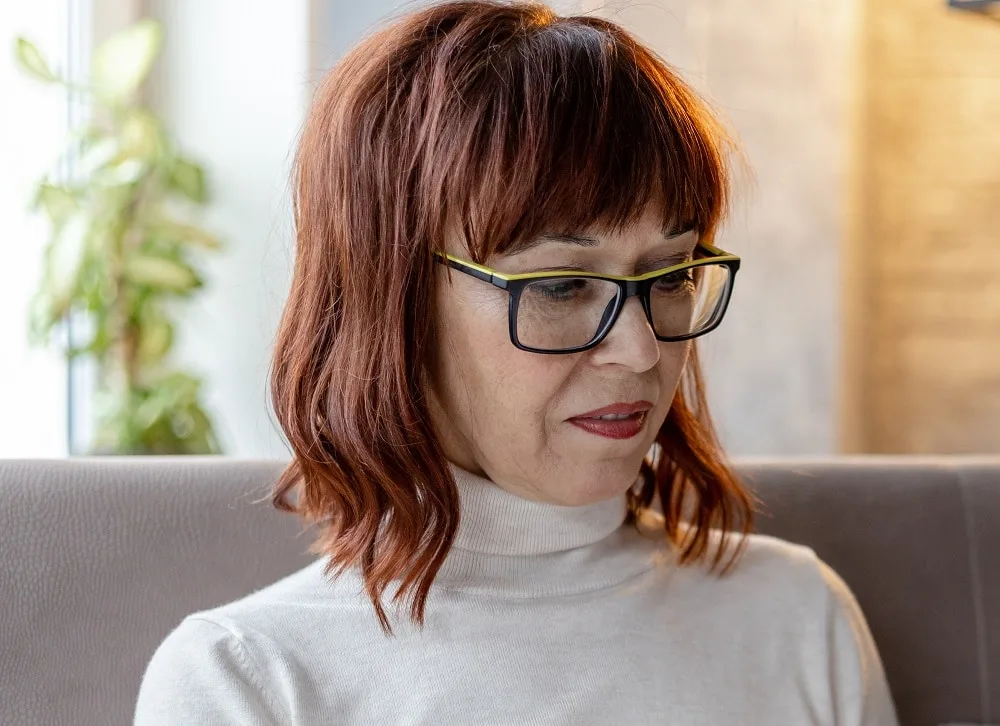 An A-line bob hairstyle with blunt bangs and waves will look great with rectangular glasses.
If you want to add a pop of color, choose frames that have a yellow or colored line on the top and temple bars.
7. Side Bangs with Front Layers with Aviator Glasses
For this bob hairstyle for women over 50, the ends should be layers, starting from the bangs and going longer toward the back.
Go for a platinum blonde color and a pair of aviator glasses.
8. Side Bob with Cat Eyeglasses
Cat eyeglasses will give your look a retro vibe that suits most women over 50. Opt for a blunt bob hairstyle with bangs that you will swipe to the side.
If your hair has a little frizz, it's not mandatory to solve it. It gives you that careless look but with a great shape.
9. Side Bob with Cat Eye Glasses
Honey blonde colors are a fantastic idea for a woman over 50 with a bob haircut. However, a great thing you should consider when getting such a short trim is your face shape.
So, if you're dealing with roundness, it's ideal to create angles. And you can do so by swiping your crown to the side.
10. Flip Out
If you love "Orange is the new black" series on Netflix, you can easily get a look like Kate Mulgrew, the actress that plays Red.
Of course, you need to dye your hair and choose a shade of red hair dye for your locks. And if you're feeling bold, you can opt for something even more daring than hers, like this fiery nuance.
Add a pair of geometrical round glasses and flip out the ends to build volume.
11. A-Line Bob with Bangs
If you want eyeglasses that don't really stand out, you can pick half-rim frames.
Choose a long bob haircut with bangs that cover your forehead. Twist the ends to give your hair a stylish curve.
12. Blunt Bob for Thin Hair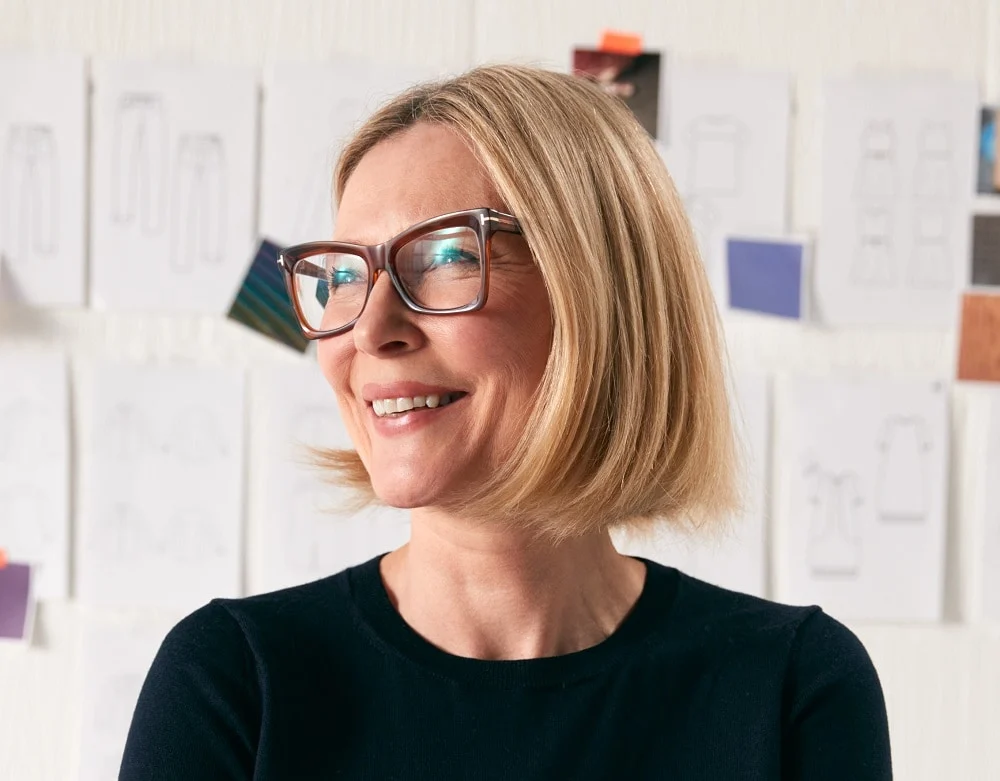 These cat eyeglasses are quite a statement on their own, and if you have to wear them every day, you can opt for a simple blunt bob.
If you have fair skin, choose a creamy blonde color that matches the light brown color of your frames.
13. Layered Waves
This bob haircut for women over 50 looks mesmerizing with round glasses. Go for a dark copper brown hair color and style waves, but only in the lower part of the hair.
This way, you will concentrate the texture and volume in the jawline area, highlighting it.
14. Short Thick Bob
Large glasses are ideal for women who want a wider spectrum. Also, a big pair of square glasses can be the centerpiece of your look.
They will look amazing with a short stacked bob with side bangs and a dark blonde hair color.
15. Multicolored Highlights With Rectangular Glasses
Bobs can be the greatest canvas for women in their 50s with glasses who want to stand out and stay away from dull flat looks.
If you have blonde or white hair and blue eyes, there are so many ways you can look breathtaking. Choose eye-popping colors like pink, teal, and purple, flip out those ends, and get rectangle glasses.
16. Wavy Layers with Side Swap
Get some blonde highlights if you want to warm up your brown hair color. If you want more volume and need to better define your waves, you can also opt for a layered cut.
Swipe your bangs to the side and lift the roots to create more height.
17. Feathered Cut with Blonde Highlights
A lob is a proper hairstyle for a woman over 50 who wears glasses and craves for a medium mane that is easy to style and manage.
If you want to enlighten your look, go for a caramel hair color and some blonde highlights that you will concentrate on the bangs and in the crown area.
18. Blonde Ombre
Blunt bob hairstyles are ideal for women who have thin or fine hair because it makes those tresses look thicker.
Go for a blonde ombre and choose thin frames for your glasses. Opt for a color that compliments the hair color.
19. Professional Layered Cut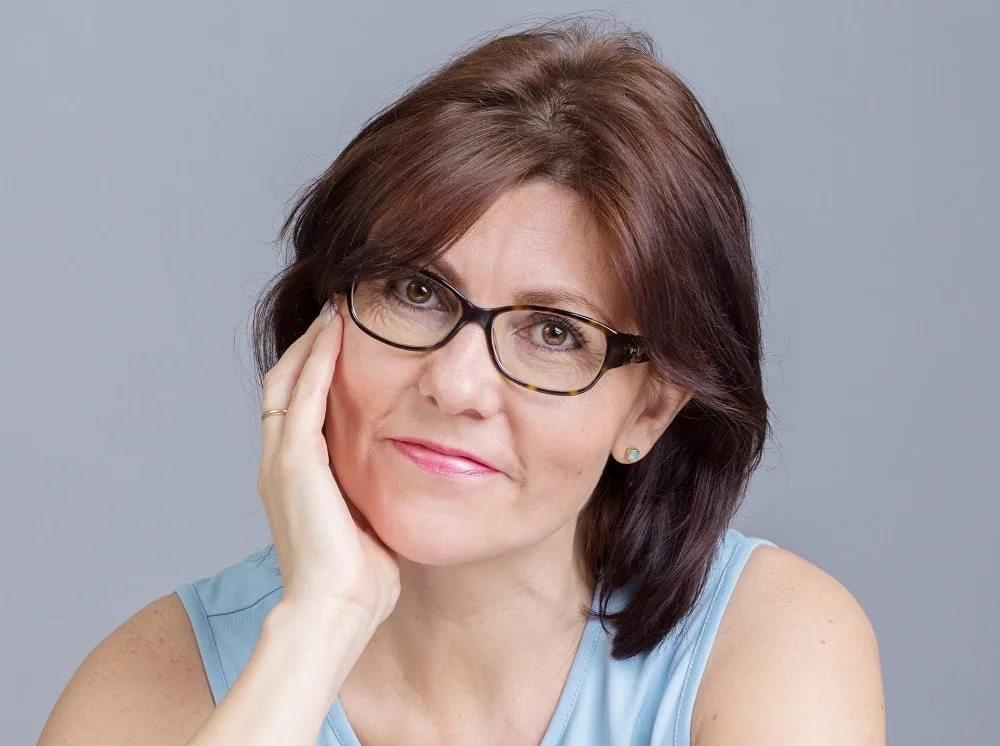 If you want more volume for the crown area, you must create some layers. Moreover, when you want to highlight your facial features and create contour, you should go for a dark brown or black color.
A pair of black framed rectangle glasses will perfectly suit you.
20. Strawberry Blonde Bob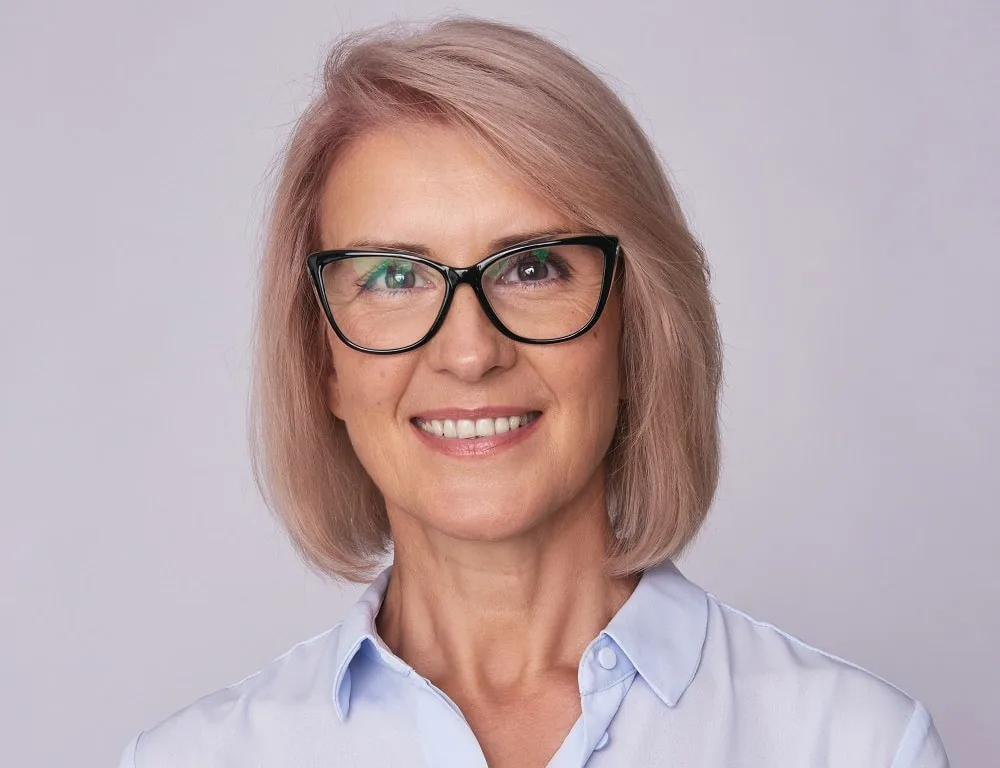 Draw attention to your eyes with large cat-eye glasses and choose a modern color that will strip years off your face.
A strawberry blonde nuance is an amazing idea and it will work like magic with a simple bob haircut lifted roots and bangs swiped to the side.
21. Gray Hair with Colored Peek-A-Boo Highlights
Want to add a pop of color to your bob haircut? Then opt for an icy blonde color with gray nuances and pull off some peek-a-boo lowlights on one side.
Pick vivid colors like pink, blue, or teal to make your hair stand out. Geometric, translucent frames are a great choice for you and will beautifully blend with your look.
22. Flip Out Waves
When you crave for a look that makes you feel elegant and glamorous, create layers and opt for a brown base color.
Pull off some blonde highlights and style waves and curls. You will gain volume and texture and get a professional look, especially if you wear glasses with thin frames.
23. Gym Wavy Hairstyle
Going for a workout at the gym? Then you have to wear a proper outfit. And that includes a headband that it's both cute and practical because it absorbs sweat when you're doing your exercises.
Also, the headband will secure your glasses while you're doing your exercises.
24. Bob For Asian Women with Rectangular Glasses
As an Asian woman with thick straight hair, you can get a short bob hairstyle with bangs swiped to the sides and small layers for the tips.
As for the glasses, choose frames with a pattern that suits the color of your hair.
25. Layered 3C Curls
Having 3C curls can feel like an everyday struggle. But if you're going for a haircut that makes the hair easy to style, it will save you time, and you'll get a fab look.
Opt for a layered trim and go see a hairdresser who knows their way around African-American hair. As for the glasses, there are loads of frame types that work with this haircut, including the rectangular one.
No matter the face shape or hair texture, there's always a bob hairstyle and a pair of glasses to match. Now that you know how to combine your hairstyle and frames, what would you pick? Let us know in the comments!