Different lengths and textures can create an interesting look for men's hairstyles. A haircut which is long on top with shaved sides is the perfect example of this phenomenon. There are lots of exciting things that men can do with this look, so it is a really versatile style choice.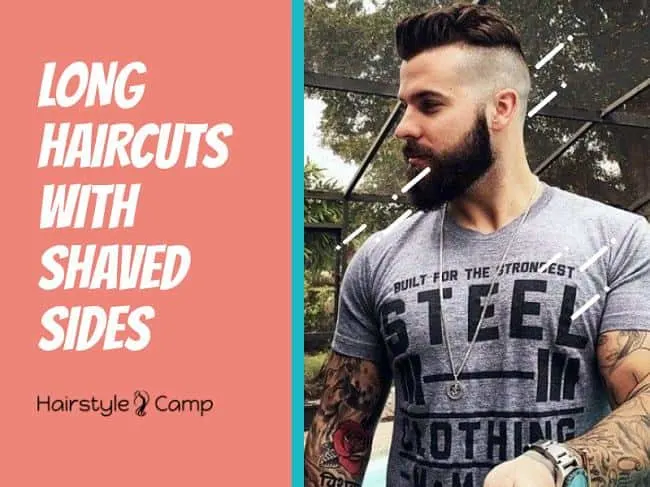 Men's Long Haircuts with Shaved Sides
To maintain this type of shaved sides hairstyle, it is important to have the right tools. Invest in a good hair trimmer with lots of different trim lengths. This will help you to keep a uniformity in your style.
You should also buy a good comb to prevent knots and tangles in the long section of your hair. Here are some of our favorite long haircuts and hairstyles for men who would like to shave the sides and get a new look.
1. Mohawk with Shaved Sides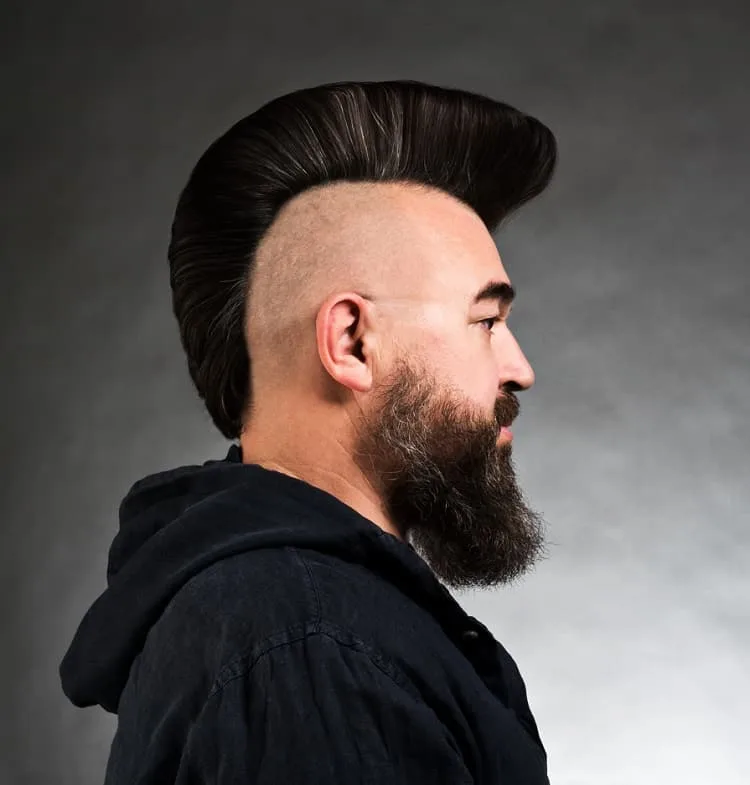 This is a mohawk everyone will remember. It has a perfect shape that reminds us of the early punk days movement, and the beard and mustache fabulously complete the whole updo.
2. Long Ponytail with Shaved Sides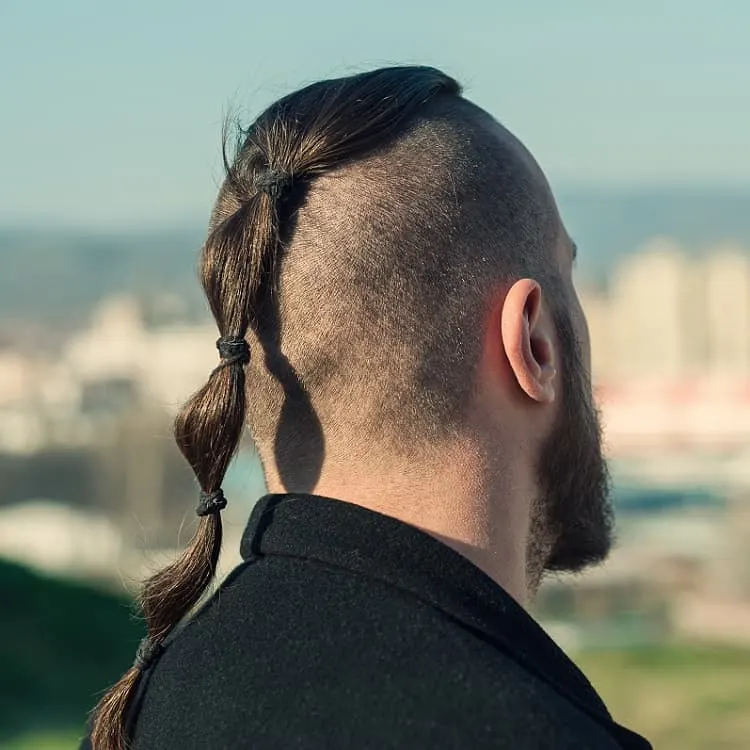 This breezy haircut with a long top and shaved sides and back is perfect for the summer! Go for a ponytail and secure it with a hair elastic. After an inch or two, secure it again until you run out of hair.
3. Braided Top Hair with Shaved Sides
Hair extensions are not only for women, and they can be a real aid for men who want to extend their hair. Create cornrow braids for your top and equally disperse the twisted extensions to create a long mane. Wear it on one side or pin it in a ponytail.
4. Bowl Cut with Shaved Sides
A bowl cut with shaved sides is a very popular hairstyle for men because you can easily recreate it at home. Style it upwards, wear it on one side or even tie that long hair in a pony or a bun. It provides numerous styling options and you will totally love it.
5. Viking Hairstyle with Bald Sides
Inspired by the great Viking hairstyles, a long top hair with shaved sides can make you look more masculine and cool. You can tie the long strands in a bun, create braids, or even wear it on one side; it's up to you.
6. Top Bun with Shaved Sides and Back
Go for a ducktail beard and shaved sides. You should maintain a long top hair if you want to tie it in a bun. This way, you end up with a cool, low-maintenance hairstyle that can be arranged in so many ways.
7. Shaved Sides with Long Dreadlocks
If you want a short haircut but can't renounce your dreadlocks, shave your sides and maintain a long top hair. You will get a hairstyle that suits your personality, and you can easily pin the dreads in a ponytail, obtaining a breezy look.
8. Hard Part with Undercut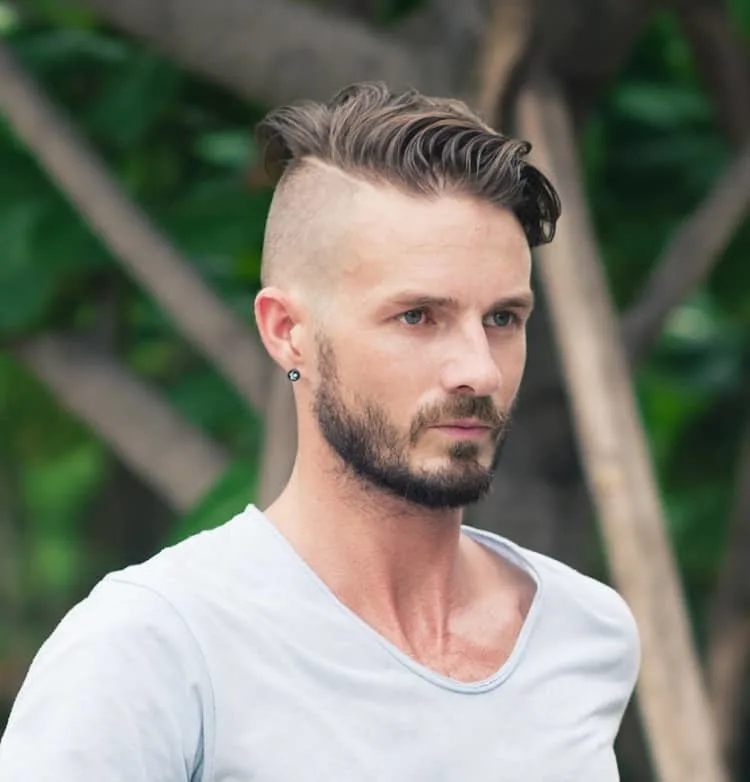 The hard part plays an essential role in separating your shaved sides from the long top. Slightly backcomb the fringe and use a fixing hairspray that will keep those strands in one place.
9. Spiky Long Top with Side Design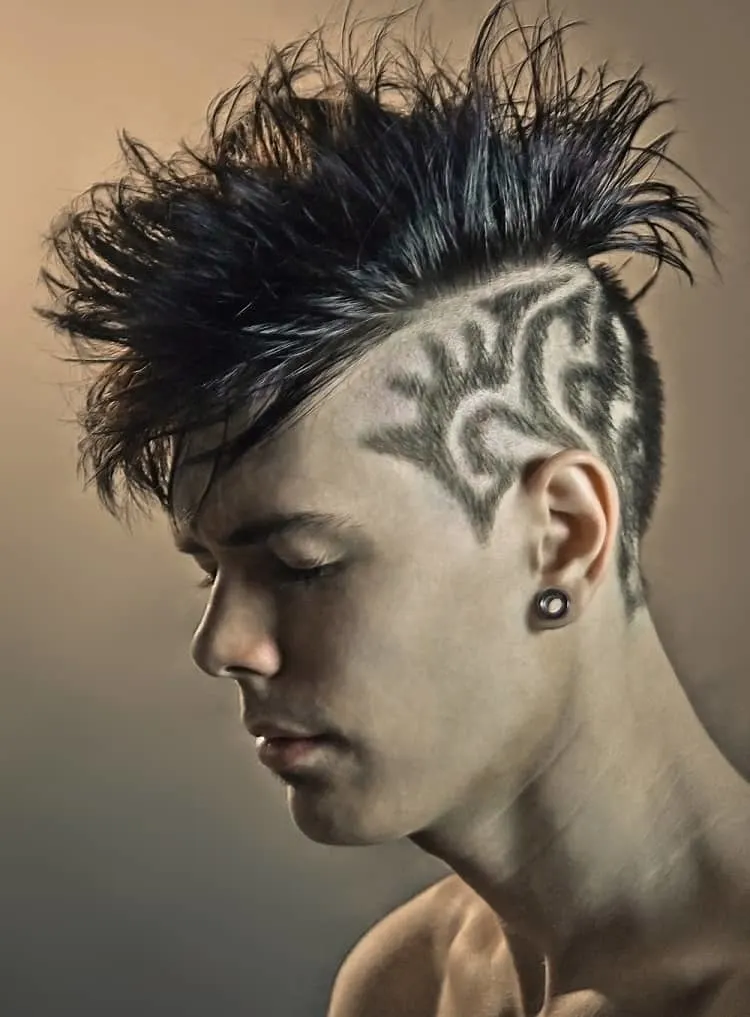 When you are a real rebel, you don't care about trends and this hairstyle is here to prove that. Go for a spiky mohawk, and, for your sides, using clippers, get an outstanding design that will get all eyes on you.
10. Braided Top with Bald Sides and Back
This long hairstyle with shaved sides and back is ideal for men who want to draw all the attention on their long top braided hair. Complete the look with a rich long beard, and you'll get a stunning Nordic look.
11. Pompadour with Razored Sides
When you want to look modern and cool, a long top hair styled in a Pompadour will elongate your face and make you irresistible to women. Groom and trim your beard and opt for shaved sides and back.
12. Messy Mohawk
A long mohawk can be either styled up or simply tousled without using any styling products. Shave the sides to highlight the more extended areas and opt for a medium beard.
13. Intricate Mohawk Braids
If you are a goth guy that likes a unique look, consider razoring your sides and back and use the long top hair to create three braids. Go for a voluminous knit on the center and two smaller ones that will frame the main twist. Decorate it as you please.
14. Slicked Back Style with a Bushy Beard
Slick back your hair to show off a shaved undercut. Your bushy beard will help to show off the shorter shaved areas of your new hairstyle.
15. High Pony with Undercut
Pull the long sections of your hair backwards and up into a high ponytail. Use a strong hair elastic to help to secure the hairstyle firmly in place. You may also like the blowout fades.
16. Hair Raiser
Hold your head upside down to help to get all of your hair pointing in the same direction. Apply strong hold hair gel to keep your hair in place all day long.
17. Twisted Peaks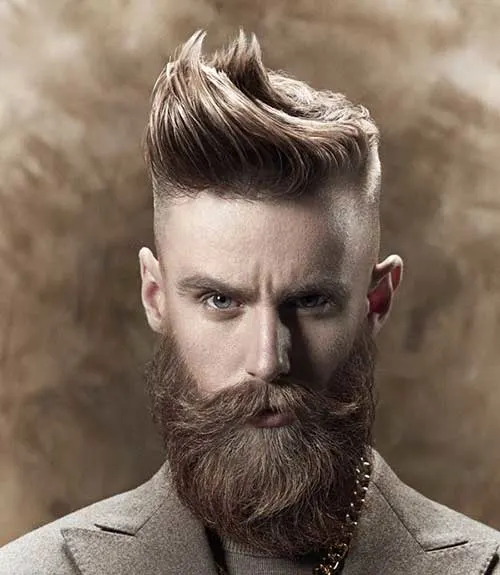 Use your hands to pull your hair upwards into a few strong peaks. Twist them around each other or over to one side to create a unique twisted hairstyle with shaved sides.
18. Fluffy Choppy Cut
A soft and fluffy hairstyle can be achieved using choppy cutting techniques that leave the hair different lengths. Tousle your hair with your hands to help to fluff it up even more.
19. Undercut with Side-Swept Style
For an extreme look, side sweep all of your hair over to one side of your head. A shaven undercut will help to make this hairstyle seem more pronounced.
A rolled comb over hairstyle is a wonderful choice for guys with long hair and shaved sides. Add volume to the look by combing up from the base of the hairstyle.
21. Thick Mohawk
To create a thick Mohawk hairstyle, shave your hair high and tight. Choose a minimal length on your trimmer to give a really prominent contrast between both sections of your haircut.
22. Combed Back Cool
Comb back your hair but don't use a lot of hair gel to set it in place. A little bit of soft hold gel will keep your style looking great whilst also allowing it some movement.
23. Rolled Mohawk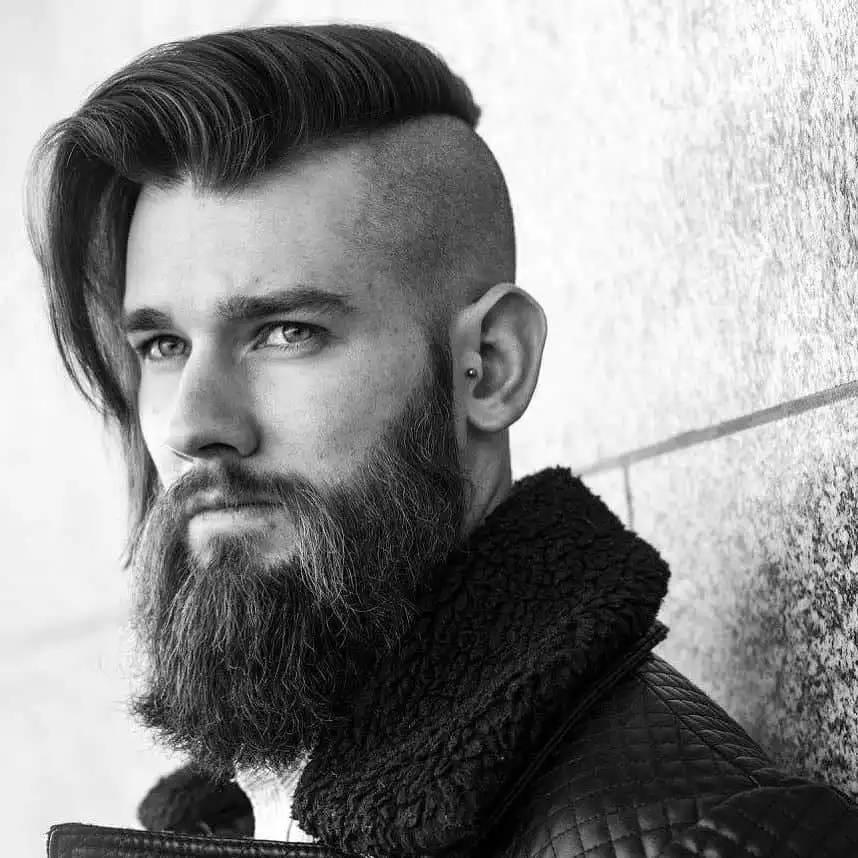 Shave your hair into a classic Mohawk style so that it is long in the middle and short at the sides. Leave your hair soft instead of setting it hard. This will allow your hair to roll to one side rather than spiking straight up.
There are a plethora of brilliant hairstyles for men to try if they want to keep their hair long on top with shaved sides. If you would prefer to style your hair in an entirely different way, then you should check out some of the other cool lists on our website.