Searching for a new wavy bob to wear your long hair? The long wavy bob is a gorgeous hairstyle that doesn't get much credit.
It typically features shoulder-length hair that is all one length but can also be asymmetrical or inverted and is then styled full of waves and parted in the center or at one side. Some women like to also add a bit of fringe, but the bob looks gorgeous with or without!
Long Wavy Bob Haircuts
Below are 7 beautiful ways to wear the long wavy bob. Get ready to want to make a hair change!
1. Wavy Lob with Bangs
Give off major Jessica Biel vibes with this wavy lob and straight bangs. Caramel and blonde highlights are the color combo you didn't know you needed.
2. Long Wavy Bob with Side Part
Parting hair at the side on a long wavy bob switches your look up just enough so you feel like a whole new person. Leave hair like this for a daily look or dress it up with clips for a fancier style on special outings.
3. Wavy Long Blonde Bob
Platinum and medium blonde dress up a long bob and really make waves stand out. Its center part is decorated with a large pearled barrette which you can pin in for a cute addition to your favorite formal outfit.
4. Layered Wavy Lob
Shaggy layered bobs are a great hairstyle option for women with round faces or larger foreheads. A curtain bang or encouraging front pieces to fall in toward the face will give coverage.
5. Lob for Thick Wavy Hair
For your thick wavy hair, opt for a lob that's heavy on waves at the ends. Not only will it cut down on your styling time, but the style is way more chic and updated than all over waves.
6. Wavy Inverted Bob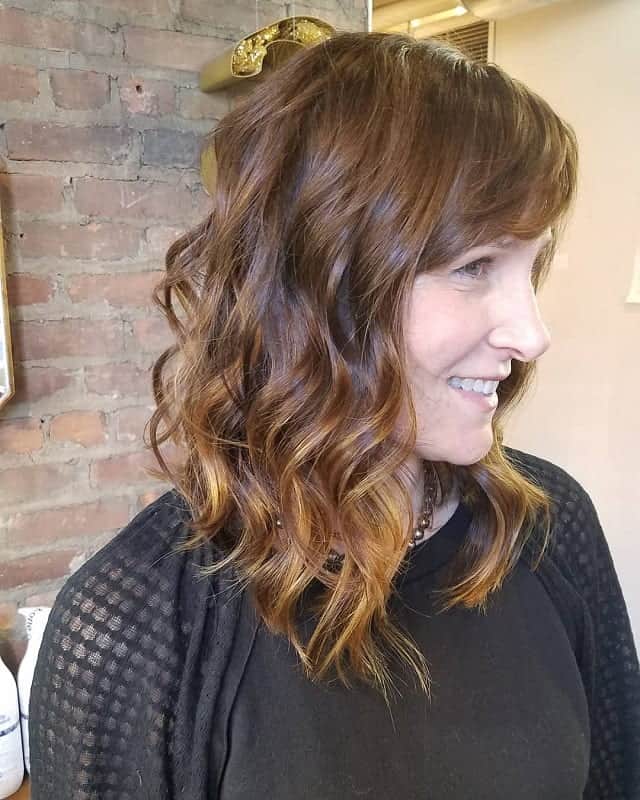 An inverted bob with waves means the hair will appear long in front but be shorter in back, so you'll have all the gorgeous length without the bulk. Choose a rich color combo like chocolate brown and caramel for extra beauty, not that you need it!
7. Wavy Asymmetrical Lob
If you're all about angles when it comes to your hairstyle, you'll love the asymmetrical lob. With a side part, the combination of short and long locks, and soft waves, it's a triple stunner.
To pull off these long wavy bobs, you don't need a certain face shape or hair texture. That's what makes this hairstyle a classic and a favorite for women everywhere. When you want to switch up your style, pull the top half of your do up into a messy top knot or pony. The options are endless and you'll love them all.