Dreads can be a very bold and brave move for a new hairstyle for men – especially if you are not used to having long hair. Dreads can come in all shapes, sizes, colors, and lengths- dreaded mohawk, deaded fade, dreadlock bun, etc. which means that you can play around to suit your gender or personality.
However, gone are the days when dreadlocks were simply for black men or those living a more bohemian lifestyle. Every man can try the dreadlock style at least once in a lifetime!
If you are worried about upkeep or the maintenance – then don't! Dreads are easy to maintain and keep in good condition.
How to Maintain Your Dreads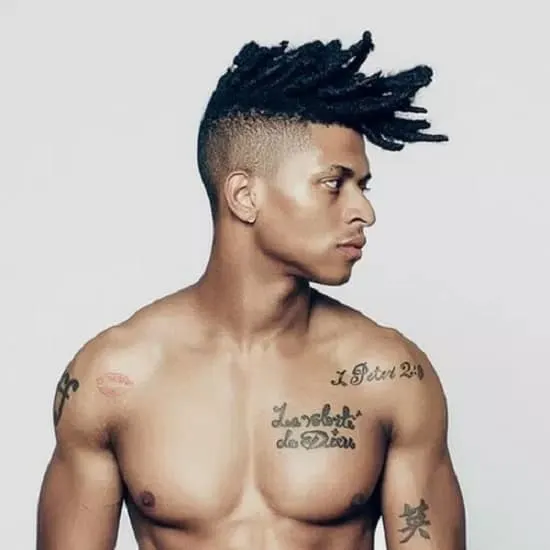 If you are considering adding dreadlocks hairstyles to your look then the good news is that they are very easy to maintain.
Forget needing to brush your hair every day or having to go for a regular chop at the hairdressers. By embracing the low effort and low upkeep mantra it simply adds to the overall look.
Keep it clean: Despite what many may think – the key to good looking and well-behaved dreads is to keep them clean. Clean hair actually dreads-up faster than dirty.
Pick a product: You will need to pay attention to the product that you choose to use. Whilst shampoos may 'wash' hair they often don't leave it squeaky clean. Lots leave residues and scents which are the enemy of smooth and tight dreads.
High and dry: After washing, make sure that you dry your hair as quickly and as much possible. Not only can damp dreads smell horrible, leaving hair damp or wet can also cause weakness could result in breakage. Dry as much water out of your hair as you can, using several towels if needed, and then air dry or use a hair dryer to finish off.
In mint condition: Another cause of dreadlock breakage is lack of moisture in the hair. If you have long dreads, you will already know how heavy they can get. To avoid breakage, use a specialist dread cream which will condition the hair, considering taking a nutritional supplement to boost the health of your locks or keep them shorter to avoid so much weight.
Creative Mohawk Dreads For Men
If you are looking for a more daring alternative to a head full of dreads, then consider combining your look with the infamous mohawk. There are a variety of options available and each look is bespoke depending on your hair length, hair type, and hair color.
Better still, by shaving the hair up into a mohawk and styling the remaining hair into dreads, it makes for an even easier style to maintain.
So, if you have a hankering for new hair then stop dreading the dreads and have a browse at these inspirational mohawk styles and you are sure to find something that tickles your fancy!
1. Dreaded Mohawk: The Twist Or Double Twist
If you are starting out dreading your hair for the first time, then a short twist or double twist is an ideal kick-off point. The hair is twisted in a way that 'locks' it so that the roots begin to start dreading.
By adding shaved mohawk sides you can start growing your dreads without that odd-looking in-between stage as well as it making them look less bulky but still has a very quirky and unique style.
2. Criss Cross Mohawk Dreads
If you have thick hair, then dreads can sometimes be a bit unruly and riotous. If you are looking for a way to avoid that bulk but still rock a very cool style, then a dreaded mohawk that is styled back is a great choice. Try something unique like a crisscross braid.
3. Dread Mohawks with Design
This Mohawk dreads is a super easy and great idea for anyone who loves their dreads but perhaps needs a more conservative style for work. Aside from being a bit more decorative and orthodox than a mop full of wild dreads, it is also super simple to maintain!
Creative Men's Haircut Design with Line & Patterns
4. Go Bold: The Dreaded Mohawk
If you are the brave and daring sort, then go bold with a distinctive mohawk with tall spiky dreads. Not only is it a very cool style to rock, but it also customizable depending on your personality. A great way to enhance the mohawk is to add temp fading around the sides for added interest and drama.
5. Short Mohawk Dreads with Tramlines
Considering a dreaded mohawk style? If you want to jump on this style train, then why not add some tramlines? By adding detailed tramlines around the edge of the Mohawk parting, you add a more defined look. Plus, your options for adding unique lines are endless.
6. Mohawk Dreads For Men: The Low Ponytail
When most people think of dreadlocks they have visions of long flowing and bulky hair. If you like having long hair but need something a little more traditional for your job or you simply can not stand your mane hanging in your face all the time, then a low ponytail with mohawk sides is a great option.
This Mohawk dreads style allows for more control of the remaining hair but still gives you that idiosyncratic boost of style.
7. Dread Mohawk With Shaved Sides
If you love your long dreads but find them a bit bulky then try shaved sides, shaping into a mohawk and adding the very on-trend man bun or low ponytail at the back for a very sleek style.
8. Dreaded Mohawk With Top Knot
The man bun is a very trendy look lately and dreads are no excuse not to join in! It can be a very sleek and sometimes more conservative look making it more suitable for more formal occasions. Try adding some temp fade designing around the temple for extra drama!
9. Twisted Mohawk Dreads
A perfect look for long or short hair, twists make for an alternative to a full dreadlock but add a more intricate splash of interest. Combining with a mohawk makes for a very unique and enviable style.
10. Messy Braided Top
When your hair grows, those dreadlocks might look messy, especially at the roots. But you won't have to worry about that because you can easily flip them over to one side and build your own grudge style. Moreover, if you have tattoos, shaving the sides will help you better reveal them.
11. Braided Dreads
Hair extensions are also very popular among men because they offer much more styling opportunities. So if you love dreadlocks and mohawks, why not combine them into a fabulous hairdo that totally catches the eye.
12. Two Top French Braids
you can style a dreaded mohawk in so many great ways, and one of them is definitely parting the hair into two pieces and using the locks to build two French braids. Moreover, you can meet them in the nape area and style a simple thick, bulky piece.
13. Bulky Mohawk
Black men love a great intricate deadlock hairstyle that shows off their tastes and expresses their personality. Build an ear bald fade and style a connection between the beard and the short hairdo. As for the top, roll your braids into a well-defined mohawk with medium height.
14. Curved Pony
There are no rules when tieing up your dreaded mohawk. So if you have shaved sides and the center hair is long and bothers you during summer, just bend the ends upwards and tie your locks with a regular hair elastic.
15. High Top Dread Mohawk
The high top continues to be a very popular look regardless of hair type or color. If you are highly interested in the high top but love your dreads, then this is a unique way to keep your existing style but add a little bit of modern definition as dread mohawk.
16. Short Dreaded Mohawk With Shaved Sides
This is a great dreadlock hairdo that ensures you still look perfectly groomed. The half-shaved hair with short dreads, along with the run of the crown, is a very sleek way to style your dreadlocks.
When at the stylist consider a dread fade or dread under-shave which are both budding new looks.
17. Long Mohawk Dreads With Undercut
Ban the bulk and opt for an easier to maintain a head of dreads! By adding an undercut to your already existing dreads you can get a very cool look but with less effort than a full head. Plus, it looks really cool!
This dread mohawk look can be great regardless of the length of your hair!
18. Dread Mohawk With Shape-Up
The line-up haircut can also be called the shape up or edge up and is a great style to combine with dreads.
It basically involves straightening the hairline and shaving blunt lines and intricate angles into the hair around the forehead, temples and around the rear of the head.
So, if you're a fan of a more styled and clean look then this is a great option for you.
19. Flaming Dreaded Mohawk
Dreads were initially a great look for those after a more bohemian style, and if you want to rock that alternative vibe then fire flame locks are the way to do that! This dread mohawk style will certainly not be a misfire!
20. Mohawk Dreads: The Labyrinth
There is no option other than to have this look completed by a professional to prevent it looking like more of a mess than a mass of brilliance. Once done, despite its intricate look, this is a very easy style to maintain and is a very unique look to a classic dread.
21. Chunky Dreaded Mohawk
Chunky dreads are a statement piece and perfect for those with very thick hair. Chunky dreads look great loose or tied back into a full or half-up 'do. Coupled with the classic mohawk style – you're on to a winner!
22. Braided Ponytail Dreaded Mohawk
Much like the man bun, plaiting and bunches are becoming more trendy for chaps. If you are after a vibrant twist on a dreadlock up-do then consider plaiting or braiding into a really funky style. Adding a bold color can also really help you rock this Mohawk dreads look.
23. Edgy Mohawk Dreads With Beads
Hair wraps or beads are a fun and expressive way to dress up your hair. Make sure you add them to your dreads correctly as they could cause damage to the dread by creating weak spots.
There are a vast variety of options on the market from natural wooden beads to quirky bright stones and endless colored crisscross wraps.
24. Colored Blonde Dreaded Mohawk
Adding platinum blonde to your already super stylish dreaded mohawk is the way to turn heads! Edgy, bold and brash – if you like to make a statement then this is the way to do it!
25. Curly Dread Mohawk
Curly hair is considered the best type of hair for dreads so if you're used to having a curly mop, you don't have to lose that style when opting to add dreads.
Popular Haircuts for Curly Haired Boys
You can easily curl your dreadlocks by using soft rollers or plaiting it into place until kinks form. Either way, you will be treated to soft bouncy hair which is a nice change from otherwise poker straight locks.
By adding the shaved mohawk sides – you can cut down on the bulky feel that can be caused by your more springy style but also maintain a very edgy mohawk dreads look.