How ironic it is that messy aka messy buns with bangs are a new flawless! Apparently in beauty, the most undone requires maximum effort.
You can now oomph up your style with dandy messy hairstyles which make you look chic and in-the-light. Make messy buns with bangs your new style statement and carry them wherever you want, in any look. Make your own DIY dandy messy buns with some really simple steps and go flawless.
How to Do a Messy Bun
You can make a perfectly messy bun in just the following steps:
Flip your hair upside down and tie them into a loose ponytail. The height of ponytail depends upon your liking. NO NEED TO COMB! Even some bumps would also work.
Twist and spin the hair around the rubber band/base of the ponytail and make a bun. Leave the tail at the end.
Finally, use bobby pins and elastic to secure the bun.
Defining your new style, carry these messy buns with a bold set of bangs. These bangs will shape your face and add extra oomph to your look.
Watch The Following Tutorial to Learn How to Do Messy Bun Hairstyle
https://www.youtube.com/watch?v=SfGSo7nt3fA&t=154s
How to Style Bun and Bangs with Weave
There is no specific difference in the way of styling. You can get an equally elegant messy bun and bangs with the weave. Your hair might need some extra handling with pins and rubber bands. However, straightening your hair might also be a good option. Overall, the weave is a good way to give your hair an extra volume.
Watch The Following Video to Learn How to Style Bun and Bangs Using Weave
Stunning Messy Bun with Bangs Style Ideas
Following a curated list of 5 dandy ways in which you can style messy buns with bangs.
1. Loose Bun with Full Bangs
Loose buns give an effortless yet elegant look. But even the loosest ones require the most effort. A low-lying messy bun with bangs makes a perfect contemporary look.
How to Style: Tie your hair upside down to give them a messy touch and volume. Create a central partition in your hair and loosely tie all of them in a bun. Keep the bun at the neck height for a contemporary look.
Allow short bangs to come to the front lying on the forehead and frame your face. Allow losing hair to come out of the bun as well, lying free. You can complement your look with some flashy earrings. This will add more hype to it.
The messy top knot is good for a chic look and best to be carried by high-school or university girls. You can carry it to parties or even a gym as well. It gives you more of a teenager kind of look. You can now add hype you're your old bring top knot by wearing it with bangs.
How to Style: Flip your hair upside down for volume and messy look. Tie all your hair into a ponytail on the top of the head and secure it loosely with a band. Now wrap and swirl your hair around the band in a messy way and make a messy bun out of it. Finally, secure the bun with a tighter. Finally, let your bands fall onto your forehead! Your bangs with top messy bun look is ready!
Side bangs and messy bun make a perfect combo! You can now complement your look with this sassy yet elegant messy side bun style. It is a versatile hairdo. You can carry it casually to your work or wear it to a formal occasion or party. It will do wonders to your look.
How to Style: Flip your hair upside down for volume and mess! Make an off-centered partition in your hair. Gather all your hair to the side of the greater partition and tie them into a ponytail. Keep the height of the ponytail just above the neck for a classic look.
Wrap the hair around the base of the ponytail and make it into a messy bun. Then secure the bun with bobby pins and a rubber Let your bangs fall onto one side of the forehead for a sleek look. Ta-da! Your look of the day is ready!
Sock bun has always been in the trend. We are giving it a twist this time. How about converting the usual sock bun into a loose messy bun with bangs, adding sass to the overall look of this contemporary style? Let's see how we do it!
How to Style: Flip your hair upside down for volume and rough look. Tie your hair into a high ponytail with the help of a loose rubber band. Now place the Sock at its right place and wrap the hair around it to make a bun. Now pull random sections of hair to make your bun look loose and messy. Finally, gather your bangs onto one side of your forehead.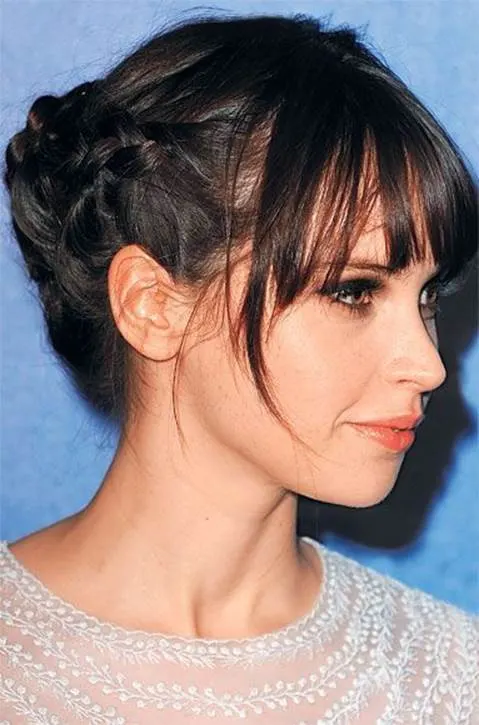 If you want to add a little twist and elegance to your messy bun with bangs look, the braided bun is the best way to do it. It is the best hairstyle to carry casually as well as formally!
How to Style: Partition your hair from the center. Make each section into a braid. It is better than the braids are loose and a bit rough. This will give the final look of a messy bun. Now take one braid, align it along the nape of the neck till it reaches the opposite ear. Secure the braid with pins. Now repeat the same step with the other braid.
So, ladies, get ready to go flawless in your day's look with these sassy yet elegant messy bun with bangs hairstyles!