Trying out bangs and failing is a rite of passage in many women's lives. If only someone had encouraged side bangs instead of the straight-across variety!
This beautiful hair detail is the most versatile in the world because side bangs suit every single hairstyle and every single face shape out there. Whether worn short or long, they provide balance and interest where it's needed most.
Things To Consider When Getting Side Bangs
Although side bangs are a fantastic hairstyle, there are some things you should consider before getting them. The primary concern is maintenance.
Depending on how you want your hair to look, your bangs may require heat styling and hair products to achieve the desired appearance. With this in mind, it's a good idea to have your bangs cut in a way that suits your natural hair texture.
You will also need to regularly trim your bangs if you want to maintain the look for longer than a month or two. Human hair grows about a half-inch every month, which can make a significant difference when styling bangs.
Additionally, you may need to wash your bangs more frequently than you do the rest of your hair. Greasy side bangs are both aesthetically unappealing and bad for your skin. However, as long as your side bangs are cut nicely and follow your hair texture, you should be able to incorporate the maintenance of your bangs into your regular hair care routine.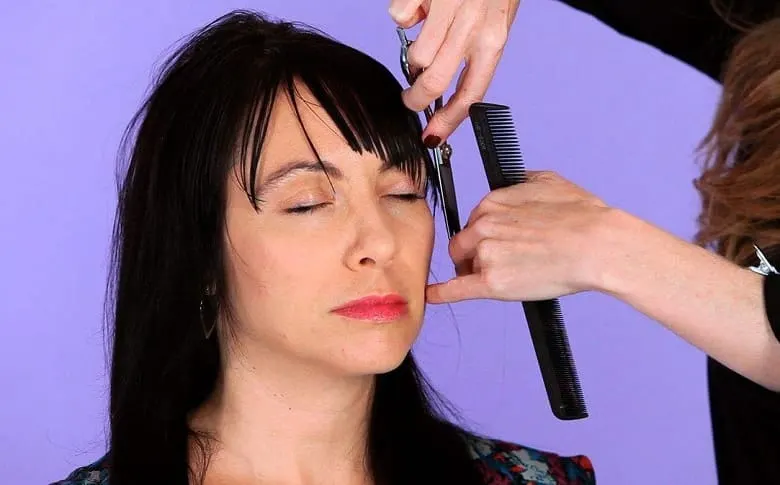 Before you decide on cutting your bangs on your own, make sure you have: a tooth comb, a pair of scissors, a big mirror, as well as a flat iron.
Step 1: You can wet your bangs (optional) with some water if you want to cut them while they are semi-wet. If not, you can work with their original/natural texture.
Step 2: Create a triangular part at the front and use your comb the brush out the hair to the opposite side of where you want your bangs to be. For instance, if you are trying to make your bangs sweep to the right brush them left or vice versa.
Step 3: Twist the hair on the side and cut it parallel to your side part line. Don't do flat or horizontal cuts, rather work at an angle. You can also accentuate your eyes by going for shorter bangs, or you can leave them loose and long if you want to highlight your cheekbones.
Step 4: Blow dry your bangs or even style them with a flat iron. Make sure you are satisfied with your angles if not, you can cut down some little pieces with your scissors.
Watch The Following Tutorial to Learn How to Cut Your Own Side Swept Bangs at Home
How to Do Braided Side Bangs Style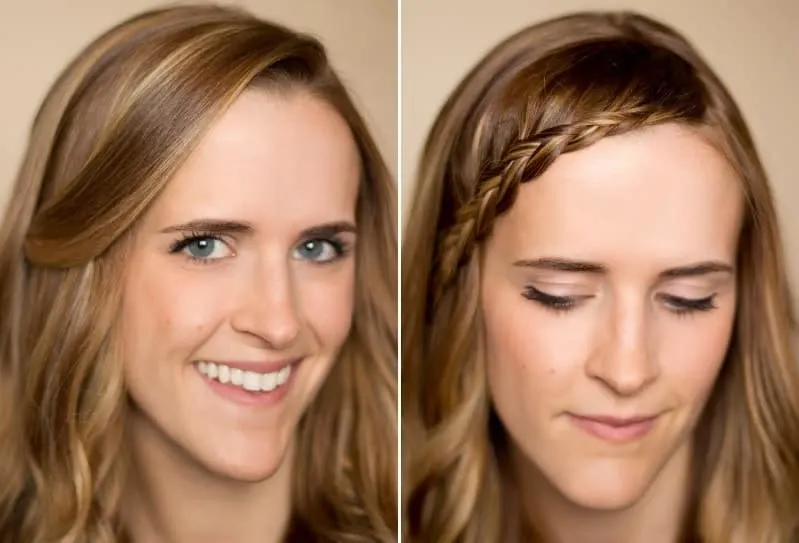 Here's how you can style the side braided bangs.
Step 1: Section your hair and use a comb to create a side part for your bangs. Make sure you leave them out on the side and pull the remaining parts of your hair into a ponytail.
Step 2: Create French braids by twisting 3 different parts of your hair. Pull one strand over the center, and then use the second strand and twist it around the center. If you prefer some other braids like Dutch braids you can do them as well.
Step 3: Take your created braid and secure it with a bobby pin by making an X at the back of your head. Let your hair loose out of the ponytail and enjoy the day!
Watch The Following Tutorial to Learn How to Do Side Swept Braided Bangs Style
Side Bangs
Take a peek at our 50 styles to get an idea for what you want for your next best hairstyle.
1. Micro Bangs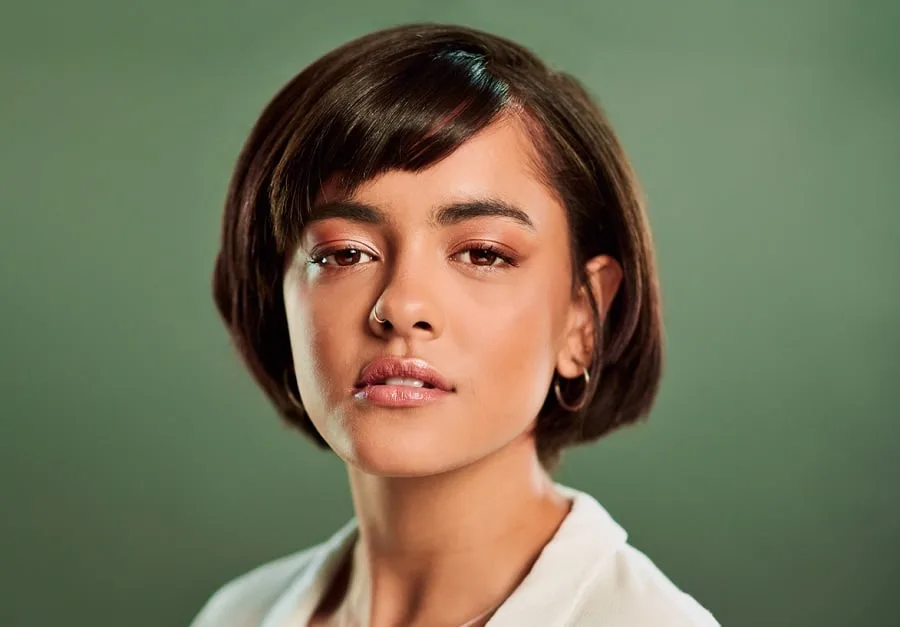 An ideal way to flaunt your jawline and neck is by getting a short bob haircut. The side-swept micro bangs accentuate this look. This minimalistic hairstyle is easy to maintain and gives you a chic appearance.
2. Tousled Side Fringe
This tousled fringe adds more volume to thin hair. A few strands are left on the forehead while the remainder is side-swept. This look is further enhanced by adding babylights. Finger-brushing is enough to maintain this style.
3. Wavy Pixie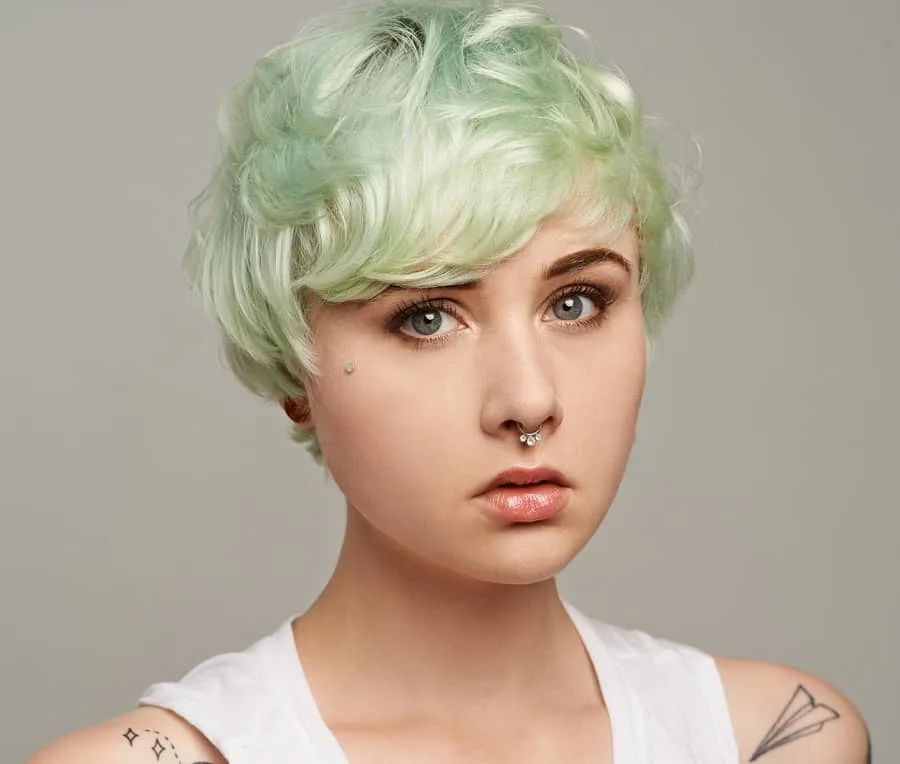 The ocean waves can be brought on the head with this cool hairstyle. Get a pixie cut just long enough to cover the ears with beautiful wavy side bangs at the front. The minty green hair color will complete this look.
4. Barely-There Bangs
Getting bangs does not necessarily mean that there is the need to get a full fringe. This hairstyle is ideal for women over 50 who prefer a subtle long fringe that is easy to handle with a short haircut.
5. Marilyn Monroe Look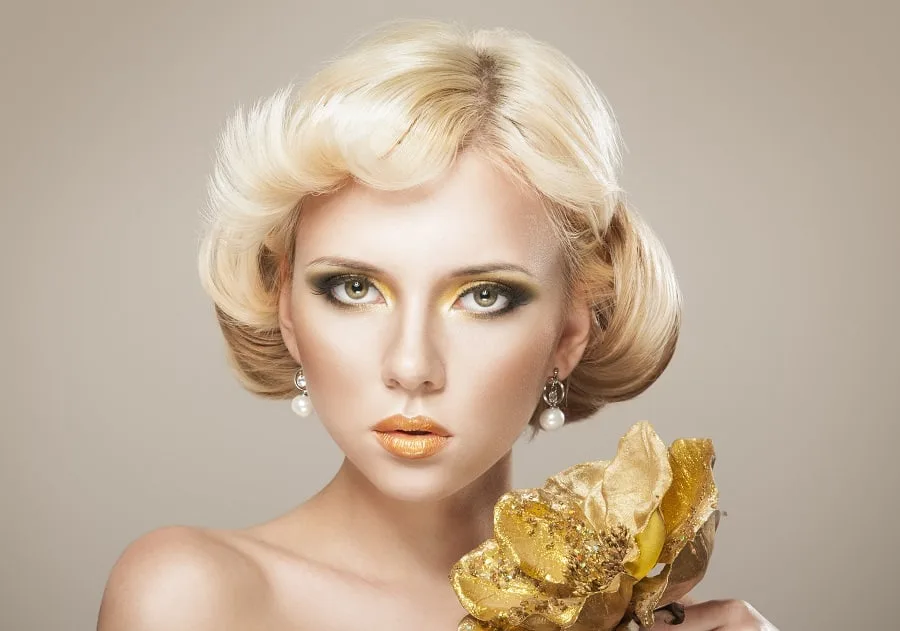 This hairstyle is giving off the vibes of the famous actress. The short bob is rolled inwards while the bangs at the front are swooped to the side to create a feathery look. This is an ideal style for those who want a vintage-inspired look with bangs.
6. Red Bangs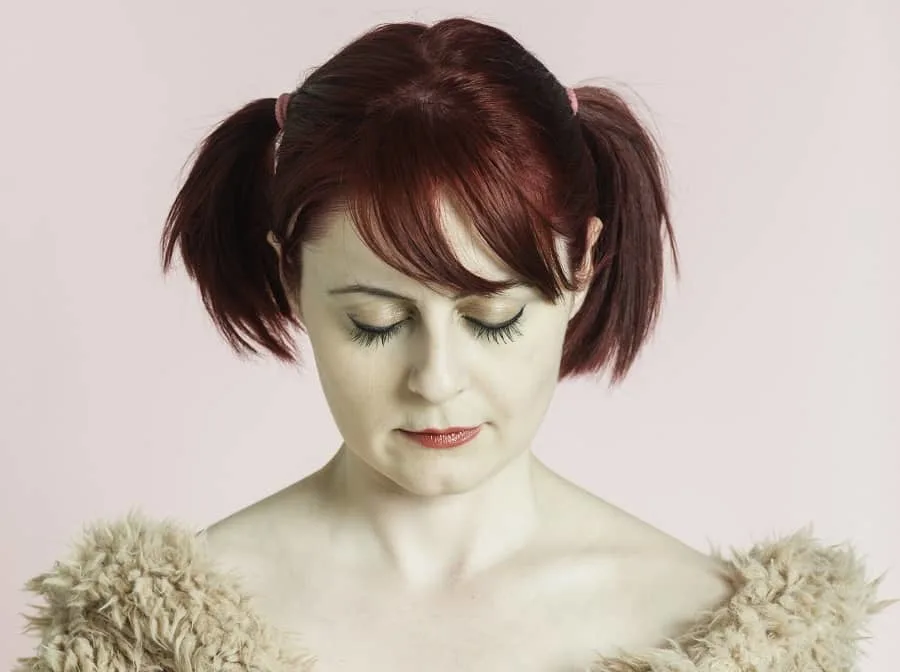 Show off your fiery red hair color with this hairstyle. The short strands are brushed out and secured in two high ponytails with a middle part. This hairstyle is, however, incomplete without the cute side bangs that give this style a nice finish.
7. Magnificent Curly Side Bangs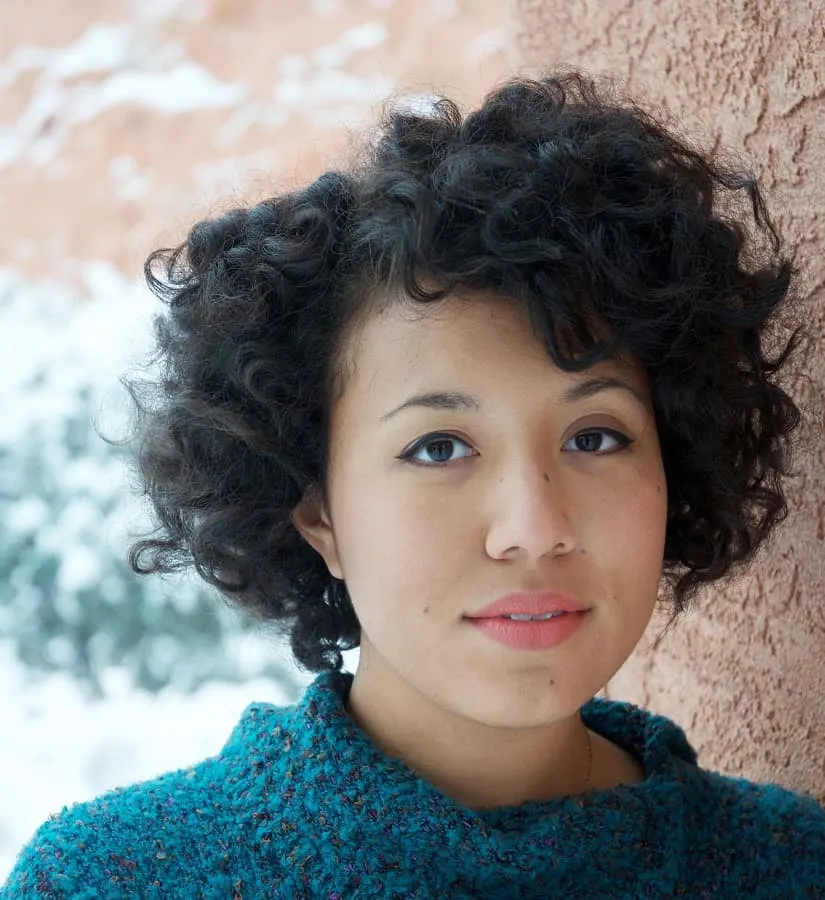 Who says bangs do not go well with curly locks? This side-parted hairstyle with bangs upgrades the look of naturally curly hair. The bangs can be kept on the forehead or can be swept to one side. This hairstyle is carefree and easy to maintain.
8. Choppy Ringlets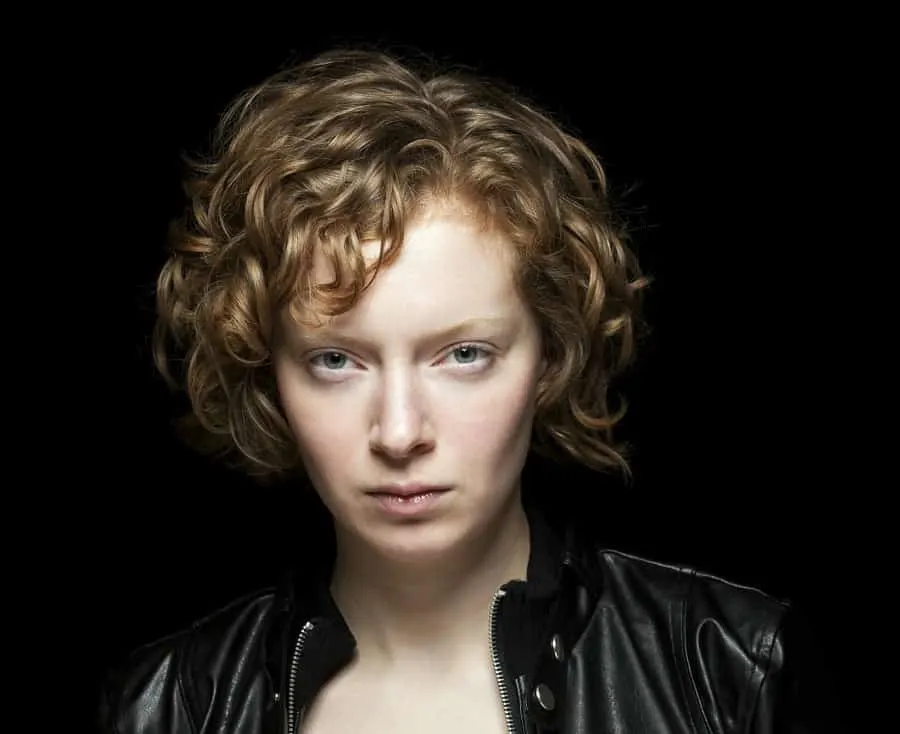 This is another hairstyle for the curly-haired ladies out there. The choppy ringlets accentuate this short lob look. The spirals are kept smart-looking with subtle layering. As curly hair shrinks up, the bangs on side should be cut a bit longer.
9. Sleek Look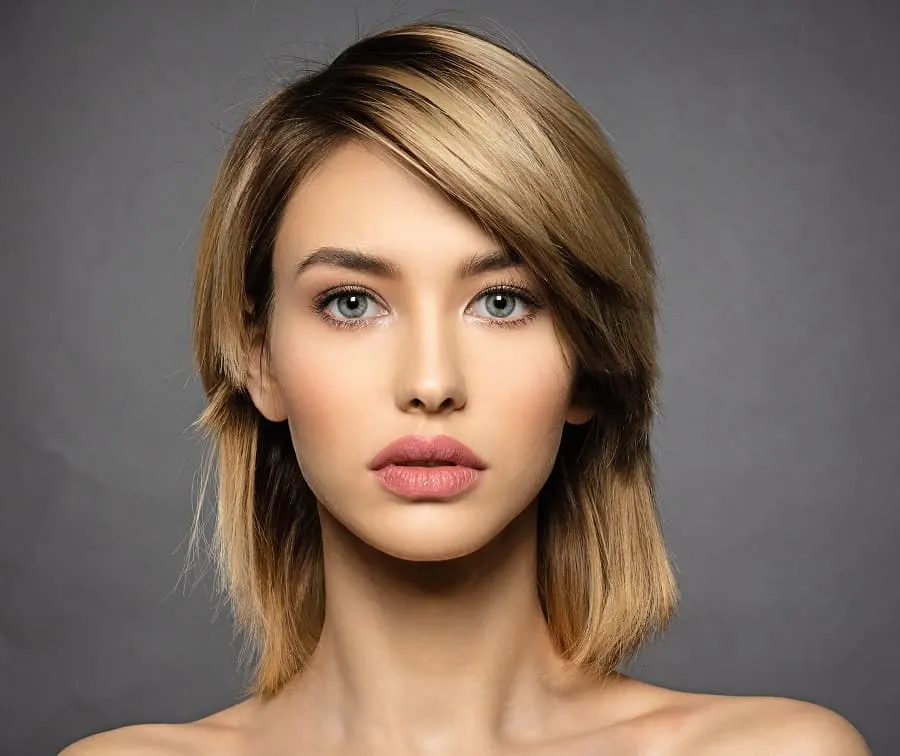 A simple sleek look can be achieved with this hairstyle. The medium-short haircut is all about the layered textured bangs at the front. The bangs are long enough to be swept behind the ears. This is an ideal hairstyle for women with straight blonde hair.
10. Thick Eyebrow Skimming Bangs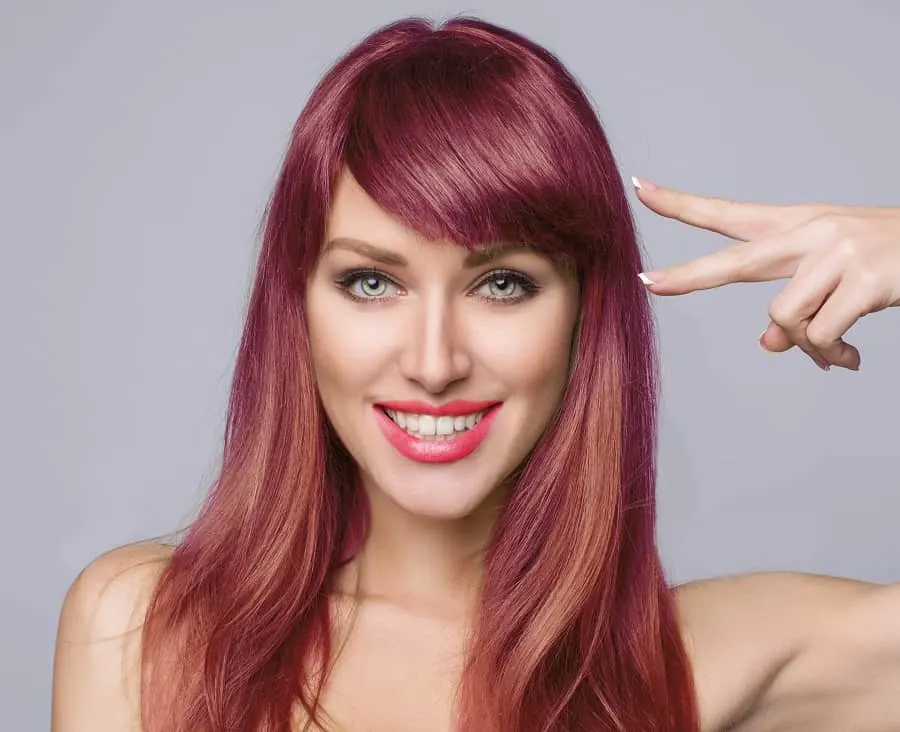 Bangs go incredibly well with long hair. To achieve this hair look dye your locks in a magenta hue with rose brown highlights. Get thick bangs that just skim your eyebrows. This hairstyle gives you a cute doll-like appearance.
11. Short Hair With Side Bangs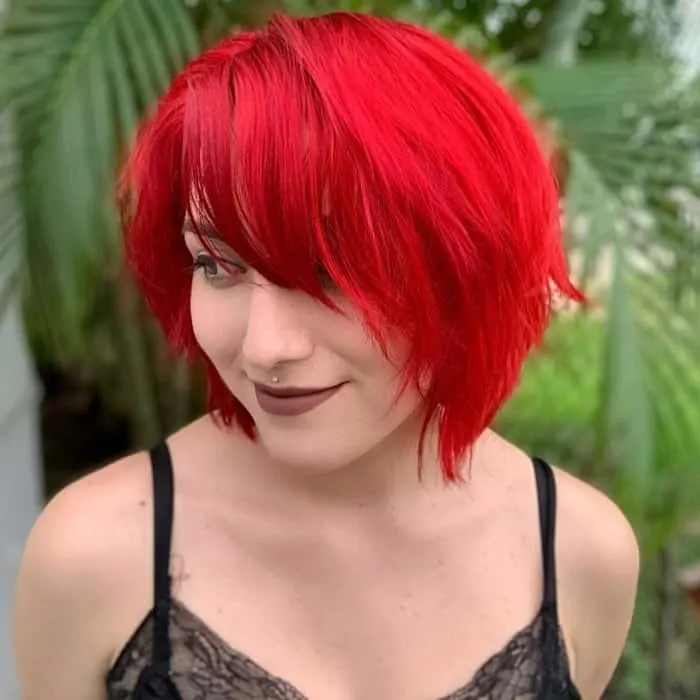 Add instant volume to short-haired looks with bangs that sweep to one side. With short locks, like this red bob, they should be cut at an angle and feed into layers cut at the front of the face that effortlessly work into the rest of the hairstyle.
12. Side Bangs for Round Face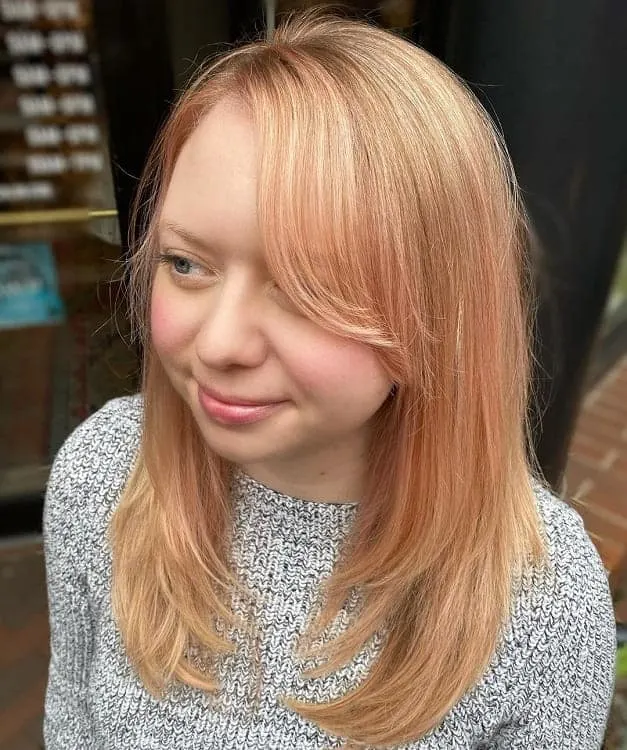 Bangs that are either swept to one side or parted down the middle in a curtain-like fashion conceal part of a round face for an instantly slimming effect. Longer is better for full cheeks, so cut your side bangs so they fall on the tops of your cheekbones.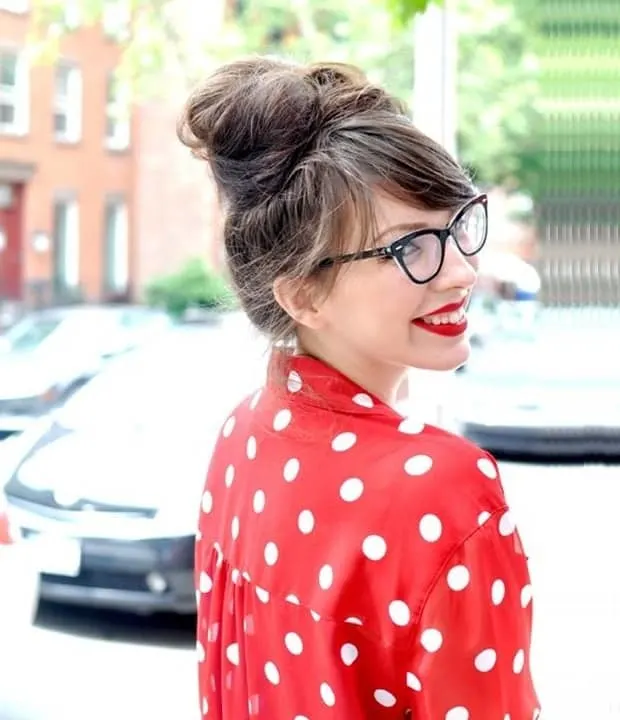 A cute and easy up-do for these bangs is a voluminous bun. Face-framing bangs make this bun look great for casual affairs, though the hair can be done in a neater fashion for a more serious event as well.
14. Sew in Side Bangs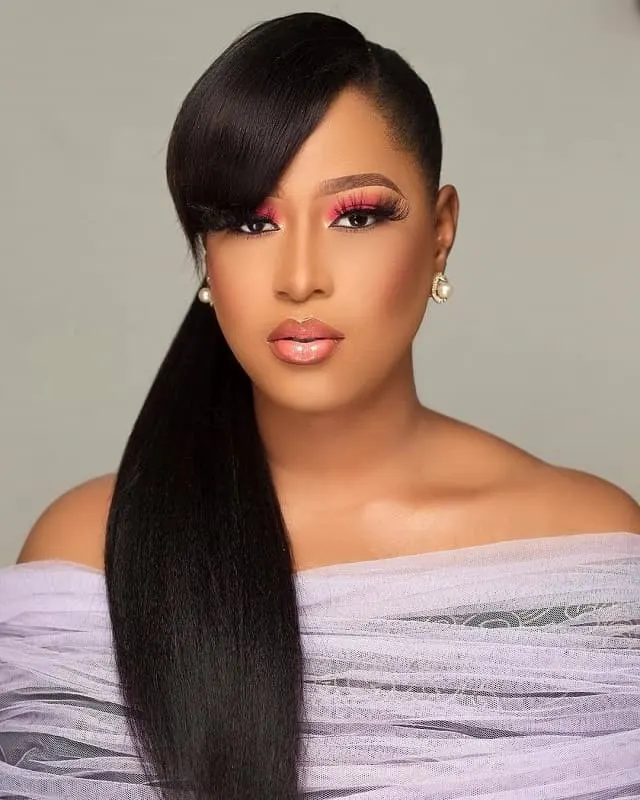 Don't feel like you have to commit to bangs without trying them first. Sew-ins provide the perfect opportunity for seeing if the look is for you and suitable for your lifestyle. If they turn out like this gorgeous sleek fringe, then they are probably a keeper!
15. Medium Hair with Side Bangs
Medium hair, especially when curled under, beautifully frames the face and emboldens even the softest of jawlines. Bangs that are concentrated to one side finish this effect by acting like a curtain to reveal the face underneath in the most flattering light.
16. Side Bangs for Thin Hair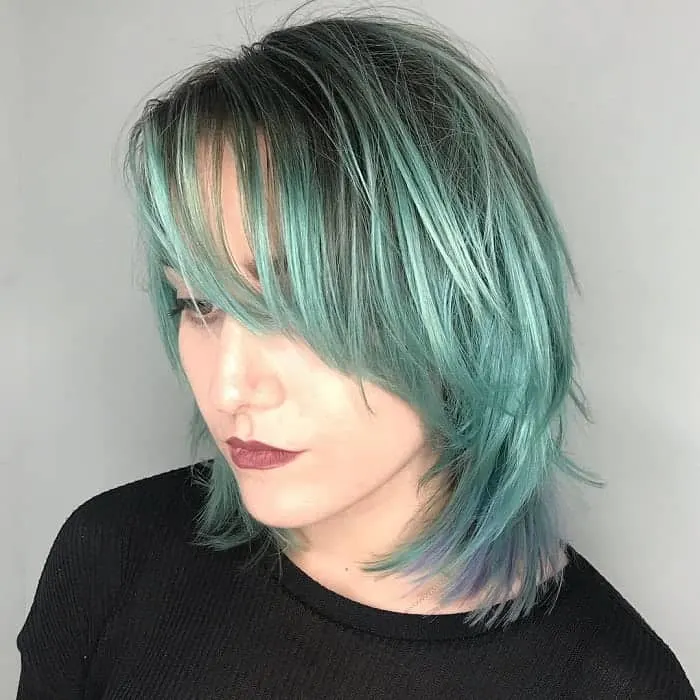 Side bangs give the illusion of greater volume on your hair. When tapered, they stretch across half of the forehead and can feed into front layers for a look that works especially well if your hair is short. It's okay if they come out a little wispy, it's their overall appearance that counts for thin hair.
17. Thick Side Bangs
Straight across bangs can make thick hair feel heavy. Bangs that sweep to one side create movement and a feeling of lightness that is needed for bulky hair. If your face shape is oval, the bangs can cover your entire forehead, so long as the energy moves in one direction.
18. Glamorous Up-do with Side Bangs
Deliciously coiffed hair would be nowhere without sweeping bangs that delicately cover the forehead. This fringe softens the hair line and frame your face, drawing attention to your beautiful eyes.
The longest portion of the bangs should dip onto your cheekbones (to draw attention to popping highlighter).
19. Blunt Cut with Side Bangs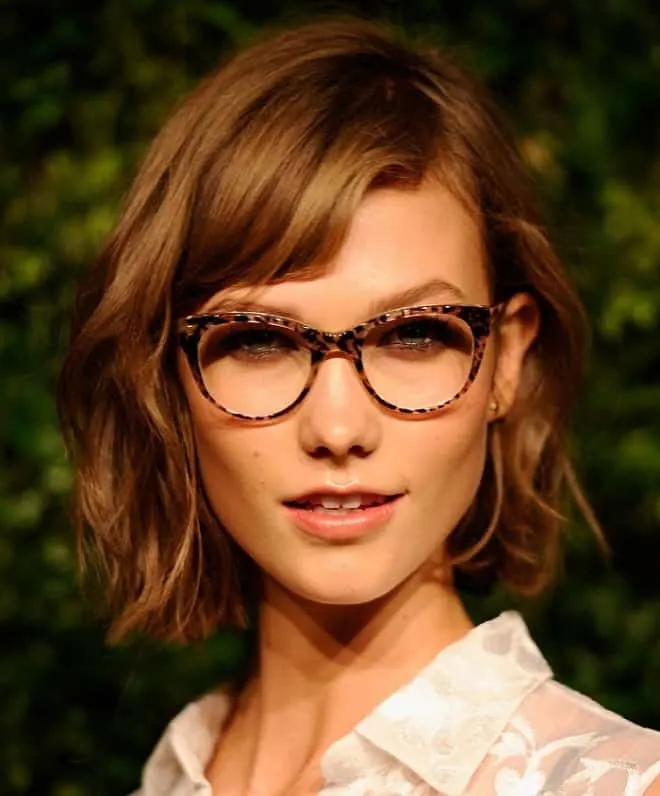 Blunt chops bring straight lines and a touch of seriousness to the table. Short bangs that are drawn to one side instantly soften a blunt-cut bob. For symmetrical or small face shapes, the bangs should gather a half an inch above the eyebrow to keep your look opened up.
20. Emo Side Bangs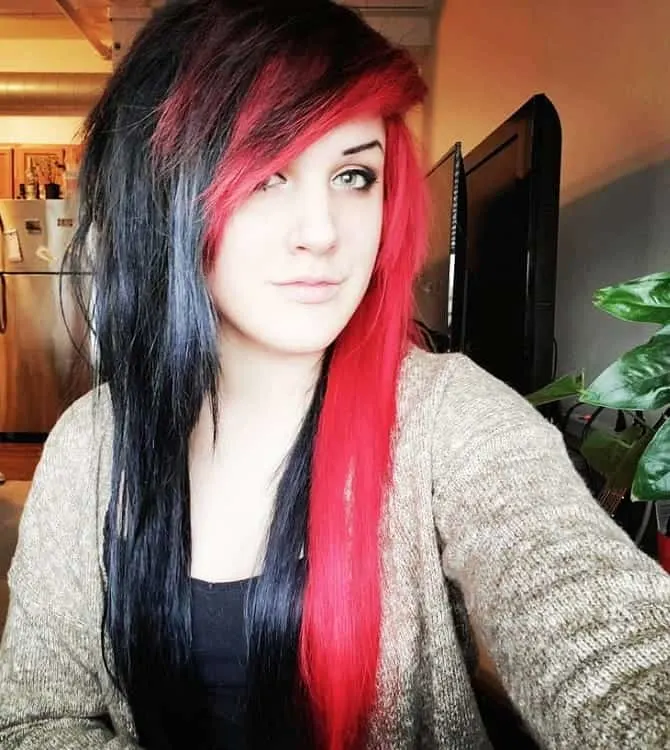 Side bangs are a main feature in many emo hairstyles, especially long cuts with lots of choppy layers. Regardless of how deep you decide to make your part, the fringe should cross over your forehead and feed into short layers that reside on the cheekbones.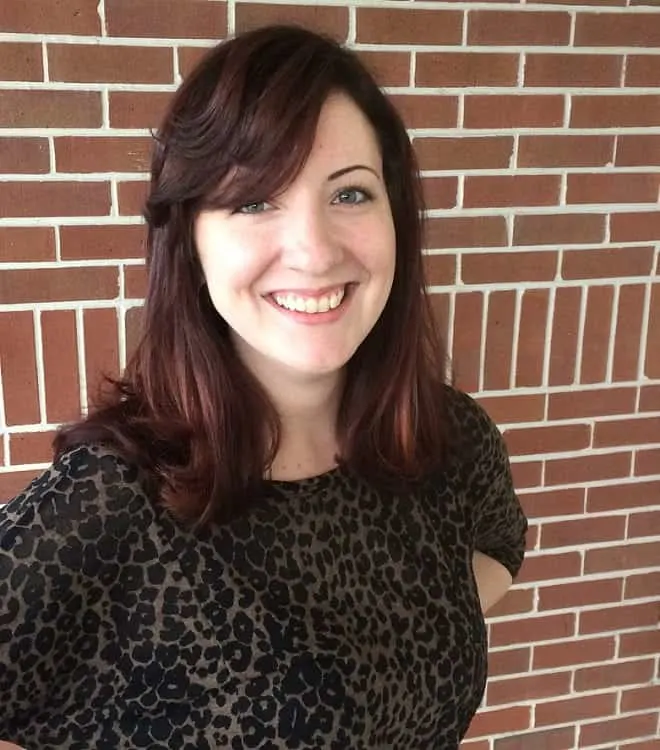 Forget about straight locks! Wavy hair looks great with feathered bangs that show off your natural texture. The beauty of this look lies in the appearance of fullness and the ability to straighten bangs, if need be.
22. Choppy Side Swept Bangs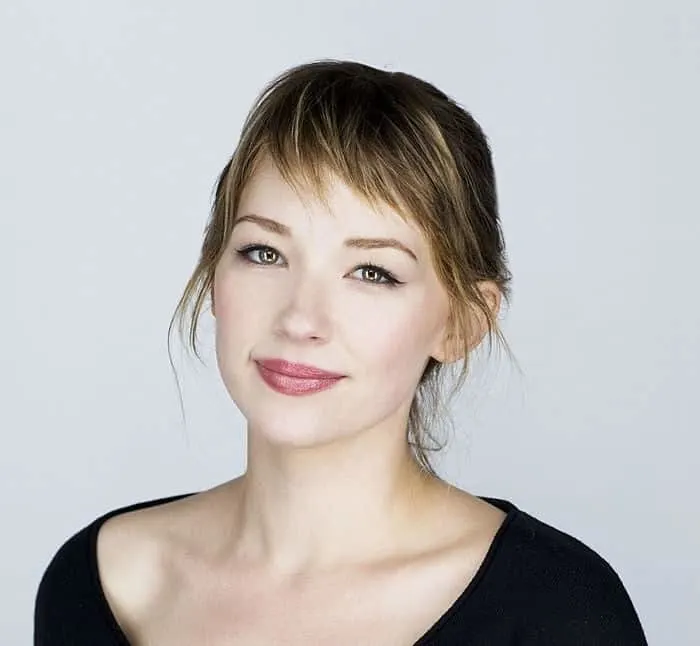 Make your bangs work for you and your personal style! Short, choppy varieties open up your face while giving off the same effect as longer versions.
Don't be precise with your cut, but don't cut chunky pieces, either. Bangs should look razored, not hacked to bits. We absolutely love how they contrast with an ultra-feminine face.
23. Wispy Side Bangs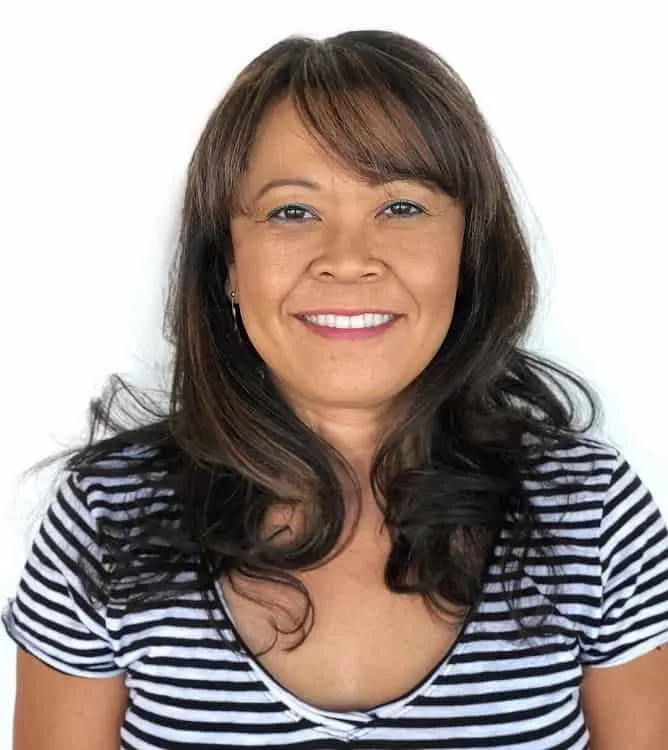 Wispy bangs work well on thinning hair and help to open up round face shapes. We love them for framing a face with longer locks or short bobs and pixie cuts, too. A small portion of bangs cut on the opposite side ties this entire look together.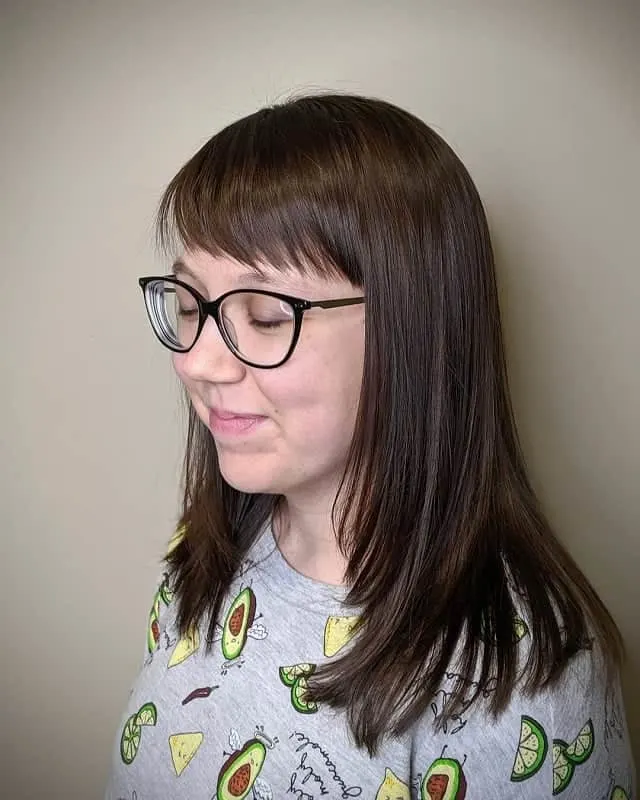 Make lank locks more interesting with a side-cut fringe. Whether your hair is a basic brunette or wildly colorful, these bangs will frame your face and can be adjusted according to your personal hair needs. Soft layers at the bottom of the hair make this style feel cohesive.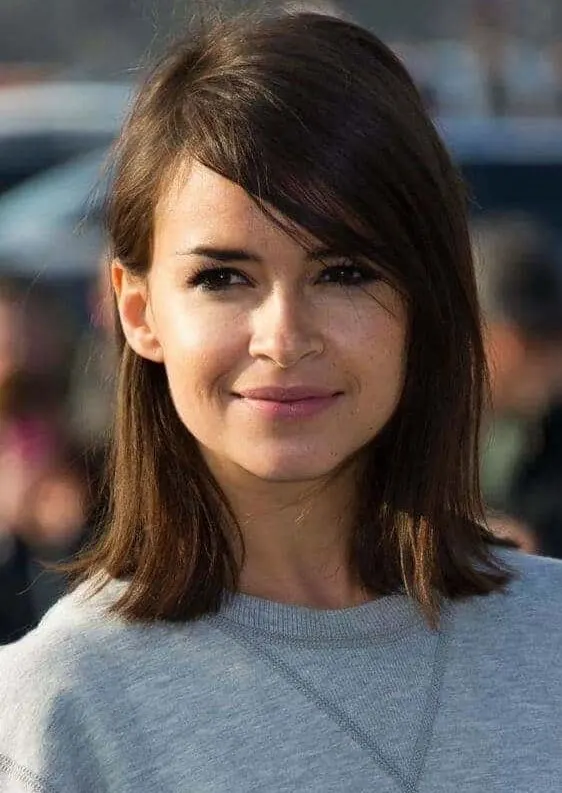 Looking for a quick and easy style to wear with side bangs? A long bob can be worn pin straight or given a few tousles with a curling iron for the utmost versatility. The bangs can be cut short or swept to the side into longer layers so that they may be tucked behind the ear. A long blunt bob cut is a great starter style for anyone to adjust slightly according to their face shape.
26. Purple Bob with Long Bangs
Purple hair or not, this short hairstyle with long bangs is a great go-to for all face shapes. The look is neat and professional yet certainly stylish. Hair that is wavy, straight, thick, or thin, can benefit from this classic look.
Women who are not ready to cut their hair should at least make some smaller modifications and try out side bangs. This straight long hairstyle will give you some versatility when styling. Longer bangs are also easier to grow out if you find the style isn't for you.
Emma Watson is a natural beauty whose symmetrical face shapes means the majority of looks suit her. A side part with bangs, however, is suitable for just about anyone. It keeps coverage on your face when hair is swept into a low ponytail. A few pieces should remain down for a relaxed, face-framing vibe.
29. Curly Hair with Side Bangs
If you like waves but you are not that into curls, then this shaggy cut might suit you the best. It has long, bold bangs that, when swept to the side, create that curtain-like effect we can't get enough of. Soft layers are key for a shaggy curly style that won't overpower your face.
This chin-length cut will accentuate your jawline the most while making your lips and cheekbones pop. Every woman can enjoy this haircut with side bangs and should make the chop especially around the summer season. This fringe is easy to style or swipe to the side as needed.
We love this side bangs hairstyle for round face shapes. If you prefer softer makeup, pair it with soft locks with relaxed texture. This fringe works wonders at concealing a larger forehead. An oval face shape, like Dakota Johnson's, typically comes with a larger chin. Cut your side bangs so they sweep across your eyes for balance.
Bleached out hair can look great on darker skin complexions, especially once you pair it with long bangs on pixie cut! Just be aware of picking up the undertones of your skin with the correct shade of blonde. These long bangs are piecey for a sexy vibe. Make your features stand out by chopping bangs to rest along the cheekbones.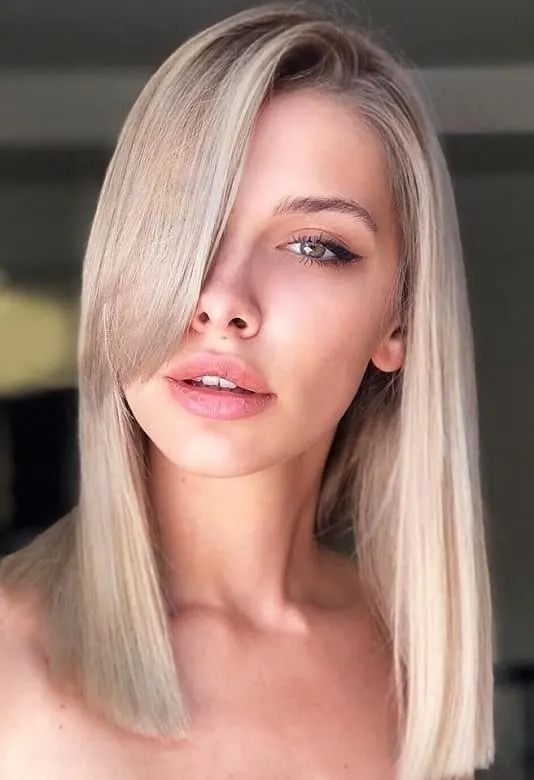 We told you that these bangs were versatile! If you've got medium to long straight, platinum locks, you may want to keep those long leans lines. This can be achieved by cutting your bangs as long layers that reach to around your mouth.
With a side part, bangs can be flipped to one side. A center part will create a long, curtain-like fringe that you can work to your advantage.
A short bob with side bangs can look so fierce, especially on younger women. A deep side part creates a window to your lovely face that is ideal for accentuating gorgeous make-up. Side bangs should feed in to the rest of the hair in a seamless nature, so a few layers at the front of the hair won't hurt. We love this style when worn sleek.
35. Sleek Bob with Side Part Bangs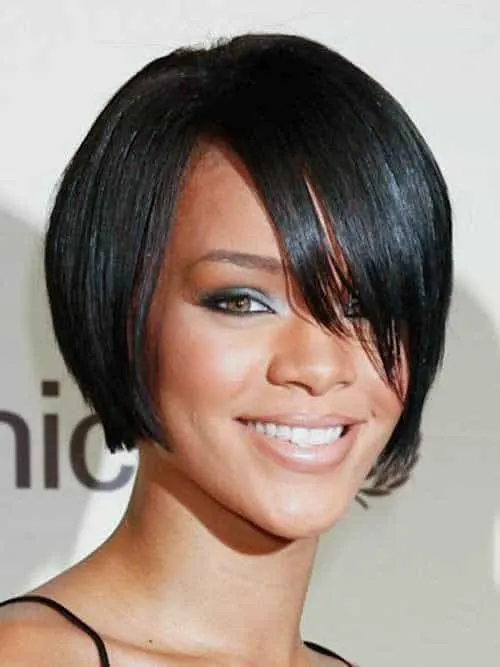 If Rihanna can look this good in this side bang hairstyle so can you! This above the chin cut will accentuate your facial features the best while focusing attention mainly on your eyes. Women of all ages can rock this hairstyle. You may have to adjust the length according to the structure of your jawline and chin, however.
Long layered hair with some caramel highlights instantly freshen dark, monochrome locks. If you are okay with investing a bit more time each day into the styling process make sure you enjoy your long hairstyle with bangs to the side. Because these bangs are longer than most on this list, they make tying up hair pretty easy.
Age doesn't have to be an issue when searching for your ideal hairstyle. If you still have plenty of volume, then longer hair can certainly work. Try short beach waves for thinner hair or a longer style to pair with gorgeous, layered bangs that fall on each side of the head. Curly or wavy texture should utilize layers to keep otherwise bulky hair flowing.
Add a little interest to a sleek bob style with side-swept bangs. This short hair with side bangs look is cut slightly on an angle so that the front of the hair cups the chin and jawline. Longer bangs are perfect for a round face shape. Add a bold lip and you're good to go.
Rachel McAdams is one of those women who would look good with virtually any style. This is true of women with oval face shapes because they are highly balanced and symmetrical.
Voluminous side bangs create height and energy that round face shapes simply cannot handle. If you're looking to spice up your medium hair, give your bangs the chop and get out your blow drier and round brush!
A side part bob with straight locks is so easy to wear, truly anyone can rock it. The short length frames the face and sweeping bangs work seamlessly into the rest of the style. Try cutting them longer, as seen here, if you're new to bangs and want to see how they work for you, first and foremost.
Due to a square face shape, Jennifer Aniston certainly knows the benefits of bangs that are parted to the side. This fringe comes in the form of long layers that break up and soften a square jaw, especially in a bare-it-all long ponytail style. When pulling hair back, don't brush it all straight back, but rather swoop the hair around the natural curve of the head.
Women who are not afraid of stepping outside of their comfort zone will totally enjoy this light blue hair color paired with glamorous side bangs. Regardless of the hair color that you choose, this look knows how to compliment ultra soft waves with edgy shaved details. Add an undercut at the nape of the neck or create a similar portion at the temples.
It's so easy to fall in love with feminine yet powerful short pixie hairstyles. Swooping styles with choppy layers and long bangs are fun, but these side-swept baby bangs have a face-baring element that is hard to ignore. This look is incredibly easy to style. Short, choppy layers are all you need for this incredibly elegant look.
44. Textured Wavy Hair with Side Bangs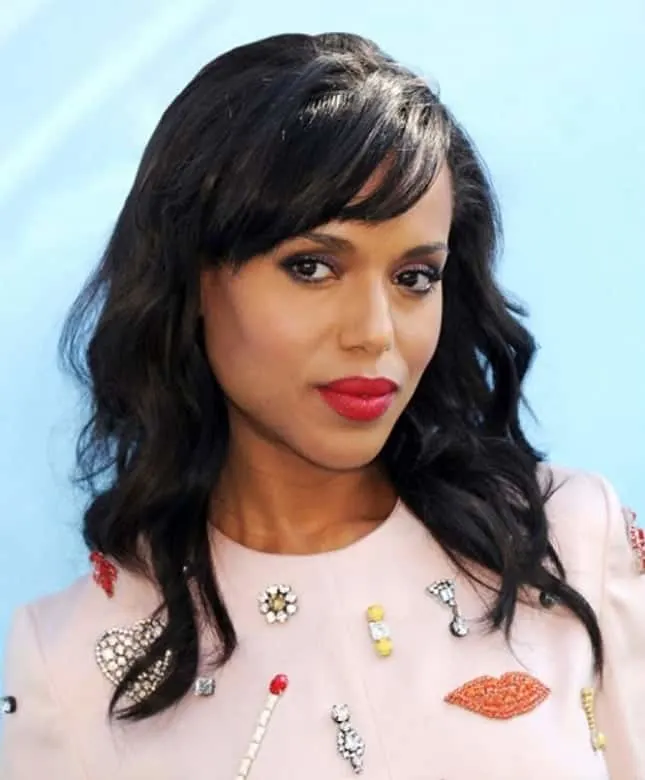 Some fluffiness at the crown of the head looks feminine, especially if you want to create an illusion of thicker hair. Wrap up your look with short curly bangs on the side to balance out a strong jawline, like Kerry Washington's.
45. Layered Side Bangs
This layered bob hairstyle with side bangs brings a lot of fun energy to whomever wears it. Short layers cut at the edge of the hair bulk up with this short crop with lots of volume. The bangs shouldn't lie flat on your forehead, however. Blow them out for sexy volume.
Rose gold hair color is really trending at the moment, and we can all thank Kylie Jenner for that. If you're willing to try this look on your skin with golden undertones, take a soft approach and part bangs to the side. A center part can be rather severe, but long layers and bangs frame the face and add a touch of glamour.
Balayage highlights provide the perfect compliment to any hairstyle, but can make your beautiful side-swept bangs truly pop. These highlights are hand-painted for a natural effect and look great on a wavy bob or even long locks. Make sure your stylist paints the brightest pop of color along the edge of your bangs to lighten and brighten your face.
48. French Braided Bangs
As much as you will love side bangs, sometimes you'll need an option for pulling them out of your face, if just for one night! Try twisting hair into a French or Dutch braid while wearing your tresses nice and long. The side braid will have the same balancing effect as the bangs, while giving you a nice option to play with.
Short curly & wavy hair is a rather effortless way to style your hair if your locks have consistent body. Piecey bangs feel like a natural extension for this hairstyle, but should be swept to the side to work with the playful energy of the rest of the hair. If your hair has similar texture but is cut longer, try cutting your bangs longer with a few face-framing layers to match.
50. Blonde Hair with Side Bangs
Blonde hair with bangs typically needs frequent chops to keep hair fresh. Blonde locks are typically weaker, so bangs cut at the front of the face actually remove a lot of dead ends in the most stylish way we can think of. On older women, we love a texturized style like this one, where longer bangs feed into soft, shoulder-length layers.
Side Bangs Vs. Curtain Bangs
Side bangs and curtain bangs are similar but have a few key differences. Both styles are angular bangs that frame your face and draw attention to your eyes and cheekbones. Some curtain bangs can be arranged as side bangs, but they will have a different look than traditional side bangs.
Curtain bangs are symmetrical and intended to be worn with a middle part. They tend to be longer than side bangs and have a feathered, tousled style.
Side bangs are asymmetrical and look best with a side part. This style can range from tousled to elegant, but it will always create a smooth, arcing shape across your hairline.
Have we convinced you of the wonders of side bangs yet? Women looking to add balance and structure to their face shape will love them the most. When tapered and cut on an angle, they grow out better and can feed into the rest of layers on your hairstyle, making them the low-maintenance look that we can't get enough of.
Oftentimes, bangs require daily styling, but if you don't mind taking a few minutes each day to get them to lay as you want, then the look is for you. Get a handy mini iron or even a hair curler to make your bangs work for you every single day!
Frequently Asked Questions
Here are answers to some of the most frequently asked questions about side bangs.
Are side bangs out of style?
Side bangs, along with other 2000s trends, are back in style. Unlike the thick, helmet-like side bangs of the early aughts, contemporary bangs are more relaxed and incorporated with other face-framing layers.
Do side bangs go with round faces?
Yes, side bangs look great on round faces. The asymmetry will help the face to look less full, and the length of the bang draws attention to the eyes and cheekbone. Both of these elements will create the illusion of a longer and more angular face.
Can I style side bangs with a cowlick?
You can style side bangs with a cowlick, but it will take extra effort. A cowlick will cause your bangs to awkwardly stick out. You can avoid this by using heat styling to shape your bangs. If you don't want to deal with daily maintenance, you can cut your bangs to be thick and long, which will weigh the cowlick down.
Are side-swept bangs and side bangs the same?
Yes, side-swept bangs and side bangs are the same hairstyles. Both terms describe a fringe worn with a side part and gets gradually longer as it approaches the cheek and ear. However, if you want a bang that is longer and less angular, you can ask your stylist to give you a swoop bang.
Can I get side bangs without cutting hair?
You can create hairstyles that mimic the look of side bangs without cutting your hair. The easiest way to create the illusion of a side bang is to part your hair to the side and use a bobby pin or barrette to pin some front pieces of hair to the section of your head right above your ear.

This method will give you the same hair shape as side bangs without permanently committing to the look.
Which length is perfect for side bangs?
Every woman, no matter her hair length, can rock side-bangs. Whether they become the main feature of a pixie style, sweep effortlessly into long layers, or frame the eyes on a bob hairstyle, these bangs can be chopped, layered and styled according to your look.
Can you try middle part hairstyles with side bangs?
Trying middle part bangs is a great way to wear bangs on side without having to swoop all of your hair to one side. Parting bangs in the middle is perfect for elongating round face shapes by drawing the eye in and downwards. They can also be parted slightly off-center if you're looking for more coverage on your forehead.