Beautiful French Bangs
We have handpicked the French bangs that'll make any women look attractive.
1. French Braid with Bangs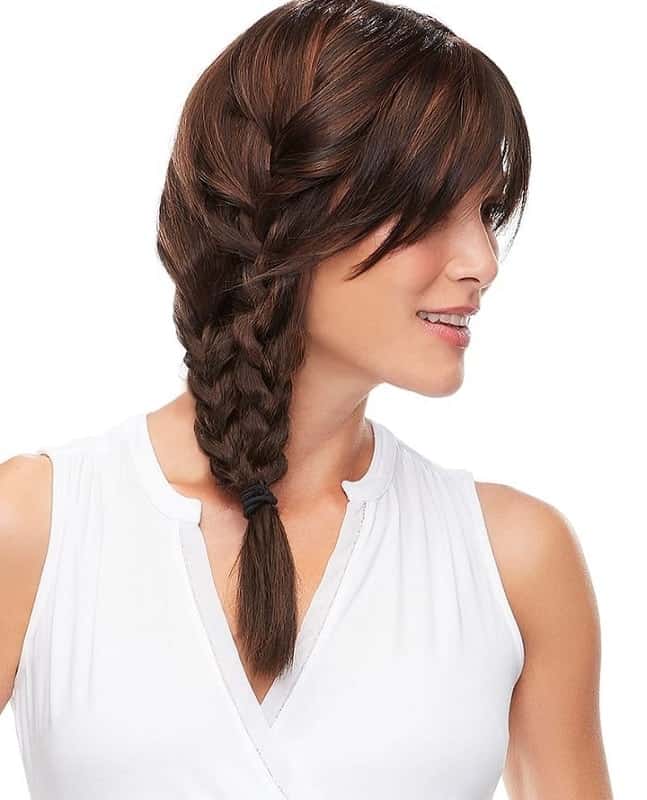 2. French Bob with Bangs
3. French Twist with Bangs
4. French Bangs for Round Face
5. Pixie + French Bangs
Even a short pixie cut can benefit from French cut bangs. This pixie cut is softened by the light, face-framing bangs that make this hairstyle look exotic and powerful yet still feminine.
French bangs style for women works great on medium length hair. Long bangs that are layered and reach the cheekbones can hide large foreheads and be flattering for thin faces. Let the bangs fall into your eyes for a flirty and fun style.
20 Wonderful Wispy and Blunt Bangs Ideas for Women
7. Middle Parted French Bangs
Women with long hair love French inspired bangs because these bangs add dimension and texture to hair that is past the shoulders. If you don't like bangs to be in your face, ask the stylist to cut the bangs longer in front with a middle part so you can push the bangs to the side.
When your hair is thin, a razor cut bob with French bangs can add volume to the crown of your head. This look is trendy, modern, and perfect for tomboys who love short hair but still want a soft look that is versatile. This look doesn't take much styling and is easy to maintain.
9. Curly Short Hair with French Bangs
Women with short curly bob are often afraid to try French bangs, but this style is professional, sleek, and flirty. When you ask your hairstylist to give your curly hair bangs, ask them to cut them while dry. This model has French cut bangs that are mostly short in the front but are longer towards the temples. Cutting the bangs this way keeps them out of the frames of your glasses.
10. Long Hair with Center Part Bangs
French bangs on long hair are youthful and a great look for women who have thick hair or naturally wavy hair. The long bangs on this model are below her eyes at the shortest point and just below her ear at the longest.
When you cut French bangs this way, they are still long enough to push behind the ears when center parted. If you part these bangs to the side, a gentle wave effect will be created for a flirty and sexy look as the bangs brush the eyebrow.
Short classic bob with short French cut bangs is perfect for women with small faces and high cheekbones. The French bang style on this classic short bob are cut straight across but are longer at the edge of her eye. You can also straighten your bob with bangs for an edgy look.
One of the best ways to wear bangs is with a long ponytail. Women with long, thick hair can pull it up into a classic ponytail to keep their hair off through neck and shoulders but still get the benefit of face-framing from French bangs. This look requires minimal styling.
How to Cut French Bangs on Curly Hair
If you have curly hair, you can still rock French style bangs. Make sure your hair stylist has experience with cutting and styling curly hair. Remember that humidity can affect your bangs so longer bangs are best for women with curly hair. The hair stylist should also dry cut your bangs and your whole head if you have curly hair. Curls shrink when they dry so cutting hair while wet can be a big mistake.
If you aren't sure about bangs length, ask your stylist to cut the French fringe long at first. You can also take off a few more millimeters, but you can't put hair back on. Steps for cutting French bangs:
Step 1: Determine how far back you want the bangs to start and how thick you want them. Gather hair into three sections with the middle section being the bulk of the bangs and being most of the hair located between the outer edges of your eyes, and the other two sections for face framing with hair between the edge of your eye and where your ear starts.
Step 2: Determine the length you want and part the curly hair in middle uniformly through a wide-toothed comb in one single layer. Slightly elevate the comb and cut the bangs straight across the bottom of the comb.
Step 3: After the straight cut, use the scissors to make small vertical tips (keep the comb in place and only snip under the comb) This softens the hairline. If you want a blunt cut bang, omit this step. For the remaining outer sections, cut a downward diagonal angle going towards your ear. Use the vertical snip technique to soften the edges of your face framing bangs. Use texturing shears if needed to thin out any hair that is bulky.