When a woman is looking for a new hairstyle, it's no surprise that she'll turn to her favorite actresses first to see what's popular and stylish. Latina and Hispanic actresses are well-known for their head-turning hairstyles.
While long hairstyles are more prominent, these 25 Lanina and Hispanic actresses show how to effortlessly rock stunning looks for any length. You'll also learn a few of the best ways to use hair accessories to complement your chosen look.
Latina Actresses and their Iconic Hair Styles
When it comes to beautiful hairstyles, these gorgeous Latinas know where it's at!
1. Melissa Barrera – Bun Updo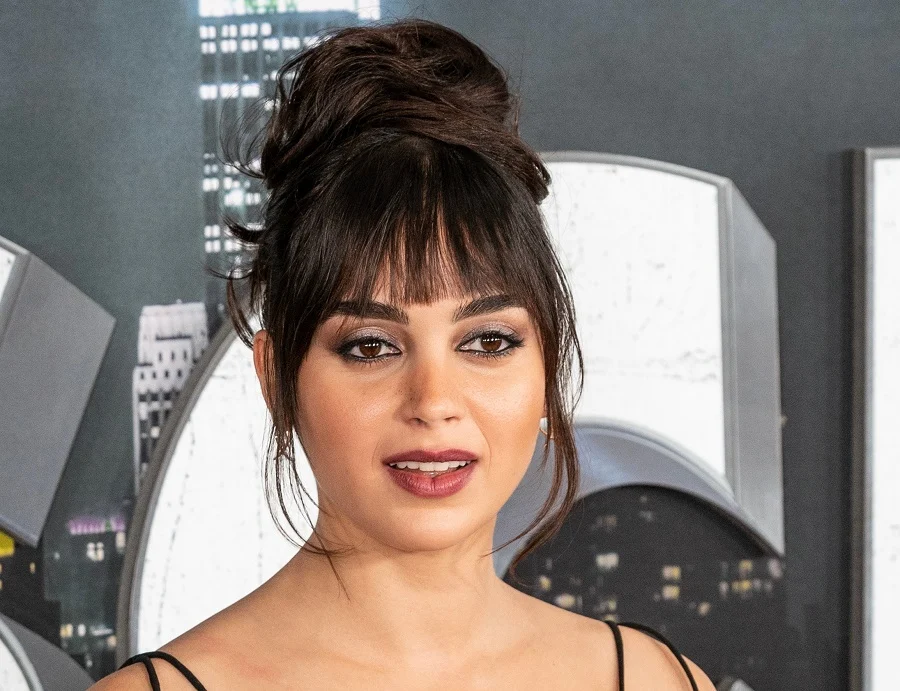 Melissa Barrera's bun updo is easy to do for any woman with long hair. Gather the hair up into a high ponytail, then wrap the hair around the base, leaving the ends loose to fan out. Brush bangs down and give them a blunt cut right at eyebrow level.
2. Eva Mendes – Low Bun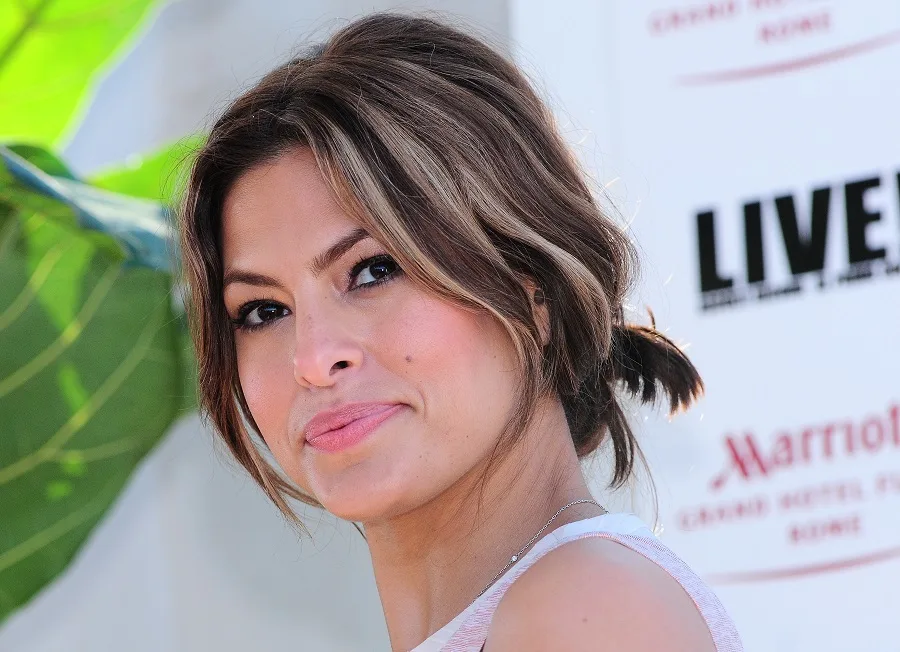 Eva Mendes is one of the most beloved Latina actresses on television. Her impeccable style extends from clothes to her hair, like this highlighted low messy bun she rocked with long side-parted bangs.
3. Jenna Ortega – Wavy Lob and Curtain Bangs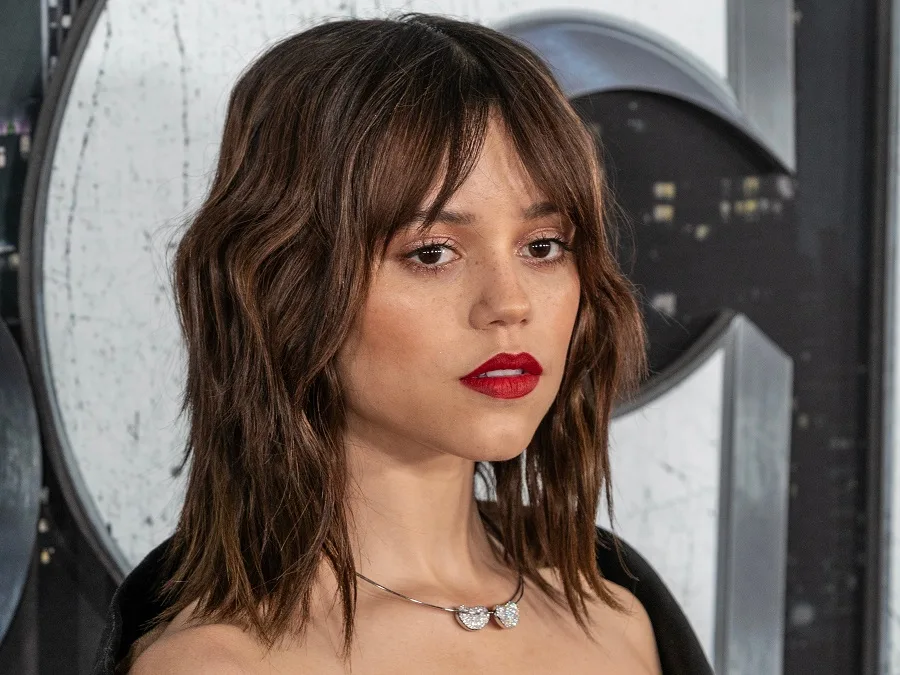 Many celeb actresses wear bangs customized to their own taste. Actress Jenna Ortega is becoming big in the movie world. One of her best looks was this wavy lob with a blunt cut. Her curtain bangs softened the hairstyle for her heart-shaped face.
4. Christian Serratos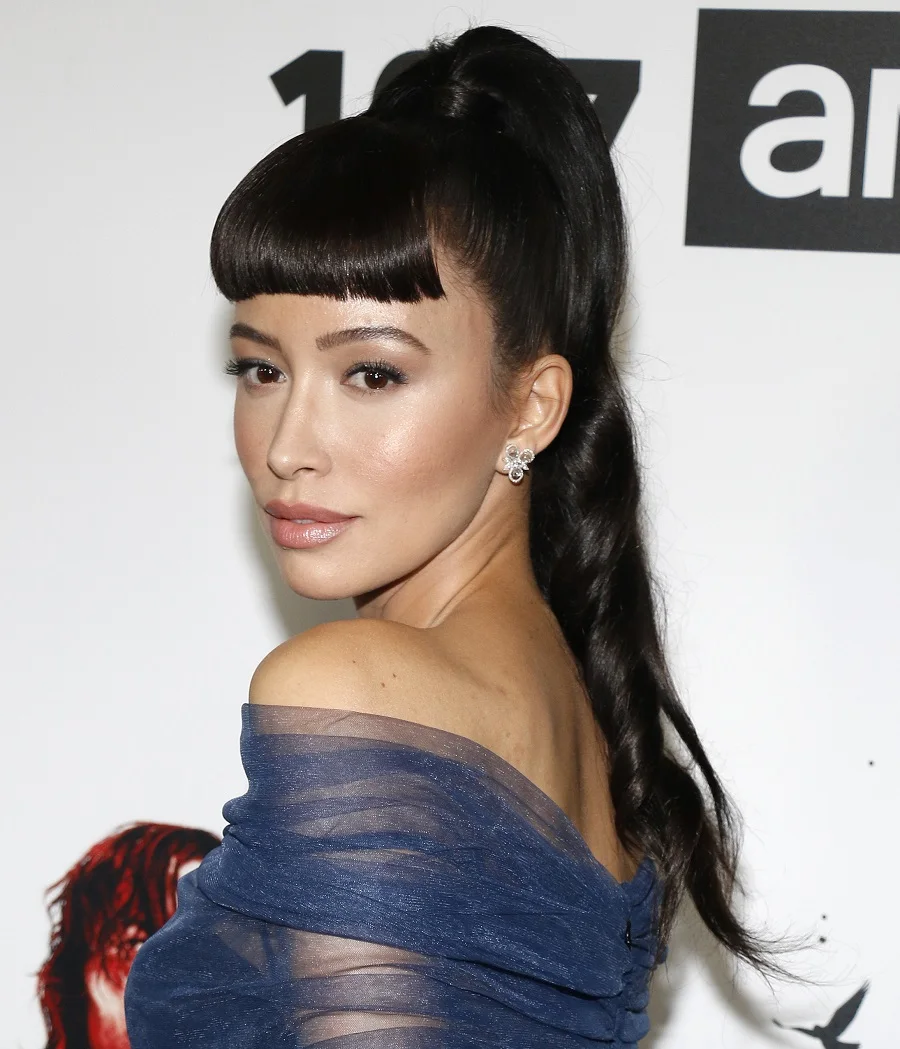 Blunt bangs make a dramatic statement when paired with the right hairstyle. Try copying Latina actress Christian Serratos's high ponytail for extra long hair. Use a curling wand to make the spiral-shaped tail in your own mane.
5. Stephanie Sigman – Side-Parted Long Hair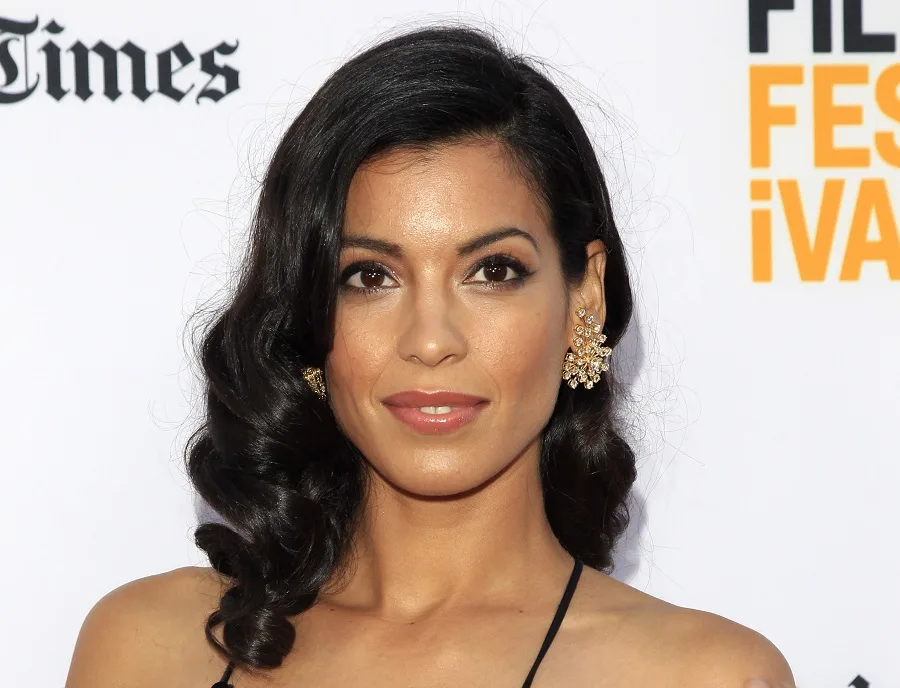 If you like wearing your hair loose, Stephanie Sigman shows how stylish leaving your hair down can be. Part your hair off-center a use a curling iron to make large-barreled curls from mid-shaft down.
6. Karla Souza – Updo with Side Bangs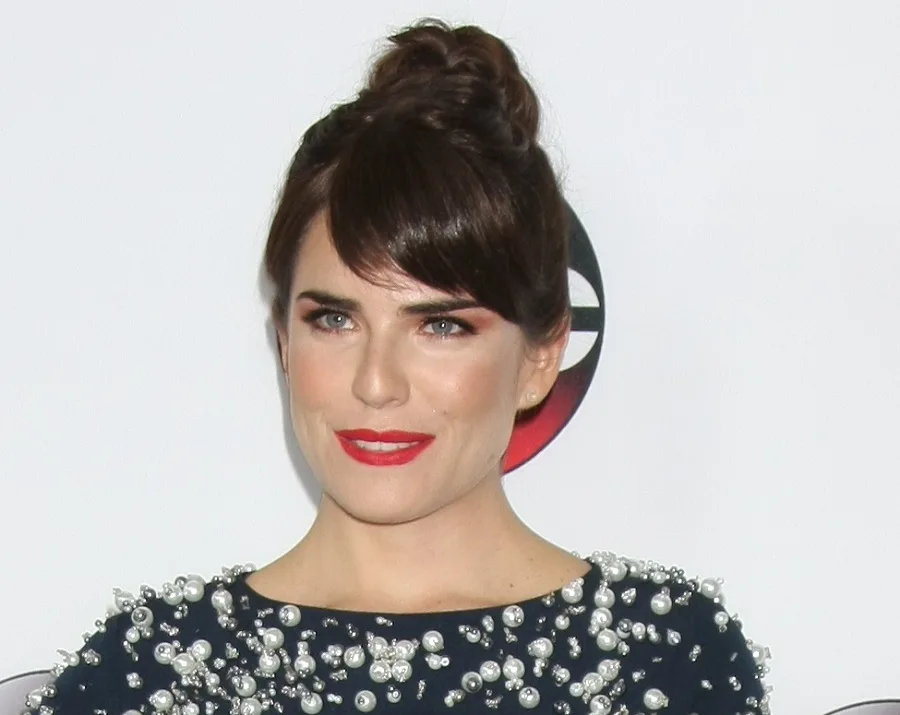 There is something so elegant about a chic updo, such as Karla Souza's high bun. She kept it smooth, tightly wrapped around the base, and softened the look with a thick side bang.
7. Jennifer Lopez – Balayage Bob
If your hair is naturally blonde, like Latina actress/singer Jennifer Lopez, then try a beautiful balayage lob. A straightened, bluntly cut A-line bob parted in the middle is sleek and ultra chic.
8. Kate del Castillo – Wavy Hair Parted in the Middle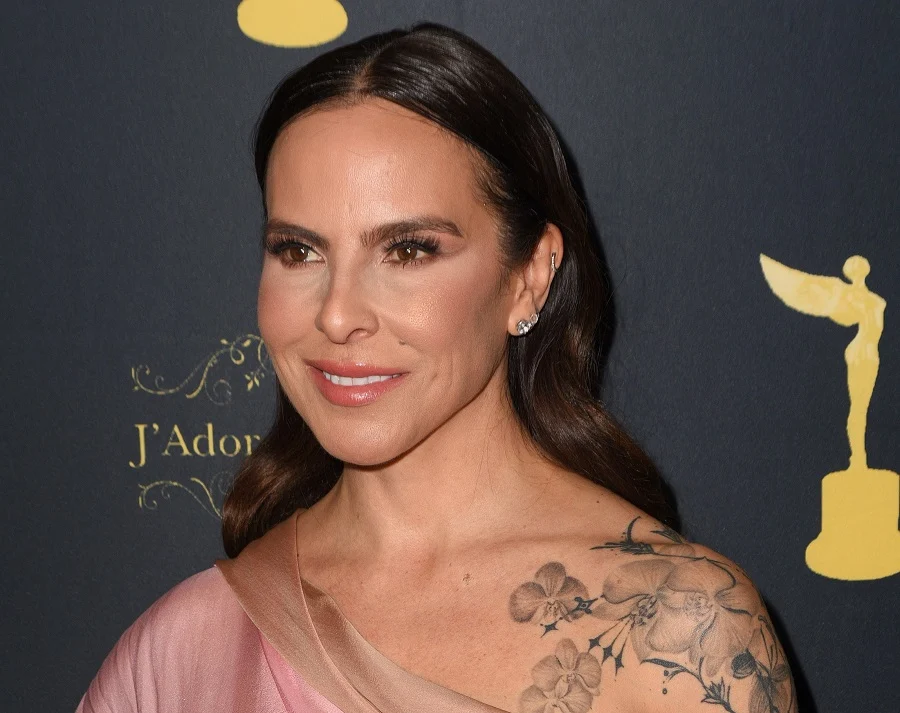 Not wanting to spend a lot of time styling your long hair? Copy Kate del Castillo's long waves. All you have to do is add loose waves to the ends and part your hair in the middle to be ready to hit the town.
9. Eiza González – Long Ponytail
If you prefer a sleek hairstyle, we love Latina actress Eiza Gonzalez's long straightened low ponytail. Tease the crown to get a little volume before securing the ponytail. Leave loose tendrils near the temples for softness.
10. Camilla Belle – Short Wet Hair
The wet hair look can be super sexy when done right. For a no-fail look, go for Camilla Belle's shoulder-length hairdo. Part it at the side and wet down the top with a lightweight hair oil.
11. Jessica Alba – Lob with Headband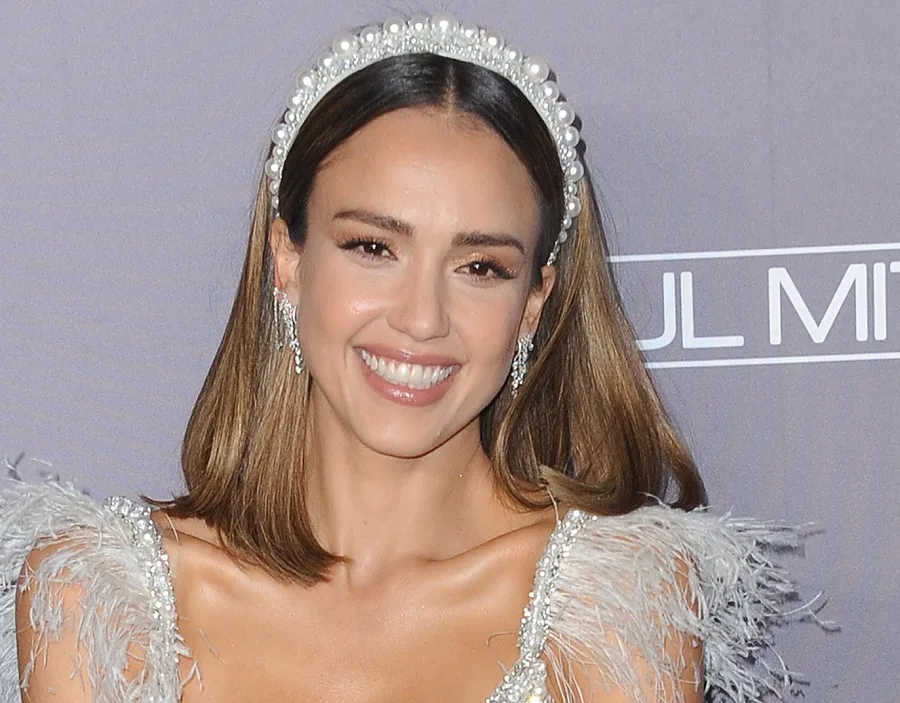 Headbands aren't just for young girls! We love how sweetheart Jessica Alba styled her lob with an easy middle part and a large pearled headband.
12. Xochitl Gomez – Teased Half Updo
Many Latina actresses are seen with braided hairstyles and it's easy to see why with so many ways to rock them. Xochitl Gomez wore a few thin braids in this half updo with a teased top upfront.
13. Yalitza Aparicio – Side Braid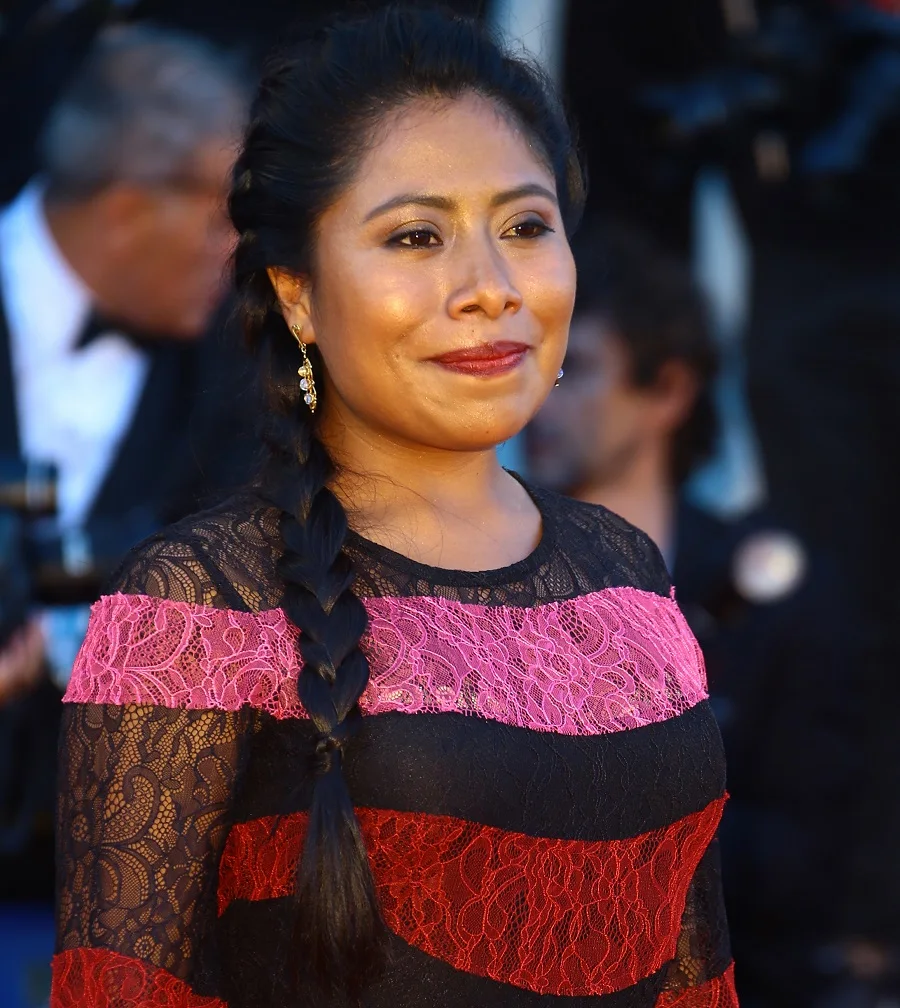 Another beautiful Latina who rocked the classic braid is Yalitza Aparicio. A side braid is great for women with long hair. Start in the back toward one side and wind it around over the shoulder.
14. Ana de Armas – Balayage Waves
The Cuban-Spanish Ana de Armas is one of our favorite Latino actresses with glamorous hairstyles. For women with naturally dark hair wanting a warm summery glow, the answer is blonde balayage. Complete the beachy hairstyle with soft waves throughout your mane.
Beautiful Hairstyles of Famous Hispanic Actresses
Turn heads with one of these hairstyles rocked by a few of our beloved Hispanic actresses.
15. Paz Vega – Short Wavy Hair
Do you have an oval face shape? You'll look cute in short hair, like a pixie or the slightly longer cut seen above. Part hair off-center and create a thick side bang. Finish by adding soft waves throughout.
16. Salma Hayek – Bun with Headwrap
Mexican actress Salma Hayek has Hispanic ethnicity and consistently hits it out of the ballpark with her hairstyles. We love this elegant bun updo she styled with a jeweled knit head wrap.
17. Penélope Cruz – Lob with Face-Framing Layers
If you have a heart-shaped face like Penelope Cruz, we suggest a fashionable lob with face-framing layers. The layers will help to soften the more prominent angles of your face.
18. Rita Moreno – Thick Pixie
Getting older and want to get hairstyle inspiration from a Hispanic older actress? Actress Rita Moreno like the ease of a short haircut, particularly a pixie cut the best fit. It definitely suits her who styles her thick pixie with lots of volume and long bangs.
19. Elena Anaya – High Bun
Sometimes you just want a quick hairstyle that gets your hair out of your face – in that case, opt for a high messy bun, which flatters everyone's face shape!
20. Maribel Verdú – Thick Bangs
How amazing are these long, thick bangs rocked by Hispanic actress Maribel Verdu? They'll help you make a dramatic statement whether you wear your hair down or up in a high bun.
21. Blanca Suárez – Side Parted Blonde Lob
If you want to copy a Hispanic blonde actress, try this Blanca Suárez look. There are many ways to style a lob, one of which is with a choppy cut on the bottom and soft waves throughout. A partial side part is a small but effective style hack you need to try.
22. Sofía Vergara – Long Straight Hair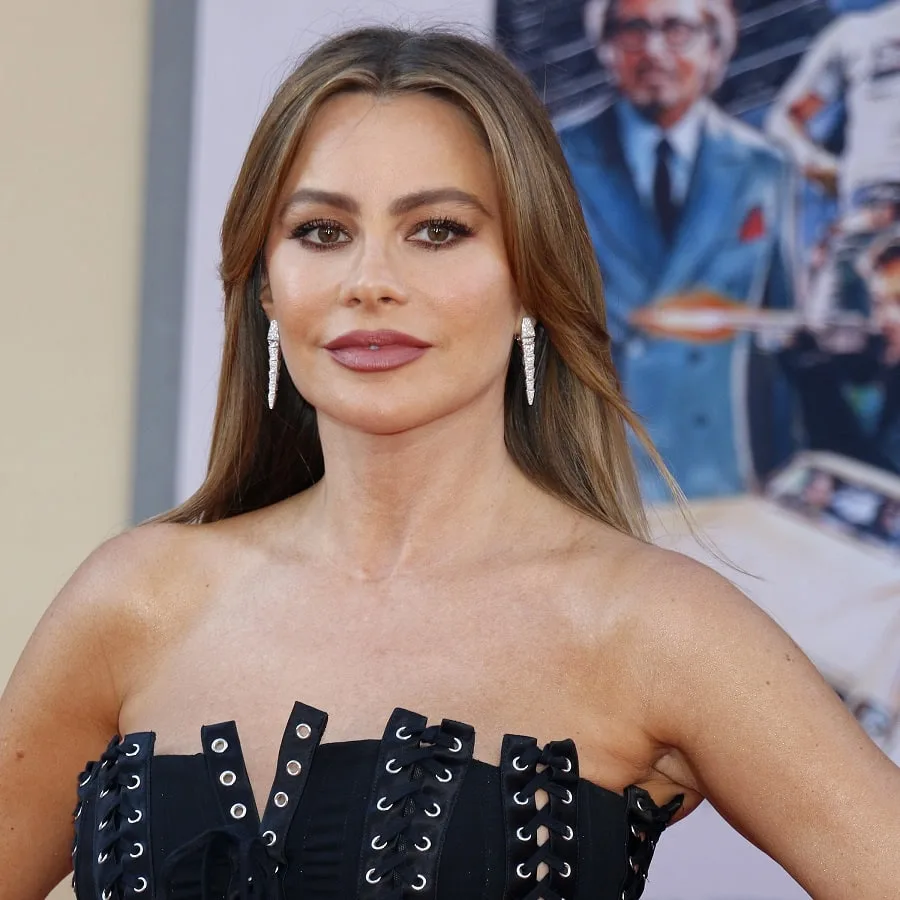 The popular Hispanic actress, Sofía Vergara is famous for her long-haired sleek look. Her long straightened hair looks fab parted in the middle, left down, with swooped face-framing layers.
23. Zoe Saldana – Twist Ponytail
If you're heading out with the girls in a head-turning dress, pair it with a slicked-back hairstyle, like Zoe Saldana's twisted ponytail. Smooth flyaways with a little mousse or hair gel.
24. Roselyn Sánchez – Rhinestone Headband
A low bun parted in the middle is beautiful all on its own, but try adding a rhinestone headband right across your hairline to take the look up a level and give it some sparkle.
25. Constance – Marie Chignon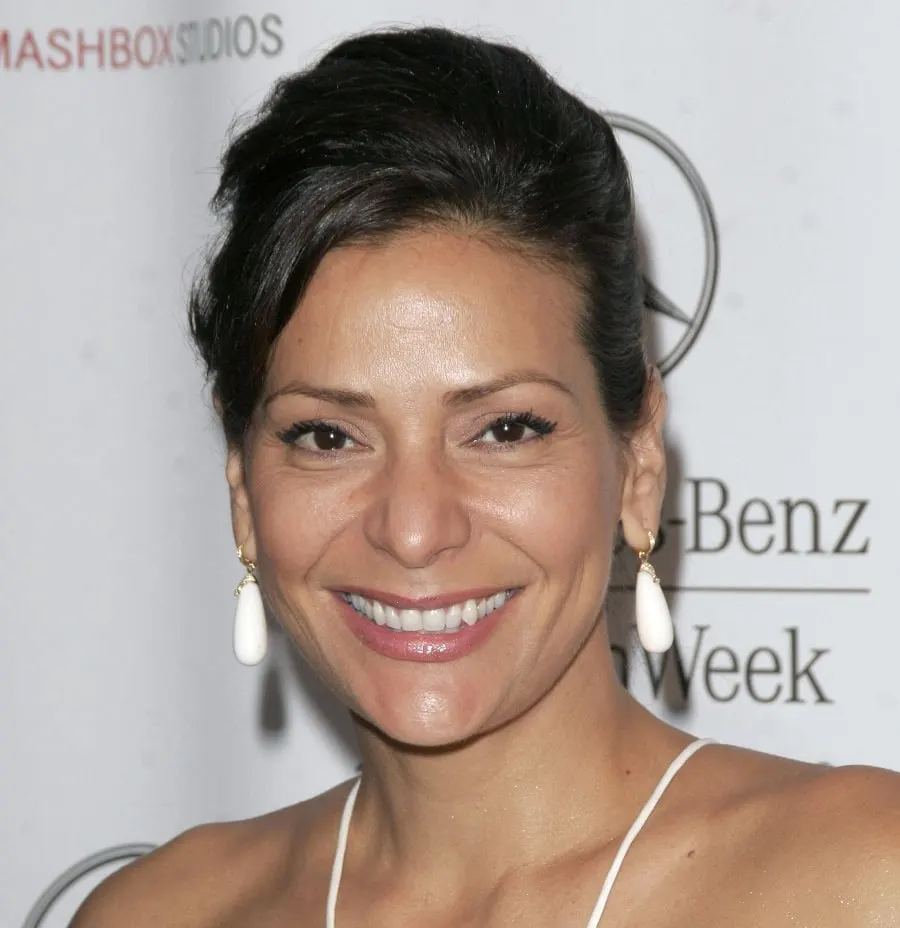 Do you have an oval face shape? Hispanic actress Constance Marie knows that a sophisticated chignon makes a flattering voluminous hairstyle.
From headbands and braids, lobs and wet hair looks, we hope you're inspired by these Latina and Hispanic hairstyles. There's no doubt that any of these looks will make you feel like the queen you are.