The ninja bun has been around for a long, long time and can make you look super good. Women and buns have been the best of the friends for millennia, haven't they?
There is nothing as sophisticated and elegant as some sleek bun put together with precision, is there? Buns add instant charm to your personality making you look more formal and responsible.
However, there is one bun that distinguishes them from other hairstyles – the ninja-inspired bun! You can modify it to suit your personality and liking as it is quite flexible when it comes to styling it in different ways.
What Is Ninja Bun?
All this praise of the ninja bun might have made you curious about what the bun looks like. Ninja knot bun is an African-inspired hairstyle that is made with a top knot. The bun is set high up at the top of your head with many twists.
The hair is given folds upon folds to give a twisting and turning appearance to the ninja look. The rest of the hair is neatly combed back and folded in a neat pile among the hair which is involved in making the ninja bun hairstyle.
How to Wrap A Ninja Style Bun
Wrapping a ninja bun is quite easy and quick if you know where to begin and how to complete every single step effectively. Do not worry, it isn't as complex as the name suggests. Here is a simplified way of putting your hair into the bun.
First, you need to use a nice moisturizer on your hair to make it able to hold the bun in its place. You can add a shining product to the moisturizer too so that the bun looks shiny and smooth once you are done making it.
Now is the time to brush your hair and remove all the tangles. Make sure that you brush your hair upwards so that all the hair from the front and back of the head are assembled at the top of your head.
After brushing your hair neatly, pull all of it in a hair tie at the top of your head.
Now part our tied hair in two sections. Then twist the two around each other in a circular way to make a bun. Make sure that each twist rest on top of the first one.
If you have short hair and want to use extensions then put your natural hair in a bun. After that part, the extensions in two sections and start twisting them around your natural bun in a similar fashion as described above.
Secure any loose ends and use bobby pins to keep your ninja style bun in its place. Now you are all ready to go out and show off that perfect ninja knot bun.
Watch The Following Video to Know about How to Do Ninja Bun in A Quick and Easy Way
How to Use Weave for Ninja Bun
Sometimes a ninja bun is not accurate if made out of your natural hair. For those times, a sew in weave or other extensions is a nice option to give your ninja knot bun hairstyle a more realistic and prettier appearance. To use a weave you need to put all your hair up in a bun.
Then insert a bobby pin at the starting point of your weave and one at the ending point. Then secure the starting end of the weave in your bun and keep wrapping the weave around the bun and then finally secure its end in the bun with the bobby pin too.
Mesmerizing Ninja Bun Hairstyles
Since we have already told you how to get a Ninja bun and how to add a weave to it, why not get on to the part where we present you some nice options for this hairstyle?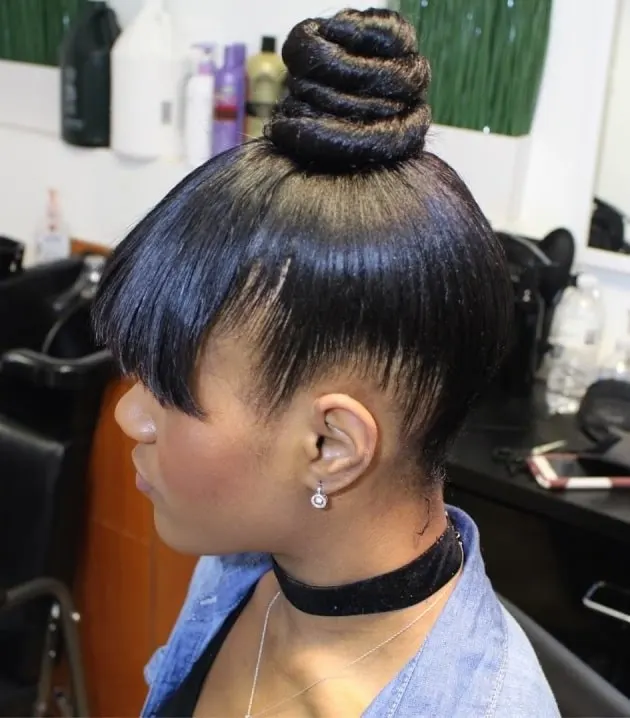 This is a lovely and chic style with your hair tied up in a fashionable ninja bun at the top. These classy faux bangs running down the front and sides of your head add a dramatic appeal to the overall hairstyle.
2. Mini Bun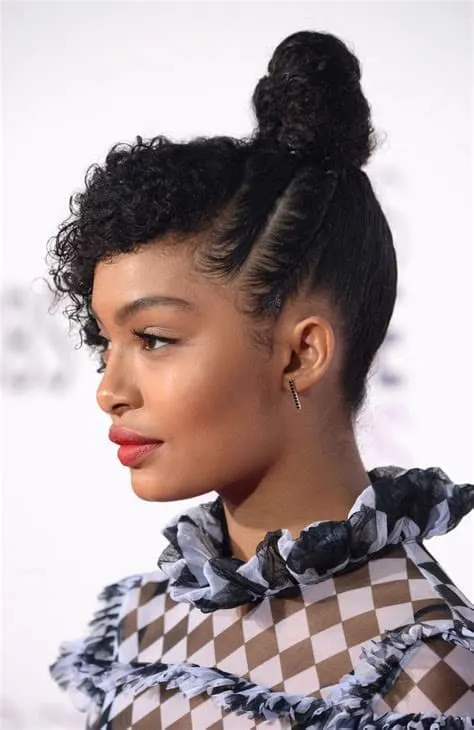 This mini bun with curly bangs is a stylish and chic variation of a ninja topknot style.
3. Sleek Top Knot
This sleek and modern top knot is a great way of rocking a ninja bun, particularly if you are aiming for a highly professional look.
You can look more professional and better ready than your colleagues at the workplace with this formal way of putting up your hair.
Why have only one ninja style bun when you can have two and look more pretty and cute? The central parting makes for an even girly look, so go for it this season.
This funky curly coiled ninja bun is best for young women out there who do not want to come off as too polished or too wild. It is a balanced mixture of both, so you can safely go for it.
If you have some time to spend on your hair then why not go for this chic and lovely hairstyle. The Fulani braid bun is a whole new hairstyle of its own.
7. Bun with Weave
This ninja bun with weave is cool and has a simple way of showing off your hairstyle. It is more of a cute bun at the top of your head which makes you look younger and fresher.
This high ninja bun is worth giving a shot if you have long and curly hair. The curls add more texture and appeal to the bun making you look prettier.
9. Ninja Knot Bun
You can pair up a ninja knot bun with these baby hair smoothed down in a spiraling fashion.
This intricate design is all that you need to rock a ninja bun with bangs in your own personalized form.
Dreadlock Hairstyles for Women
11. Elegant Shiny Bun
This shiny and decent bun is great for ladies who want to keep their hairstyle game strong.
FAQs on Ninja Bun Hairstyles
Can men also try Ninja bun?
Yes, men can also try ninja topknot if they have long or medium length hair.
Is there any difference between the normal bun and ninja bun?
A normal bun is not as high and as twisted as a ninja's hair.
Can ninja bun be done on dreads hair?
Yes, ninja style bun can be done on dreads hair too as it is primarily an African American hairstyle.
These lovely ninja bun hairdos are all great and sexy, so get one that you like the most and turn heads wherever you go!