A bun hairstyle with bangs is one of the classiest looks for women. They're versatile enough to suit every woman's face shape. Whether you have long or short hair, there's a gorgeous bun you can easily style with bangs to reflect your tastes.
Twists, braids, loose tendrils, and a variety of hair accessories can all be manipulated to give your bun and bangs a unique look. While cropped side bangs may nicely complement a low bun, you'll see that thick long bangs help a high bun make a dramatic statement. With our guide to the best bun with bangs styles, you can mix and match to your heart's content!
How to Do an Instant Bun with Bangs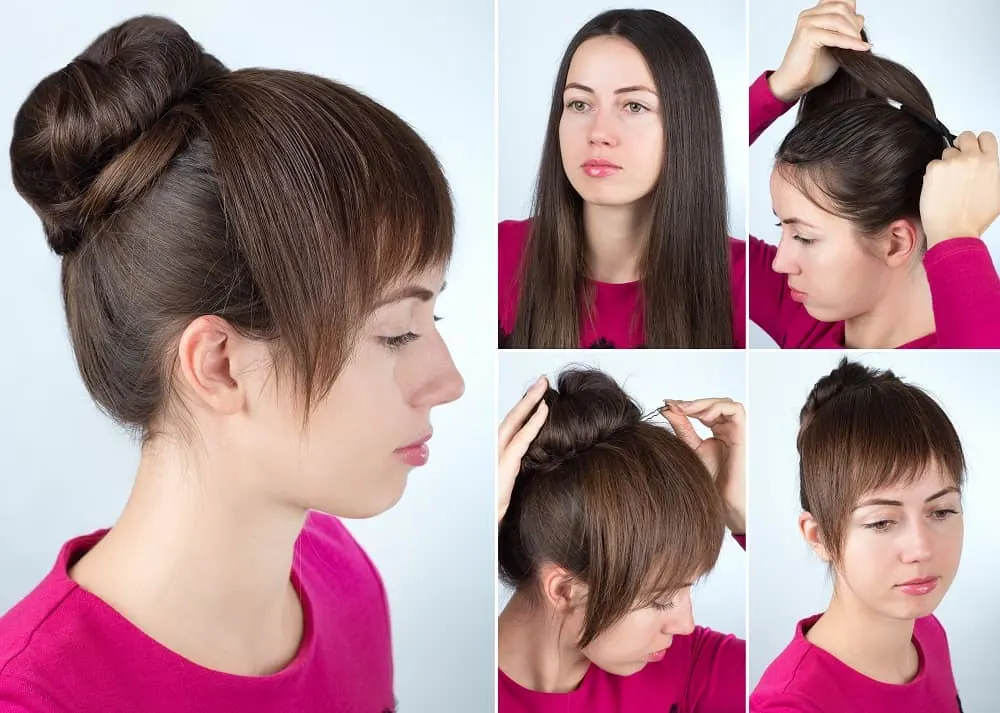 Bun hairstyles with bangs can be done in many ways even if you don't have bangs, making it a versatile option for putting your personal spin on it. Here's how to get started:
Finger comb or comb your hair into a ponytail. You can secure the ponytail high at the crown, mid-height, or low at the nape of your neck.
Leave some hair loose and then wind others up around the base of your ponytail.
When it's wrapped around your ponytail's base, secure it in place with a hair tie.
Style your bangs according to the look you want to achieve: straighten them for chic sleekness, arrange them with your fingers for softer style, shape them to make a side bang, or part them in the middle for curtain bangs!
Within these steps is plenty of room for personalization, including thickening the bun by loosening the hair, or making the bun tight by making your twist or braid tighter. You can also use hair accessories to pull your look together.
Gorgeous Bun Hairstyles with Bangs
No matter how you style your fringe, there's a trendy bun hairstyle to go with it! Take a look at our 21 favorite styles of buns with bangs.
1. Low Bun with Side Bangs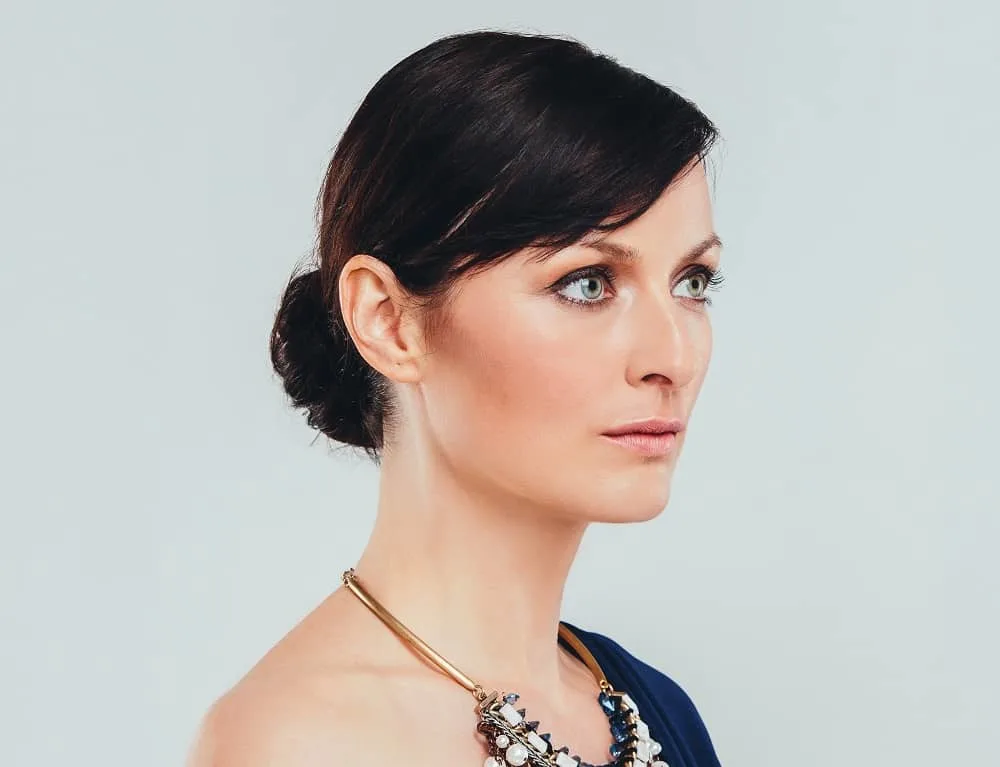 A low bun like this is easy to create. Just comb your hair smoothly back into a low bun secured right above your neck. Brush bangs to the side and style in place with a little hairspray.
2. Thick Long Bangs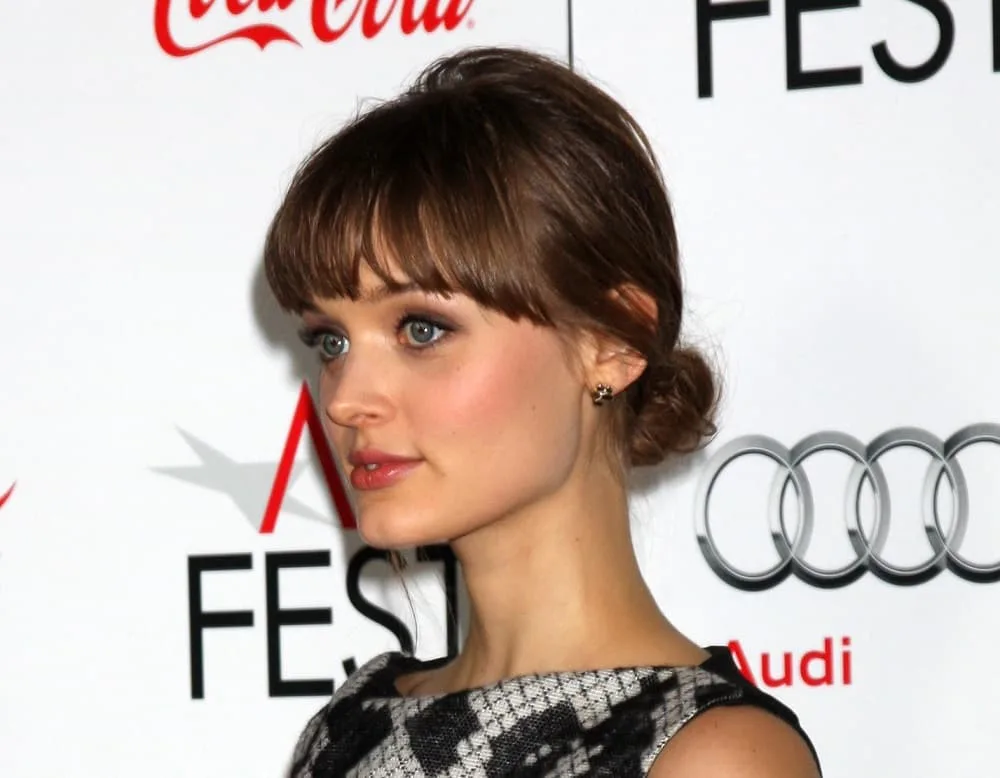 If you have long but thin or fine hair, a low twisty bun with bangs that come to your eyebrows is a very elegant hairstyle. This bun has been loosened to make it less perfect and more textured. The bangs are straightened and cut at an angle.
3. Bangs on Textured Bun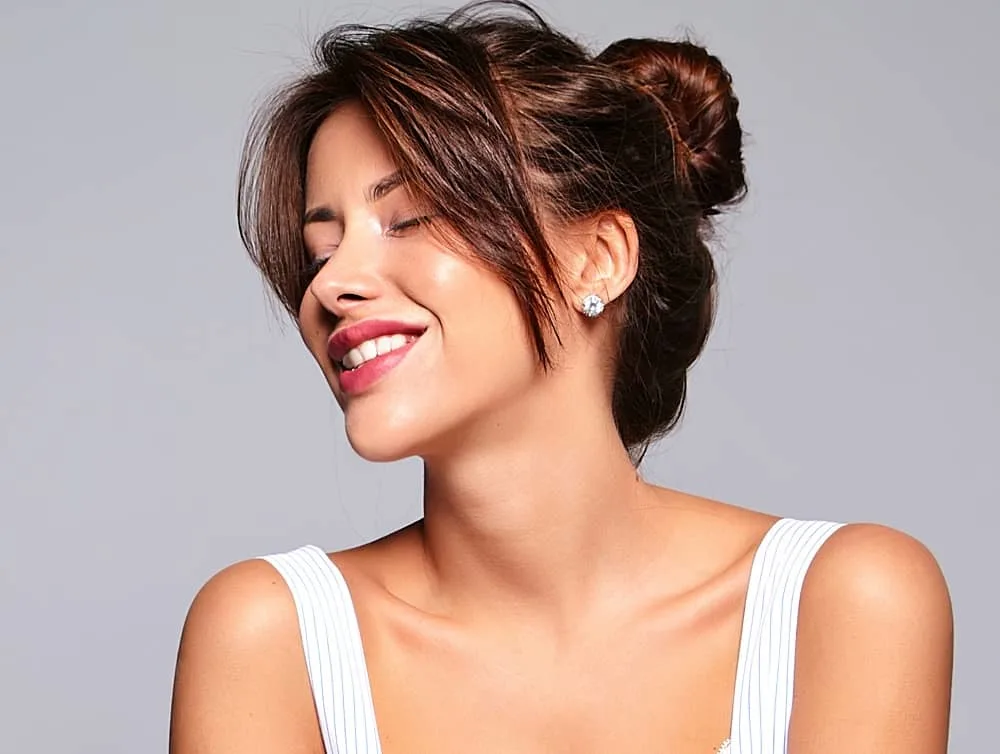 We love these long curtain bangs that frame the face. They look perfect with a high bun. To get the bumpy texture, use your fingers to "comb" up your ponytail before securing it right below the crown.
4. Half Bun and Wispy Bangs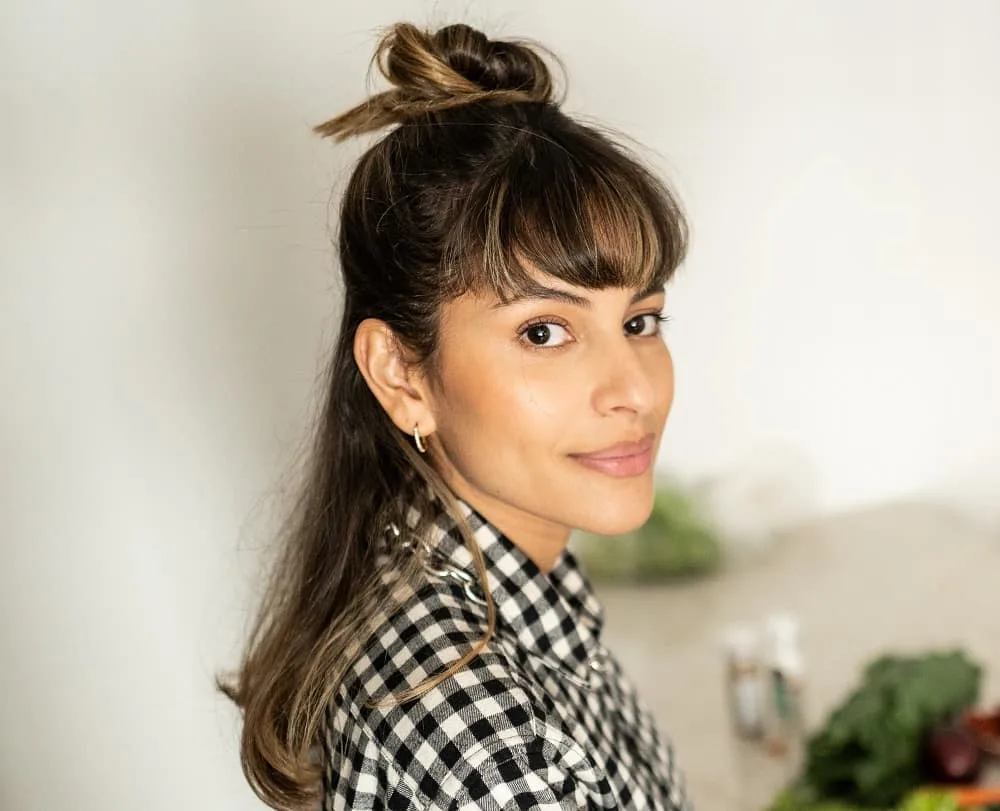 For women with an oval face shape and hair that is shoulder-length or longer, consider a cute half up bun hairstyle with bangs. After making your ponytail, twist the hair and wind it around the base. Use fingers to arrange bangs.
If you have bangs and typically wear your hair parted off-center, you're already halfway there to this cute chignon bun hairstyle. The secret is in smoothing your hair. This will make a chic, professional style for dates or office work.
6. Space Buns with Thin Bangs
Petite and round-faced women will love how two high space buns flatter their face shape. This fun, playful look is adorably chic with long thin bangs. You can help your face shape even more by letting long tendrils hang loosely along your cheeks.
7. Thick Bangs and Side Bun
Looking for an elegant bun hairstyle for special occasions for long thick hair? You'll be the belle of the ball at weddings or proms with a side bun. You can dress it up with a large flowered hair clip to add a pop of color.
8. Curly Bun and Bangs
A small section of bangs is just fine for some bun hairstyles, but to really make a statement, consider an extra high curly bun and a thick section of side bangs. It's a must-try for women with naturally curly hair.
9. Effortless Look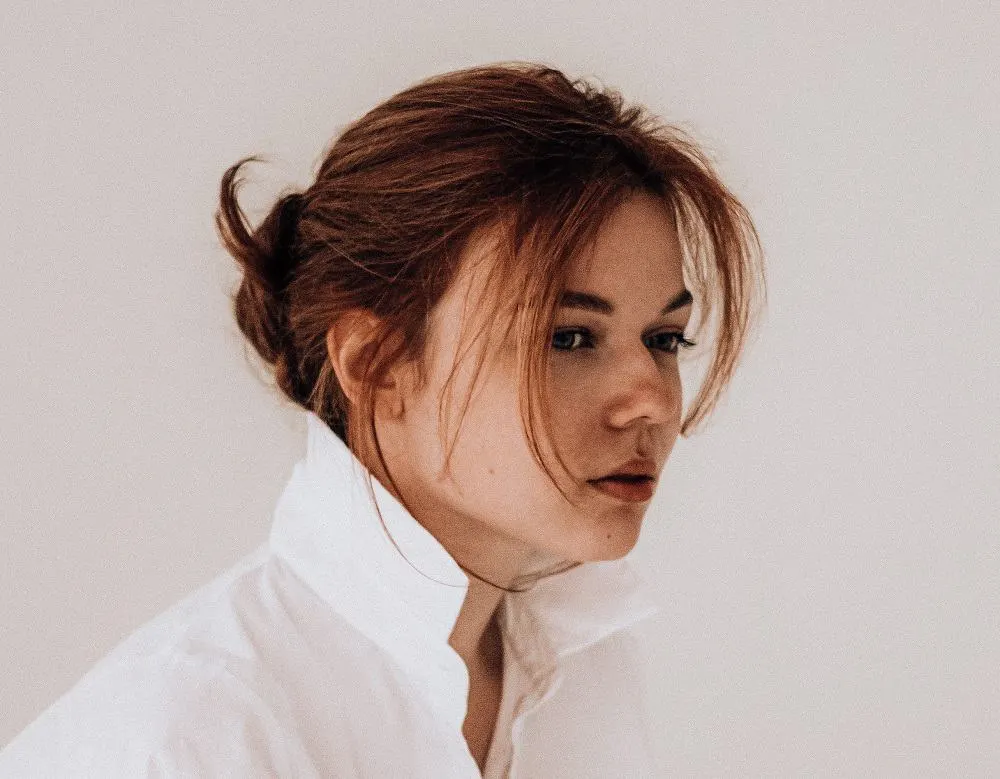 After softly combing your hair back away from the hairline, gather it in a ponytail and wind it around to make a loosely coiled bun. Long small sections can help layered bangs soften the look.
You can still make a dramatic statement with long thick bangs by making a small but noticeable part right above one of your eyebrows. This style of bang looks great with aside bun that is more twisted than rounded.
A low messy bun can be quite sexy with bedhead texture. The key is in not combing it, just use your fingers to gather hair together at the neck. Let two thick sections of hair be loose at the sides of your face.
12. Wedding Bun + Piecey Bangs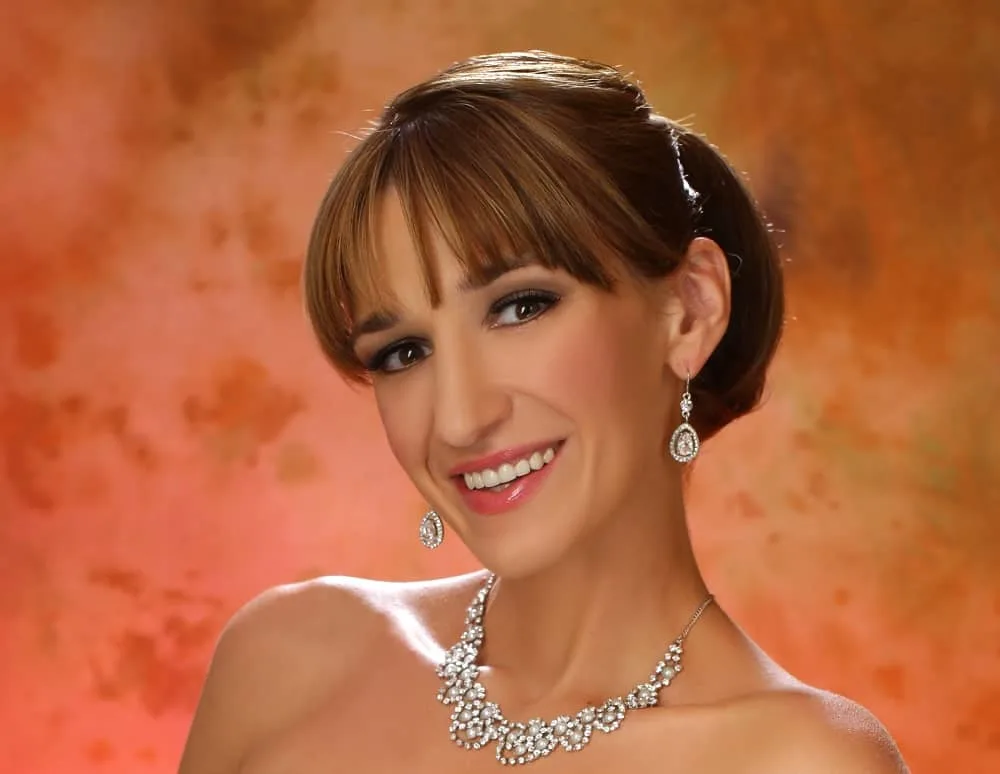 Sophistication and elegance is encompassed in a large wedding bun hairstyle with short but piecey bangs. Be sure to smooth the hair away from your face to keep the look neat. Clip-in a jeweled hairpin for the finishing sparkle.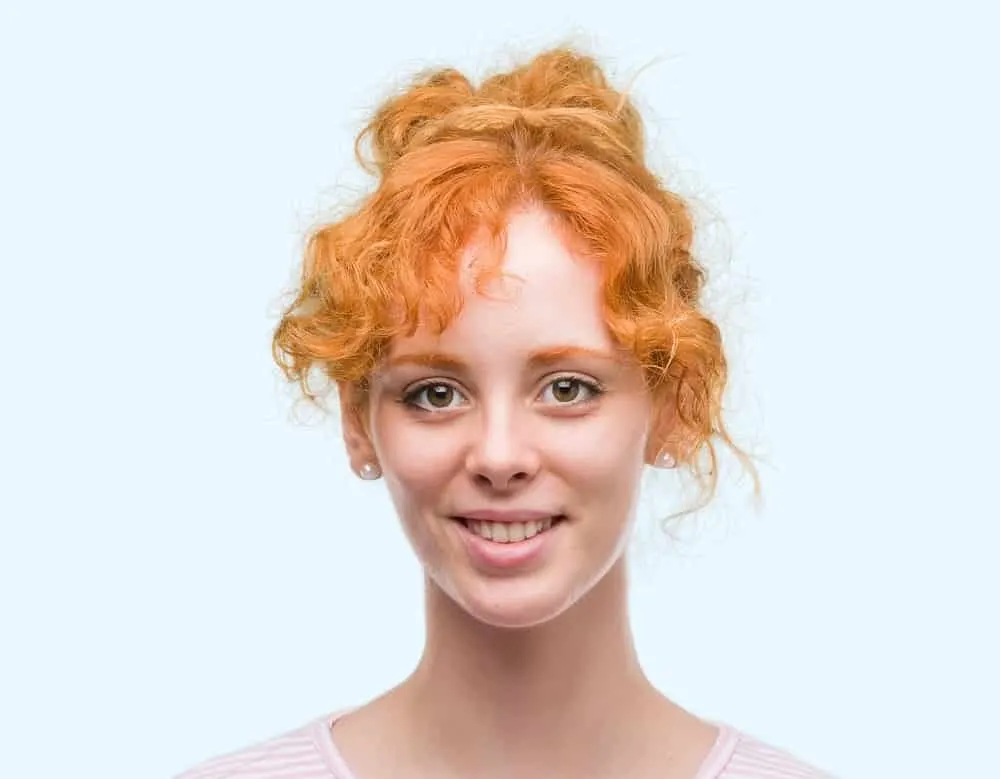 Taming long, thick and curly hair can be a challenge for women, but you can easily tame yours while showing off texture by wearing it in a stylish high, messy bun. Before making your bun, take out two large sections of hair to make curtain bangs.
14. Loose Bun and Blunt Bangs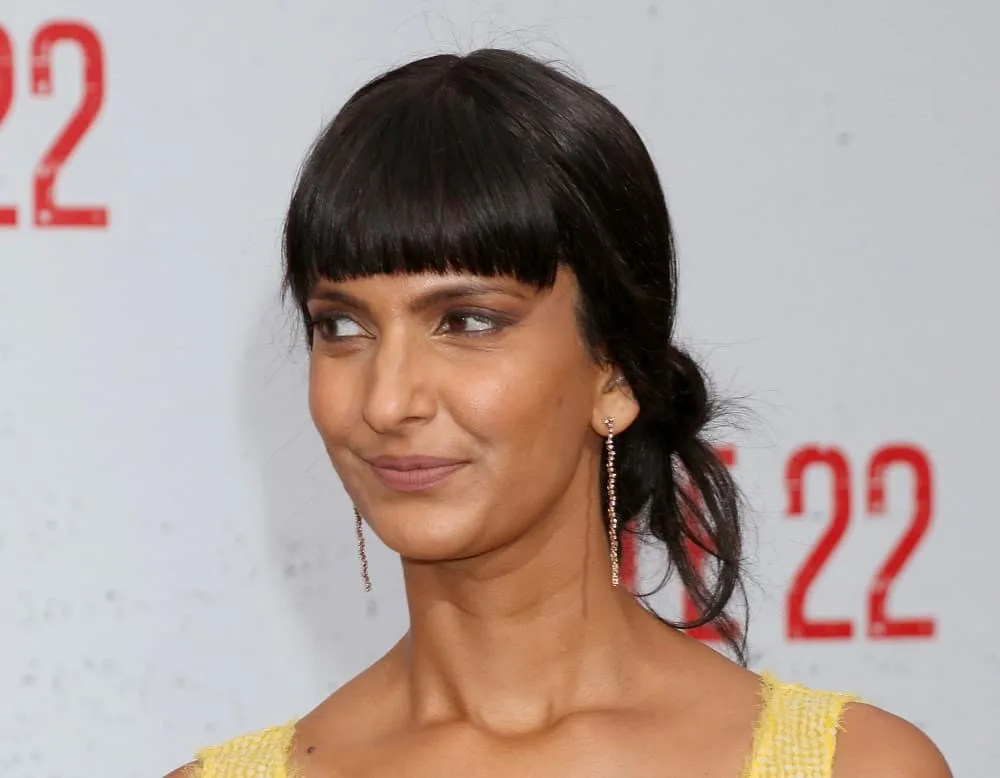 Perfect and messy mix together to create a red carpet-worthy hairstyle. Just ask your hairstylist to cut your bangs bluntly right above your eyebrows. When making your low bun, make only two or three loops and only pull it halfway through on the last one.
15. Messy Top Knot Bun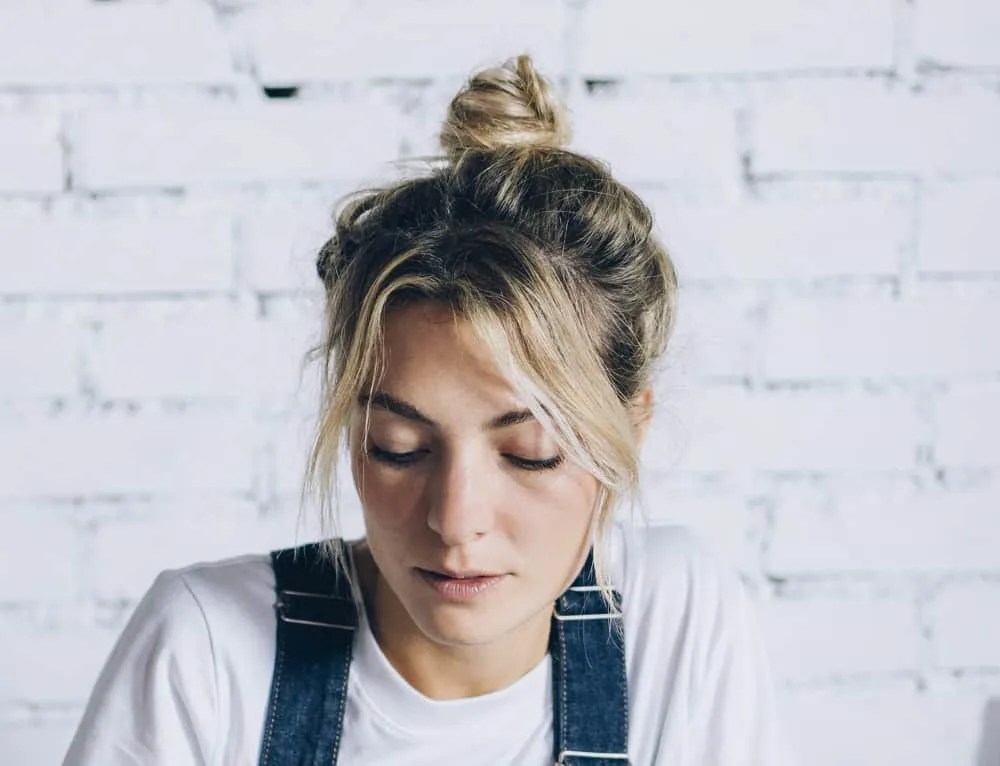 While there are several versions of a top knot bun, this one is easy and looks great with gorgeous curtain bangs. Finger comb it together and secure it at the crown. Give side bangs textured waves or braid them overnight and undo them in the morning.
Why tie up your hair into a bun with just a plain hair tie when you can style it with a fun bandana? For example, if you have blonde hair, use a bright blue bandana to give a messy bun with bangs some character.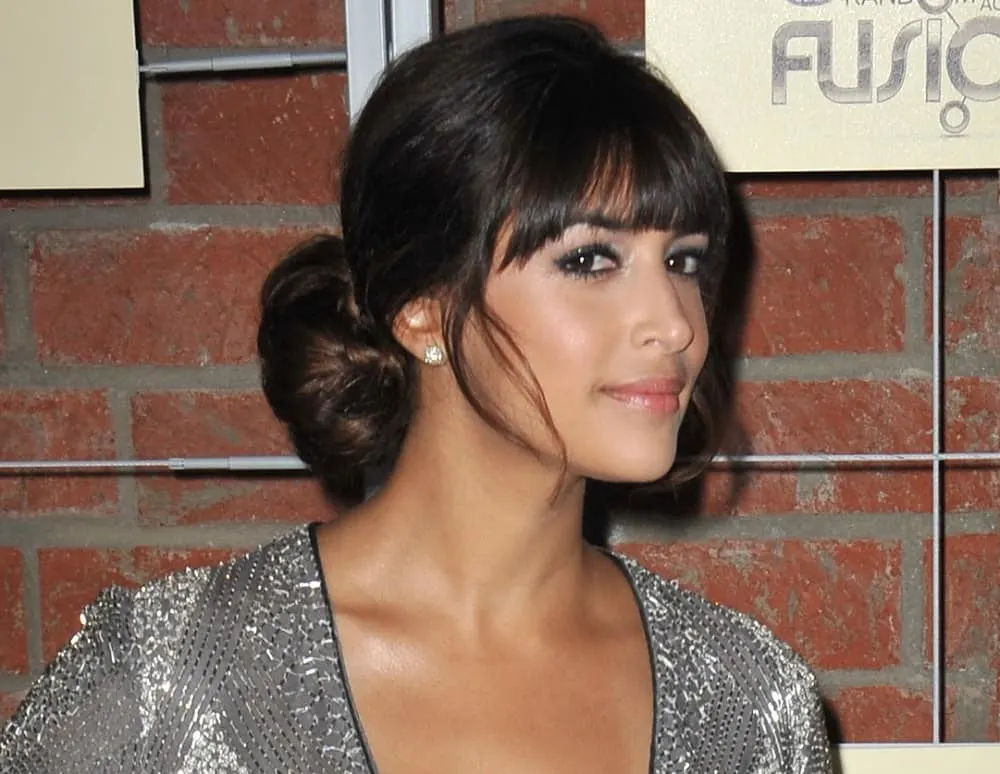 Using extensions, you can get this very sophisticated low jumbo bun seen here with angled bangs. Neatly comb hair back, gather it in a low pony, and wrap the hair around, teasing for volume.
For thin hair, opt for extra long piecey bangs which look amazing with a sassy high top knot bun. To flatter your face shape, loosen tendrils along the sides of your face.
19. Braid Bun with Bangs
Thin or fine hair is the perfect thickness to get these soft middle-parted bangs. Pair them with a low ponytail that is then braided and wrapped around the base. For a little more texture, spritz your mane with hairspray to tease it.
20. Loc Buns with Bangs
For women of color, rocking locs, twists, or braids, space buns are just the look to encourage your playful side. Secure them up high in a bun and pair with short curly bangs. You can also hook in some hair cuffs or hoops.
On those special occasions, a loosely braided bun with bangs is quite gorgeous secured low at the neck. Tease the crown of your hair before making your bun for extra height. Finish by clipping in a shiny jeweled hair pin.
Which of these bun with bangs hairstyles are your favorite? When choosing a style, consider your hair type and where you're going. Casual messy buns work for weekends or beach days, while the sleek buns with straight dramatic bangs are perfect for special occasions.