Odell Beckham Jr.'s hairstyle made history and is among the most requested hairstyles for men. If you didn't already know, his signature hairdo is a platinum blonde faux hawk with shaved sides that he is wearing with pride whether he's playing in the NFL, out winning our hearts.
Odell Beckham Jr. Hairstyle Timeline
Odell Beckham Jr. sports short, clean-cut hair during his early college football days.
Beckham Jr. begins growing out his hair, introducing a curly look to his on-field appearance.
The curly hair transforms into a distinct blonde mohawk as Beckham Jr. enters the NFL.
Odell surprises fans by adding a shaved design to the side of his head, showcasing his personal style.
The blonde mohawk evolves into a longer, blonde-tipped hairstyle as his career advances.
Beckham Jr. experiments with cornrows, maintaining his unique and creative image.
Odell occasionally returns to a shorter, curly hairstyle for a more understated look.
The shorter curls transition back into the signature blonde-tipped hairstyle that becomes his trademark.
Beckham Jr. surprises fans by chopping off his blonde tips and returning to his natural hair color.
The natural hair color transitions into a sleek, clean-cut look, showcasing Beckham Jr.'s evolving style.
Odell Beckham Jr. ultimately settles on a longer, curly hairstyle that becomes his signature look.
Odell Beckham Jr. Hairstyles
Odell Beckham Jr. likes bold haircuts and styles, and he's not afraid to experiment. He was spotted with several designs, buzz cuts, and different shades of blonde, from caramel to orange hues. To recreate his hairdo, you need to follow a few steps, so get ready to look like this NFL star!
1. Buzz Cut with Design
Odell Beckham Jr. really fancies hair designs, and he never misses an occasion to wear them. He went for a temple fade, a rich beard, and a look-alike thunder buzz cut design for the back. No wonder all men want to look like him!
2. Blonde Twisted Mohawk Coils
If you are planning to recreate this twisted hair, do not bleach your coils at home. The procedure will change the texture of your kinks, and they might not look the way you want them to.
3. Buzz Cut with Mid Fade
He looks attractive with short hair. A buzz cut with a temple fade totally suits him, and the long, perfectly groomed beard makes him a fabulous appearance on the red carpet and the field.
4. Platinum Blonde Top with a Fade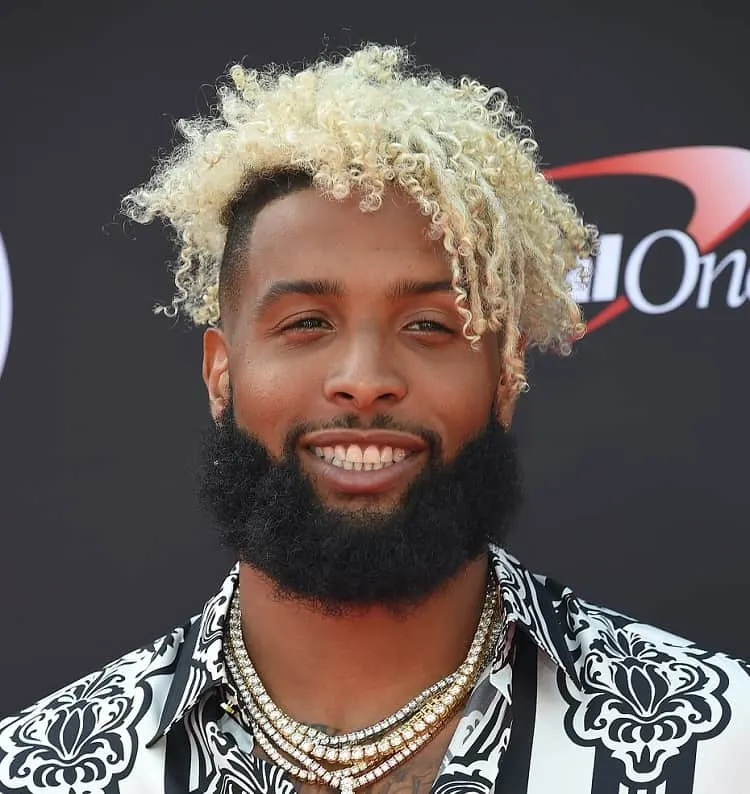 Before buying your bleach, consider the fact that Odell Beckham Jr.'s blonde hair is the result of a colorist that uses professional products. A drugstore bleach might turn out to be a wrong decision, and you might end up with unwanted orange hair.
5. Caramel Curly Top Hair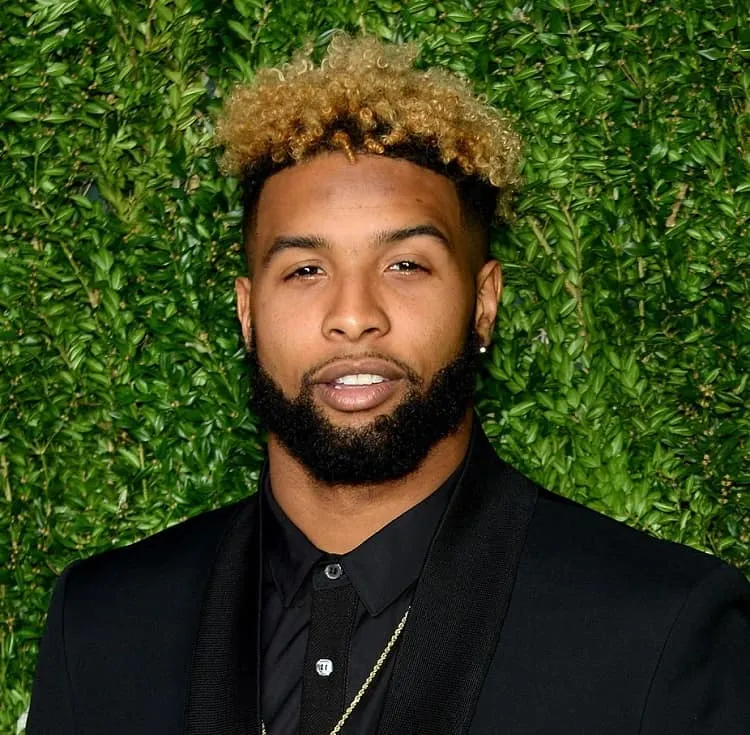 Odell Beckham jr. caramel curly hair color looks fabulous, and it will beautifully complement your dark black skin and the rich beard. Create a Faux Hawk and dye only the top.
6. Caramel Tips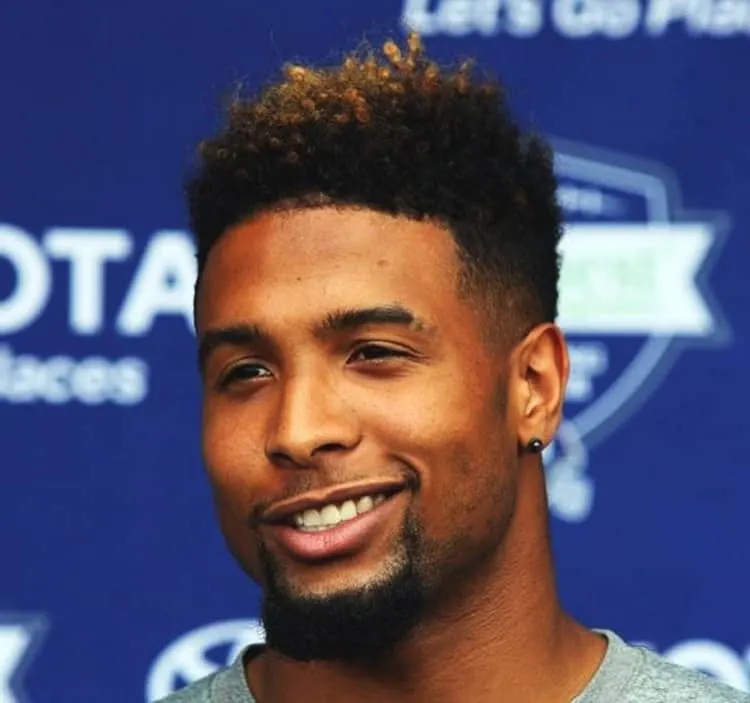 If you want to recreate hairstyle donned by Odell Beckham, go for a faux hawk and define your curls with a sponge . Apply your favorite wax on the sponge, or directly on your hair. Make circular movements on the top to beautifully create the rolls.
If you want to be a carbon copy of your NFL idol, OBJ, go for a high taper fade on sides. You will create a short mohawk that you can style with a special sponge designed for Afro American hair.
8. Buzz Cut
There were times when he sported simple haircut without any fuss. If you want a haircut that is also suitable for professional environments and formal meetings, go for a buzz cut and a clean shaved face.
9. Brown Hair with a Fade
Recreating OBJ's hairstyle is not as easy as it might seem. When dyeing your faux hawk, make sure you're not blending that brown shade with the roots. The beard is not mandatory, but a goatee will undoubtedly complete the whole look.
10. High Top
As the highest-paid wide receiver in the NFL, Odell Beckham Jr. is always in the spotlight and must look sharp and beautifully groomed. Take a look at this stylish mid fade with a high top and that pitch-perfect beard.
Odell Beckham Jr's hairstyles feature high and tight haircuts with blonde, caramel, and even orange shades. Fawk mohawks are also among his favorites, and he takes them to the next level with taper fades and designs. Although these options are not quite suitable for formal days at the office, if you have a relaxed job, you should definitely give OBJ hairstyles a try.