Olive skin is classified by a greenish undertone, but that's not true. It's more of a greenish-gold undertone, and it's stunning.
It's also versatile, so it pays to be daring and bold. You can carry almost any hair color—and no matter what the shade, you always wear your hair; it never wears you. Let your complexion blossom beneath a color that brings out the best in you.
Hair Colors for Women With Olive Skin
To achieve a flawless aesthetic, you have to know your clothing style, have your makeup routine down to a science, and you need to choose a hair color that complements your skin tone.
Olive skin is warm with earthy undertones that respond to shades of gold, brown, red, purple, pink, blue—and on and on and on. Which hue complements your complexion to its best advantage? Maybe one of these colorful coifs will pique your interest.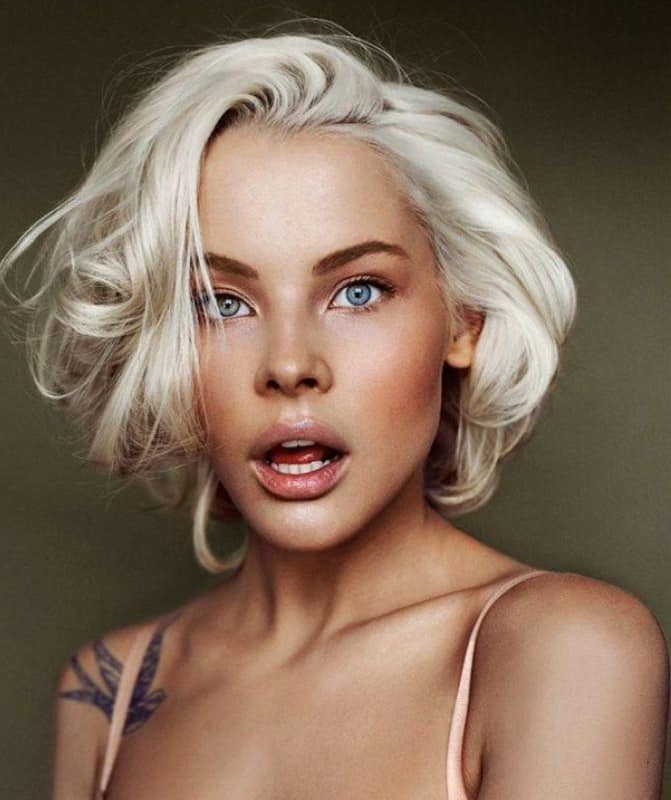 Platinum blonde is one of the most interesting and intriguing hair colors for women with olive skin because the combination is so unexpected. The combo of light eyes, olive skin, and light hair is even more startling—but in the best possible way.
2. Molten Highlights
Golden highlights bring out the olive in your skin tone. You don't even have to touch your natural hair unless you want to, as long as you add a few highlights in varying shades of blonde.
Olive skin tones are one of the few that can handle the burgundy spectrum without looking too sallow. In this case, there's a subtle burgundy overlay covering milky chocolate locks. The result is absolutely radiant, isn't it?
4. Sterling Silver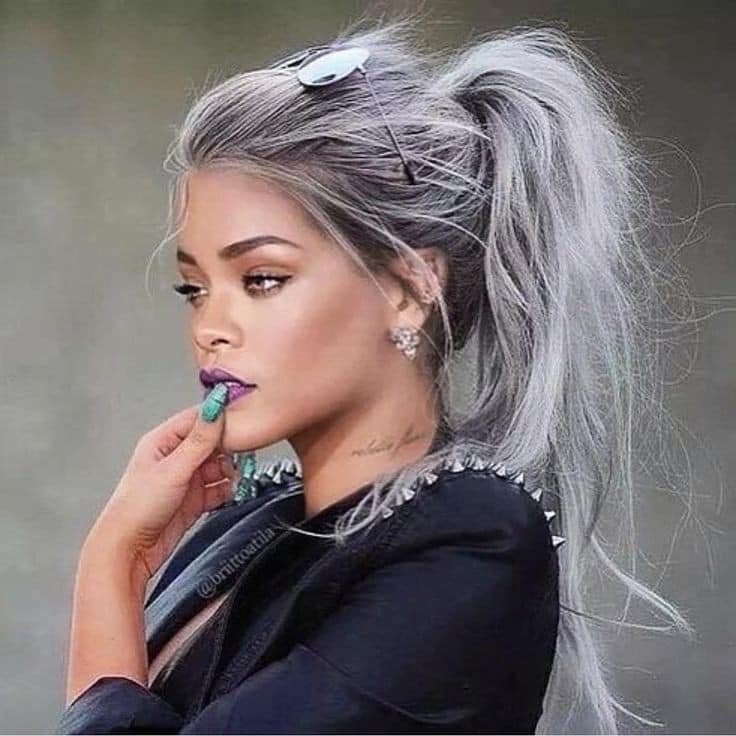 You'll have to forgive our obsession with Rihanna, but she's a fashion queen and a hair maven, and we trust her judgment implicitly. Any hue she chooses can be classified as the best hair color for olive skin, but the gray pictured here is out of this world. It adds a cool tone to her warm skin and makes her eyes pop.
5. Magnificent Merlot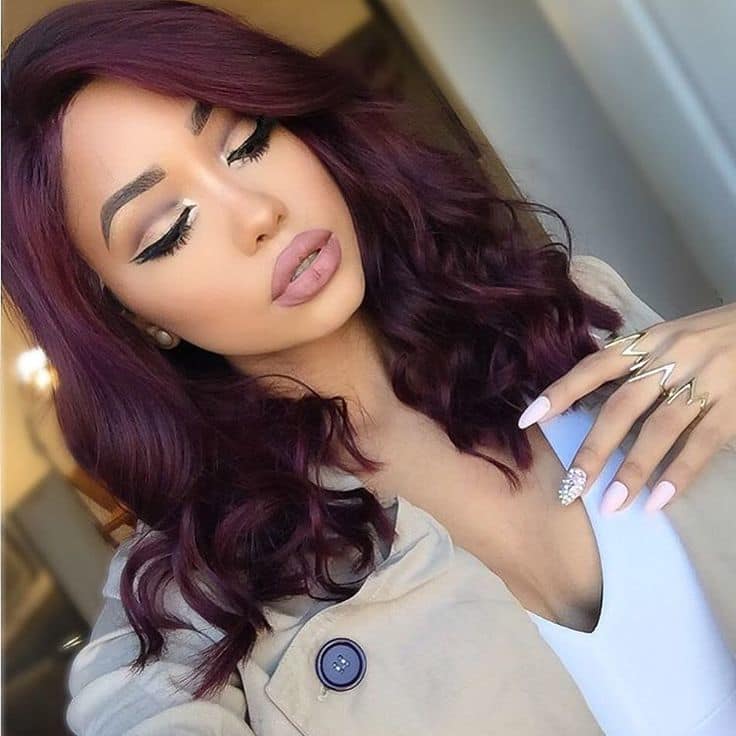 Wine red is a trendy color this year, and it looks as if it was made for olive skin. This is another color that's hard to wear if you're fair. Golden and light brown tones flourish beneath the decadent, dramatic shade, though.
6. Blonde Ombre
Olive-skinned girls could have blonde ambition, too. Soften the sharp edges of the light hue by opting for the ombre effect. The dark roots will provide some much-needed balance.
7. Middlepart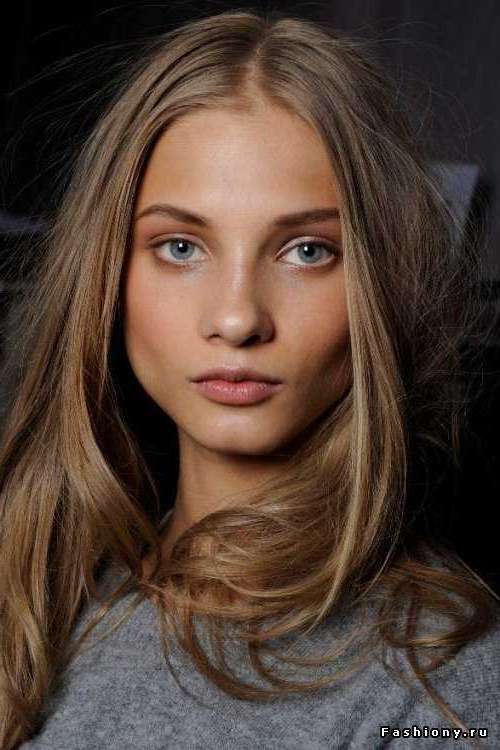 Medium brown can come off as dull, but a golden brunette hue is a flattering hair color for women with olive skin. Anytime your hair is somewhat lighter than your skin tone, you're pulling off a stunning aesthetic.
8. Blonde Frame
A little blonde goes a long way. Draw attention to your face and illuminate your skin tone by getting highlights just around your face. Go for balayage, so you have more control over where the beachy streaks go.
9. Dark Hair Idea for Olive Skin
How gorgeous is Mila Kunis? She's a dazzling beauty who knows which hair colors are most flattering. Here, she steps out with a raw chocolate base lightened by subtle, sporadic traces of mahogany with a red tint.
10. Mila, Take 2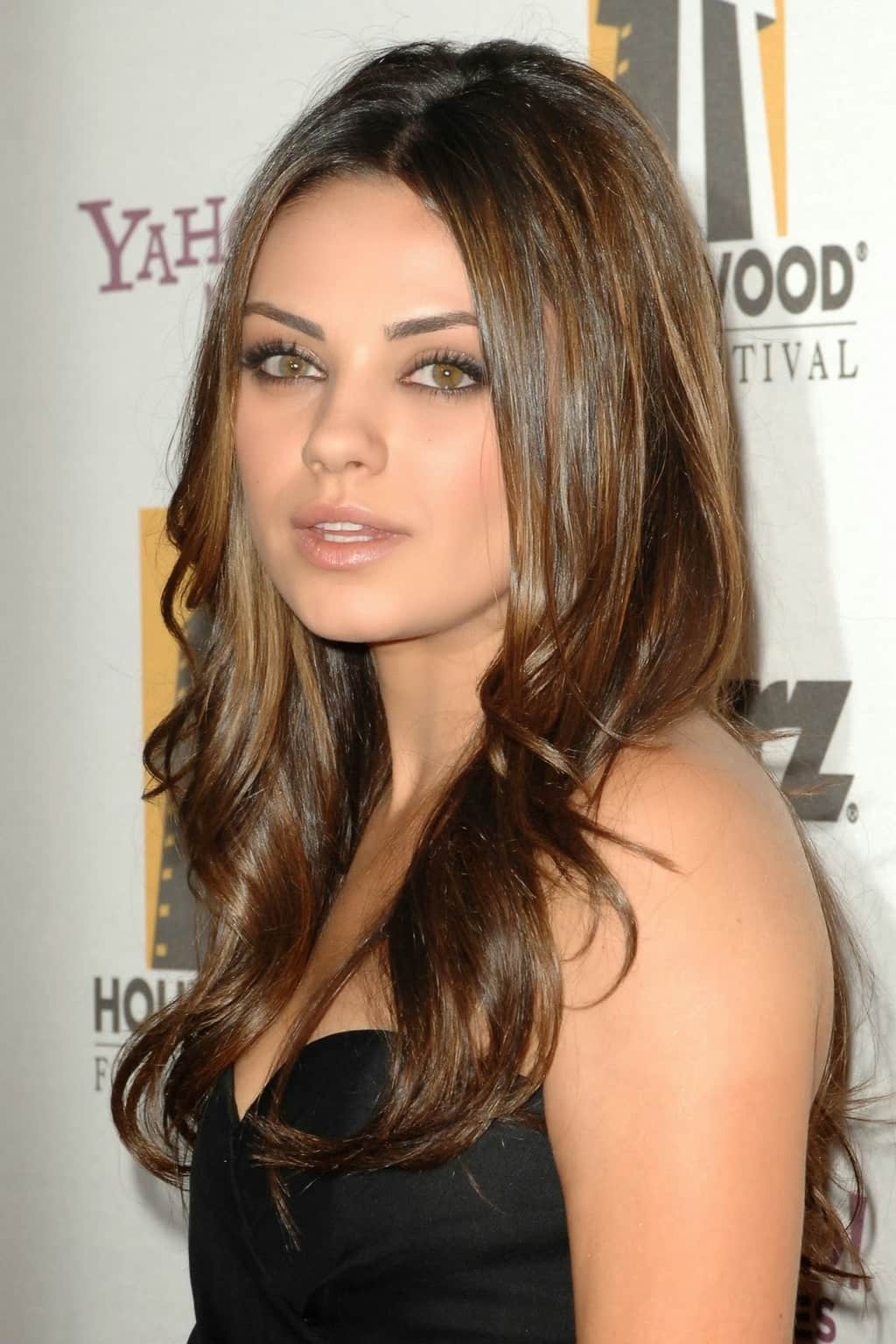 We couldn't resist another example featuring Mila, simply because we trust her opinion on the best hair colors for olive skinned women. This time, the base of her coiffure is more of warm cinnamon chocolate with brassy undertones. A scattering of lighter brown highlights brings out that bold brass even more.
11. Pitch Black
Black hair strikes a dramatic contrast against olive skin. The combination is smoldering, mysterious, and exotic by nature. It's best to go for straight black, shiny and healthy but matte. Blue-black hair tends to clash with olive undertones.
12. Shades of Brown
You might not think shades of brown could look so dynamic, but here's proof. The secret is in the contrast. Anytime you mix brunette hues, you want the lighter shades to pop. As you can see, you don't need many highlights—just a few to capture the eye.
20 No-Hassle Short Layered Hairstyles for Glamorous Girls
13. Warm Caramel
Caramel is a flattering hair color for women with olive skin tones because of its golden undertones. The color highlights the hints of gold in your complexion. This shade of caramel stands out because there's a subtle russet overlay giving it a radiant auburn sheen.
14. Lighter Tips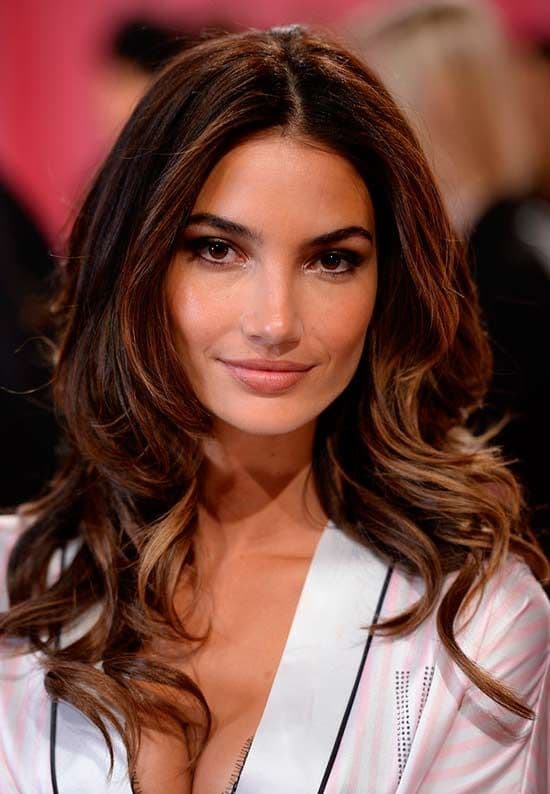 Blondes and light browns are beautiful against shades of olive. Instead of going for an all-over lightening, keep your natural shade dark and get the ends of your hair bleached and toned. Go about a shade and a half lighter than the roots.
15. Streaky and Sun-Bleached
Natural blonde streaks make it seem as if you've been spending time in the sun. Not only do they make your hair appear richer and more radiant, they do the same for your complexion.
16. Femme Fatale Red
Who knew that Snooki could be hair inspiration? Her style has evolved into a glamorous aesthetic, however, and here she sports one of the best hair colors for olive skin tones. It's hard to tag this red as a specific shade. It's not quite burgundy or wine red, nor is it cherry. Dark cherry, perhaps, or black cherry—whatever you call it, it's lush and retro with a definite pinup vibe.
17. Lavender Rose
Halfway between pale lavender and rose pink, this color pops against dark skin—and it makes your skin pop, too. Doesn't matter what color your roots are, but consider an ombre fade or balayage.
18. Caramel Drizzle
Again, just a few sun-kissed streaks will take you far. That's all you need to give yourself an irresistible, undeniable glow.
Best Short Natural Hairstyle Ideas for Black Women
19. Copper Kissed
Copper is an underrated hair color for women with olive skin. It's under-represented and under-utilized, too. Become a trendsetter. Make this a must-have shade for fall. It's like a copper-kissed caramel, and it's to-die-for.
20. Denim Blue
Demi is rocking a dynamic, dimensional shade of blue here. It's Crayola perfect, with just enough variations to make it multi-faceted. Love, love, love!
30 Stupefying Magenta Hair Color Ideas
21.
hair color for light olive skin
22.
hair color for olive skin with blue eyes
23.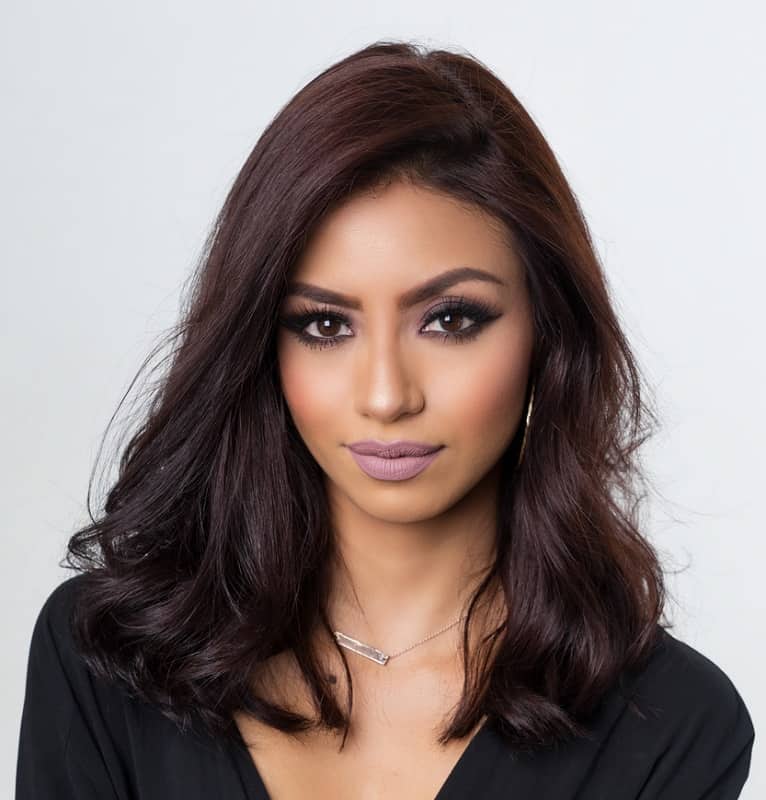 hair color for olive skin with dark brown eyes
24.
hair color olive skin with hazel eyes
25.
hair color for olive skin with green eyes
26.
auburn hair color for olive skinned women over 50
27.
hair color for olive skin with grey eyes
28.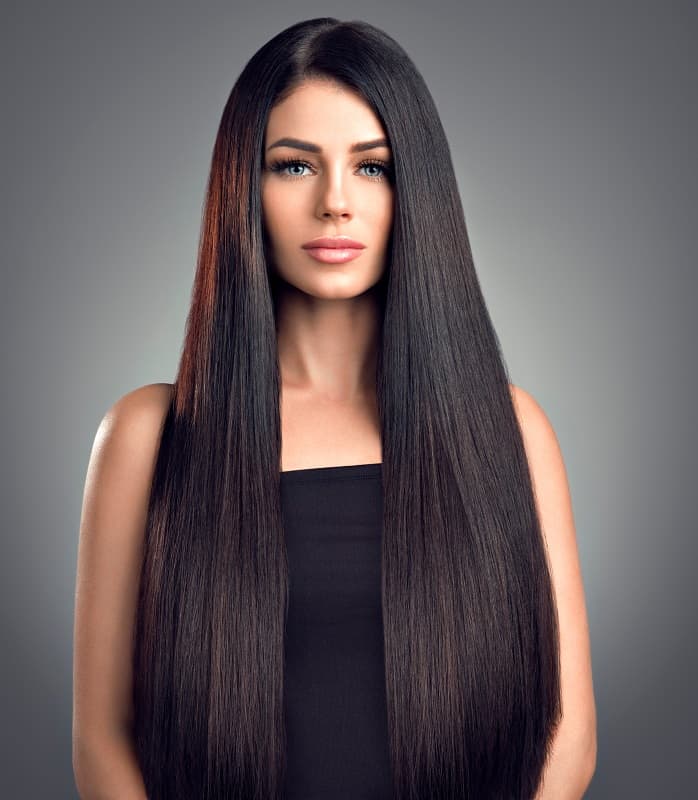 jet black hair color for olive skin
29.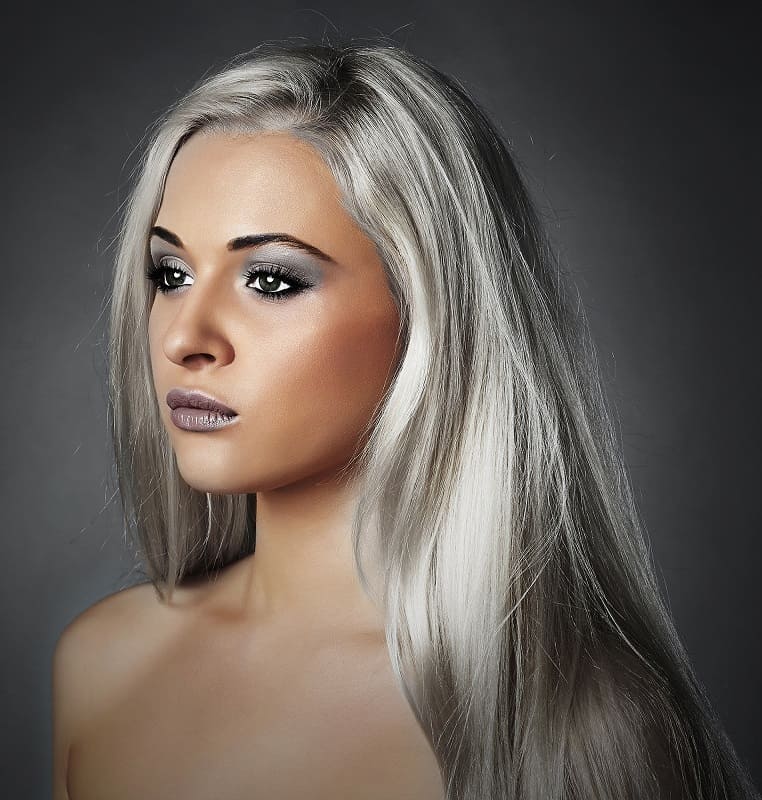 30.
In short, the best hair colors for olive skin tones are the hues that bring out the glow of your complexion. Did any of these inspire you?