Box braids are the perfect protective hairstyle for the summer months. If you've decided to opt this style for your hair then why not choose the blonde, red, and burgundy box braids to inject color and a fashion-forward edge into your look.
Blonde, red and burgundy are all shades that are strong enough to be worn alone, however, they are complementary colors that will also look fantastic when they are combined, leaving you spoilt for choice.
Popular Blonde, Red and Burgundy Box Braids
Box braids are traditionally worn by women of dark color but since their fashion revival in the noughties, women from all ethnic backgrounds are now wearing blonde, red and burgundy box braids in their hair.
There are so many benefits of opting for box braids: they require very little styling, add color without any harmful dyes or chemicals, and are incredibly easy to work with.
No matter what your face shape or skin tone, here are 27 different blondes, red and burgundy box braided hairstyles meaning you're sure to find the perfect one for you:
1. Burgandy and Blonde Box Braided Updo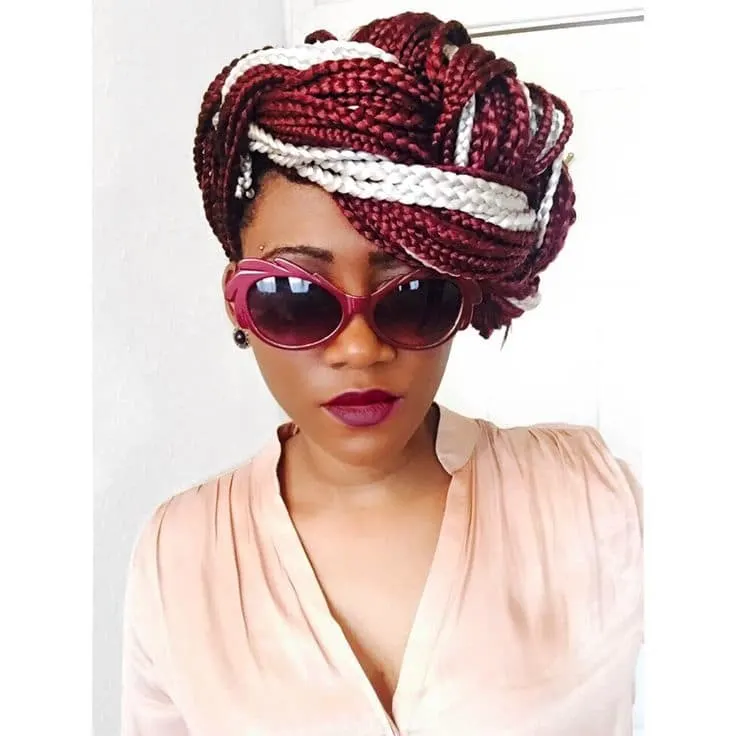 Twist your hair into a crochet style updo and pull it low at the front of your face. Wear it over one eye to create a face-flattering shape, ensuring that you tuck the ends of your hair underneath the style so that they appear invisible.
This is an ideal style for formal occasions and a great way of keeping your hair out of your face with flair.
2. Long Burgundy Box Braids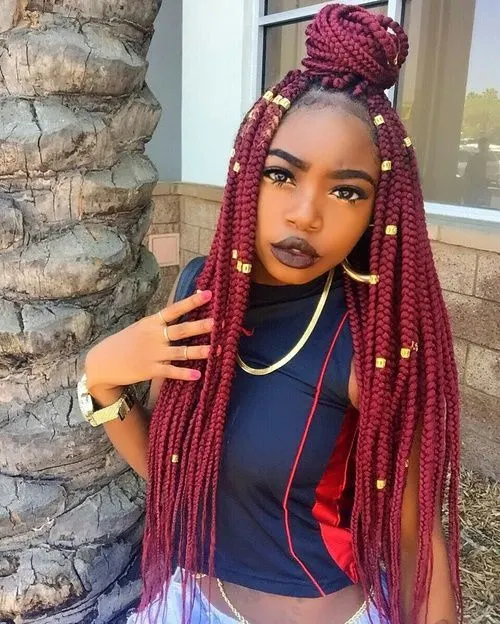 Inject style and color into your box braids by adding embellishment. Gold looks great with burgundy, as shown in this example, but you could also use your hair rings to coordinate your hair style to your swimsuit, your favorite dress, or any other summertime occasion wear.
These kinds of ring are easy to clip in, and can also be removed in seconds.
3. Blonde and Red Double Buns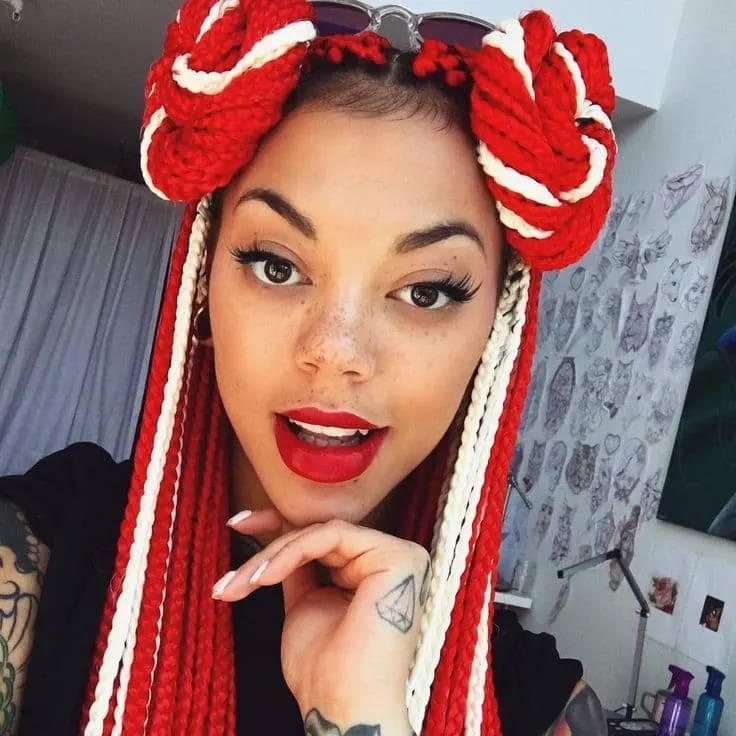 Combine red with bright white for a statement colourway that is sure to attract attention. The double bun is an on-trend and fashion-forward style and by braiding and then twisting your hair to create this style, you will achieve flattering buns that sit flat to your head, and which Princess Leia would be proud of!
4. Super Long Micro Box Braids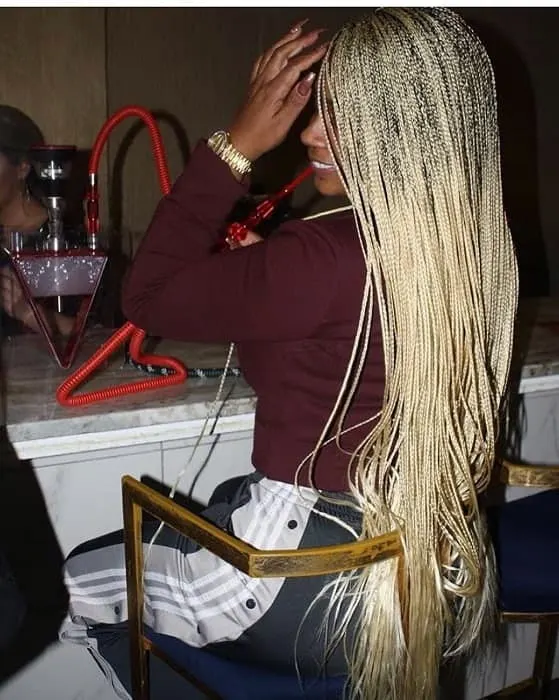 The beauty of adding box braids to your hair is that they can be as long as you wish without the hassle of having to grow out your natural hair! These super-long blonde micro braids are a great example of how chic and sophisticated braids can look.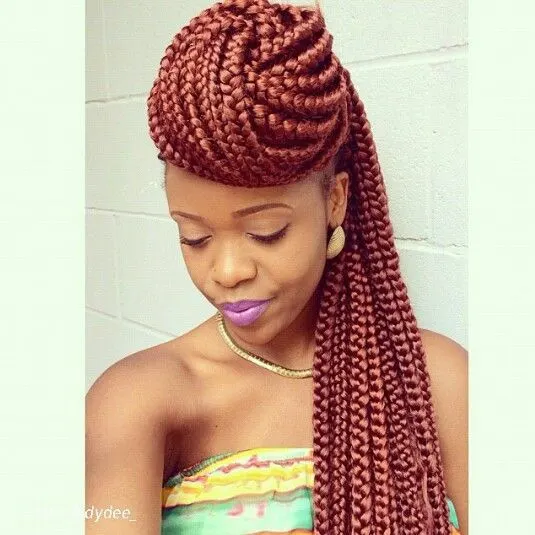 To create the perfect half updo that will enable you to show off the full length of your braids whilst still creating a formal occasion style, separate half of your hair and style it in a crochet bun at the front of your head.
Sweep the rest of your hair over one shoulder and prepare to party the night away.
6.Vibrant Red Box Braids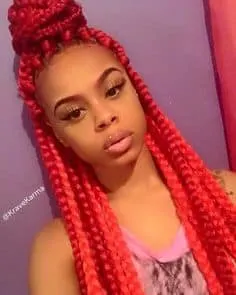 Vibrant red is the perfect 'fun' color shade if you're looking for something that is eye catching, easy to maintain and will look great paired with a darker shade as your natural hair begins to grow in.
When you choose a hair color such as this one, why not pair it with neutral makeup, such as a pretty pink lipstick, to lend your look a feminine feel.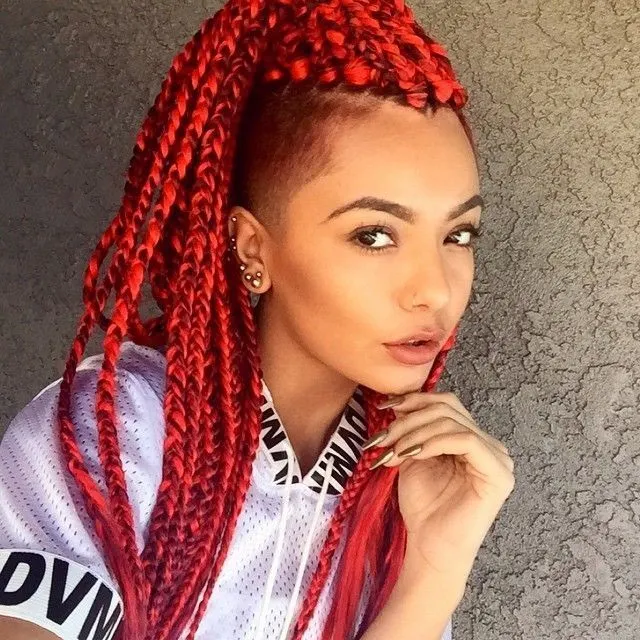 Red and burgundy look great together, and when combined create a unique, textural highlighted effect that is incredibly flattering to all skin tones.
Combine your red and burgundy braids with an extreme undercut to thin out your hair and lend it and on-trend urban look that ties in perfectly with this season's sports-luxe aesthetic.
8. Striking Blonde Embellished Box Braids
If you want to lend your braids a modern edge that will ensure you really stand out then why not heavily embellish them with so many rings that people will wonder whether you work in a piercing shop!
The contrast between the metallic accessories and the vibrant blonde hair shade is both flattering and fashion-forward.
9. Goddess Locs With an Extreme Side Parting
Show off high cheekbones and an angular, or heart-shaped, face by sweeping your braids to one side in an extreme side parting.
This is a style that will look great in any color: if you're concerned about your hair color complements your skin tone then why not consider dying your eyebrows to match your new hair shade, as shown in the example above.
10. Red Braids With a Hint of Blonde
Just one or two braids in a complimentary color can completely change the look and feel of your hair. Adding a few well-placed blonde braids will have a highlighting effect, and give your hair depth. This is a wonderful look for women of all ages.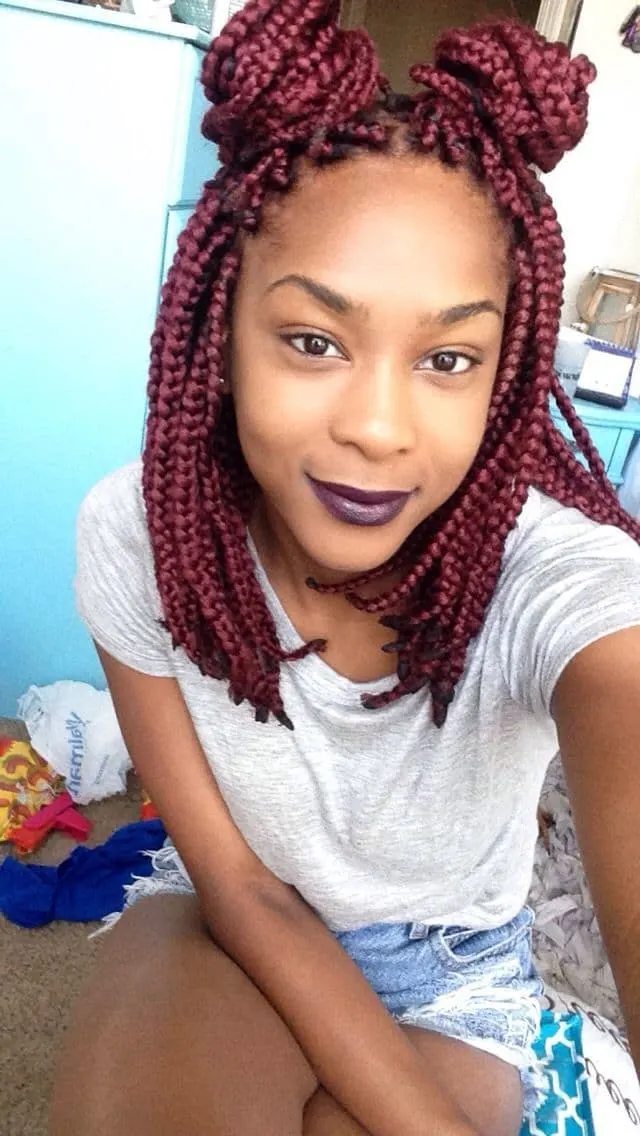 Because you can wear your box braids at any length, the temptation is to have them as long as possible.
But if you're looking for a style that will flatter any face shape and be super-easy to manage then don't overlook the chic bob: easy to wear, this mid-length allows your color to be the focal point, whilst still being versatile enough to style however you want.
12. Ultra Long Braids With Demi Bun
Keeping your hair out of your face when you have ultra-long box braids can be tricky, but this demi bun stacked high on top of the head is a great way of ensuring that your hair is out of the way and creating a statement style.
The height of this hairstyle will add extra inches to petite girls, and lend taller women an elegant and statuesque edge.
Short Box Braided Hairstyle Ideas
13. Blonde Box Braids with Red Underlay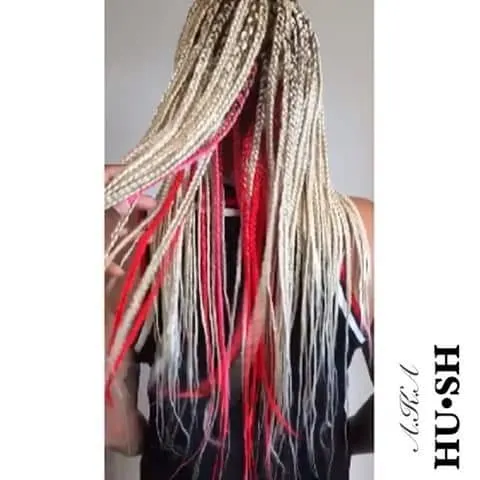 If you tend to stick to traditional blonde box braids but want to experiment with a different look then why not add a few vibrant red box braids into the underlay of your style.
You can choose to hide these when you wear your hair down and long, or display them proudly by twisting your hair into an updo.
14. Red and Burgundy Box Braid Ponytail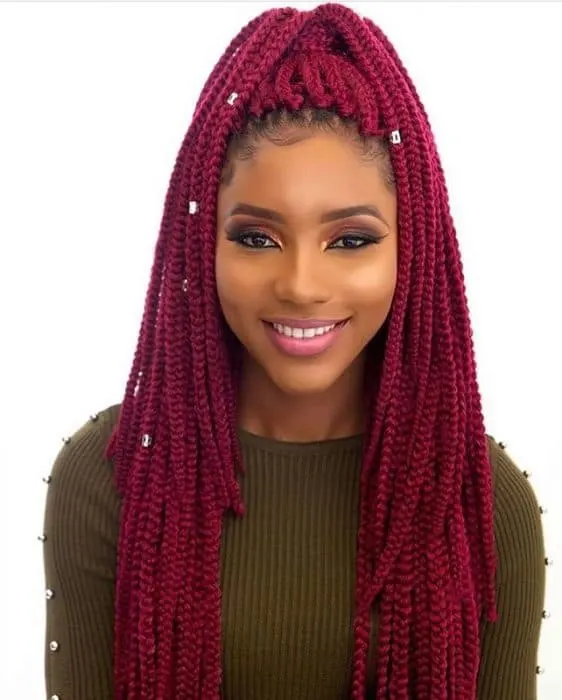 The ponytail is a classic up do that never goes out of fashion! This is a great way to pull your hair away from your face with a minimal effort, whilst still showing off the vibrant color of your style.
If you prefer to wear your hair up in a no-nonsense style then ask your stylist to weave your box braids into your hair away from your face, holding it neatly in one place.
15. Ultra-Thick Jumbo Twists
Twisted box braids don't have to be skinny! Why not opt for a more unusual chunky box braid if you really want to make a style statement? Ask your stylist to ensure each braid is wide and flat, to ensure that it looks as chic and stylish as possible.
Keep yourself cool in the summer sun and pull your hair out of your face by piling it on the top of your head in a messy and informal bun style.
This look takes just seconds to put together but has a big impact. Wrap each strand around each other to create a style that is laid back and perfect for wearing on the beach.
17. Two Tone Thick Twist Braids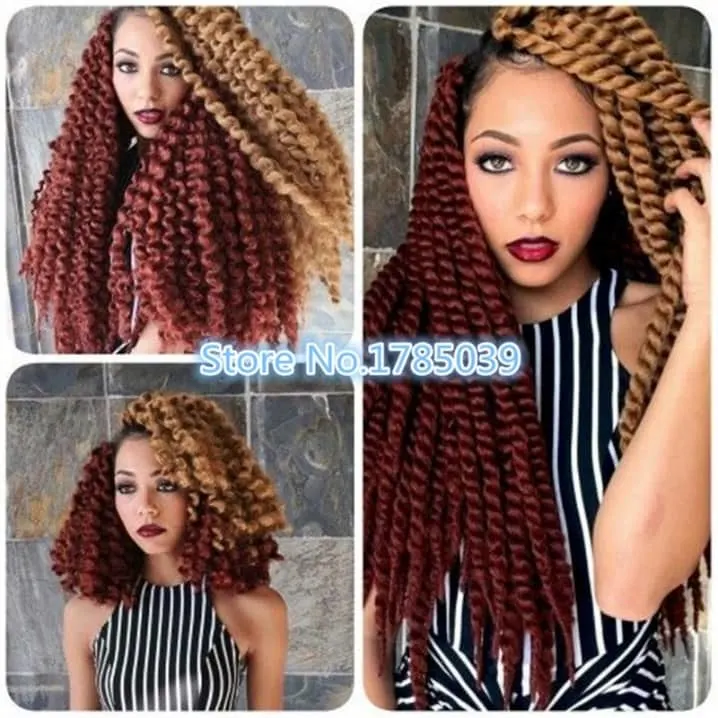 Your braids don't have to be limited to just one shade: this oversized style provides the perfect arena for injecting two complementary colors, such as this dark blonde and burgundy combination.
Wear the blonde layer on top of your head with the burgundy underneath to create a two-tone look which will make your hair look thicker, and create the illusion of extra volume.
Try The Popular Jumbo Box Braids
18. Box Braid Plait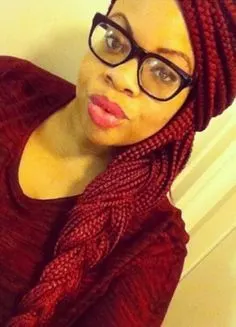 Who knew braids could be braided? This is a fantastic look that really makes a statement, and sweeps your hair away from your face, without being too complicated to achieve.
Simply pull your hair to one side of your face, braid it, and then secure it with a hair tie. This is a style that suits women of any face shape and is great for practical occasions, such as a trip to the beach or even the gym.
19. Short Burgundy Box Braids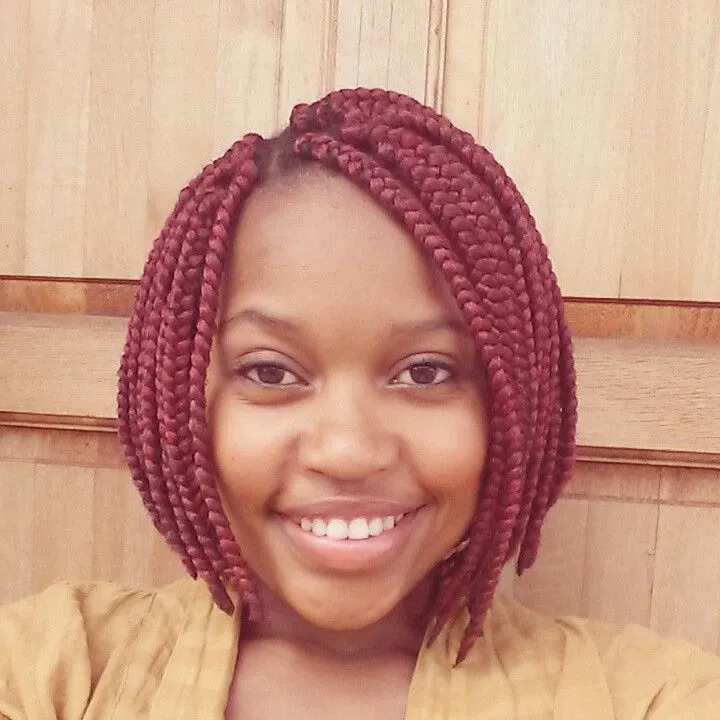 Box braids don't have to be artificial! If you want to work with your natural hair then why not ask your stylist to create box braids from the length you have already grown yourself.
This is a great way of protecting your hair whilst it continues to grow, whilst still ensuring it is easy to style and maintains.
Box Braided Hairstyles for Kids
20. Ultra-Fine Blonde Box Braids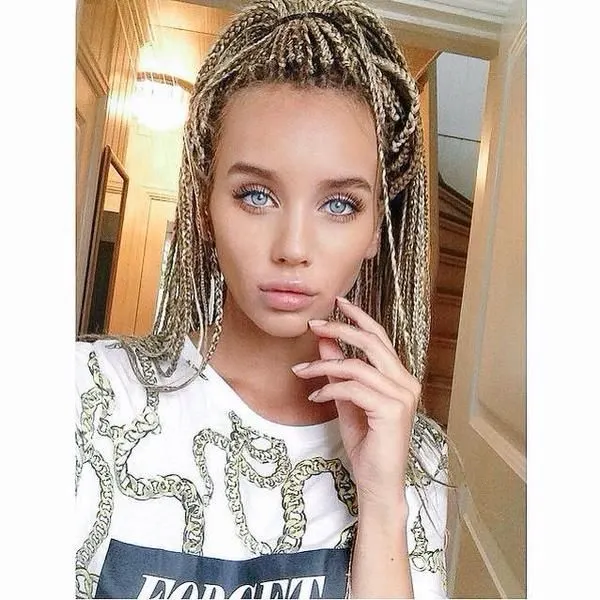 If you want all the benefits of braids but prefer to keep your hair looking as natural as possible then ask your stylist for ultra-thin braids that taper as they reach the length of your hair.
These braids are easy to style and maintain, although beware: they will take much longer to apply than traditional braids.
Burgundy Box Braids
Burgundy box braids and twists look fantastic on women with African-textured hair. The burgundy color works really well with dark skin tones.
Even though burgundy is not a natural hair color, the color does not stand out too much or look out of place. This means that burgundy extensions can still be worn by women in a professional setting.
What are the differences between burgundy box braids and twists?
In general, braids are made up of three individual sections of hair, whereas twists are only made up of two sections. However, twists can sometimes be made up of more than two sections which are wound together, rather than plaited. In some case, twists might be just one section of hair which has been tightly wound.
#21: Weaved Twists
Give your burgundy twisted hairstyle an extra splash of color by covering a few strands with bright hair wraps. Do not wrap them all up, so that some of your hair colors can still be seen.
#22: Chunky Braids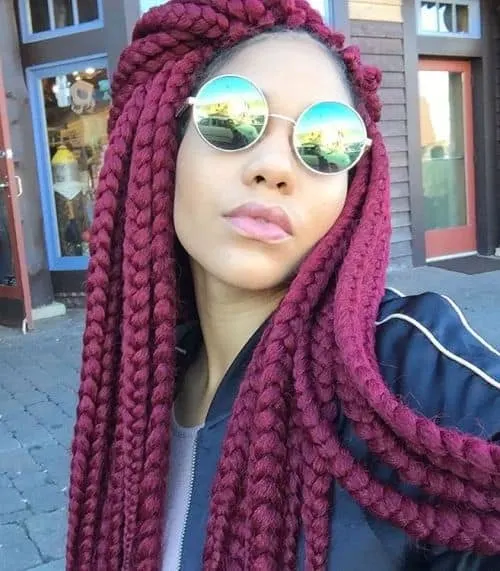 Chunky burgundy box braids are a great idea for women who want a heavier hairstyle. These thicker braids have a lot of weight and movement to them.
#23: Basic Burgundy Twists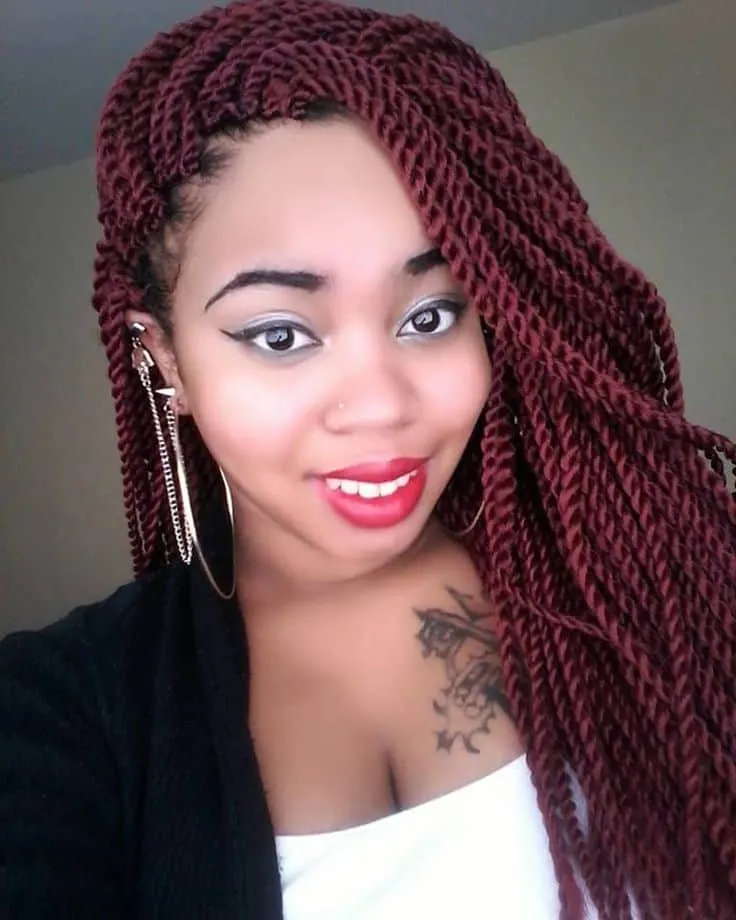 Basic twists are a great style for African-textured hair. Unlike box braids, these sections only use two strands of hair instead of three. They require the same simple maintenance tricks to keep them looking great.
#24: Side-Swept Style
A cool and brooding look is easy to create by sweeping all of your braids over to one side of your head. Team this hairstyle up with dramatic make-up for maximum effect.
#25: Burgundy Faux Locs
Create thick and strong sections of hair by twisting it very tightly. This will help to create beautiful burgundy faux locs braids.
#26: Small Braids
Small burgundy box braids look great on women with petite features. These tiny braids are light and pliable. They can be twisted and pulled into lots of different hairstyles.
#27: Chunky Twists
Chunky twists do not take as long to style as microbraids do. It is much easier to style your own hair with twists, so this is a good option for those who do not want to involve a hairstylist.
Hairstyles With Red Highlights
Although burgundy box braids and twists look amazing on African-American women, they are not the only hairstyle for these women to choose from. Check out the rest of the website to find lots more ideas for women and men of all races.