Peach hair provides the perfect way to stand out in the crowd without taking things too far. This soft orange hue is comprised of a variety of orange, pink, and rose gold tones to truly compliment your summer look. Now more than ever, people are turning to this soothing hair color for a punch of inspiration.
Exquisite Peach Hair Color Trends
Now that we've covered the basics regarding who should wear peach hair color let's look at some inspirational options. Below are different peach hair color shades for fair, medium, and dark skin.
1. Wavy Bob with Layers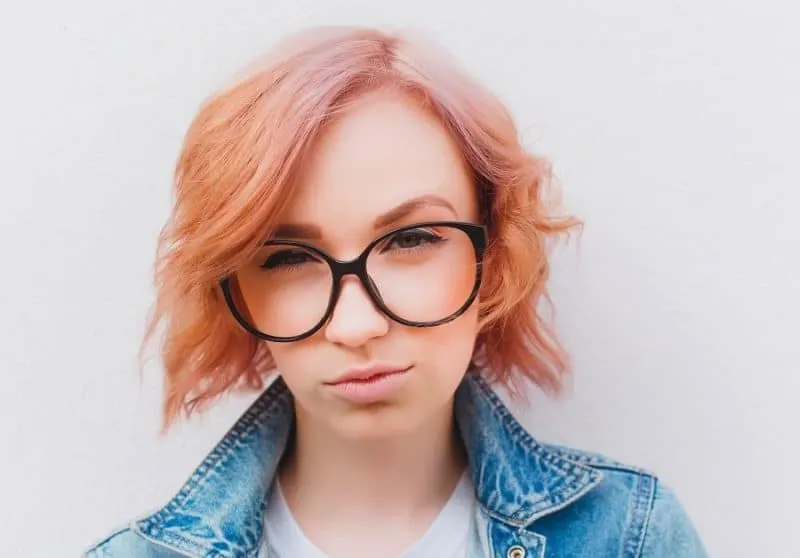 Pastel hair can be a little difficult to maintain, so keeping it short is a good idea. This will let you look as vibrant as you can. Add some layers to a nice bob with a side parting. You'll look very trendy and modern!
2. High Bun with Pink Tinged Hair
Some peach tones have a pink tinge to them that's complimentary to all skin tones. It helps you look very glamorous.
This wide, high bun on the crown of your head also looks glamorous. There's a lot of volume in it, and some light bangs fall by the side of the face.
3. Peach Blonde Wavy Hair
If you'd like a pastel tone that's very close to a natural color, then consider this one. It's very close to blonde. However, the peach tones make it more unique than a normal blonde hairdo.
The locks extend beyond the shoulders and have a slight waviness to them. There's some volume in the front to add a little glam to your casual style.
4. Orange Toned Layered Bob
Darker, more vivid tones are highly alluring. Dark roots poking through add depth, too.
Here there's a very nice bob that curls under the chin on one side. The other side fans away from the face. There are some layers in this haircut to make it more dynamic.
5. Shaggy Hair with Dark Roots
People who love the shag haircut and have thick hair will love this look. It's very messy on top. This is caused by the delightful waves and shag style. Thick sections of hair almost obscure the face. Dark roots help the peach tone look more vivid.
6. Pastel Peach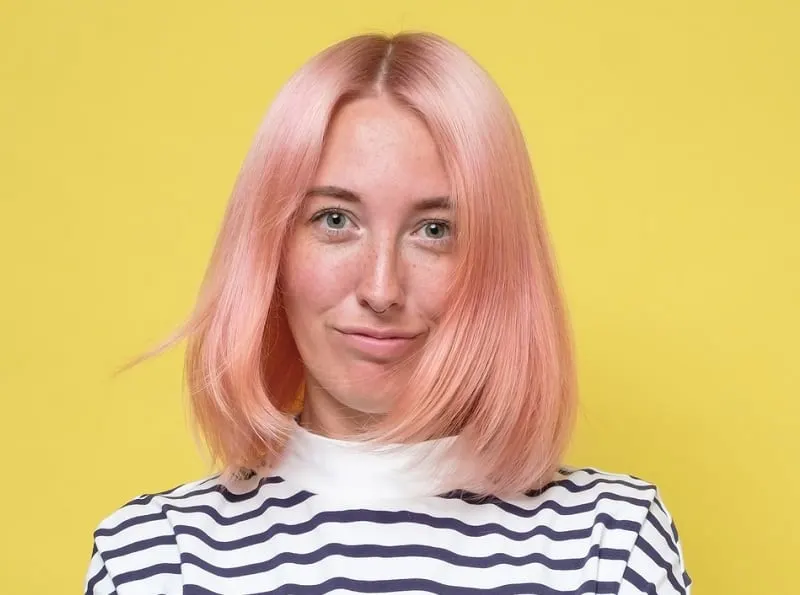 Ideal for fair skin, light peach hair looks stunning on freckled babes and lighter skin tones. Bring out the softer rose gold tones and cotton candy hues to accent your softer look best. It feels so fresh on short and long hair alike.
7. Dark Peach for Golden Skin Tones
Okay, but what if you're not fair? Dark peach hair is fantastic on tan skin. Go deeper at the scalp to not only compliment golden undertones but also to add rich dimension. It is perfect for curly hair and especially for adding interest to up-dos. Deep root are already a trend on their own.
8. Peach and Gray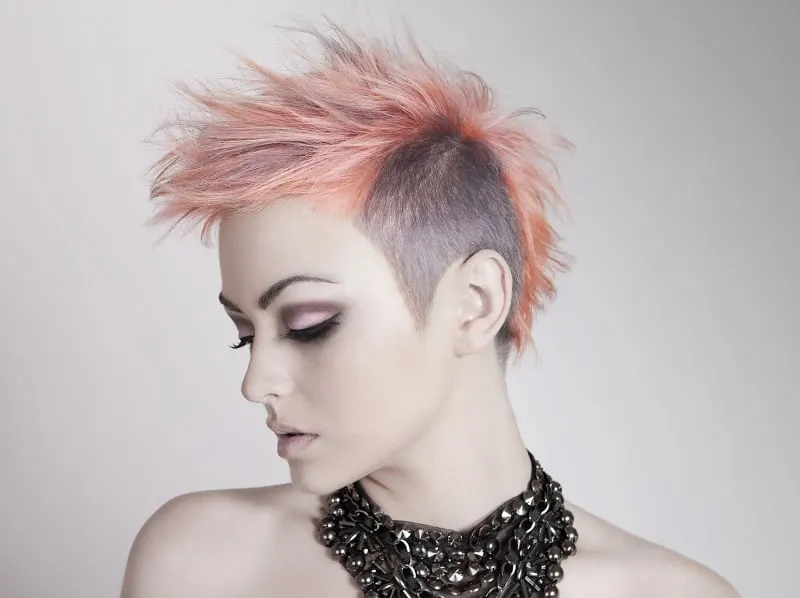 It may be hard to conceive rocking short peach hair if your skin has ashy tones, but this style proves it's more than possible! Dye hair a purplish-gray at the roots and bring soft strands through spiky, peach color at the ends of hair for a truly dynamic look.
9. Fiery Peach for Brunettes
Bump up the warmth if you have deep, warm skin with yellow undertones. Steer clear of orange tints with this peach pink hair and don't be afraid to try a more ombre style to show off your chocolatey tones at the root. It's gorgeous on long hair but would also suit a short pixie with lots of energy.
10. Peach Ombre
Lighter brunettes with flaxen tones and light skin with warm undertones should bring out the yellow and orange hues found in this hue. All-over color can be intense, so dust the ends of your peach ombre hair for a rich, yet classy vibe.
11. Peachy Blonde
Don't feel like rocking bold color but love the way the tones can influence your natural color? Let your stylist know that you'd like to incorporate that soft warmth into your current look to create truly subtle peach blonde hair.
12. Peach Highlights
Another option for fair skin with pink undertones is a more pink version of peach hair highlights. Elements of rust should influence your color, while the lightest orange and ultra-light maroon tones should surround your face for the best brightening effect.
13. Neon Peach
It's time to have a little fun! Neon peach hair is truly gorgeous if you prefer an edgy style or are looking for some bold temporary color for the warmer months. As you can see, you need golden skin to make it shine. Babes with super dark skin can also make this style look incredible.
14. Faded Peach
The washed-out look is the easiest way to compliment skin with yellow undertones while bringing out the hint of pink found on your cheeks. Try this pastel peach hair on locks both short and long.
15. Peach on Natural Hair
Darker skin with golden undertones should consider copper peach hair. Perfect on springy coils and curls, copper has the ideal amount of warmth to bring out the best of your features while honoring your peachy desires.
It's impossible to deny the glamorous effects of this fruit-inspired hue. The best part is, everyone can wear it while honoring their natural beauty. Use rose gold, orange, pink, and red tones to create the very best color for you.