Half up half down curly hairstyles will always be in. What we love about these looks is that they are feminine, romantic, and depending on our mood, we can also make them on the edgier side. Women and girls with curly hair have tons of options to rock this style. We bring you 15 ideas for half up curly hair. Scroll down to see them all.
How to Style Half Up and Half Down Styles with Curls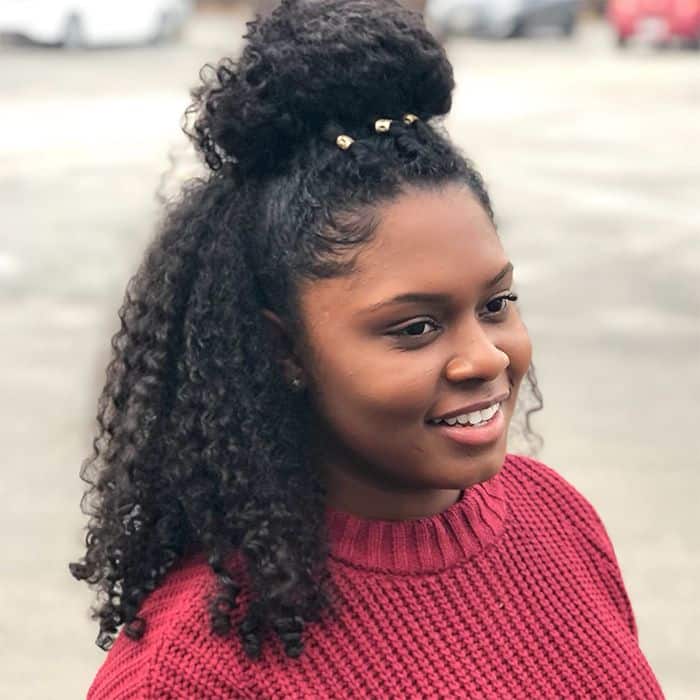 While it's easy to think curly hair leaves us out of trying out different hairstyles that's, actually, not the case. The truth is that half up half down hairstyles for curls are numerous. All you need is to prepare bobby pins and hair ties, if necessary, to create a wonderful look.
For example, you can use bobby pins to connect the front section of your hair at the back of your head. Another style you can try is to create high or low buns using the hair on top while allowing hair in the bottom section to gently flow down your back. The ponytail is also a good idea, but instead of picking up all your hair leave most of it down. Curls will add more bounce to your look.
How to Do Curly Half Up Hairstyles with Weave
In order to create a half up curly hairstyles with weave, the first thing to do is to detangle the natural hair, separate it into four or more sections, and comb thoroughly. Spray your hair with water to make it easy to control.
Attach your weave and proceed to make a bun or ponytail while making the sure remainder of your hair is free and flowing down your shoulders and back. Weave can make your ponytails look more voluminous, buns bigger, and hair are fuller.
Watch the Following Video on How to Do Curly Half Up Half Down Hairdos with Weave
Amazing Half Up Half Down Curly Hair Ideas
Scroll down to see 15 gorgeous half-up curly hair looks you can rock effortlessly.
1. Braid It Around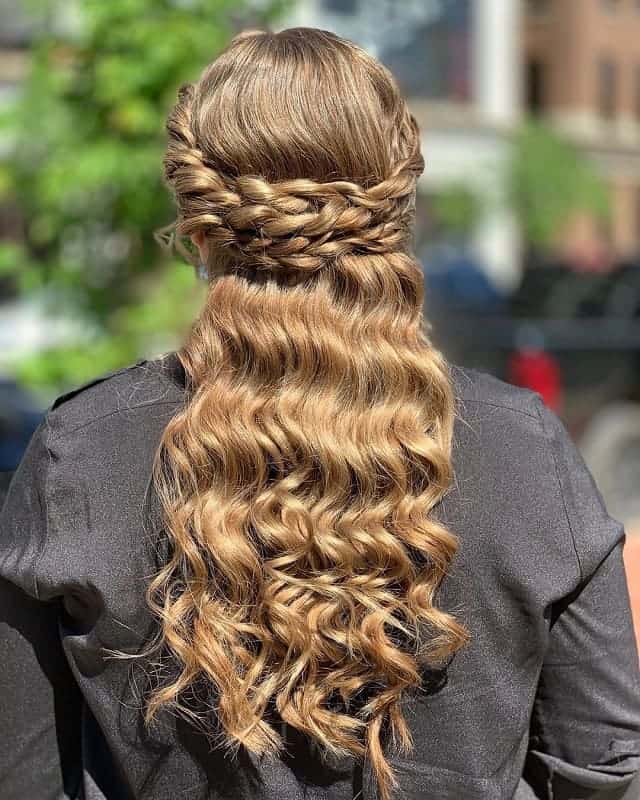 Romantic girls will love this curly half up hair look. Create crown braids using front sections of your hair and connect them in the back. So easy.
Pin up the sides and upper portion of your hair up and let the rest down to boost volume and bounce of your curls.
3. Tie It Up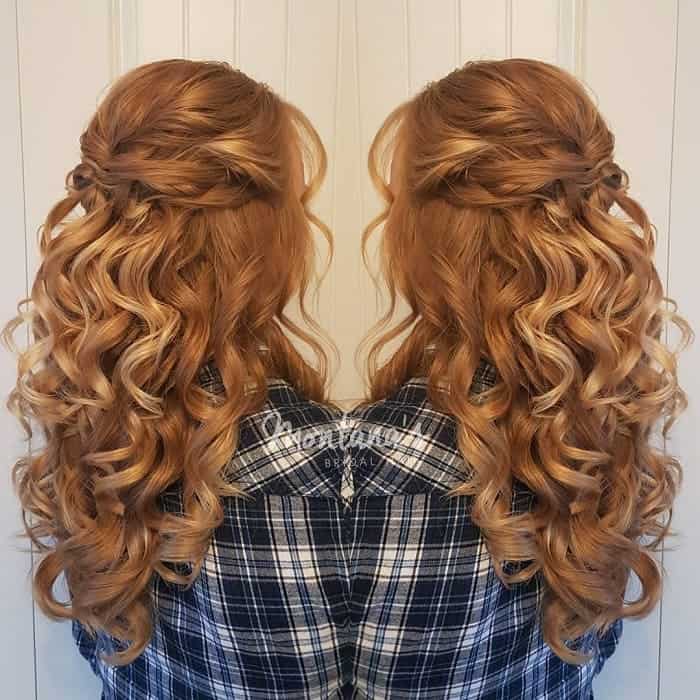 Again, connect two sections from the side in the front and make them appear like they are tied to one another in the back for a casual, yet romantic half up curly hair vibe.
Buns are trendy, and it's easy to pull them off. Make a high weave bun using only one portion of your hair. This half up half down hairstyle will be particularly awesome if your curly hair is long.
One of the most popular half up half down curly hairstyles is to make thin braids. Then, create a high bun, and that's it. You're good to go.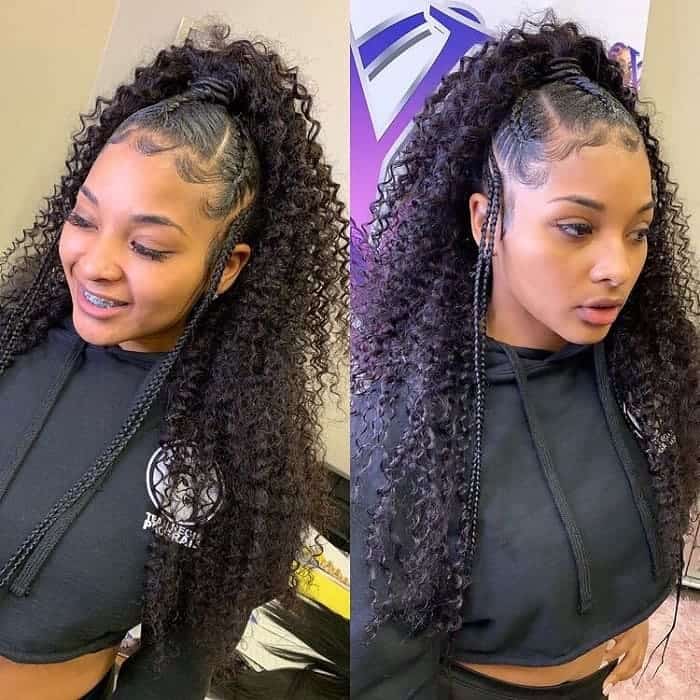 Create sleek stitch braids on the top of your head and leave curly hair down for a truly unique style.
Iconic Anime Girls with Curly Hair
Braids, buns, and curls are always a good idea, so why not combine them in one amazing look? Try this curly half up half down hairdo out, and you'll love the result.
Keep things simple and elegant with this half up half down style with curls. Both braids and bun create a wonderful combination you can pull off in different settings.
Braided ponytails are versatile. Instead of the "regular" ponytail, you can mix things up and switch it to one side or even in the front.
10. Feminine Look
Section your hair and make a half up double Dutch braids that you'll let down the curly and wavy hair. Stunning!
Half up half down curly haircuts aren't reserved for long hair only. Short hair looks absolutely fabulous with top bun and gorgeous curls.
10 Amazing Ways to Slay Curly Hair with Headbands
12. Braids and Patterns
When making the braids, you can also try to create patterns, zig-zag, or any other style you look for an edgy half up look with curls.
Instead of buns and braids, you can just lift up a portion of your hair using bobby pins so that you also achieve dramatic volume.
Bobby pin is your best friend. Using bobby pins lift up your hair a little bit, connect a few strands, and you'll get this fairytale-like half up curly hairstyle.
Use the length of the curly hair to your advantage to emulate this wonderful half up half down hairstyle. Braids are let loose down the back while front bundles from each side were taken in order to merge them in the back.
Now that you know how to style half up half down curly hair, you're ready to get the party started. Choose the style you like the most and recreate it with ease. Have fun.