SkWhat we love about the half up half down curly hairstyle is that they are feminine, romantic. Depending on our mood, we can also make them on the edgier side. Women and girls with curly hair have tons of options to rock this style. We bring you 51 ideas for half up curly hair. Scroll down to see them all.
How to Style Half Up and Half Down Hair with Curls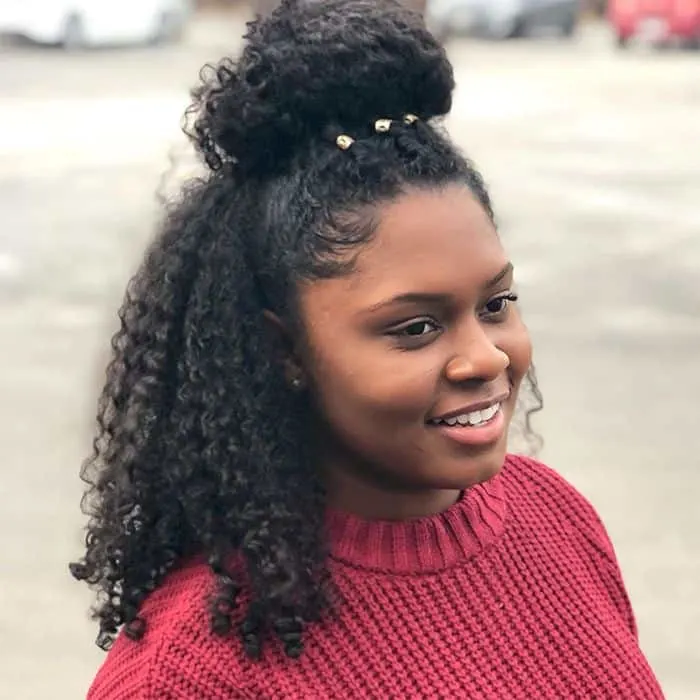 While it's easy to think curly hair leaves us out of trying out different hairstyles that's, actually, not the case. The truth is that half up half down hairstyles for curls are numerous. All you need is to prepare bobby pins and hair ties, if necessary, to create a wonderful look.
For example, you can use bobby pins to connect the front section of your hair at the back of your head. Another style you can try is to create high or low buns using the hair on top while allowing hair in the bottom section to gently flow down your back.
The ponytail is also a good idea, but instead of picking up all your hair leave most of it down. Curls will add more bounce to your look.
How to Do Curly Half Up Hairstyles with Weave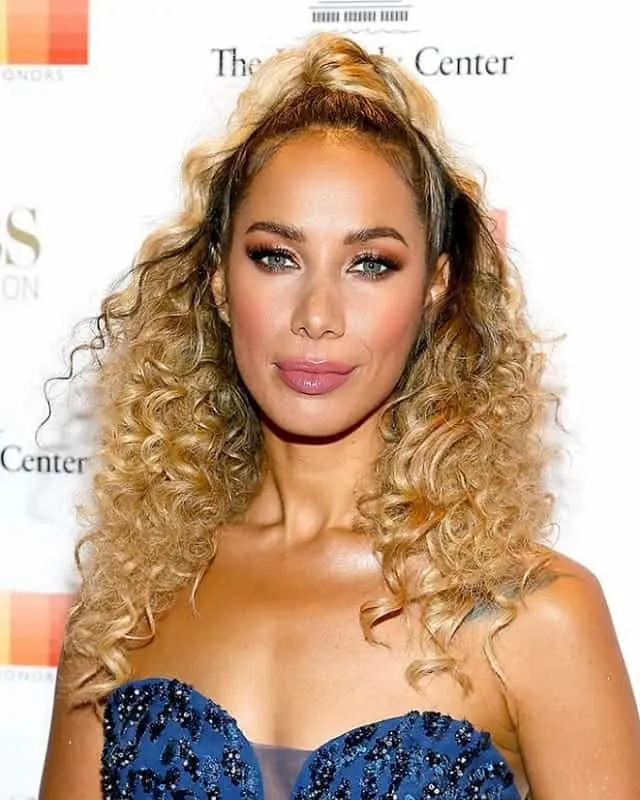 In order to create a half up curly hairstyles with weave, the first thing to do is to detangle the natural hair, separate it into four or more sections, and comb thoroughly. Spray your hair with water to make it easy to control.
Attach your weave and proceed to make a bun or ponytail while making the sure remainder of your hair is free and flowing down your shoulders and back. Weave can make your ponytails look more voluminous, buns bigger, and hair are fuller.
Watch the Following Video on How to Do Curly Half Up Half Down Hairdos with Weave
Amazing Half Up Half Down Curly Hair Ideas
Scroll down to see 51 gorgeous half-up curly hair looks you can rock effortlessly.
1. Braid It Around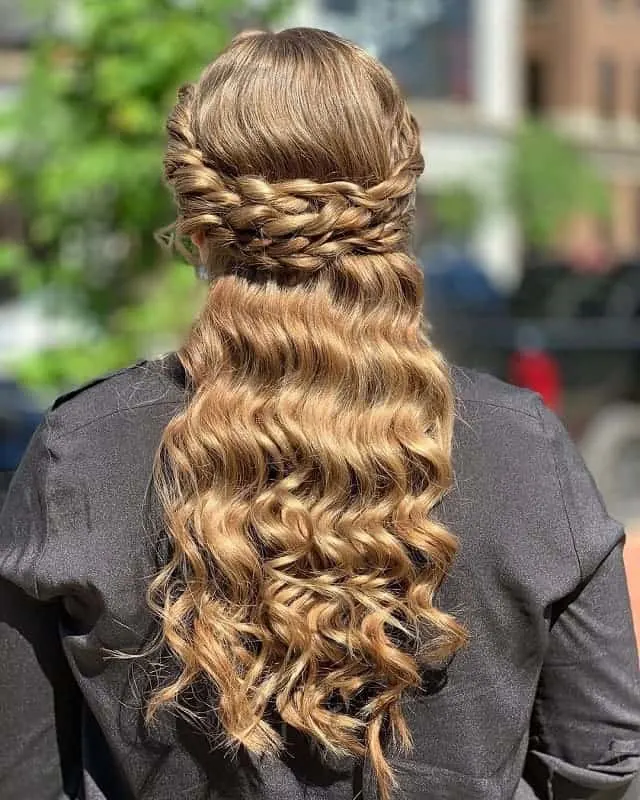 Romantic girls will love this curly half up hair look. Create crown braids using front sections of your hair and connect them in the back. So easy.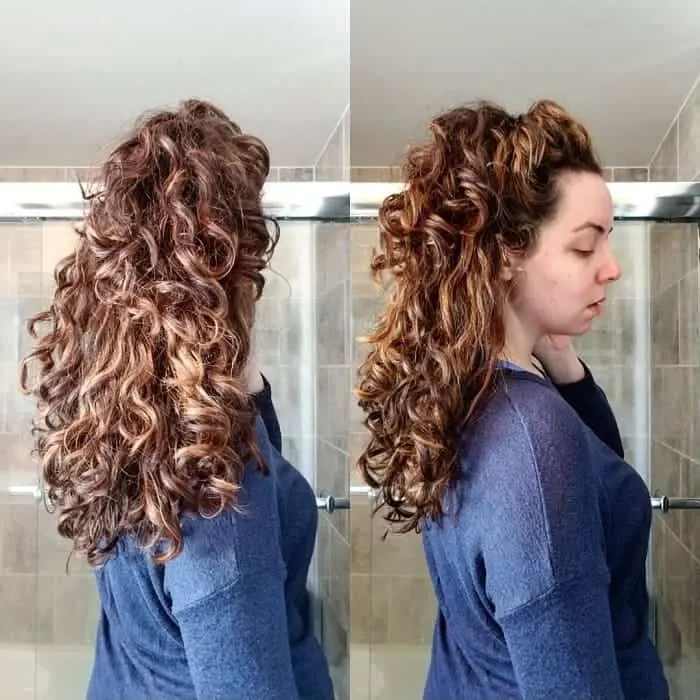 Pin up the sides and upper portion of your hair up and let the rest down to boost volume and bounce of your curls.
3. Tie It Up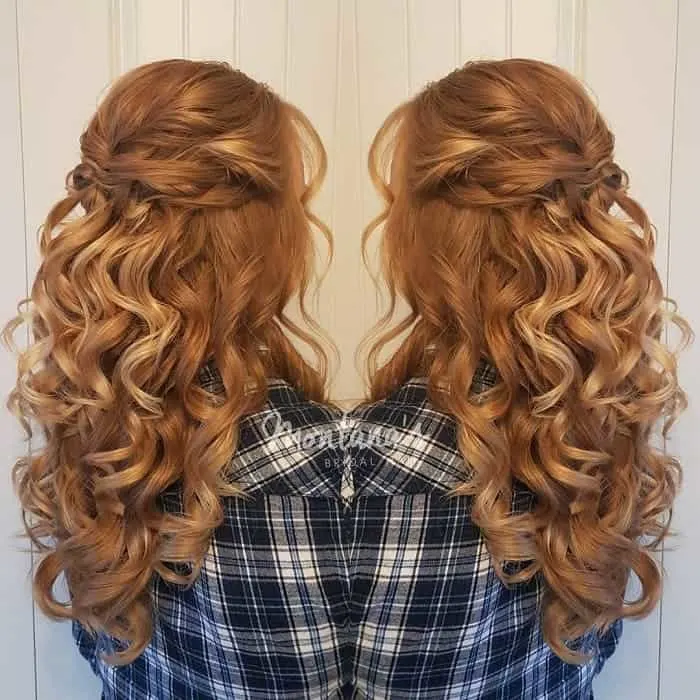 Again, connect two sections from the side in the front and make them appear like they are tied to one another in the back for a casual, yet romantic half up curly hair vibe.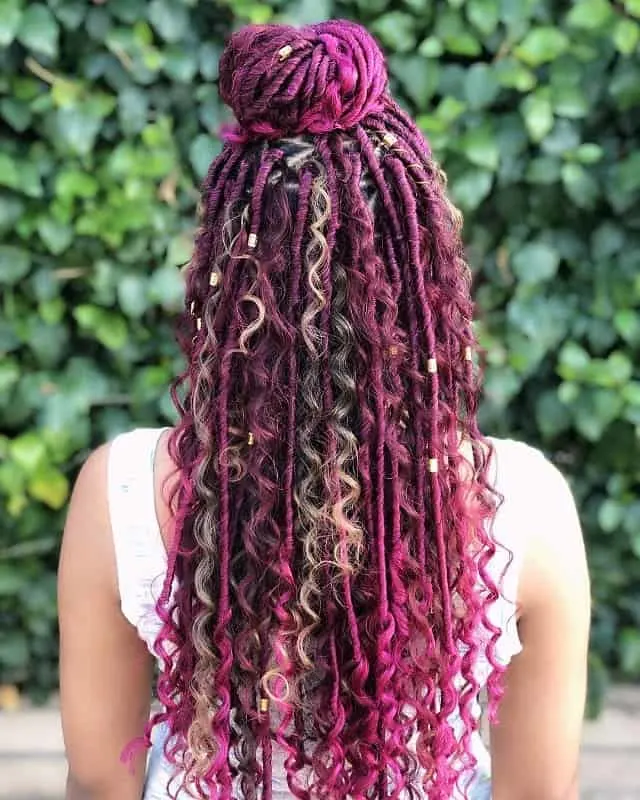 Buns are trendy, and it's easy to pull them off. Make a high weave bun using only one portion of your hair. This half up half down hairstyle will be particularly awesome if your curly hair is long.
5. Curly Crochet Braids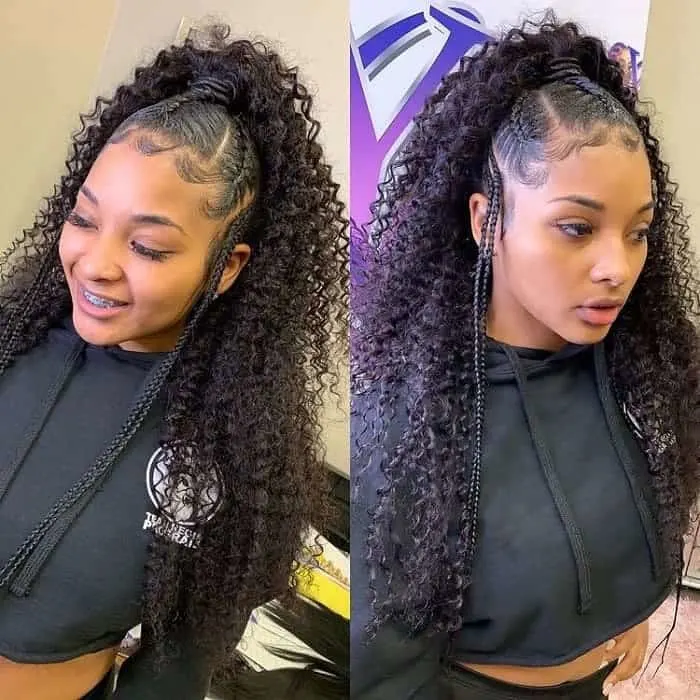 Create sleek stitch braids on the top of your head and leave curly hair down for a truly unique style.
Iconic Anime Girls with Curly Hair
6. Curly Bun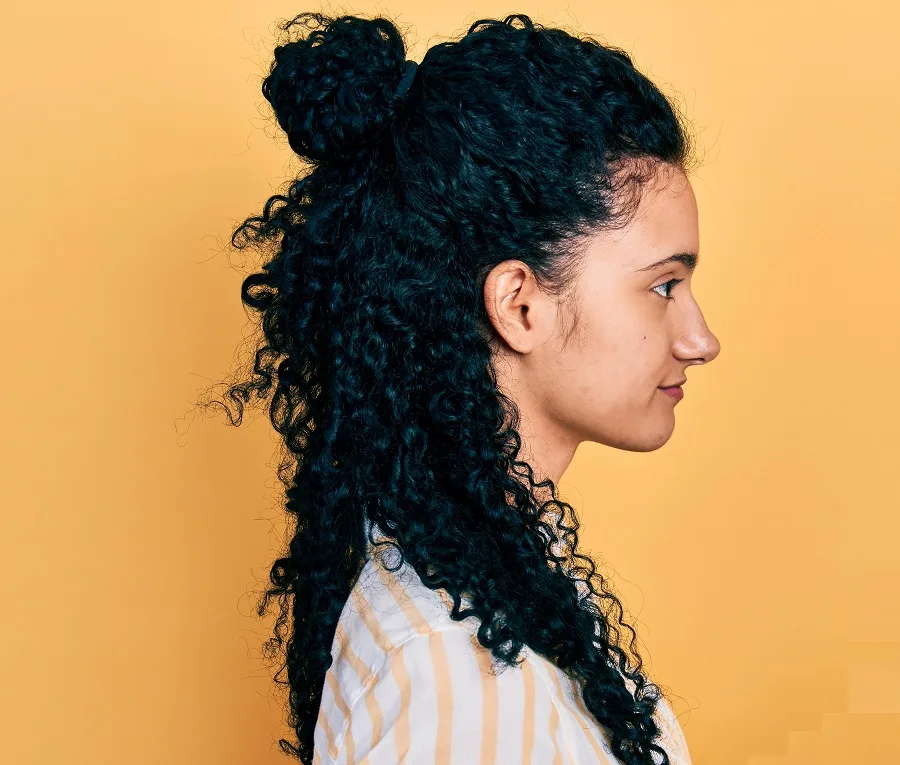 For a quick and easy hairstyle, go for this half up curly bun. If you want to secure your hair in place but can't spare a lot of time styling your hair, this effortlessly chic hairstyle is the solution.
All you need to do is gather the top half portion of your hair and twist it into a bun then secure it with a ponytail and you're good to go.
7. Half Knot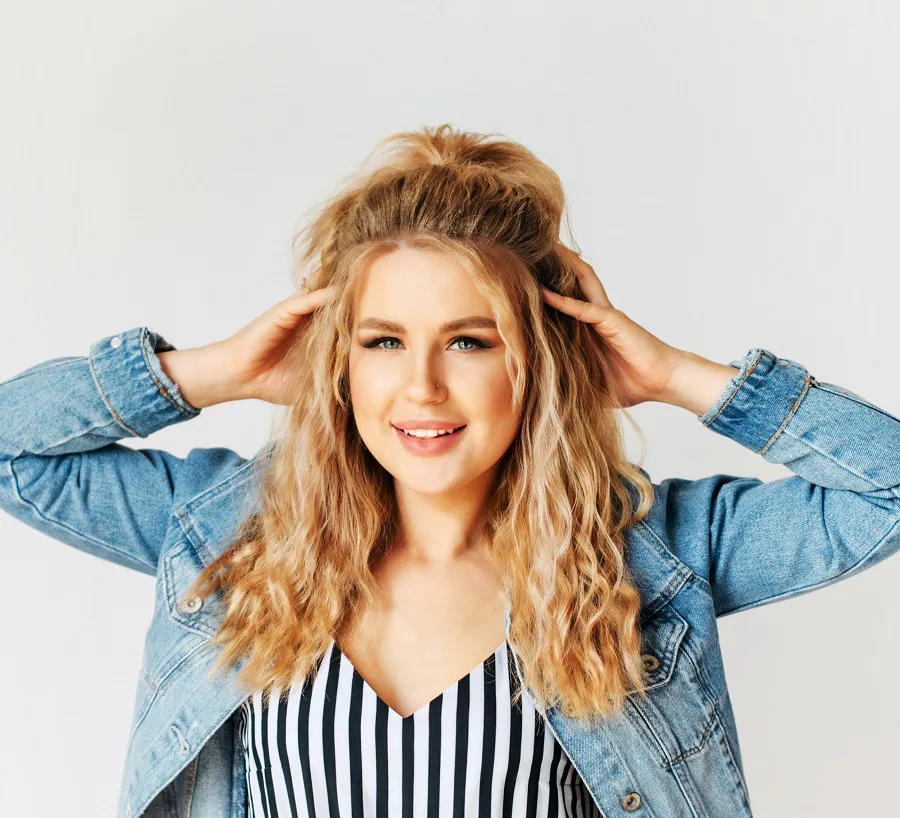 Torn between a bun and a ponytail? Go for a knot which is the crossover of the two popular hairstyles.
With its effortless and chill vibe, this curly half up hairstyle is perfect for achieving that off-duty model look.
8. Half Up Braids + Curls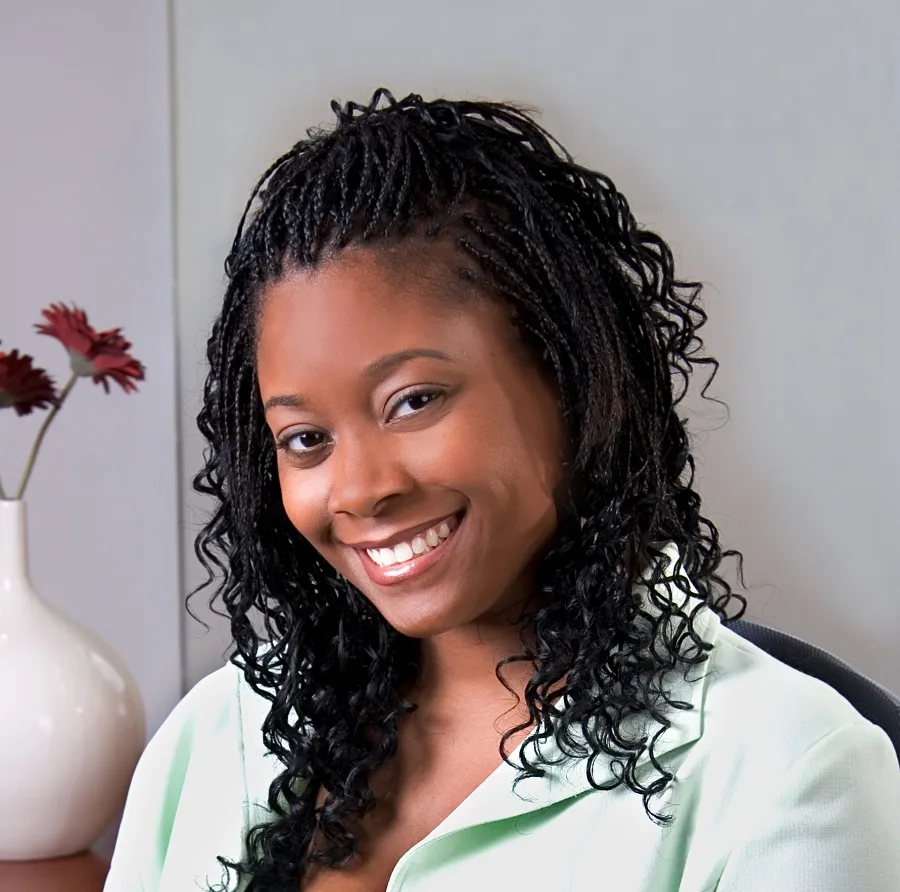 Here's a cool and unique take on the classic half-up hairstyle that's perfect for women with textured hair.
To achieve this look, braid only the top half of your hair strands then keep the bottom part as is. Gather the top half portion of your hair and pull them into a ponytail.
9. Double Dutch Braids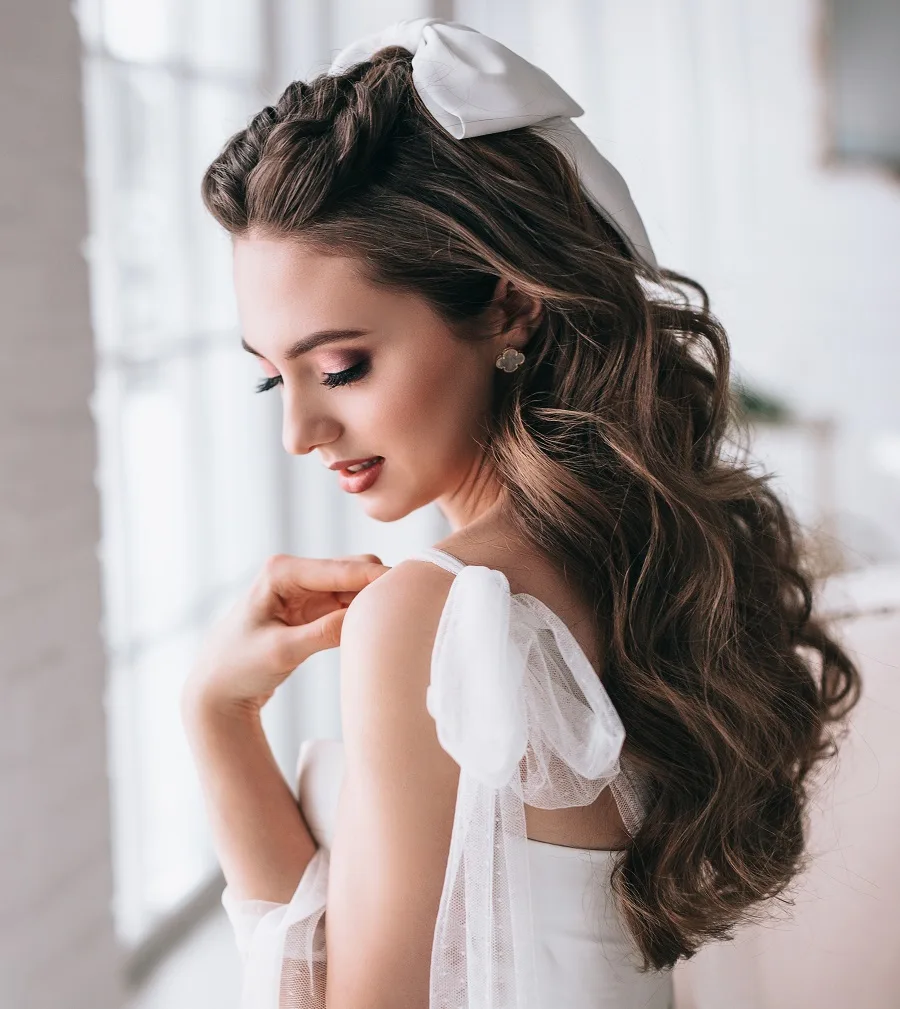 If you're looking for curly hairstyles for prom, these half-up double dutch braids might just be what you're looking for.
End your double dutch braids just at the top back portion of your head and cinch it with a big beautiful bow for a touch of elegance.
10. Twisted Crown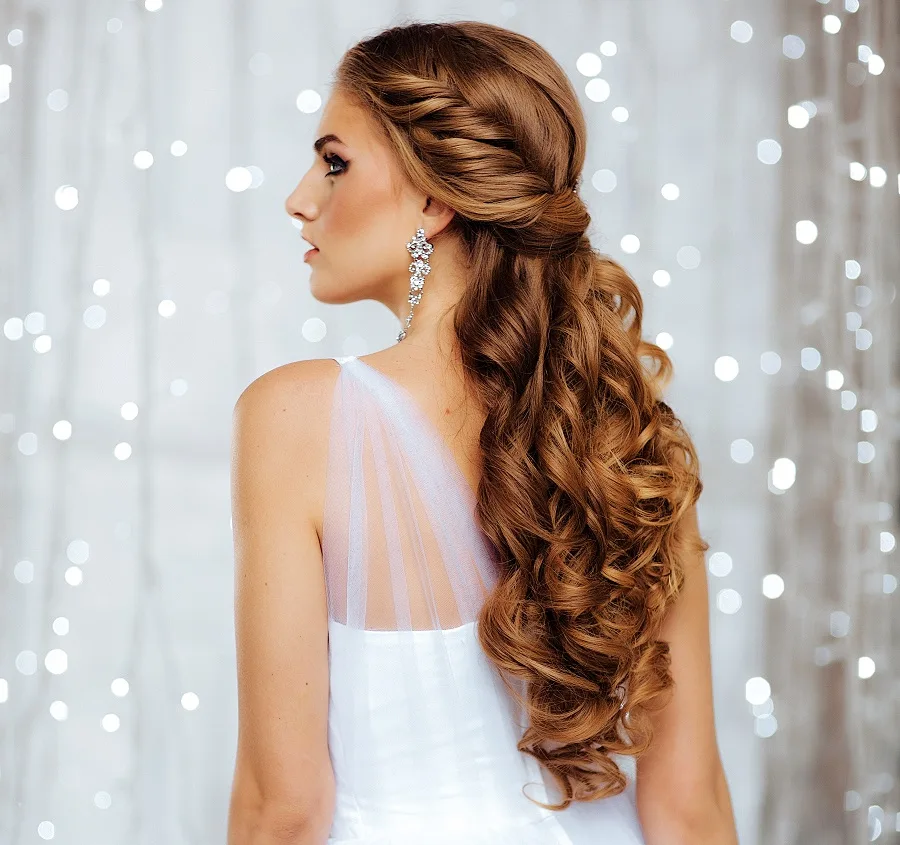 Wear an elegant twisted crown hairstyle and look every inch like the beautiful goddess that you are.
The crown beautifully frames your face and emphasizes your best facial features. On the other hand, the gorgeous long curly hair is enchanting and will definitely make heads turn.
11. Ombré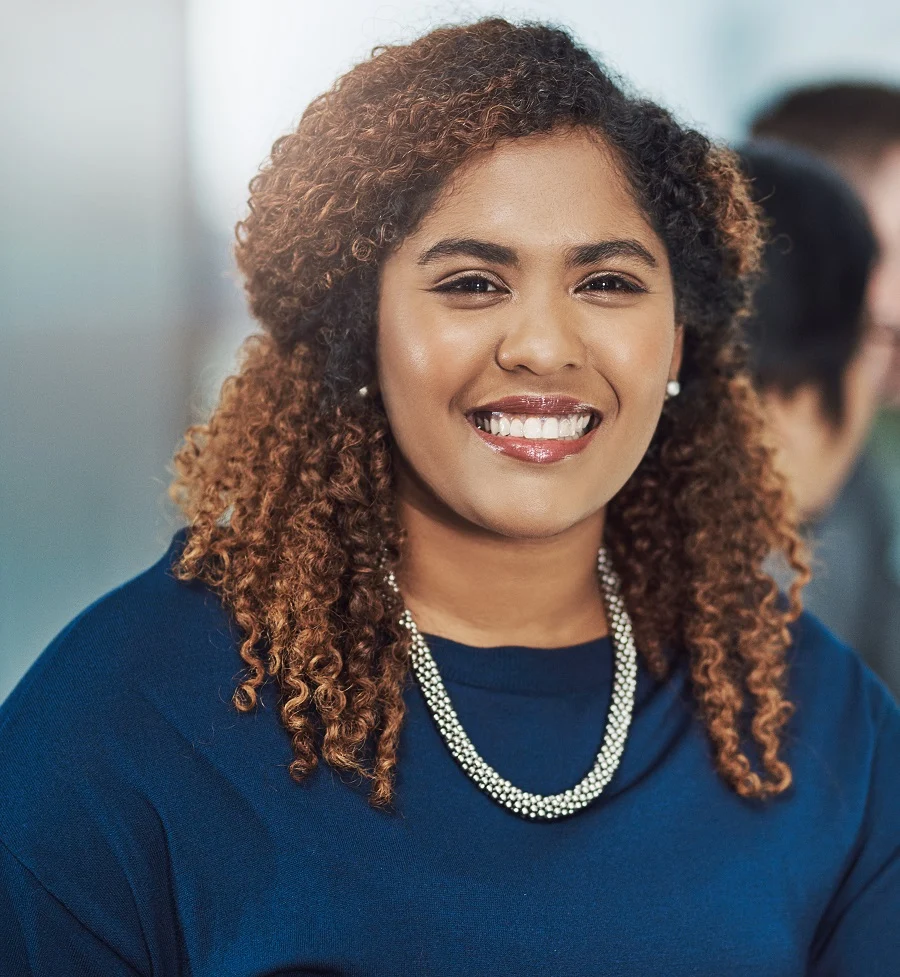 Since ombre splits your hair into two contrasting colors, it's one of the best hair color ideas for the half-up hairstyle.
The contrast between black and brown shades adds an emphasis to the hairstyle. Plus, the dark color makes the hair look slimmer while the lighter brown shade makes the curls pop.
12. A Floral Touch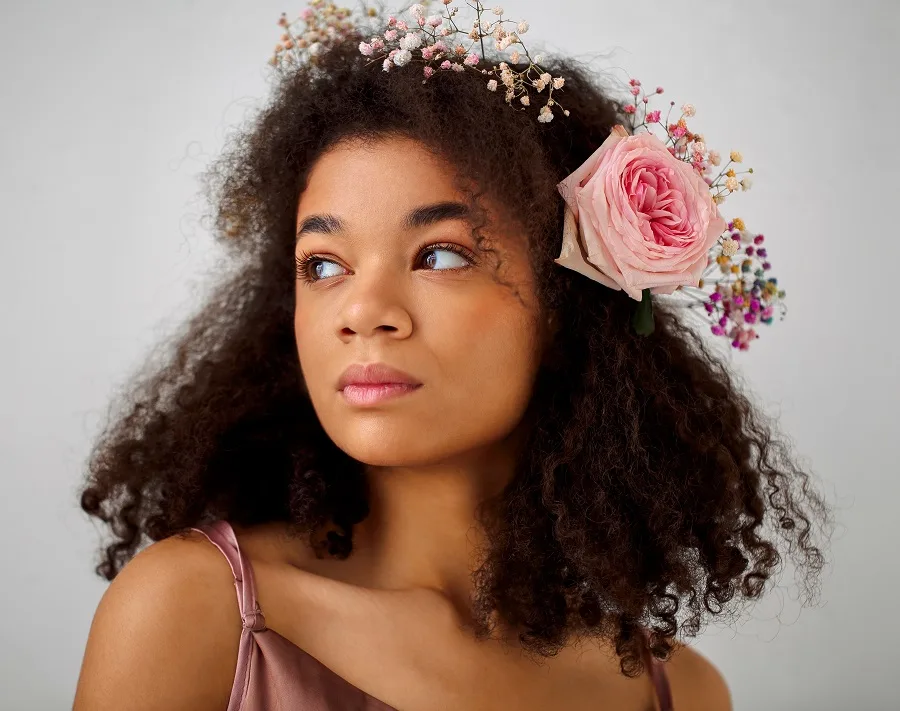 For a garden or beach wedding, decorate your hairstyle with beautiful flower hair accessories like these.
The big rose accessory makes a big statement while the florets are like supporting actors that make the entire look more cohesive and eye-catching.
13. Pearl Headband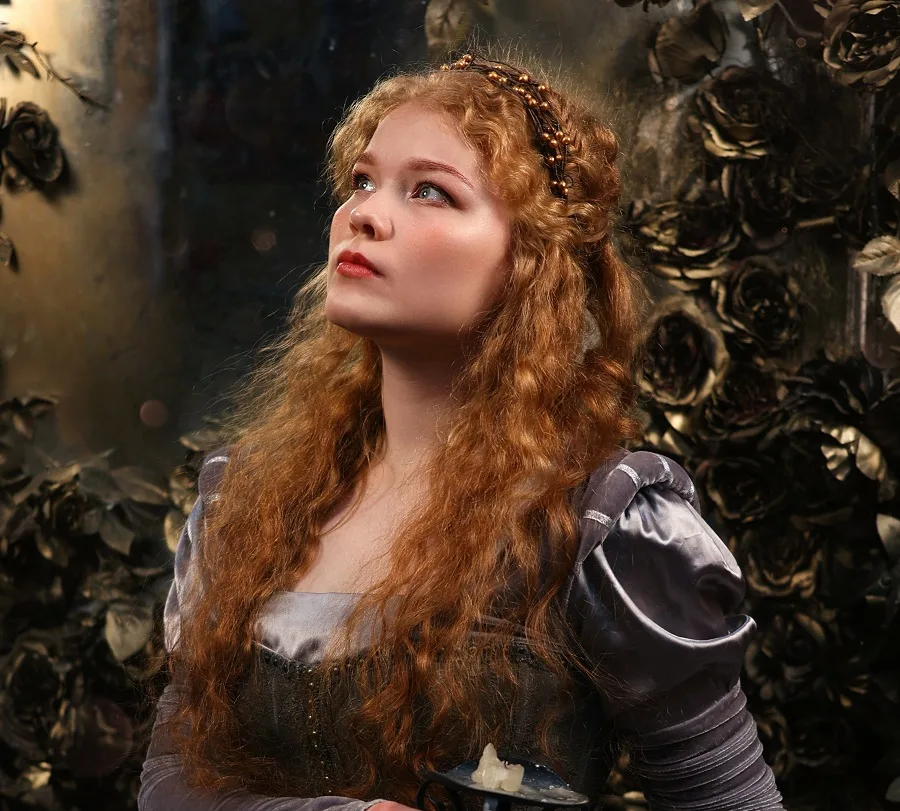 For a dramatic touch on the usual half up half down hairstyle, go for a beaded headband with pearls. This classic hair accessory will certainly turn any simple look into an elegant hairstyle.
14. Ponytail with Poof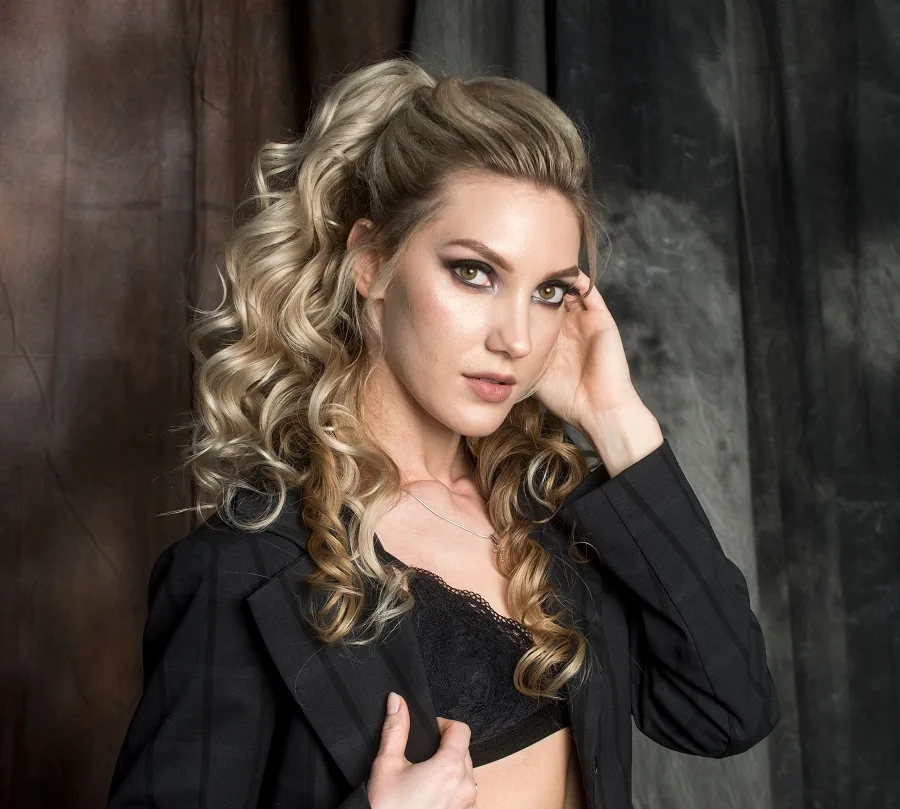 Do you want to level up your half ponytail game? Here's one simple tweak: add some poof!
The front poof will transform a drab ponytail into a fab hairstyle and can make your hair look thicker and voluminous.
15. Middle-Parted Half Up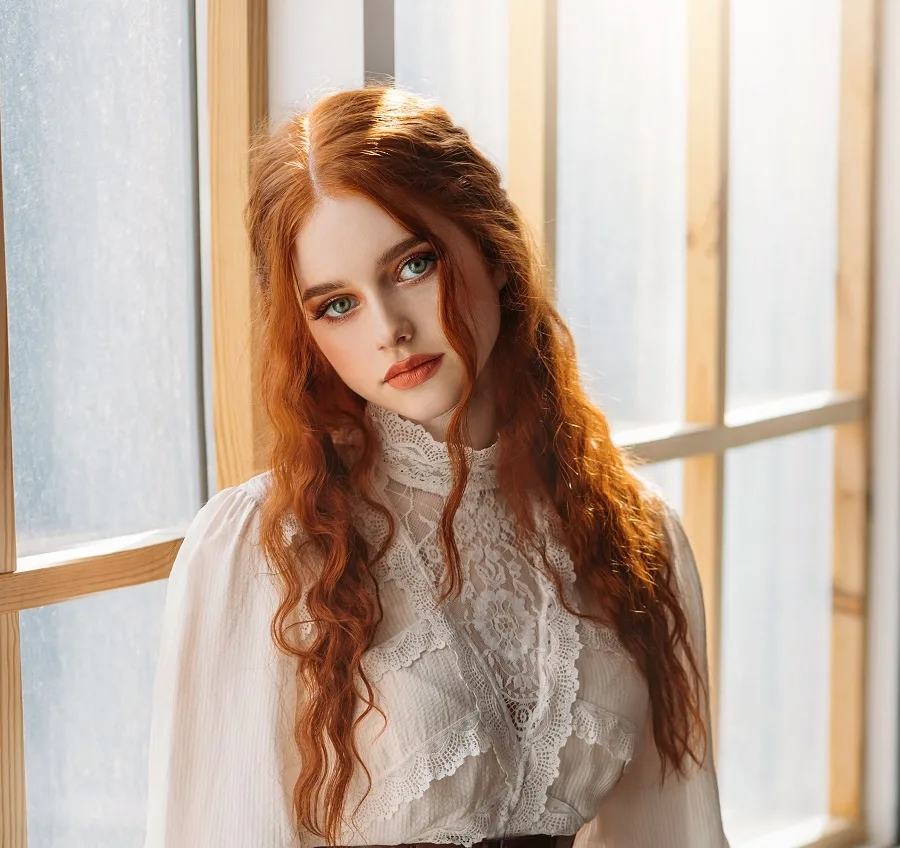 Let your gorgeous red curly hair be the center of everyone's attention by going for a simple and low-maintenance hairstyle– the middle-parted half ponytail.
Instead of going for the sleek and polished middle part, opt for one that's worn loosely and paired with layers and strands for a sexy vibe.
16. Half Messy Bun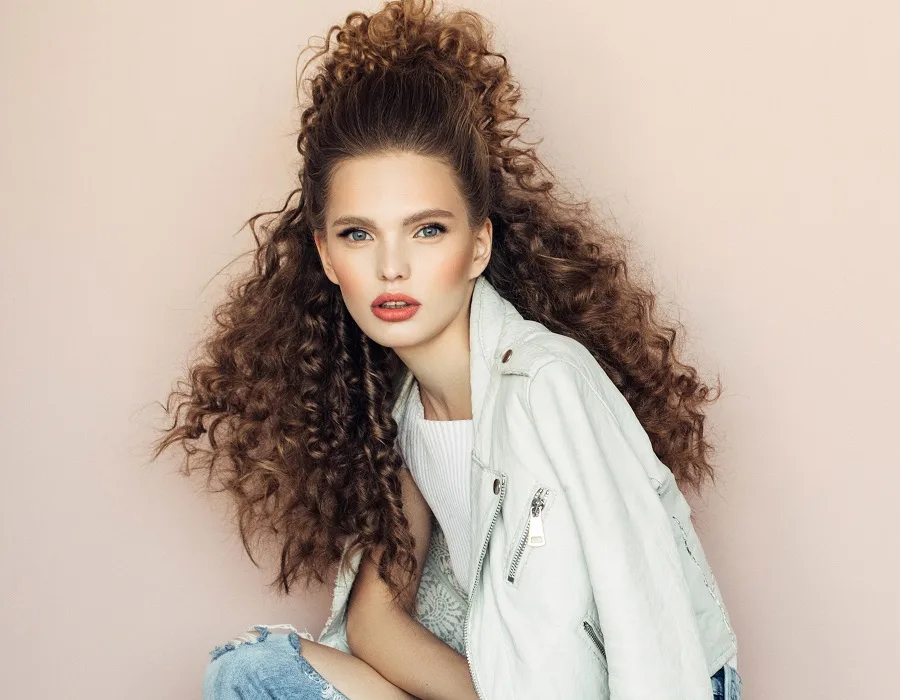 Here's another hairstyle that proves that sleek and polished is not always the best way to go. If you want to wear your curls loud and proud, try this half-up messy bun.
Just gather the top half of your hair, pull it into a beautiful bun and tie it loosely so your curls can peak through.
17. Half Up Thin Curls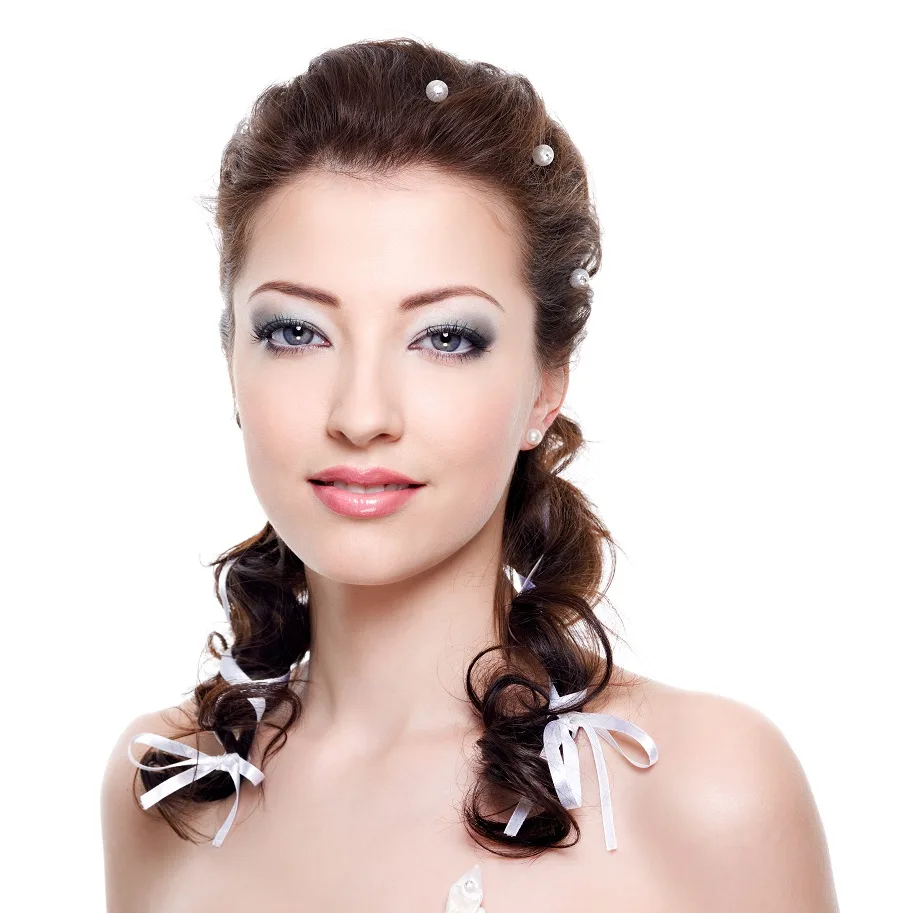 Don't have any idea what to do with your thin curly hair? Here's an amazing example!
Tease the front top of your hair before pulling it into a half-up hairstyle. Afterward, place the bottom half of your hair in your shoulders to make it look thicker.
18. Sealed with a Bow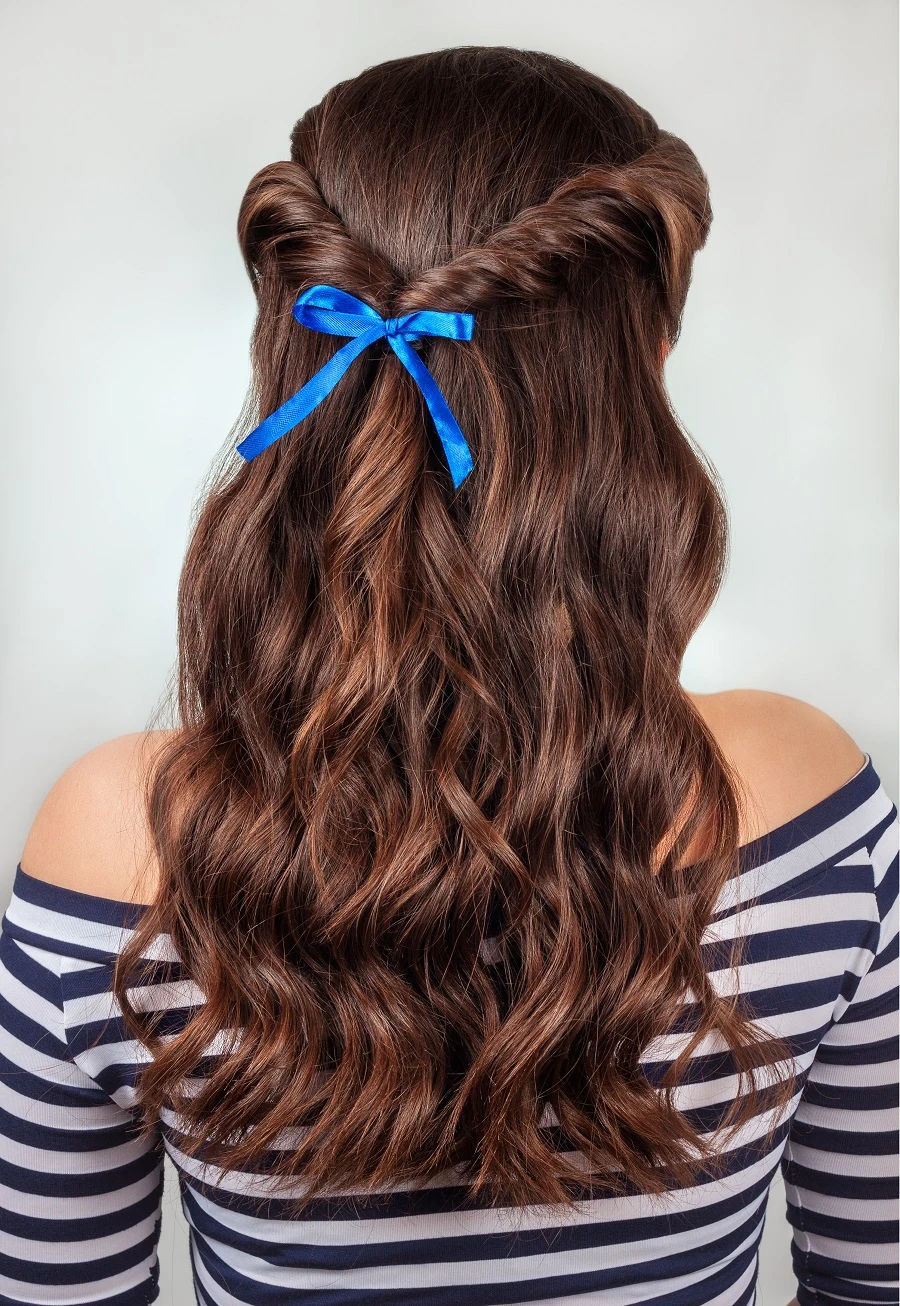 A simple hair accessory can make all the difference for your hairstyle. Finish off your beautiful twisted half-up hairstyle with a simple yet beautiful bow to make it stand out.
19. Long Curly Hair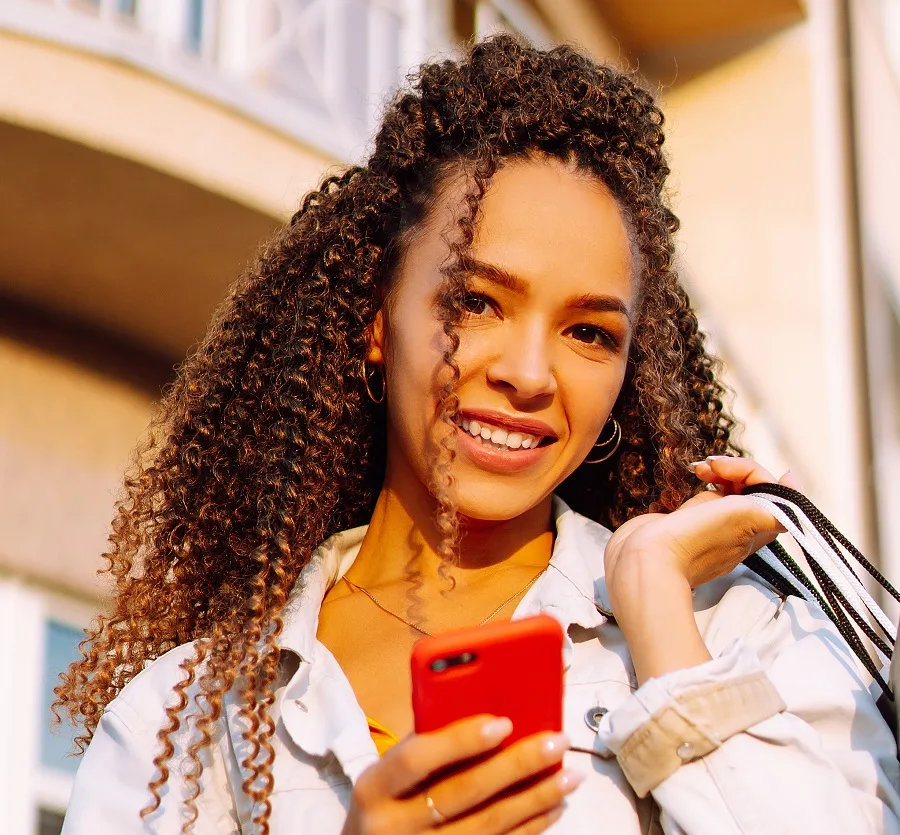 If you have long curls, the half-up hairstyle is definitely a must-try for you.
Your hair length is perfect for showing off your fabulous curls so we highly recommend going for a simple teased half-up ponytail. Leave a few hair strands at the front for a touch of mystery.
20. Loose Half-Up Hairstyle
To achieve a messy party-ready look, go for a loose half-up hairstyle. Create this look by running your fingers through your hair– no comb needed! Gather the top half of your hair and cinch them with a hair clip, not an elastic ponytail.
21. Medium Curly Hair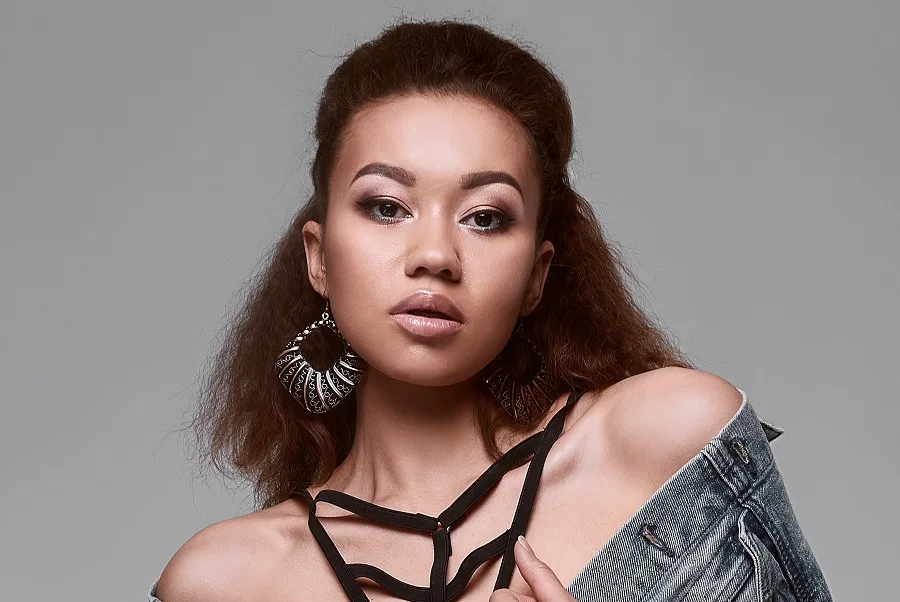 Half-up and half-down hairstyles are so versatile that it also looks amazing on every hair length and type. Keeping the hair length in mind, it's best that you stick with the classic look. Just tease the crown of your hair for a more glamorous touch.
22. Side Curly Ponytail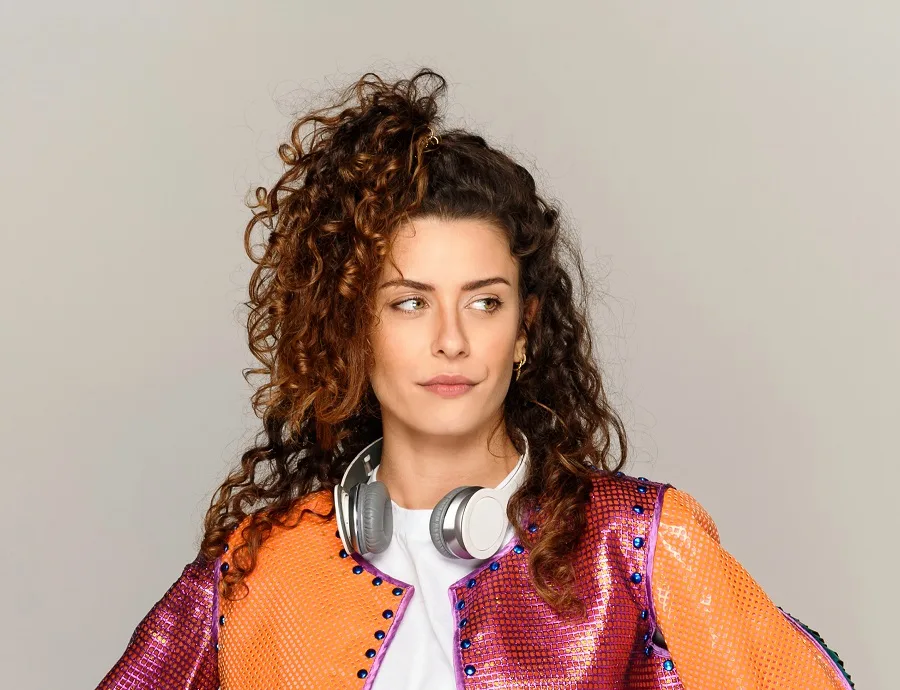 For a playful and youthful take on the classic half-up hairstyle, go for this side curly ponytail. It's fun, messy, and gives you that carefree vibe, not all girls can pull off.
23. Twists with Curls
Add a stylish touch to your protective twists with a half-up hairstyle. By bringing the top half portion of your twists to the back of your head, you get to keep your twists away from your face and achieve a more elegant hairstyle at the same time.
24. Sleek Top Ponytail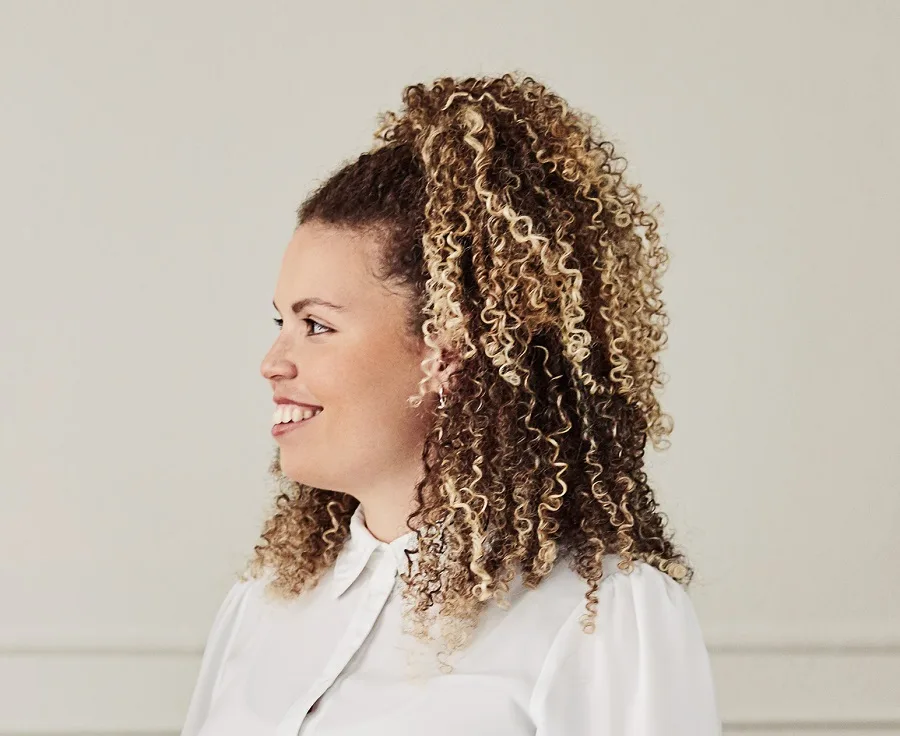 Do you have thick and curly hair that always gets in your way? Pull it into a half-up sleek ponytail! This is the best way to keep your hair in check while letting your curls run wild at the same time.
25. Messy Half-up Curly Hair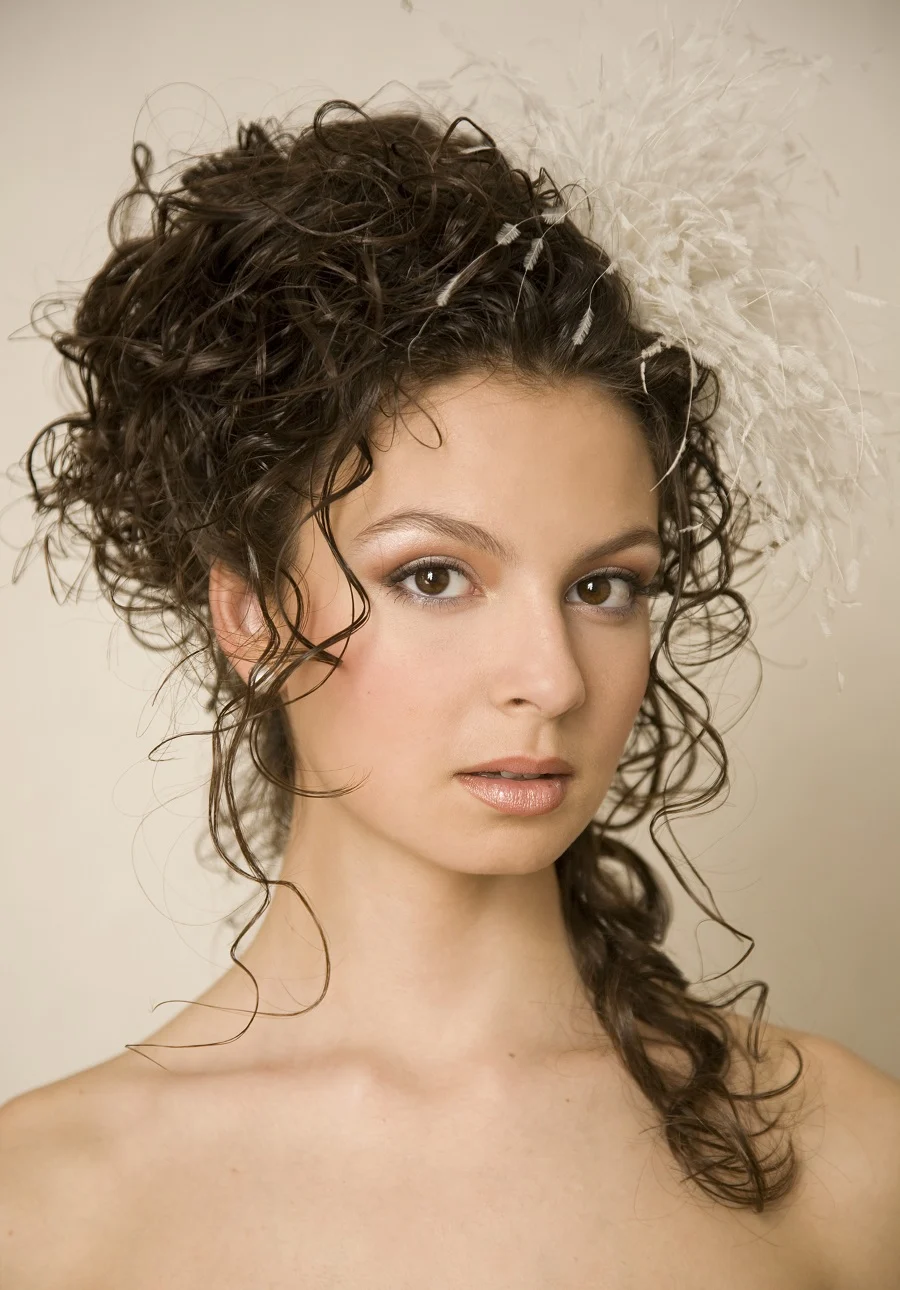 Sometimes, messy hairstyles are the way to go. Just take a look at this gorgeous messy half-up curly hairstyle which gives a sexy vibe you can't get from sleek and polished hairstyles.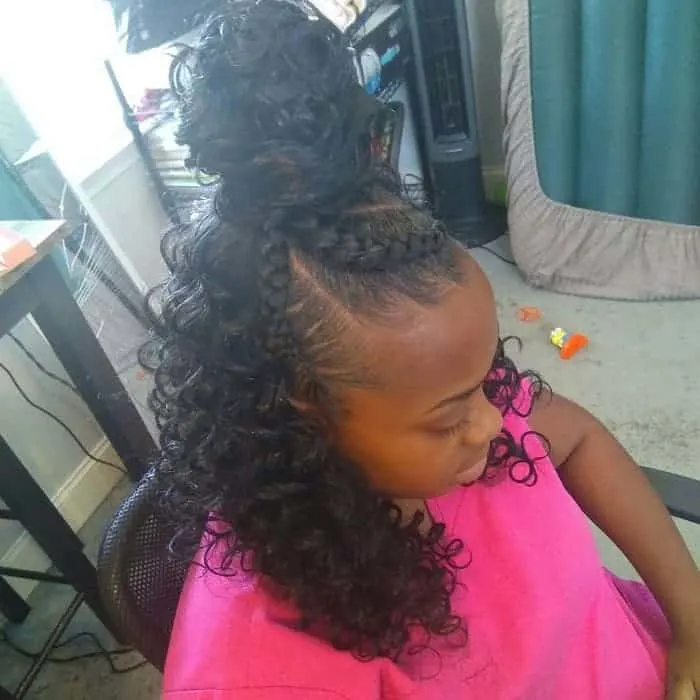 Braids, buns, and curls are always a good idea, so why not combine them in one amazing look? Try this curly half up half down hairdo out, and you'll love the result.
27. Feminine Look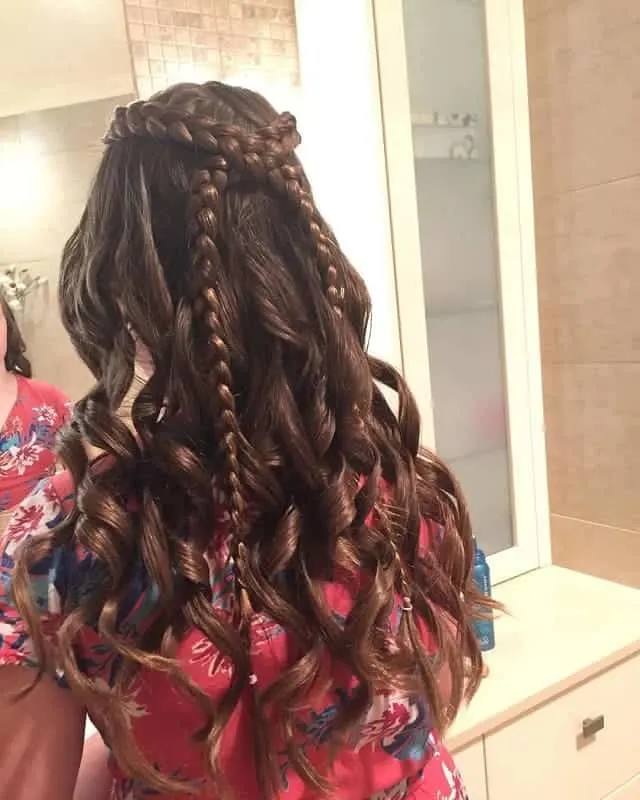 Section your hair and make a half up double Dutch braids that you'll let down the curly and wavy hair. Stunning!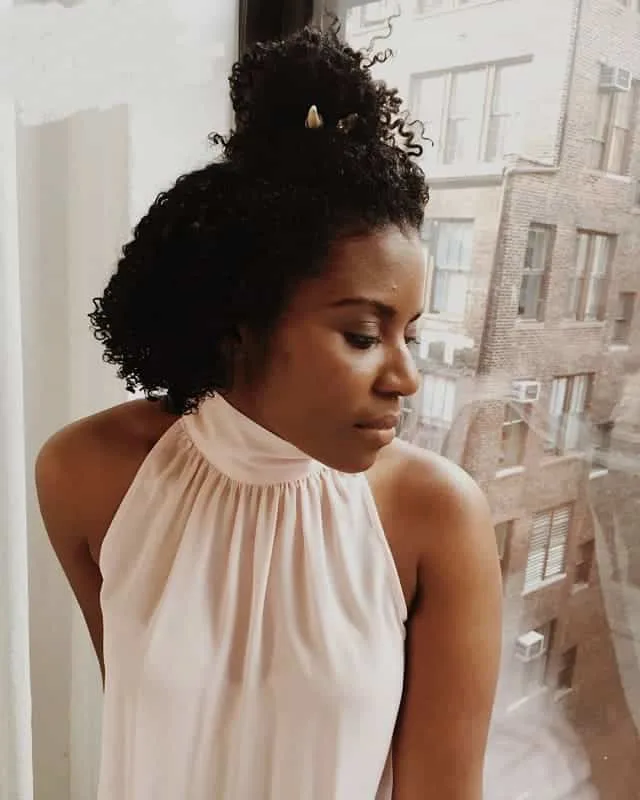 Half up half down curly haircuts aren't reserved for long hair only. Short hair looks absolutely fabulous with top bun and gorgeous curls.
10 Amazing Ways to Slay Curly Hair with Headbands
29. Braids and Patterns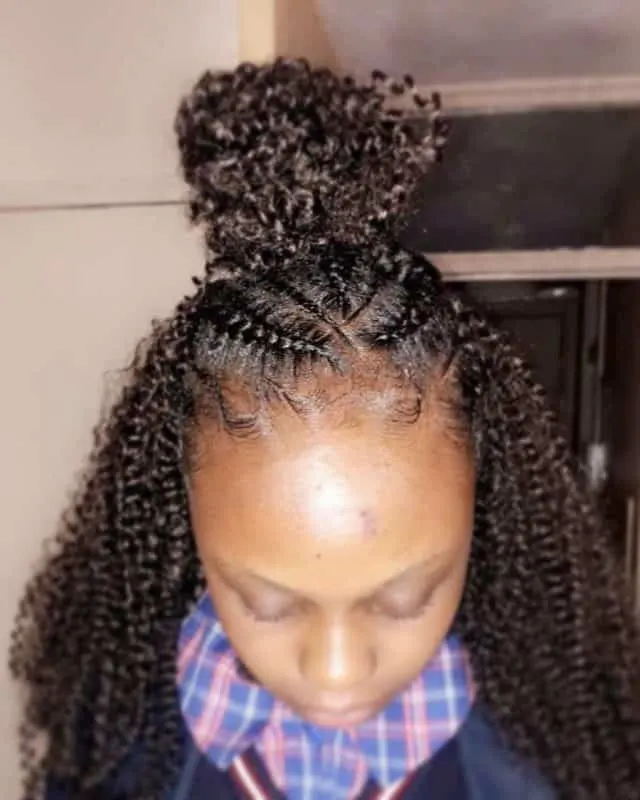 When making the braids, you can also try to create patterns, zig-zag, or any other style you look for an edgy half up look with curls.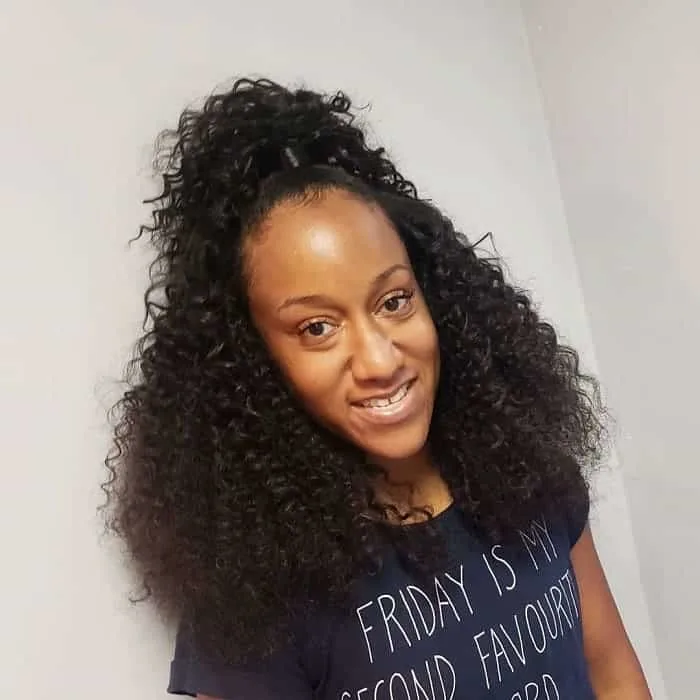 Instead of buns and braids, you can just lift up a portion of your hair using bobby pins so that you also achieve dramatic volume.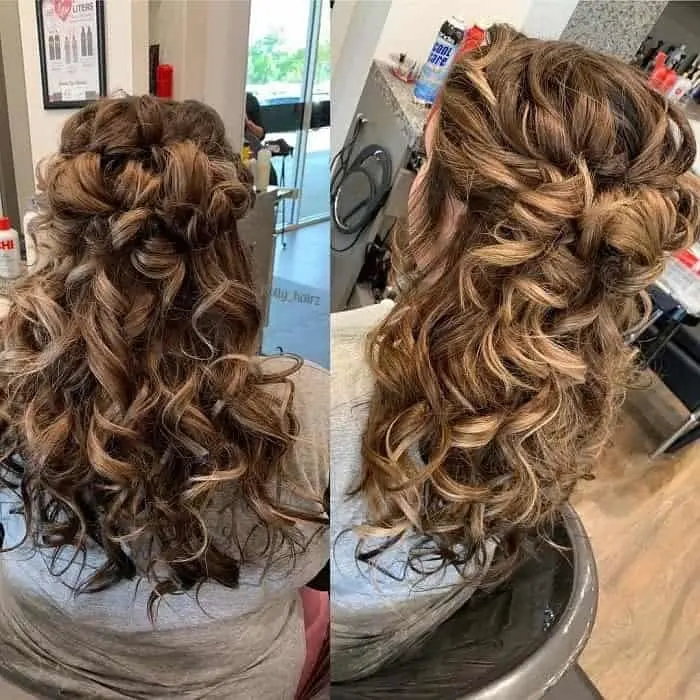 Bobby pin is your best friend. Using bobby pins lift up your hair a little bit, connect a few strands, and you'll get this fairytale-like half up curly hairstyle.
32. Half Up Curls with Cornrows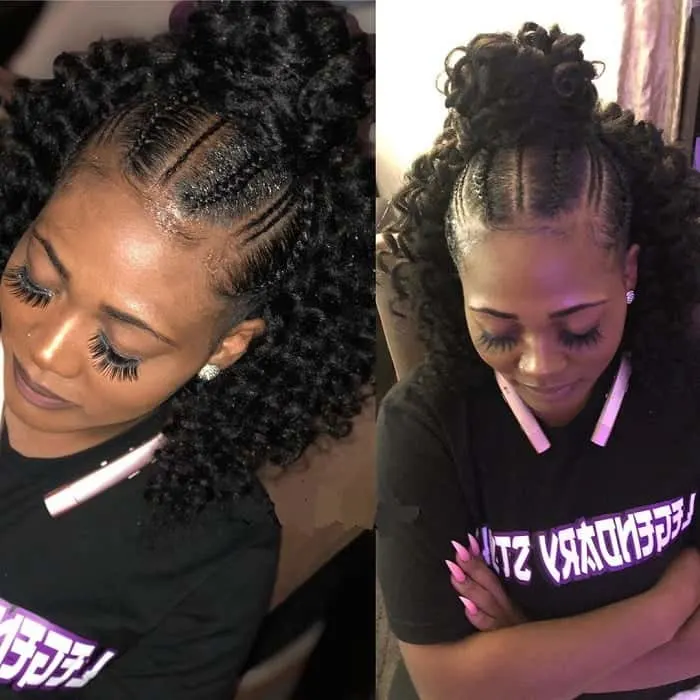 Curls are a forever style. To get a half up hairstyle, cut your curly hair into a bob. Style the top hair by weaving alternating thick and thin cornrows which ultimately end on a short curly ponytail which gives the impression of a curly bun.
You can wear this hairstyle either to a party or every day meet up alike without the fear of looking dull and boring.
33. Curly Pigtails with Half Braids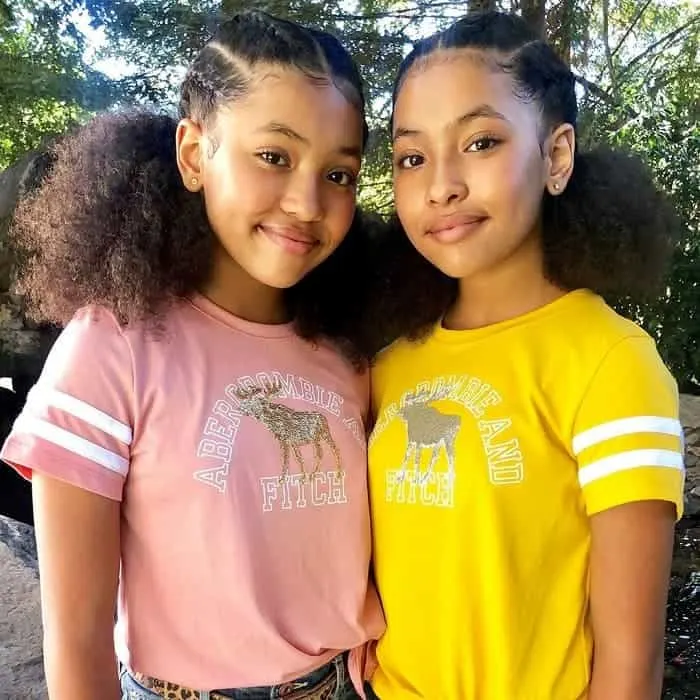 For this hairstyle, divide your top hair into four sections and weave them into French braids. Divide the lower hair from the middle and tie both the sides into kinky twin low ponytails.
This hairstyle is ideal for young girls who want to have a cool style. This hairstyle suits every face cut and skin complexion and gives you the vibe of a cool kid.
34. Spring Curls with Topknot
Spring curls is a popular variant of plain curly hair. If you want to achieve this look, use a styling iron rod to curl your hair into spring curls. Style the top hair by forming a topknot and adorn it with a beautiful baby pink ribbon.
Let the other half hair free at the back of your head. This hairstyle is perfect for your little girl.
For a stylish hairdo, go for high half up half down ponytail. Style your hair into messy curls and tie the top hair into a ponytail.
Leave the lower half hair into messy curls and let them flow over your back and shoulders. Style the ponytail with a golden ribbon as well.
For a beautiful curly half up hairstyle, get your hair dyed into a chocolate brown shade. Use some gel to slick the top hair down and then tie the curly hair into a topknot.
Leave the lower hair into beautiful curls styled into a bob hairdo. Once you get it, you will always want this haircut for every occasion.
37. Half Up Half Down Elegant Hairdo
If you want a super stylish and elegant hairstyle, try going with half up curly hairdo. Divide your frontline hair into a side part to form a forward fringe. Backcomb the rest of the top hair and secure them at the back of the head in the form of a twist.
Use a styling iron to curl the lower hair and let them flow over your back. Style the hairdo with beautiful white synthetic flowers.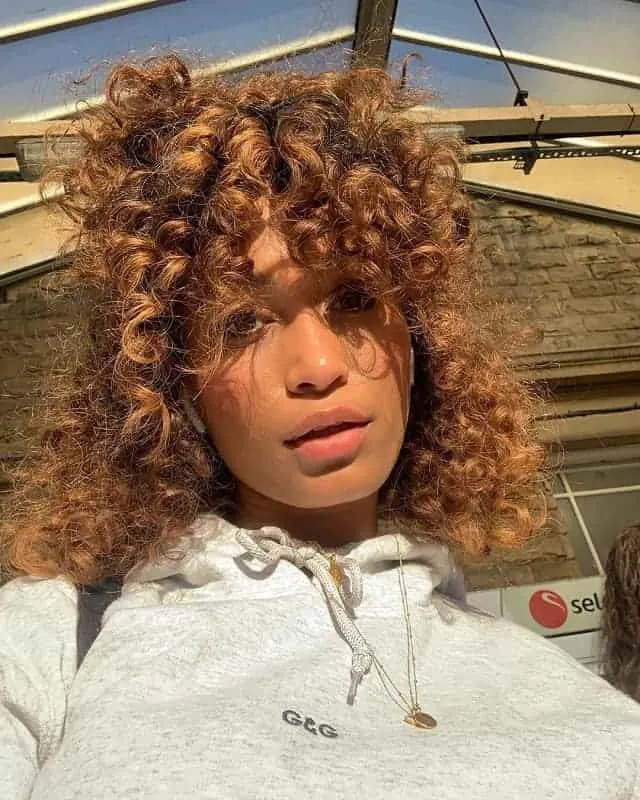 In order to get this look, ask your stylist to give your hair a sun-kissed brown color. Use some styling products to curl your hair and then tie them up into a ponytail.
Leave the curly bangs on your forehead and the rest of the lower hair down for added style. This is a super elegant hairstyle that works best for almost every face cut.
39. Twisted Half-Up Hair with Curls
For a hairstyle that is guaranteed to level up your hairstyle game, get your lower blonde hair dyed into a subtle brown shade. Add beautiful beach waves into the hair.
Tie the top hair at the back of the head in the form of twisted curls. It is guaranteed that you are going to look absolutely stunning with this hairstyle.
40. Walnut Hair with Braid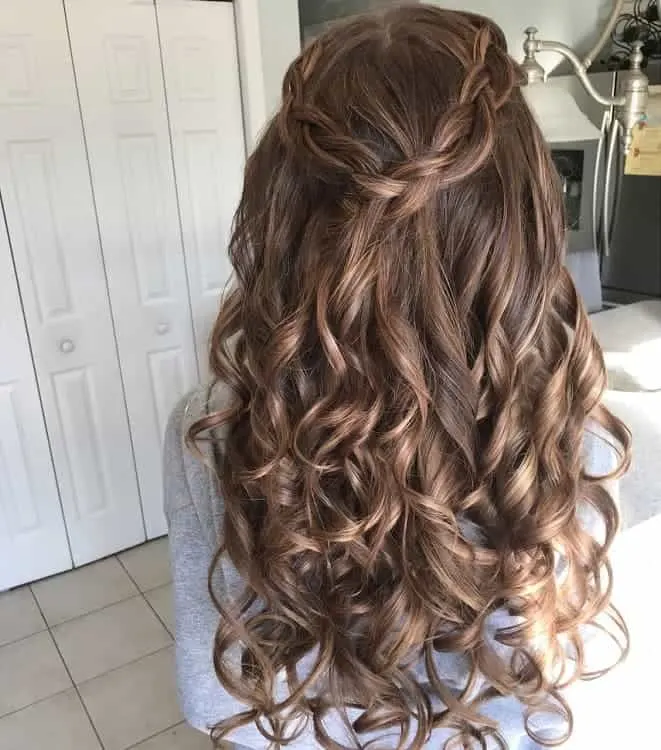 Combining curls and braids is a trick to achieve an exquisite hairdo. For this hairstyle, use a styling rod to put curls into your hair. Take the top hair and part in the middle.
Weave each part into a braid joining at the back of the head. Place the lower curly hair at the back. This is all you got to do for an amazing hairstyle.
41. Kinky Curls with High Raised Bun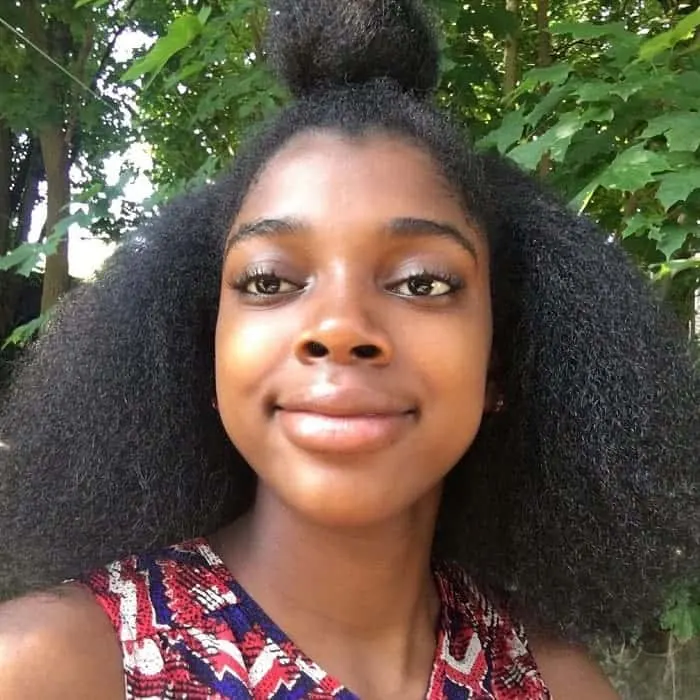 Half up half down curls are super easy to achieve and are quite low maintenance. Let your lower half kinky hair down to form your own cape.
Take the top hair and round them up into a high raised kinky bun. This hairstyle is ideal for black girls who have kinky hair.
42. Cotton Candy Space Buns with Subtle Curls
For a super cute hairstyle, go with cotton candy space buns and subtle curls covering your back. Ask your stylist to color your hair into all the shades of cotton candy for a look straight out of heaven.
Take the top half hair and middle part them. Round each section into a messy space bun. Let the lower hair flow over your back for added perfection.
43. Bun and Cornrows with Curls
For a unique but trendy hairstyle, take your top hair and weave them into cornrows. Next, connect the cornrows with the remaining top hair and raise them into a bun.
Weave some of the lower hair and curl the others. Place the lower styled hair over your shoulder. This is an all-in-one hairstyle made just for you.
44. Blonde Hair with Twists and Curls
If you have got blonde hair, then style them into a blonde hair with twists and curls hairdo. Work your fingers through your hair to sweep them backward.
Take the hair from either side of the face and bring them back by twisting and merging them into each other. Put loss curls into the lower half hair to complete your style.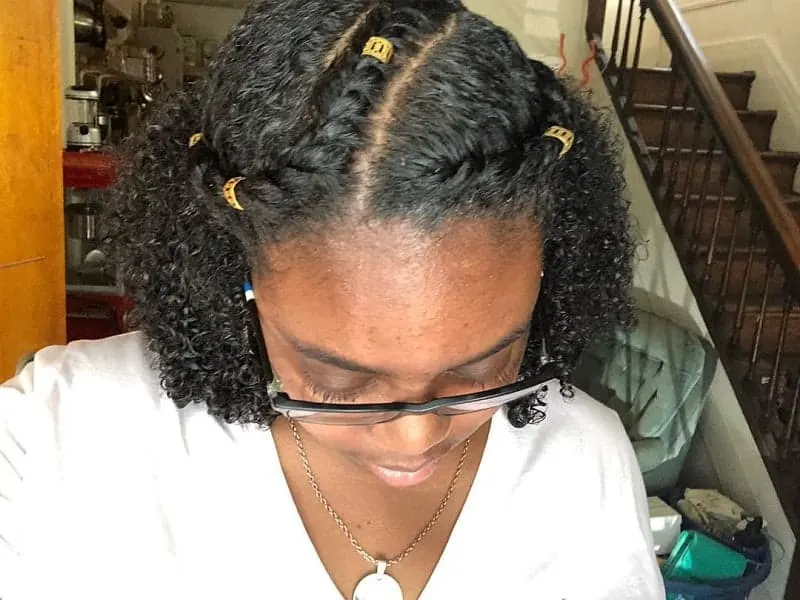 Two strand twists can work really well with a half up half down curly hair look. If you also want this look for yourself, then take the top hair and twist them into two strand twist cornrows turning back in the opposite direction to each other.
Style these twists using golden beads. Leave the lower half curly hair down over your shoulders in the form of a bob.
46. Messy Pinned Up Hair with Curls
If you are craving a messy look for a change, then it is time that you opt for messy pinned up hair with curls. Take the top half hair, twist them into messy hair, and pin them at the back of the head. Leave the rest of the lower hair covering your back in the form of luscious curls.
47. Wide Crimped Half Up Half Down Hair
For this hairstyle, first of all, dye your hair chocolate brown while leaving the roots dark. Slick down the dark roots of the top hair by using some gel and crimp the rest of the hair.
Take the top crimped hair and tie them into a topknot. Leave the lower half hair flowing over your back and shoulders for a beautiful hairstyle.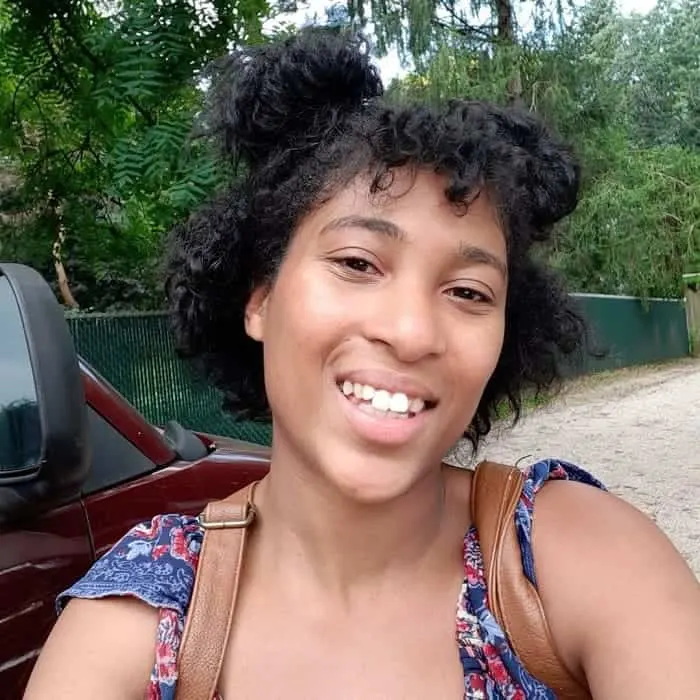 If you have short curly hair, then give them the shape of a bob. Leave some asymmetrical curly bangs on your forehead. Take the remainder of the top hair and tie them into double buns. Leave the lower half hair open, covering your nape.
49. Elegant Twists and Rolls
For a perfectly elegant curly wedding hairstyle, opt for a half up half down look with of elegant twists and rolls. Sweep the top hair back and twist the side hair, connecting them at the back of the head.
Put loose rolls into the lower half hair covering your back. Style this hairdo by using a metal hair accessory for added style.
50. Combed Back Hair with Subtle Curls
For a beautiful and trendy hairstyle, comb back your top hair to give them the illusion of added volume. Secure the top half hair at the back of the head using some pins. Put subtle curls to the lower half hair and let them open, covering your back and flowing over your shoulder.
51. Textured Curls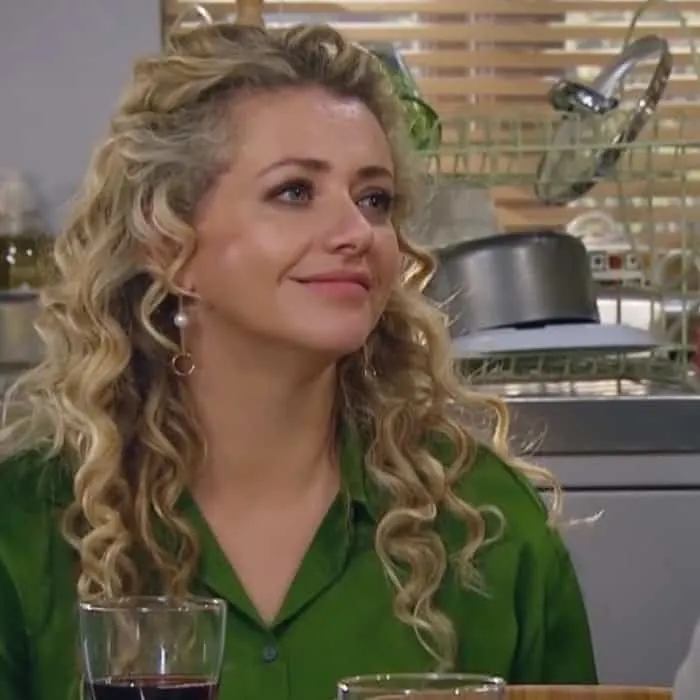 If your hair lacks the texture you have always craved for, go with this textured curly half up hairdo. Work your fingers through your top half hair and secure them at the back of the head. Place the lower half curls over your shoulders for a classic but elegant look.
Now that you know how to style half up half down curly hair, you're ready to get the party started. Choose the style you like the most and recreate it with ease. Have fun.