If you're mad for red hair but can't quite handle the idea of becoming an actual redhead, then red balayage is the answer to your hair prayers.
Painting on streaks, highlights, and lowlights are so much easier with balayage. There's total control, which allows for a precise, even distribution of color in patterns that look natural and eye-catching rather than chunky and too concentrated.
We're not talking about streaking your hair with the candy apple red Manic Panic you bought at hot topic over the weekend.
Popular Red Balayage Hair Ideas
You know your hair needs a change, right? Why not go as extreme as possible without veering into the unicorn world of fantasy colors?
The red balayage is hot, it's sizzling, and it's on the move to become the next big trend in hairstyles. The maintenance for balayage is relatively quick and comparably affordable.
Also, you don't have to worry about your color fading as quickly—and when it does, you can go in for a quick sunshine treatment, which is basically a glaze that breathes life back into your color. You can also check these different hairstyles with red highlights here.
1. Rich Auburn Streaks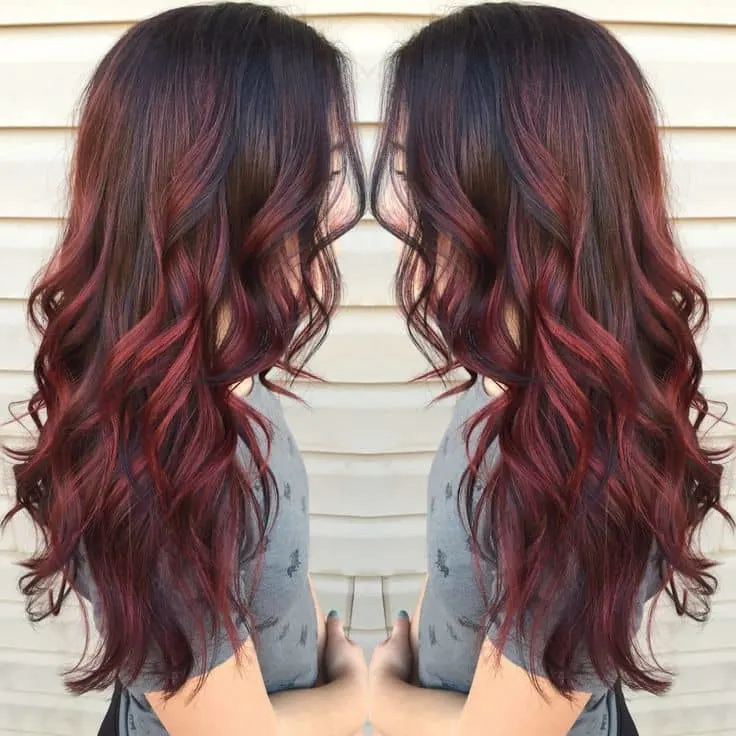 Let's get started with a rich auburn red balayage, shall we? Painted onto dark hair, you can see that the color is lighter in some spots, almost a burnished brown, while in others its vivid, vibrant, and definitely red. Gotta love that blending, right?
2. Tips on Fire
How about some fiery red ends to liven up your hair? Layered over mocha tresses, the flaming shade stands out, but it's not garish. On the contrary, it's quite tasteful. The blending is flawless, right down to the random streaks that start near the crown.
Blissful Layered Bobs to Explore
3. Orange You Glad It's Red?
It starts with a ruddy burgundy-wine shade, then transitions boldly into a bright orange-red hue that almost resembles the copper of a freshly minted penny. This is a hairstyle that brings a little brightness to even the cloudiest day.
4. With Flames in Her Hair
This red balayage reminds of us Katniss Everdeen. It's a shame she didn't wear her hair like this to compliment her flaming dress. You, however, can rock this look as soon as you like—just book an appointment with your hairdresser. The crown is dark brown, but a few fiery strands lick their way up through the brunette. The hot ombre ends with the ideal shade of orange.
5. Subtle Burgundy
This burgundy is barely there, it's so subtle. It's the perfect shade to choose if you're dying to wear red in your hair, but you have to worry about workplace restrictions or school rules. When painted onto an intense brunette shade, burgundy looks nearly natural, but nonetheless stunning.
6. Curly Red
No wonder red balayage hairstyles are receiving so much attention! They look fabulous, especially when you create a contrast between a vivid red color and a dark nuance used as a base. It does a fabulous job on curls because it highlights the hair texture.
7. Wavy Burgundy
Dark red wine or burgundy nuances are simply stunning, and they create a marvelous effect, whether you keep your hair untied or create intricate hairstyles. If you want something that catches the eye and looks fancy, do a Dutch braid on top and tie the hair in a pony. Curl it with an iron wand.
8. Balayage with Front Highlights
Instead of doing a simple, low red balayage hairstyle, consider adding a few highlights in the front. This way, when you create all kinds of braids, and those red pieces will add value to your knits, making them stand out so much more!
9. Red and Orange
A balayage done on dark hair makes hair look so spectacular, no matter its length. And if you want your hairstyle to look even more striking, consider adding some electric orange pieces. To gain more volume, wave the hair but keep the ends straight.
Can You Dye Purple Over Red Hair?
10. Wedding Hairstyle
Style a beautiful gradient with a dark burgundy color for the root area. Turn it into a more vivid red and curl the locks before doing the French twist-inspired bun. You can even use hair jewels or applications to decorate the hairdo.
11. Loose Low Braid
Having long hair gives you immense styling opportunities, and you'll be able to arrange your hair differently daily. Get a red balayage hairstyle that keeps your strands perfectly straightened. Use a few front pieces to build a loose low braid and wear your locks on your back.
Have you always wanted to be a carrot top? Now's your chance. Tell your hairstylist to take note of how the red is lighter around the face. Toward the back, where the layers are artfully stacked, the orange-red shade is darker, almost decadent. Yum!
Medium Haircuts for Women With Round Face Shape
13. Red and Blonde Balayage
If anyone ever tries to tell you that red and blonde don't go together, show this balayage to that dirty, rotten liar. That's an archaic beauty rule, and it certainly doesn't apply to hair.
Can you spot the difference that makes it okay to break this fashion faux pas? The red at the roots and further down has an orange tinge, as does the blonde at the tips—it's strawberry.
14. Wine Red
Any wine lover will recognize this as more than purple, although it admittedly looks rather royal. What is purple but a shade of red, anyway? In all truth, this is a decadent shade of wine red. You could go darker or lighter, with more blue or more red—it's up to you.
15. Cherry on Top
This red sizzles. The blending of several dynamic shades and the spiraled curls create an almost 3D effect that's out-of-this-world—or at least this dimension. You're witnessing balayage magic here, folks.
16. A Paler Shade of Red
Our final red balayage highlights a gorgeous shade of copper. Actually, there are several shades of copper red here. The roots are dark, burnished, and warm, then the color transitions into a medium, cinnamon-sweet hue before lightening into a golden red.
Ash + Reddish + Brownish Hair Colors
17. Copper Red Balayage Hair
Make your long curly hair pop with this addition of red balayage. With a black or brown base, red pops for an edgy and rock vibe you'll love as your new look.
18. Red Balayage Ombre Hair
Here's a color combination that will get everyone turning heads to you: a light blue from roots to a quarter of the way down the hair, then a bright red to pop the rest of the long hair.
19. Red Balayage on Brown Hair
To maintain a sophisticated look you can feel comfortable wearing to the office, try this shade of red. On brown hair, the color is surprisingly soft and super flattering.
20. Dark Red Balayage
To update your look, try a shoulder-length hairstyle that combines waves with straight locks. Alternating shades of dark and medium red will add to the spunky style.
21. Red Balayage on Dark Hair
This mix of red and orange is the perfect color combination for summer. Add it to your long hair and throw in some large barrel waves, leaving the hair loose to fall over shoulders.
22. Dark Red Balayage
23. Chocolate Brown and Red
24. Pink and Red on Brunette Hair
25. Copper Red on Brown Hair
26. Maroon Balayage on Brown Hair
27. Deep Red for Black Hair
28. Maroon Balayage Curls
29. Medium Red and Black Curls
30. Straight Hair with Orange and Red
31. Light Red Balayage for Brunettes
Tips for Red Balayage Hair
You should not wash your balayage hair more than two or three times per week. Red hair can be hard to maintain, but it is not impossible.
Here are a few things to consider before getting red balayage hair:
Go a shade darker than your desired color because you will reach the shade you want as it fades.
Follow after-care instructions.
Use cold water to wash your hair. Hot water opens up hair follicles which can speed up color fading.
Follow the aftercare your hair stylist gives you, but a general rule of thumb is to avoid washing your hair for two or three days post-dye.
Red is one of the most popular hair colors, so it stands to reason that red balayage is all the rage. Are you ready to paint the town red—after painting your hair red?