Rose gold balayage is the hottest thing in the hair industry right now. The color replaced millennial pink quite quickly, no doubt because it adds glitter and dimension to the traditional pink hues. It was practically made for the balayage technique, which allows stylists to paint on rose gold highlights in the most flattering spots.
Of course, that's not to say that you can't dye all of your hair this angelic hue. The question is, are you brave enough to take that kind of plunge?
Rose Gold Balayage Hair
Just because rose gold balayage depends on the use of a certain color, that doesn't mean every shade of rose gold looks the same.
On the contrary, you can pick out a personal color—provided you visit a hairstylist who's an expert at color mixing, that is.
Due to the balayage, it doesn't take a lot of time, money, or effort to maintain your color. If you have shoulder-length hair, try these amazing rose gold balayage hairstyles!
1. Rose Gold Balayage with Bangs
Rose gold balayage on straight hair has become quite a phenomenon and everybody wants it. Get a long haircut with bangs and bleach the lower part of the hair. If you previously had an ombre, Overtone is the right product for you to achieve this beautiful hue.
2. Asian Rose Gold Balayage
If you are an Asian girl, a short rose gold balayage hair that keeps your roots dark will certainly look jaw-dropping. Unfortunately, to obtain this most wanted hue, you will need to bleach your hair previously. Consider that before making such a significant change.
3. Rose Gold Balayage for Black Girls
If you are a black girl, drop everything you're doing and take a look at this fabulous red carpet rose gold balayage on black hair. Recreate this look by getting a medium blunt cut and dyeing only the top strands.
4. Pale Rose Gold Balayage
This messy, rebellious blonde hair with rose gold balayage will definitely match your personality and style. Go for a long layered hair and only make the ombre for half of the mane. With this hairstyle and a big smile upon your face, you will brighten up any room.
5. Curly Rose Gold Balayage
Splurge yourself with a glamorous curly rose gold balayage hair. You will obtain a smooth pastel hue, and if you style waves and curls, that bounce will be absolutely remarkable. Wear the mane in a long bob and switch the bangs on one side.
6. Dark Rose Gold Balayage
If you want a gorgeous face frame and crave to obtain an elegant but vibrant feel, a rose gold balayage for dark hair is your best pick. Make the transition very smooth, from the dark roots to the ravishing bright color, and you'll get all the WOW's.
7. Rose Gold Balayage for Straight Hair
A rose gold balayage on dark red hair can be a drastic change for your mane and if you don't want this hues combo to quickly go to waste, maintain the vibrancy of the colors with specialized products for colored hair.
8. Messy Rose Gold Hair
Give your mane a full makeover by opting for a brown hair with rose gold balayage. It will express your personality and make people discover how bold and beautiful you really are.
9. Fiery Rose Gold Hair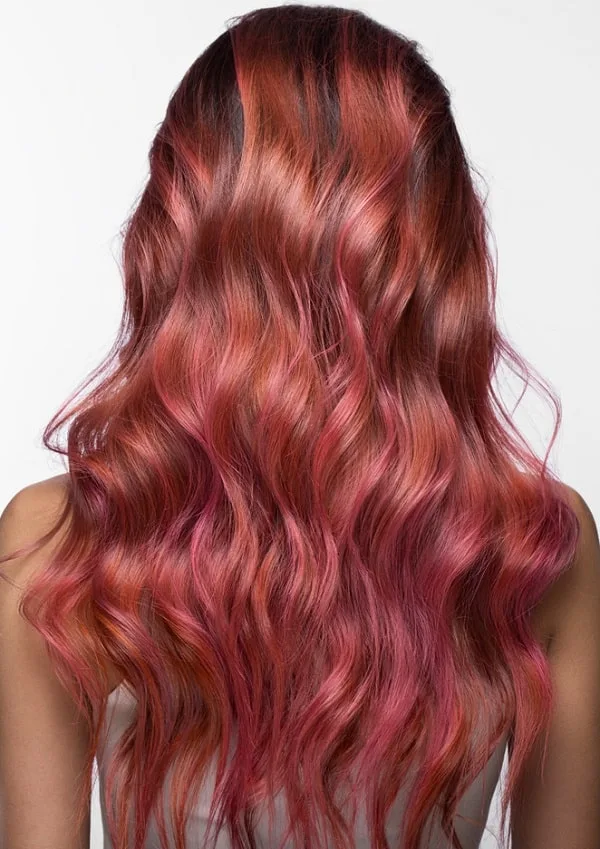 A full rose gold balayage hairstyle is a real commitment because the color quickly fades, and you might end up looking washed out. Revive your mane with a glaze or visit your colorist once you notice the fading.
10. Braided Rose Gold Balayage
Even if it seems complicated, this hairstyle can be successfully obtained. Go for a dark shade of gold balayage in the roots area. It will gradually shift towards a brighter hue on its way to the ends. Create all sorts of braids and emphasize the middle one.
11. Rose Gold Ends
The technique used in rose gold balayage—or any balayage, for that matter — allows for subtle transitions of color. It's easy to achieve an ombre effect like this one, where the tips are the palest shade.
Hairstyles With Rose Gold Hair Color
12. Barely There Balayage
Thanks to the control the stylist has over how much color to use and where to put it, you, too, have total control over where your balayage goes. If you need to keep it faint and subtle, that's no problem.
13. A Flush of Pink With Rose Gold
Here's a lovely example of what rose gold can do to naturally blonde or golden hair. Her coiffure is blushing, basically, and it's beautiful.
14. Rose Gold on Brunette
You can get a rose gold balayage treatment done on darker hair, as well. It just means committing to a bit of bleach first. Believe it or not, the upkeep isn't bad—root touch-ups every now and then, but once your hair's been bleached, it will pick up toner and brightening treatments quite well.
15. Balayage on Black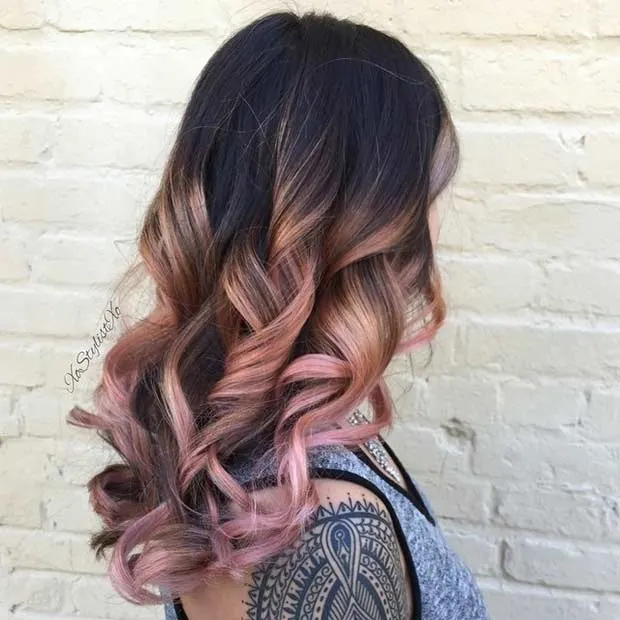 Several details about this 'do stand out above the rest, beginning with the pitch dark roots. They make the rose gold streaks pop even more. Of course, those curls are everything, too.
16. Ethereal Streaks
Balayage allows the stylist to paint your hair down to the individual strands. Here, a smattering of the very, very top layer of hair is rose gold, which gives her entire head a gorgeous, angelic aura. Toward the bottom, however, you get much more rose gold. The combo works.
17. Dark Rose Gold
Rose gold balayage doesn't follow a particular formula. It can be pinker or focus more on the gold. Here, it looks like they've used a darker pink with maybe a bit of orange mixed in. Pink and coral make a lovely shade of rose gold, as well.
50 Most Intriguing Side Swept Bangs
18. All Over Color
Feeling bold? Ask for an all-over rose gold coif. Even if you don't want to color your whole head, your hairdresser can balayage just the top layer.
What you see here is glorious, from top to bottom, from braid to curls. The ombre is subtle and stunning, as is the blend of darker and lighter streaks of rose, pink, and gold.
20. Emphasis on the Gold
Again, rose gold balayage comes in various hues. You can basically mix your color however you want. The gold is used to marvelous effect here, making the subtle blushing rose to shine through. Definitely a winner.
Remember, rose gold is one of the year's signature colors for a reason. Have you thought about trying rose gold balayage? What look are you leaning toward?