The swing bob haircut never went out of fashion. In fact, the hairstyle had always made an appearance on important stages and is currently the hot trend of the season.
Getting the swing bob hairstyle can be challenging, especially when you think of managing it. However, if you have the right tricks up your sleeve, you can make this haircut look stylish anytime, every time!
Stylish Swing Bob Haircuts
Here we have a few swing bob hairstyles that are sure to pull you into the limelight!
1. Short Swing Bob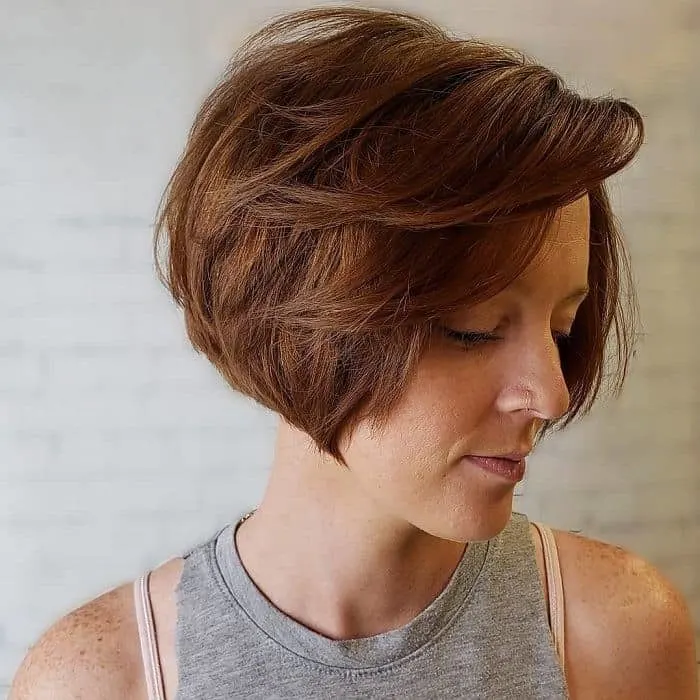 Regardless of how short you go, this look is all about creating movement with strategic layers. Long, swooping side bangs add this energy to the hairstyle and work with the layers that are cut at the back and top of the head for added height.
2. Medium Swing Bob
This sleek bob is chic, but the energy created is all thanks to the angled cut. This way, hair is longer in the front and small, short layers reside at the back of the head. We love a cut like this because it can be curled just as easily and will still look great.
3. Swing Bob with Bangs
Continue the face-framing effect of the long layers in front with blunt-cut bangs. This look will make a face appear smaller, so it works if you have a round face shape, square jawline, or large forehead. You can adjust the length of your bangs as it suits your face.
4. Swing Bob Sew In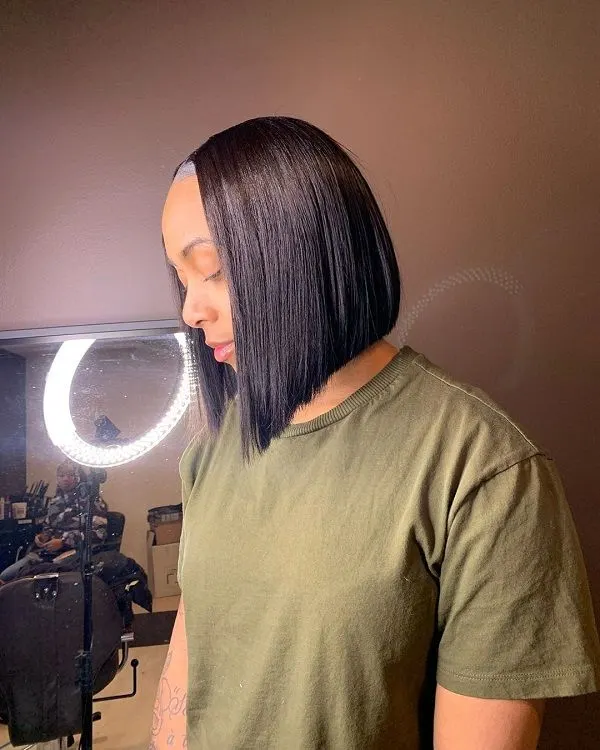 These styles are easy to create using a sew-in. The short length is perfect for minimizing any weight or tension on the scalp better than any long style could. Embrace a sleek look like this one for a sophisticated vibe and to make your facial features pop.
5. Deep Side Part Swing Bob Hairstyle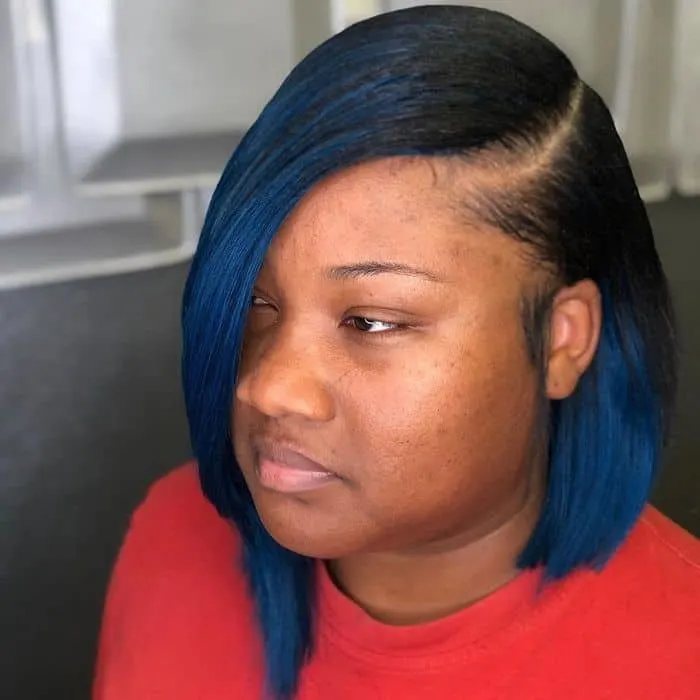 A deep side part helps to enhance the movement in a layered bob like this one. The part doesn't have to be basic, either. This one slopes slightly as it makes its way to the back of the head for an extra artful flair. It works well if your bob is asymmetrical, too.
6. Layered Swing Bob
This looks is all about layers and using them to create beautiful shapes. Done right, they can remove weight on thick hair types or beef up thin hair with excellent illusion. To emphasize these layers, add height at the top of the head when blow-drying.
7. Swing Bob Haircut for Fine Hair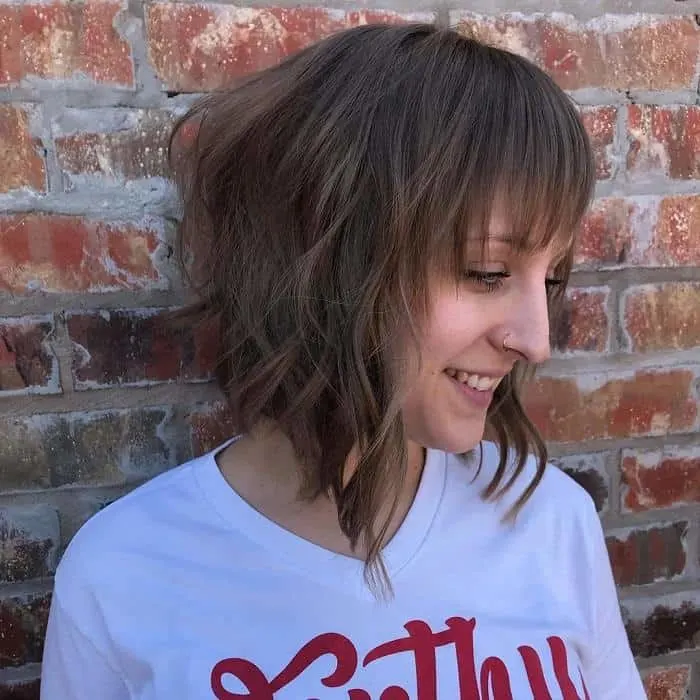 At first, it may seem like fine hair can't handle this look, but in reality, the opposite is true. Strategic layers cut at the back of the head and throughout the bulk of the hair actually add much-needed substance to lank hair types. Wispy bangs give the illusion of more hair, as does textured and tousled waves.
8. Blonde Swing Bob
Any color will do when creating your ideal swing bob hairstyle, but it looks great on blonde hair with natural-looking highlights. Balayage can help you achieve this if you can't get this tone on your own. A few bends with a hot wand add sexy playfulness.
Go the extra length with your swing bob haircut by adding the gorgeous curls. The romantic curls, soften the look giving you an entirely different take on this bold haircut.
Ideal for: The style goes well with all kinds of cuts and is great for the evening/date look. You can also wear it to that high tea at your office or to your family get together. The style is a perfect way of channeling your inner romantic side, while still having that bold fierce cut you always wanted!
How to Style: The best part of this style is that you can get it with any length of the swing bob haircut. Start from the front and curl in some loose curls with a curling iron. Take care to not make them too tight as this can interfere with the smooth curve of your cut.
10. Shaggy Swing Cut
Is the short swing bob cut not chic enough for you? The short shag haircut is one way to take it even further. The shaggy cut adds in that stylish disarray that gives the hairstyle an edge. Try it out for yourself if you dare!
Ideal for: We recommend this cut for teenagers and ladies looking to embrace their bold side. Yes, you can party with the look and wear it to events, but the style commands a certain fashion sense that needs to complement it. So, if leather jackets and tight boots are your things, this cut is right up your alley.
How to Style: Ask the hairdresser to give you a hybrid of the pixie and the swing bob haircut. The waves add in those edges you need to claim this pixie bob look. Make sure you have a good blow dry and you are ready to nail this hairstyle!
The long swing bob aims for the compromise between the romantic look of long hair and the daring style of the short bob. Get the best of both worlds with this great combination that compliments your style.
Ideal for: The swing bob haircut goes well with delicate faces and long face cuts. The long locks of hair at the front complement your face and work well with your features. Women with broad faces may not be able to channel this asymmetrical bob as well.
How to Style: The style works on the fact that the front locks of your hair are extra long as compared to the short bob at the back. You can straighten your hair or add some cute curls. The bob with side part works wonders with this cut on any occasion!
The swing bob hairstyles can truly take your breath away. The style is versatile so you can play it along the soft feminine lines or along the bold tones. Style your hair to your mood and make a statement!