Gray bobs are a cute hairstyle for both women in their 20s and older ladies who want to transform this natural salt-and-pepper tresses into a classy hairstyle that attracts compliments like a magnet.
If your hair is starting to lose its pigment, you must pay attention to your hair care routine, as it might need some changes. During this whitening process, the hair gets thinner so it is recommended to use less heated tools. Work with your hair texture and find a bob cut that suits your face shape so you won't need too much styling.
However, there are young women who love gray hair and they want to achieve this color. To better preserve the color, try to wash your hair less frequently and avoid chemicals.
Lovely Gray Bob Ideas
Gray isn't just a color; it's a fashion statement. The bob's clean cut gives a neat contrast to the gentle shade of gray. Whether it's light ash, shiny metallic, or rich charcoal, the gray bob looks fresh and stylish for all ages.
1. Natural Gray Bob
An asymmetrical bob is an amazing idea for women who naturally got their gray locks. When hair loses its pigment, it might also gain a different texture that makes it look thicker, even if it's white.
Do a middle part and keep one side slightly longer than the other. Also, layer the ends to get more volume for the upper area.
2. Gray Bob With Feathered Bangs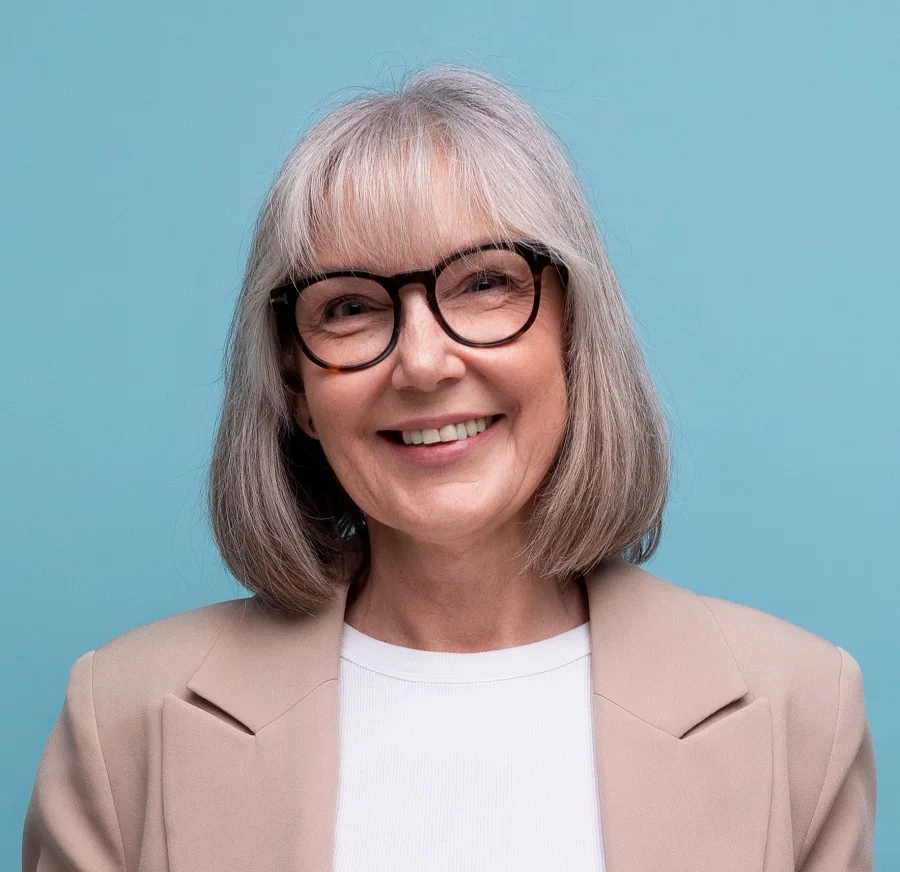 These feathered bangs work like a charm with a long blunt bob with twisted ends. Go for an ombre that has a lighter gray color for the top and gradually darkens towards the tips.
To style your hair, use a rotative brush gaining that rounded shape for the ends.
3. Gray Bob With Side Part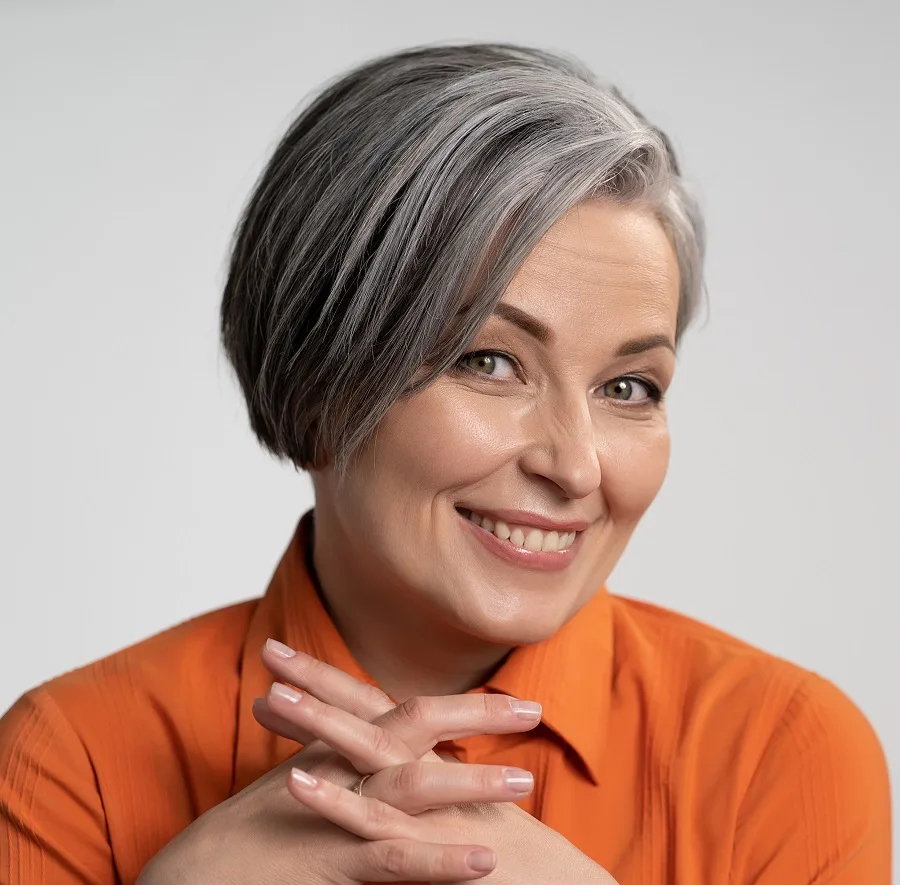 When your hair is getting whiter day by day, you need to find proper hairstyling ideas that will help you blend the white threads.
Choose a slightly layered bob that goes just below the ears and swipe the top to the side. Dye your top strands with gray toner to better integrate the whites.
4. Wavy Comb Over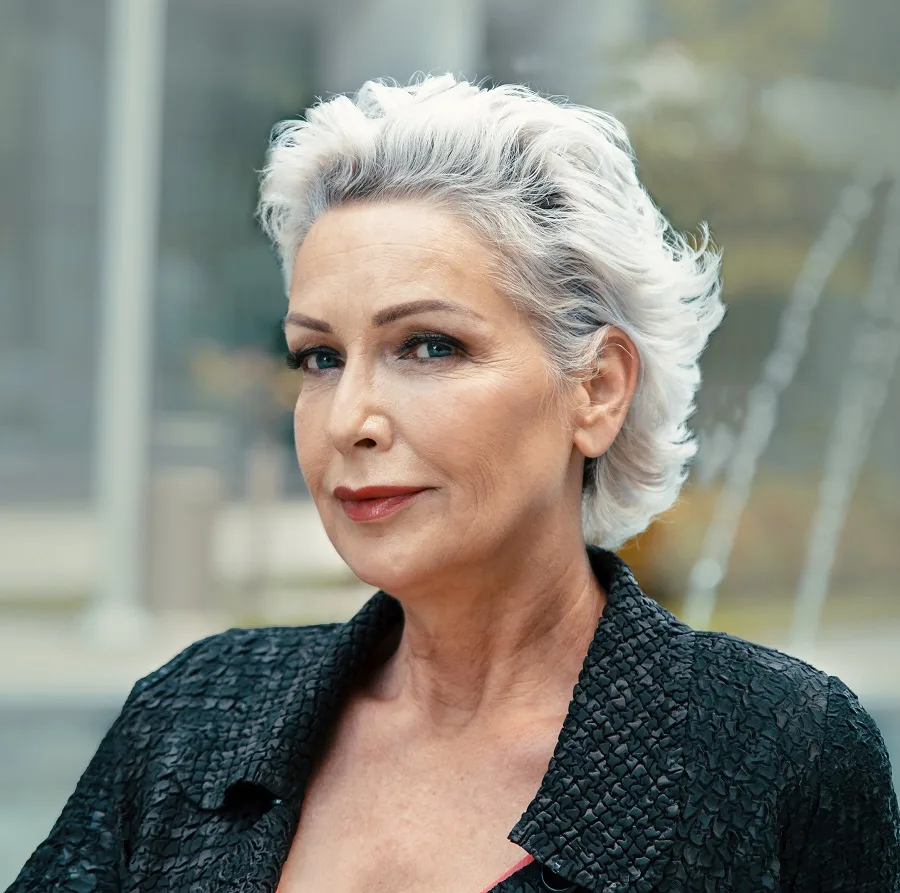 Bothered by those white threads that don't seem to blend with your natural color, no matter how hard you try? Then you must try this full-white look.
If you have wavy hair, then you must opt for this grey bob haircut. Comb the hair back, tease, and tousle it to create more volume, and go for light gray roots.
5. Classic Bob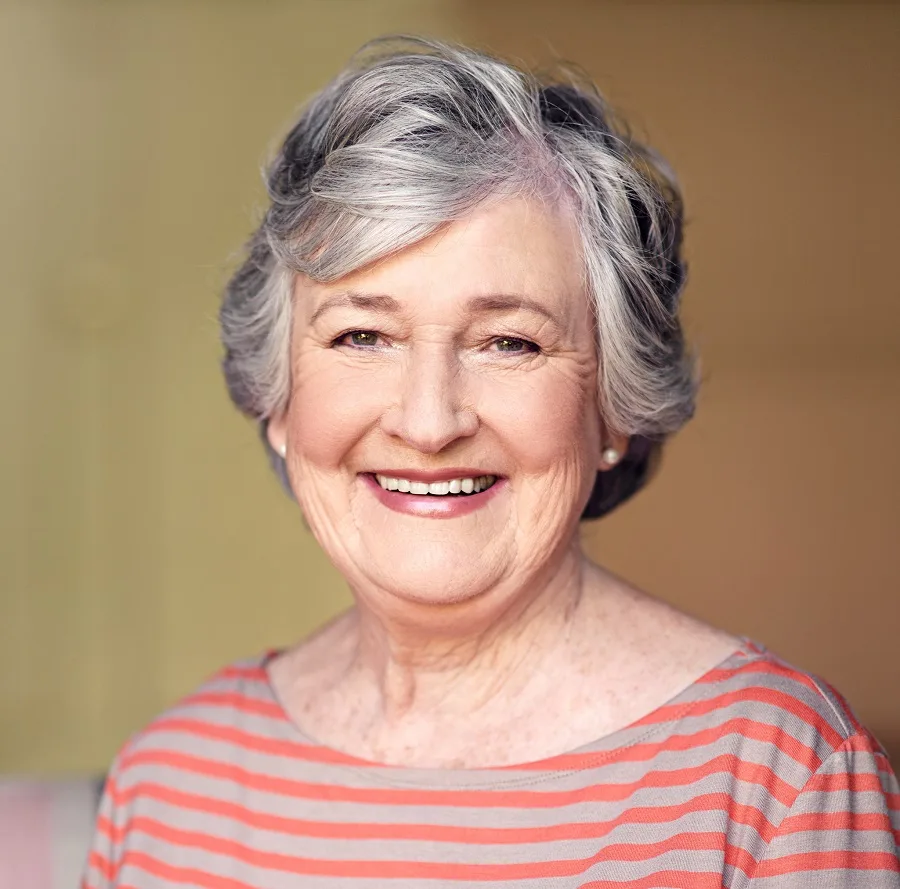 This classic layered bob haircut with long bangs that are swiped to one side is ideal for older women. It will also create some angles that will cut off the chubby cheeks.
The haircut features white, gray, and naturally darker tresses and it stuns with its beautiful blend.
6. Gray Flamboyage
Older women obtain this color naturally, but this is not the case for younger ladies. Style an asymmetrical cut and spice it up with a stunning gray ombre.
Layer the tips so the hair volume is concentrated in the crown section. Preserve your color with a purple shampoo that cuts off the orange tones.
7. Bob with Blunt Bangs
If you don't like the struggle that comes along when switching to the blondes team, you should try a wig that you can cut and style just the way you want.
Opt for thick blunt bangs and create gray highlights on a creamy blonde base. Shape the wig into a long bob and style only the tips.
8. Lob with Bangs
This gray lob with curtain thin bangs is a wonderful idea for women who want a low-maintenance hairstyle.
The only styling this cut requires involves giving your fringe a curved shape. You can use a rod that you install before going to bed or style the fringe with a rounded brush and a blow drier.
9. White Curls
Embrace your fully white hair and transform it into a real statement. Opt for a layered bob haircut that will marvelously help your curls stand out.
Use a heated wand tool and select thin strands to create those perfect ringlets. You can even create gray darker lowlights that will fabulously suit your entire look.
10. A-line Lob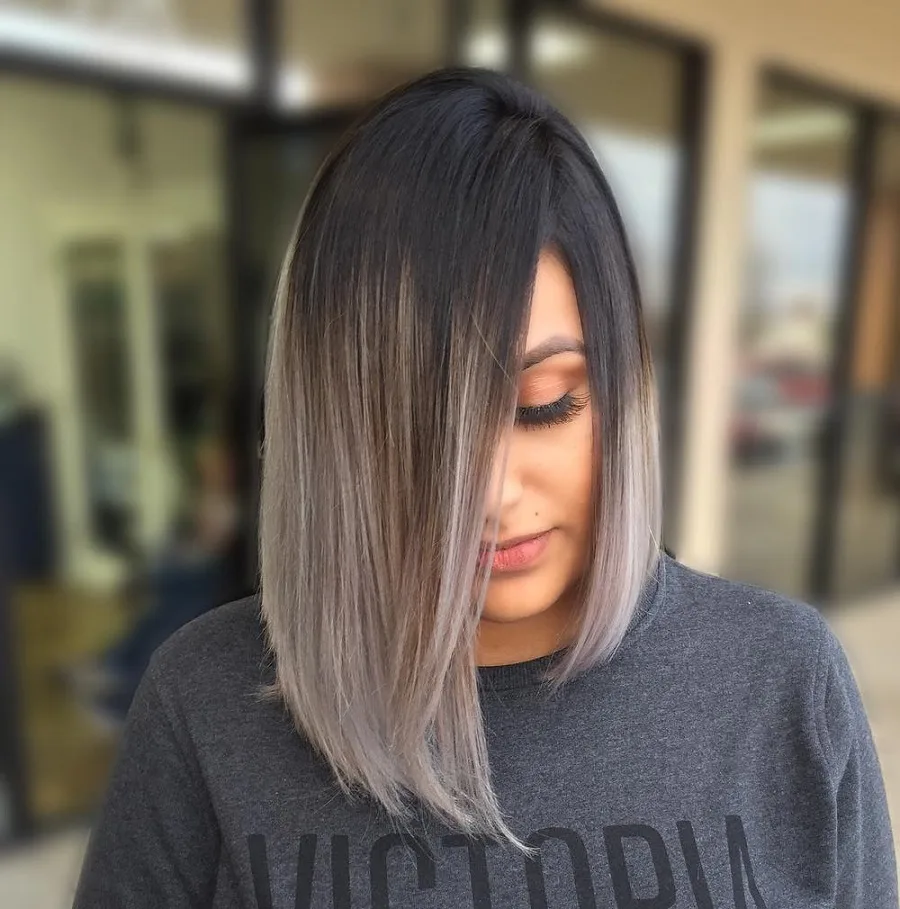 A-line lobs have more length for the front tresses and are an amazing hairstyling option for women who are aiming for an elongated look.
Also, this extended bob haircut transforms your hair into a large canvas where you can create stunning gray ombres. Choose the right toner for your skin color and enjoy a new modern look.
11. Top Rolled Bun
When your natural color is a dark brown shade, we definitely encourage you to see a colorist that will help you achieve the gray nuance you dreamed about.
Gaining this color requires bleaching and it is mandatory to know how to obtain an even blonde without damaging the hair. The look is spectacular and if styled with wispy bangs and a top bun, it will look brilliant.
12. Wet-Feathered Look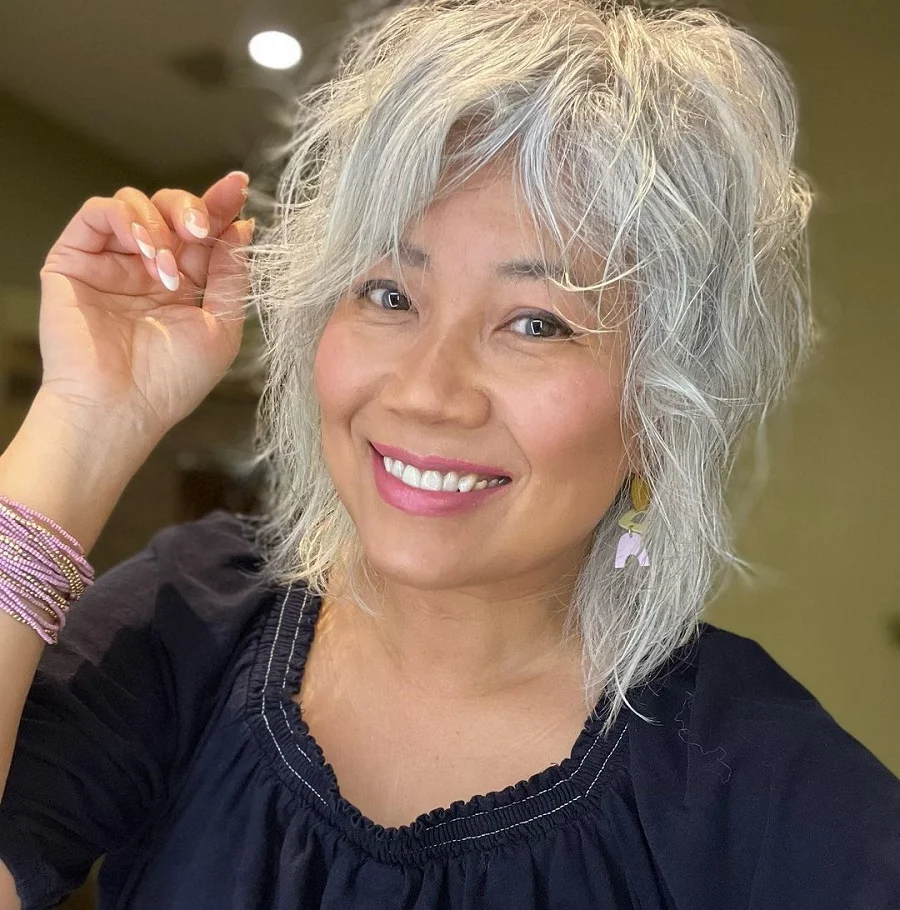 When dealing with wavy hair, a layered bob will definitely help you highlight that amazing hair texture.
Tousle your gray mane and mess it up and apply a foam that will hold the waves for the entire day. Lift the roots to achieve more volume for the top.
13. Texturized Gray Bob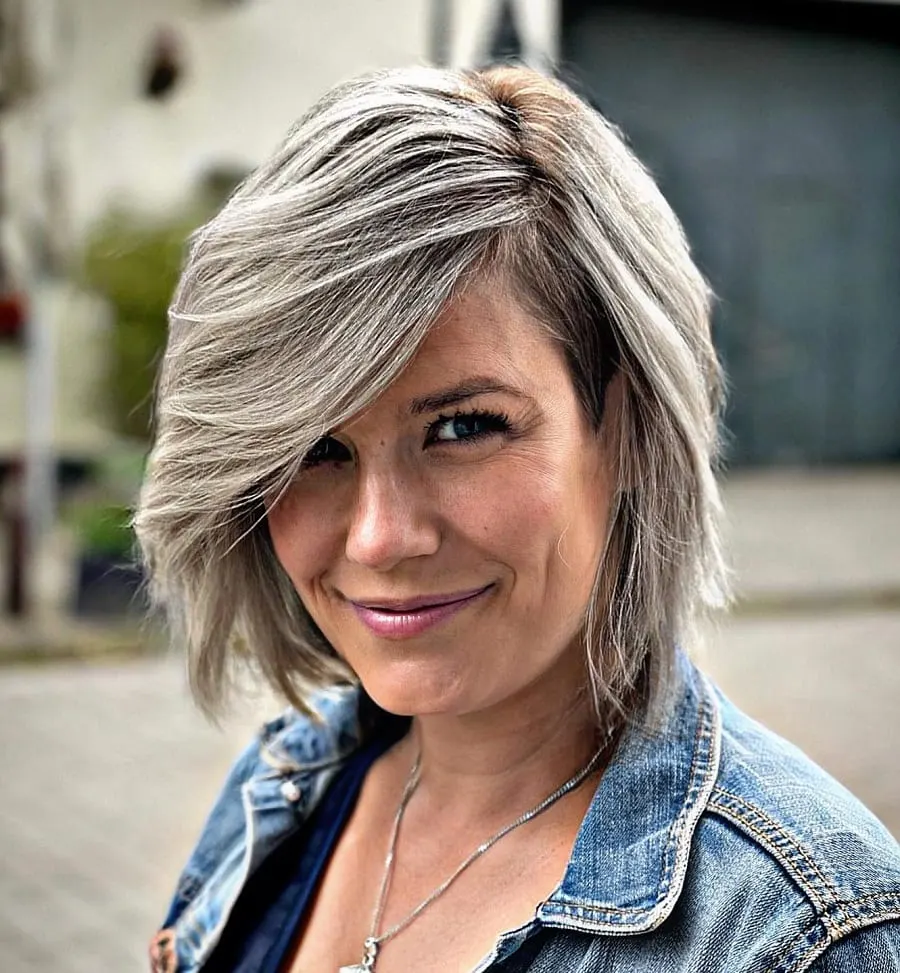 Getting ultra-thin highlights will help you gain more texture and overall volume. Your bob will have depth and a flawless color that matches any event or season.
Opt for a medium bob with long bangs that you will swipe to the side. Do a single loose wave to channel that most-wanted glam.
14. Black and Grey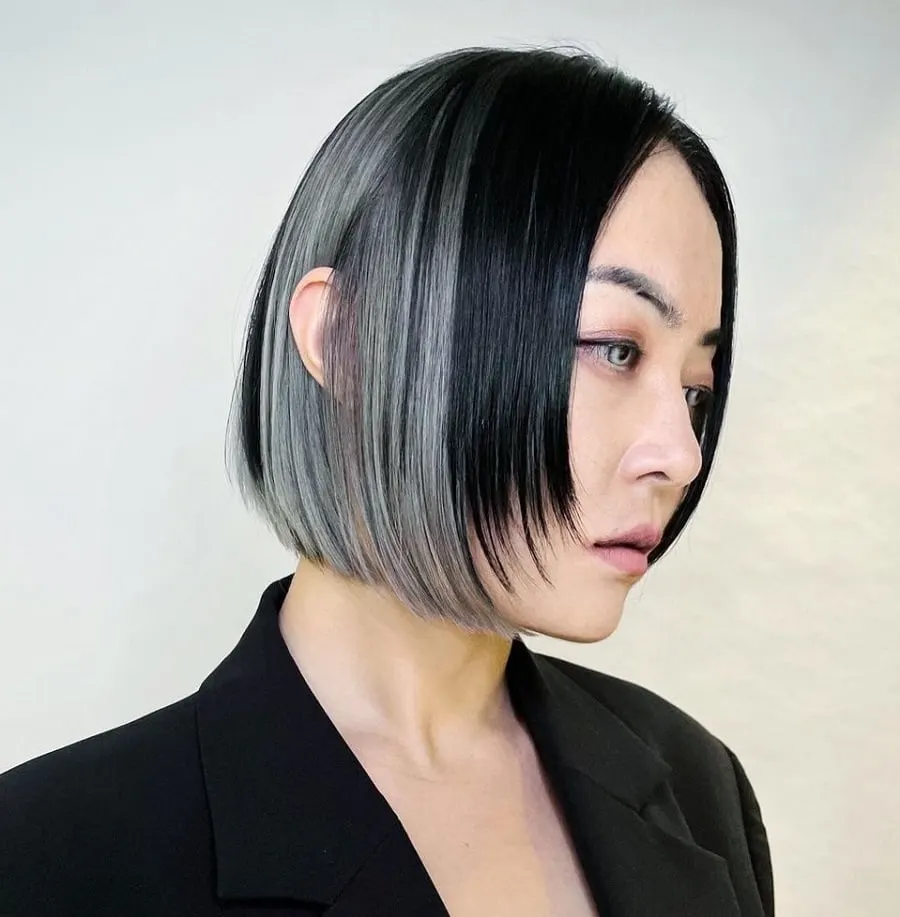 This bob haircut with middle-parted bangs that are shorter than the rest of the hair is perfect for all face types.
Select the bangs and dye them in a jet-black color. Combine with gray tresses that you will style on each side. In the back, get back to that black shade and tuck some of your locks over the ears.
15. Soft Gray Highlights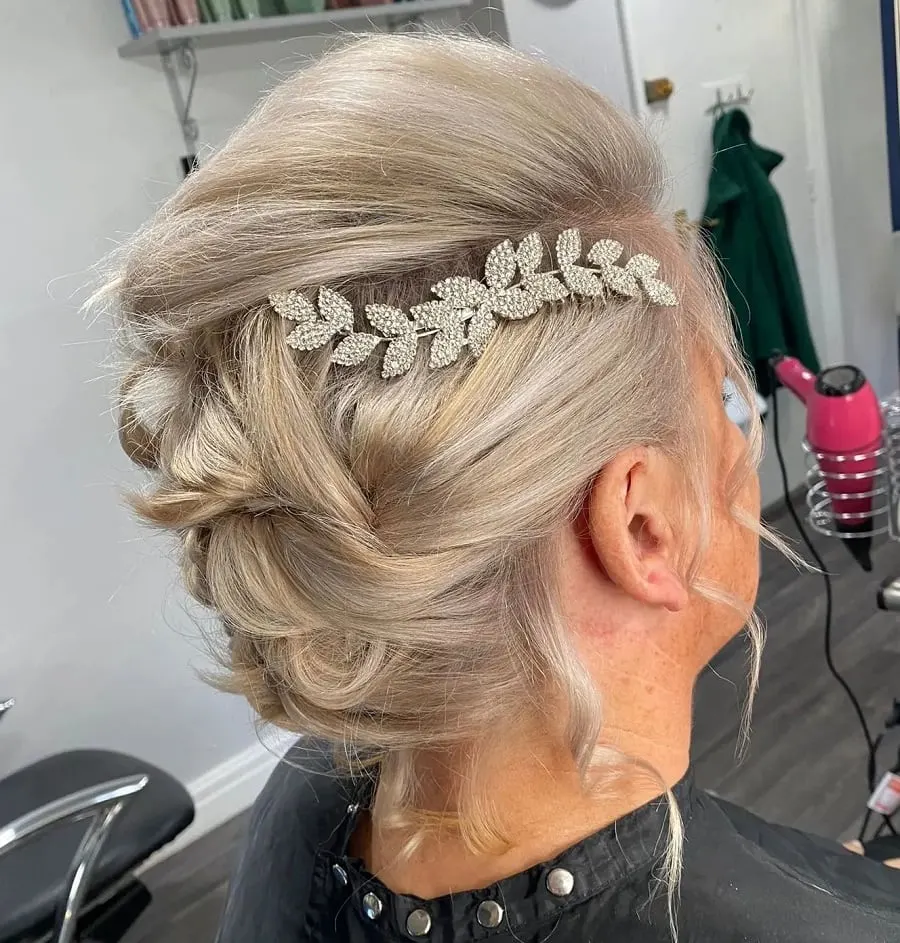 We all know there are particular moments when we need our hairstyle to look absolutely flawless. So if you are attending a wedding or another big event, you can't show up with a simple dull look.
And a bob hairstyle with gray highlights is an amazing option when you need to construct a glamorous updo. Curl some strands and decorate with golden sparkling jewelry.
16. Bob + Ultra Thin Braids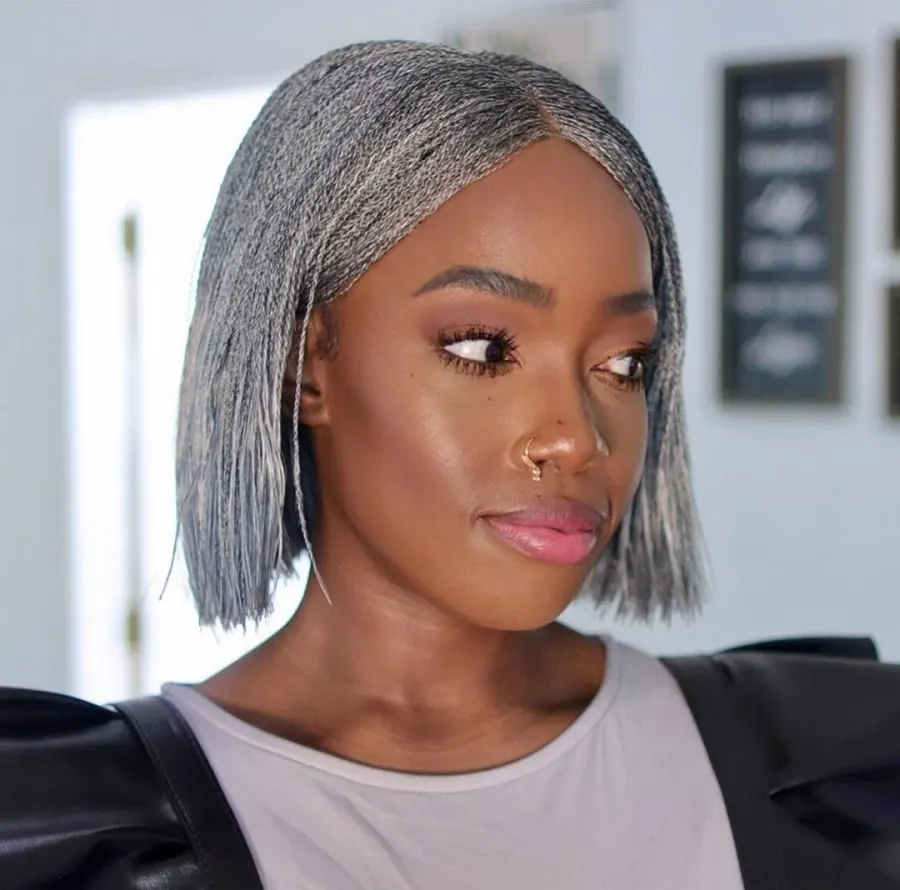 For this gray braided bob, you will need at least half a day off. First, do the bleaching and apply the gray toner.
Select ultra-thin strands that you will braid only halfway. However, if you don't want to put in the effort, there are stunning wigs that you can buy and they will give you a natural amazing look.
17. Half Gray Half Black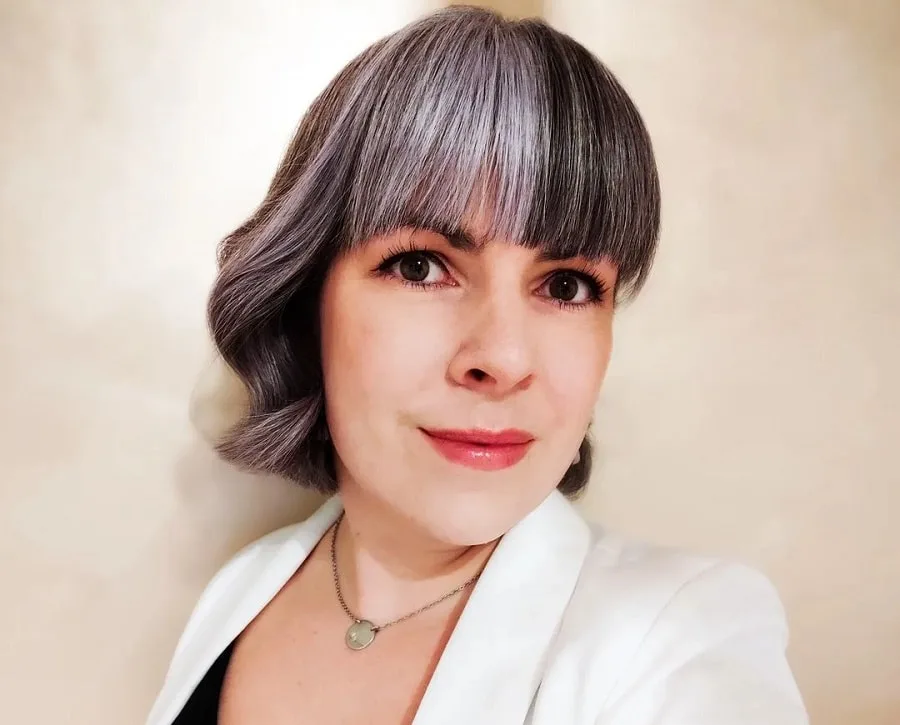 Waves, bobs, and color blends are a match made in heaven. Go for a blunt fringe that you will dye half black, half gray.
The longer pieces will have an amazing texture, especially if you wave them with a curling wand.
18. Violet Gray Curls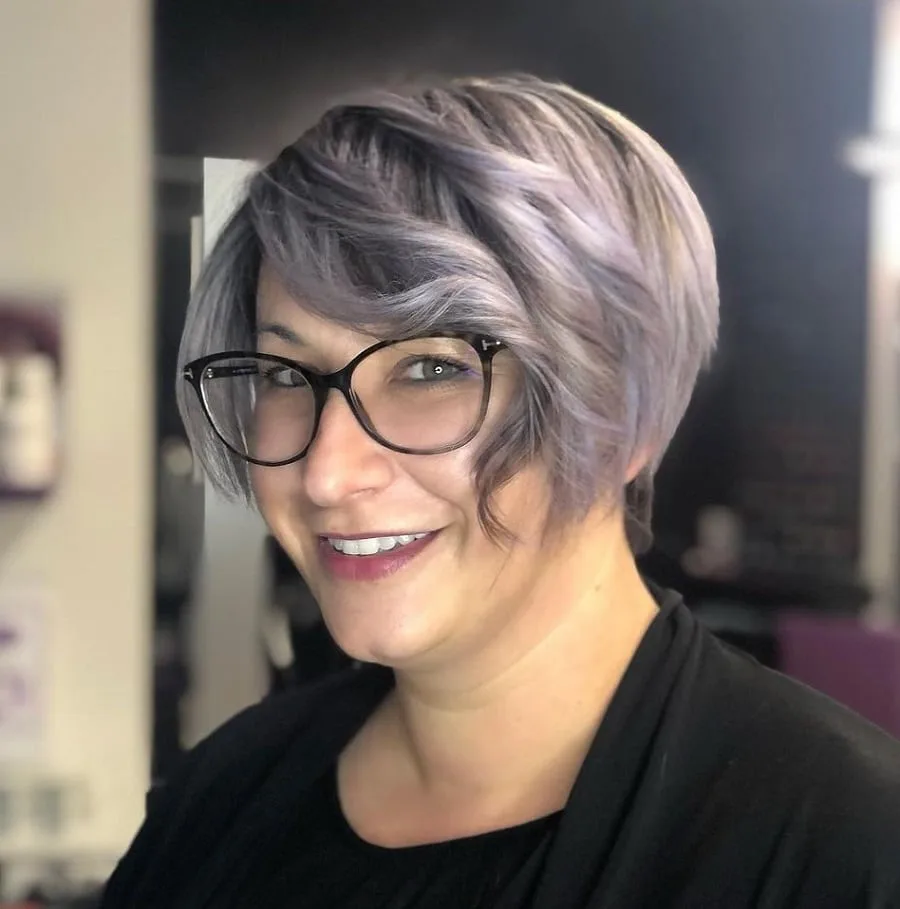 A gray bob with subtle violet nuances adds such an amazing texture to your locks. Opt for a short trim with emphasized volume for the top.
Go for a side part and using a hair wand, curl a few strands. Apply hair spray to gain that luscious aspect.
19. Green Tinted Grey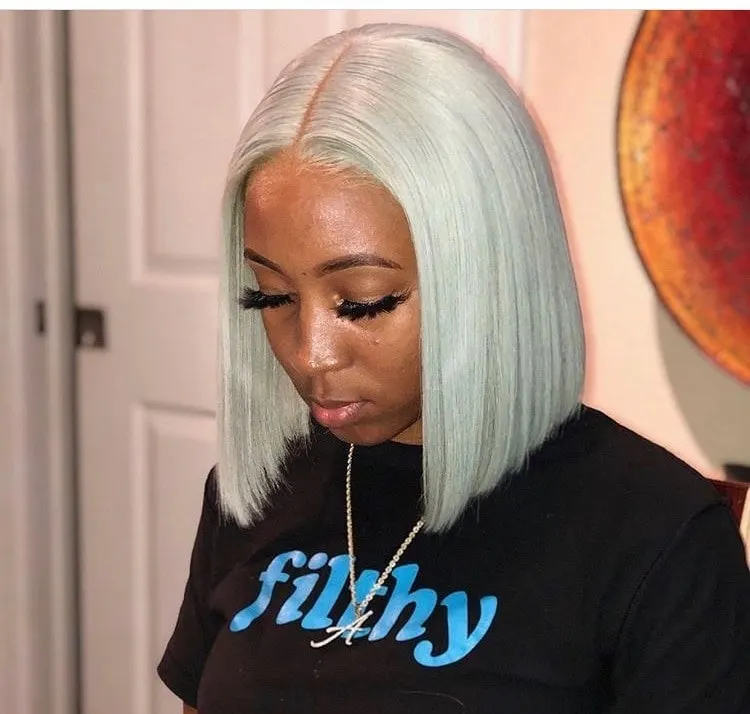 Black women rarely choose to dye their hair this light. Instead, they go for pre-cut and pre-dyed wigs. In other cases, if the hair has great quality, they prefer to adapt the wig to their needs and likings.
So don't worry about damaging your hair with bleach, just get a lob wig in a gray-green tinted nuance.
20. Bob with Undercut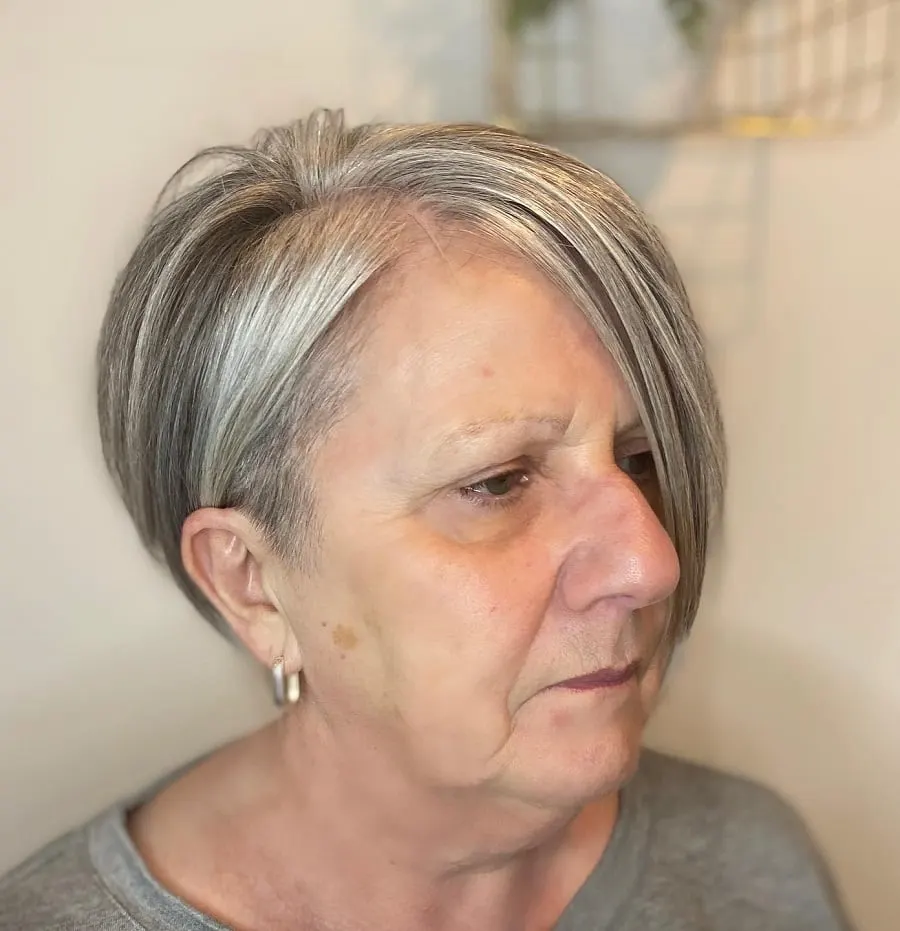 This short bob with stacked layers in the back is such a modern option for older women who already have naturally gray hair.
Opt for a side part and toss your bangs to the lateral, revealing the temple undercut from the opposite side.
Gray bob hairstyles are a marvelous choice for women of all ages. Whether you love a short cut, need to elongate your face, or adore these modern gray nuances, this haircut is a perfect idea. Try the ones that suit you and let us know how you feel about your new look!