Short dread styles for men are an inseparable part of Indian culture. The word itself was coined by Rastafarians in the 1950s and refers to 'living in dread of god'. In recent times, dreadlocks have become a representation of a free, natural and bohemian spirit. You can get dreadlocks through the natural or freeform method. They can also be achieved in a salon through braiding, coiling, or twisting the hair.
Another popular method is backcombing the hair and using dread-wax to hold the dread. Those who have short hair can start dreading their hair even before it is an inch long.
There are fairly simple methods using hair wax that can produce perfect dreadlocks after 3 hours of drying. So, let's look at 61 short dreadlock styles for men.
Men's Best Short Dreadlock Hairstyles to Try in 2023
We have collected here some popular short dread styles for men to rock in this season. Check out below:
1. Dreads with Bandana
Dreadlocks look stunning on men, and they are so versatile. Even if they're short, you can still find ways to style them. Get a bandana and place it on the forehead, slightly lifting up the hair and taking it away from your eyes.
2. Block Cut with Dreads
This short dread style for men uses the same cut as the block cut. However, instead of shaping the hair like a box, with all the corners, you'll be changing the approach for this hairdo. Using your fingers, roll small sections of hair. They have to look like small spikes.
3. Sombre Dreads
Short dread styles for men have a unique look, and they are quite easy to maintain. Make sure you wash them and add a moisturizer. Also, care for your scalp because you don't want to get dandruff or flakes on your clothes.
4. Rolled Dreads
Rolled dreadlocks look like the usual dreads and maybe even cutter. Part your hair into small sections and roll each section. This works perfectly if you already have thick curly hair. Each dread will look like a tight ringlet. You can arrange them however you want, on one side, or wear them like curtain bangs.
5. Wannabe Dreadlocks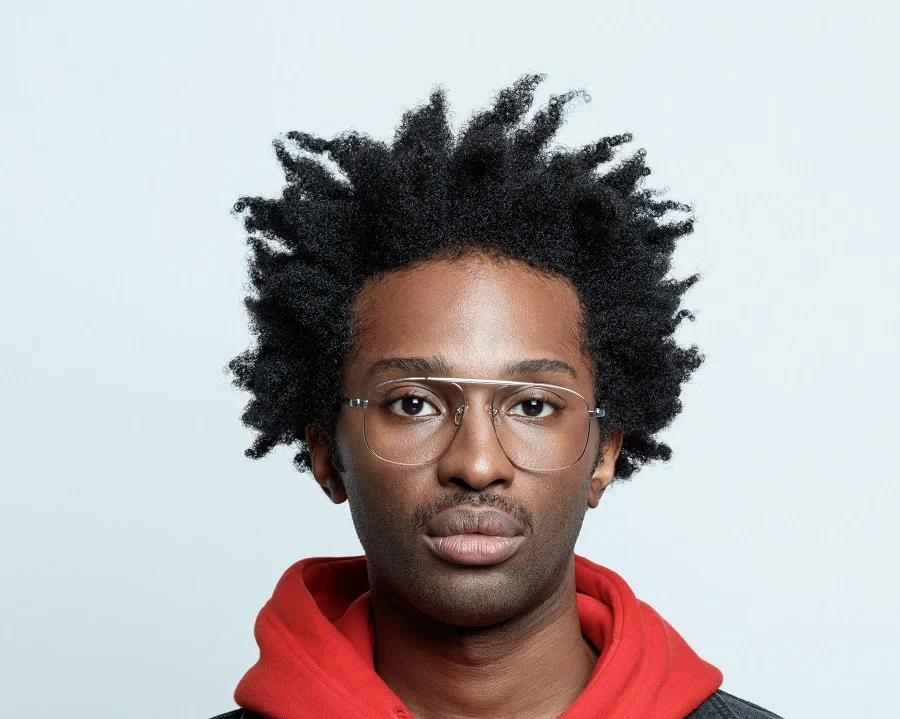 When your hair is coarse, there are a few quick ways to style it. Firstly, you need some moisturizer. Take small sections of your hair and just roll the tips using your fingers. Because of your hair's texture, this hairstyle will resemble dreadlocks.
6. Twisted Braids
Do a bowl cut with shorter bangs than the rest of the trim. For the sides, pick a razored cut or a fade. Section the longer parts and do twisted rope braids. Also, opt for a mustache to contour your mouth and long sideburns.
7. Medium Dreads for Blonde Hair
A bowl cut is a great base for this short dread style for men. Your blonde, brown natural hair color will stand out and so will your dreads. Use the trimming machine for the sides and back and keep a clean, shaved face.
8. Half Black Half Blonde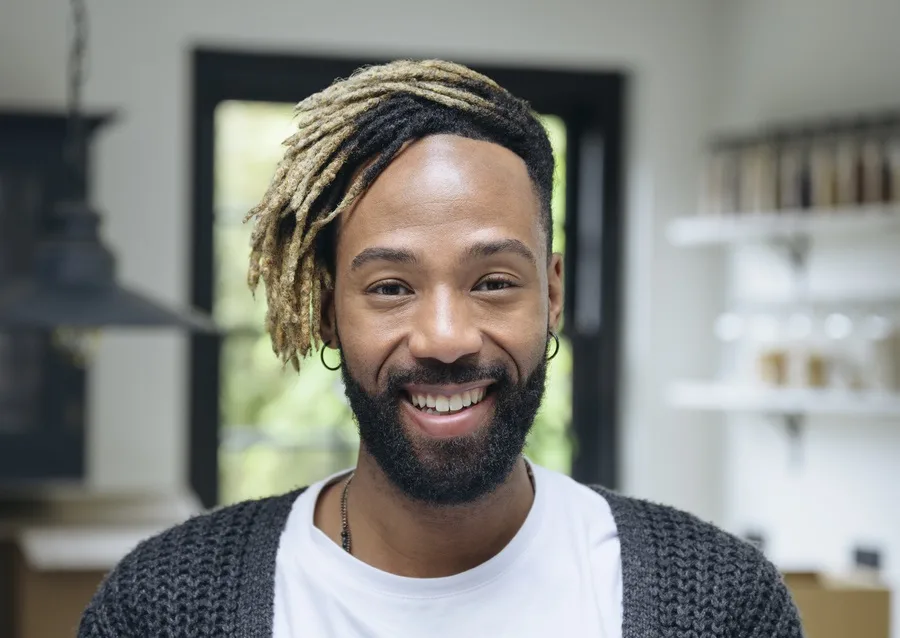 This whole look is so cool and fresh. First, get a haircut with a medium fade on the sides and in the back. The longer remaining top will be transformed into short dread for men. If your skin tone is darker, you can enlighten the while look with some blonde.
9. Curtain Dreads
Short dread styles for men can even resemble a bowl cut with curtain bangs. Get the haircut and go further by sectioning the longer top into small parts. Braid these sections or create dreadlocks.
10. Teal Tips
Short dread styles for men are very versatile. You can do a full head or combine the dreads with fades and other short cuts. For this hairdo, the sides are shortly trimmed, and also the hair above the forehead. Dreads can be dyed in whatever color you want.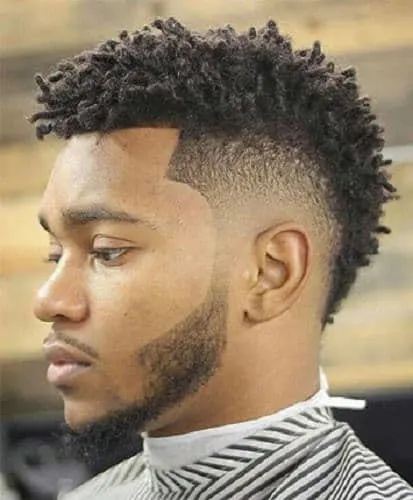 Short dreadlocks with a fade offer a clean yet edgy look. You can choose exactly what kind of a fade you want to pair with your dreadlocks. A tapering fade will not show too much scalp and create a nice smooth look.
12. High Top Dreads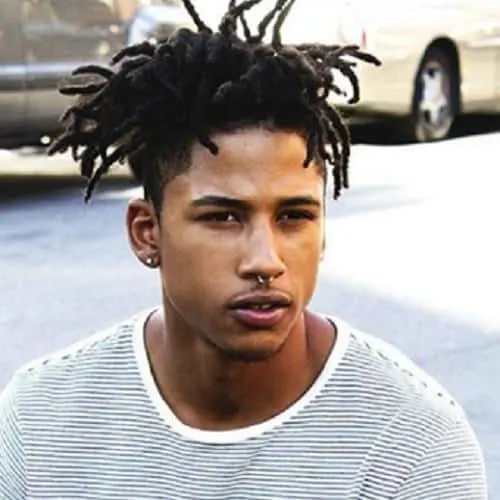 These short dread styles for men are simple and easy to maintain. Keep the hair short on the sides but grow out the top. You can leave the dreadlocks on the top for a casual messy look or style them. Play with the variations to create simple classy looks.
13. Braided Dreads
You can braid your dreadlocks to stand out of the crowd. It creates a gorgeous texture that you can't help but admire. The dreads can be thin, large or super intricate. Here is a fishtail braid that looks kickass.
No matter what the length, colour or texture of your hair is, dreadlocked rows always look great. They are pretty simple to get and doesn't require a ton of maintenance. Look super fancy with very simple effort like this.
15. Man-bun Dreads
If you have grown tired of the latest fad, you can give your man bun a fun twist. Grow out the top of your hair and get dreads that you can gather into a man bun. Look trendy while also staying ahead of the crowd.
16. Mohawk Dreads
If you want to pull off a more daring look go for the Mohawk dreads. A Mohawk adds a punk look while the dreadlocks add a sort of hippie vibe. Shave or fade the sides while the hair on the top can be kept long or short.
17. Twisted Dreads
One of the most popular looks right now, twisted dreadlocks are achieved by twisting locks of short hair. They can either be thin or thick based on your personal preference. It's a classic dreadlock styles for men that can even be braided to create more texture and depth.
18. Dyed Dreads
Add a pop of colour to your head by dying your hair before getting dreads done. Coloured dreadlocks never go out of style and they are great for changing things up a little. Pick out a colour that reflects your personality. Go bold or go home.
19. Ombre Dreads
Ombre or balayage is all-the-rage right now and we can see its influence on men's fashion too. Do you feel that dying your hair a single color is too basic? Then pick out more than one related colors in a shade to create an ombre effect. Get dreads done and voila you'll have uber cool ombre dreadlocks.
20. Ponytail Dreadlocks
Add a modern twist to your dreads by gathering them in a ponytail. This can be done without much difficulty no matter what the length of your dreads is. If you have short dreadlocks you can pull them up into a high ponytail. If you can manage a longer length you can wear a long low ponytail too.
21. One-Sided Dreads
You can wear your dreads only on one side of your head. It creates a gorgeous asymmetrical look that sends out some serious hipster vibes. Just create a side parting and grow out your dreads on one side. Check out just how incredible Indian model Rahul Vaid looks in this photo.
22. Free and Short Dreads
After looking at so many different styles let's take a breath and appreciate dreads in their natural glory. Without any undercuts or fading, manbuns or ponytails, free and messy short dreads look absolutely breathtaking. It creates a simple earthy boho look while also making a powerful statement.
23. Crisscrossed Dreadlocks
Even with a short length of dreadlocks, you can have fun with different styles. One such look could be the crisscrossed dreads that are insanely cool but also very neat. You can limit this style to just the top of your head like in the picture. This would create a cleaner look.
24. Beaded Dreadlocks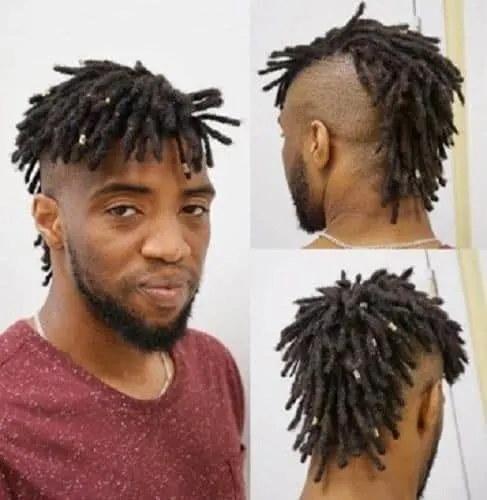 If you want some Jack Sparrow inspired dreadlocks, then you've got to accessorize a little. And don't worry, short dreadlocks are just fine for your favourite pirate look. Just weave in some beads to jazz up your dreaded hairstyle.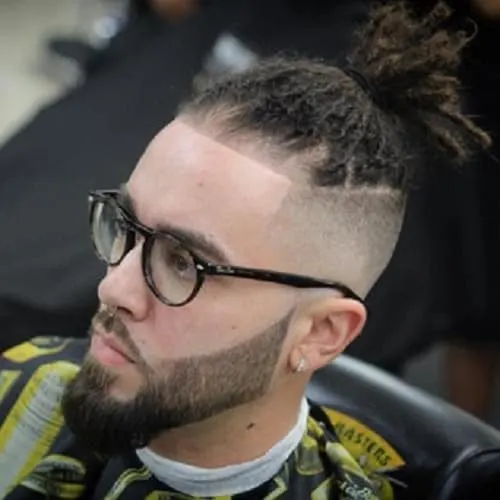 Bald fade or zero fade hairstyles cut the hair down to the skin. They are super trendy right now and you could just combine this with your dreads. The result is going to be jaw dropping for sure. Here's an example.
26. Short Dreads with a Beard
There is nothing more attractive than a man with a beard and dreadlocks. Short dreadlocks add volume to the top of your head. Balance out your face with a nice full beard.
27. Box Braided Dreads
Box braids are characterized by square shaped hair divisions. They create an even geometric appearance that's super hip. You can achieve some really cool looks by box braiding your dreadlocks.
28. Multicoloured Dreads
Bring out your rebellious side and pull in some punk influence by dying your hair into multiple bright colors. These are perfect dreads for a wild child.
29. Curly Dreadlocks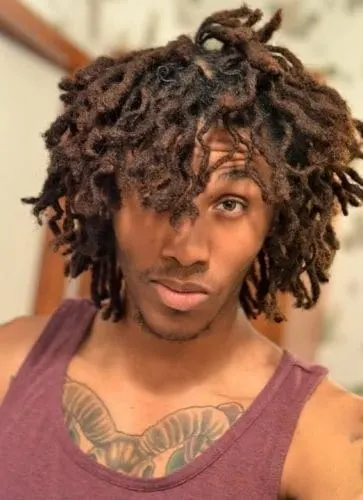 Tired of looking at dreads on straight hair or curly hair that turn straight after getting dreads done? You can get curly dreadlocks too.
30. Zigzag Dreads
Combine zigzag braiding with dreads for innovative looks.
31. Dreads with Undercut
Mix thick straight dreadlocks with an undercut fade for a look that says you rolled out of bed like this!
32. Short Dreads with Center Part
Looking for a simple look that's still stylish? Part hair in the center before you dreadlock hair to get a symmetrical look.
33. Twist Dreads
These twisty dreadlocks on a man with natural hair also look like twist braids. Try adding a line up or a fade for even fresher vibes.
34. Ombre Dreads
If you have thick hair and want to distract from a bunch of short dreadlocks, try adding blonde color to the tips in an ombre method. Blonde is an awesome contrast to black hair.
35. Shape Up with Dreads
Another handsome way to style natural black hair is to do a shape up to draw focus on your dreads. You can gather the dreads into a ponytail or just leave them loose for a fade to peek out underneath.
36. Forward Facing Dreads
Instead of wearing your dreads facing the back of the head, flip the switch and encourage them to face forward. This new direction and a medium fade will focus all the attention on your punk style.
37. Thin Blonde Dreads
A small dark goatee looks great with this men's dreadlock hairstyle. The dreads are thin, plentiful, and sectioned off using black rubber bands to contrast nicely against blonde hair.
38. Half Dreads
Not sure if you want to go the full monty with dreads? Try dreadlocks on just the top half of hair, leaving the bottom half short but natural. Give your dreads an asymmetrical style by leaving front pieces longer than the back.
39. Spiked Dreadlocks
Why have a normal mohawk and regular dreads when you can have both? Use product to help your dreadlocks stick straight up and add a high fade for extra detail.
40. Micro Dreads
For thin or fine hair, creating lots of micro dreadlocks is your best bet for a fuller look. If you're an older man, you can get away with a full scruffy beard. Younger men may look better with minimal facial hair.
41. Dreadlock Top, Natural Back
Where do we even start with this men's dreadlock hairstyle? This look shows how you can combine spiked dreadlocks with natural hair in the back and faded sides for a look we're sure no one else will have!
42. The Sporty Dreads
Do you hang out at the basketball court with the guys a lot? Wear your favorite sports headband with thin dreadlocks. No one will mess with you when you've got this look!
43. Short Dreads with a Wide Forehead
Many men look for ways to cover up a wide forehead, but there's no need to worry about that when you've got short spiky dreads that pull everyone's attention up!
44. Criss-Cross Dreadlocks
Are the man who is all about the detail on your hairstyle? Consider this cut featuring small, tight dreadlocks with criss-crossed pieces of hair wrapping them from hairline to neckline.
45. Short Dreadlock Mohawk
Making a mohawk out of dreadlocks puts a whole new spin on the punk style. The style is perfect if you have short hair and faded sides help ensure you don't have your work cut out for you in the morning!
46. Thick Dreads on Natural Hair
A high fade draws everyone's eyes up on this handsome men's dreadlock style for natural hair. It seems there are only two thick dreads on this particular look leaving just enough space on sides for a high fade.
47. Line Up with Dreadlocks
Love your natural black hair and don't want to shave it off? Add a line up to short twisty dreadlocks for a cool combination of short and long.
48. Hair Cuffs on Thick Dreads
If you're a man with black hair, you'll love how silver hair cuffs accent the thick dreadlocks seen here. As the sharp line up proves, there's no limit to how far you can go with detail on a men's dreadlock style!
49. Short Micro Dreads
Prefer a short haircut with style? Short micro dreads are a fresh look for natural black hair.
50. One Jumbo Dread
A truly unique style, this look features one jumbo dreadlock that begins at the hairline and curves to the back.
More Amazing Short Dreadlock Hairstyles for Men
We hope you liked these alluring short dread styles for men. So take your pick from the top choices above to get an amazing result.