Fades are one of the mostly done hairstyles you'll see among young men. A fade haircut with a beard can bring your style to a whole new level if you really know how to synchronize these two.
Taking good care of your facial hair and paying particular attention to your outward demeanor will require some time, but the final results are always worth it.
Style, class and overall grooming – you can get all that by keeping track on the simplest details that can lie even within the question of whether your hairstyle matches your beard or not.
Excellent Fade Hairstyles with Beard
Here are 20 cool and simple fade hairstyles to try with your beard that will make your face scream DOPE! You can also try these cool and manly beard styles for men.
With your short hair spiked up in a natural manner and fading down into your imperial beard, you can lay rest assured that you'll be attracting attention quite a bunch. Even a style as simple as that can get you all groomed up.
#2: Long Fade Hair with Long Beard
With long hair on top, give faded sides a try for a Mohawk-like style. Finish your style up with a full beard and get a sexy look that is nowhere close to being ordinary.
#3: Geometric Fade Lines
Rocking a fade hairstyle with beard such as that will sway all the attention towards it. And so to keep it this way, try to rock a beard as simple as a 5 o'clock shadow.
On the other hand, rocking a full beard like this one might necessitate you to cut your hair short to maintain balance. With your top hair slicked back, style the sides into a fade cut.
#5: 5 O'clock Beard With Little Fades
If you're all for a groomed look, but not for effort and time you usually spend on it, keep your beard minimally styled into a 5 o'clock shadow beard and your short hair neatly combed.
#6: Creative Beard Design with Skin Fade
This skin fade with beard will make everyone around you to look at you over and over again because of the creativity that you are carrying with your beard and fade hairstyle.
The lightning bolt tattoo on the beard and side of the head looks quite impressive and requires serious barber skills for professional execution of this particular combo.
If you want to emphasize your top afro curls, the high fade would be the right choice for you! Give more impact to your look by growing a chinstrap beard and pencil mustache.
Taper the hair around the temples and fade the sides and back of the head which will make it appear to resemble an undercut. Use the clipper to execute a perfect lineup.
When you pair up a full beard with a fade pompadour hairstyle, it exudes bold and confident features that every guy wishes to have! A tramline adds more impact to the medium faded sides.
Give this full beard unique aesthetics by fading the cheek line hair and keeping the remaining facial hair thicker for a distinctive look to make it resemble an extended goatee.
Not everyone has the courage to carry such an edgiest fade haircut with a beard that features a pointed Fohawk along with pronounced hair tattoo. Balance this sharp-edged haircut with light stubble for an impressive outlook.
If we talk about the simplest haircut that needs less maintenance, buzz cut comes in the priority list of many guys. You can add style to buzz cut by accompanying it with bald fade sides and growing a short beard that features a prominent circle goatee.
A beard can change the whole game when you accompany it fade haircut and man bun. It gives guys a classy and debonair appearance. Grow a full beard and fade the sideburns to make the beard blend into faded sides of the head. Tie your long hair into a men bun for a well- maintained look.
Viking beard is known for its untamed and rebellious aesthetics, but who knew that this particular style would become a voguish and classiest one in this current era! Got impressed? Start growing a beard now and wait till you get the desired length. Wear a short pompadour with a medium fade to get a well-groomed and understated look.
#13. Medium Beard with Zero Fade
This is one of the classic fade haircuts with a beard. The medium length beard and the hard part complement the fade very well. It is a qualitative and creative fade that brings out the rugged masculine features extremely well. It is a type of styling that enhances your features and makes a face look angular.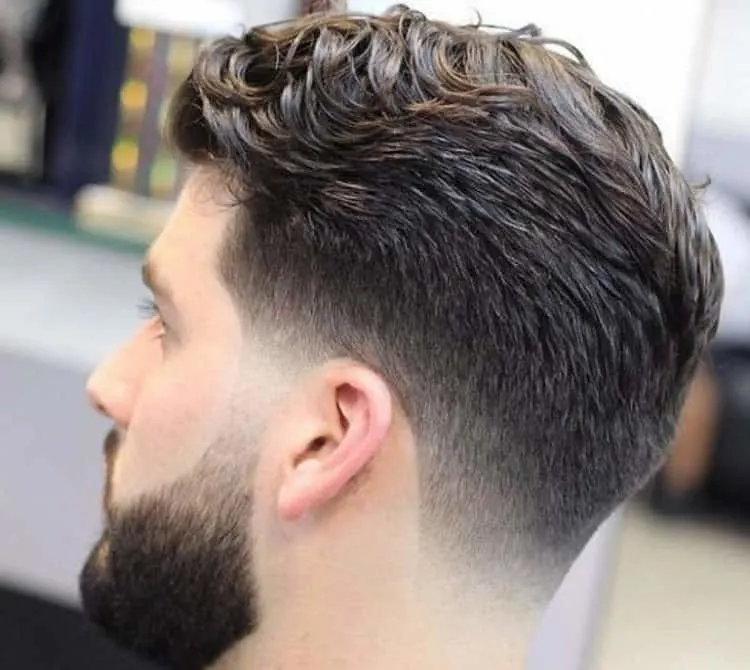 A sophisticated and a corporate look, this wavy fade haircut perfectly complements the box beard. It combines rugged charm with suave appeal. It is a rather versatile styling that suite a multitude of occasions. From the boardroom to the street food truck chef, this style suits most people and makes them look glamorous.
#15. Drop Fade with Full Beard
The long fade hairstyle with full beard brings in an intense charm to your face. This is a relatively edgy style, and you must carry it with relative confidence and panache. This is a type of style that is best suited for those who believe in themselves.
This fade haircut with beard introduces a sense of exotic element into your overall styling. The esoteric and the rather eccentric shaved lines lend a quirky element to your personality. It is about further enhancing the overall rugged appeal in a subtle way.
This works well for those with a relatively light beard. The ruggedness of the sharp fade with the shaved lines reinstates the subtle machismo that the light beard is not able to. This style blends in with almost any type of facial structure as well as professional demand. It is neat and classy while being edgy and stylish as well.
#18. Sharp Fade with Quiff
If you are looking to enhance your looks and at the same time maintain a sophisticated appeal, this faded haircut with the beard is one of the best options. It brings an effortless charm to your face.
It is a rather sustainable variant of the fade and goatee beard combination. It does not require a length care regime but does not compromise with the styling quotient either.
#19. Light Faded Hair with Chin Strap
The light fade enhances the intense appeal of the chinstrap and brings to light an understated subtle sense of machismo. You can also see a hint of Amish beard styling in this combination.
One of the most common and popular haircuts for men is comb over. It's simple but classy and is always in trend. Pair it with low fade and a small beard.