Simply defined, asymmetrical haircuts are longer on one side than the other. These uneven hairstyles go with all hair lengths and face shapes. They are, in fact, ideal for balancing out any disproportionality of the face.
Two-length hairstyles are modern, sassy, and bold. They're a must-try for senior ladies who are bored of traditional haircuts. After all, who is going to notice those wrinkles and eye bags with such a unique hairdo that's low upkeep too?
Go through the following asymmetrical haircuts for over 50 to add some sparkle to your look.
How to Pick The Right Asymmetrical Haircut
When choosing an asymmetrical haircut for women over 50, there are several factors to consider to ensure a flattering and age-appropriate look. Here are some key points to keep in mind:
Face shape: Consider your face shape (oval, round, square, heart, or long) when you pick an asymmetrical haircut. This haircut softens certain facial features. So choose a cut that complements your natural shape.
Age-appropriateness: While age should not dictate your hairstyle choices, choosing a cut that makes you feel comfortable and enhances your features is essential. Look for inspiration from our list of asymmetrical haircuts donned by other women over 50.
Hair length: Asymmetrical cuts work with various lengths, from short pixies to long bobs. Determine your preferred length that'll best suit your taste.
Hair texture: Consider your natural hair texture (straight, wavy, curly, or coily) when you pick an asymmetrical haircut for women over 50.
Maintenance: Asymmetrical haircuts require more maintenance than asymmetrical styles. So get this haircut only if you're ready to spend time on maintenance.
Hair color: Color plays a significant role in the overall appearance of your haircut. Consider adding highlights, lowlights, or a bold color to enhance your asymmetrical haircut.
Styling options: Make sure your haircut offers versatility in styling, so you can easily switch up your look for different occasions.
Professional advice: Consult with a hairstylist with experience in asymmetrical cuts. They can help you determine the best style for your hair type, face shape, and personal preferences.
Asymmetrical Haircut Ideas for Women Over 50
Symmetry is beautiful, no doubt, but sometimes a little asymmetry is necessary too! Time to throw off the balance of your tresses.
1. Platinum Blonde Bixie
Your temples might start to extend further when losing hair with age. Hide that wide forehead of your heart-shaped face with an unbalanced bixie featuring short layers on top that get longer toward the ends.
Finish off with uneven arched micro bangs for a chic appeal.
2. Side-Swept Long Pixie
Go short with style by asking for a soft pixie cut. Keep the top long with one side neatly clipped while the other one is long enough to cover the entire ear. Layers will help achieve a textured mane.
Sweep all the strands towards the longer side for a lopsided look that won't be ignored.
3. Stacked Bob
Bobs make the best asymmetrical haircuts for those over 50. Shed off a few years by opting for stacked layers at the back that elongate toward the front but not equally this time.
Opt for medium to long bangs rather than shorter ones. A good blowout is a must.
4. Short Choppy Crop + Angular Fringe
Bring out your inner rock star to become the bold granny everyone wishes to become one day. Go black and get a choppy crop with a long V-cut at the back and angular fringes at the front reaching the nose.
Though sharp, this unbalanced haircut will round off a square face.
5. Uneven Layers with a Dash of Color
Maintain a soft look by experimenting with short layers that elongate on one side only. The result will be an asymmetrical hairdo that is full of volume and movement.
Make it more noticeable by painting the longer strands in an unconventional hair color like bright yellow.
6. Salt and Pepper Curls +Undercut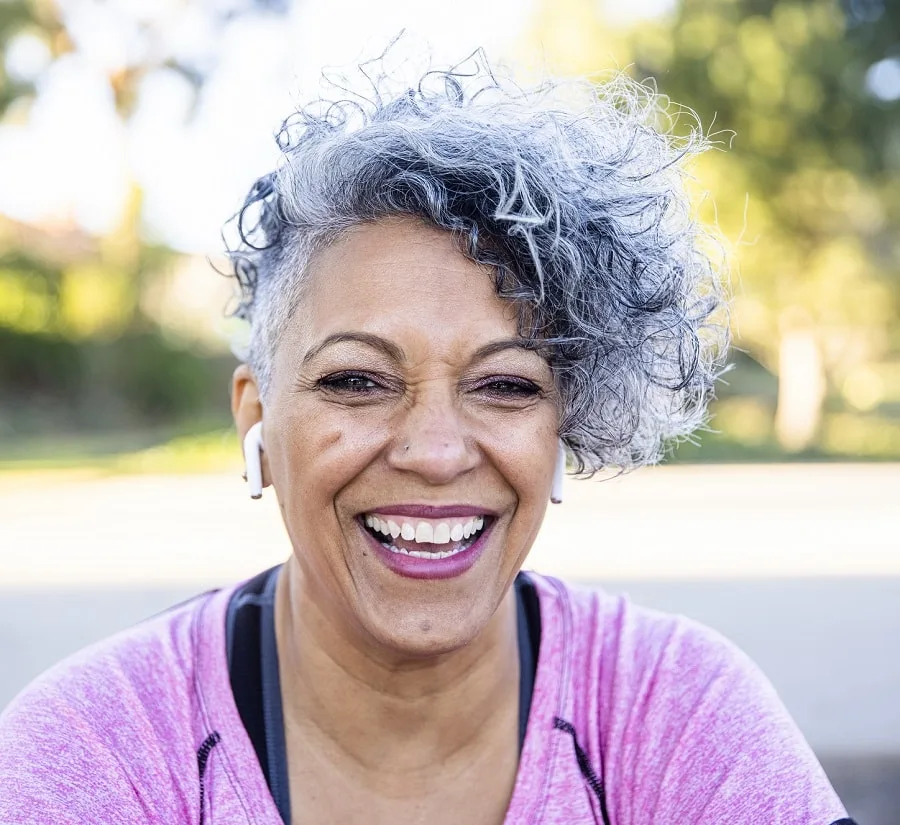 Embrace your natural curls after years of heat styling when getting 50 or above. Get a neat undercut along one or both sides with a long top that might shorten toward the back.
Silver babylights or black lowlights will help achieve a salt-and-pepper mane that looks the best when wind-swept.
7. Sleek Two-Length Wedge
Wedge cuts are an edgy take on short bobs. They feature longer layers around the face with the strands at the back cut short at the nape.
Snip the hair at chin-length or above for the sleek straight strands to hug the face naturally. For further asymmetry, get slanted bangs on the longer side.
8. Highlighted French Bob
Achieve a dreamy Parisian charm with a classic French bob lying at chin level. To get an off-balanced look, couple the bob with a long side fringe dangling above the neck.
Go dark with a burgundy base and red highlights for a change rather than going blonde as usual.
9. Feathered Asymmetrical Haircut
A fully feathered pixie with a voluminous top that tapers toward the sides and back is the go-to hairstyle for many senior ladies.
Ask for the same but with one side slightly shorter this time and throw in some delicate blonde babylights too!
10. Asymmetric Lob
This asymmetrical haircut for women over 50 is the simplest to achieve among all, yet it looks nothing less.
Add a funky touch to an otherwise sophisticated shoulder-length lob with soft layers that vary in length on both sides of the face. Elegant and edgy, what more to ask for?
11. Slightly Tilted Asymmetrical Pixie
Asymmetrical pixie for over 50 doesn't need to be very bold all the time. A classic pixie with a long top, short sides, and softly angled side bangs will do the job. Spice it up further with highlights.
Style the strands using your fingers and there you go!
12. Slanted Bangs with Angled Bob
Thick blunt bangs might look suffocating at the mature age of 50. Cut the strands at a sharp angle across the forehead to end up with a groovy look that is sure to drop many jaws.
Couple your fringes with a blunt bob or a graduated one instead. Your call!
13. Sharp A-Line Crop
Talking about slanted angles, how about this trendy disproportionate pixie cut? The back is clipped neatly with A-line side locks that elongate toward the front.
Again, maintain a prominent difference in hair length on both sides of the face as depicted here. A side parting will look the best.
14. Messed-Up Curly Lob
Here's another simple asymmetrical haircut idea for all the curly beauties over 50. Go for a razored bob with plenty of choppy layers and wispy tips surrounding the face.
Show off your grays with a deep side parting and enhance them further with matching highlights.
15. Asymmetrical Pixie + Undercut
Turn your short crop into a one-of-a-kind hairstyle with an undercut on one side only. Opt for straight baby bangs that are overlapped by long layers from the top flowing toward the opposite side.
Go bold and try a shaved side design too!
These asymmetrical haircuts for ladies over 50 mostly feature short lengths as they are the easiest to maintain and style. You can also get an unbalanced cut on medium to long tresses as long you have to energy to care for them. Keep the strands a little yet prominently shorter on one side and that's it!