Many women over 50 with a round face fall into the trap of thinking there are only certain hairstyles they can or should wear.
If you like the idea of having short hair but think you can't rock a pixie cut because of your round face, we're happy to show you the ways to style this trendy haircut that will change your mind.
Side parts, interesting texture, teased locks, and angled cuts are all techniques your hair stylist will use to make a pixie cut to help you look and feel your best. Take a look below!
Perfect Pixie Cuts for Round Faces Over 50
Regardless of what other hair magazines say, women over 50 with a round face can beautifully pull off a pixie cut. It's all about how you style it!
1. Platinum Razor Cut Pixie
For round-faced women who are older than 50 with a light skin tone, platinum blonde is the prettiest color for your pixie.
Give it a razor cut for shape and texture you can easily fingerstyle in the mornings before work.
2. Long Pixie with Short Bangs
If you're an Asian woman in your late 50s with naturally straight hair, a flat long pixie cut may better suit you and your round face.
We recommend short bangs that you can easily part in the middle or comb straight down over your forehead.
3. Wavy Pixie with Undercut
If you love having luscious texture in your hair or you have natural waves, this edgy pixie with wavy texture up top and an undercut is for you!
Complement the lighter hair color and skin tone with a dark pair of glasses. Women over 50 with round faces can beautifully pull off a pixie even with fine hair.
4. Spiky Short Pixie
Many women aged more than 50 with thin hair are seeking a low-maintenance haircut for their round faces.
In that case, opt for a super short pixie cut with your fine hair and create a spiky texture with your fingers. An all-over color job in a chic color, such as platinum or silver will show off the hair color.
5. Very Short Afro Pixie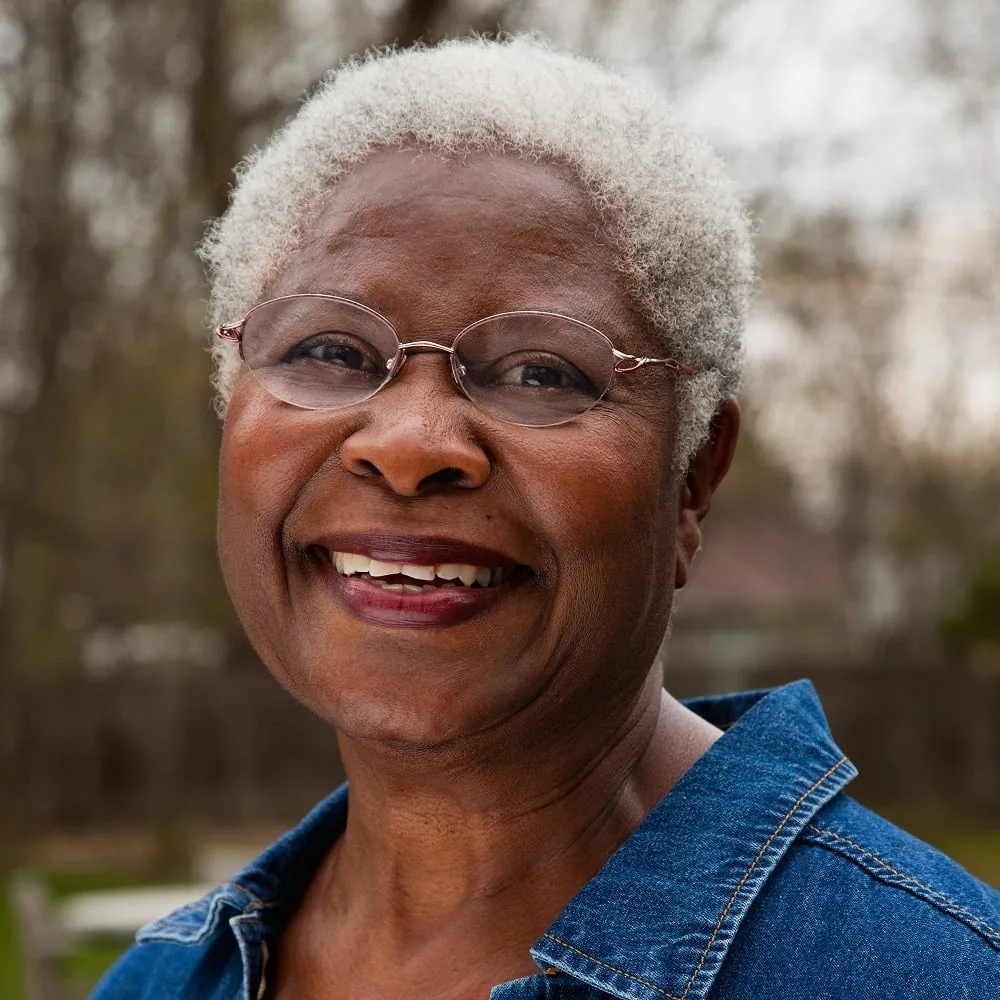 Sometimes emphasizing a curved face is a bad thing, but in this case, an afro pixie cut is perfect for Black women over 50 with a round face. We love the super short length and light blonde color.
6. Side Swept Blonde Pixie
If you are a blonde aged over 50 with a chubby face, you should try this simple pixie haircut that covers the ear.
Opt for a side part to switch up your face dimension and work a little mousse in with fingers to shape a soft texture.
7. Short and Red with Bangs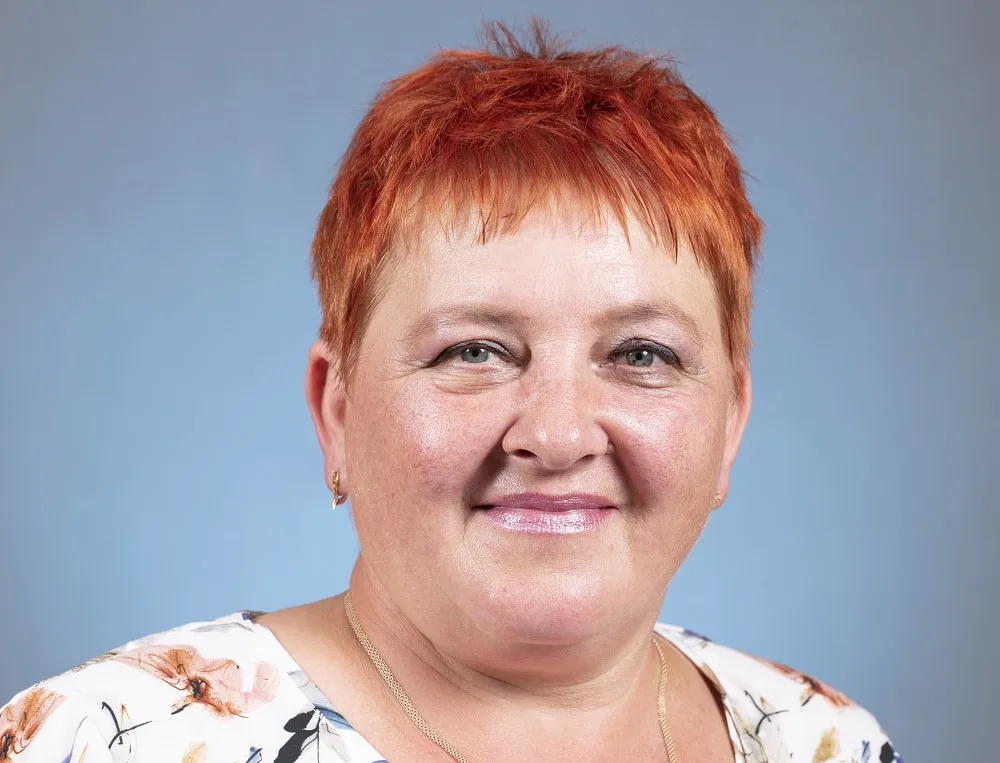 If you're an older woman with a flair for style and a love for bold hair colors, make your pixie cut pop with medium or bright red.
This spiky-textured cut features short straight bangs that help to distract from a round face.
8. Lifted Pixie for Women over 50
Another great option for women over 50 with gray hair is this youthful-looking long pixie with thin, wispy bangs.
It's been teased for volume and styled mostly to one side to give a round face a more slender appearance.
9. Side Parted with Layers
Another way to trick everyone, even you, into thinking your face is slimmer than it is is with a smooth side part. This chic style features short layers that help the hair fall in swoops against the face.
So, women over 50 with round faces can flawlessly pull off a pixie cut and it all comes down to finding the right cut and having a willingness to try something different.
Experiment with your hair texture to see how it will best flatter your round face. We're sure one of the above pixie cuts is your new look!
Trending Topic