Blonde hairstyle plus blue eyes go together like Laurel and Hardy. They are a natural double act. If you are fortunate enough to born with both attributes then you are a very lucky girl! This combination is known for being one of the most sensual and glamorous looks that you can choose from.
Best Blonde hairstyles for Blue Eyes
If you are not lucky enough to be naturally blonde haired with bright blue eyes, you can always fake it! It is possible to dye your hair blonde, although you might need to add bleach to strip away your natural color. It is also possible to buy bright blue contact lenses to change the color of your eyes!
#1: Subtle Soft Curls
Soft curls enhance the subtle sexiness of girls with blonde hair and blue eyes. This look can be complemented by soft pinks and natural shades of makeup.
#2: Light Layering
Light layering around your face can help to enhance your bone structure. Keep the layers shorter at the front to frame your face and draw the eye towards your high cheekbones.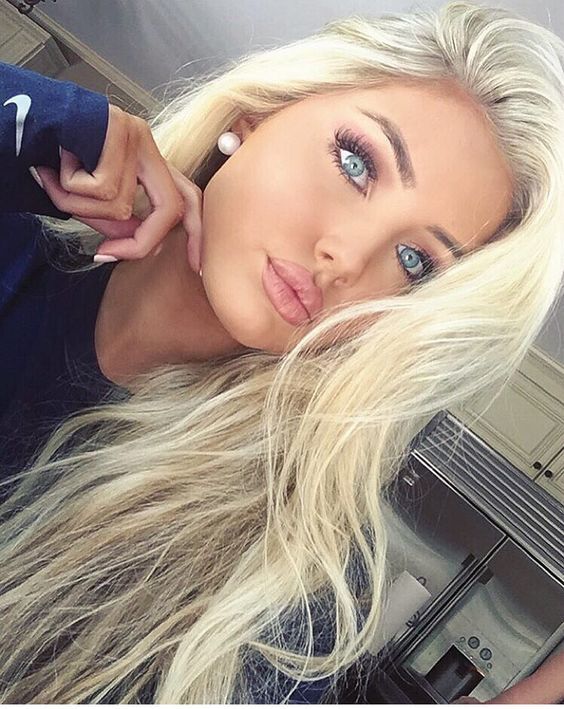 A light hair color like platinum blonde will really make your blue eyes appear brighter. The lighter that the hair color is, the brighter that it will make your blue eyes look. It creates an ice queen style.
Use ombre hair styling techniques to change your hair from a dark color into a bright blonde shade. If the transition area is close to your eyes, it will draw attention to their bright blue color.
Blonde Hairstyles for Girls With Brown Eyes
#5: Tousled Hair
Tousled hair can create a beautifully bohemian and beachy hairstyle. To get the tousled look, simply run your fingers through your hair a few times whilst it is wet.
#6: Long Hair with Glamorous Waves
Women with blonde hair and blue eyes deserve an equally glamorous hairstyle. Thick hair with big soft waves is a style which has always been known for its beauty and glamor.
Hairdos for Women with Long Hair
If you want to give your hair more texture and depth, you can try to change it using highlights and lowlights. Highlights are lighter than your base color, whereas low lights are a darker shade than your base color.
Lustrous Blonde Hairstyles for Medium Length Hair
#8: Voluminous Locks
Voluminous locks look great on blue-eyed women with blonde hairstyles. To create more volume in any hairstyle, you should backcomb your hairstyle straight from the roots.
#9: Light and Soft
Keep your hair looking light and soft by brushing through it regularly. This will help to prevent you from developing kinks, knots and tangles. The light blonde color looks great with pale blue eyes.
#10: Choppy Cut
A choppy cut is a hairstyle option for young women with blue eyes who do not want to look too manicured. A choppy cut helps to take some of the weight away from the ends of the haircut.


With a blonde hairstyle and blue eyes, you have effortless glamor. You will hardly need to try when you are hoping to impress. We hope that some of the hairstyles on our list will help to give you that special extra edge over all of your competitors.