Medium bob hairstyles are modern, chic, low maintenance, and give you a lot of gorgeous ways to style and bind your hair. You can easily adapt them to any face shape and skin color, and you will quickly get a haircut that any woman will admire.
When choosing a medium bob hairstyle, you are not choosing only a versatile haircut but also a hairdo that will make you forget about all of those often visits you do to the hair salon.
Popular Medium Length Bob Hairstyles
Are you ready to see how to style your bob in medium length? You can get a totally different look with a few simple tweaks in your hair. Scroll down to see how to rock this medium bob haircut.
1. Red Medium Bob Hairstyle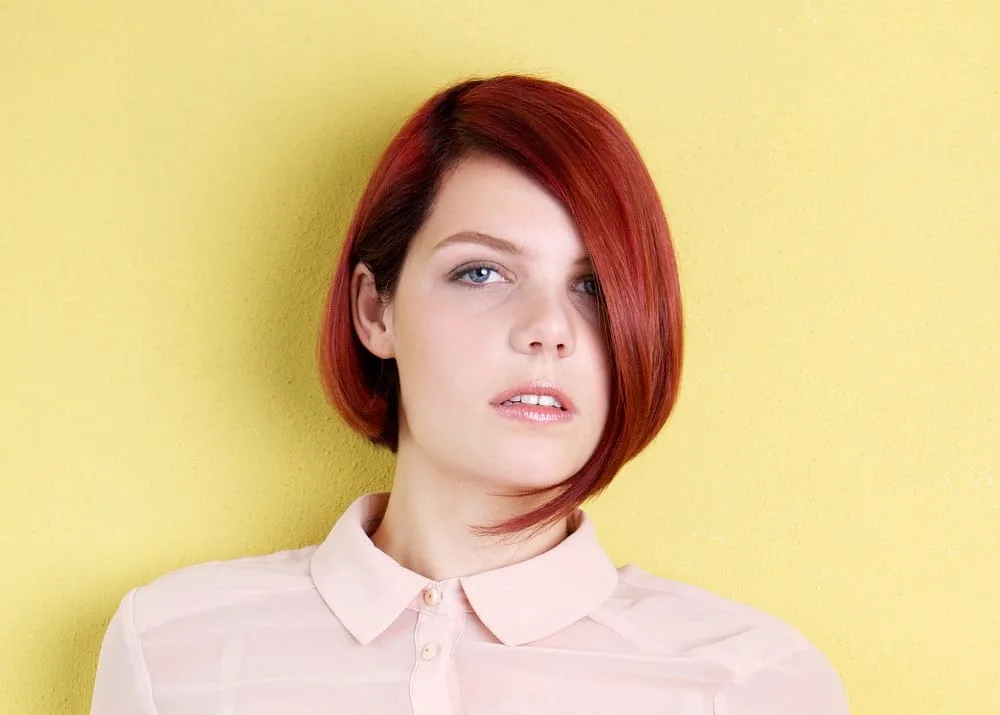 Going to the redhead team is a great change you can make but keep in mind that it is a journey that requires commitment. Red is a color that washes off easily, so you will need frequent touch-ups.
On the other hand, if you have fair skin, this color should be on top of your choices.
2. Bob with Balayage
Wandering which are your options for a low-maintenance hairstyle that is easy to style and at the same time looks incredible?
A medium bob with a blonde balayage is undoubtedly the one you should take into account!
3. Afro Bob
Having such voluminous hair can be tricky, but we all know that with the right haircut, it looks absolutely breathtaking. To pull off this look, we recommend you visit a salon that has experience cutting and managing Afro hair.
4. Two Colors Bob
Having a bold personality? Don't you mind expressing it? And this hairstyle is one of the best ways to do it. Opt for an angled medium bob hairstyle and a platinum blonde color.
If you have blue eyes, you might be tempted to create two indigo highlights. Believe us, your instincts are good, the look will be outstanding!
5. Classic Bob Hairstyle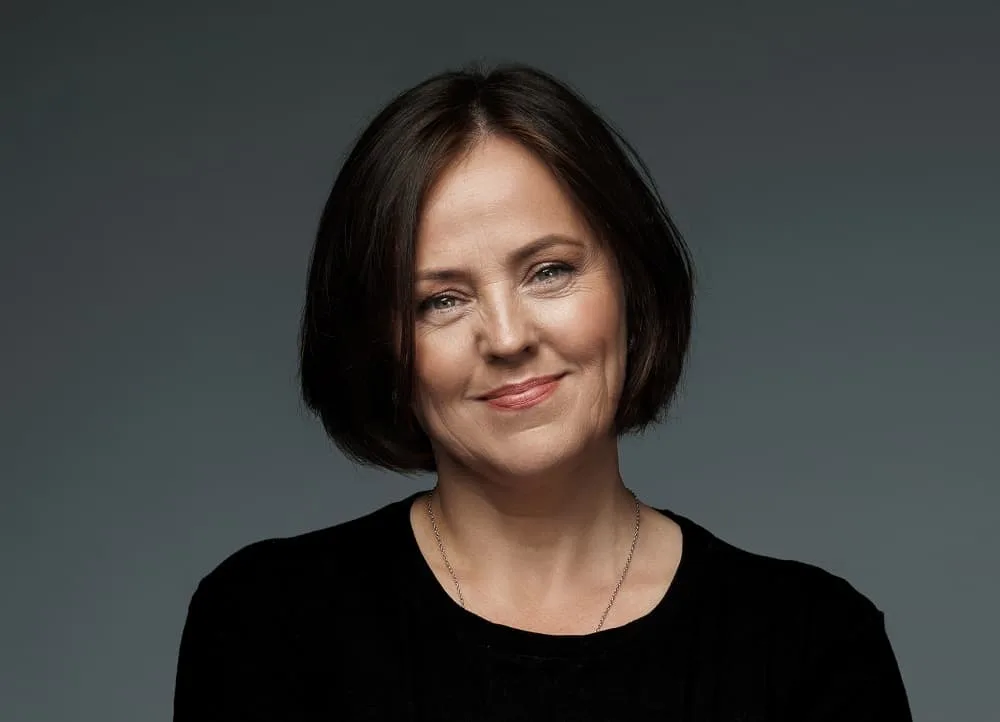 As an older woman, you might prefer a classic hairstyle that is suitable for your age. You can focus on the shape and pick a color that will complement your skin tone and even your eye color.
However, you can always use a curler if you need something more. It will make such a difference and provide the change you need.
6. Pink Bob with Headband
Spicing your look has never been easier when you have such a great color range to opt from.
So, depending on your skin tone, you can choose the most suitable bright, electric color for your medium bob hairstyle. To show off your personality, add a headband with a design.
7. Bob for Asian Girls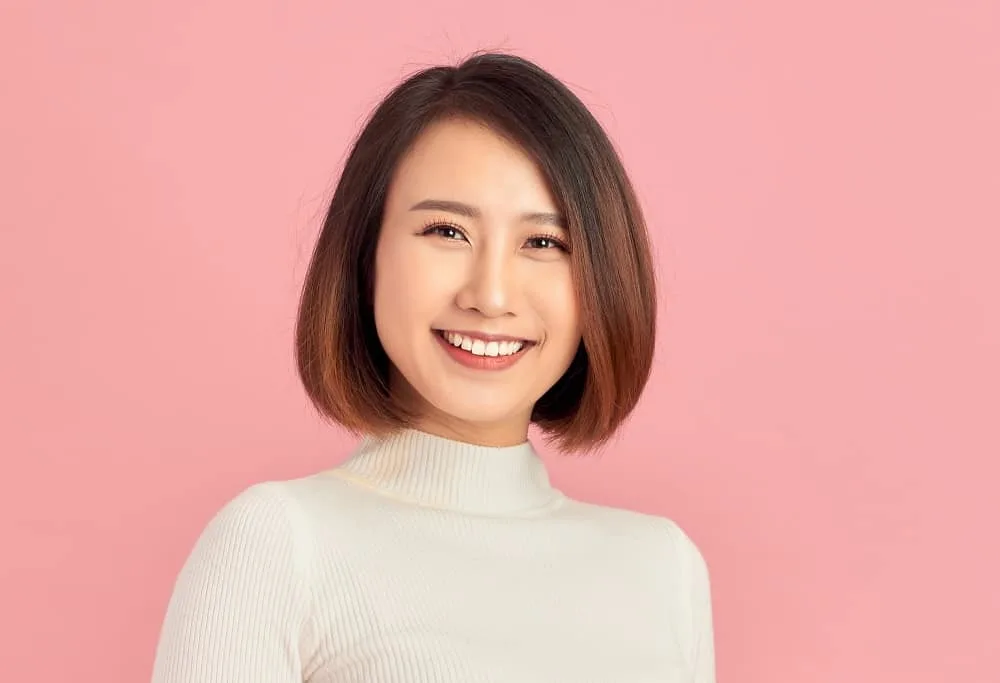 One of the greatest things about medium bob hairstyles is their versatility. They can be simple and cute, classic and glamorous, depending on how you choose to style them.
So, for days spent at the office, you can opt for this straight hair that shows that amazing brown sombre.
8. Loose Waved Bob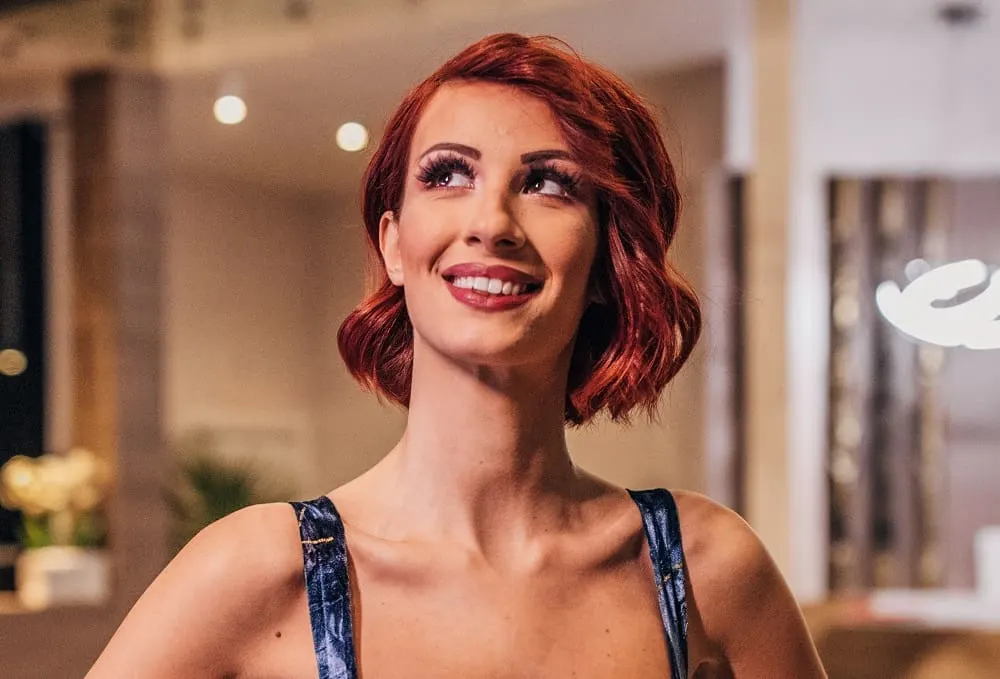 Retro-inspired looks are very trendy, and they are a great choice for a fancy party or event. The hair color is also important if you want to look fierce, so a red nuance will certainly yell confidence.
Opt for a medium bob hairstyle and wear the bangs on one side. Create volume with some big loose waves.
9. Messy Bob
Love a fun look that screams glamour? Why not go for a medium bob hairstyle in a milk chocolate blonde color with lighter tips.
Choose a platinum blonde color to create that amazing contrast and toss the top and bangs on one side. Style the tips and mess up the whole hairdo.
10. Fucsia Angled Bob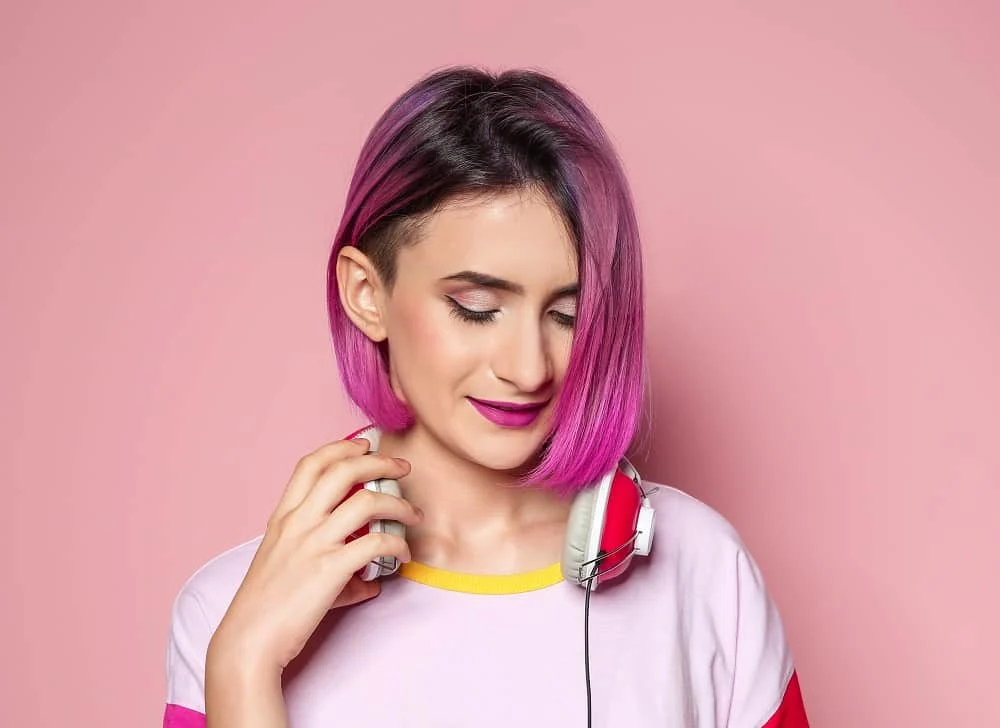 This angled medium bob hairstyle will go straight to your heart if pink and purple nuances are your thing. You can spice things up even more by creating a temple undercut on one of the sides.
Also, go for dark roots to make the hairstyle more suitable for your skin tone.
11. Medium Inverted Bob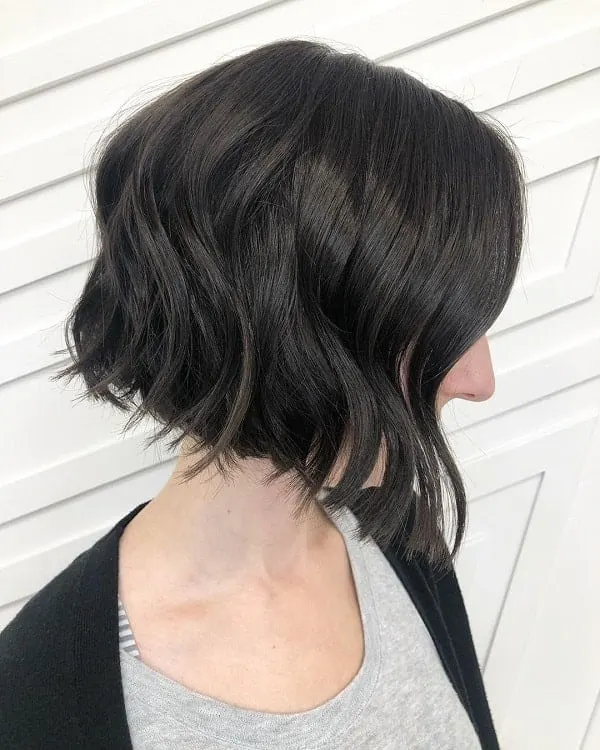 Medium inverted bobs are haircuts that are longer in front and can fantastically work with short bangs or fringe styled on one side. Get a natural color for your locks and give your strands a subtle wave for a winsome look.
12. Medium Stacked Bob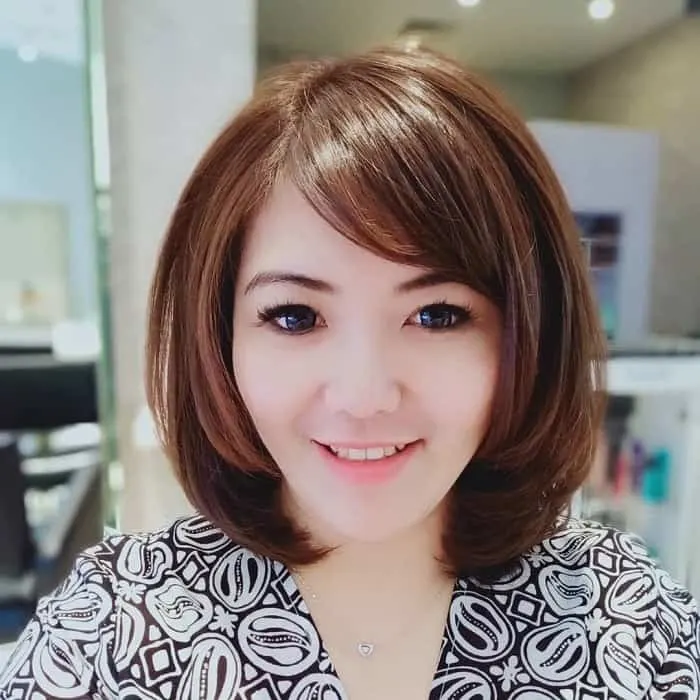 Stacked bobs get their volume from the graduated layers that you need to build. You can make the stacks shorter in front to create a stunning face frame, and you can also get longer bangs that you'll be able to part in the middle or slip on which side you want.
13. Mid-Length Bob for Fine Hair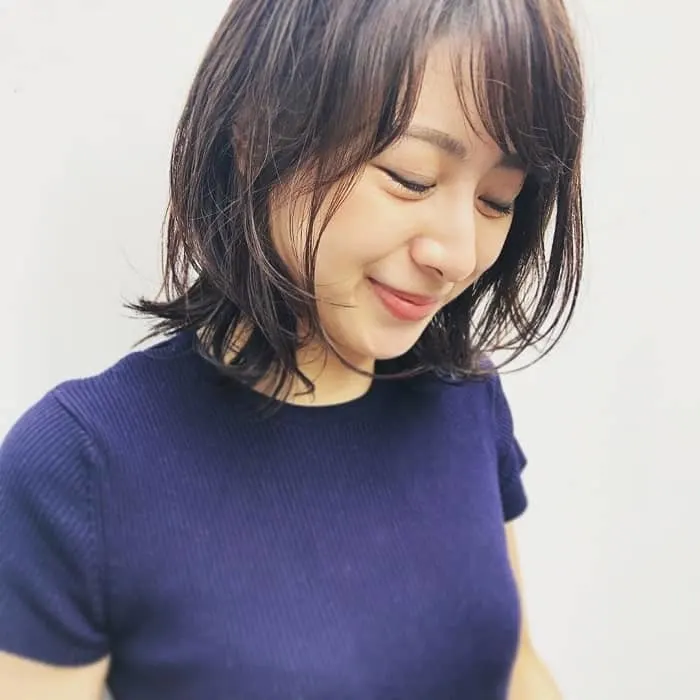 Fine hair doesn't have volume and quickly gets frizzy. If you want to change that, one of your best options to give your hair richness is to create layers. Choose a mid-length bob haircut and some bangs that go near your eyebrows.
14. Medium Curly Bob
A short or medium length hair will always give your hair the bouncing effect. Gravity follows its principles even when it comes to curly hair, so if you want them to be naturally tight, keep your ringlets shorter, in a medium-light brown for curly hair.
15. Medium Blonde Bob
If you want to master that femme fatale look, get a hot blonde straight line bob haircut. Everybody will see how sassy and classy you are, and it is all thanks to that stunning bob and your bubbly personality.
16. Medium Braided Bob
The Unicorn hair trend is ideal for girls that don't want to follow any patterns. Get a medium bob haircut with bangs and create a real rainbow in your head. Braid the sides and develop relaxed waves for the rest of your hair.
17. Medium Thick Bob
If you happen to have thick locks, you don't necessarily need to create layers. You can get the classic medium bob, that yells classiness and confidence with every strand movement.
18. Medium Bob for Round Faces
When it comes to round faces, there are a few artifices you can make to get a slimmer look. Get a medium-long bob that elongates your face and hides those chubby cheeks. You can give this hairstyle a lot of style with some faded blonde highlights.
19. Shaggy Medium Bob Haircut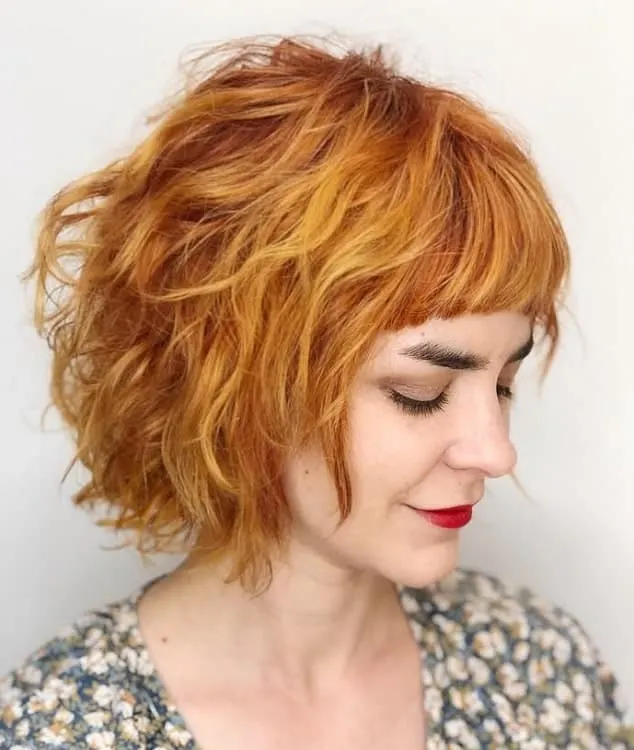 Rebel girls like you adore messy shaggy looks. Get short, round trimmed bangs that are above your eyebrows and use a diffuser to create messy waves. Tousle your hair, and you'll have a look that suits you like a glove.
20. Medium Black Bob
Such class! Make an outstanding presence with an asymmetrical bob hairstyle that is longer on one side and shorter on the other. For this haircut, you need to wear the longer part flipped on one side.
21. Medium Choppy Bob Cut
Bob hairstyles for medium length can be classy, rebel, or casual; it's your choice the way you style it. Make your haircut suit any day at the office or school by designing some smooth waves.
22. Mid-Length Swing Bob
What is the best remedy for prominent cheekbones? A proper framing that only a bob hairstyle can give you. Create an inverted bob that goes near your chin line, flip your bangs on one side and pass them over your ear.
23. Medium Bob with Side Bangs
Short side bangs gorgeously complete any medium bob haircut. Keeping your bangs like this makes your hairstyle suitable for wearing unconventional frames for your glasses.
24. Medium A-Line Bob
A black base color will gorgeously blend with your deep red crown highlights. Create an inverted bob haircut that has a dimension in the back. Also, layer your bangs and choose to wear them on one side.
25. Textured Medium Bob
Highlights do a great job at giving texture to your hair, especially if your base natural color is darker, and in a different color. Stacked bob with wavy strands gives your hair not only volume but also better defines the locks.
The easiest and most popular mid-length bob is definitely the slanted style that gives your hair more volume but also perfectly frames your face. Textured ends give you a more sophisticated look, but you can easily curl them inwards for an extra sleek look.
If you're looking for ideal medium length bob haircuts for thick hair, this is the one. This particular style gives your hair more structure, but it also allows you to control it easily for a perfect 'do.
Evenly cut bob paired with long bangs that are parted and swept aside is a go-to style for girls and women who are constantly on the go and have no too much time for complicated haircuts that require too much maintenance.
28. Simple Mid-Length Straight Bob
For those occasions when you want to look sexy without too much effort, you easily opt for this simple medium length bob. Just get a high-quality brush to style your hair properly, and you're good to go. Make sure your bob is both classy and messy to get more volume and fullness.
29. Bob and Wispy Bangs
Oldie, but goodie! This timeless bob is one of the cutest medium length bob hairstyles for fine hair. Inspired by the 90s, this cute hairstyle frames your face perfectly and looks great on all women.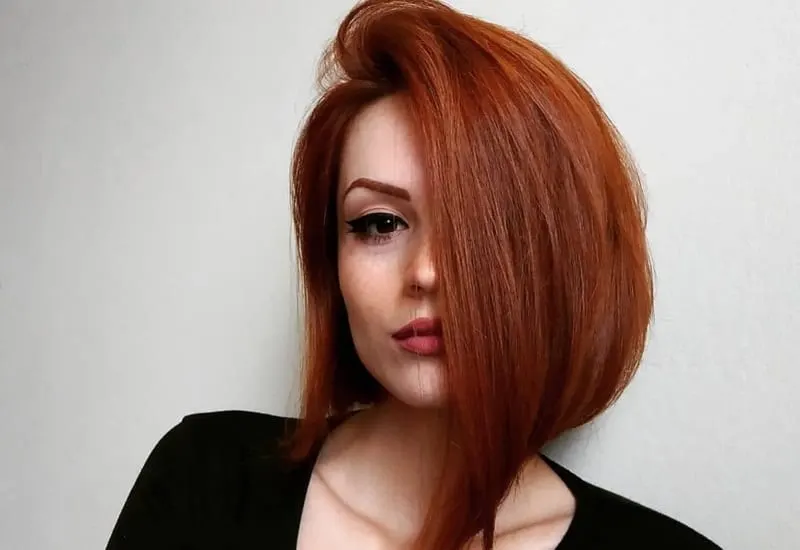 Sometimes we want to give our hairstyle more drama, particularly when getting ready for a night out. If you have medium bob, you can brush or comb most of your hair to one side for a sort of an asymmetrical look. One side would have more volume and add to your look more dramatic.
Here's a super sexy way to style mid-length bob; include bangs into the mix. Slightly curl your bob inwards and then sweep your bangs to the side. Your face appears slimmer while the accent is on your eyes and lips.

Your bob does not necessarily have to be sleek and straight all the time. One of the cutest ways to style this haircut is to create gentle waves. What makes this particular style awesome is that it's also in the group of medium length bob hairstyles for thick hair, which is important because women and girls with fine hair often feel like their choice of 'dos is limited.
33. Messy and Wavy

Get the effortlessly chic look with messy bob on medium hair that adds volume to your hair. All you need is to use mousse to create the style you want and tousle hair strands a bit to create the "bed head" effect.
34. Bob with Red Highlights

For a vibrant and refreshed look, you can add red highlights to your medium length bob. Red highlights give your hairstyle more edge. The shade of red depends on you; it can be a subtle wine red hair or a striking fire red hue.

It's not easy to find medium length bob hairstyles for fine hair which is why you'll love this one. Style your bob gently using a good brush and part your long bangs in the middle. Bangs will frame your face perfectly and also give more volume to your hair.
36. Green Strands

Adventurous girls who want to stand out may want to add green highlights to their mid-length bob. Green is an unusual color for highlights and gives you more edge. At the same time, it adds more playfulness to darker hair.

Feeling extra adventurous? Then change your hair color entirely. Instead of standard dark, red, or blonde opt for lavender. This lavender mid-length bob haircut is a great option for girls who love edginess in their hairstyle, especially for the upcoming spring and summer festival season.
If you're looking for a timeless hairstyle, then ombre hair is definitely a good choice. Ombre is chic, classy, and fun at the same time. Upgrade your middle length bob with nice ombre, and you'll feel amazing instantly.
39. Baby Bangs and Mid-Length Bob
Channel your inner vamp lady with this amazing medium bob and short baby bangs. What makes this hairstyle so awesome is that it can make you look classy but also like a punk rock chick, depending on the makeup and outfit you choose.

Full bangs give your face more definition, but they also have a slimming effect and accentuate your eyes. Plus, this is also one of the cutest medium length bob hairstyles for thick hair. Sleek bob is always trendy regardless of how old are you and what year it is.
A common misconception is that you can't really do much with a medium bob haircut. You can just blow dry your hair and use a brush, curler or straightening iron to style it and that's it, right?
Not really! You can create amazing updos with waves that will add more volume to your hair and contribute to the playfulness of your haircut. Try it out.
Braids are for long hair only?! Not really. You can create a cute braid that will also act like a headpiece or accessory that makes your hairstyle romantic and chic. To complete the look instead of sleek bob opt for messier kind.
Speaking of braids, he's yet another cool hairstyle that you'll love. Unlike the above style that features one braid and messy medium bob cut, this one calls for sleek bob and two braids. Lovely braids from each side merge in one tiny tail at the back thus acting as a sort of a bandana or a tiara suitable for more formal occasions.
44. Red Blunt Bob
Redheads have more fun and if you've ever wanted to rock this hair color now is the perfect opportunity to do so. Red blunt medium length bob cut will update your image, which is exactly what all of us need from time to time.
Add more color to your dark haired medium length bob through purple balayage highlights. Purple is a fun, playful and edgy hair color, but at the same time it easily blends with dark hair and is suitable for more formal occasions and events too.
46. Colorful Highlights
Here's a perfect hairstyle for all girls and women who love to experiment with their hair. Instead of introducing a few highlight strands to your bob on medium length hair, you can go one step further and get plenty of colors to create a vibrant and colorful style.
47. Razor Cut Bob
Mid-length razor cut bob has a lightweight feel to it. Versatility is probably the best feature of this 'do. Due to the layered texture, you can style this medium bob haircut in different ways including curling, braids, pulling it back, you name it.

You're the type of person who loves old movies when women had romantic and sleek hair? Totally understandable, they looked so classy, and it's perfectly natural to want to emulate their style.
If yes, this vintage hairstyle is perfect for you. Style your one-length medium bob in waves that resemble the chic finger waves, and you're done.
Gentle layers of this mid-length bob "open up" your face through youthful effects. Use a nice mousse to boost the volume of your hair. If you're looking for a hair color change, then buttercream hue is a good solution.
Warmer days are here, and they call for a softer hairstyle that shows off your playfulness and warmth. You can easily achieve that effect through soft, beachy waves typical for Californian girls with this medium bob cut.
What makes medium length bob so great is the fact it doesn't require too much maintenance to look perfect at all times. Now that you know how to style this haircut you're ready to rock it.
Don't wait, schedule an appointment and see your hairstylist today. Remember, you can pull off any look you want with a little bit of creativity and imagination.