Are you looking for a super cute braided hairstyle that expresses romantic charm? Try a cute heart-shaped stitch braid hairstyle!
This cute hairstyle will show your romantic side, boost your personality, and test your braiding skills. Also, this stunning braiding technique will allow you to add a pop of color and get other creative patterns.
Beautiful Heart-Shaped Stitch Braids to Try
Stitch braids in a heart shape are one of the cutest braided hairstyles you can get. So, let's explore some of the most lovable plaits!
1. Heart Parting
Firstly, you will need to prep your hair with a mousse or jam that prevents frizz and won't revert your curls. Once the hair is prepped, use a comb to do a zig-zag and a heart parting.
Feed in the braids with blonde and black hair extensions, lightening up the braids. Use a toothbrush and hair gel to arrange your baby hair.
2. Red Heart Braid
For these stitch braids with heart-shaped Dutch cornrows, section the hair on each side. For the top, you will create rows and add the extensions as you go on.
Choose a point in the middle of your forehead and start knitting your cornrows. Decorate each braid with multiple golden hair rings.
3. Side Heart
Spice up a regular cornrow hairstyle with some simple shape-hearted braids on the sides. Once you've finished the braids, gather them in the back.
Roll the braids and create a nape low bun. Style the baby hairs, and give them a wavy shape.
4. Feed In Braids
If you want a color mix between red and reddish pink, then you will need to dye the crown hair, and keep the sides in their natural color.
Do a middle part and on each side, on the top of the head, create heart braids. Feed in the braids with hair extensions to gain thickness and length.
5. Snake Braids
You can beautifully blend different patterns for your cornrows. Do stitch braids with hearts for the sides, regular, straight braids, and wavy plaits that look like moving snakes.
You can feed in the braids with black and blonde extensions to add a pop of color.
6. Crisscross Cornrows
Instead of doing your feed in braids straight, do a wavy parting and add extensions to keep them thick and tight.
In the back of your head, create a small heart out of two cornrows, then integrate them into braids. Keep your plaits long and use a thick knit to create and secure the low ponytail.
7. Large Side Heart
This intricate hairstyle features several braids with highlighted partings and braids in the shape of a heart. Spare the sideburns and use edge control gel to style curls for the hairline.
In the back, connect the braids in two buns in the corners of your nape.
8. Top Braided Bun
A young stylish lady will instantly fall in love with this hairstyle. Two inches from the forehead hairline, style two braids that you will curve to obtain the shape of a heart.
Create three braided hearts and gather all these on the top of the head and pin them in a bun. The rest of the plaits should be kept untied and decorated with seven colored beads.
Watch some amazing heart braids:
9. Connected Plaits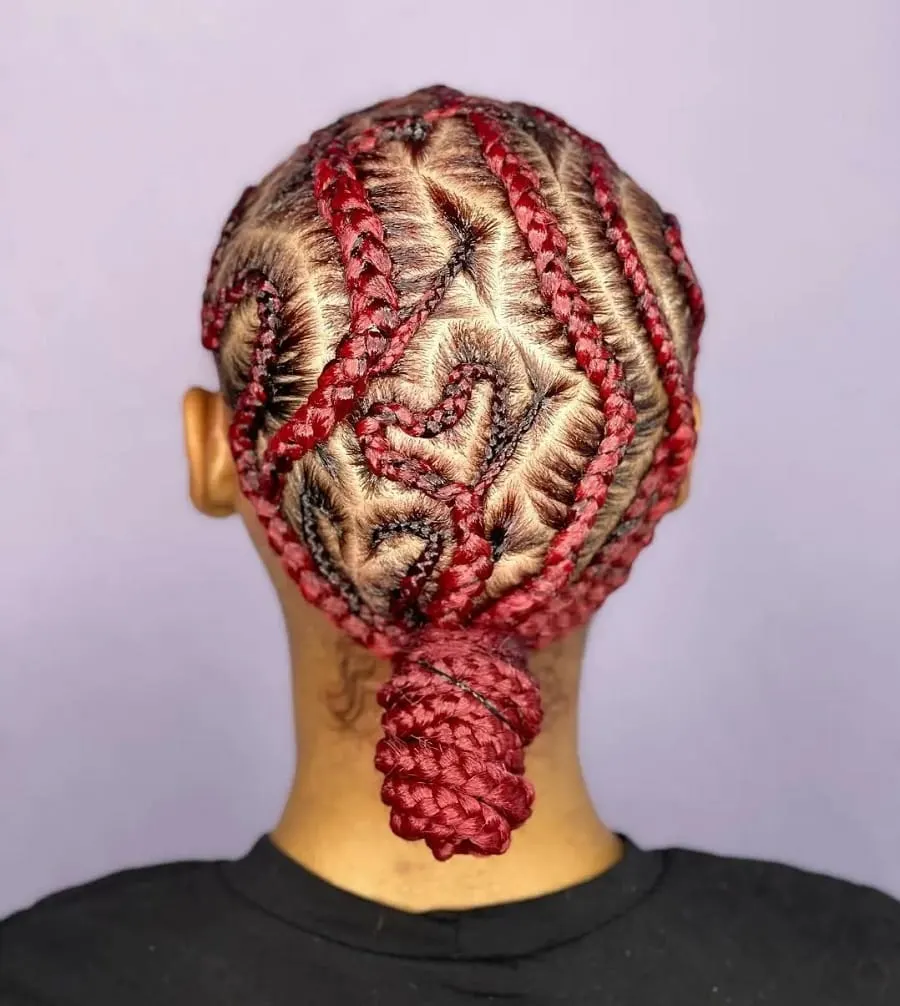 Stitch braids can help you create unique designs with hearts, wavy plaits, or feed-in knits. For this hairstyle, you don't need to follow a strict pattern; be creative and combine different braiding techniques and shapes.
Keep your roots in their natural color and add red hair extensions as you go along with your braid.
10. Back Heart Shape
Combining curly hair extensions with your naturally wavy hair will help you achieve marvelous plaits that you can shape however you like. And heart patterns look incredible, especially when you also pull off two cool young low buns.
Keep the curly tips untied so you show off some texture.
11. Braids with Wavy Hair Extensions
If you love voluminous hair, then you should certainly try this amazing hairstyle with a weave and braids. On the side, connect two curved braids and give them the shape of a heart.
For the top, opt for stitch braids that you feed in with extensions. To get more volume for the back, opt for a long wavy weave.
12. Half Pony
A half-up half down braided hairstyle is so cute and a great idea for young girls and teenagers. Except for the sides, create tight box braids.
You will secure the crown plaits in a ponytail and let the rest of your knits loose. For the sides, do a heart-shaped pattern and feed in the braids with red hair extensions.
13. Peekaboo Braids
These side stitch braids with a heart shape will look absolutely breathtaking if you add rainbow hair extensions.
For the rest of the hair opt for simple peekaboo braids that you can swipe to one side. Roll the tips on a rod and dip them into hot water to gain those curly braids.
14. Braids with Black Beads
Decorations will make your stitch braids with heart design look even more eye-popping. Go for wavy partings so your braids will have a curved pattern.
Also, to get a pop of color, use red hair extensions to create a few vibrant plaits.
15. Braided Space Buns
For this amazing hairstyle for girls, you will need to do a middle part that will act as your starting point for the plaits. Direct them up and to the side so you will be able to create two top-space buns.
In the lower back, do another section where you will style two heart-shaped braids, decorated with yellow translucent beads.
16. Thick Braided Ponytail
Combining side heart braids with a long, red, thick ponytail will certainly transform dull red hair with outgrown roots into a statement look.
Use an edge control gel, and thoroughly comb your hair. Using hair extensions, braid the heart cornrows and do a pony. Attach the faux pony and loosely braid it.
Impressed by these lovable stitch braids with a heart design? Then grab your edge control, brushes, combs, and hair extensions and build a breathtaking braided look.