French braids have been a popular style for hundreds of years and have a lot of significance to different groups of people. For many people, a French braid is more than just a hairstyle; it is a cultural thing. Whether you are looking for a hairstyle which helps your to express your culture or whether you want a style which you can use to "wow" people, then you will definitely find the right choice for you in this list of 70 unique styles for women who love to French braid their hair.
Variations of the Classic French Braid Hairstyles
The reason why we have been able to compile such a long list of French braid styles is that there are a lot of different variations of the classical style. A French braid will normally include three different "strands" or sections of hair which have been woven together. A fishtail braid or a Grecian braid may only use two strands or sections instead of three. Lots of miniature French braids are often called cornrows. Cornrows are considered to be a very important cultural symbol for many African-American people. In addition to this, there are lots of other variations, as you will see in the list which follows.
#1: Chunky Braids with Wrapped Fringe
If you have African textured hair, then chunky cornrows (French braids) are an excellent way to control your hair. Wrap portions of your fringe around from one side of your head to another.
#2: Chunky Cornrows
For a big, bold statement style, plait your hair into chunky cornrows. This is a great way to keep your hair looking smart for the workplace.
#3: High Plait Bun
Natural hair have be relaxed and then woven into chunky plaits. You can then fold your plaits around one another to fashion your style into a cool plaited chignon bun.
#4: Cornrow Up 'Do with Loose Sections
Pull your plaits up into a retro up 'do style with a freestanding fringe. Leave a couple of tight French plaits down at either side of your face to help to soften your look.
#5: Cornrows with a Fohawk
Style your rows so that they follow the curve of your head and create an attractive pattern. Bring them together in the center of your head to give yourself a cool fohawk style.
#6: Two Chunky Buns
Plait the front section of your hair together and then wrap the plait around itself to create a top knot. Do the same with the rear section of your hair to create a second knot for a unique new style.
#7: Latticed Braids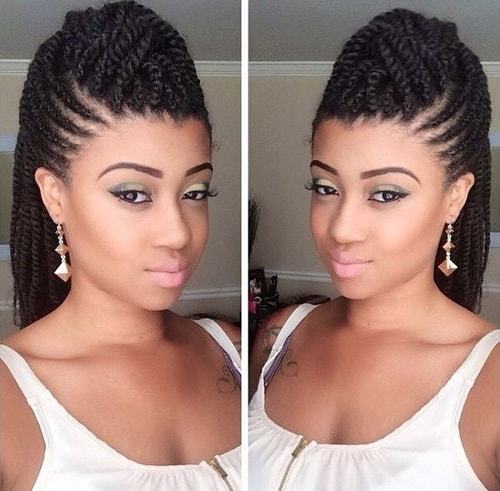 Weave individual cornrow under and over one another on top of your head to create a latticed look. Scrape your hair back into a high pony tail.
#8: Curly Tips
Plait the hair nearest to your scalp into small, tight cornrows. Leave the ends of your hair free to curl naturally which will help to create a beautiful, voluminous look.
#9: Braided Bun and Crown
Wrap a thick braid over your forehead to create the impression of a braided crown. Pull equally thick French plaits up into a classic bun style at the rear of your head.
Looking for a unique braid? Try these box braid styles
#10: Layered French Braids
Whether your braids are natural or artificial, you can create a layered look by incorporating different lengths into your hair. This hairstyle looks great for everyday glamour.