Two-toned hair is basically exactly what it is named – the hair is two different tones and it's usually done top and bottom, left and right or front and back, but there really is no set rules to two-tone hair besides having two colors in the hair.
Implementing color into your style is a task that is not cut and dry. As a matter of fact, this leaves open a whole new set of rules when it comes down to how you color your hair and what color(s) you intend to use.
While many women opt to keep their hair shades on the natural side of the spectrum, there are those of us who like to go out on a limb and do something daring, having two-tone hair being one of them.
Light and Dark Auburn Hair Colors to Try Now
DIY – How to Dye Two Tone Hair
A lot, if not most, two-tone jobs are done at home, mainly because it's fairly easy to achieve. All you need is your hair colors(s), bleach (if your hair is brown or black), a comb, clips, shampoo, and conditioner.
You will want to part the hair however you'd like for the two-tone to be, so if you want a top and bottom dye, then part the hair horizontally down the middle. If you want a left and right dye, part the hair down the middle vertically, and etc.
Here are some step-by-step instructions on how to achieve two-tone hair at home.
Lift your color if you need to by bleaching the hair. This is especially important if you want for your color to have a vibrant finish. Once the bleach is thoroughly washed out, apply your color(s) to the hair and let them sit for the allotted amount of time. You may want to apply your base shade (darker color) first because that will take longer to set. Wait until your hair has reached its desired color, rinse and wash out completely followed up by a conditioner.
Best Two-Toned Hair Color Ideas
Now that you have a good idea on how to achieve this color trend on your own, here's some inspiration with 35 of our favorite hairstyle ideas with two-tone hair color:
1. Pink and Purple Two-Tone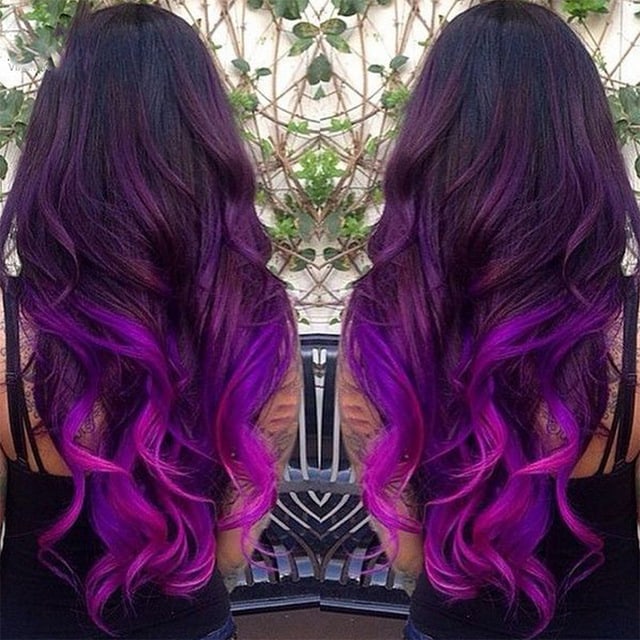 Purple two-tone hair has grown as a popular choice. Pairing it with pink makes a vibrant and fun finished product that is to die for.
Strawberry Blonde Hair Color Ideas
2. Grey and White Two-Tone
If you're a big fan of grey hair, why not take it a step further by incorporating a block of white in there? This two-tone grey color is also great for women who are going grey but want a different option in terms of color choices that won't leave them looking "elderly."
Beautiful Poetic Justice Braids for Women
3. Dark brown and Grey Two-Tone
The grey and dark brown two-tone is also a great option for women who are beginning to grey in the front of their hair and not the back. This short haircut gives the hair some badass vibes while the color shows off her personality.
Another more popular two-tone combination is pairing blonde with brown. More often than not you'll see brown as the base color with blonde at the top, giving off a semi-ombre look without the actual "ombre."
5. Pink and Black Two-tone
This playful yet badass hair color combo is a hit. The light pink softness counteracts with the dark black side of the hair, almost giving her a good girl/bad girl vibe. Maintaining a clear middle part is essential to achieving this look. While you'll honestly only have to bleach the one side of your hair, it is important to apply each color evenly so that it doesn't bleed into the other one.
6. Pink and Blue Two-Tone
Harley Quinn was getting a lot of play last year thanks to the new Marvel movie. Many women opted for this pink and blue two-tone in order to pay homage to the character.
7. Pink and Blonde
This pink and blonde two-toned hair color is beautifully done. The front has been colored pink and has some blonde intermittently throughout.
Blonde Highlights on Dark Brown & Red Hair
8. Black and Blue Two-Tone
This dreamy blue sits like a beautiful puff cloud over her head. The combination of this vibrant blue with her black/dark brown hair is definitely jaw dropping as it compliments her skin tone and is far from overbearing.
9. Blonde and Red Two-Tone
If you're a red-head looking to spice things up, why not try framing the face with some blonde? This red and blonde two-tone color idea will draw attention directly to your face since that's where the highlight color sits. Not only will this brighten up your look, but it will also offer you some great variety in terms of styling.
10. Blonde and Blue Two-Tone
We love the vibrancy of this color combination and it's clear to see why. This electric blue stands tall alongside its blonde companion, making it pop like never before.
11. Honey Blonde and Brown Two-Tone
This adorable two-tone combo is a popular balayage option and can be achieved right at home, for the most part. Keeping your curly hair healthy once it has been bleached is very important if you want your colors to remain vibrant.
12. Blonde Bang Two-Tone
If you want the two-tone hair look with only a fraction of the effort, then try just bleaching your bang. Not only will this draw attention to your face, but it will give you that two-tone look without you having to bleach a large portion of your hair in order to achieve it.
13. Metallic Blue and Pink Two-Tone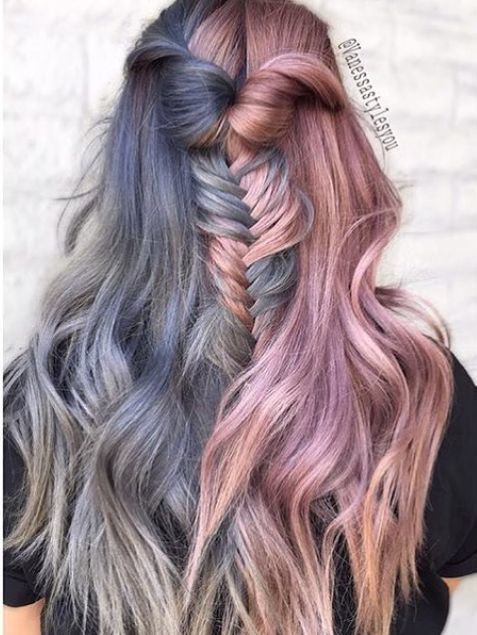 This two-tone style features an ashy metallic blue and a peachy metallic pink color that intertwines so wonderfully. If you're looking for a majestic color combination, then this may just be your best bet.
14. Orange and Black Two-tone
This fiery, rusty orange color couples beautifully with its black counterpart. This two-tone fro is definitely one after our own hearts and the overall awesomeness that this look portrays definitely makes this color combo one of our favorites.
15. Honey Blonde and Brown Tapered Two-Tone
This women's tapered haircut rocks a two-tone so effortlessly as the top is bleached blonde while the remainder of the hair is left brown. This gives the style an almost naturally occurring blondeness that is seen among brunettes who spend a decent amount of time in the sun.
16. Dark Grey and Black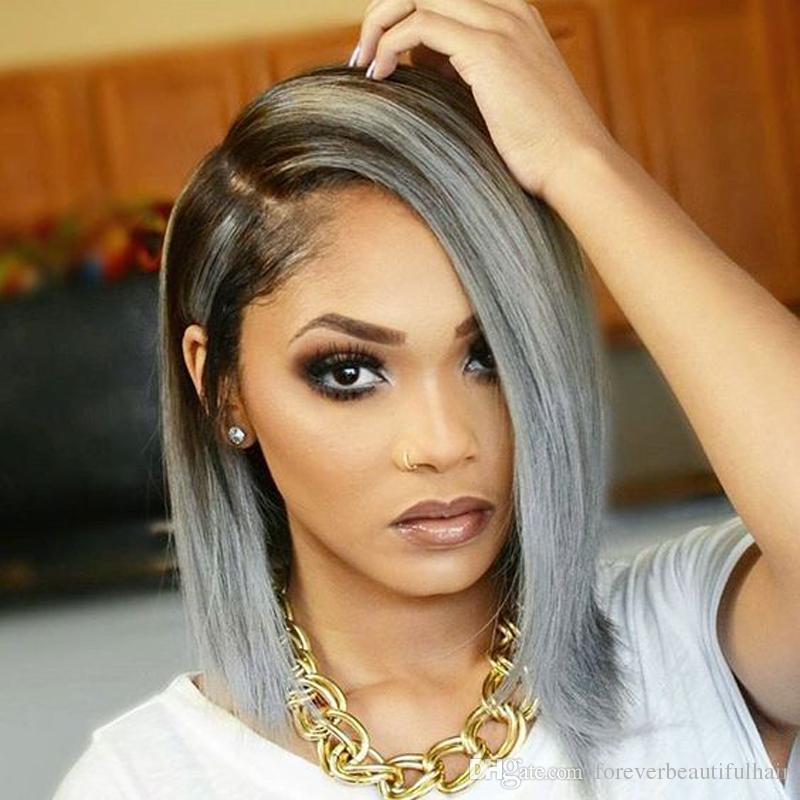 Dark black roots coupled with this dark blue grey is totally chic and beautifully done. Not only does this two-tone color combo look good on women of any age, but its timelessness also looks good in pretty much any style.
17. Black and White Two-Tone
As achieved by this wig, this black and white ombre two-tone is a gorgeous combination. Not only does it fade from black to white effortlessly, but it's sleek and chic and can be rocked by women of any age.
18. Grey and Green
Green hair never looked better, coupled with grey roots that make the color pop without being too harsh. The transition between grey and green is smooth and this two-tone hair color is definitely something to envy.
19. Blue and Purple Two-tone
If you love purple hair and want to spice it up a bit, add a splash of blue. Making your bangs blue will highlight the vibrancy of the purple and make it pop. Not only that, but coupling blues with purples is pretty much second nature.
20. White and Purple
Who doesn't love a splash of purple, right? If you're a platinum blonde lover then adding a hint of purple to the hair will definitely liven up your look. You can opt to place the purple right in the front as pictured or you could place it on the bottom for more of a peekaboo effect.
Young girls are the main candidates for wearing two tone hair like this one. It looks teenage, full of life, and it is quite eccentric. One half of your hair should be dyed in teal blue and other in purple. For the great party look, make two pigtails and secure them with colorful or neon elastics.
22. Lavender and Black Hair Halves
Lavender is surely a hair dye that will catch all the attention, wherever you appear. But dyeing your half is something that will definitely earn you popularity. While the lavender purple hair takes one half of your head, the classy black should be on the other side, making a perfect balance. Try it on long hair, the results will be perfect.
Ombre is one of the ways to get two tone hairstyles. It is simple yet very effective and also very attractive. You can wear this hairstyle, whether you have 13 or 33. It is very appropriate for workwear as well, so you don't need to worry about the dress code. This copper shade is excellent for women with colder skin tone.
24. Two Tone Orange Hairstyle
Orange hair dye is definitely something we don't see every day. However, this girl was brave enough to try it. Not only that, she decided to go for two tone hairstyles. Her fringes are made to go at sides, and they are dyed in platinum white. The rest of her hair is orange and styled with beautiful large curls.
Teal and pink make an amazing combination. It is great to try this combo when picking your next outfit. But, what about the hair? Teal and pink can make your two-color hair appear even more interesting than anything else. You can curl your bangs as well as the rest of your hair to get an amazing festival look.
26. Red and Platinum Combination
The bright chocolate red hair color is hard to maintain, but it is amazing to wear. You can absolutely make an amazing combination by mixing platinum blonde and red dyes together. This two tone hairstyle will result with great and quite eye-catching hairstyle, that no one will resist commenting.
This hairstyle is ideal for younger girls that still don't want to dye their hair completely. So, make your hair look two-toned by leaving your roots untouched and natural, while dyeing ends in bright pink shade. Your hair will look appropriate still very eye-catching for all your friends.
28. Black Underneath
While it is typical for roots to stay dark and the rest of the hair to be lighter, this 2 tone hair shows us the contrary. Here you can see that roots and half of the hair are dyed in the golden blonde shade, while only a few strands of hair are dyed in black. Enough to make a statement!
If you are not interested in making a complete two tone hair look, then you can turn to this example. While your platinum blonde hair is great and looking healthy, there is a small part that is dyed in pink. That strand makes your hair two-colored, but still great for everyday wear.
Pink hair is eye-catching enough, but if you want to make it more attractive, combine it with orange. Yes, you have read well – these two shades are complementary to each other and make an amazing mix. Your future 2 tone hair should be bleached before dyeing it pink and orange, don't forget that.
From regular golden blonde hair, you can get an amazing toned and summer-ready hairstyle. Mixing hair dyes is something great, so don't run away from it. Purple, pink, as well as your golden blonde shade, makes an amazing colored hairstyle that reminds us of mermaids.
32. Burgundy and Red
Red is washed out easily, but the fact is that it looks wonderful on our heads. Dark red, aka burgundy, is located in hair underneath the first layer. It can be shown off when you make an updo or you wrap hair in a bun. This two tone hair coloring great for all girls who like to wear fiery red hair dyes.
33. Two-Toned Twists
Cornrows are also known as a protective style for all girls who want to keep their natural hair healthy. They are most popular among African-American women because cornrows represent a part of their culture. We should all thank them for introducing us to this style of braiding hair! These twists look more than interesting for daily wear.
Space buns are one of the easiest and most fashionable styles to work with. They are great for both daily wear when you are at home, and for parties, festivals, etc. These buns can appear even more attractive if you decide to dye them in pink and yellow.
Braids on long hair will protect your hair, as well as make your summer outfits look cooler than before. Just dye some of your braids and go for some eye-catching shade, such as platinum blonde. Your two-toned hair never looked better.
No matter which colors you choose, the concept of the two-tone hairstyles is definitely one that is incredibly awesome when executed correctly. If you want to try a two-tone style but aren't too confident in doing it yourself, head to a professional stylist with pictures of how you want your end result to look and they will take great care of you and your hair. Which color combination is your favorite?