Two-toned hair is basically exactly what it is named – the hair is two different tones and it's usually done top and bottom, left and right or front and back, but there really is no set rules to two-tone hair besides having two colors in the hair.
Implementing color into your style is a task that is not cut and dry. As a matter of fact, this leaves open a whole new set of rules when it comes down to how you color your hair and what color(s) you intend to use. While many women opt to keep their hair shades on the natural side of the spectrum, there are those of us who like to go out on a limb and do something daring, having two-tone hair being one of them.
Light and Dark Auburn Hair Colors to Try Now
DIY – How to Dye Two Tone Hair
A lot, if not most, two-tone jobs are done at home, mainly because it's fairly easy to achieve. All you need is your hair colors(s), bleach (if your hair is brown or black), a comb, clips, shampoo, and conditioner.
You will want to part the hair however you'd like for the two-tone to be, so if you want a top and bottom dye, then part the hair horizontally down the middle. If you want a left and right dye, part the hair down the middle vertically, and etc.
Here are some step-by-step instructions on how to achieve two-tone hair at home.
Lift your color if you need to by bleaching the hair. This is especially important if you want for your color to have a vibrant finish. Once the bleach is thoroughly washed out, apply your color(s) to the hair and let them sit for the allotted amount of time. You may want to apply your base shade (darker color) first because that will take longer to set. Wait until your hair has reached its desired color, rinse and wash out completely followed up by a conditioner.
Best Two-Toned Hair Color Ideas
Now that you have a good idea on how to achieve this color trend on your own, here's some inspiration with 35 of our favorite hairstyle ideas with two-tone hair color:
1. Pink and Purple Two-Tone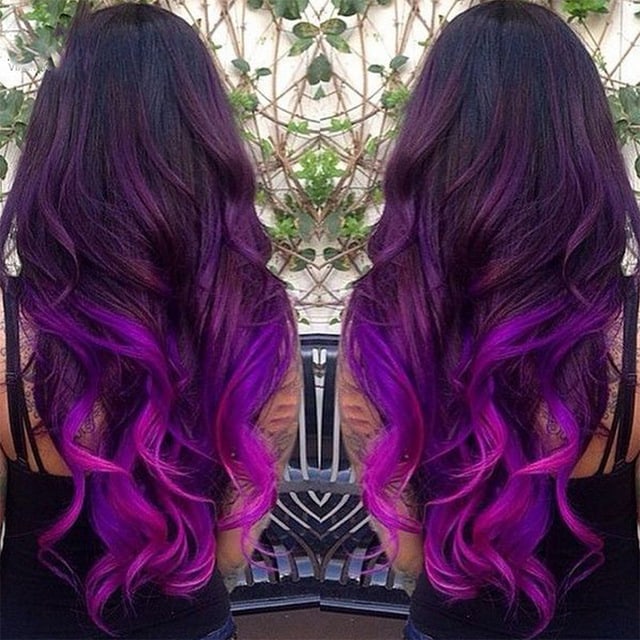 Purple two-tone hair has grown as a popular choice. Pairing it with pink makes a vibrant and fun finished product that is to die for.
Strawberry Blonde Hair Color Ideas
2. Grey and White Two-Tone
If you're a big fan of grey hair, why not take it a step further by incorporating a block of white in there? This two-tone grey color is also great for women who are going grey but want a different option in terms of color choices that won't leave them looking "elderly."
Beautiful Poetic Justice Braids for Women
3. Dark brown and Grey Two-Tone
The grey and dark brown two-tone is also a great option for women who are beginning to grey in the front of their hair and not the back. This short haircut gives the hair some badass vibes while the color shows off her personality.
Another more popular two-tone combination is pairing blonde with brown. More often than not you'll see brown as the base color with blonde at the top, giving off a semi-ombre look without the actual "ombre."
5. Pink and Black Two-tone
This playful yet badass hair color combo is a hit. The light pink softness counteracts with the dark black side of the hair, almost giving her a good girl/bad girl vibe. Maintaining a clear middle part is essential to achieving this look. While you'll honestly only have to bleach the one side of your hair, it is important to apply each color evenly so that it doesn't bleed into the other one.