For centuries, braids have endured as a symbol of beautiful femininity. While the styles have been updated and evolved upon, braids in general are truly timeless. When it comes to your wedding day, you'll want to look back years from now and be happy with your hairstyle, so what better way to wear your hair than with a stunning braided style?
Wedding Braids
If you're in need of some serious inspiration for your big day, keep scrolling to take a peek at the best styles we have to offer.
1. Low Crown with Braid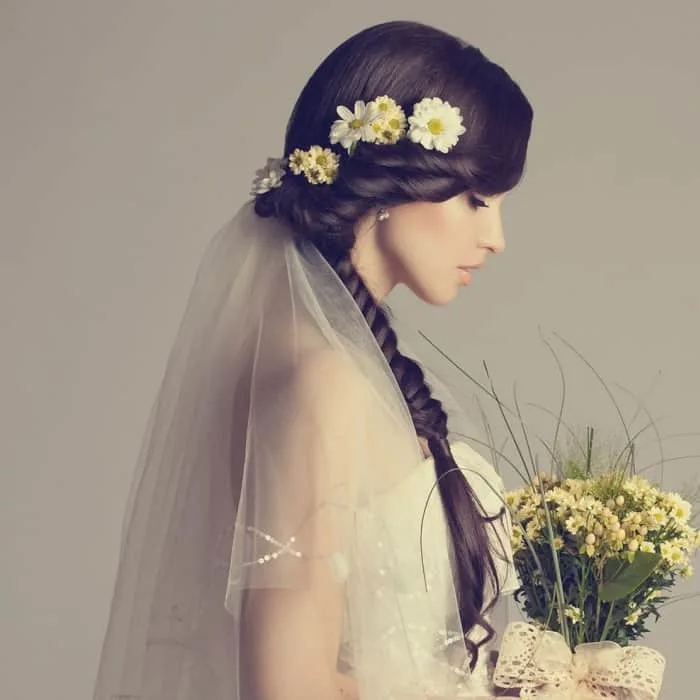 Braids allow you take the simplest of styles and make them your own. Try a low crown with your wedding hair down with braid. Add flowers for the perfect framing touch.
2. Loose Braided Up-do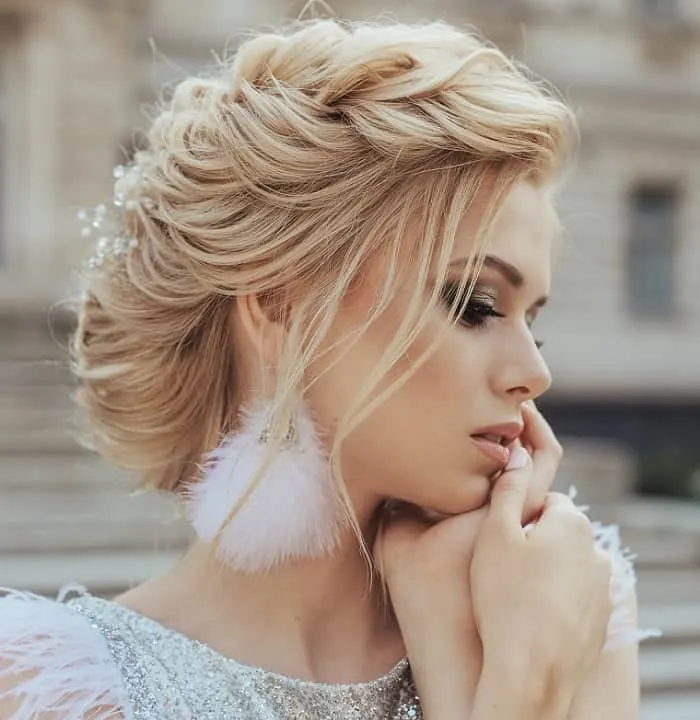 Whether you're thinking glam or romantic, this loose braided hair for wedding is totally suitable. A few wispy pieces left down make things feel less fussy so you can let loose and enjoy your big day.
3. Simple Double Braids
When you add a powerful accessory like a full flower crown, simple double braids don't look so simple after all! This style is perfect for a woods or country wedding where a natural vibe is what you're craving.
4. Hair Down with Multiple Braids
Don't let these vibrant colors distract you from the beauty of this wedding braids for long hair. To structure the style, create a large fishtail braid down the center back of the head and smaller, pulled out braids along the sides.
5. Short Braided Style
We love this short braided hairstyle for wedding bridesmaids and brides alike. Create a simple braid at the back of the head and create soft and lovely curls underneath.
6. Box Braids Bun Style
A sleek bun on top of box braids for wedding works for two reasons. The long braids give a fresh, feminine feeling while the topknot reveals a beautiful face underneath.
7. Double Side Braid Crown
Why settle for one single braid when you can rock two? When framed at the top of the forehead, this style actually strengthens a weaker jaw. Leave your hair down on the opposite side if you don't want to wear all of your hair up.
8. Thick Side Braid
Dealing with a lot of hair? Complicated updos can take hours if you have thick hair, so go for something simple like this loose and large side braid. Don't worry if hair falls some throughout the wedding, it will only add to its romantic appeal.
9. Bubble Braid Ponytail
We can thank Princess Jasmine for the popularity of the bubble hairstyle. Twist hair at the nape of the neck and create a knotted braid. Section off each braid portion with a hair tie wrapped with hair for a sleek finish.
10. Tiny Side Braids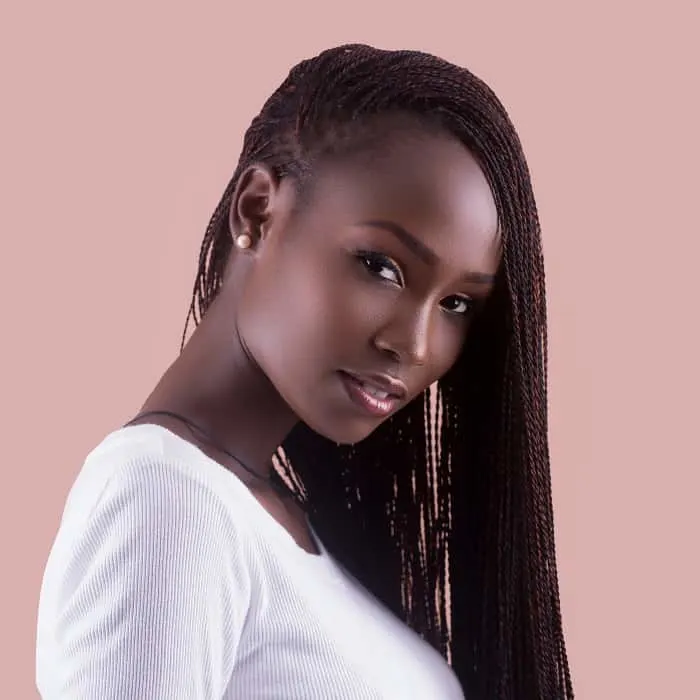 This simple braided wedding hairstyle for Black girl lets your natural beauty truly shine. Tiny braids are not distracting and are perfect for revealing your beautiful bridal makeup.
11. Waterfall Braid
A waterfall braid for wedding is the perfect update on the more classic braid crown. This hairstyle gives off a seamless look and works best with soft, romantic or beach waves worn underneath.
12. Loose, Looping Braid
Looking for a style that will set you apart? This slicked back look uses artful flair to create a braided style that is truly one of a kind.
13. Sectioned Fishtail Braid
Create that bubble look with your fishtail braid to make the look your own on your special day. A thick fishtail braid at the crown of the head pulls its all together.
14. Stacked Braid Crowns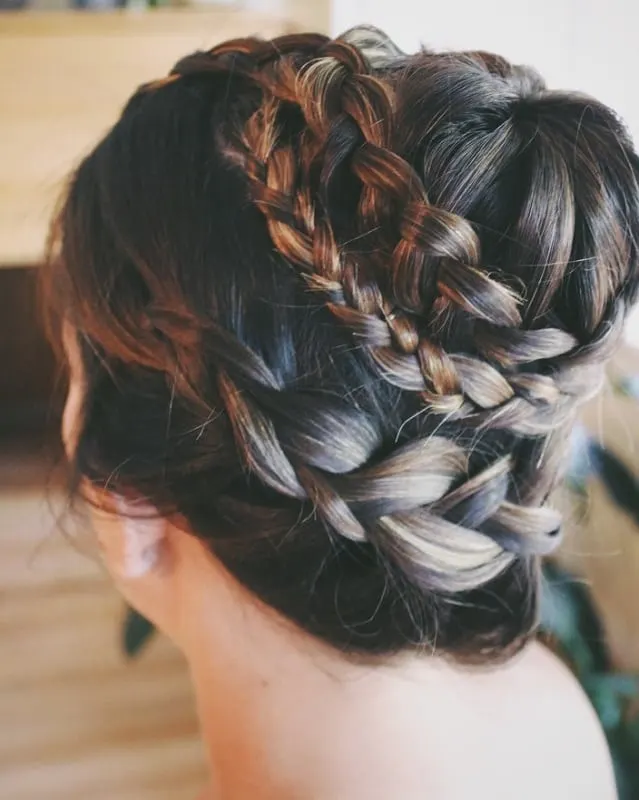 Wondering what to do with all of your thick hair? Multiple circular braid distribute weight and bulk easily and with loads of style. Create a bun at the center for elevated glamour.
15. Braid Crown with Low Bun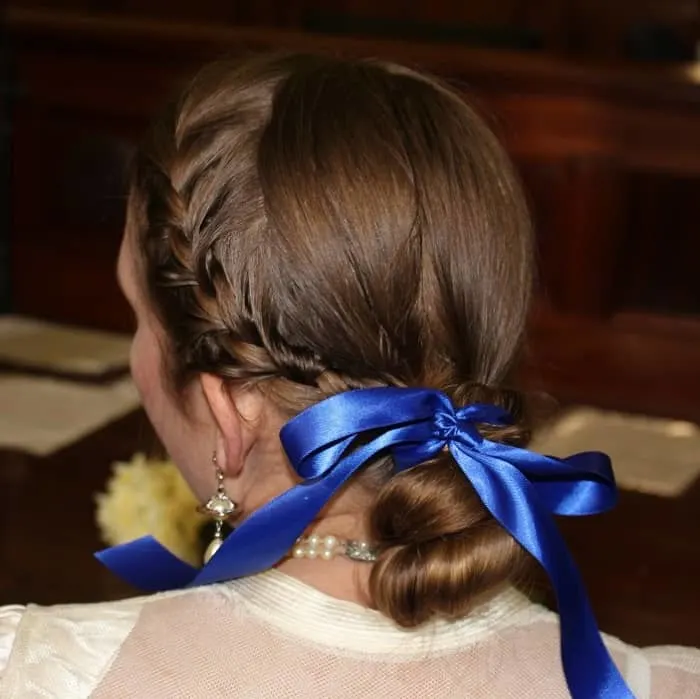 Elevate a classic wedding chignon by incorporating beautiful braids along the side of the head. Tie it up in a 'something blue" ribbon.
16. Fishtail Braids and Curls
Fishtail braids are fun, but multiple braids are truly eye-catching! Rich brown hair with highlights looks great with the added dimension of intricate braids. This style pairs well with lace.
17. Braid Crown with center Part
If you prefer a sleek look for your formal wedding, then this center part style is for you. It is perfect for all hair types, but it works especially well on thin hair.
18. Side Braid with Full Ponytail
A voluminous low side pony is very fashion forward, but a braid adds the perfect softening touch. Add it to the front of the forehead for a subtle framing effect. Secure it all with a glam hair accessory.
19. Inside Out Braid
A classic braid actually hides a lot of detail beneath the hair. An inside out braid, however, will make your hairstyle truly pop. Add dainty accessories like sweet baby's breath or even pretty diamonds or gems.
20. Simple Braid and Low Chignon
A simple braided wedding hairstyle for medium hair is often the best way to go. This chignon is titled to the side, which can add balance to most face shapes and is suitable to nearly every bride out there.
21. Side Fishtail Braids with Bun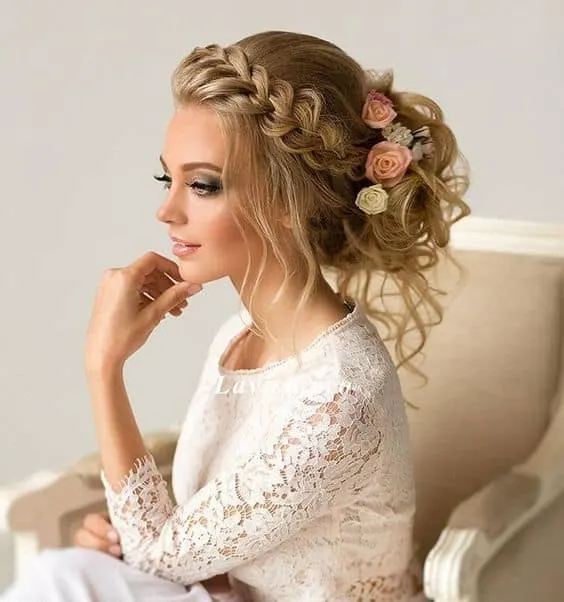 This wedding hairstyle with braids is so sensual and worthy of a true princess.
Ideal for: Square and heart-shaped faces.
How to style: Create half a headband braid starting exactly from your hairline. At the back create a big, messy curly bun decorated with a few small roses. At the sides leave a few wavy pieces of hair for a romantic and effortless touch.
Mother of wedding braids! For girls bold, original, and brave enough to embrace the braids hairstyle full on, this hairstyle is perfect.
Ideal for: Heart and round-shaped faces.
How to style: Braid four fishtail braids bringing them into one medium-high ponytail that you would then braid into two braids as shown on the picture. Hair extensions are a must here!
23. Wedding Braids in a Big Bun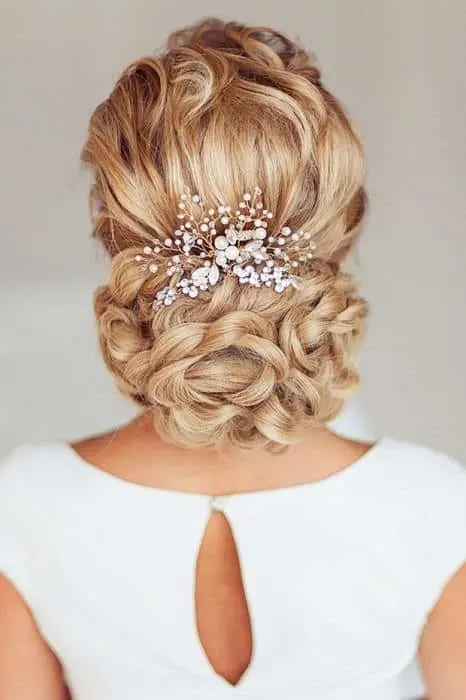 For girls who were waiting for their wedding day just to have an excuse to wear a big, bold low bun, this is an idea that you won't be able to resist.
Ideal for: Oval and square-shaped faces.
How to style: Braid your hair and twist the braids into a big low bun so that you achieve a shape that looks as though there were multiple buns, one within another.
Make sure you've curled your hair beforehand so that it has a nice texture even outside of the braid. That's also a good solution if you have bangs that you don't want around your face, so you can just pull them back and spray them with some hairspray.
24. Side Messy Braid
An asymmetrical braid hairstyle for weddings perfect for all girls who feel like their face is on the wider side.
Ideal for: Square and round-shaped faces.
How to style: Make waves or curls in a way you are most comfortable with. Make a side part far on one side and braid a Dutch braid underneath. Use hairspray if you don't like how the braid looks tied with an elastic band.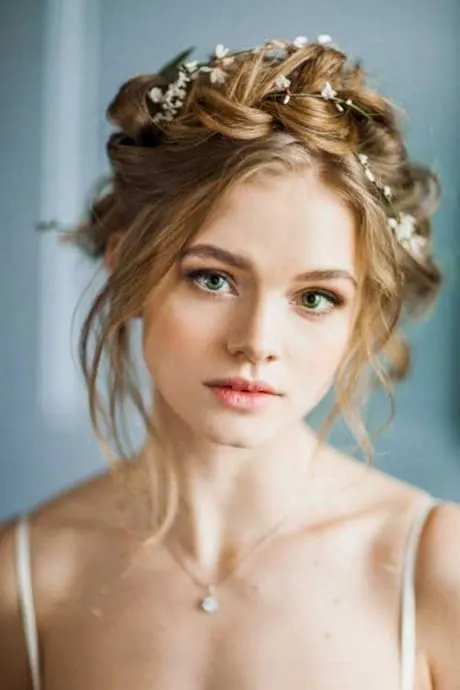 You are a flower child and you've planned out your perfect flowery wedding. That is why we're here to show you a perfect wedding braid shaped like a crown of flowers that you will love!
Ideal for: Oval and heart-shaped faces.
How to style: The whole updo is shaped like the perfect crown of flowers you've worn as a child, so it can also be decorated with little flowers. Don't forget to leave some pieces of hair in the front to frame the face nicely. You can then curl them gently.
This one is a possible variation if the previous hairstyle caught your attention.
Ideal for: Round and heart-shaped faces.
How to style: Similarly to the previous one, the braid in this braided wedding hairstyle gets less and less wide as you're braiding it, the only difference is that here it gradually transforms into an updo, whereas in the previous version, the updo is a distinctive entity below the braid.
27. Curly Braided Low Ponytail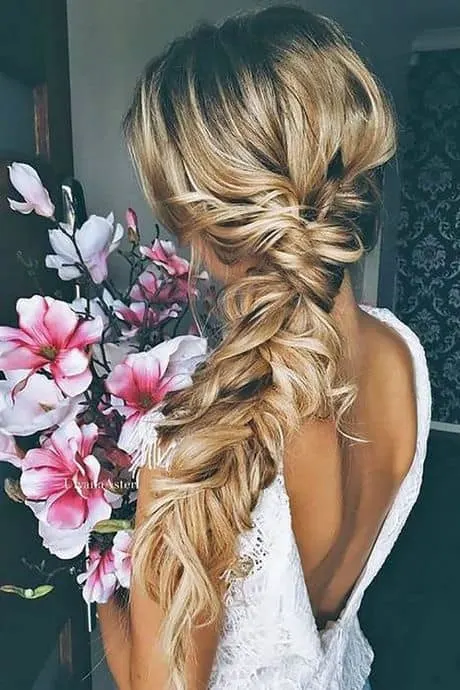 This hairstyle will be ready in 10 minutes and it looks so perfect and elegant. This kind of wedding hairdo with braid is so cool combined with a boho backless dress.
Ideal for: Round and oval-shaped faces.
How to style: Crossing over a few sections of hair on one side, like you would if you wanted to braid it. Then tie it with an elastic band. Wrap a few strands around and braid the rest of the ponytail. Use hairspray to hold everything in place without having to tie it in the ends.
If the lines shaping your face are soft and round, the angular texture of the braids will help contrast it.
Ideal for: Square and round-shaped faces
How to style: Make 3 relaxed wide braids creating angular shapes in the bridal braids hairstyle. Then create a layered low bun that you can decorate with simple miniature flowers or pearls.
29. Curly Low Ponytail and A Braid
Wedding braid hairstyles don't always require braiding your whole hair. Sometimes they're just there to complement a nice bun, or, in this case, a curly ponytail.
Ideal for: Heart and round-shaped faces
How to style: Create a half-halo braid, then make a low half-ponytail or updo using bobby pins and let the rest of the curls fall elegantly down your back.
30. High Bun with A Braided Crown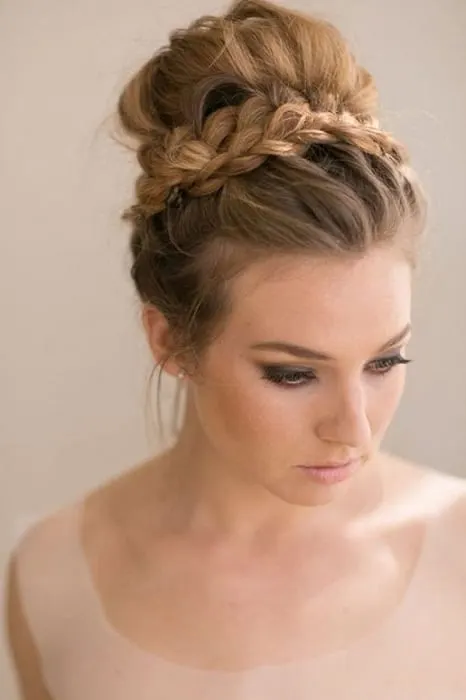 You can't go wrong with a high bun that will make you look like Cinderella on your big day.
Ideal for: Round and heart-shaped faces
How to style: Create a voluminous high bun from the hair that you have previously teased, leaving some sections of hair out to braid them. Create small braids and wrap them around the bun, using bobby pins to hold them in place.
31. Low Bun with a Braid
A wedding braid placed right above a low bun instead of a hairpin looks just gorgeous.
Ideal for: All face shapes.
How to style: Create a big low bun at the crown of your head leaving a section from the sides out so that you can then braid it over the bun. This hairstyle doesn't really require accessories, but if you want, you can use some little and simple ones.
32. Curly Bun with Crown Braid
Big curly buns are a thing, and small braids are great for enhancing the texture even more. A lovely braided wedding hairstyle.
Ideal for: Round and oval-shaped faces.
How to style: Starting about two inches behind your hairline create a headband braid. At the back create a big medium-high bun from the rest of the hair that you have previously curled. Don't forget to use hairspray to hold everything in place.
A true definition of a bridal braid that is so simple, yet unique.
Ideal for: Square and oval-shaped faces.
How to style: Braid a French headband braid that is thinner on the top of your head and thicker on the crown so that it creates a low updo as shown on the picture. Leave a few thin pieces of hair at the front out so that the whole hairstyle looks more relaxed.
34. Horizontal Braided Updo
A braided wedding hairdo for brides that will bring the whole updo together.
Ideal for: All face shapes.
How to style: Make a low updo in the shape of a wide horizontal braid. Leave a few pieces of hair out, including the bangs, for some extra dimension. Decorate the hairstyle with romantic, simple accessories.
35. Circular Braided Updo
This one is not that typical bun that you see everywhere. Its shape is pretty unusual but truly gorgeous. Be careful not to go overboard with decorative details because it is rich enough on its own.
Ideal for: Square and round-shaped faces.
How to style: Make an updo creating two circular braids, one within the other, so that you achieve this unusual bridal braid shape. Make sure that the bangs are within the bun. Decorate the updo with subtle accessories.
36. Boho Braids and a Low Ponytail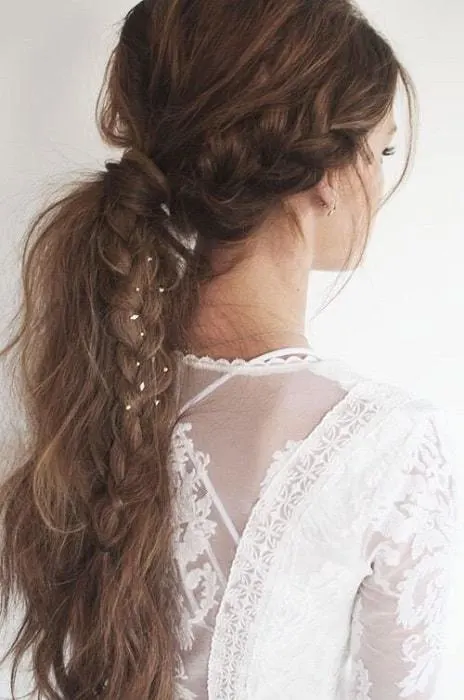 Ponytails look great even if you're a bride. It's enough to enhance them with a couple of braids and waves. This is a sassy and simple braided hairstyle for wedding.
Ideal for: All face shapes.
How to style: Starting from the sides, braid two wide French braids. Tie them with the rest of the hair into a low ponytail. Curl relaxed waves in the ponytail and tease the hair a little bit. Make two more wide braids within the ponytail and spray them with hairspray. Also, wrap a piece of hair around the hair band holding the ponytail.
37. Curls, Braid, and Bangs
Brides to often try to think of a hairstyle that would hide their bangs because they think that bangs don't go well with wedding hairstyles. But here's an idea.
Ideal for: Heart and round-shaped faces.
How to style: Curl the hair, make a wide headband wedding braid and use hair product for shaping your bangs in a way you'd like them.
One can't simply fail to admire the beauty of classical boho hairstyles.
Ideal for: All face shapes.
How to style: Make a wide halo braid forming a half updo. Make nice beach waves from the rest of the hair for a boho vibe using styling products. If you like, you can use hair accessories or leave it simple and pretty as it is.
39. Wide Halo Braid and Curls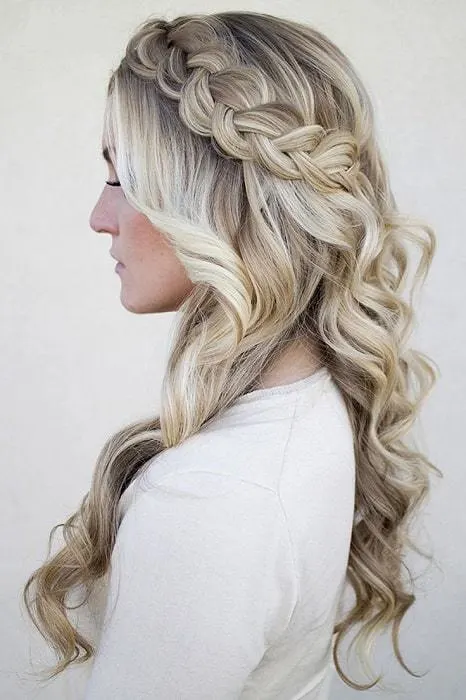 A simple braided hairstyle for girls who like long curls but want to do a little extra something to spice it up for their wedding day.
Ideal for: Oval and heart-shaped faces.
How to style: Make nice, tight, voluminous curls. The idea is for the halo braid to just complement the hairstyle rather than contrasting it too harshly.
40. Curly Braided Hairstyle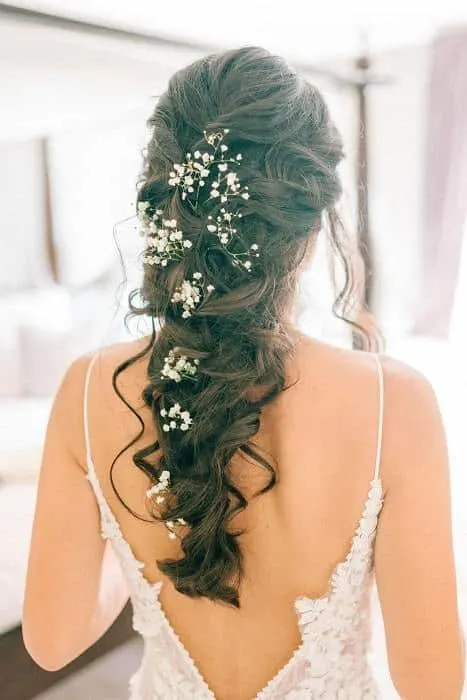 You are a fan of long curls but you don't want to completely ruin the effect of that backless wedding dress? Here's an idea – you can braid your curls so that they fall sensually down your back while that deep cut is still visible and effective. A stunning wedding braids style to rock.
Ideal for: All face shapes.
How to style: Create big, tight curls, comb through your hair and braid it so that the emphasis is still on the curls and the shape of the braid is not clearly defined. Decorate the braid with small, white flowers.
41. Wide Braid and Low Updo
A great idea for those girls who like hairstyles that help elongate their face. Creating a big braid on top will definitely help do that for you without requiring that endless teasing that every woman hates.
Ideal for: Round and square-shaped faces.
How to style: Create a big wide braid over the top of your head and create a simple low bun below. Leave the sides looser and relaxed with a few strands falling loosely.
42. Half Updo and a Wheat Braid
If you are a simple girl, with a simple wedding, a simple dress, then you should try this simple wedding braid hairstyle.
Ideal for: Oval and round-shaped faces.
How to style: Take a strand on each side and twist it inwards. Tie them together at the back. Wrap a strand from underneath the ponytail around the elastic band to hide it. Then create a nice fishtail or wheat braid out of the ponytail. The rest of the hair should be completely straightened so that the braid is in the center of attention.
Another great braided wedding hairdo alternative if you like angular shapes in updos.
Ideal for: Square and heart-shaped faces
How to style: Part your hair in the middle and start braiding it into two large braids, both coming down to a low bun.
44. Twisted and Braided Extensions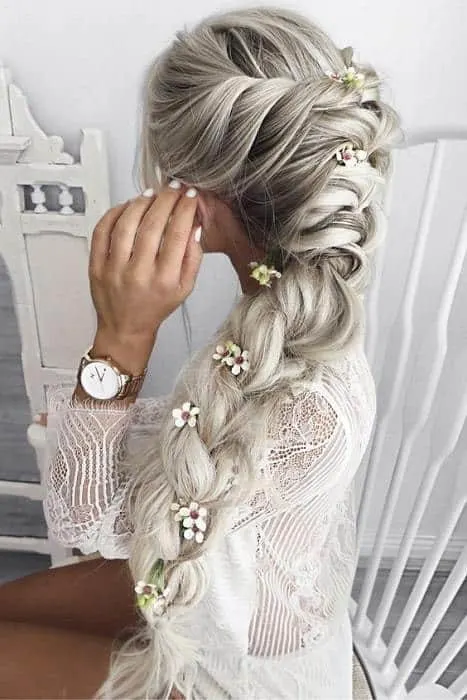 Always imagined your cute little boho wedding? Have you chosen your hairstyle? We might have a nice wedding special braid for you to try.
Ideal for: Round and square-shaped faces.
How to style: Make great use of those super long extensions. The more the better. After braiding this big, voluminous, romantic braid, decorate it with some small flowers.
45. Half Braid and Messy Bun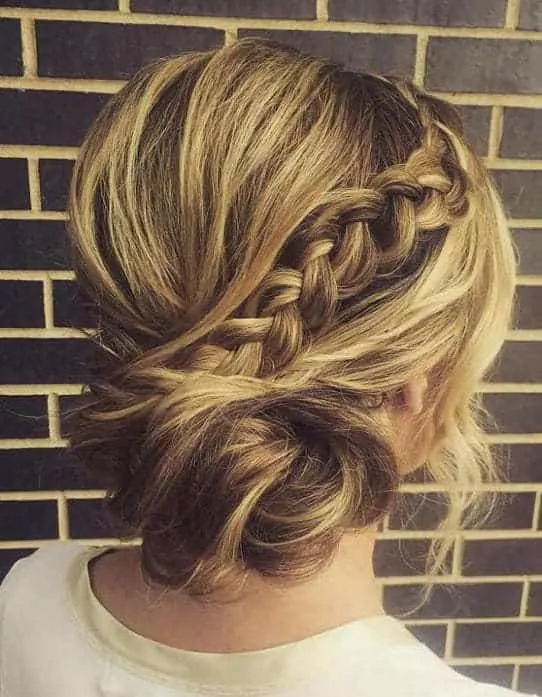 This side bun is romantic and simple enough to be a perfect wedding hairstyle with braids for a bride. One thing is for sure – all eyes will be on you.
Ideal for: Oval and heart-shaped faces.
How to style: Braid the headband braid a little bit further from your hairline so that your bangs can fall loosely. Then tease the hair in the back for volume and make a messy side braid. Curl your bangs a little bit for extra texture.
46. Diagonal Braid with Bun
This wedding braids hairstyle is another great trick for an updo to elongate your face. Still, the hairstyle won't completely lose its form thanks to the braid getting less wide on the back.
Ideal for: Square and round-shaped faces.
How to style: From your hairline start braiding a twisting braid as wide as your forehead. Make it less and less wide as you go down. When you reach the crown of your head, make a nice little low bun. Leave a few pieces of hair from the bangs to fall loosely and additionally frame your face.
47. Relaxed Side Braid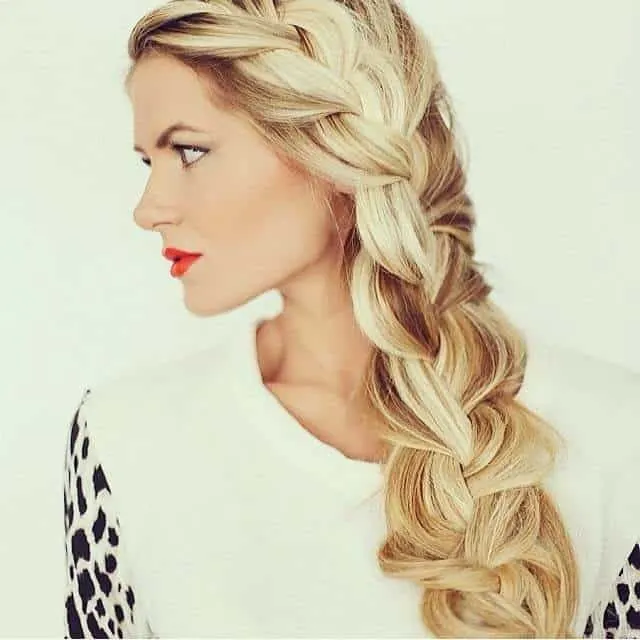 Side braids on long hair are extremely endearing. This one is great to go with your big highlighted curls.
Ideal for: Square and heart-shaped faces.
How to style: Part your hair on one side and start braiding a relaxed side braid that you would tie with an elastic band.
48. Braid Holding a Half-Updo
Not even your wedding day and all the expectation can change your free spirit. That is why this half up half down hairstyle that will take you a total of two minutes to create will be ideal for you.
Ideal for: All face shapes.
How to style: Take a strand from each side and start braiding layered braids at the back, ending them after just a few moves, so that the braid has the function of a decorative hair pin.
If you want a hairstyle that is truly unique and that reminds you a little bit of the long retro hairstyle, then this knotted braid for wedding has been waiting for you.
Ideal for: Square and oval-shaped faces.
How to style: Use a lot of hair extensions and tie a high side-ponytail. Then braid knotted braids and stretch the hair strands. Use white flowers for decoration.
This is for girls who don't like to complicate things too much but would rather be happy and completely relaxed on their wedding day. That is why a wedding braid hairdo is a great option.
Ideal for: Oval and heart-shaped faces.
How to style: We suggest using some extensions to achieve extra length and volume. Then tie a very high ponytail. Braid a wide fishtail braid out of the ponytail.
It's up to you to decide whether you want the overall look to be really neat or a bit relaxed, or whether you want to use accessories because it will look beautiful anyway. But be sure to use hairspray on the fishtail braid to hold everything in place.
If you think braids are an adorable option for a wedding hairstyle and are now looking for a special braids hairstyle for your special day, these 50 wedding braids will offer you a lot of cool ideas that you will be able to incorporate into your own look.