For any important event, it's necessary to have that perfect formal hairstyle. Whether your hair is straight or curly or somewhere in between, an updo hairstyle is easy to pull together in just minutes, so you can look amazing at any event. No matter the texture, the styles below will help both your locks and you look awesome.
Formal Hairstyles
Here are 35 formal hairstyles that will get you a red carpet look also worthy of posting to Instagram.
1. Formal Straight Hairstyle
For straight hair, give the illusion of curls by pinning hair up off the neck. Twist or braid back the sides and tuck them into a low updo secured with bobby pins in the same shade as your hair.
2. Formal Pixie Hairstyle
Besides using bobby pins to secure the front bits of your hair off the forehead, you can also use a headband to create volume at the crown of your head.
3. Half Up Formal Hairstyle
Here's one hairstyle that doesn't take much time at all. Gather the two sections of hair by temples and braid them back, securing in a low pony at the back of the head.
4. Formal Hairstyle for Medium Hair
Medium length hair, like this gorgeous platinum bob, can easily be fashioned into a formal hairstyle similar to a pin-up look. Insert a heavy side part and pin it back near the neck, filling ends with soft waves.
5. Formal Hairstyle for Black Women
If you're a black woman and your hair is already in braids or twists, you can leave your hair down and it'll look formal enough. Be sure to smooth the cuticle with styling creme for shine and to nix frizz.
6. Formal Ponytail
The ponytail is an always classy choice for a formal hairstyle. Whether your locks are straight or wavy, gather it up high and let the body cascade down your back.
7. Formal Updo Hairstyle
Another gorgeous choice for a formal hairstyle is this cute updo where the hair is fashioned into a bow. There are many tutorials you can follow to get this sleek, stylish hairdo.
8. Long Formal Hairstyle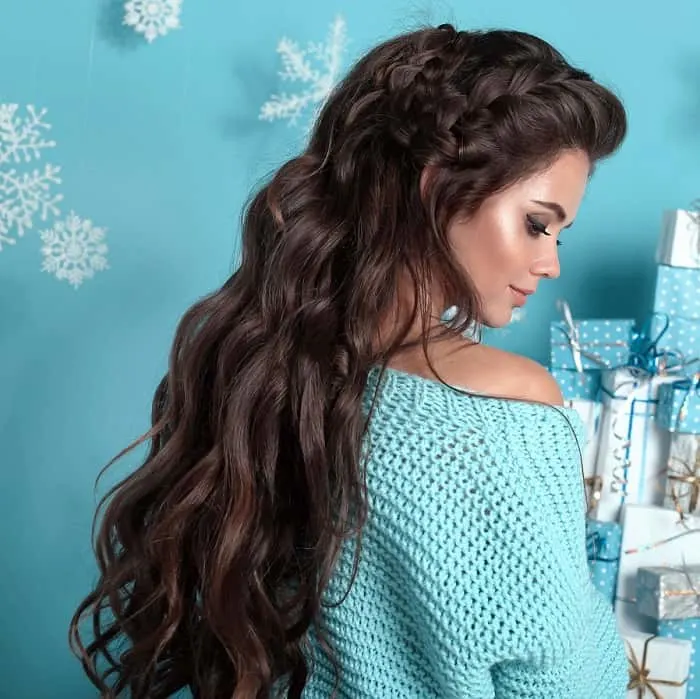 To show off your long hair, fill it with soft waves for a romantic style. Then gather one or both sides into a small section and braid, securing with bobby pins.
9. Quick But Cute Enough
This is a cute yet formal style using side fishtail braids as the focal point. So, the stylist uses these braids to create the attractive front and drags them back to twist their ends and create a bun like a silhouette. This formal hairstyle goes out to every woman who is forced to go out rushing through the door every day without any spare time to take her of her hair designs and variations.
10. Plain Dress Remedies
If the dress you are wearing to the event is a little plain, you can always raise your fashion statement with one of the dazzling formal hairstyles. So, all you have to do is opt for an awesome hairstyle like the one shown above.
Because in the above example, the stylist aims to grab everybody's attention with these side-swept curls that are guaranteed to wow everyone at the event.
11. Chic Low Ponytail
Middle-parted ponytails have taken over the red carpet looks by storm with many stars flaunting them glamorously. Whether your hair is long or short, slick it back and wrap a chunky strand around the base of the low ponytail. You can push the center parting slightly to one side too.
12. Sleek Updo
Sleek updos are the most perfect formal hairstyles for women who want to appear graceful. Recreate this one at home by tucking a teased low ponytail into the hole created above it resulting in a gorgeous bun followed by pinning back the front fringe. Some hairspray will keep the style in place.
13. Twist-Back Style
Getting late for an event and don't have time for a detailed look? Don't worry as this elegant hairstyle is here to the rescue. Twist back the side locks with a middle or side parting depending on the face shape and secure with pins at the back. There you go!
14. Top Knot Bun
Considering the laid-back ones, there is no need for a hassle when a top knot bun does the job. Pull back the strands in a high ponytail and wrap them around into a tight bun. Fix with pins while the flyaways add up to this carefree style.
15. Faux Bob
This vintage-inspired faux bob will surely attract a lot of attention. Long-haired ladies can tuck a loose ponytail inside itself while those with a shorter mane can roll their ends upwards creating a bob silhouette. Keep the look intact with invisible hairpins. Classy isn't it?
17. Head Piece
Hair locks slapping you in the face, getting in your eyes, or untamed flyaways that are out of control are the top three ingredients to any girl's nightmare.
Because these factors make up a disastrous evening, you should try to avoid them and ensure they are presented with one of the best formal hairdos for ladies. Thus, you have to use a headband that will keep your top part stable and prevent the sides from flying too freely.
18. The Inevitable Formality
No matter how much you hate elegance and complexities and prefer your di shelved day – to day looks, it is almost impossible to avoid occasions that expect formal attire. Especially, if you are part of a successful career with a lot of business meetings.
So, here's an inspirational look if you don't feel like pulling your hair up. Thus, easily go with a free-flowing style that looks pretty elegant with wavy hair locks swept back just like shown above.
Quick Tip: The waves are smooth, and shining due to the high-quality hairspray used to fix it in place.
See Taylor Swift Hair Transformations Over The Last Decade
19. Retro Style
If you like to role play a little bit, this kind of formal hairstyles will make you feel like you are attending an important gala at the Great Gatsby's mansion. Thus, don't hesitate to get yourself one of 1920 greatest hits and beauty looks.
20. Selena's Bun
The chest buns are a great choice for office working hours. Because it's one of the basic buns out there, it can never be out of style. Moreover, these buns can work wonders during hot and humid weather.
After all, it works for medium hair lengths and any hair texture. Because with straight and thin hair the size of the bun wouldn't be half the size of the thick kinky curly hair.
21. Messy Is The New Dressy
Messy buns are usually what you go with for PE class or your daily afternoon jogs. However, nowadays it is super trendy to go with a random and messy yet balanced bun for any formal event. Because it is supposed to send out a message that shows your true beauty behind all those messy swirls and twists.
Braids of any kind have always been the classic popular formal styles for every woman out there who wants to show off her feminity. So, for a go-to look that flatters everyone around you, we highly recommend these french milkmaid braids that tangle up in the back to form a low hanging bun.
23. Your Beautiful Frame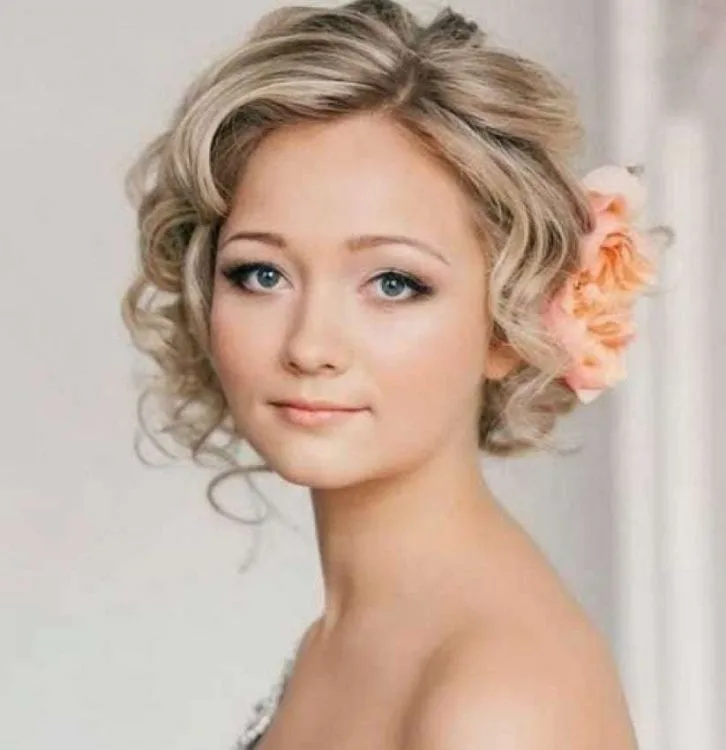 This hairstyle is full of volume and texture. Because of it's a loosely pulled up look, it gets your hair out of your face. However, it still manages to frame it beautifully and give you your own silhouette. Finally, don't forget the pastel pink flower that adds more femininity to your exceptional look.
If you're not a fan of growing out your hair to a specific length and you hate faux hair locks and extensions, you don't need long hair for a cute updo. Because there has never been a strict law that says that updos are limited for tall hair.
Thus, your ultimate saviors are definitely hair pomades and other products that enhance your hair's volume and enable you to end up with a tight updo like the one shown in the photo above as a great example of successful women's formal hairstyles.
25. Queen Taylor's Woven Wonder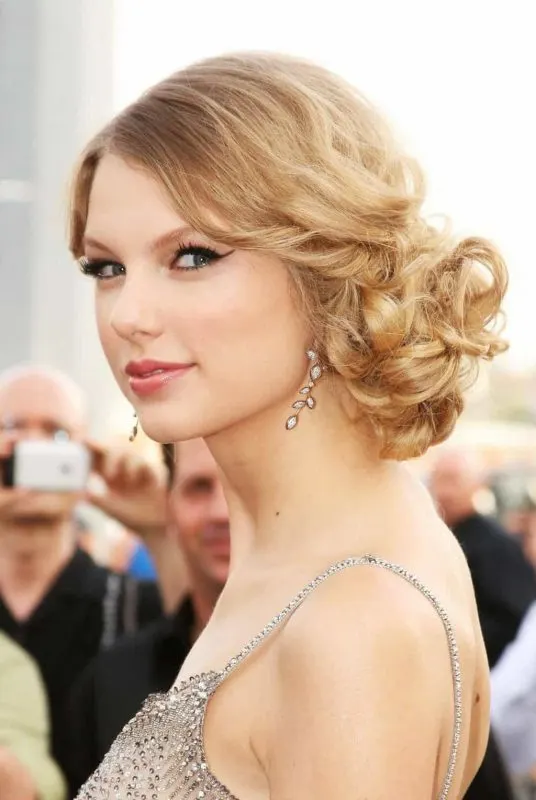 Following up on the hall of famous celebs, here's what the only and only Taylor Swift chose to wear for a really important red carpet event. So, here's a low woven bun that looks both elegant and formal yet doesn't seize the party girl look. Because the top portion is teased up and makes up a cool and smashing frame with the bottom bun.
26. Highlighted With Side Bangs
If color variations like highlights don't do the trick to wow everybody, try a complex style full of movement. Because there is nothing that can turn up the mood like dynamic side-swept curls and twists to boost your look.
27. Universal Hair Design
If you are too confused to know which design to pair up with your dress, here is a universal solution for any girl with this problem. Because just like universal remotes and universal key that fit any door whole and any tv, this elegant and formal hairstyle will pair up perfectly with any dress you have in mind.
28. Chic Chignon
If you are going with a stunning and daring dress that you chose as the focal point of your unique evening look, then you'll probably need to go with plain formal hair design.
Because choosing a daring hairstyle might steal the spotlight from your dress. Therefore, you should go with a simple updo like this chic chignon bun shown above.
29. Just Like Rose Petals
For all women who are obsessed with floral arrangements, this design goes to you. So, here's a flower inspired updo designed just to satisfy your greedy glands. Therefore, shape your bun like super cute rose petals for any elegant event you have planned out.
30. Office Up-Do
For an office formal look, this style would be the ultimate choice. Because it gives you the opportunity to style your hair in the back away from your face and without any loose ends in the front. Thus, it enables you to focus on your work while being as stylish as ever.
Braided Updo Hairstyles for Any Hair Type
31. Touseled Up-Do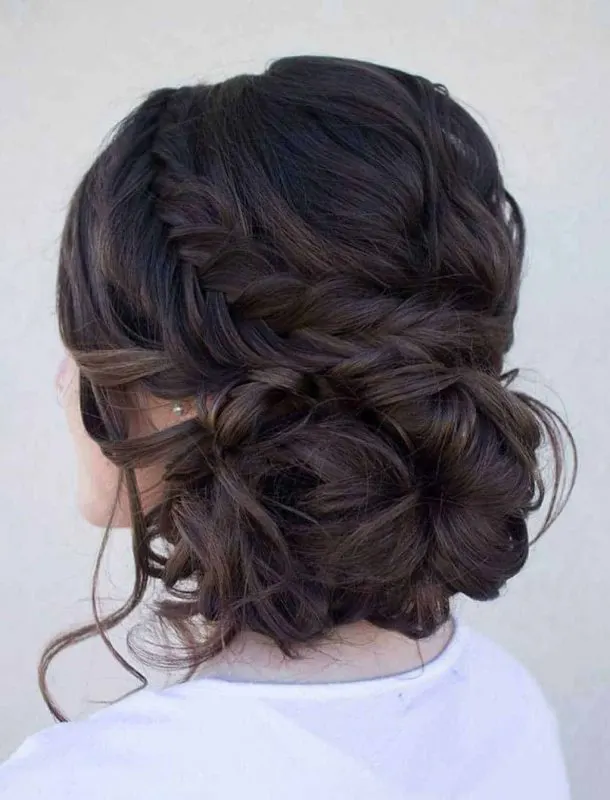 For a great way to get the hair out of your face, without feeling like it's completely up you can go with this tousled updo design. However, don't fear it getting messy because that just adds to your style points. Moreover, if you want to add a gorgeous flair, don't forget to equip it with a flower piece or colorful pins.
32. Grecian Inspired
For a chic girly reflection of your party spirit, follow these steps:
Part your hair in the middle.
Create small braids.
Twist them into two low buns that reach the nape of your neck.
Therefore, you'll master the Grecian-inspired look that works best for long and medium hair lengths. However, if you've got short hair you can always try out faux locks and hair extensions to get this look.
33. Entwined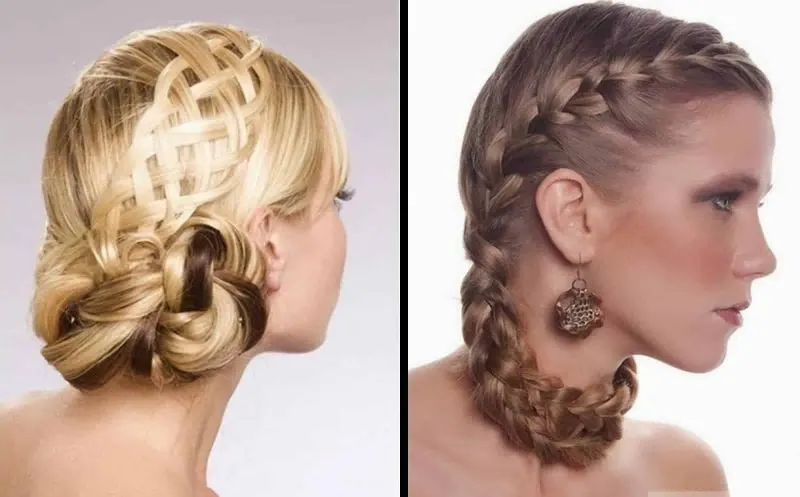 Some other styles are all about the twists and elements of surprise. Because, after taking a look at the pictures above we can see that the only thing making them so attractive and eye-grabbing is the unusual braided twist on the neck in the picture on the right.
Meanwhile, the picture on the left uses more than one tactic. Because by using hair color variations to create contrast in the unusual yet visually attractive pretzel-shaped entwined hair strands.
34. Floral Bridal Option
Besides choosing the formal hairstyles that you need, you will probably need to spend a little more effort into choosing hair accessories. So, these accessories include add-ons like floral pins paired up with wedding gowns. Thus, in order to leave a great impression on your guests, you should definitely try this out.
35. Gorgeous Twists
For further elegance and poise, you'll need to combine hair brooches with efficient hair designs. So, for a wedding ceremony or something to go for your ball dress, you should:
Finally, prepping for an important occasion with the perfect formal hairstyles for women is not an easy task. Yet, when it's done according to the expert's hairstyling tips and tricks you will definitely look exceptional.