Dreads are one of those hairstyles that never go out of style. It can add an instant edge to your overall look. When it's paired with a neat taper fade, it makes a hairstyle fit for the red carpet.
The dreads with taper fade hairstyle has also been gaining popularity because of famous Instagram or celebrity influencers.
Bold Dreads with Taper Fade Hairstyles
Here are 20 cool taper fade with dreads hairstyles that you might never want to miss out!
1. Low Twisted Bun
Men can rock a bun hairstyle equally well as women. This look features a long dreaded top with a hint of blonde that is secured at the back in a low twisted bun. The neatly taper faded sides make a square face appear slimmer.
2. Side Tousled
African-American men who want to keep it low-maintenance can buzz their sides to expose the skin with a significantly longer top that is knitted into medium-sized dreads. The tips are dyed in a blonde hue with all the strands are tousled on one side.
3. Blonde Moment
Turn around some heads with this bold hairstyle. The sides are tapered keeping all the attention on the shoulder-length top that is dreaded while incorporating vivid blonde extensions. Style the strands in a top knot and finish off with a chin curtain beard and mustaches.
4. Upturned Mohawk
Push the long hair at the top forward to reverse the traditional direction of a mohawk. The dreaded strands have black roots which transition into a dark brown hue reaching the tips creating a subtle highlighted effect. A slick skin fade tops off the look.
5. Highlighted Tips
Get noticed from a distance by combining these bold dreads with a taper fade. The long top strands are twisted into clumps with vivid blonde tips falling over the forehead creating a two-toned look. This look is stylish and effortless to maintain.
6. Extra Long Top
Long dreadlocks like these look classy on men featuring a dark to light ombre. The twisted ropes are swept back and are coupled with a medium fade, thick beard, and mustaches creating a chic style statement.
7. Yarn-Wrapped Locs
Yarn-wrapped dreadlocks are a protective style ideal for those who are conscious about their hair. Create a punk appeal by wrapping the dreads in a light blonde yarn to contrast against the naturally dark roots. Finish off with a side taper design.
8. Cornrows-Inspired Look
Inspired by cornrows, this style has hair dreaded straight back along the scalp with the strands twisted at the back creating knots dangling above the neck. The skin fade along the sides keeps all the attention on the top. Grow out an anchor beard recreating the look exactly.
9. Hipster Appeal
Show off your hipster personality with this hairstyle. Opt for a high taper fade along the sides to keep the overall look tidy. The long dreaded top is styled in a spiky high ponytail with two deep raspberry strands framing the face at the front.
10. Four Parts Dreadlocks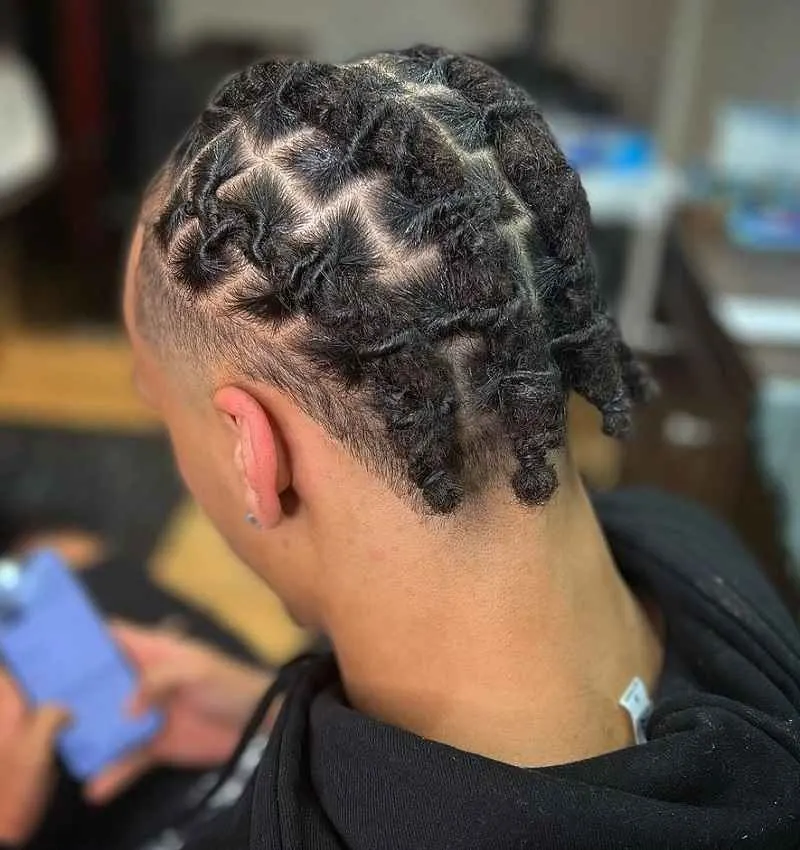 Become the talk of the town by rocking a four parts dreadlocks hairstyle with buzzed temples. Ask the hairstylist for two portions of dreads along each side with square sections of twisted hair merging into them creating a symmetrical appeal.
11. Side Design
This swoon-worthy taper fade hairstyle with dreads is to die for. The long dreaded top is swept back to fall on the shoulders with yarn wrapped around some strands. The swooping side design is what sets this look apart from others.
12. Braided Locs
Create a low-maintenance look by dividing the dreads into two parts and braiding them tightly. The result will be an intricate style that won't go unnoticed. Pair it up with a sharp line up and buzzed sides.
13. Half-Up Man Bun
A man bun looks effortlessly chic and is trending this season. Taper fade the temples with a raveled top having interconnected thin dreads gathered up in a bun while the remaining locs fall on the shoulders at the back.
14. Taper Fade with Mohawk Dreads
Add a show-stopping edge to your overall look with the help of Mohawk dreads paired with a taper fade. The spiky dreadlock pattern is surely going to get you a lot of compliments and attention, we bet. The best part about this dreads with taper hairstyle is that no long hair will be disturbing you throughout the day.
15. Taper Fade with Short Spiky Dreads
If you think dreads are not for short hair, then think again. This short dread hairstyle with taper fade is trending all over the social media because of its neat yet boho appearance. This hairstyle is also quite easy to maintain due to its short length.
16. Taper Fade Dreads with Design
Want to go a little bit artistic with your hairstyle? Try a tattooed taper fade with dreads to make all the heads turn. The uniqueness of your hairstyle will definitely earn you a few compliments and thousands of likes on Social Media. How cool is that!
17. Geometric Taper Fade with Dreadlocks
Sharp and precise lines around the hairline are trending these days and we can't help but agree to the fact that it makes your dreads with taper hairstyle look modern and futuristic. This haircutting technique will take you dreadlocks look from boho to classy-hip instantly.
18. Wavy Dreads
Hollywood hairstyle history is filled with long wavy boho. If you pair that style with a taper fade, it becomes trendy and classy at the same time. It will give you a laid-back appearance while still giving off a high maintenance vibe.
19. Taper Fade Dreadlock Bun
If you have taper fade and long dreadlocks then the coolest way to style it is by tying your dreadlocks up into a bun, Since man bun are trending these days, you will look up to mark with the current fashion. This style will also display your stylish taper fade from all angles.
20. Subtle Taper Fade with Curly Dreads
You don't have to go all crazy on the taper fade and lose all your hair from the sides and the back. Get a subtle taper fade that will go perfectly well with your curly dreads, and voila! You are ready to make a statement with your dreads and taper fade hair.
Style your hair into eye-catching dreads paired with a trendy taper fade to steal the show wherever you go. It is not only going to make you look ultra-trendy, but it is also going to keep your hair tamed for long.