Dreads are one of those hairstyles that never go out of style. It can add an instant edge to your overall look and when it is paired with a neat taper fade, it makes a hairstyle fit for the red carpet.
The dreads with taper fade hairstyle has also been gaining popularity because of the famous Instagram or celebrity influencers.
Bold Dreads with Taper Fade Hairstyles
Here are 7 cool taper fade with dreads hairstyles that you might never want to miss out!
1. Taper Fade with Mohawk Dreads
Add a show-stopping edge to your overall look with the help of Mohawk dreads paired with a taper fade. The spiky dreadlock pattern is surely going to get you a lot of compliments and attention, we bet. The best part about this dreads with taper hairstyle is that no long hair will be disturbing you throughout the day.
2. Taper Fade with Short Spiky Dreads
If you think dreads are not for short hair, then think again. This short dread hairstyle with taper fade is trending all over the social media because of its neat yet boho appearance. This hairstyle is also quite easy to maintain due to its short length.
3. Taper Fade Dreads with Design
Want to go a little bit artistic with your hairstyle? Try a tattooed taper fade with dreads to make all the heads turn. The uniqueness of your hairstyle will definitely earn you a few compliments and thousands of likes on Social Media. How cool is that!
4. Geometric Taper Fade with Dreadlocks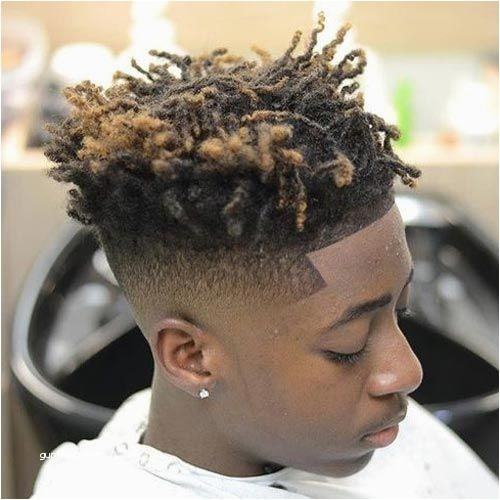 Sharp and precise lines around the hairline are trending these days and we can't help but agree to the fact that it makes your dreads with taper hairstyle look modern and futuristic. This haircutting technique will take you dreadlocks look from boho to classy-hip instantly.
5. Wavy Dreads
Hollywood hairstyle history is filled with long wavy boho. If you pair that style with a taper fade, it becomes trendy and classy at the same time. It will give you a laid-back appearance while still giving off a high maintenance vibe.
6. Taper Fade Dreadlock Bun
If you have taper fade and long dreadlocks then the coolest way to style it is by tying your dreadlocks up into a bun, Since man bun are trending these days, you will look up to mark with the current fashion. This style will also display your stylish taper fade from all angles.
7. Subtle Taper Fade with Curly Dreads
You don't have to go all crazy on the taper fade and lose all your hair from the sides and the back. Get a subtle taper fade which will go perfectly well with your curly dreads, and voila! You are ready to make a statement with your dreads with taper fade hair.
Style your hair into eye-catching dreads paired with trendy taper fade to steal the show wherever you go. It is not only going to make you look ultra trendy but it is also going to keep your hair tamed for long.