Tight perms are a stylish and modern way to add volume and texture to men's hair. It's a treatment that uses small perm rods to create full, with tight ends that last for a long time.
It can do wonders on short hair, allowing men the flexibility to rock different wavy and curly hairstyles without the need to grow their hair longer.
As a man, you can pick different types of perms. We will cover some attractive tight perm hairstyles so you can try those styles for yourself and start a new trend by inspiring others.
Cool Tight Perm Hairstyles for Guys
Perm hairstyles are becoming trendy among guys who love curly hair. If you are ready to take your hairstyle to the next level, here are some unique styling ideas for men with tight perms. offering modern twists and tight styles
1. Short Tight Perms
This is the most generic tight perms for men with short and thin hair. Apply a mousse and twist the hair using your fingers or small perm rollers. With a clean shaved face, you will get a neat appearance.
2. Thick Curls with Bangs
Look at that curly ginger hair with tight perms. We recommend using white perm rods (9/16 inch) for this hairstyle.
This will help you get a thick perm. After you are done with the curls, lay down the bangs toward the forehead.
3. Cropped Split Bangs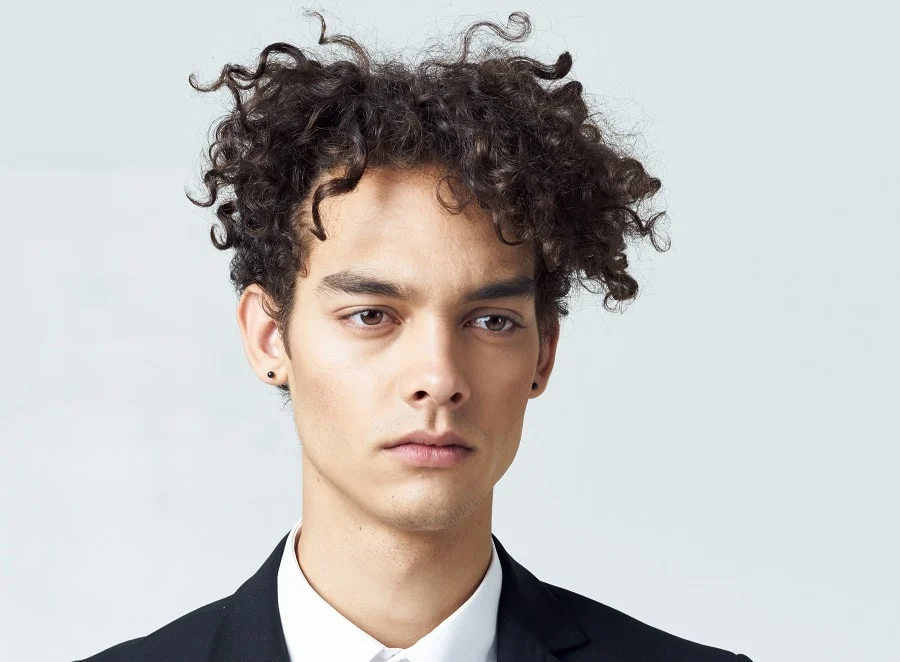 This one needs longer hair on the front than back of the head. Part your hair in the middle and use hair spray to hold the curls in place. Next, split the front and let the hair hang down toward the forehead.
4. Spiral Perm with Fades
You can copy this spiral perm using a hot roller or a grey perm rod (½ inch), or a curling iron. The top remains longer while the sides are short to fade. Use a light-hold hairspray to keep the perm in place.
5. Faux Hawk + Skin Fade
From the voluminous top to the skin fade on the side, this style perfectly balances the faux hawk. Use a medium hold hair gel on the top and curls them using a small-barreled curling iron or perm rod.
6. Long Permed Shag
Normally, long hair is the perfect size to get a tight perm style as it can get you a fluffy curl pattern. Cut the front of the shag into short layers to break up the length while parting it in the middle.
7. Medium Blonde Curls
To get this look, start by washing your hair with a moisturizing shampoo and conditioner specifically designed for curly hair. Next, use a blow dryer while using a round brush to gently create the curls.
8. Permed Quiff + Fades
This tight perm style is characterized by a longer section of hair in the bangs area.
When you combine it with a sleek fade around the back and sides, it helps to get attention directly to the popping top. Scrunching a little curl cream will keep the style longer.
9. Medium Puffy Curls
Begin with wet hair and use a diffuser attachment on your blow-dryer to help shape and control frizz.
Then start by pointing the end of the diffuser downward and slowly move it in an upward motion to lift up curls.
10. Wavy Perms
This style features tight perms on the front and a loose perm on the back. For this tight perm hairstyle, You have to apply hair cream and use a wide tooth comb to make the hair soft.
Now, work it through with your fingers and style before they set firmly.
11. Undercut with Tight Curls
To start, use a good curl-defining cream or mousse to help shape your curls. Work it through damp hair from root to tip, then scrunch with a towel to help boost the curl.
Next, use a diffuser to dry your curls and continue shaping them as they dry.
12. Frizzy Perms
If you have thick curly hair with a receding hairline, use some mousses on your semi-wet hair and tap with your palm. Leave the hair like that, and you are good to go.
13. Messy Curls
Start with damp hair. Then take a small amount of hard hold gel and rub it in between your palms. Apply the gel evenly throughout your hair, and then your fingers style it in a messy way.
14. Hang Down Perms
The best way to style messy perm hair that is hanging down is by using fingers.
Start at the root of your hair and gently work your way down the ends in small sections. This will help to evenly distribute natural oils throughout the length of your hair, as well as break up any knots.
15. Loose Blends
The mix of tight and loose permed hair can be a challenge to style. But you can style it easily with curl-enhancing cream. Apply it evenly throughout your hair to define thickness and style using your hands.
16. Shoulder Length Tight Perms
Men's shoulder-length tight curls are a great way to add volume and texture to your hair.
Start by combing your hair with a wide-toothed comb to create an even texture.
Next, use a light-hold hairspray to help hold the curls in place. Be sure to spray from at least 10 inches away from your head to avoid any buildup or residue on the hair.
17. Vintage Curls
The key to this style is to start with clean, damp hair. Then use a light gel or mousse by dividing your hair into sections.
After that, use a 1-inch curling iron to curl the sections. Finally, use your fingers to tousle your hair and create the perfect messy spiral curl.
18. Thin Frizzy Hair
This style is perfect for men with short curly hair. To get tight perms, apply wet gel throughout the head and use your palm to tap the hair close to the scalp.
19. Bald Fade
This trendy style is perfect for guys who want a sharp look that is still easy to style. Plus, the bald fade adds an extra touch of edge to the look. Keep the top longer and style the hair using hard-holding gel.
20. Long Top + Short Sides
Long, top-permed hair for men can be a great way to add volume and texture to your hair. To get this look, fade the sides and keep the top longer. Style the top part using soft hair gel.
When it comes to perms, there are a lot of options for men to choose from. However, it is suggested that you choose one according to your face shape and hair type because once you do it, you cannot change or redo it in weeks or months.
So, take time and give extra focus when choosing the style.