There's plenty of men's hairstyle options for short curly hair. To help you out we're going to list 25 short curly hairstyles for you to try.
Short Curly Haircuts and Hairstyles for Guys
When it comes to short curly hairstyles for men, you need to pick your haircut carefully. These styles will inspire you to get an awesome curly hair look.
1. Short Curls for Black Men
Curls can look amazing even when they're short, and black men may opt to keep their tresses shorter as it means they're easier to style and maintain.
Create some distinction between different curl clumps and style your hair upwards with the sides of your hair shaved.
2. Short Thick Curls
If you have thicker hair, then you may opt for a more uniform hairstyle. Allow there to be a lot of volumes, and make sure you have a small amount of curl definition by using curl cream.
However, keep styling to a minimum and just make sure you care for your curls well.
3. Thin Curly Hair
It's more difficult for the thin-haired men to create short curly hairstyles that look good. Shave the sides to stop people from seeing just how thin your strands appear.
Use curl cream and gel to give a lot of definitions to the hair you have left.
4. Short Messy Curls
Many people are into the messy look, so let your strands be a little unruly as you brush them forward into the face.
The sides should be kept short and almost shaved, but the hair on top should be long enough to fall and cover part of the sides of your head.
Curls can vary in size. Some men prefer longer and looser, while others want them to be super short. The latter group still allows you to try out awesome hairstyles.
For example, this haircut is short, wavy, and allows you to avoid the frizzy effect, which often comes with curly hair.
Isn't it awesome when someone looks great without even trying? Hairstyle plays a major role in that "I woke up" like this effect.
One way to style short curly hair for guys is to opt for mid-sized curls paired with a subtle fade. This style has both structure and freedom for that perfectly messy, yet handsome effect.

Nope, bangs are not just for the ladies. Men can rock them as well, in a more masculine way, of course.
Trim and cut your hair so that sides and back are the shorter than the top and front. That way, your short curls will naturally fall down the forehead for a boyband member look.
8. Curly and Simple
You want the curls to stand out, but at the same time, you don't really want to do much with your hair? That's perfectly achievable!
Keep your curls short and healthy, and that's it. To achieve this short curly haired men style, you'll need a great hairstylist and a little bit of hair care.
Short and wavy hair gives us a multitude of styling options. All you need is to explore your creativity and experiment with different styles.
One of the sexiest styles that men with short curly hair can try is to create subtle waves paired with tapered and trimmed sides. The whole look is completed with a nice drop fade.
Spiky hair with fade is one of the biggest trends in the world. Men absolutely love this short and curly haircut, but it's a common misconception that only short and straight hair can give desired results.
Wrong! You can turn your Afro into an amazing spiky look that you'll complete with stylish sideburns.
We usually associate bowl cuts with those awful haircuts we'd get in childhood. But, modern version of the cut is so much better.
The modern bowl cut is sexy, structured, and powerful. The effect is even stronger with curls that give men's short hair more volume and layers.
One of the easiest ways to style your super short, tiny curls is to keep your hair short and pair them with shaved sides or undercut.
This particular look gives you more structure and definition. Just remember to keep your curls healthy and strong with proper hair care.
13. Two-Toned Curls
Do you like to experiment with different hair colors? If not, you should definitely try it out.
A great way to accentuate short and curly hair for men is to add a new color into the equation. In this case, two entirely different colors, light and dark, give you a whole new vibe.
Grey hair used to be a symbol of old age, but not anymore. Young men and women rock grey hair and look awesome, so you may want to get on the bandwagon.
Lighter hair in this shade can bring more attention to locks in short haircuts for men with curly hair.
Contrasts make everything better. They make our outfits look better, photos look more appealing, and our hairstyle has a greater impact. A combination of dark natural hair and lighter dyed hair makes the short curls pop for guys.
Classic Long Curly Haircuts for Men
If you're a guy who doesn't want too much volume in his hair, you may want to try this curly short haircut.
Basically, keep your curls short, trim or shave the sides and complete the whole look with a strong tapered beard. In this case, beard and hair are in contrast, but they work together perfectly.
Effective Ways to Get Curly Hair for Black Men Fast

Not all curls look equal. Some curls are shorter, others are longer, but there are also those that resemble tiny spirals.
The latter gives your hair more volume, layers, and texture. This short hairstyle is ideal for men who prefer having their curly hair voluminous and quirky.
18. Sensual Curls
There's nothing wrong with a sensual hairstyle that oozes your alpha male status. Your hair can be a huge part of your "game," and it's definitely worth to experiment with different styles.
One style you can try is this shorter haircut with bigger curls and "I woke up like this" vibe.
19. Short Curly Blonde Hair
Of course, we all care about our look and our hair, but we also want to give the illusion like we don't really pay that much attention to the whole thing.
For those times, shorter messy hair for men with looser curls can do the trick. You can dye your hair or opt to keep the color natural, and it's all up to you.
20. Dramatic Curls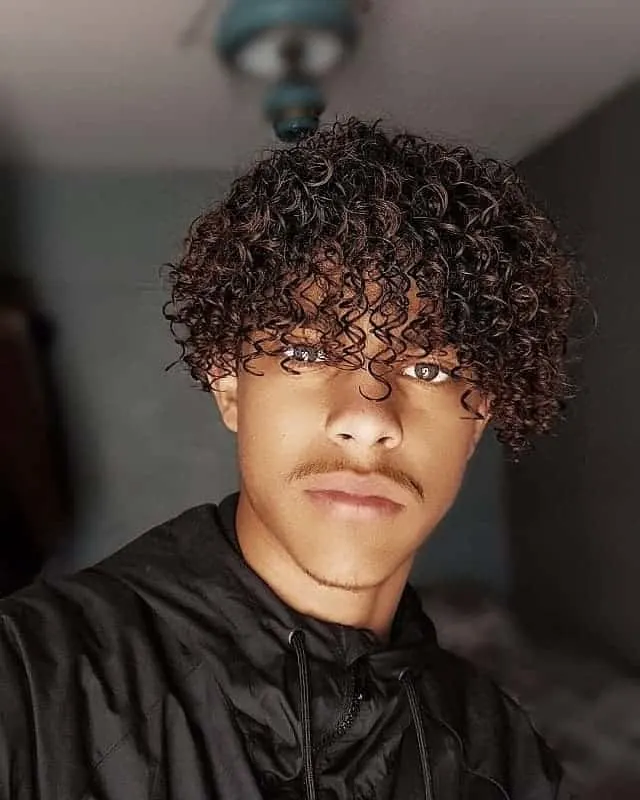 A little bit of drama is sometimes everything we need to stand out and rock our curls.
To pull off this dramatic short curly hair men look, all that's necessary is to grow your curls a little, so they appear looser. Let them fall down your face, and that would be it.
21. Reddish Fade
What we love about low skin fade is that you can incorporate it into any style you want. A perfect way to style short curls for guys is also to define your curly hair with temp fade.
The cherry on top is to go for a reddish hue to give your hair a new dimension.
Style your curls in a way that hair is longer on top and smaller on the sides. When it comes to the sides, you can either shave them, opt for low fade, tapering, undercut, you name it. The choice is yours.
23. Curls and Mid-Part
If you're a fan of longer styles, you may want to try this short hairstyle for men with curly hair. Part your hair in the middle and let your curls do the rest.
Trendiest Haircuts for Boys with Curly Hair
24. Tiny Twists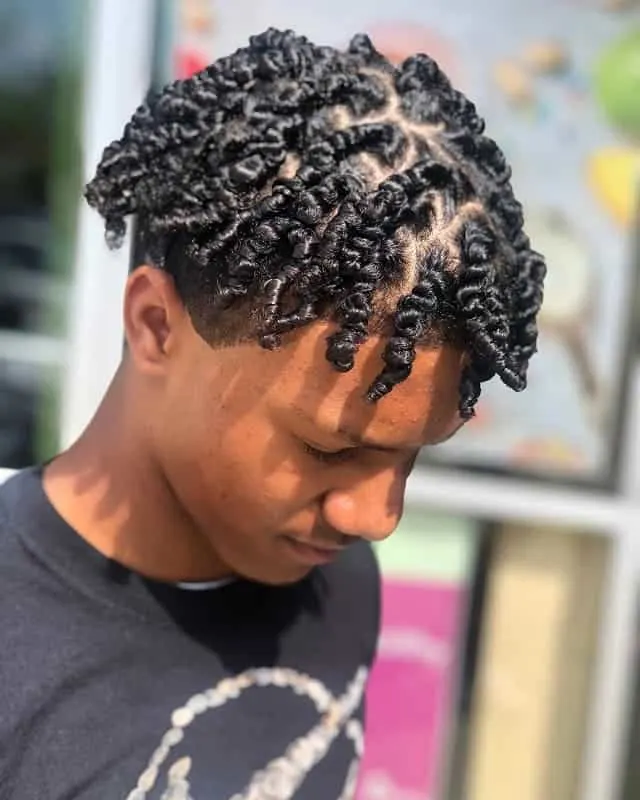 Men who love unique hairstyles might want to style their short hair in a way to use curls for tiny twists. A collection of tiny braids gives you that relaxed, cool vibe.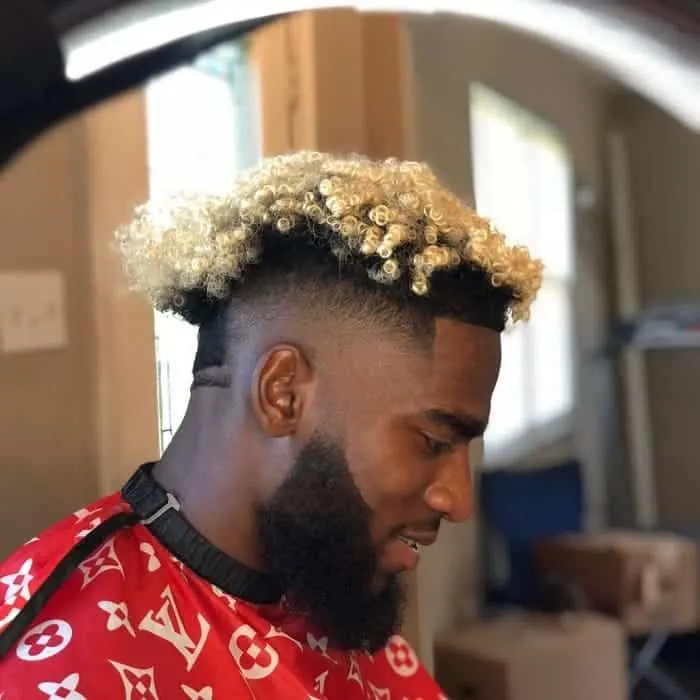 Bring out your edgy side with a haircut that's a tad longer in the back and shorter in the front. Keep sides shorter or shaved and add a nicely groomed beard to complete the short haircut for men with curly hair look.
How to Style Men's Short Curly Hair
Curly hair adds volume and texture to any style without any need for too much effort or expensive products.
Generally speaking, curly hair is coarser than other types of hair, and the easiest way to keep it from becoming unruly is to make sure the sides and back are short while allowing your curls to be the focus point.
That way, your short haircut allows curls to have much-needed freedom, but at the same time, it's easier to control them.
You can experiment with different looks ranging from micro curls to the bigger ones, try out different colors, opt for shorter or longer cuts, low fade, and options are truly endless.
If you want more volume to go with your curls, then you may want to opt for layers. Men whose hair is super curly may benefit from keeping their hair short, around three inches. Bear in mind that curly hair needs to be cut and trimmed when it's dry.
Tips for Maintaining Curly Hair
Curly hair may seem wild, but don't forget it's also the most delicate type of hair texture. To keep your hairstyle perfect at all times, you need to learn how to take care of curls properly for guys. Here are a few tips that can help you out:
Avoid using styling products with a high alcohol content
Don't wash your hair every day, but once or twice a week
Invest in a high-quality hair conditioner
Use moisturizing leave-in cream to prevent your hair from getting frizzy
Avoid heavy gels and wax products
Avoid too much heat styling (even when you think it will help you get ready faster)
Find a great hairdresser who will trim and cut your hair professionally to keep it strong and healthy
Guys with curly hair have just as many hair styling options as women. We showed 25 short curly hair guys styles you can rock with ease and the best thing of all – they require little to no maintenance. Make sure you care for your hair properly to keep curls strong and healthy.