Calling all men with long hair: are you looking for a handsome way to style those charming locks? Want some great hair tips to achieve a really classy look? Read on for a number of trendy styles to rock your long blonde hair this season.
Men's Long Blonde Hairstyles
We've gathered the trendiest long blonde hairstyles for men to rock with pride. Start scrolling for hair inspiration.
One edge of having long hair is to have them fall off naturally without the hassle to style them. Leaving your locks down till shoulder will give off a cool aura and a rugged look if combined with a beard.
To get the desired look blow dry your blonde hair and run some hair product through them to let them set and complete the look.
One good way to style blonde long hair for men is to have a long fringe cut and have it fall over the side covering half of the face. This style is especially recommended for teen boys looking for some funky style to try.
It is cool and requires some effort to put it together. Nevertheless, the outcome is worth the effort.
3. Chord Overstreet's Hairstyle
If you don't want the length to touch your shoulders, you can have them cropped till the ear lobe, just like Chord Overstreet has them.
This actor's blonde hairdo has its own charm and is unique. If you are up for covering your temples including the forehead, there isn't a better option than this long hairstyle and that too for blonde men.
This style is our favorite on the list. This look for guys with long blonde hair is cute and brings out the youthful side of the person having it.
In order to achieve the true surfer look, you don't necessarily need to surf. All you need is to blow dry your hair them then spray it with some saltwater solution. Run your fingers through your hair and your surfer look is ready.
This look is one hot style on the list. Long blonde hair coupled with a rich beard gives off a charismatic outlook. The style requires minimum effort on your part.
Though it is recommended to only men with thick dense hair. A wild yet sexy outlook can be achieved by simply having your blonde hair parted in the center and falling off till the shoulders with a rich beard to finish it off!
6. Messy Low Ponytail
On casual days or when you're heading to the gym, the easiest style for your long hair is using your fingers to comb it back into a low ponytail. To get it more off your shoulders, make a man bun.
7. Off Center Part
Men with shoulder-length or longer blonde hair with a wave or curl to it will like how their face looks when hair is parted off center. Combed neatly, it's an ideal look for professional environments.
8. Faux Hawk Braid
This long blonde hairstyle gets a Viking vibe from its braid. Sides are buzzed to help the detailed faux hawk stand out. If you're looking for a rugged style, try it!
9. Straight and Layered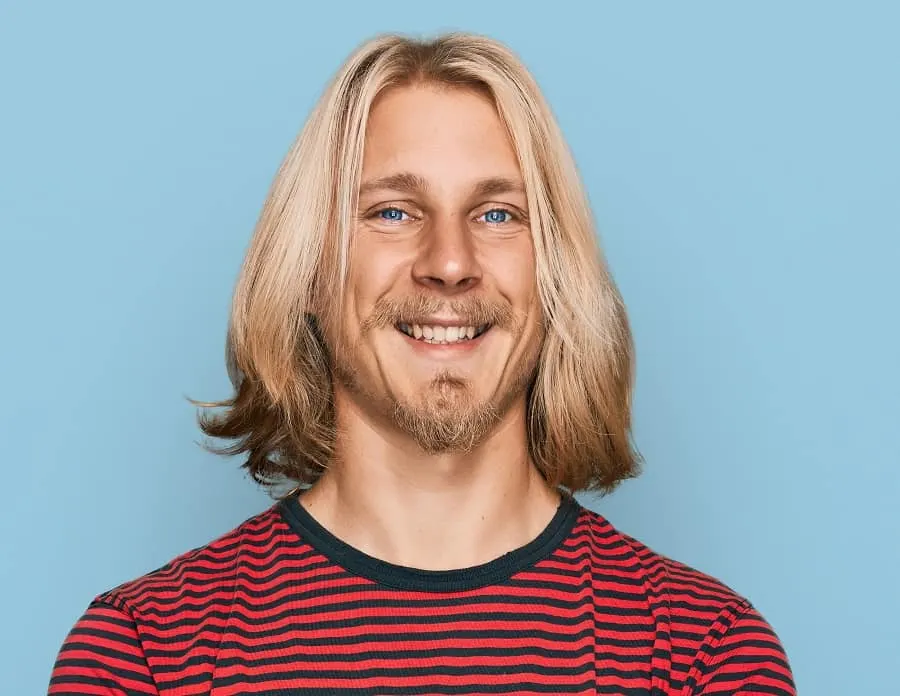 It's no secret that many men prefer a low maintenance hairstyle. If your hair is mostly straight, ask your barber for long layers. As you'll see above, it's clear they give hair built-in style, making it easier to get up and go!
10. Blonde Braid Extensions
Black men who are curious about trying a long hairstyle should definitely give these blonde braid extensions a try. They'll give you the length to pull off various styles and bring light to your face.
11. Thin and Curly
Whether your hair is naturally thin or fine or you're an older man experiencing hair loss, your blonde locks still have life to them! Opt for a short trim and work in a little product to thicken the hair up and emphasize curls or waves.
12. Man Bun with Partial Fade
If you often wear your hair up in a man bun, put a new twist on your look by having your barber add a partial fade. A small shaved area at temples is quite flattering no matter your face shape.
13. Short Layers
This short layered haircut will work wonders on blonde men with curly or wavy texture. Part your hair down the middle and work in mousse with your fingers for handsome style in no time.
14. Blonde Mullet
Looking for a bold haircut you can wear proudly? A spiky mullet will satisfy your punk craving. We love the contrast between long blonde hair and dark facial hair.
15. Platinum Blonde Hair
If you're not afraid of going really light in your hair color, consider platinum blonde. This bluntly cut men's hairstyle has minimal texture and is parted off center, a look you can pull together in minutes.
16. Low Man Bun
When you're in a hurry or just need quick style, the man bun is a classic choice. The key is using your fingers to gather your hair into the bun. Don't worry about combing it perfectly.
17. Braided Faux Hawk
If rough and rugged is your hairstyle preference, this blonde braided faux hawk with a Viking vibe is a must try. Whether your sides are buzzed or bald, both will help the long braids and half bun up top stand out.
18. Rainbow Mullet
Platinum blonde is the perfect color for displaying rainbow hair colors. Men who like colorful punk-rock hairstyles need to try this edgy mullet.
19. Blonde Shag
To many, the mens shag hairstyle may be long forgotten, but when it comes to long haircuts you can't really keep it off the list. Similar to the mop crop, the shag has a bit of a wave in the blonde locks too.
It covers the temples and the forehead and an overall outlook of a carefree person. Teenagers and Scooby-Doo fans should definitely try this lookout.
While the regular blond is charming in its own way, there is something about the platinum blonde that appeals to the senses.
Another way of styling mens long hair is to have them dyed platinum blonde. As the name suggests the color gives off a vibrant and cool look and a mysterious vibe that excites.
This one of a kind long blonde hairstyle for men on the list holds its own charm and allure.
Whether your hair is stark blonde, platinum blonde or has blonde highlights, as long as it is long, wearing it in a bun will definitely attract attention from crowds.
Upgrade your blonde look by adding a touch of undercut to it. The style is trendy and gives your hair a full and voluminous look. You can also try this long hairstyle if you are having blonde curls.
In that case, you will give height to the mop of curls on the top and carry a haircut that is cool and unique.
23. Blonde Dreads
Last but not least, blonde dreads is another bold hairstyle for guys on the list. This long hairstyle screams adventure and fun. It is suitable for anyone wanting to pull off a wild look and at the same time want to have an adventure time exploring waves.
Whether you are up for a day on the beach or some dancing around a bonfire, these styles are perfect to complement your look. Plus, these are low on maintenance, requiring minimum effort on your part.
So all those men with long blonde hair on the go, these are must-try looks for you guys to hit the roads in style!