You can truly consider yourself lucky if you are one of those men with thick hair. Many girls will kill for a mane like yours. If you happen to be one of them, make sure you pick the proper hairstyle to give it value and make the best out of it. We recommend you not to keep your hair short, but to make it stand out with a long layered hairstyle or maybe a haircut that concentrates on the crown hair.
Hairstyles for Men With Thick Hair
A pompadour haircut will undoubtedly look great on you, and a faded side hairstyle with a part and rich top will definitely make you irresistible to girls. Here are some manly hairstyles for your thick hair.
With this gorgeous layered hairstyle for men with thick hair, you will get a mysterious gentleman look that will get any girl's attention. Tousle your bangs and flip them on one side. Thanks to that thick hair, your locks will have significant volume.
Style a faded short haircut for men with thick hair on the sides and back and complete your look with a medium ducktail beard. For the crown hair, you styling foam to recreate that wet look and to orient your hair upwards.
Who says that only girls cand dye their hair? Choose a silver platinum blonde hair color and keep your roots in their natural color. Style a short side faded cut and keep the rest of your hair flipped on the back.
Show that gorgeous wave, man! Get a medium hairstyle with bangs that reach your chin line and tousle them on one side. You will create a messy look that gorgeously works with a mustache.
#5. Thick Coarse Hairstyle
Afro-American hair will look so much better if you choose a hairstyle that lifts your coarse, thick hair. Style a bald fade on sides, and you are good to go.
#6. Thick Hairstyle for Oval Face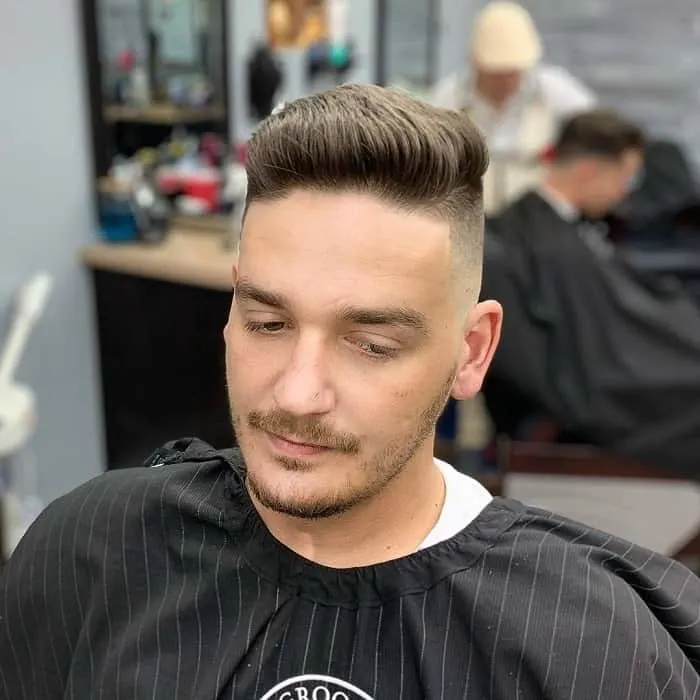 An oval face suits any hairstyle, and if you happen to be a guy with a thick mane, this haircut with crown oriented upwards is one of the best choices for you.
#7. Hairstyle for Men With Thick and Round Face
If you have a round face, there a few tricks out there that can make it look slimmer. First, create a hairstyle that is short on sides and with dimension in the crown area. It will make your face look longer. A short thick beard can also help you get the aspect your craved for.
#8. Faded Thick Hair
Whenever you want to look like a dashing gentleman, create a ducktail beard with well-defined edges and a part fade for your haircut. Lift your top hair and create that wet look with styling foam or gel.
#9. Thick Messy Hair
This outstanding messy hairstyle for men with thick hair is extremely versatile. You can opt for a relaxed look, by giving your hair only a small tousle, or you can style your bangs on one side or upwards.
#10. Thick Frizzy Hair
Create a side cut that has the same length as your beard. Keep your top hair long and add lots of moisturizers if you want it to be pretty easy to handle and style. Also, a mustache will undoubtedly make a difference.
#11. Curly and Choppy Thick Hair
A stately hairstyle for men with curly thick hair. Tight curls really suit guys who have lots of hair. Give your hair a choppy cut to help to reduce the thickness of the hairstyle.
It is possible to reduce the thickness of a haircut by using gel to flatten out the style. Shaving the sides of the hair will make the cut look sleeker.
Use enough gel on your hair to help to flatten it out, but not so much that it is immovable. A floppy hairstyle creates a friendly and approachable look.
Any slicked back haircut for men with thick hair looks really trendy when it is teamed up with a thick bushy beard. Undercut the section of hair between your beard and the top of your head for added effect.
#15. Slowly Twisted
Give slicked back thicker hair a unique look by twisting it around your head, rather than gelling it straight back. Twisting your hair around creates a unique visual look.
#16. Men's Hairstyle for Thick Hair and Thin face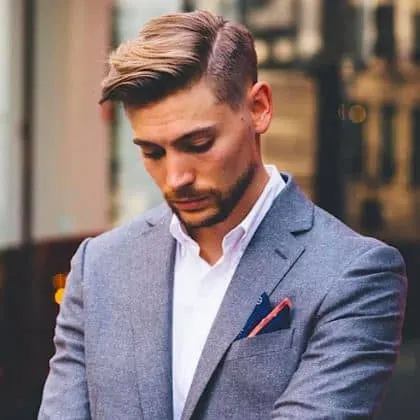 Men with thicker hair can use soft hold hair gel to pull their hair up into a soft peak at the front of the head. This look is a timeless classic hairstyle which has been popular for decades.
#17. Floppy Fringe
For a real throwback to the '90s, style your thick haircut with a floppy fringe. Sweep all of your hair over from one side to the other to create a really pronounced fringe.
#18. Tousled Soft Curls
Create voluminous tousled hair by running your fingers through it as you blow dry. This helps to give a lush and luxurious look to long and thick haircuts.
#19. Curly & Messy
Tight curls hold their shape really well. This means that you can keep growing your hair into a bigger and bigger style. Push the limits as far as you dare.
Choose soft spikes for a non-threatening but cool professional hairstyle. Pull your hair up into peaks and then use a little soft hold hair gel to hold everything in place.
Men with thick hair have so many different options to choose from. They are very lucky because their hair type is so versatile. Any guys who are looking for more inspiration about what to do with their hair should check out some of the other amazing lists on our website.