Depending on the type of dress you wear, your hairstyling options can vary greatly. If you're attending an event where you want to stand out, and look glamorous and elegant, then a hairstyle for dresses that gives your tresses a fantastic glow will look fabulous on you.
Also, when choosing the hairstyle for your dress, consider its fabric, cut, and length. If you don't know how to mix these, read on to see how.
How To Match a Hairstyle With Your Dress
If you've looked in your mirror and wondered how you should wear your hair with a particular dress, you're not alone. It can be a tough decision, and there's no one correct answer.
Formality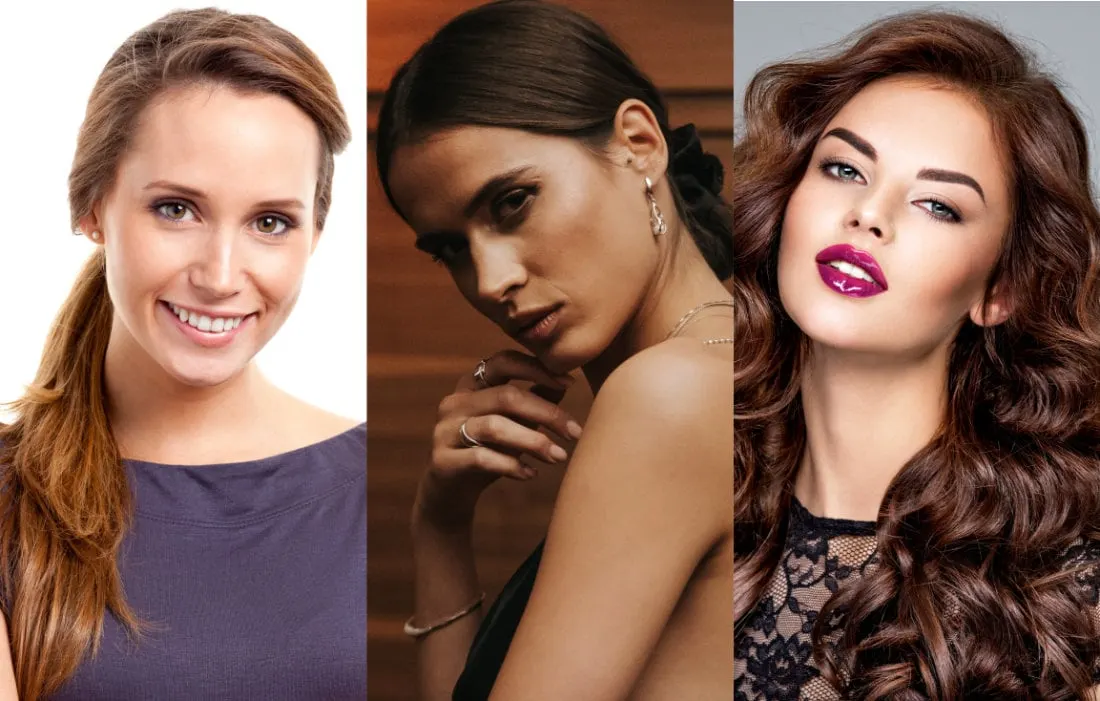 The first thing you should do when trying to match your hairstyle with a dress is to consider the level of formality you wish to convey. If the dress is formal, your hairstyle should exude formality too. Alternatively, if your dress is casual, you can go with a more casual look.,
Both formal and casual dresses might look great when your hair is up or down, but the specific way of styling will change.
For example, if you want to wear a ponytail with a casual dress, you may sport a loose, low ponytail with relaxed side bangs. On the other hand, you can wear a ponytail with a formal dress, but it would look better if it is a high, slicked-back ponytail with fewer loose hairs.
Or you can wear a messy high bun with a casual summer floral dress, then rock a tight, braided bun with a formal black gown.
With your hair down, you might sport a shaggy, beach wave look with a casual maxi dress. But if you're wearing a cocktail dress, smooth, flat-iron-made waves might be a better look.
Style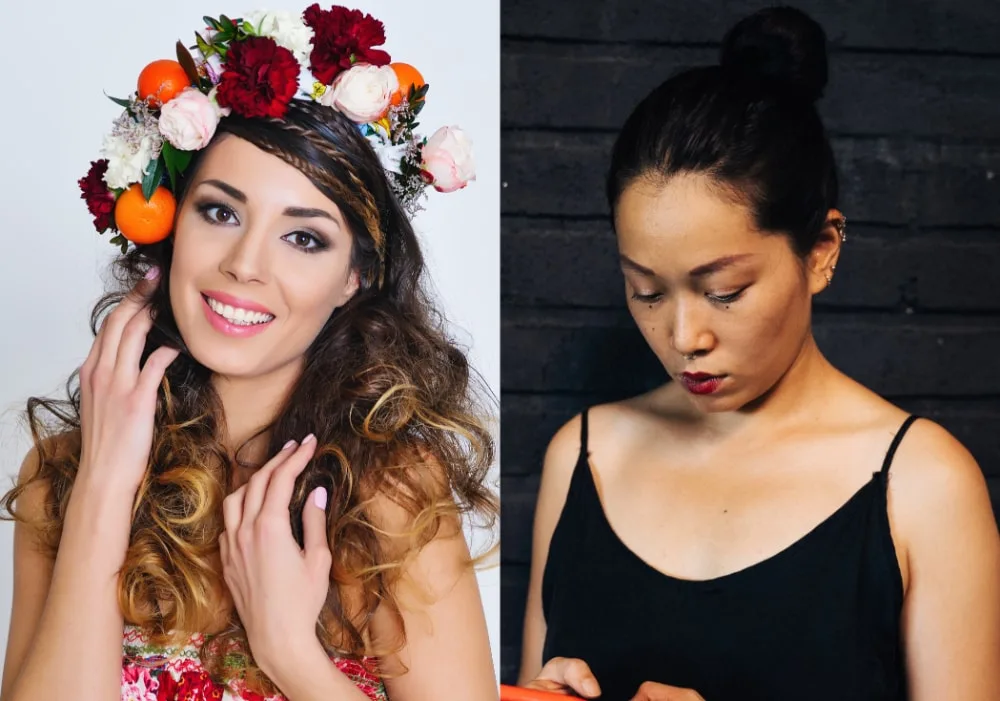 The style of the dress may determine the best hairstyle as well. Matching the hairstyle with the vibe of the dress can help complete the overall look.
For example, if your dress has various patterns and colors, having an equally spunky hairstyle will probably look best with it. Therefore, you might consider a side braid with a messy bun or funky accessories like bright flowers or colorful ribbons.
If you're wearing a classic little black dress or any type of solid-color frock, you might want to go with a timeless and elegant hairstyle, such as a sleek updo or classic curls.
Ways To Pick Hairstyle According to Dresses Neckline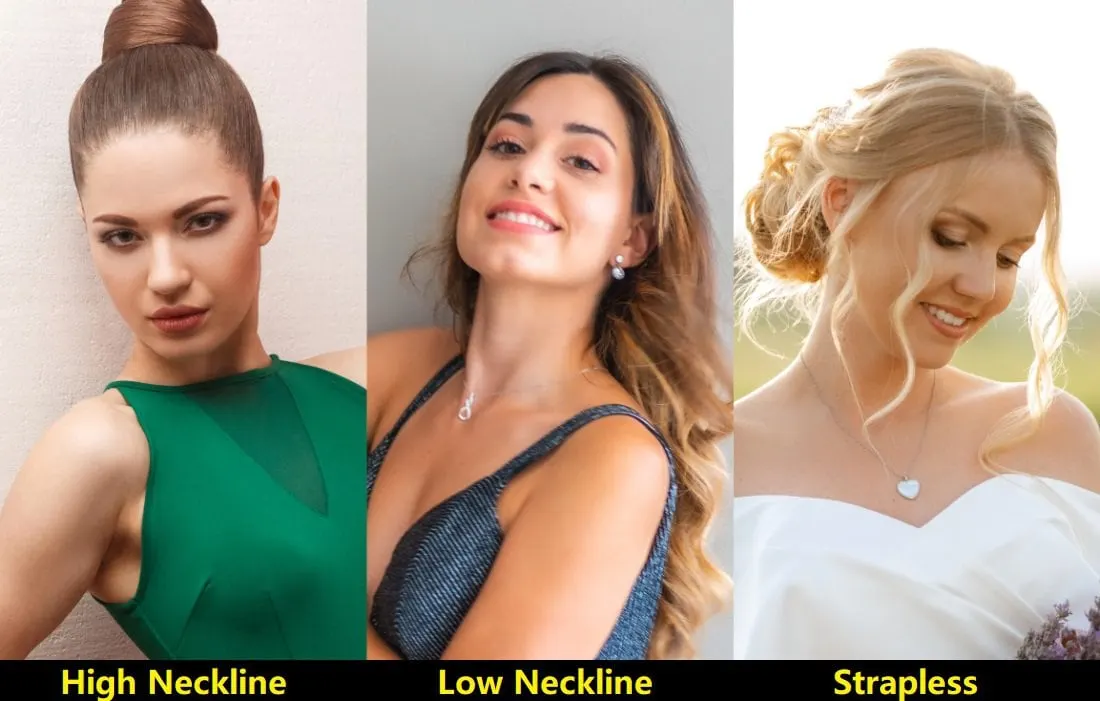 You can also style your locks according to the neckline of your dress. In fact, the neckline is arguably one of the most crucial considerations when deciding how to wear your hair with a particular dress.
If you'd like to wear a dress with a high neckline, it might be best to put your hair up so that your chest is the focus. This will also help you avoid any awkward wardrobe malfunctions, as well as avoid looking like your dress is swallowing you.
A low-neckline dress looks best with hair down or in a low updo. This will help balance out the look. However, some dresses with a low neckline, including strapless dresses, might look excellent with an updo to show off your shoulders, chest, and collar bones.
Suitable Hairstyles for Every Dress
Here are a few ideas to help you achieve an incredible look with dresses and perfect hairstyles for any party.
One-Shoulder Dress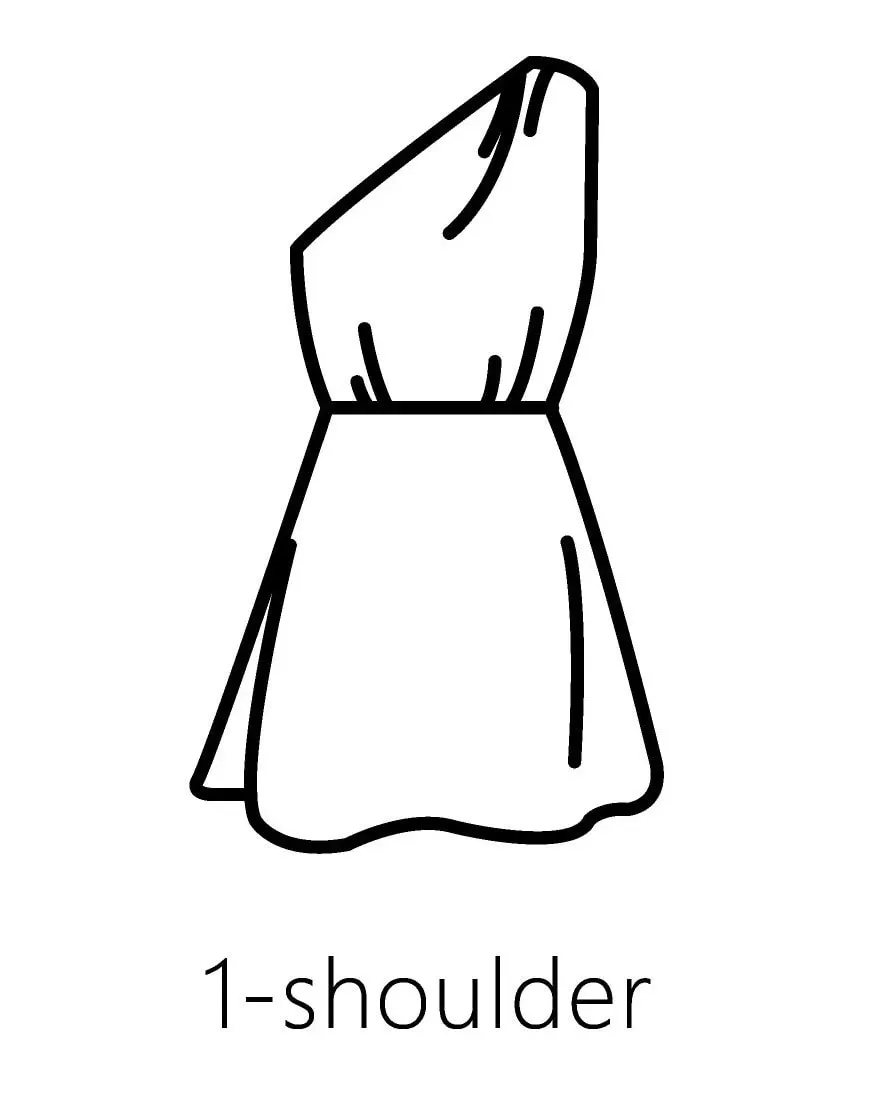 As the name suggests, a one-shoulder dress is a dress that only has one strap over the shoulder, leaving the other bare and exposed. They're great for women with broad shoulders. This dress type looks beautiful styled with short hair or updos.
Black Updo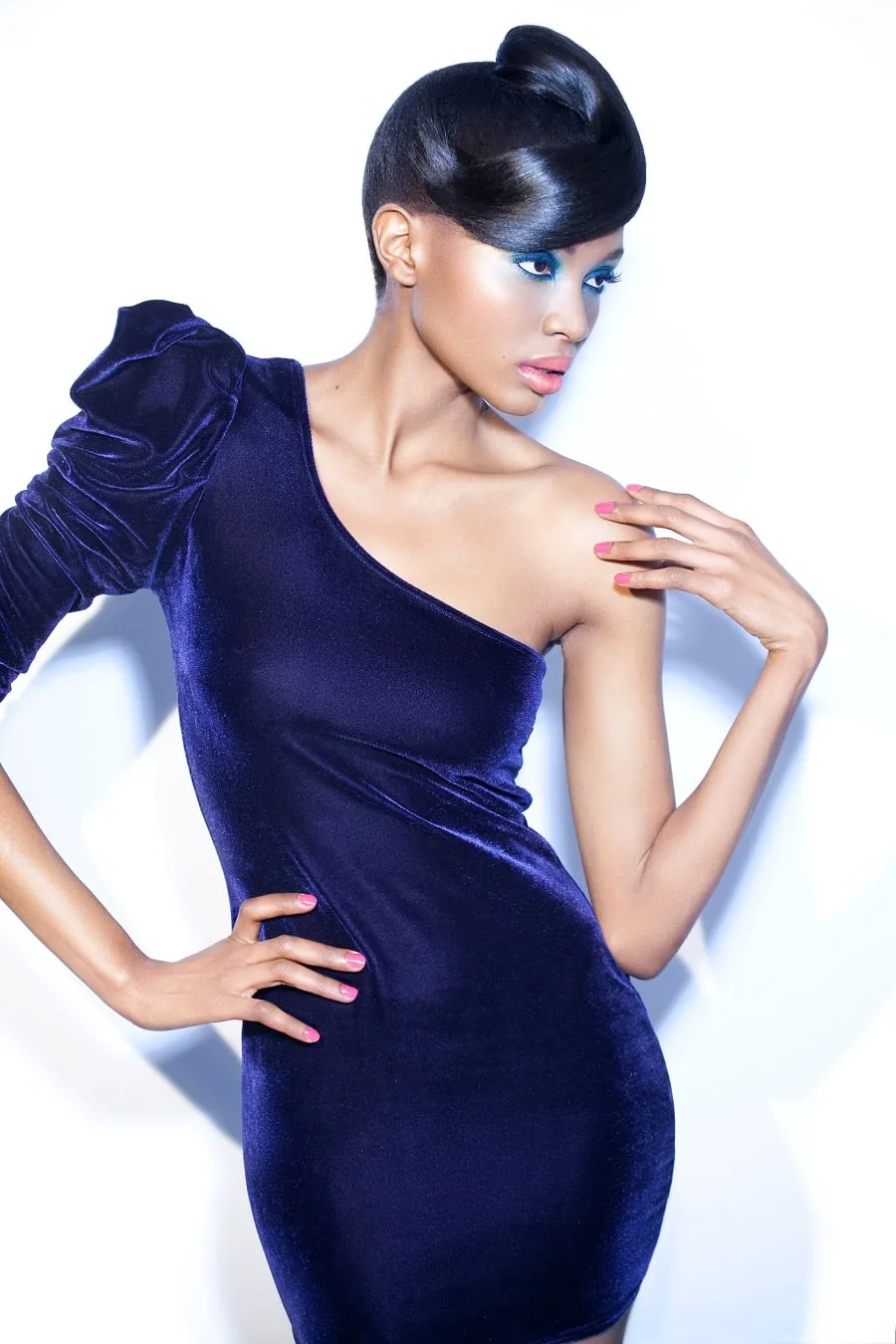 This swooped updo is sleek and chic. Just make a high ponytail and curl it around to the front of your head, securing with neutral hair clips. Its unique shape complements the classy sapphire blue one-shoulder dress.
Long Ponytail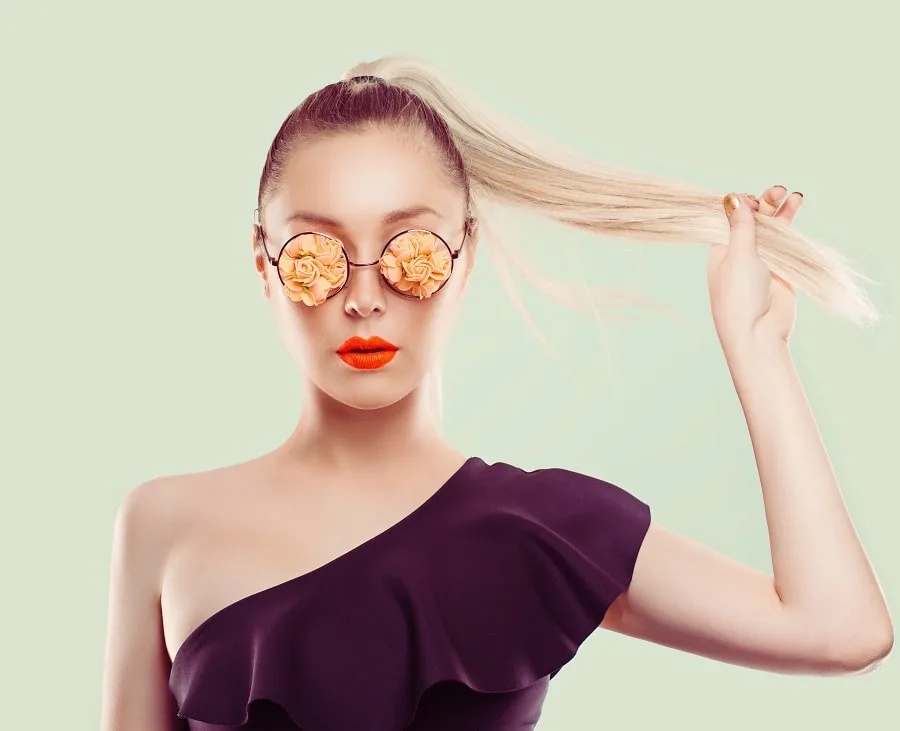 There's nowhere you can't rock a simple ponytail, which is why we love this hairstyle! After straightening your hair, comb it back into a high ponytail. Let it drape down your back or pull it around over your shoulder.
Layered Bob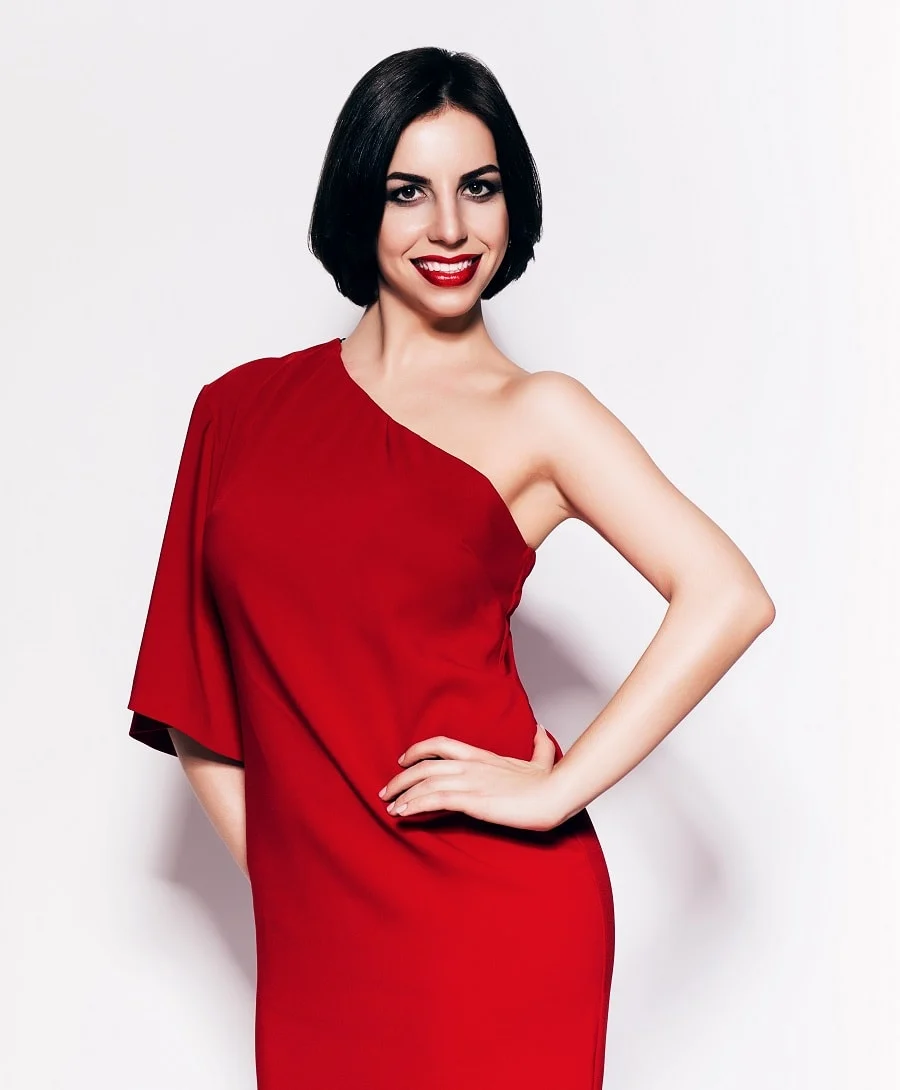 On a one-shoulder dress where your neck and shoulder are exposed, a short layered bob will look very nice. Just part it in the middle and you're good to go! If you're looking for a hairstyle for your big day, check out these bridal hairstyles with one-shoulder dresses.
Strapless Dress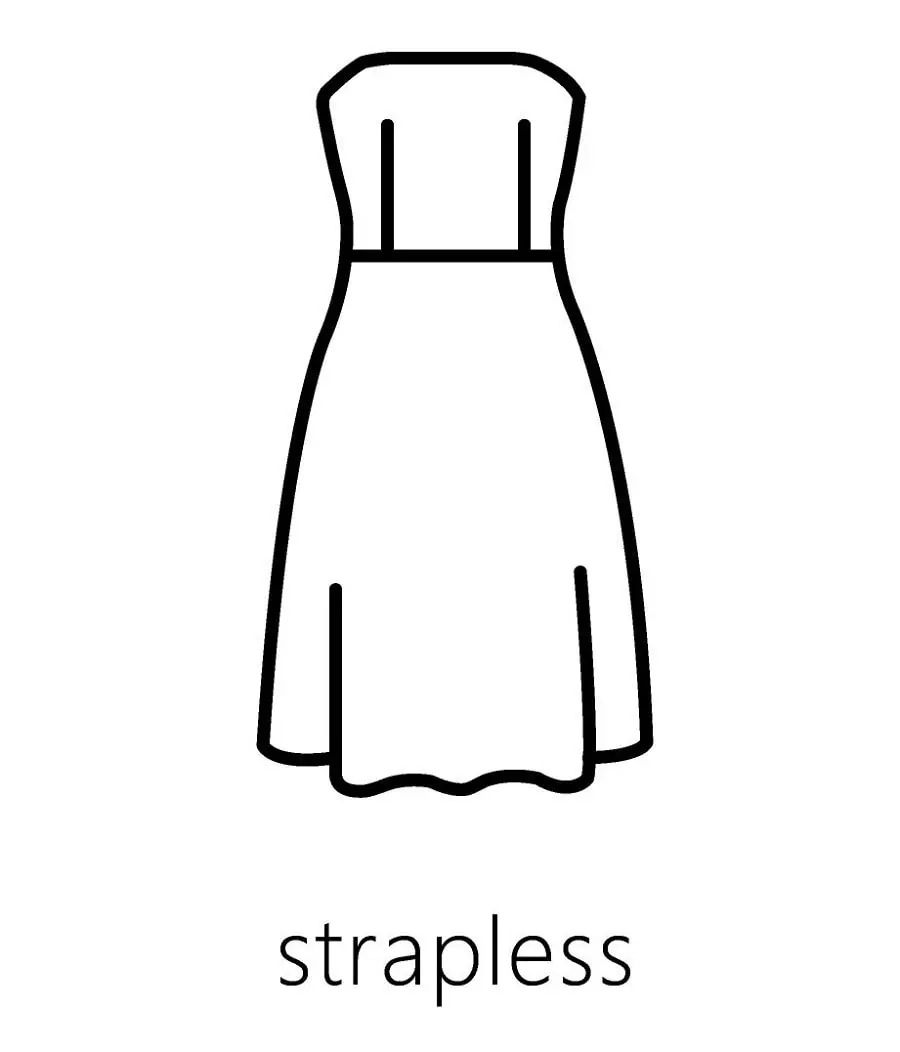 As its name suggests, a strapless dress stays up on your body without any straps. It's almost like a longer version of a tube top. They can be very elegant when styled the right way, or easily make an edgy look when worn with a leather jacket. Updo hairstyles are best for strapless dresses.
Pixie Hair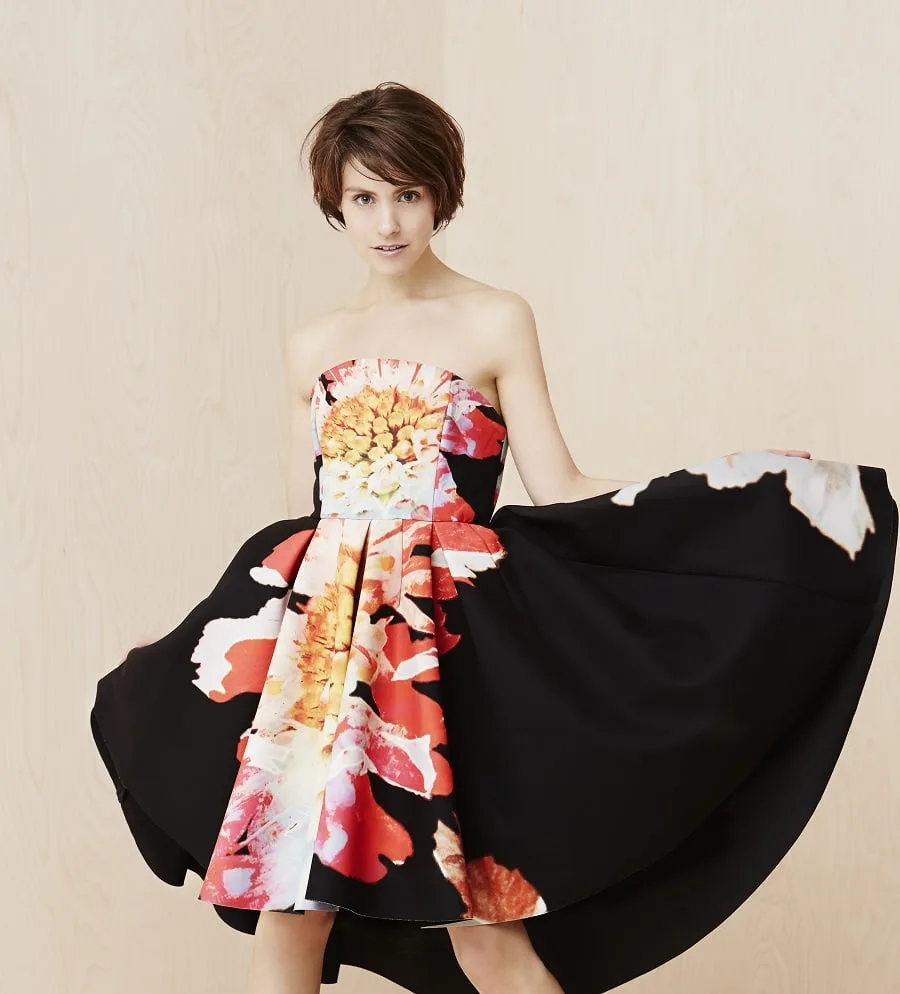 When styling your hair, consider the colors in your dress. The thin blonde highlights in this long pixie play up the florals in this strapless dress. Part your hair off center and finger style with a little mousse.
Braided Bun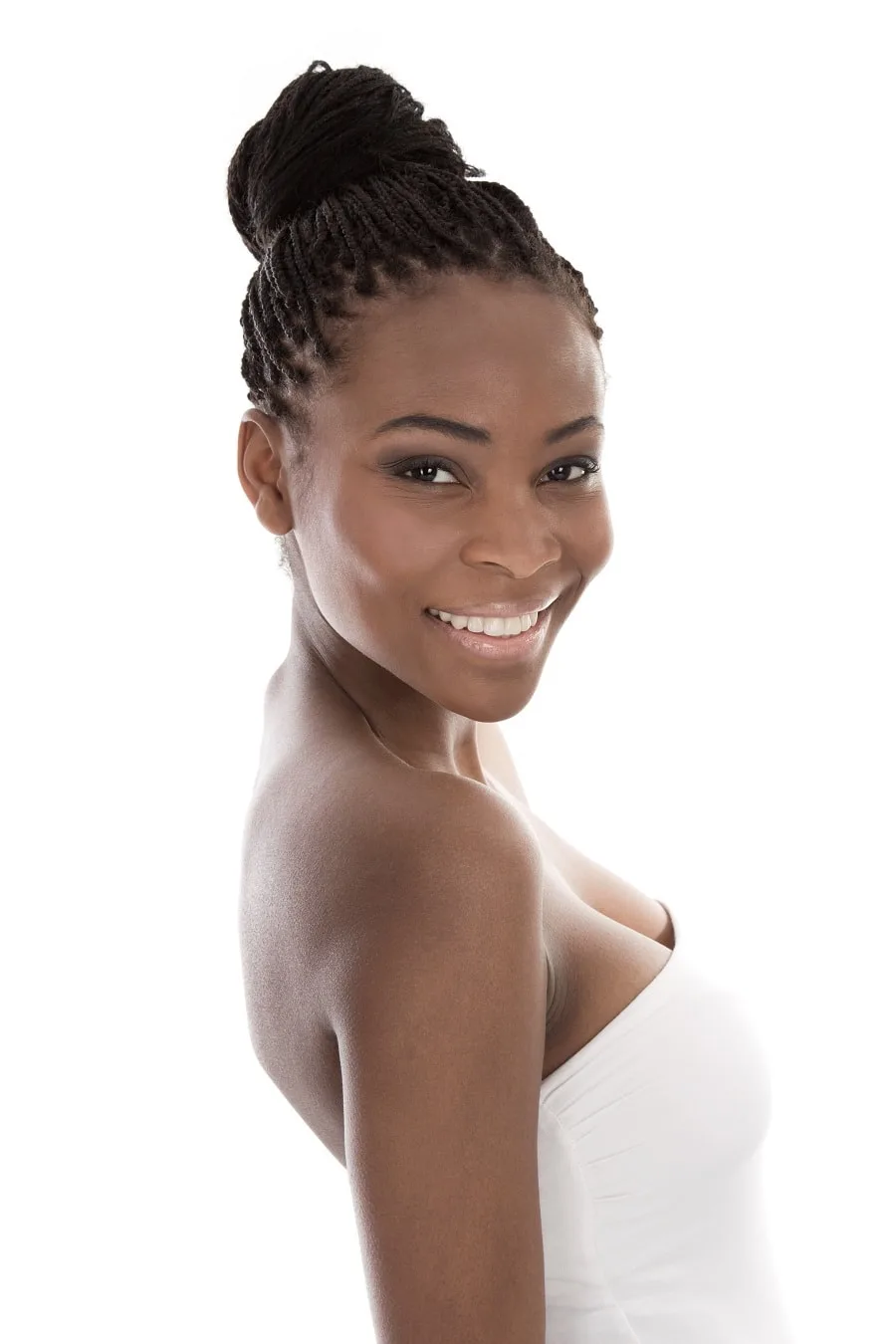 A bun is another timeless hairstyle perfect for any occasion where you have to wear a dress. If you have cornrows or braids of any kind, gather them up into a ballerina bun. This style works wonders for accentuating the collar bone on a strapless dress.
Wedding Hair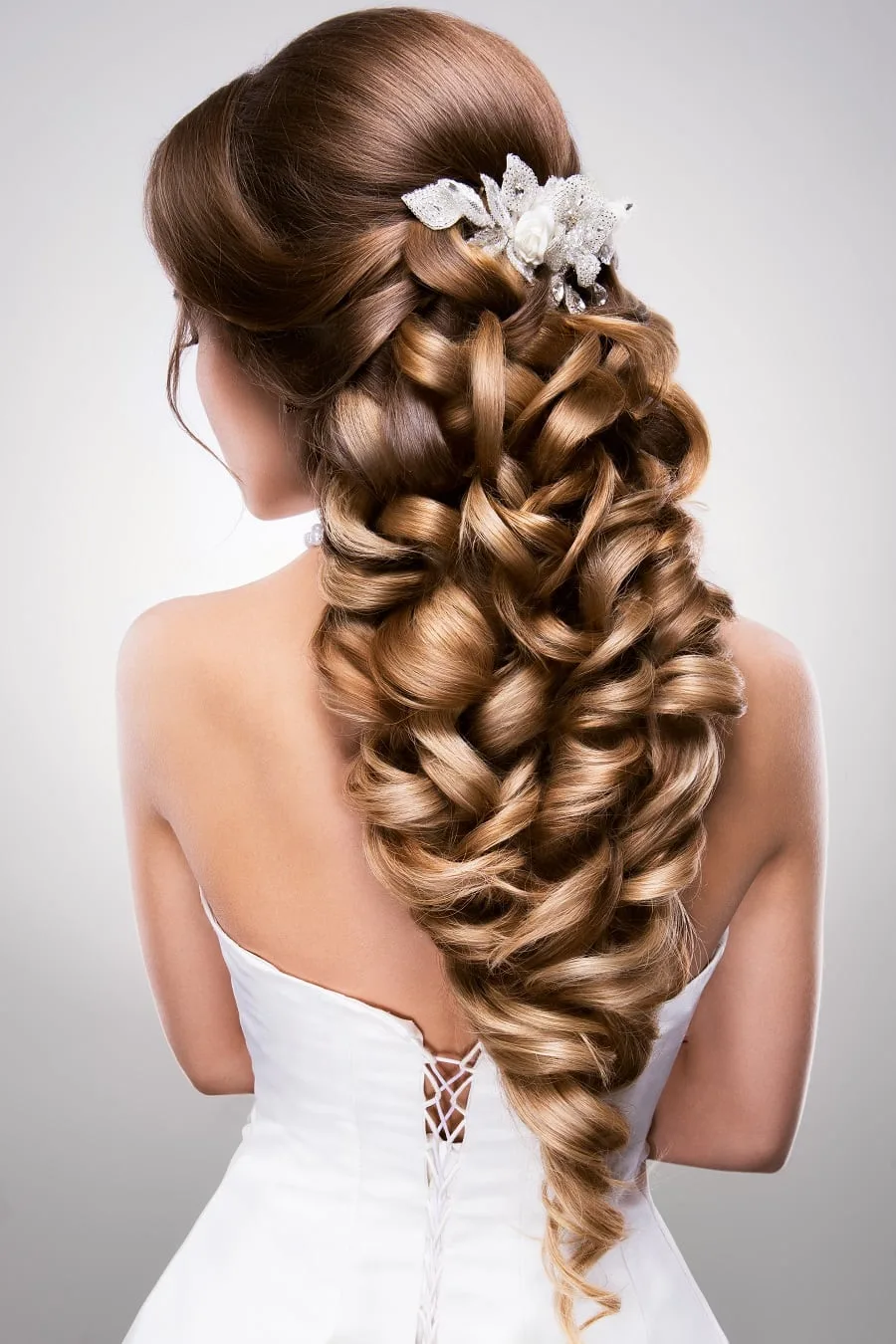 Whether you're the bridesmaid or the bride, this luxurious half updo features lots of perfect curls that spiral down the back. You won't have to worry about it covering up any of the pretty details in your dress.
Off Shoulder Dress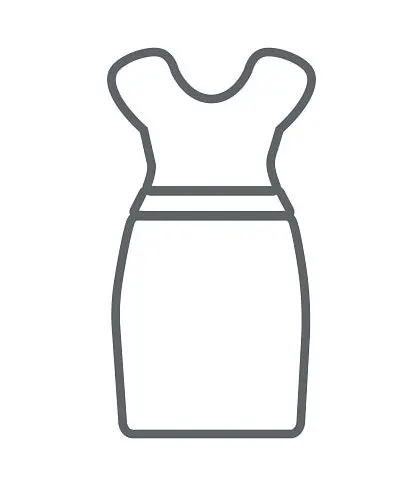 To show off your collarbone and shoulders, choose an off-shoulder dress. You can be a little more flexible when choosing a hairstyle for this dress type, since it looks great with either long loose hair or chic updos.
Curly Hairstyle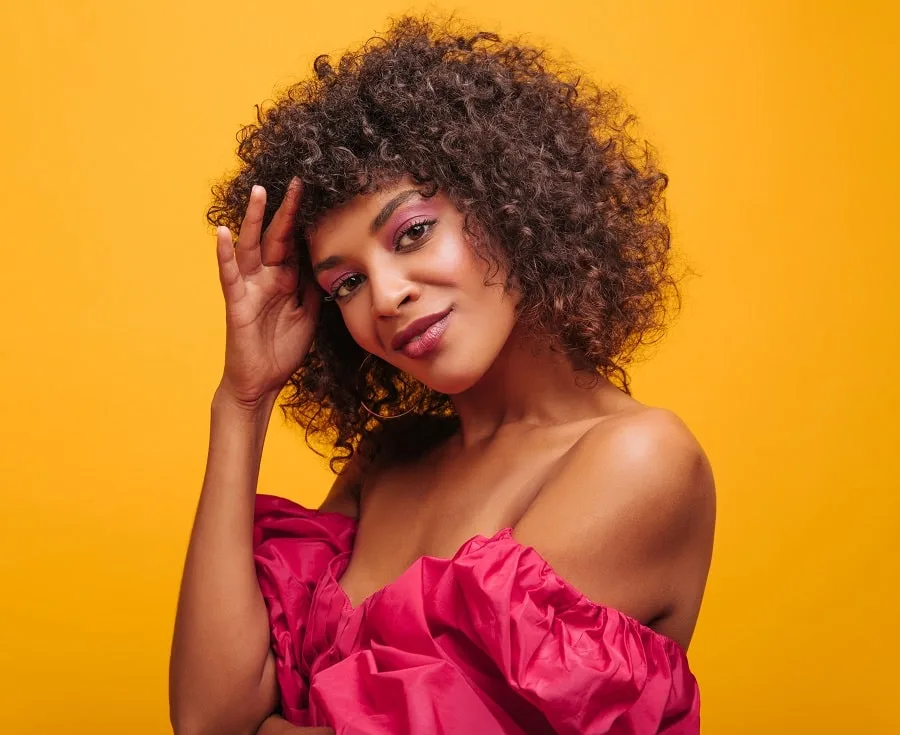 If you're going with an off the shoulder dress, it's the perfect opportunity to flaunt your hair's natural texture. A short or shoulder-length curly hairstyle with bangs just needs a little mousse for styling.
Low Bun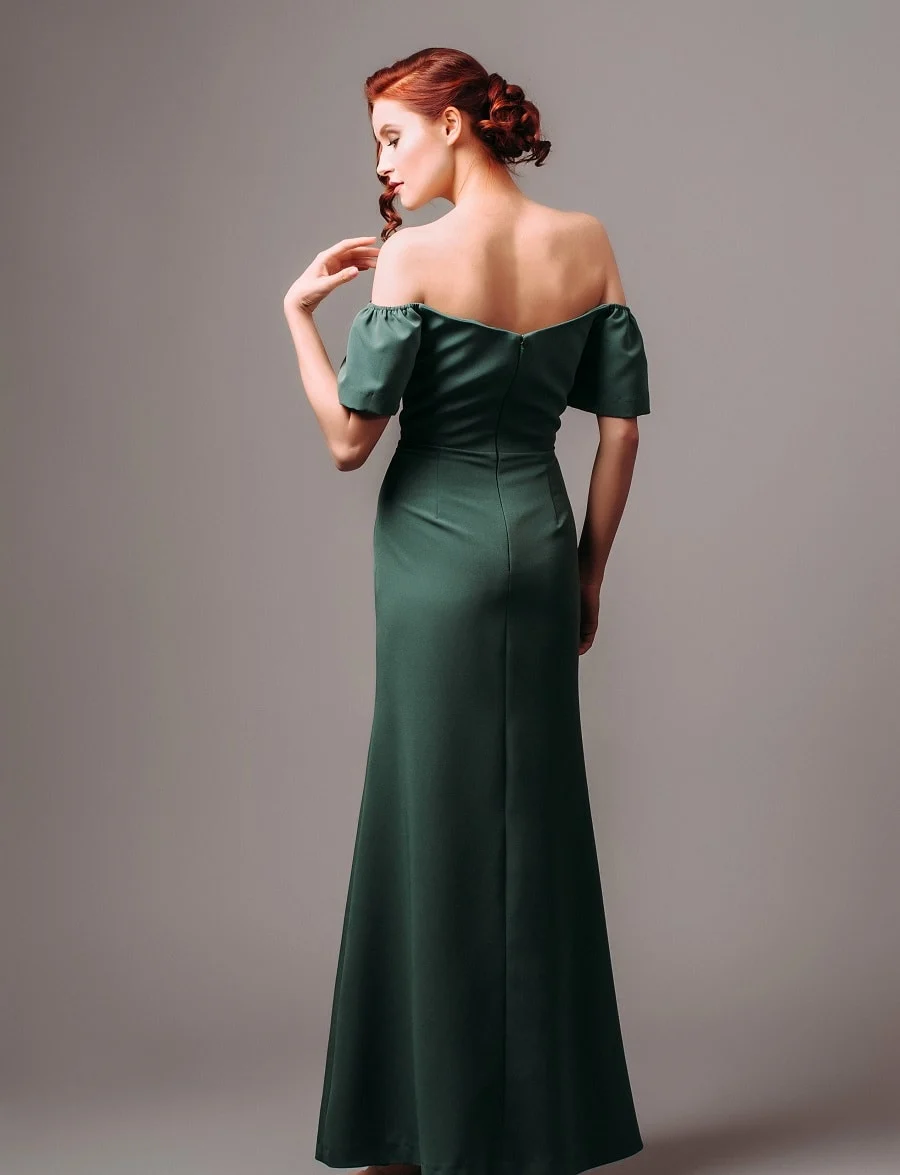 For women who prefer an updo that gets their hair off the shoulders, consider this small but statement-making bun. It may be low, but it packs beautiful punch through smooth curls.
Bob with Bangs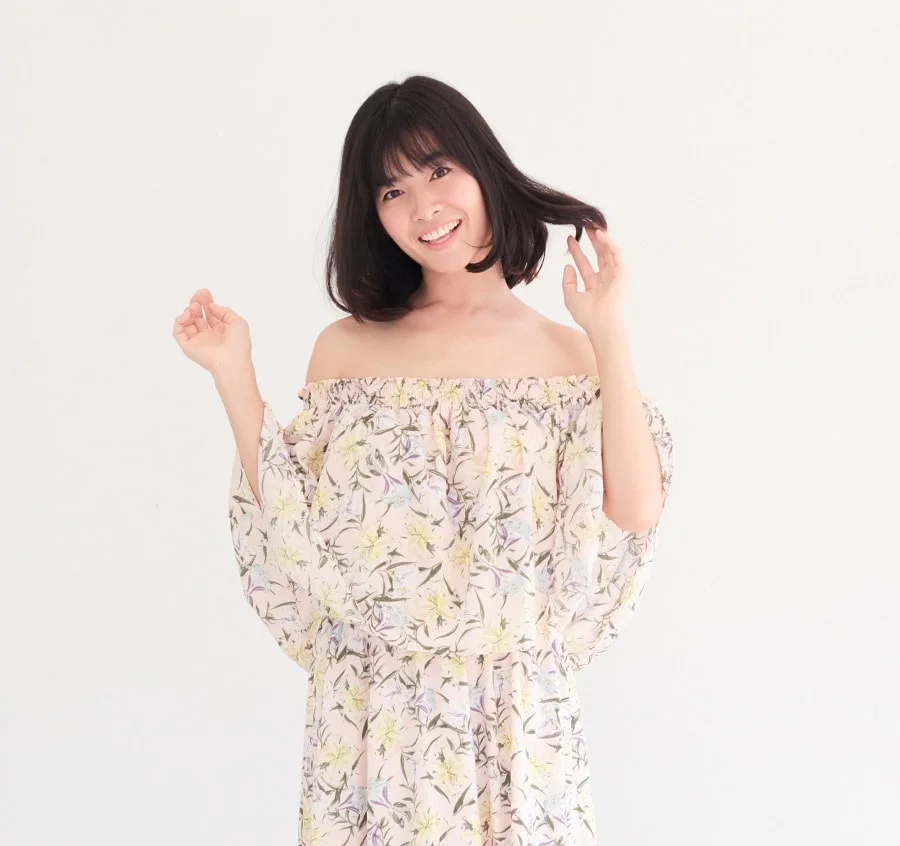 A bob is the perfect hair length for an off shoulder dress, since it will beautifully show off the curves of your shoulders and neck. You can wear it straight, parted in the middle, with bangs brushed straight down; or you can add a few small waves.
Halter Dress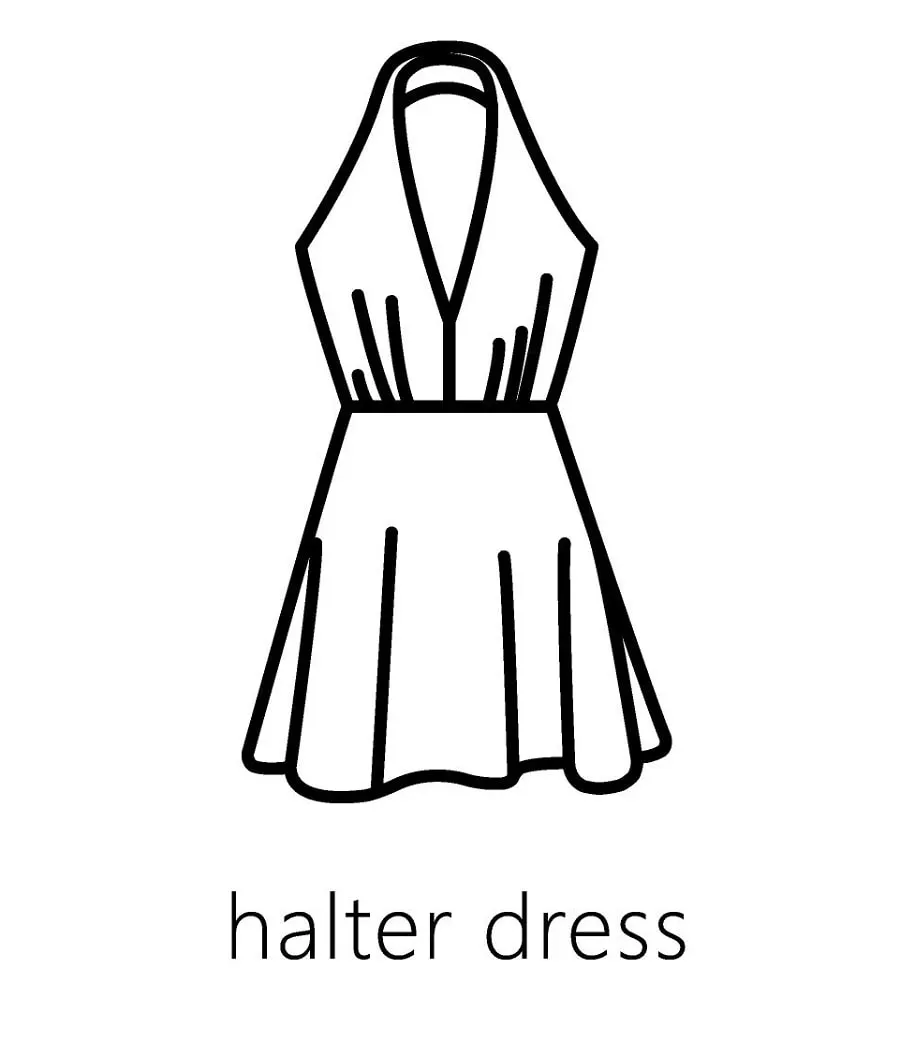 The halter dress is a great choice when you want a more vintage throwback to your style. The straps are either already sewn together in back, or let the wearer tie them back into a neat bow. To keep your hair from getting tangled in with the straps, wear it up in an elegant chignon or another mid- to high updo.
Braided Updo with Bangs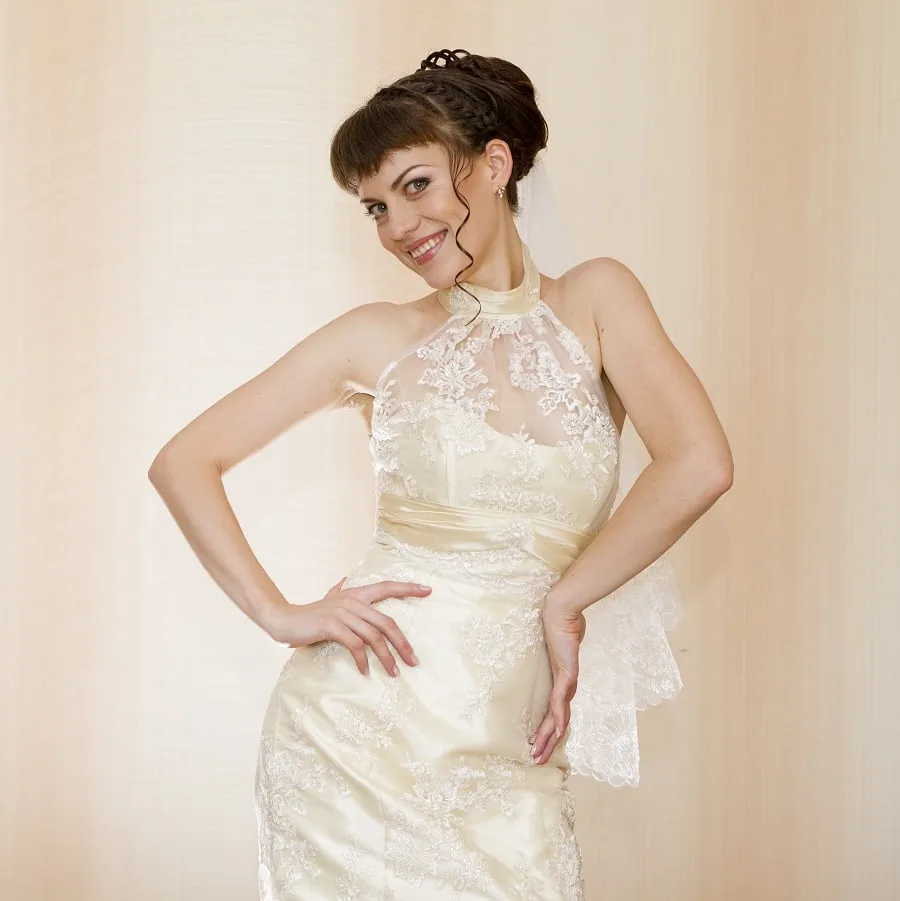 Some women like having a detailed updo when wearing a dress with just as much detail (sequins, beads, etc.). If that's you, consider making one or two braids at the sides of your head before gathering hair in a mid-height bun.
Vintage Hairstyle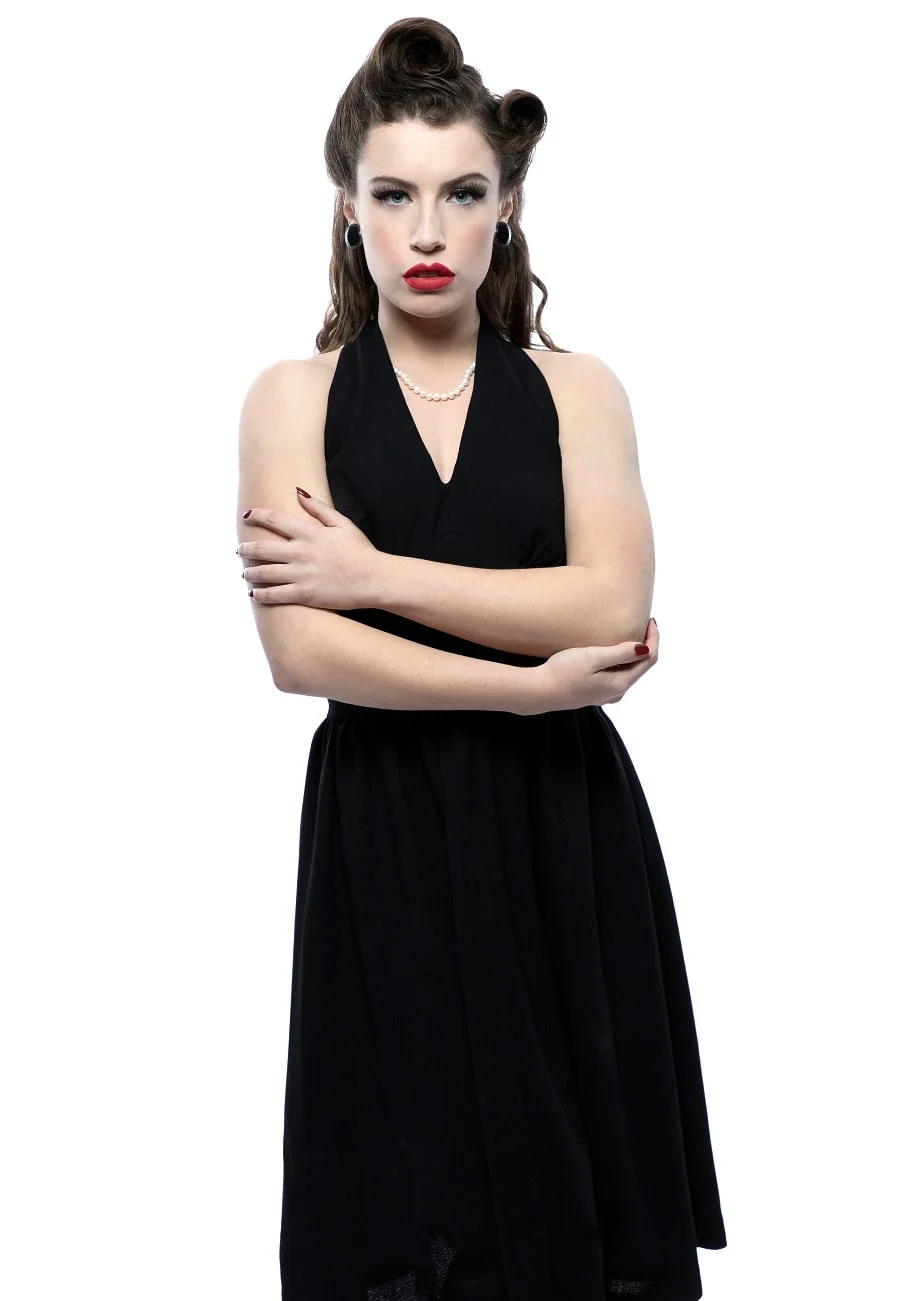 Other choosing a halter dress with a fun print, you can also put a retro twist on your updo to pull the look together. Victory rolls and curls at different heights in your hair are just the ticket.
Colored Bob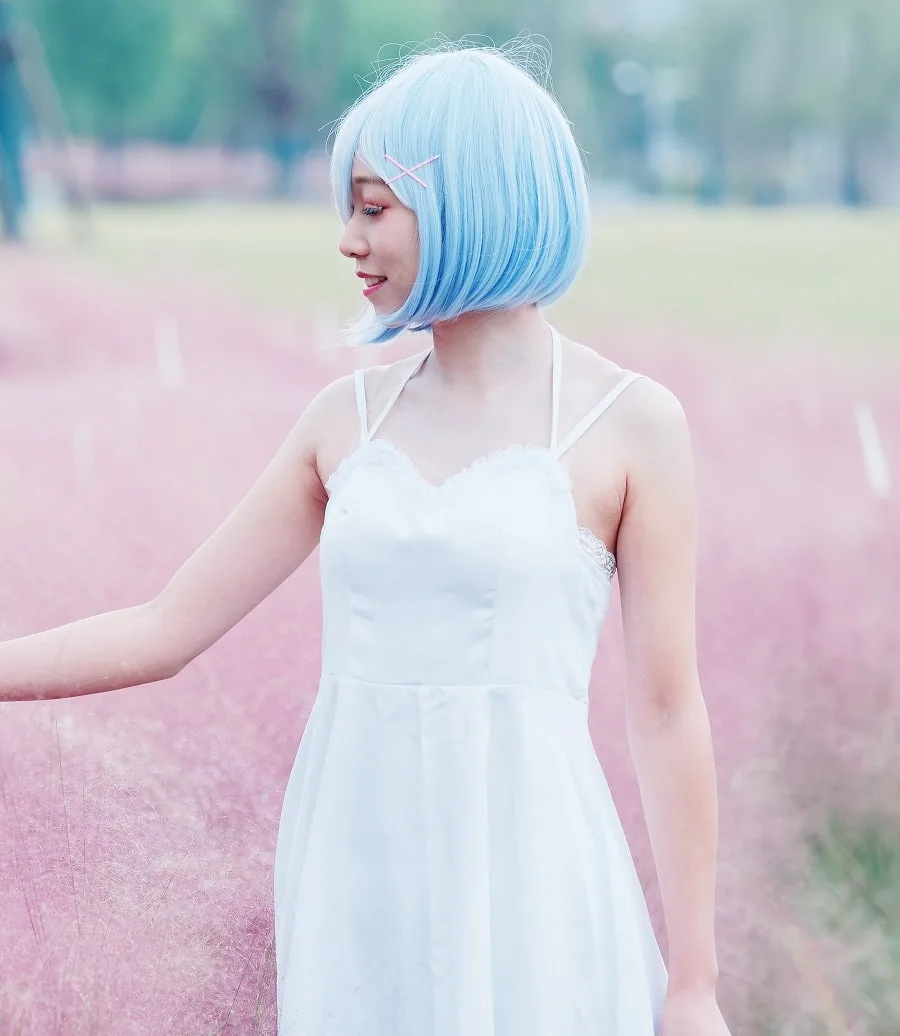 Don't want your dress to steal the focus from your cute colorful bob? Choose a plain-colored halter dress. If you're not worried about having too much color, you could pick a dress in a similar shade or with only a few pops of color, like in the straps.
When you want a boho or free-flowing vibe, choose a long dress. They typically come to at least ankle-length but can oftentimes be floor-length. You'll find their top half comes in a variety of styles, including thin straps and halter. A side braid hairstyle or long loose waves will look gorgeous with this dress type.
Side Braid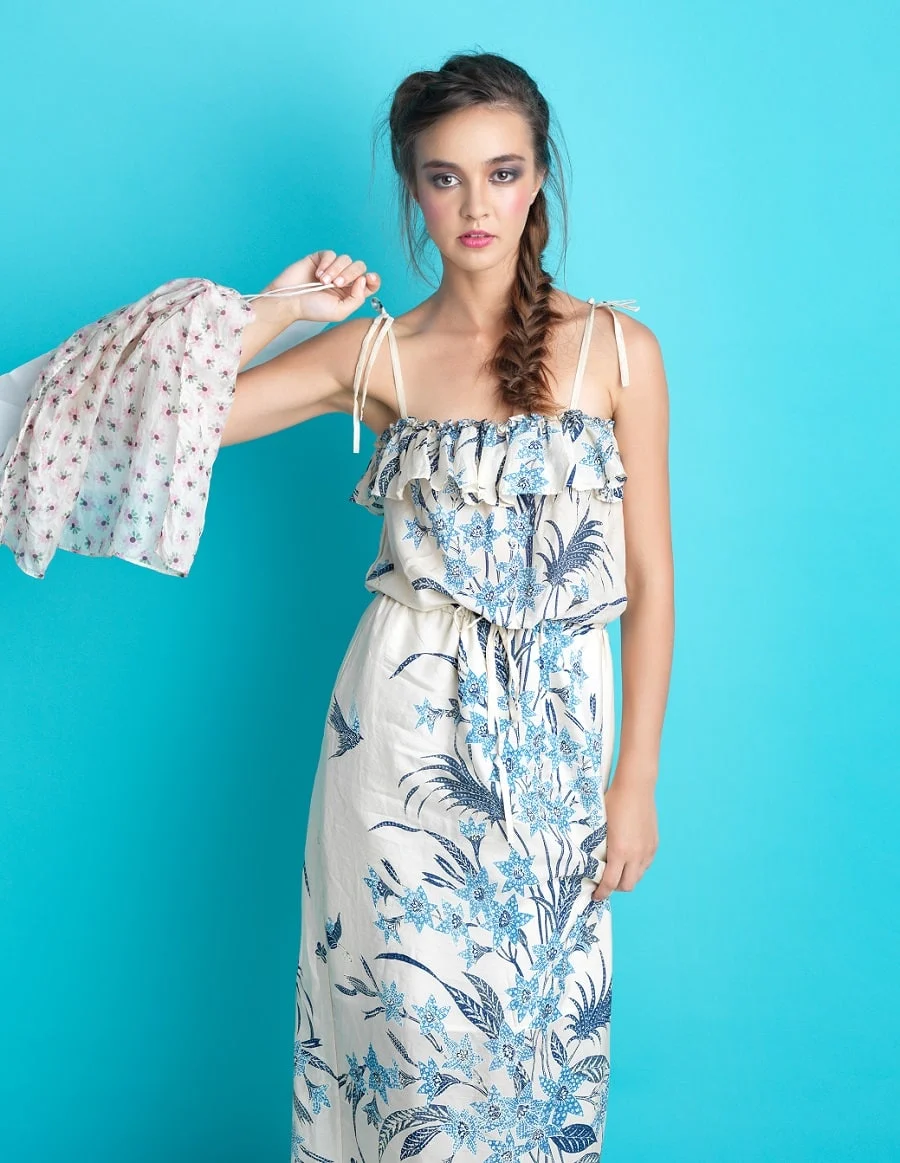 Casual occasions that call for informal dresses present a great opportunity to flaunt a long beautiful side braid. A long maxi dress with a fish tail braid gives off relaxed, beachy vibes.
Medium Bob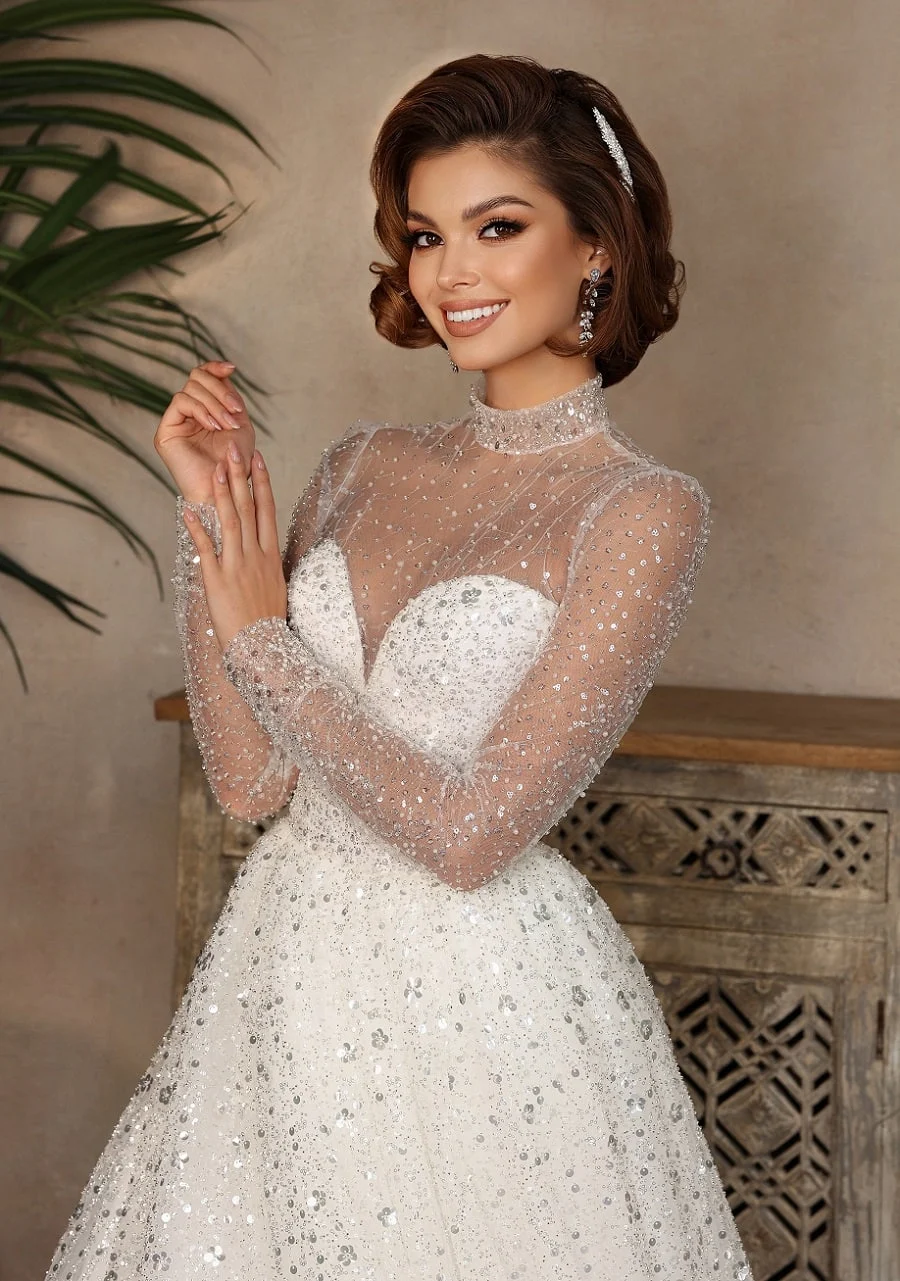 This long sequined wedding dress shouldn't have to compete with your mane, so go with a classy but understated updo. Comb in a partial part in a medium bob, style with tight waves around your face, and pin back one side with a pearled clip.
Box Braids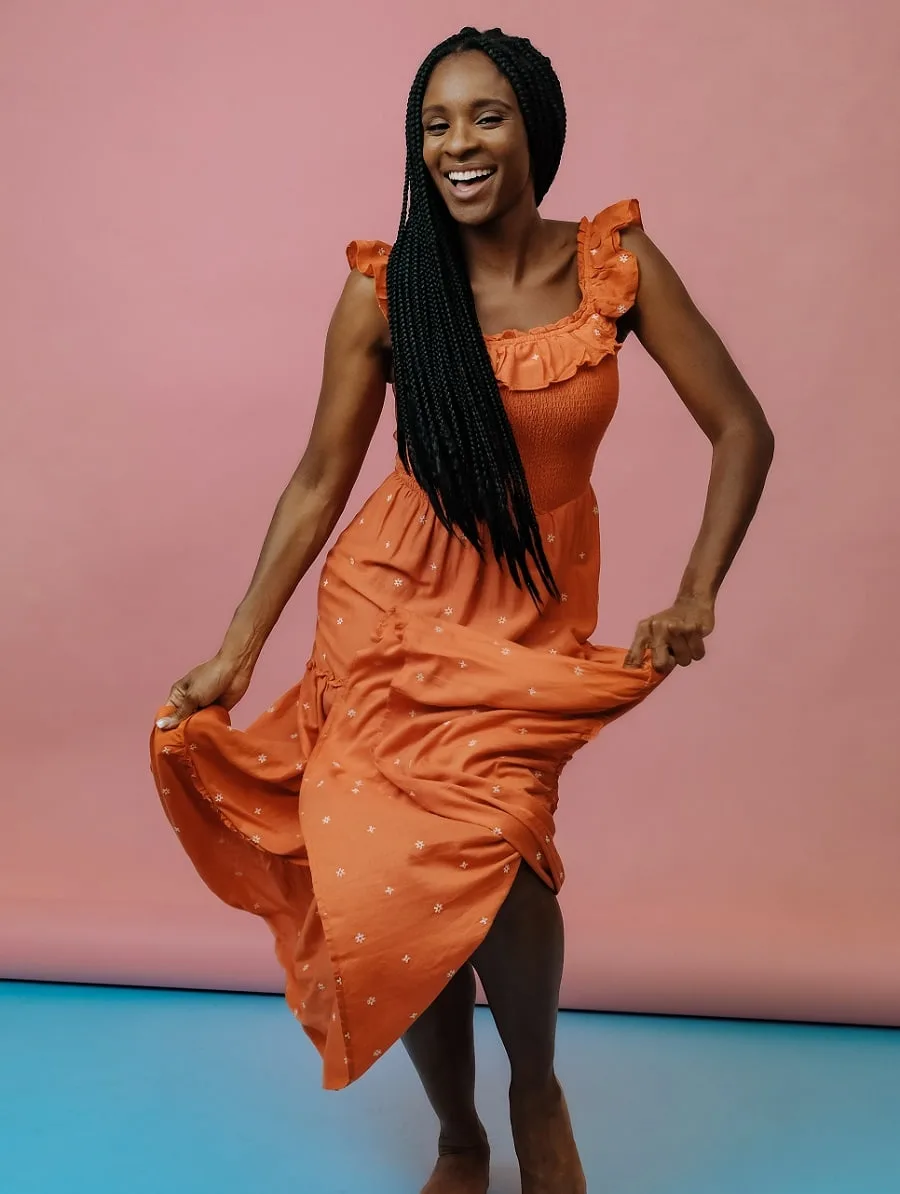 Long hair with a long maxi dress is a favorite look for women all over the world. Instead of hiding your beautiful box braids, let them hang loose over your shoulders.
Shift Dress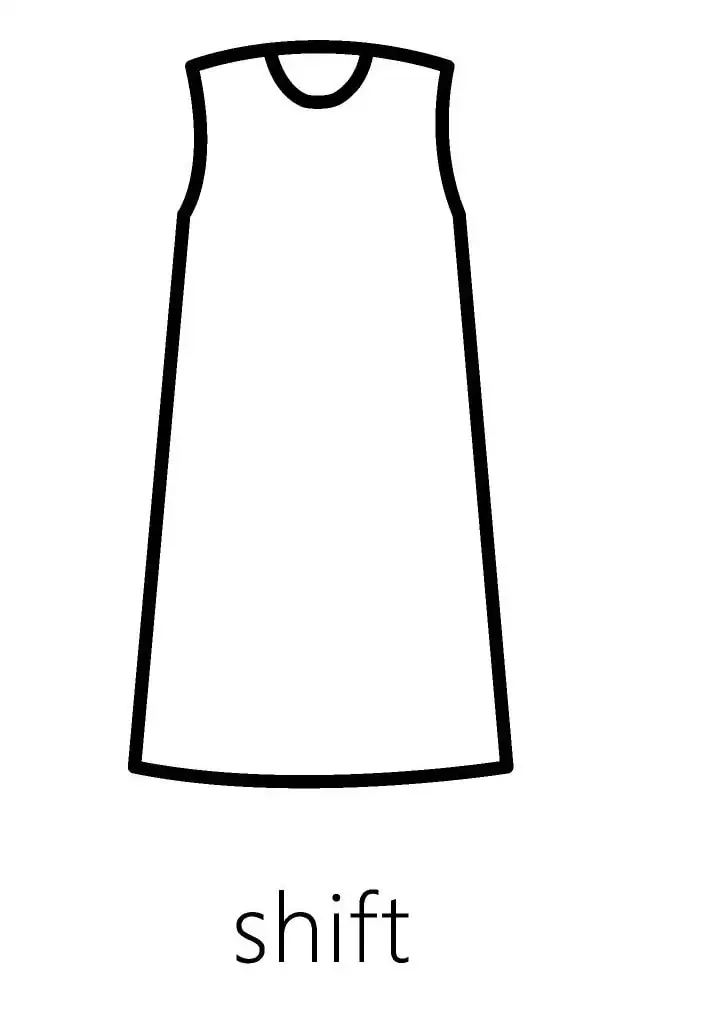 If you like clean lines and minimalistic style, a shift dress is your match. It's a form-fitting style with a scooped neckline. The knee-length dress type with simple lining is very classy and chic. The simpleness of it means you don't need to do too much with your hairstyle either – a low ponytail or long neatly combed hair will do just fine.
Low Ponytail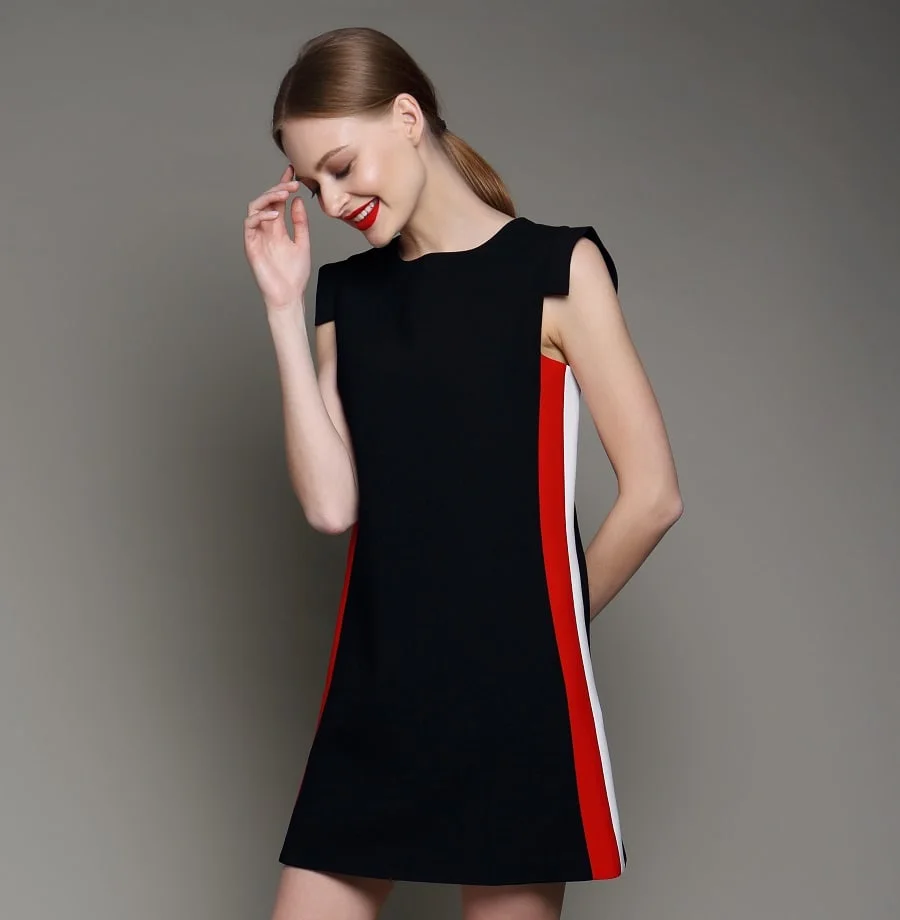 Simple, but classy. There's a reason an understated low ponytail is a great hairstyle for a shift dress. Since this dress style is already minimalist, all you need to do to match your hair is part it in the middle and gather it in a low pony.
Wavy Hair with Hat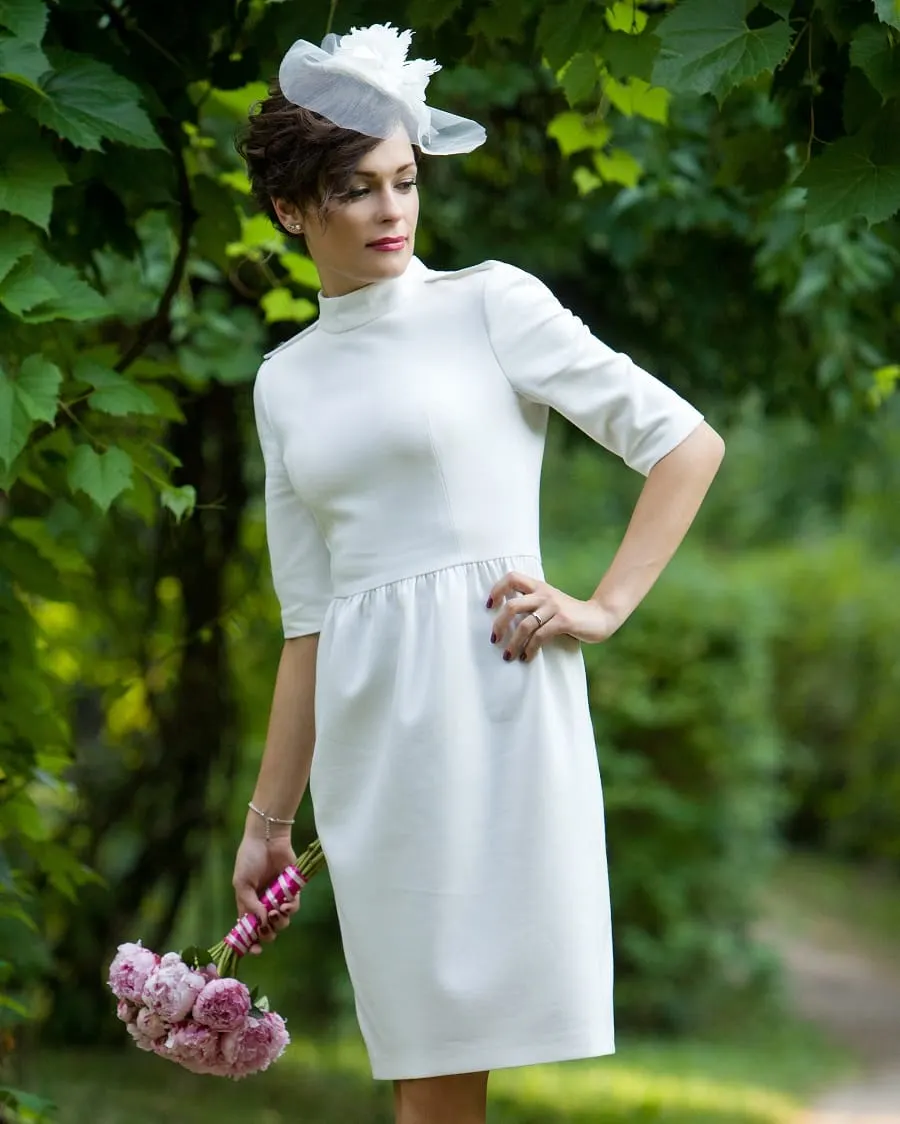 The other way to style the less detailed shift dress is by compensating with a hat. Short wavy hair is the perfect length to easily pin back and top with a chic, flowered hat styled at the side.
Caramel Loose Waves
Do you have light or pale skin? Warm up your complexion with caramel hair coloring! The color shines gorgeously in long loose waves over a shift dress.
A-line Dress
When a dress is fitted at the hips and flows away from the body below that, it resembles that of the capital letter A, hence an A-line dress. It is typically sleeveless, so it's best suited for women who don't mind showing their arms. The neckline comes in a variety of styles, including plunging, scoop, and V-neck. Wear your A-line dress with a half updo or leave hair down and just part it in the middle.
Half Up Bun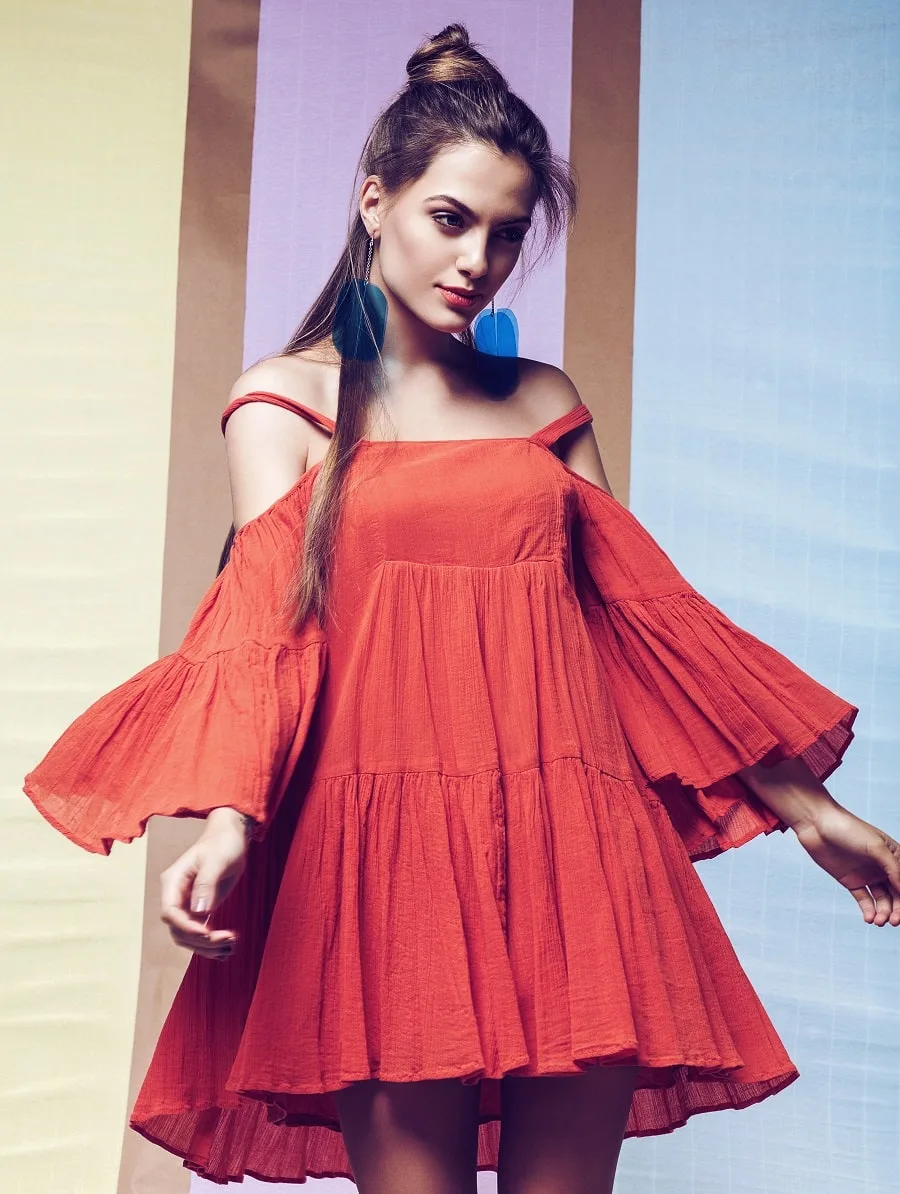 Every girl knows how to style a half up ponytail, so a half up bun hairstyle will be a piece of cake. This A-line dress's straps fall off the shoulders, so leaving half of your hair down over bare shoulders is a great look.
Straight Black Hair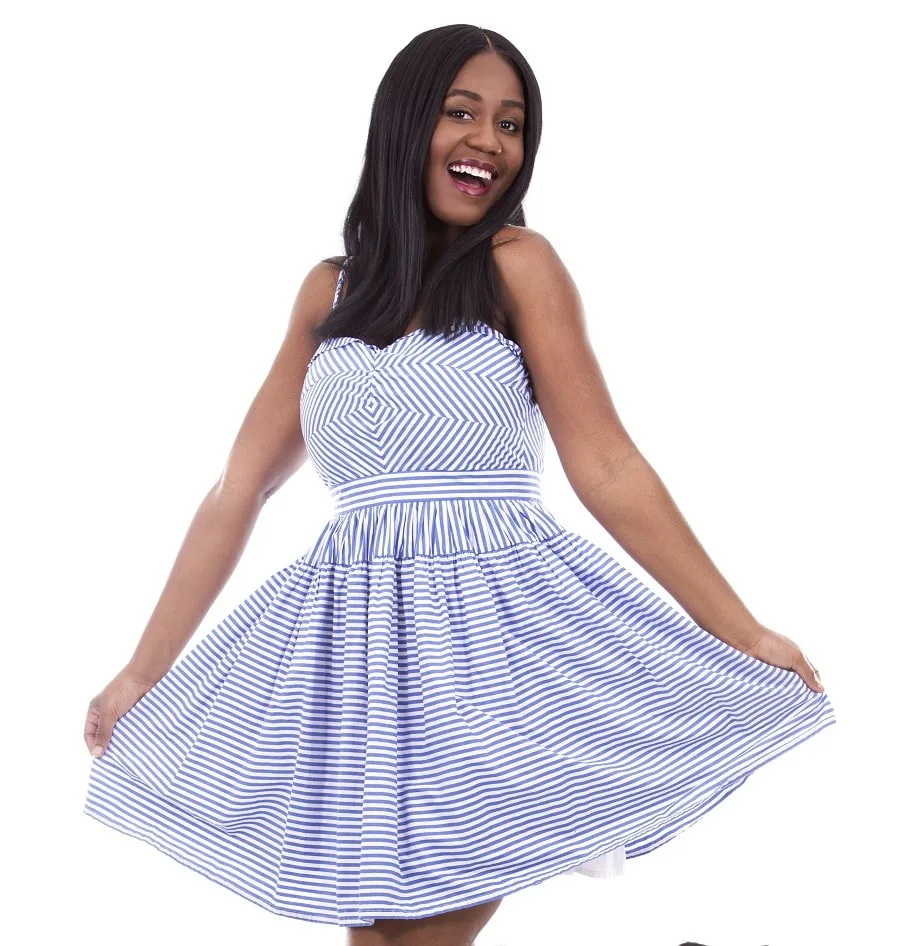 Black women look effortlessly pretty in a simple straight hairstyle with a flowing, A-line dress! This look is ideal for weekend brunch with the girls when you want to look put together but don't want to spend forever doing your hair.
Side Parted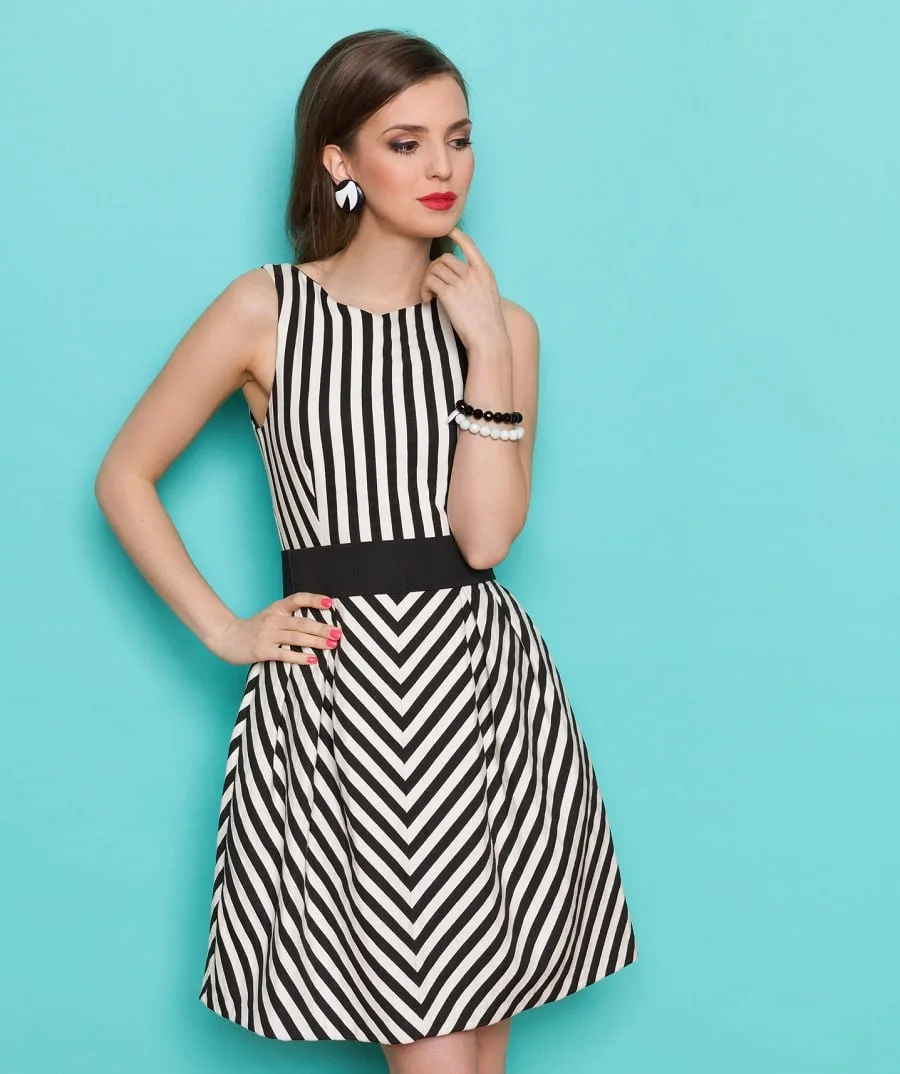 The black and white line detail in this A-line dress call for a neater looking hairstyle. After straightening your hair, go with a side part, teasing hair at the crown for a little bump in volume.
Sheath Dress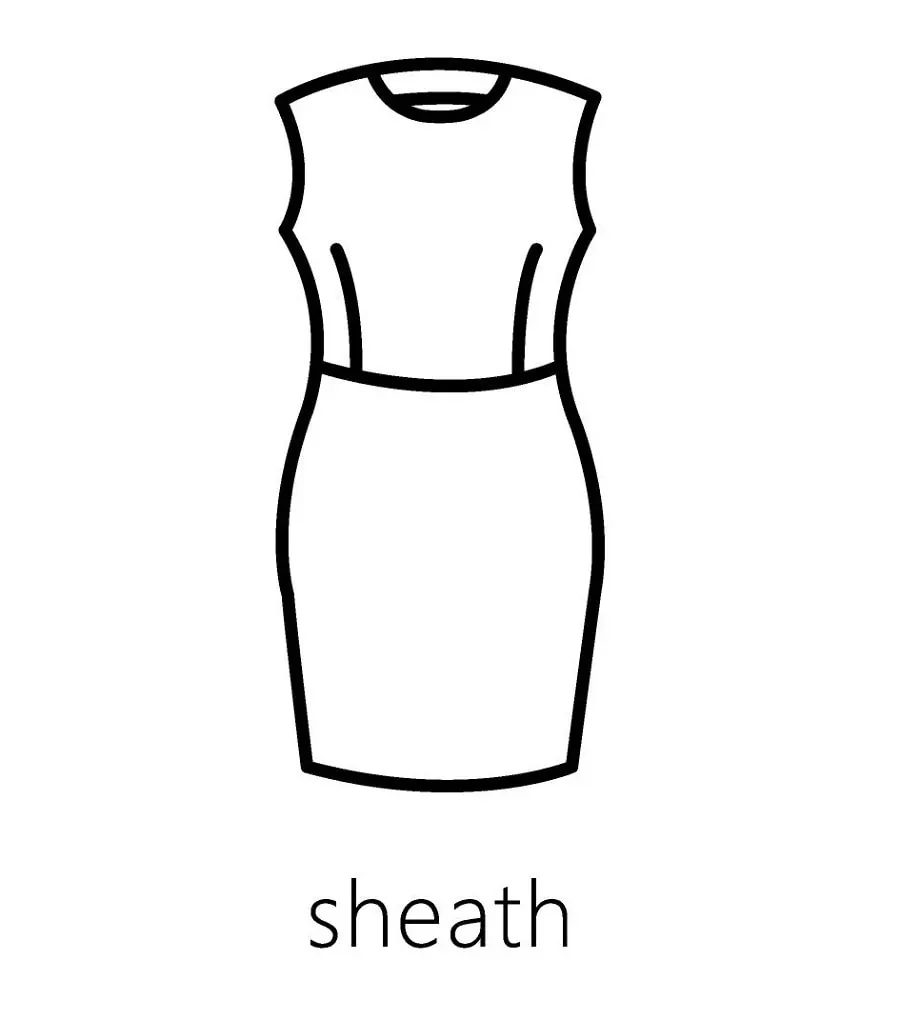 If you're a woman trying to distract from your waistline, you'll like this dress type. A sheath dress doesn't have a defined waistline and it also features a shorter hemline, stopping either at or just above the knees. This dress looks amazing paired with bolder hairstyles, like choppy bangs on a lob or a heavily textured side bun.
Messy Side Bun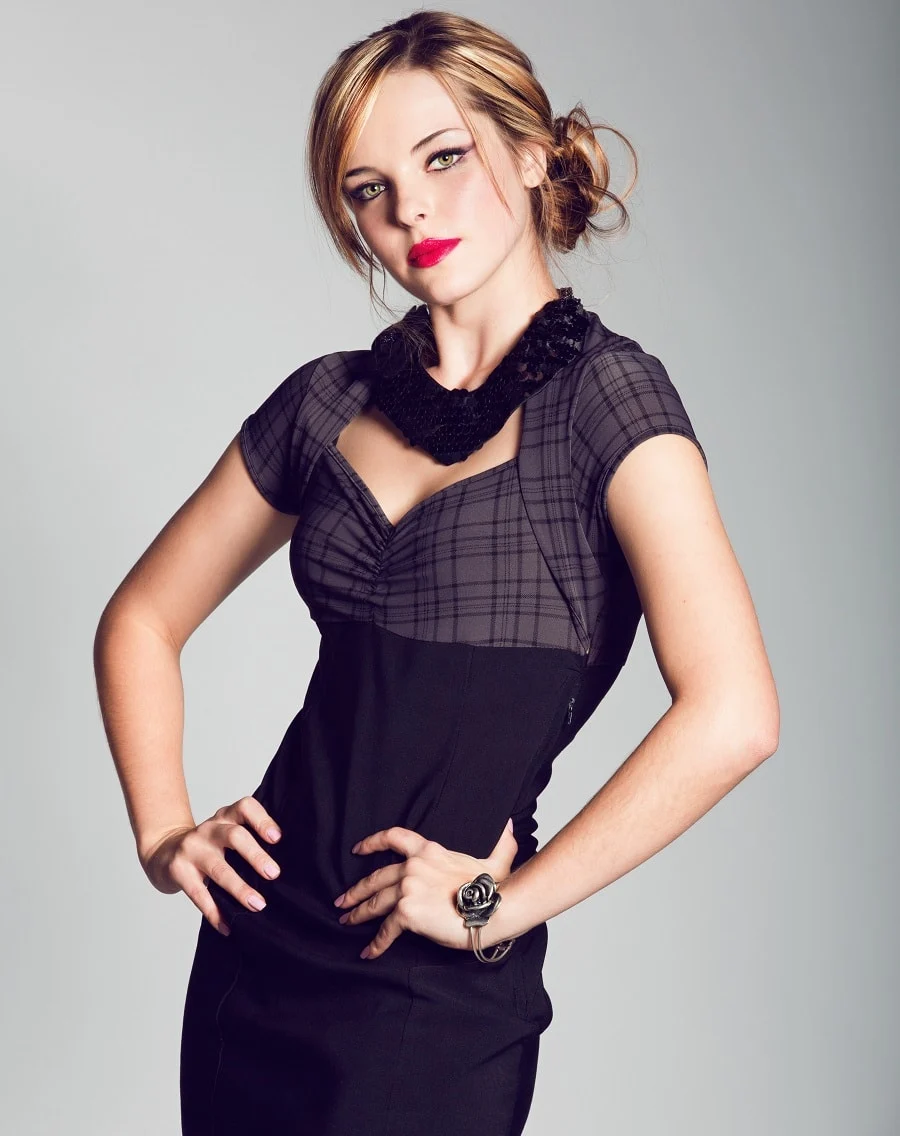 If you like getting more playful with your hairstyle, a patterened sheath dress offers the best opportunity to be brave with messier hairstyles, like a side bun with edgy side bangs.
Choppy Bangs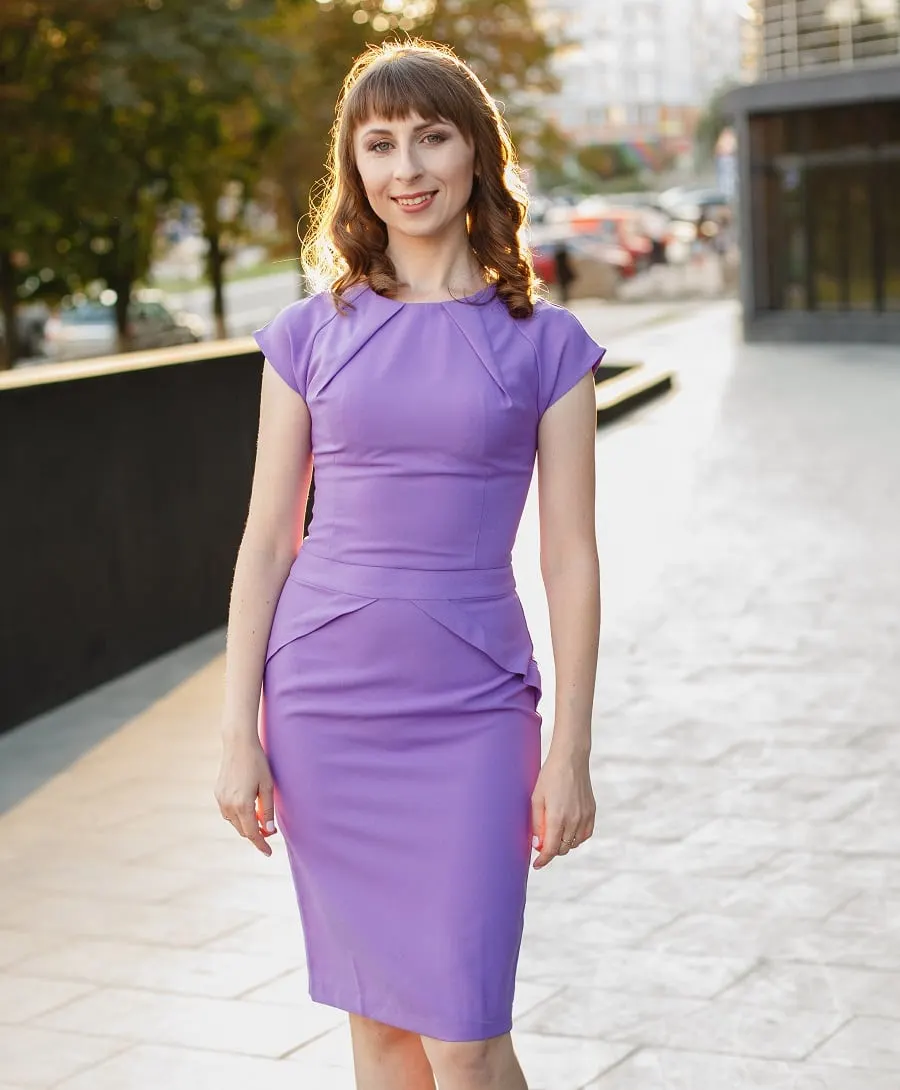 Lavender is one color that flatters women of all skin complexions. It's also a great base color for accentuating your cute choppy, straightened bangs with wavy body.
High Bun
Black and white lines separate bright blue, red, and yellow on this slim dress. The details mean you don't need to go too crazy with your hair, so opt for an easy high bun.
Bodycon Dress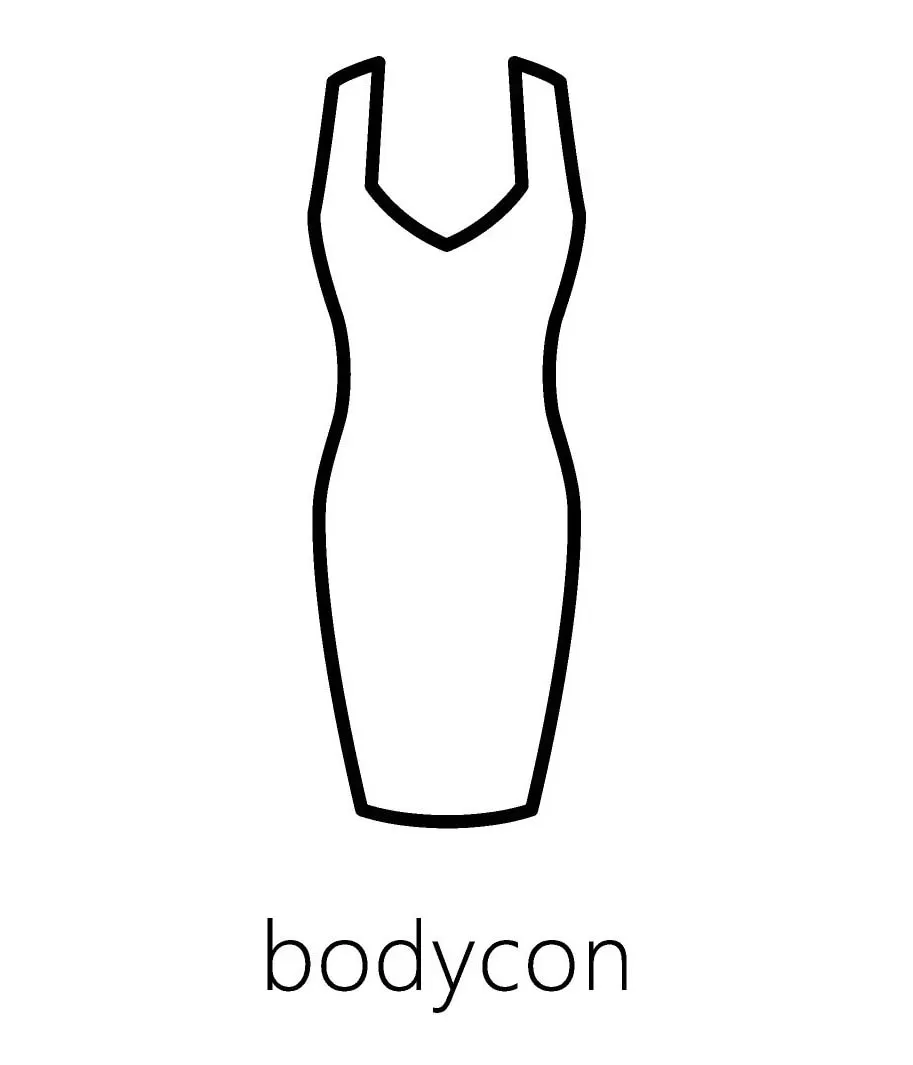 The bodycon (short for 'body-conscious') dress has become a favorite for women who want to accentuate their curves, not hide them. Its form-fitting dress type comes in a variety of textures and necklines. Since the tightness already calls attention to you, go one step further with a bold hair color or thick, luscious waves.
Wavy Balayage
Balance out a body-clinging dress with extra volume in warm-colored balayage hair. When going out, spritz in a little hairspray, then tease with a comb and use a curling iron to define face-framing pieces.
Layered Bob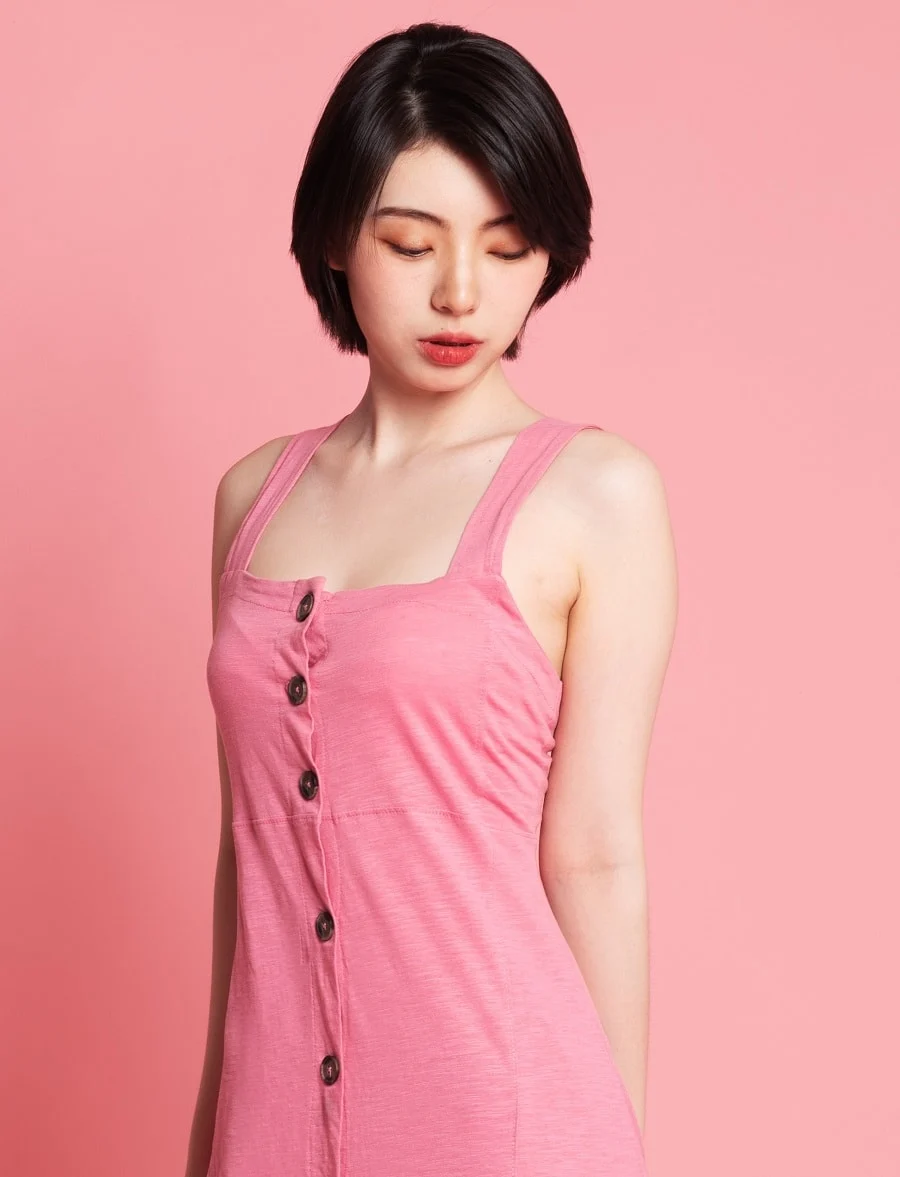 Asian women with naturally straight hair can give their hair shape instantly with a cute short layered bob. Make a side part with your fingers and watch how your new haircut shines with your favorite pink bodycon dress.
Textured Lob with Side Bangs
For less detailed bodycon dress, you can go big with your hairstyle. Mix in waves and curls on shoulder-length hair. They'll look gorgeous with thick choppy side bangs.
Tent Dress
For women who prefer a looser dress type, the tent dress is where it's at with its narrow top and wide bottom. The fuller style is a classic original, and is perhaps the most comfortable since it doesn't have a waistline. To keep the classiness going, opt for a posh headband to grace your head or a low ponytail parted in the middle.
Jeweled Headband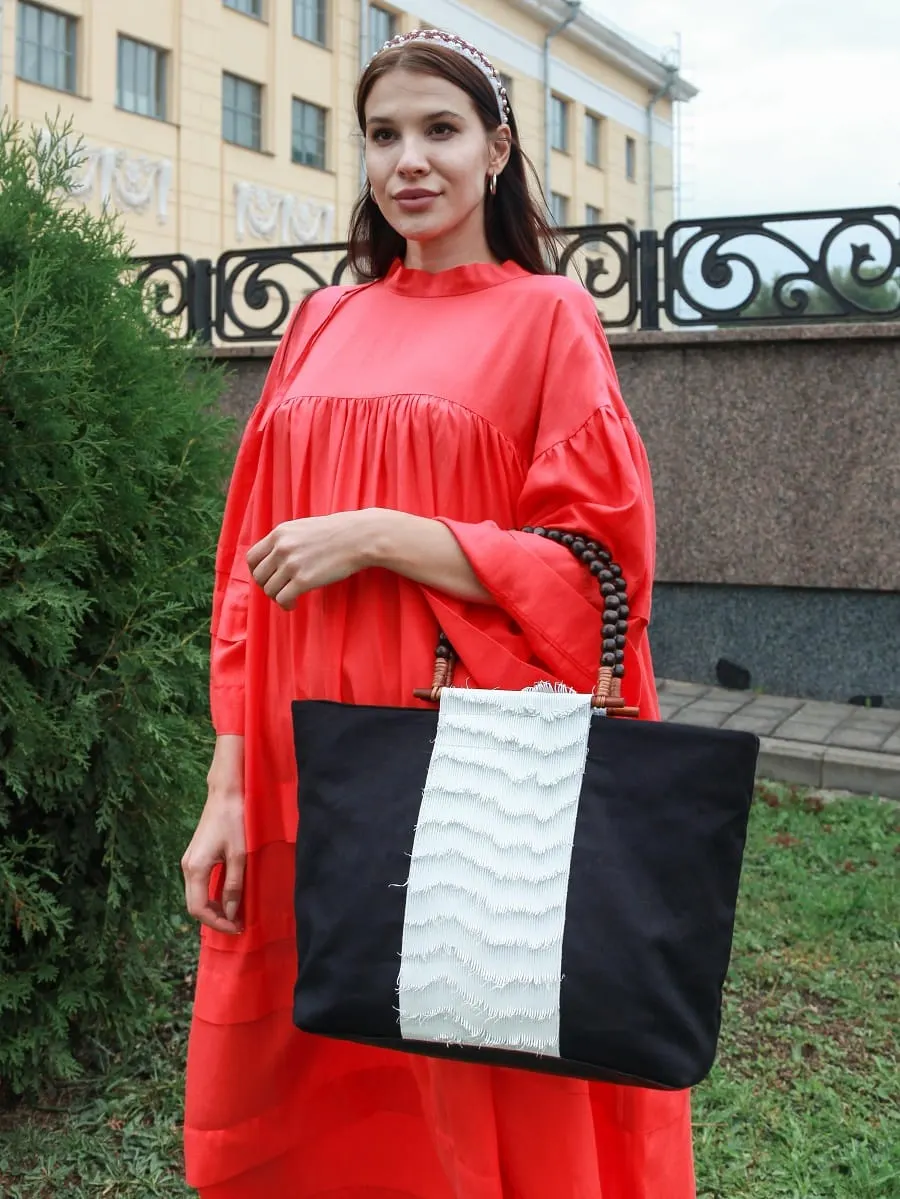 Gossip Girl's Blair Waldorf would be proud of you for embracing the headband trend. Look for ones with jewels or sequins for a bit of sparkle on long straightened hair.
Middle Part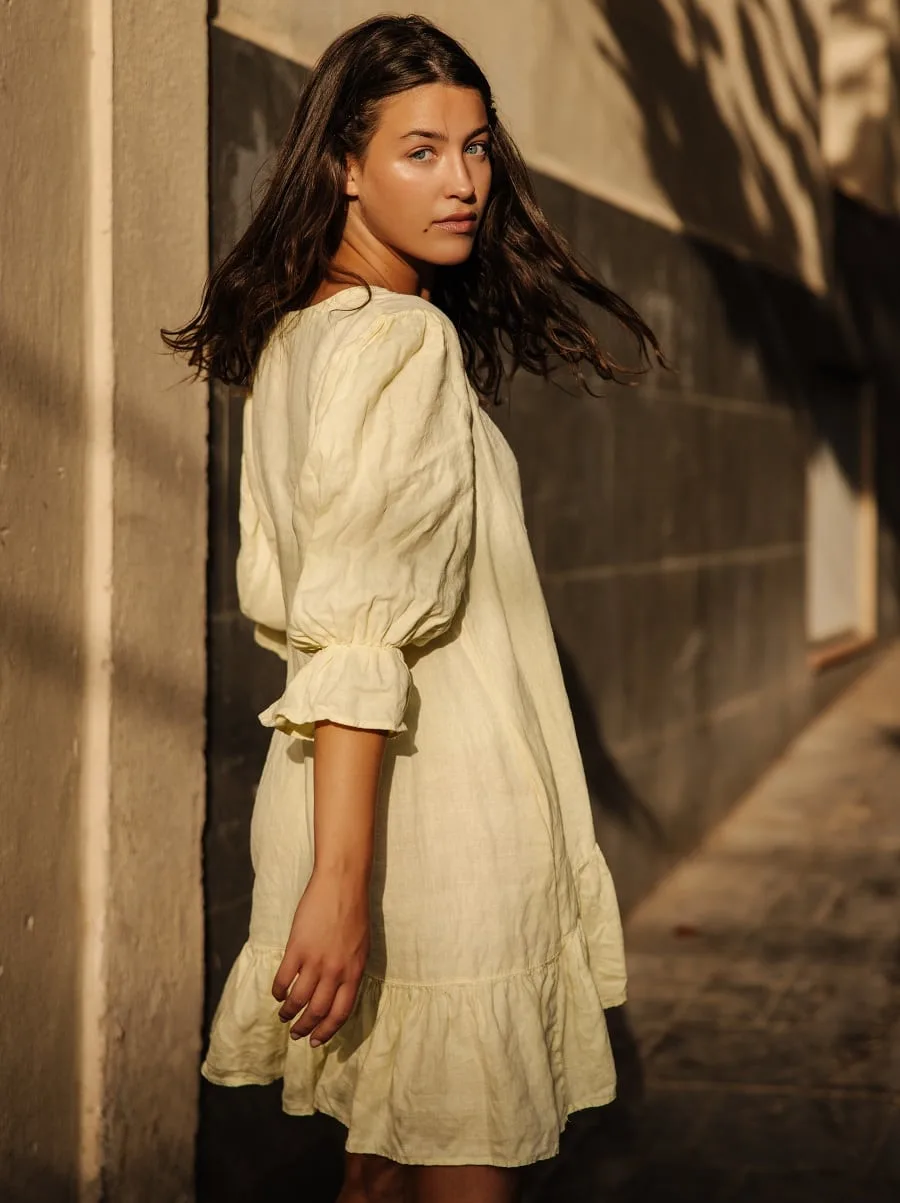 Middle parts in hair may be simple, but you can give it more character by using your fingers and not a comb. See how it gives long wavy hair a little texture up top?
Short Ponytail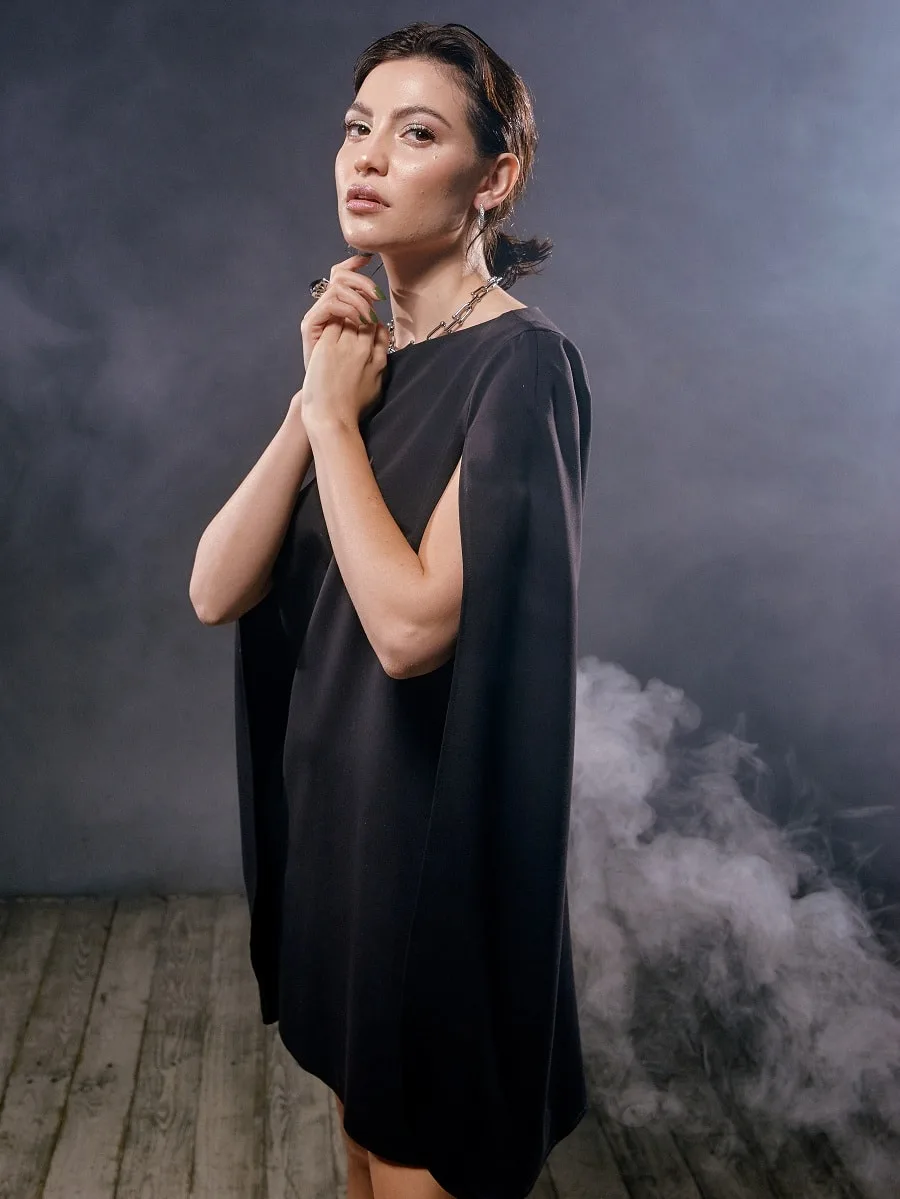 The last thing you want to do with a tent dress is add even more thickness up top. Balance out the billowy bottom with a more contained hairstyle, such as a short ponytail you can sweep away from the face with fingers and mousse.
Empire Dress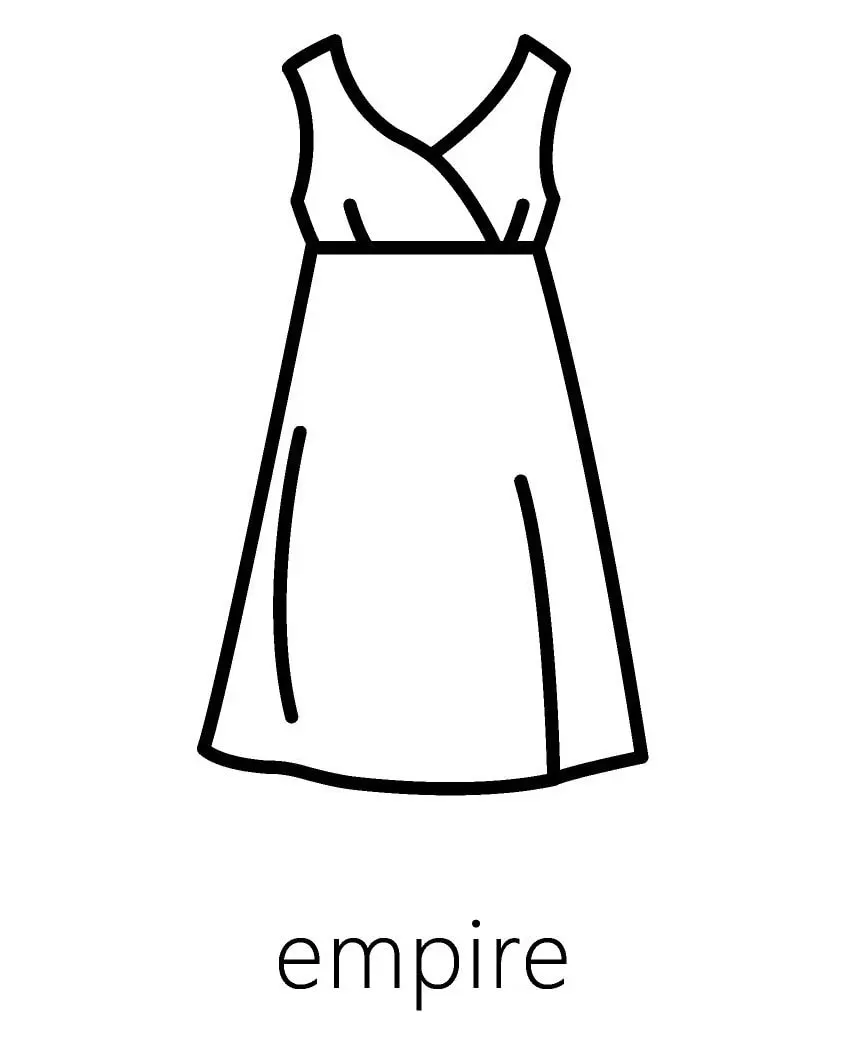 The high waistline of this dress type is what is most recognizable. It's another comfy dress that is still flattering to the body. The fitted bodice pairs beautifully with a loose, but close-fitting bottom half. This dress is more upscale in design, so you can flaunt more intricate hairstyles as well. We recommend braids and/or buns.
Low Braided Side Bun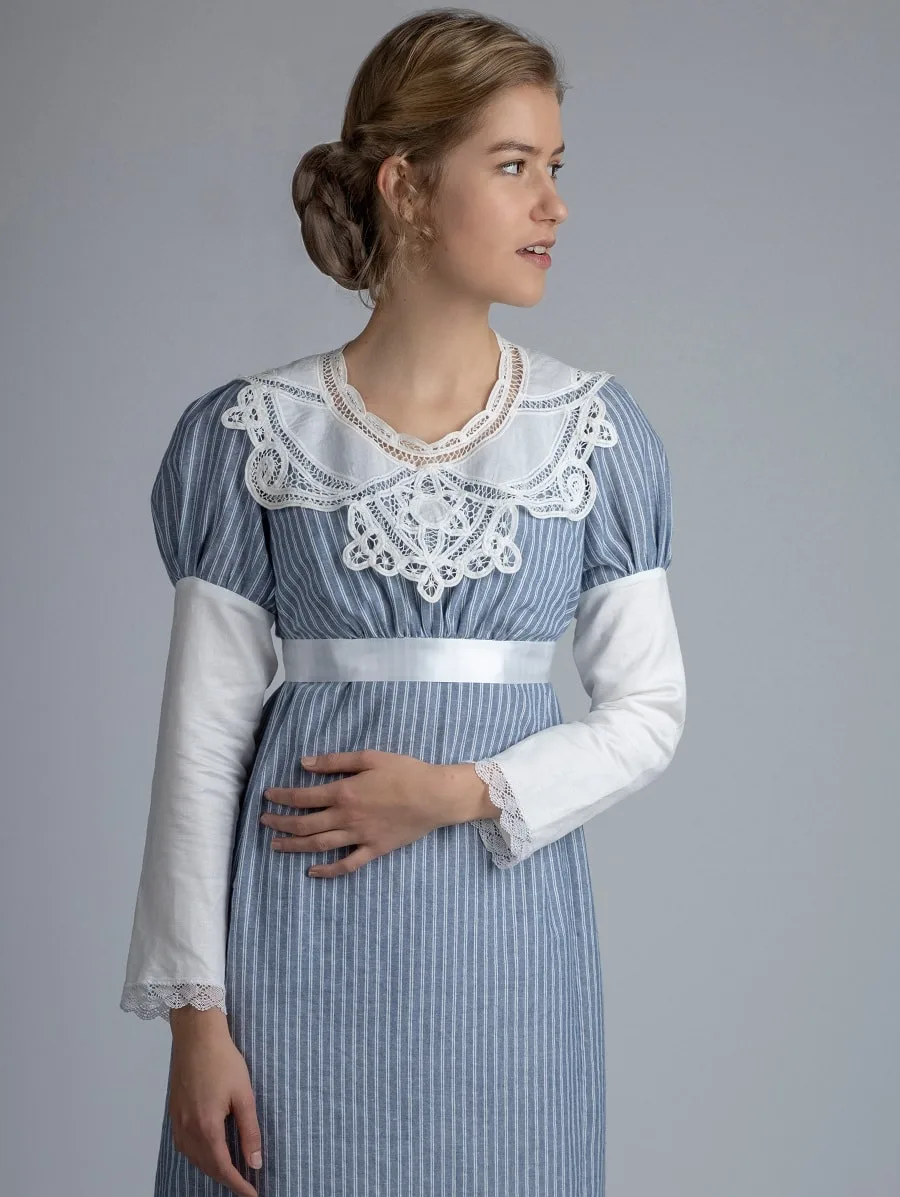 A lacy empire dress is giving us Victorian vibes. If you're a woman who likes the finer, reserved dress styles, style it up with a braided side bun, even leaving a few tendrils loose to frame your face.
Curly Updo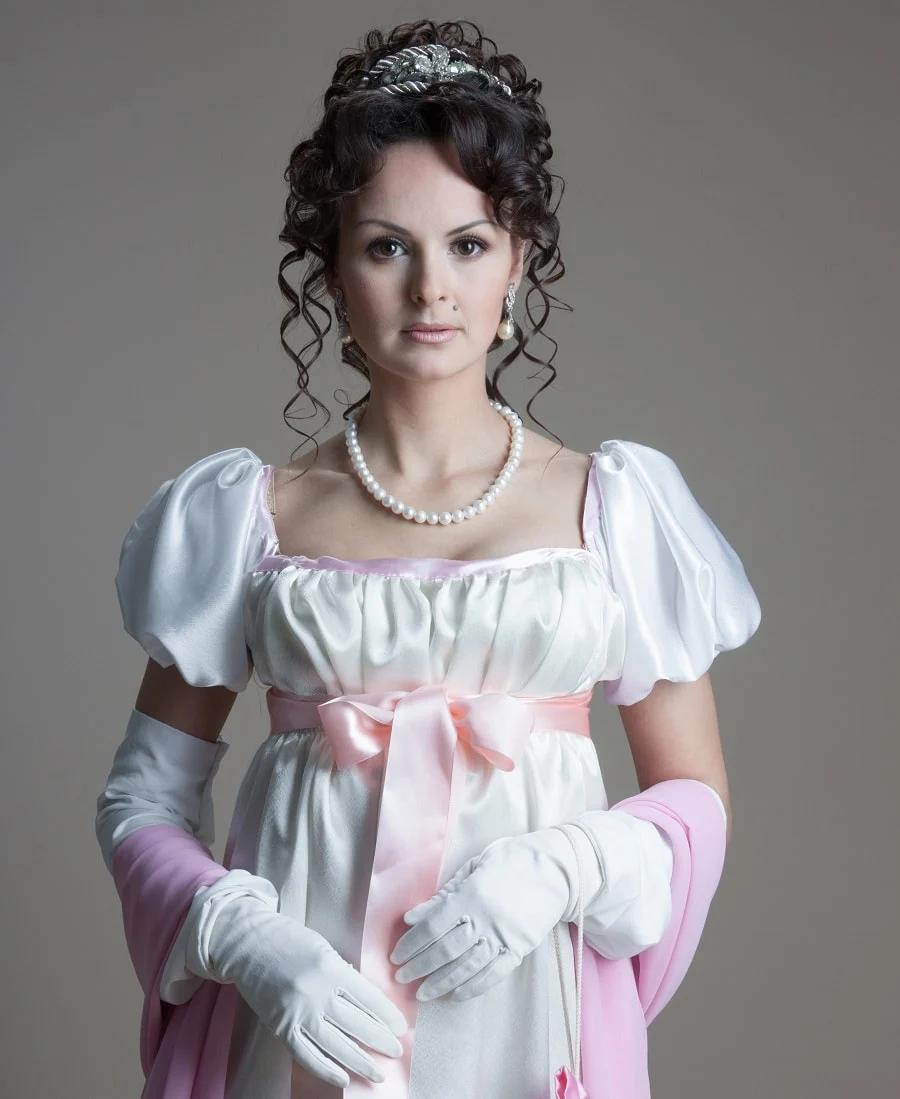 Of course, really fancy empire dresses call for equally fancy hairstyles. You can always resort to the beloved high bun or half ponytail. Draw attention to curls by leaving some hair loose around the face. Be sure to slip in a tiara to really play up the royal feel.
Braided Bun Updo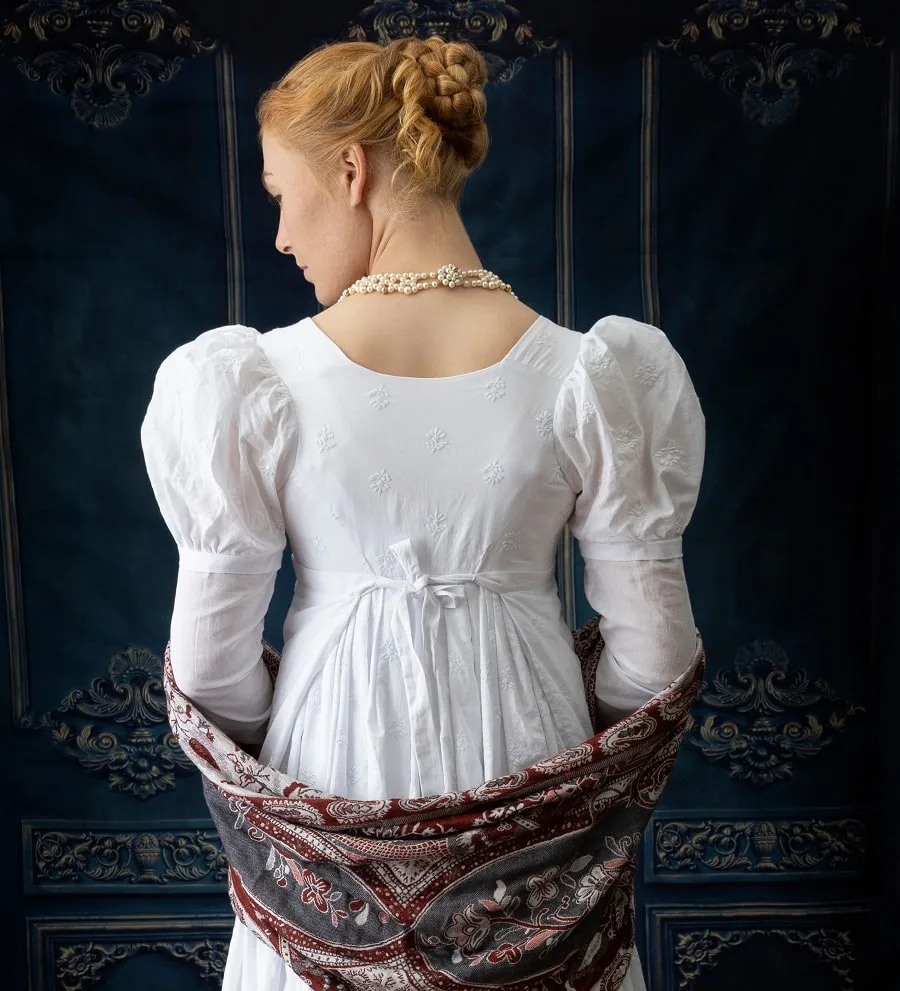 If you already know how to make a ponytail, why wouldn't you take it one step further and braid it to make this chic rounded bun? Avoid tucking in the end and leave it loose instead for a softer feel.
Apron Dress
Throw it back to the old days with an apron dress! If your style is more reserved, you'll appreciate the double layers an apron dress offers. You wear a shirt underneath the apron dress, which is a great way to add a pop of color to your outfit, and can show off your waistline with its pronounced tie. The innocence of an apron dress is a great match for hairstyles that are soft, so steer toward loose waves or curls.
Long & Curly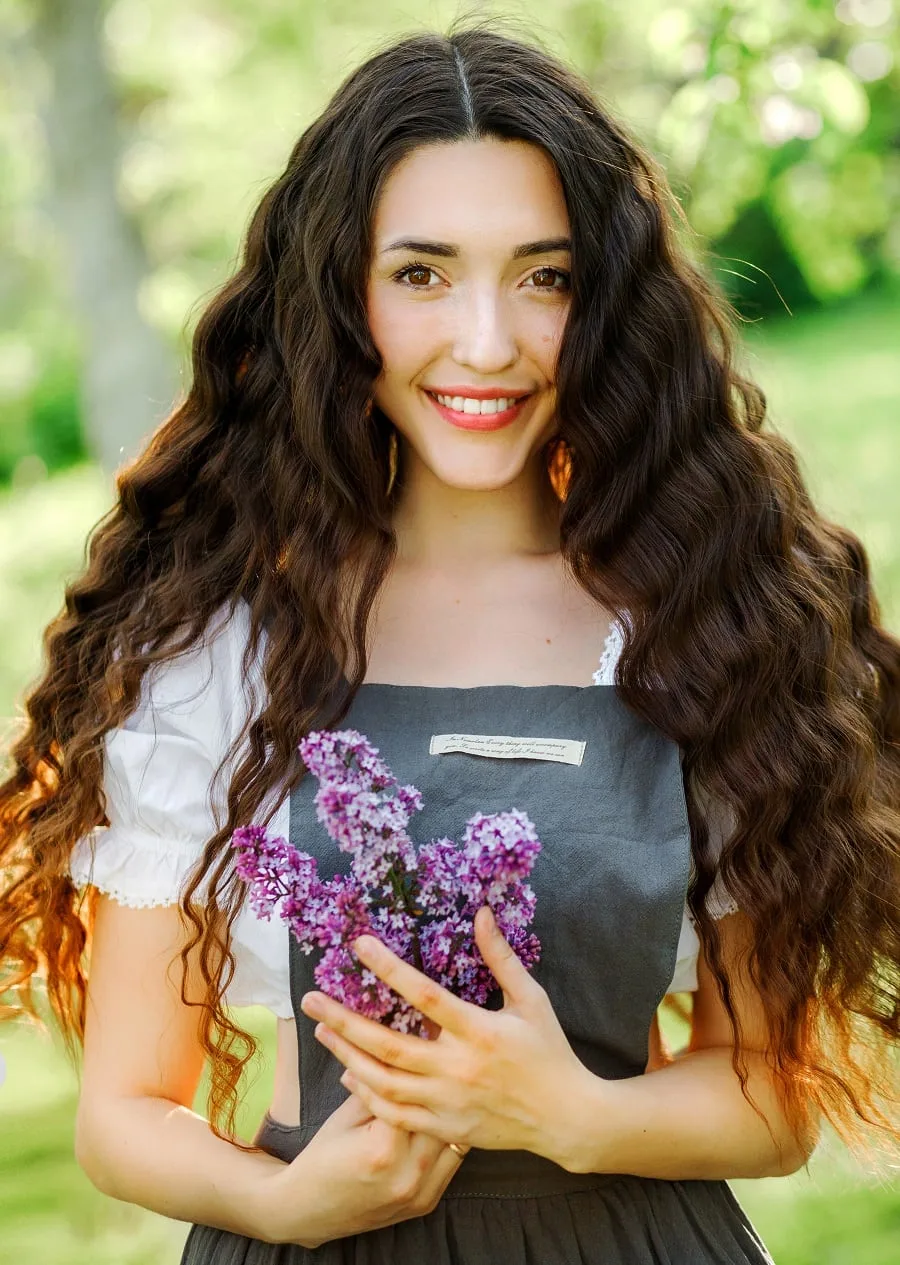 We're getting major field maiden vibes from long wavy hair that loosely hangs over the shoulders of an apron dress. If you need a pop of color, consider tucking colorful flowers into your hair.
Braid Tieback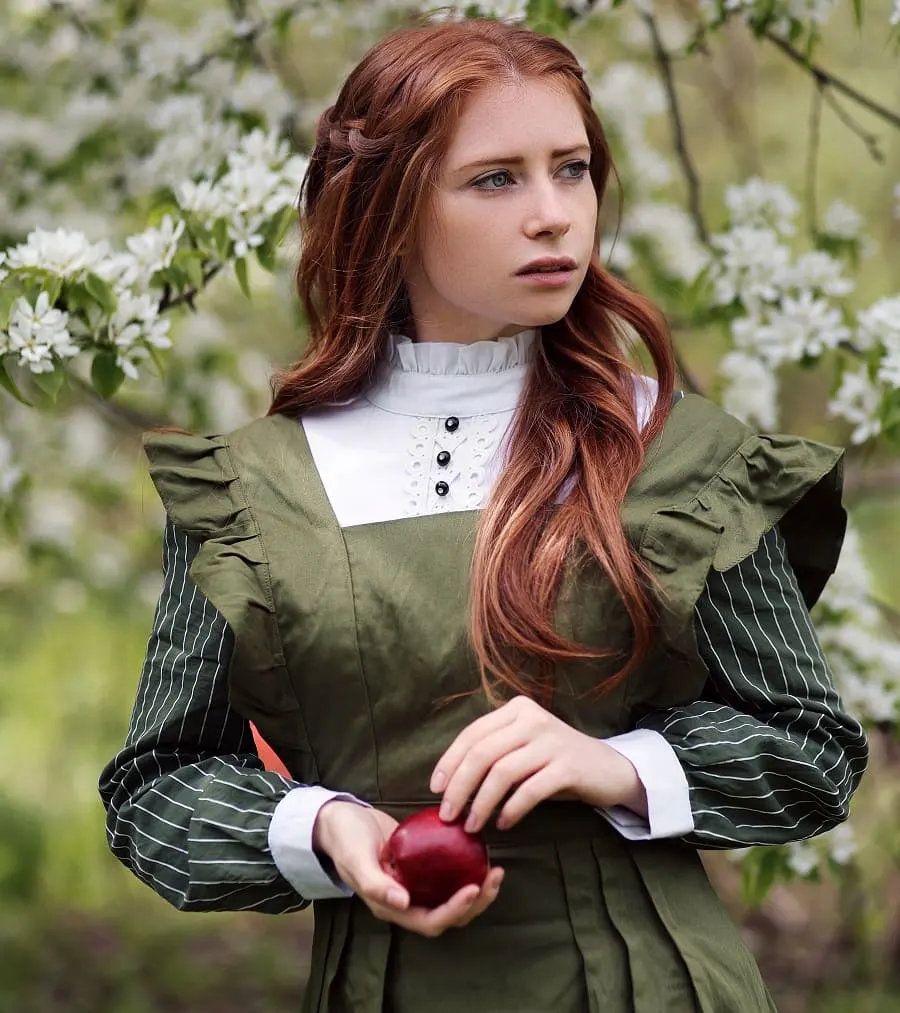 The ruffled shoulders on an apron dress won't be missed if you continue the wavy shape in your hair. Keep them loose for a natural look, perhaps even styling them with a braid tieback secured with ribbon instead of a hair tie.
Long Straight Bangs
If you have bangs and your dress has a more mature look to it, like the black and white geometric pattern seen above, straighten your fringe and leave your hair loose to complete the look.
Jumper Dress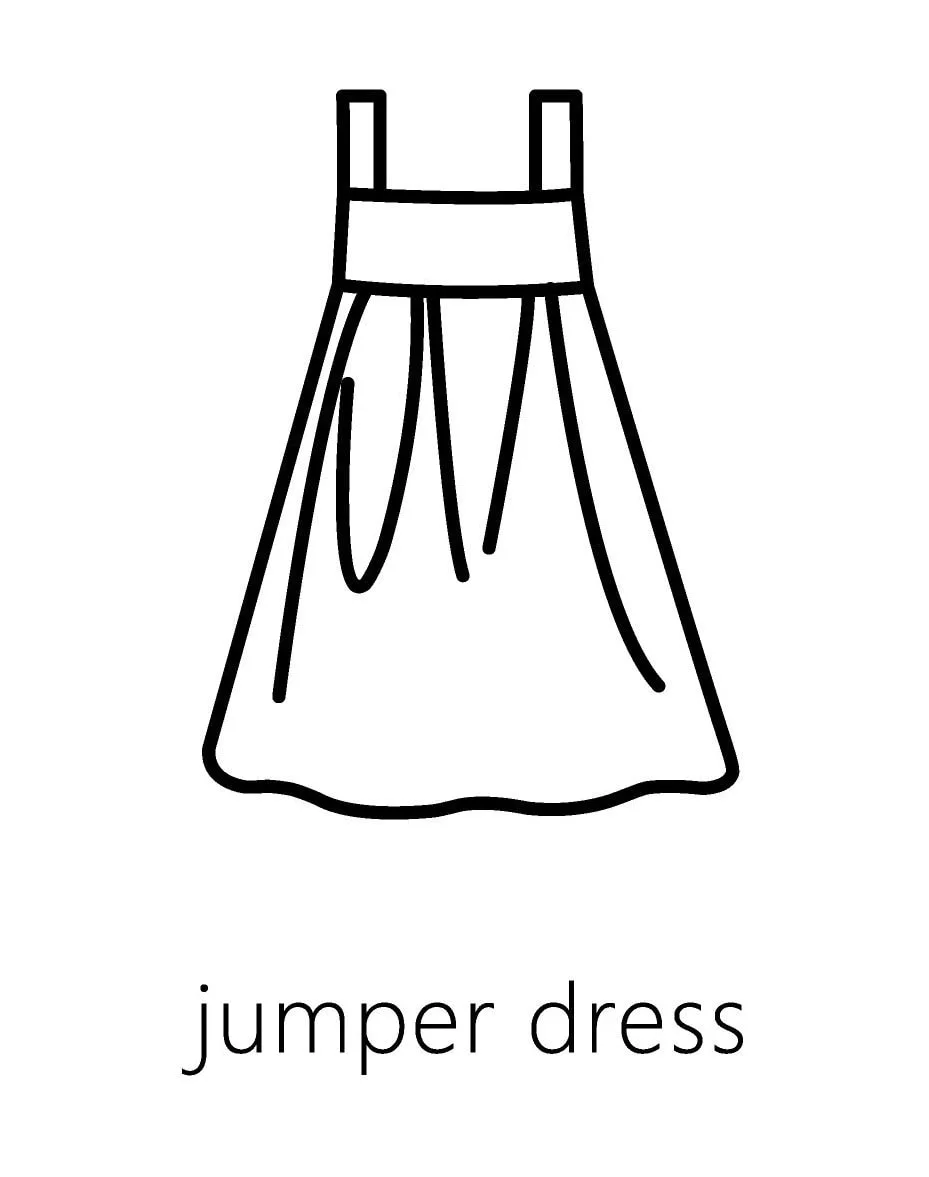 A jumper dress is very similar to an apron dress. In the 90s, it was very common to see girls wear a jean jumper over a long or short-sleeved shirt. Hemlines come in different lengths and the neckline really only depends on the shirt type you wear underneath. Since it's a more casual dress style, it fits perfectly with loose ponytails or messy hair days.
Side Parted with Glasses
Are you rocking glasses these days? Part your hair off center for the most flattering look. This low-key style works great with a vintage jean jumper.
Space Buns
Quirky space buns are a fun hairstyle that looks great with a jumper dress that has a bit more personality. This corduroy version pops with light green underneath and a dark pair of specs.
Side Parted Red Hair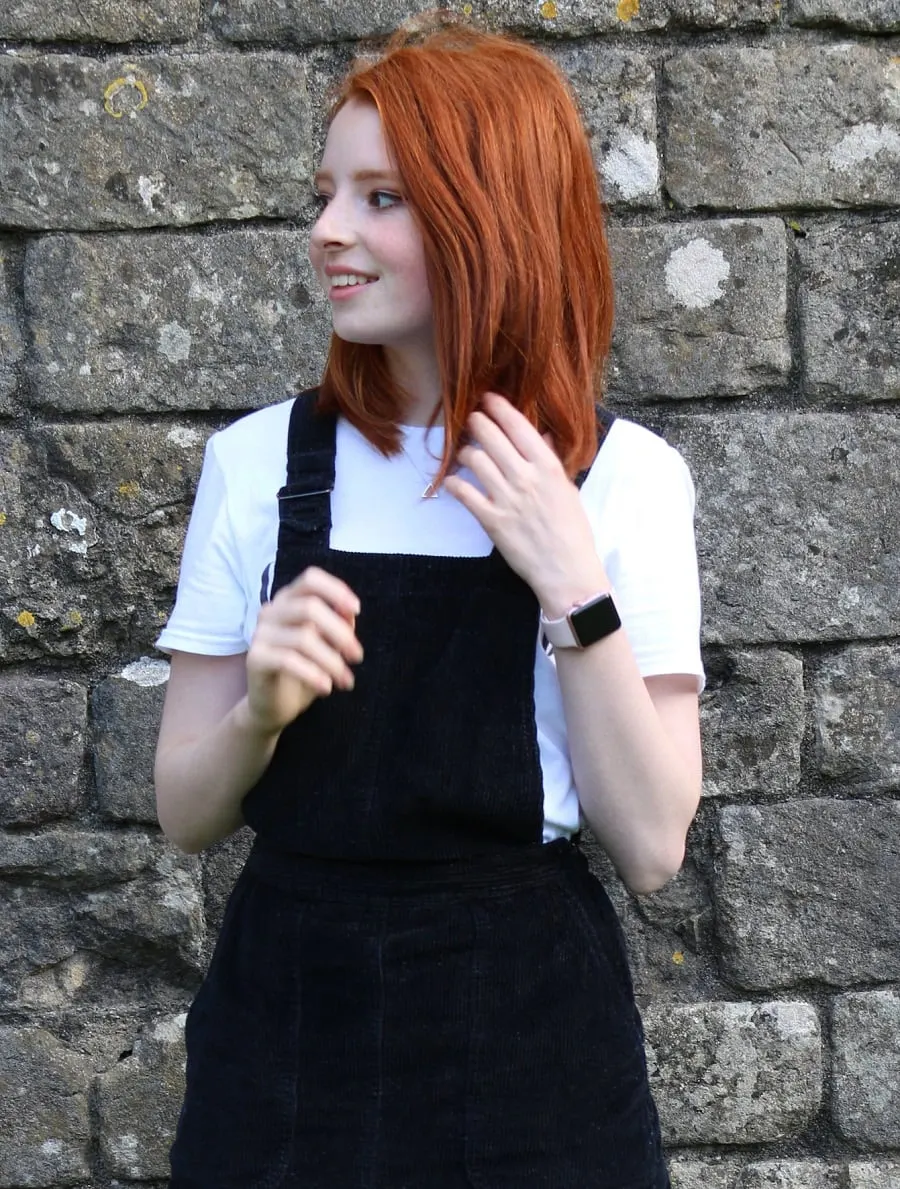 When you have naturally red hair, you don't need too much extra color in a dress to pull a style together. So opt for a black and white jumper dress to make sure your hair color stands out.
Sun Dress
When it's summertime (and often even in the spring), girls break out their sun dresses! It's an informal or casual way of looking feminine and staying cool at the same time. The necklines are often lower to make it more breathable, and the fabrics are lighter as well. Hemlines vary, but typically stop at about knee-length. A sun dress's versatility means you can wear your hair down or up in a loose ponytail and be beautiful either way.
Layered Side Bangs
A flowing, floral-patterned sun dress calls for easy and casual vibes. Leave your hair down for the day and accentuate softness with layered side bangs.
Printed Head Scarf
It's not too common these days to see women breaking out a head scarf for a hairstyle, but if you're on vacation in a brightly-colored sun dress, take it as an opportunity to give some pizzazz to your high pony by winding a bright head wrap around it.
Long Side Braid
If your dress is a soft, mellow color – like light yellow – continue that vibe in your hairstyle with an easy low side braid. Keep it loose for softness and to create a fuller ponytail.
Wrap Dress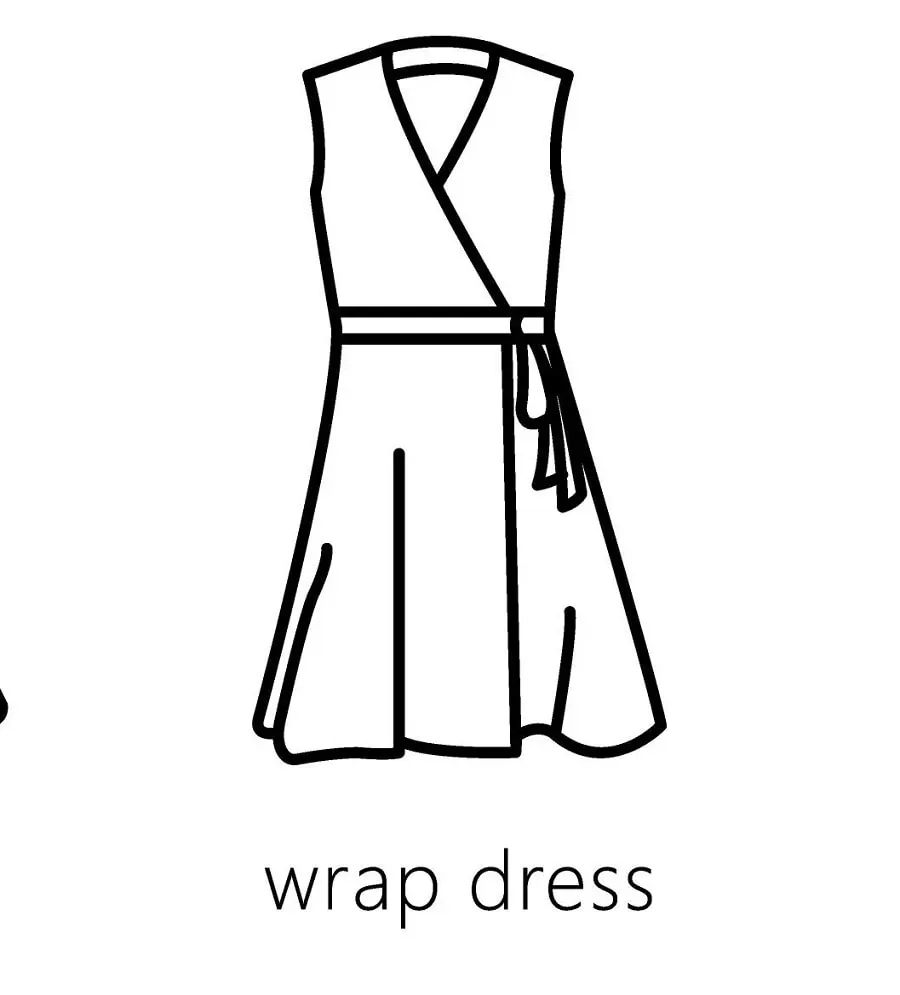 Diane von Furstenberg invented the chic wrap dress. This dress type is most flattering on women with a thinner waistline, since the wraparound dress cinches in at the waist and wraps around the back, securing on the opposite side. It comes in long, medium, and short lengths, and can be styled up or down. For its more sophisticated vibe, keep your hair neat and combed.
Wavy Long Bob
For a wrap dress that has a strong or bold pattern, keep your hair simple. A lob is classy and can be parted in the middle and given some waves or soft curls.
Long Blonde Waves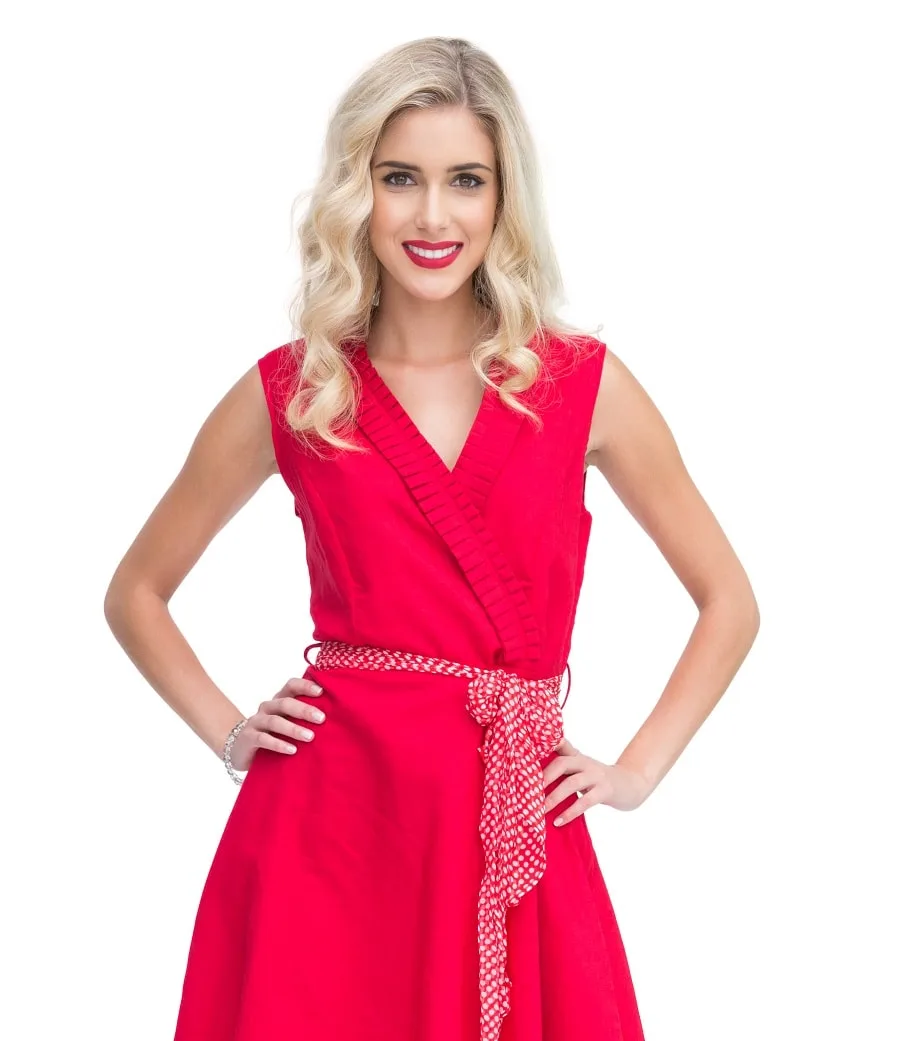 For all the blonde ladies out there, when your day calls for a feminine dress and a glam hairstyle, we recommend a bold red wrap dress and shaping blonde tresses into luscious soft waves.
Long Hair Slicked Back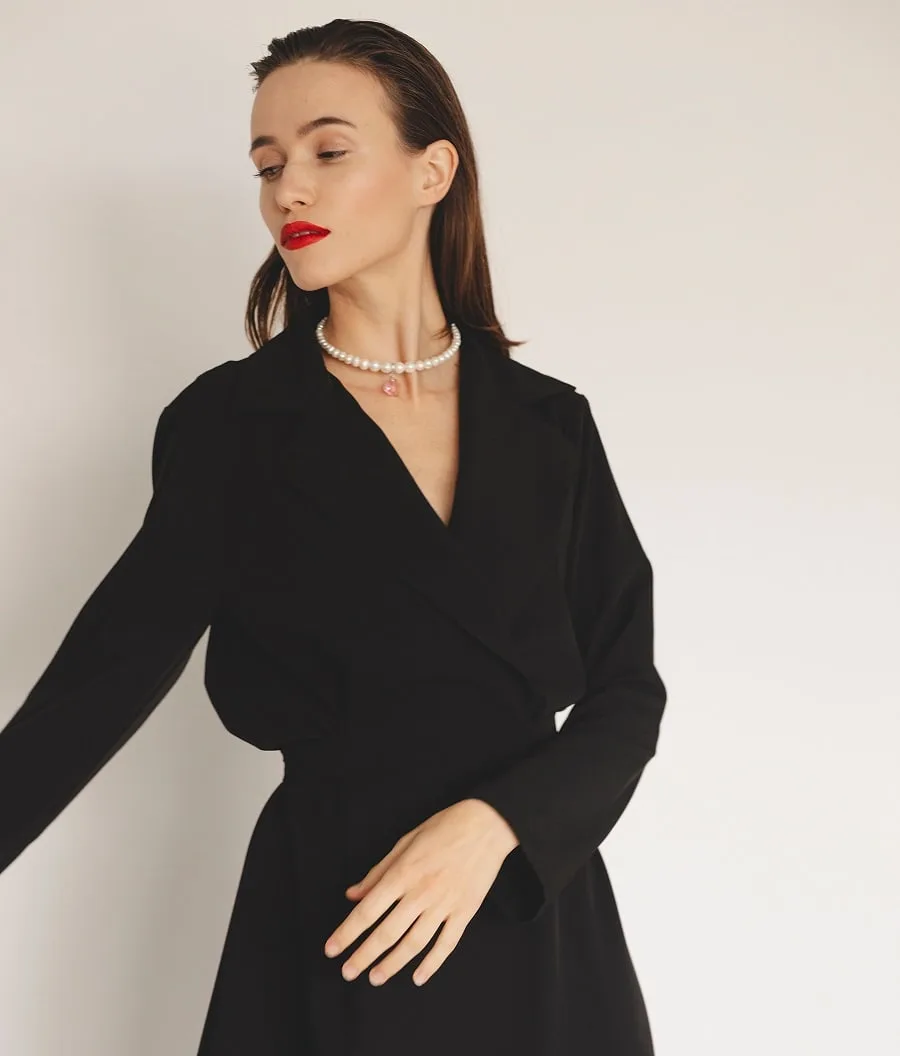 If you're a lady who doesn't like high-maintenance hairstyles, we're here to reassure you that even just sweeping hair back from the face with a little mousse makes a great look in little time.
Pouf Dress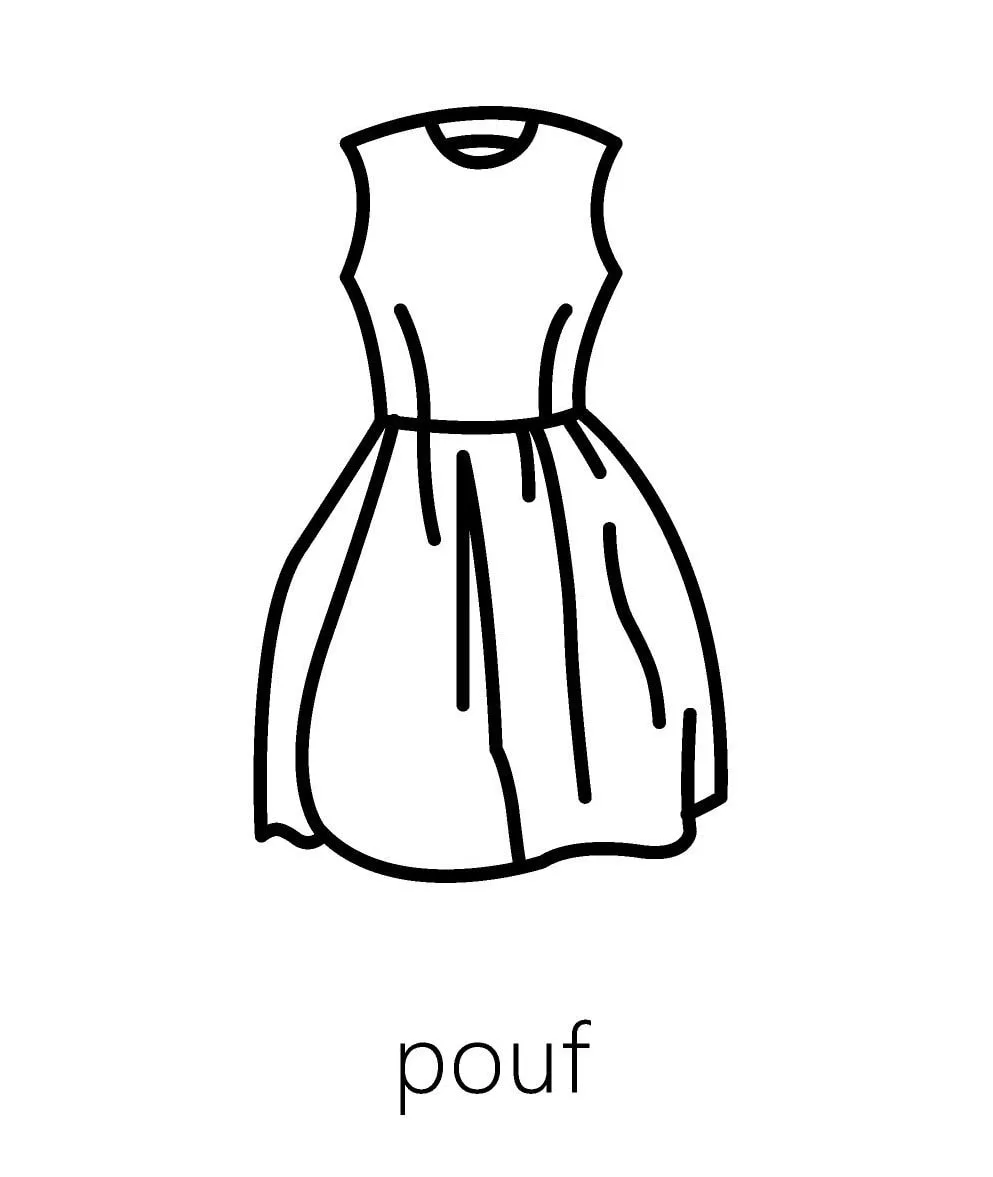 Understated but a style maker is how we'd describe the pouf dress. The bottom half is where this dress type gets its name – its poofed out shape flatters women with curves, as it isn't form-fitting. It typically has a round neckline, but comes in both short and long sleeves. Long waves that cascade over shoulders or low braided buns with tendrils will do nicely here.
Wavy Ginger Hair
Since a pouff has plenty of billow on the bottom, you don't need to do too much up top. Ginger hair is stunning with soft waves that fall over shoulders.
Long Tight Curls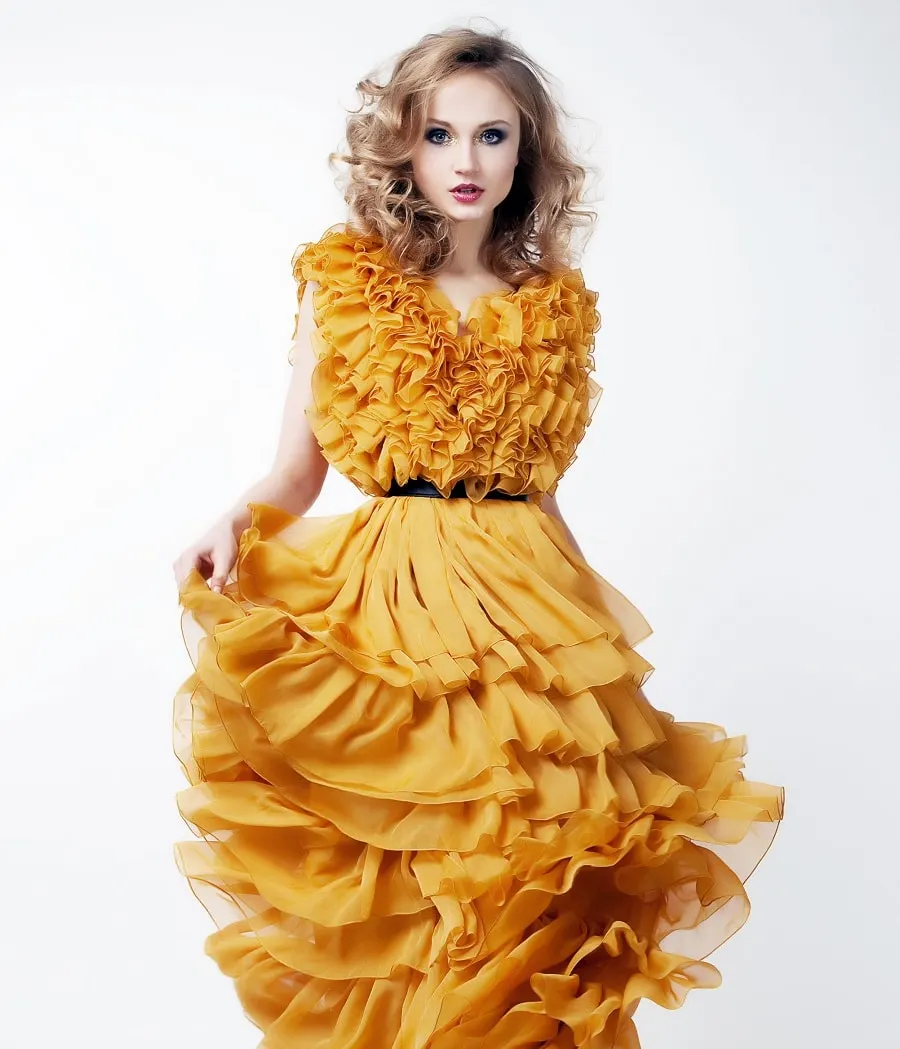 Matching your hairstyle to your dress details is a power move. For women with naturally spring-like curls, choose a pouff dress with lots of layers in the bottom.
Smooth Long Waves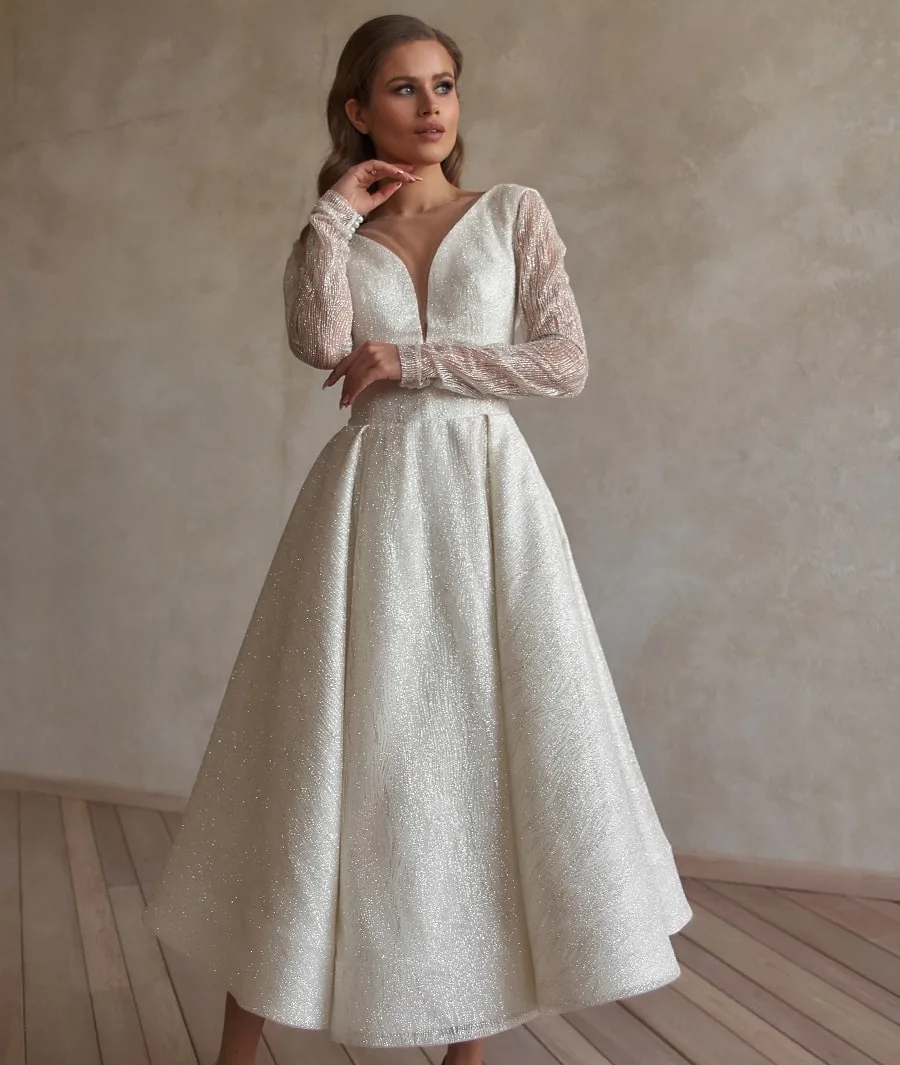 Dresses with elegant details like sequins or sparkles calls for smoother-looking hairstyles. This easy look just involves combing hair back with a mousse (to seal fly-aways) and parting it off center. Soft waves can fill the bottom half.
Slip Dress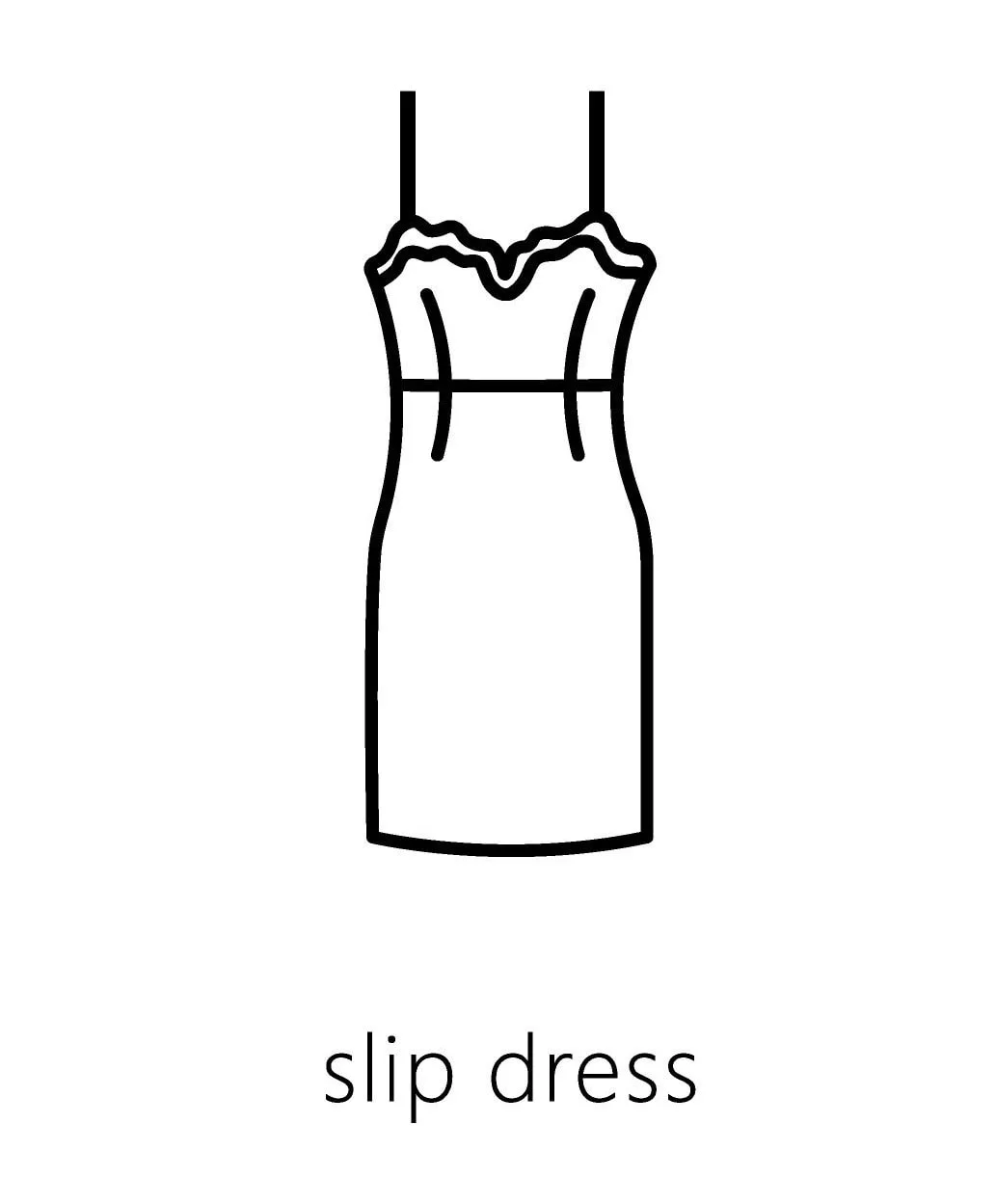 Going out to have a drink? A sexy, flirty slip dress is the style you'll want. It looks a lot like lingerie, with its thin spaghetti straps, lacy details, and heart or scallop neckline. Prevent it from looking trashy by styling it with a light jacket or shawl. Match its 'come hither' vibe by flaunting long tresses styled with lots of wavy or curly body.
Caramel Balayage
Women who have darker hair and choose a light-colored slip dress are already set-up for a hit style. You can even add a little warm balayage in caramel to warm everything up.
Updo for 3A Black Hair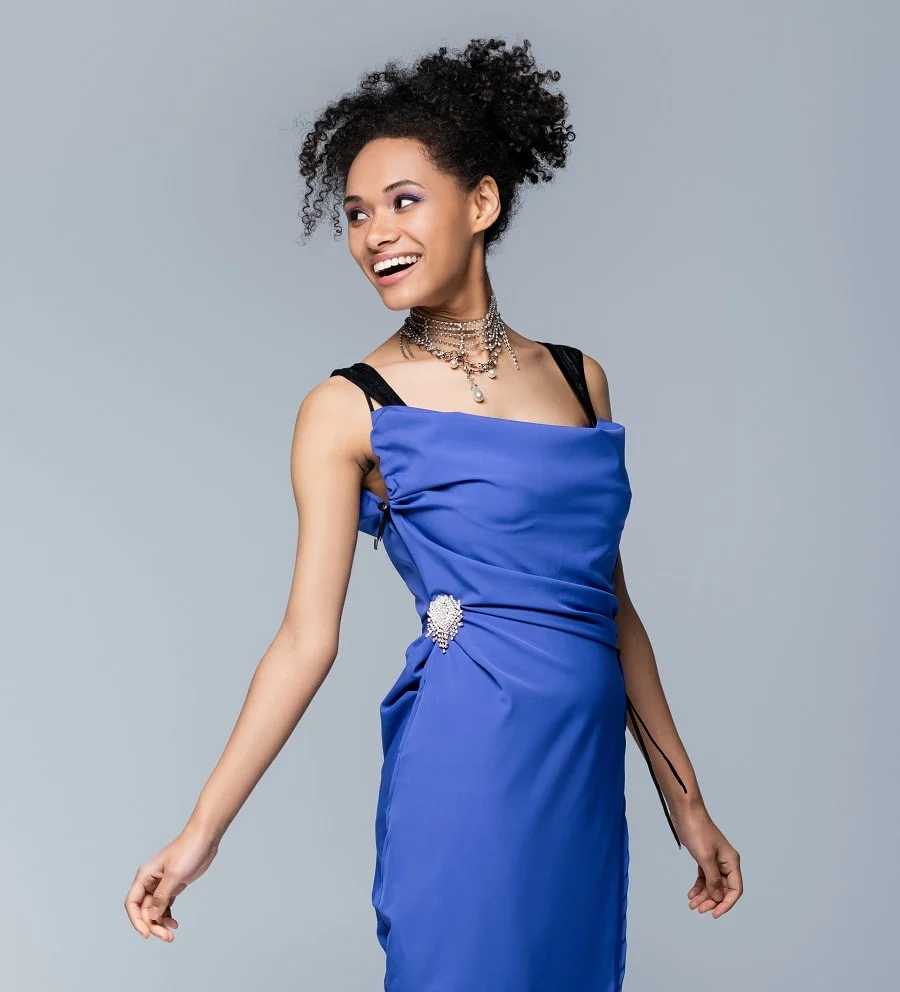 Your tightly coiled curls were made to be shown off, so if you're a Black woman with 3A hair, make it front and center in a high ponytail. In a slip dress, your body will be elongated and appear slimmer.
Brunette Hair with Curtain Bangs
Curtain bangs are the cutest peek-a-boo detail in a woman's hairstyle. We love them with this brunette shoulder-length cut. The soft waves match the ruffled areas of her dress.
Qi Pao Dress
The qipao dress initially had cultural significance, but nowadays, it's regularly seen in daily wear, even in China. It's a long, loose-fitting dress type that features a collared neckline, and bright colors or floral patterns. With this dress, women often wore their hair up in a bun with or without braids.
Dutch Braids with Bangs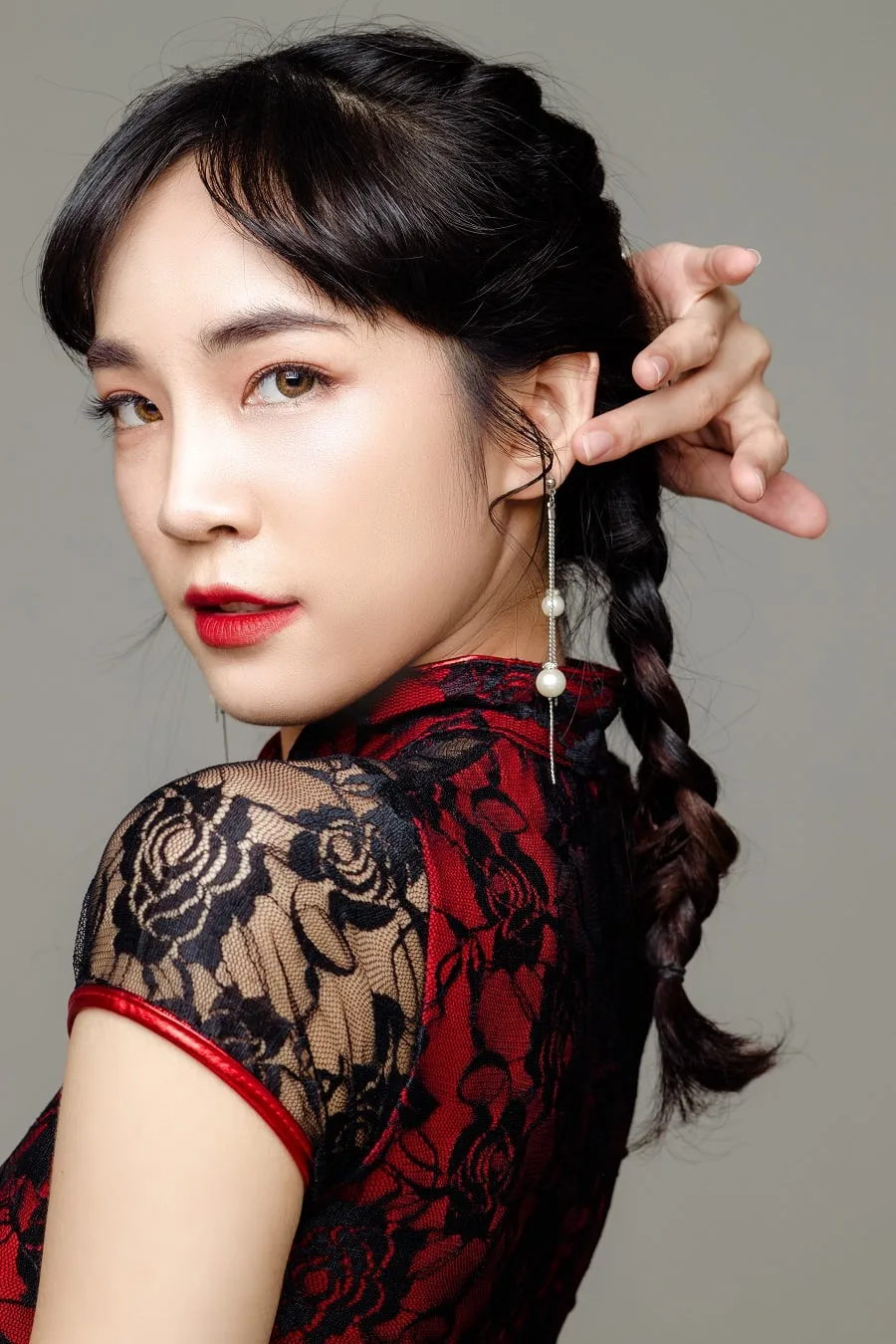 Dutch braids have no age limit and we love the way they look with a lacy black and red qipao dress. Before making the braids, pull out some of the hair at the front to make soft side or curtain bangs.
Long Pink Hair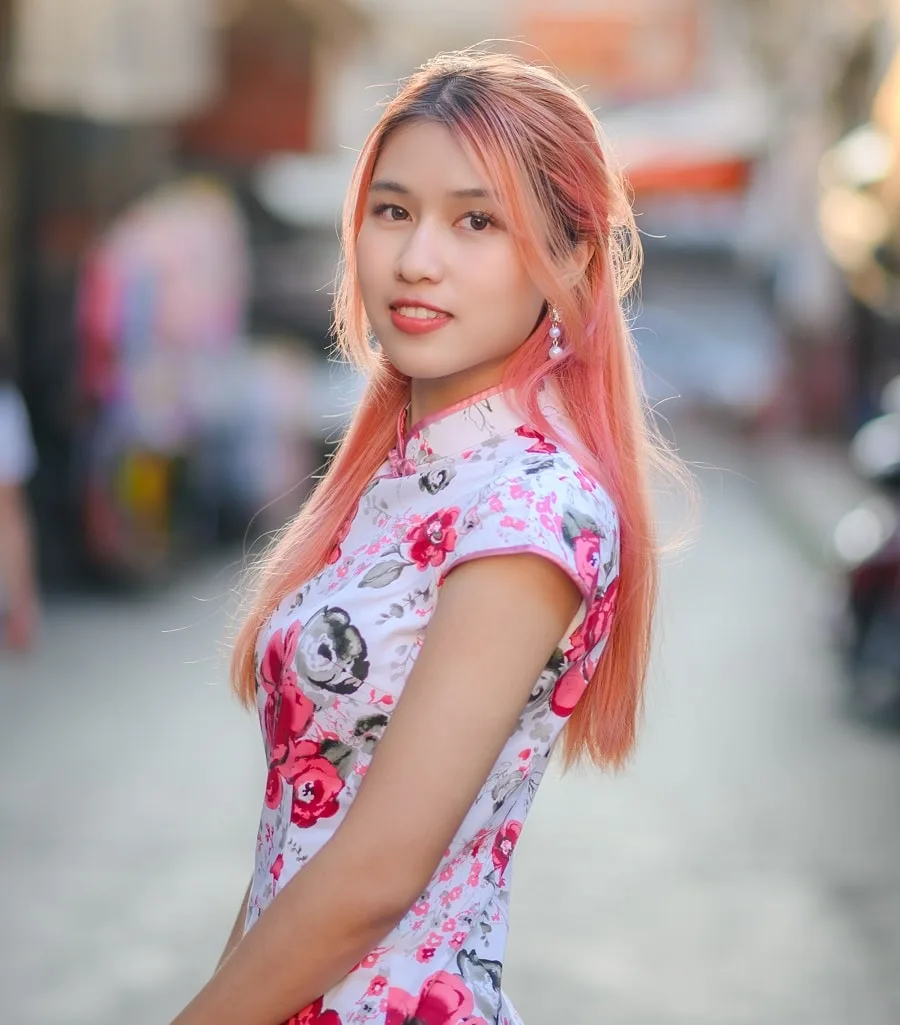 Asian women are known for their love of experimenting with hair color. Play up your hair color by matching it to your choice of a qipao dress, like the pink flower details do in the style above.
Short Braided Pigtails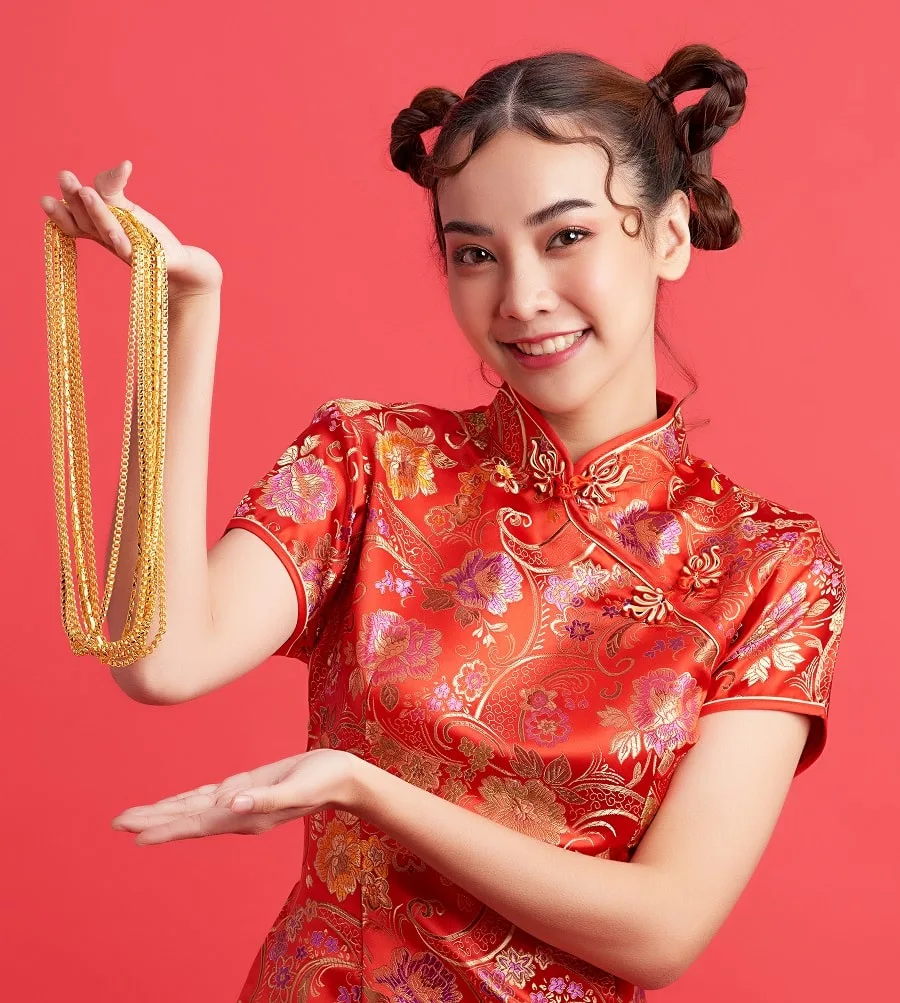 If your qipao dress features swirling gold details, try to continue the shape in your hairstyle. These high braided pigtails have a little curled shape to them for subtle extra character.
Shirt Dress
When running errands or hanging out on the weekends, do it comfortably in a shirt dress! The dress style is much like a man's collared dress shirt, just with a longer length. It comes in cotton and silk, and can be worn with long loose-flowing hair or with a simple ponytail.
Layered with Middle Part
For hair that is already layered, you can get beautiful bedhead easily. Just finger comb your hair into a middle part. If you want, you can work in a little product to contain frizz for all-day style.
Long Spiral Curls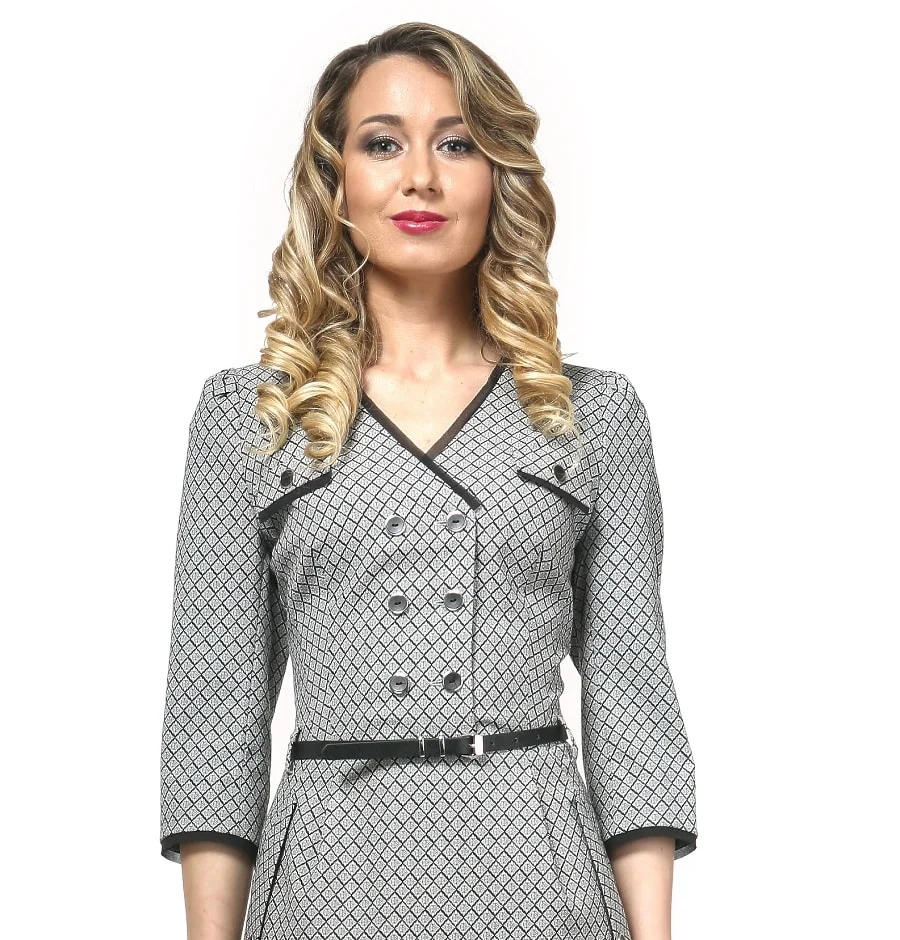 A more structured shirt dress is fine to wear to work, but you'll want a sophisticated hairstyle to go with it. We love the way a side part separates these perfectly shaped long spiral curls.
Thick Curly Hair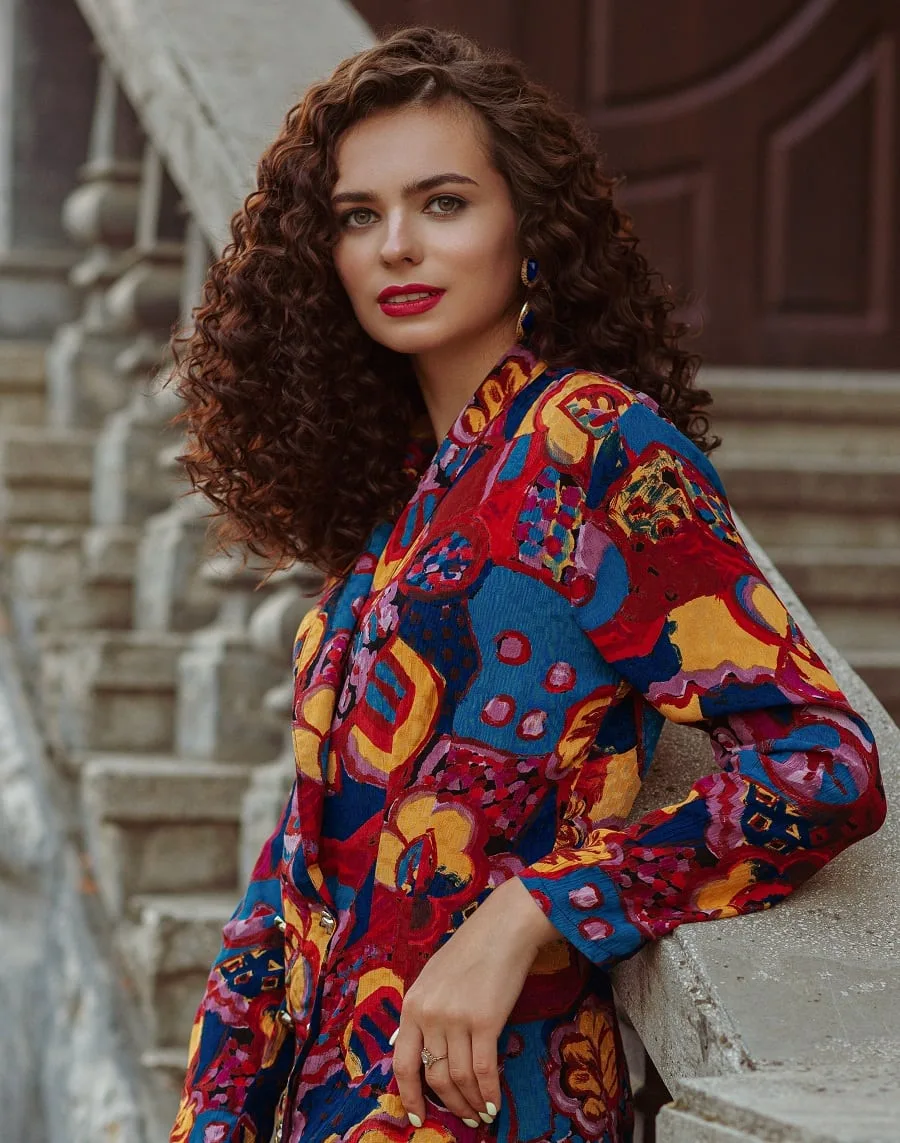 Are you working with hair that is extra thick and curly? A perm can help with maintaining defined tresses. Once that's taken care of, look for shirt dresses with unique patterns and bold colors.
Maxi Dress
For both informal and formal occasions, a maxi dress will never let you down. These dresses offer the most variety in their length, texture, and neckline. Plus, they're flattering to all hairstyles.
Choppy Highlighted Bob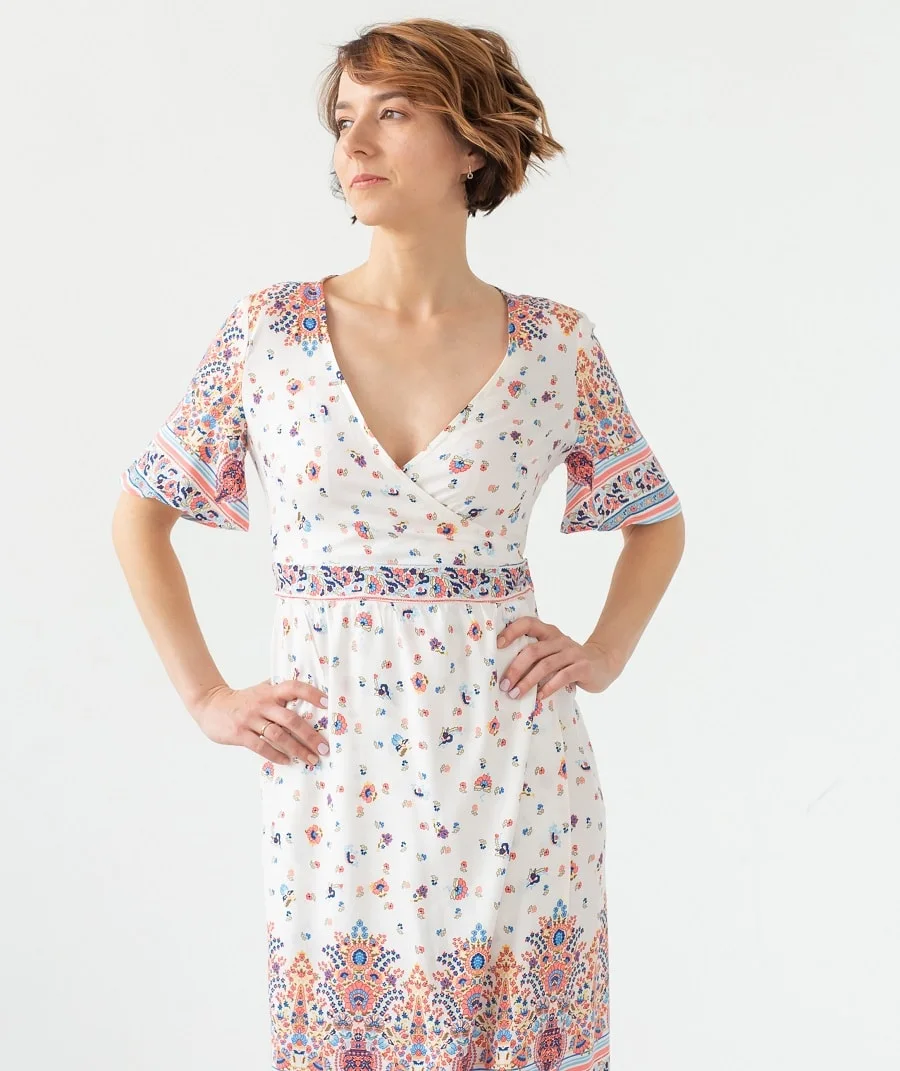 Older women with short hair will appreciate the easy styling a choppy bob offers. On warm days when you're rocking your favorite maxi dress, you'll shine even more when the sun catches the beautiful highlights in your hairdo.
Straight Half Bun Updo
Without rolling out of bed and not touching your hair at all, this half bun half updo is as low maintenance as hair styling gets. A neutral black hair tie is fine for securing it, but consider a hair tie that matches your dress color too!
Ball Gown Dress
It doesn't take an expert to know that a ball gown is really only worn for fancy occasions. The slightly poofed out bottom complements a fitted bodice. You'll feel like Cinderella with a high ballerina bun or a long wavy half updo.
Teased Curly Half Updo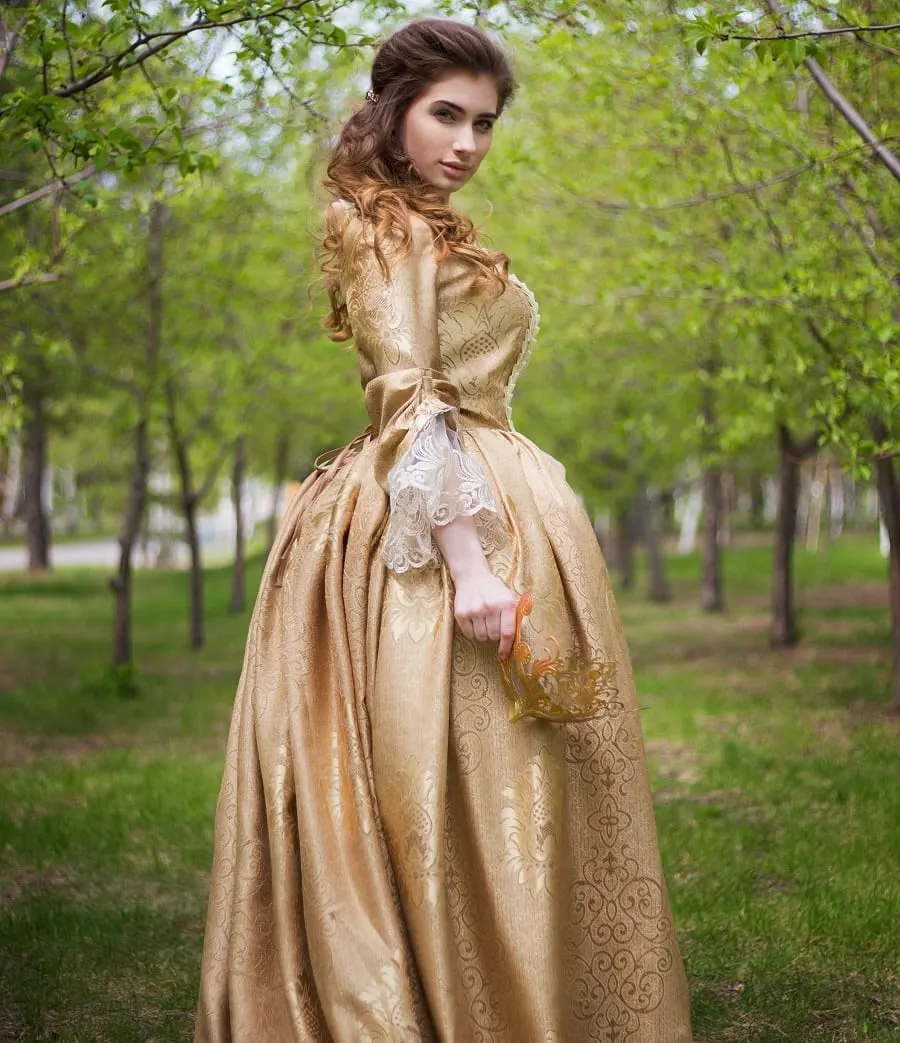 Wearing such a royal-looking ball gown will make you feel like you just stepped off a movie set. Play up the dress's many details by choosing a teased half up hairstyle that features lots of soft waves or curls.
Long Glam Waves
A ball gown that has sparkly sequins in pretty floral designs shouldn't be overtaken, so stick with wearing your hair down. A side part and loose waves is perfect.
Short Blonde Curls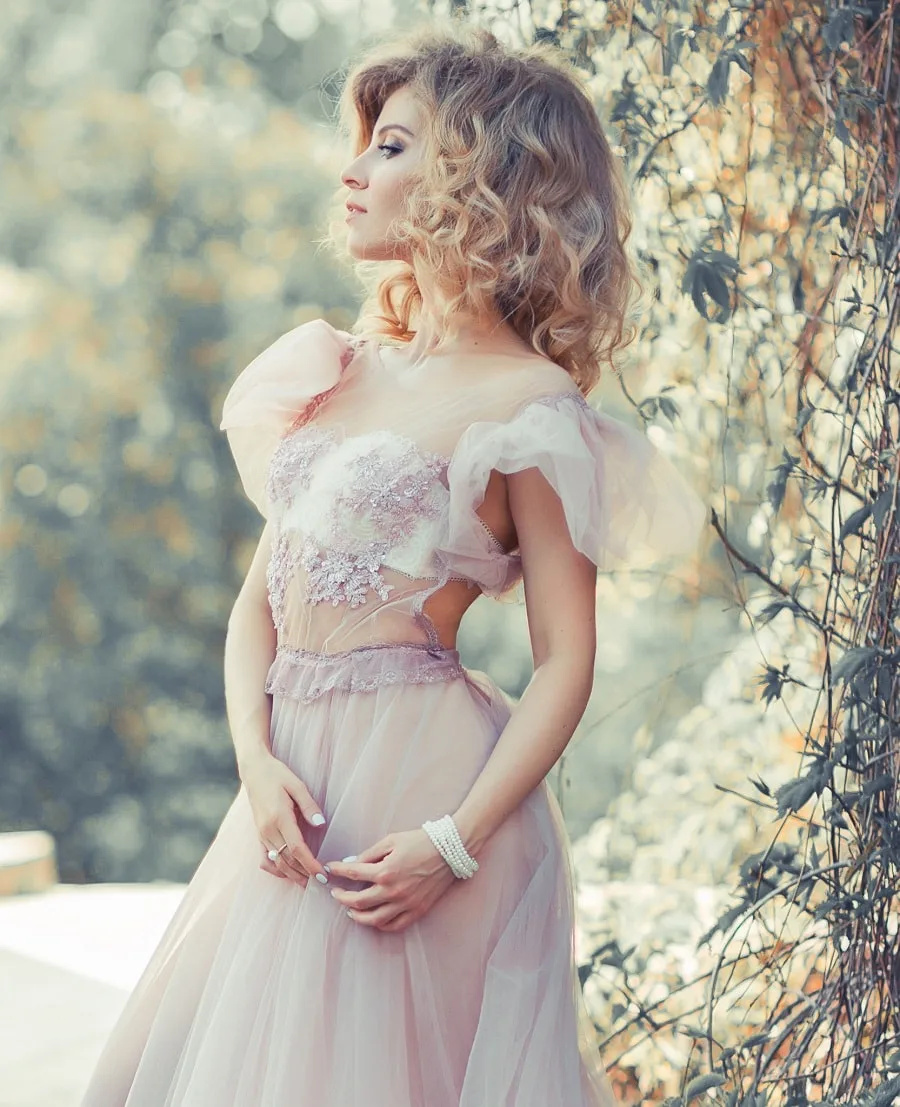 Is your curly hair naturally light blonde? Play up the beautiful color in a light-colored ball gown. A sheer light pink or light purple gown would be a fabulous choice.
Other Hairstyles for Different Dresses
Bun Updo for Strapless Dress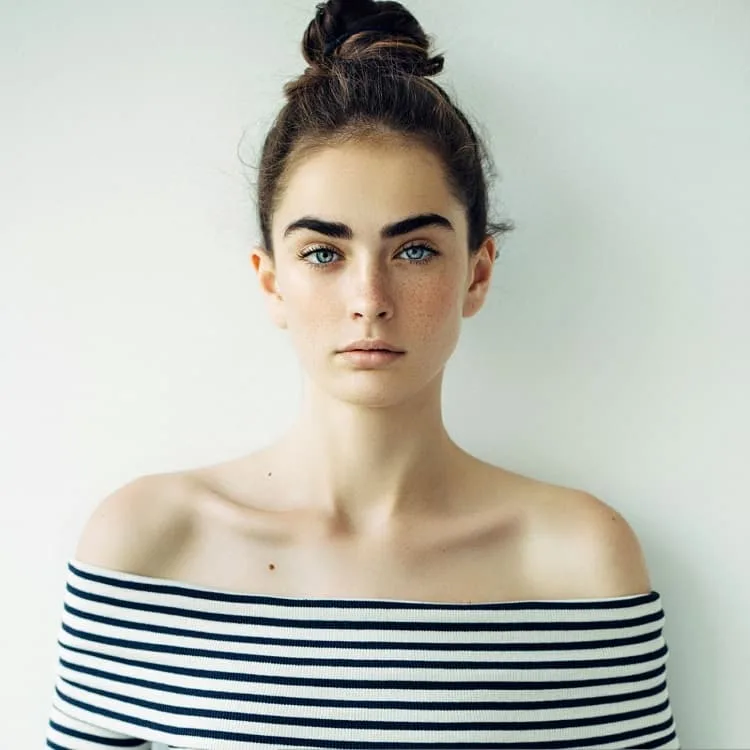 This hairstyle is perfect for an off-shoulder dress. It is simple but it highlights the neckline and shoulders. Go for a simple messy bun on top of the head and wear no makeup, or maybe just a little bit of mascara or fake eyelashes. You will look brilliant!
Layered Medium Hair With Bodycon Dress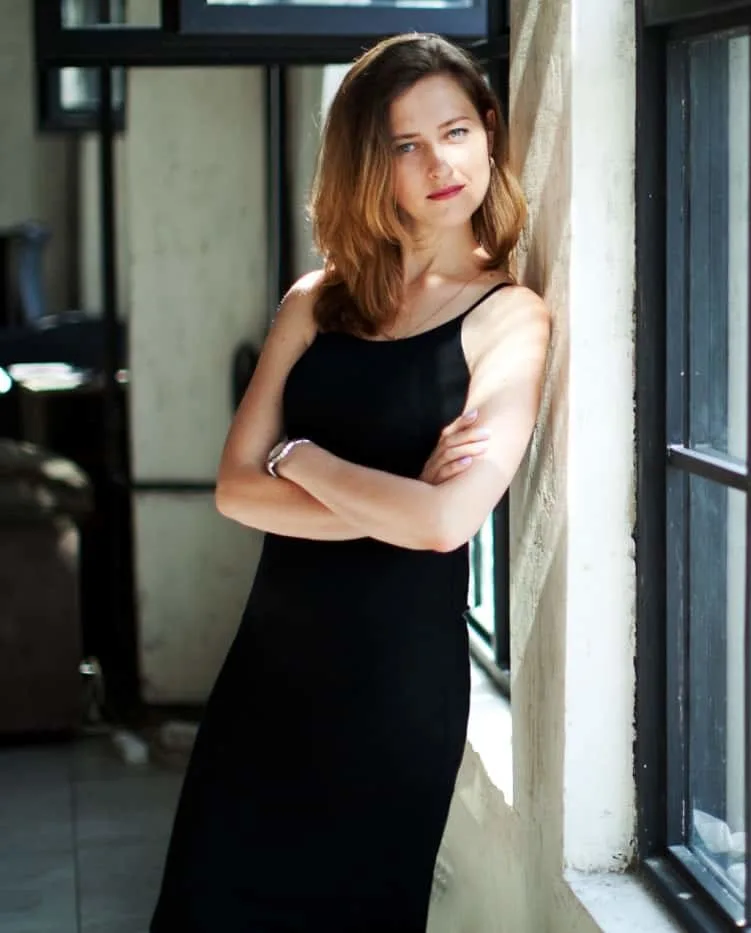 When you are searching for a hairstyle for a long black bodycon dress, go for a layered hairstyle with an ombre and a middle part that will amazingly frame your face.
Afro American Curly Hair + Halter Dresses
Neck dresses are real attention grabbers, especially if you choose one with a floral print like the one presented above. When we're talking about a hairstyle for a high neck dress that will beautifully match the whole outfit, go for Afro American tight curls.
Low Bun for One Shoulder Dresses
When you crave for a hairstyle for your one-shoulder dress that makes the whole outfit stand out, opt for a low bun. It will highlight your uncovered clavicle, and you will look ravishing. Accessorize the entire outfit with a long pair of earrings.
Wavy Long Hair for Strapless Dress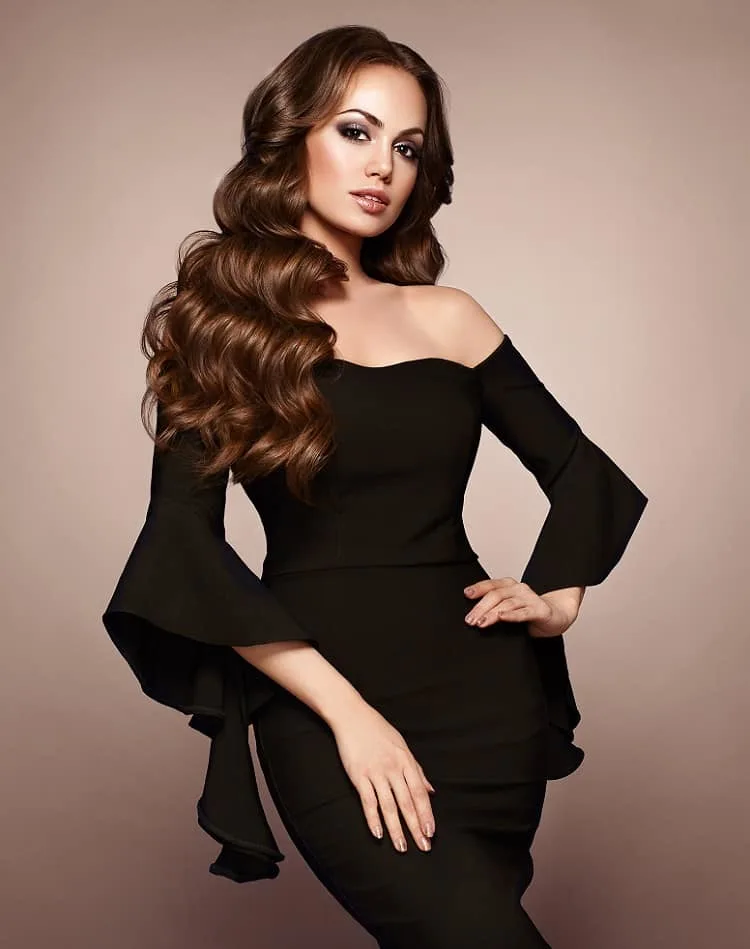 One of the best long hairstyles for a dress with sleeves is a long cut with voluminous waves. Style a middle part and wear half of your hair on the back and the other on one of your shoulders.
Pixie Cut and Short Dress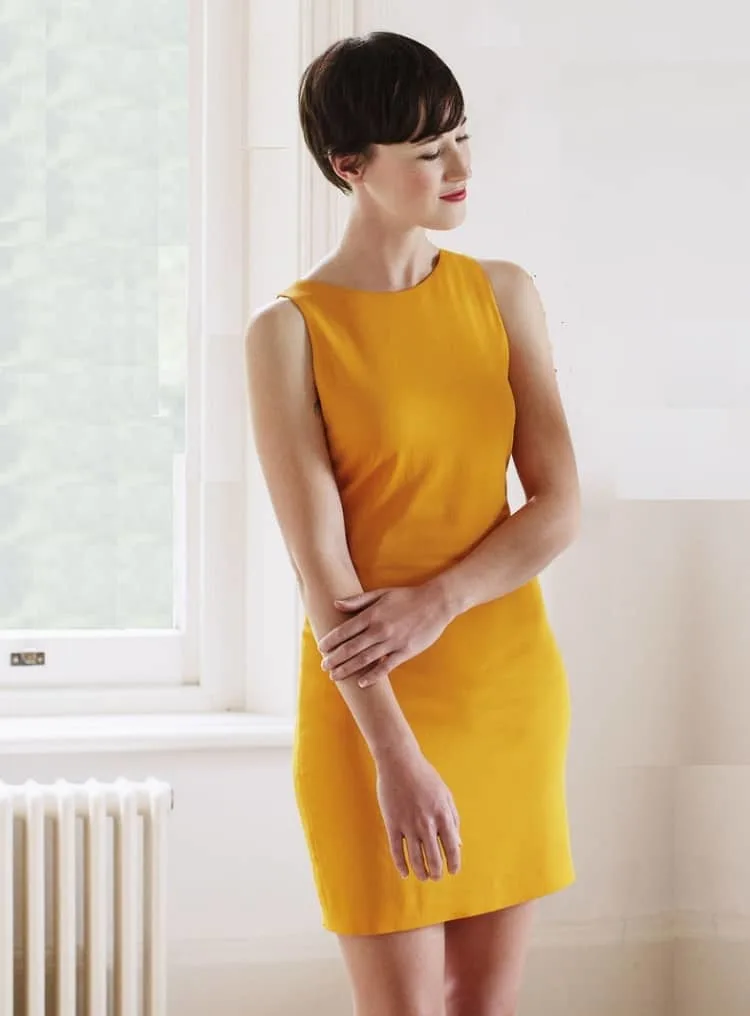 Who says you can't look fabulous and elegant with a short hairstyle and a short dress? Go for a pixie cut and opt for a feminine dress that highlights your silhouette. A red lipstick will always complete the whole outfit!
Ponytail for Strapless Dress
Ponytails are one of the best hairstyles for strapless dresses. If you don't have long and voluminous hair, don't worry, you can always use a gorgeous faux pony that will help you get the look you wanted.
Curly Hairstyle for Halter Dress
The above halter dress and curly hairstyle will make you look formal but will also show off your amazing style. Pin the top hair in a ponytail a wave and curl the rest of the tresses. Get yourself a fringe and spread it on the forehead.
Retro Waves for V Neck Dress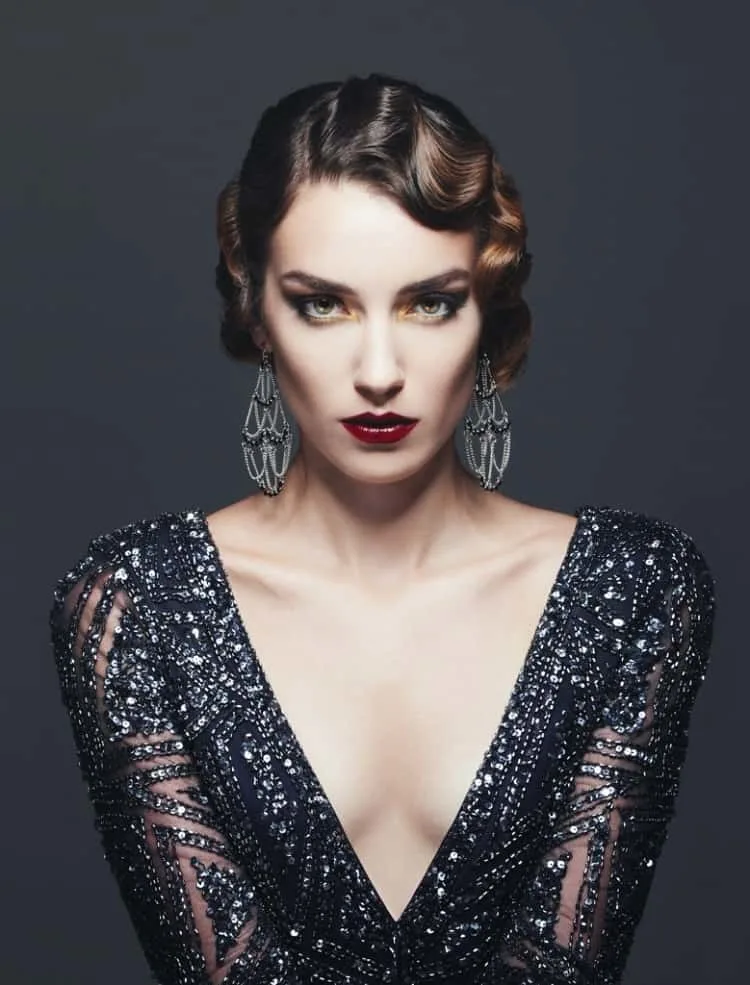 This hairstyle and V-neck dress will make you look ravishing, just like a real diva attending a Great Gatsby party. Go for retro waves and an outfit that's full of sequins. To look fabulous, go for a dark red lipstick.
Braided Low Ponytail + Denim Backless Dress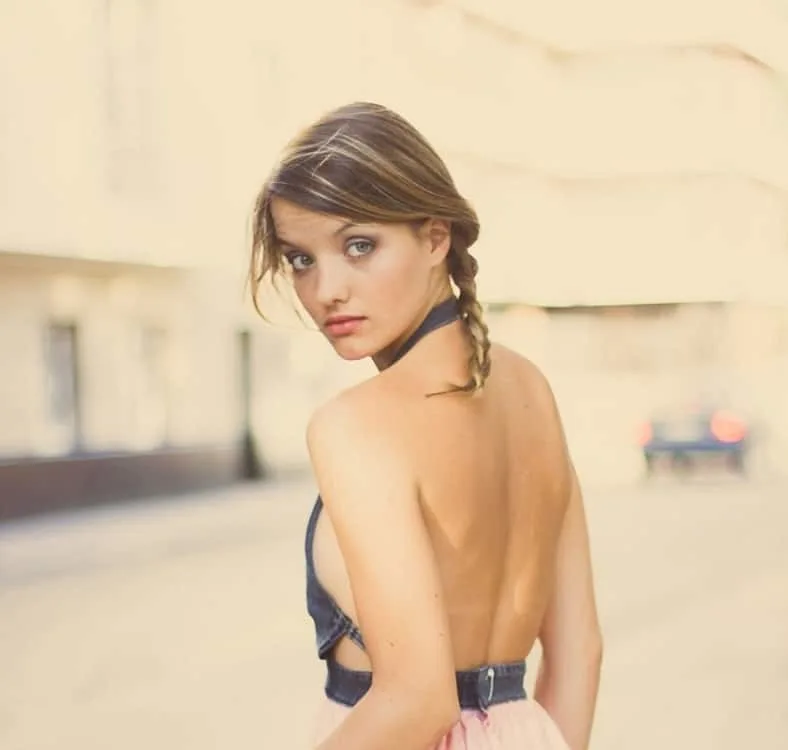 This is one of the most suitable hairstyles for a backless dress. If it's made of denim, the hairdo will make you look younger and it will beautifully match your long outfit. Take your mane and braid one knit that you can wear on one side.
Frequently Asked Questions
If you're still wondering how to match your hairstyle with your dress appropriately, here are answers to a few frequently asked questions.
Should I wear my hair up or down with strapless dresses?
You can wear your hair up or down with a strapless dress, but it depends on the look you're going for. Wearing your hair up might be better if you want to show off your shoulders and chest.

Wearing your hair down can look more modest and elegant. And wearing your hair down but swept to one side can give you the best of both worlds.
What hairstyle to wear with a high-neck dress?
A high updo, a low bun, and a mid updo look excellent with a high-neck dress. It allows people to see the high neck region while adding a touch of regality to the overall look.
Is a short hairstyle good for a dress with sleeves?
Yes, a short hairstyle can look great with a dress that has sleeves. This choice all depends on the style of the dress and the specific short hairstyle. For example, a long-sleeve-off-the-shoulder dress will look great with a curled short bob.
How should I wear my hair with an off-shoulder dress?
Off-shoulder dresses look excellent with long hair, regardless of if the hair is straight, wavy, or curly.

You can sweep all of your hair over one shoulder or leave all of your hair behind your back to expose your collar bones — one of the best reasons to wear an off-shoulder dress in the first place.
What hairstyle will suit a backless dress more?
If you'd love to show off your backless dress, wearing a sexy updo, such as a bun or ponytail, is a great way to do it. It also keeps your hair away from your back so that you can avoid any sweaty mishaps.
Hairstyles and dresses must complete the whole outfit and suit the cut. Depending on the fabric, you can opt for more elegant hairdos or messy hair arrangements. Tell us in the comments which are your favorite types of dresses and the hairstyles you usually go for.