Brides With Medium Length Hair
1.
side wedding updo for medium hair
2.
wedding hairstyle for black bride with medium hair
3.
wedding hair down style for medium hair
4.
medium length wedding hairstyle with veil
5.
wedding hairstyle for medium hair with bangs
6.
half up wedding hairstyle for medium hair
7.
wedding hairstyle for medium thin hair
8.
medium wedding hairstyle with side braids
9.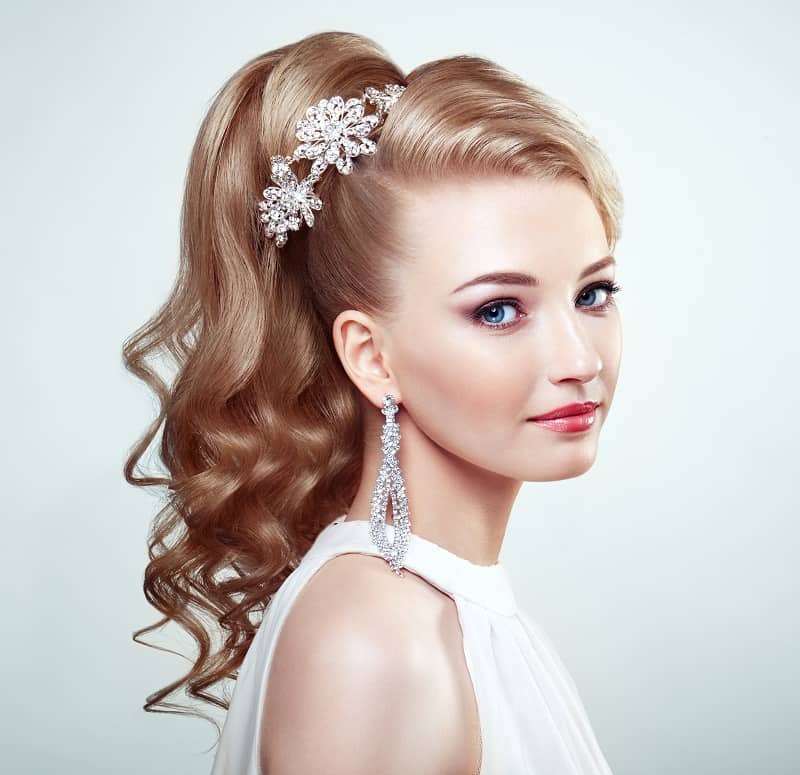 10. Bride hair with curls
This is a wonderful choice for women with medium-length bobs. The stylist will curl your locks and arrange them into a beautiful hairstyle by using bobby pins and hairspray. You get the appearance of an intricate design.
11. Medium curly hairstyle for wedding
Curls are an important part of every wedding hairstyle for medium length hair since they allow you to create an appearance of extra volume. Neatly arranged curls make it look as if you have a large bun in the back.
Wedding Hairstyle Ideas for Short Hair
12. Wild medium hairstyle for bride
Medium-length hair allows the brides and their hairstylists to take the imagination far and beyond. If you take a look at this photo, you can see a complicated and glamorous style, which is created with just a few thin strands.
13. Wear it down
Your wedding hairstyle often doesn't depend on the length of your hair but of the overall style you choose for yourself. Sometimes, it's smart to just leave your locks down and decorate them with a nice tiara or other jewelry.
14. Bright approach
You are planning a white dress, white shoes, and diamonds. Why not diversify all this whiteness by a bright hair color? While drastic color changes are not recommended, some brides ignore the rule and get stunning results. Are you ready to risk it?
15. High hair twist
High hair is one of the most common tricks used for the wedding hairstyles for medium length hair. It gives your locks some volume boost, which is especially useful for gals with fine tresses. Meanwhile, only the top part of the hair is styled to leave the length down.
16. Flower bun
Did you think that large buns are only made for long hair? A professional hairstylist can create this wonderful flower bun out of your medium-length bob in under an hour. Take the picture with you to the barbershop.
Wedding Hairstyle Ideas for African American Brides
17. The right accessories
A beautiful wedding hairstyle depends on the well-chosen hair accessories. If your locks are stunning enough to look great on their own but you still want to add some zest, get large faux or fresh flowers.
18. Wild curls
Curls can make your wedding image but they can never break it. So if you make some curls, you can never go wrong. Especially, if the hairstylist has some imagination and can arrange them in a wild yet impressive way.
Best Half Up Half Down Hairstyles
19. Low bun with high hair
If you have a medium-length stacked bob, you can enjoy this style that can make your locks look longer and create a great base for different accessories. The hair is arranged into a very low bun and then top part is teased to add volume.
20. Faux braided bun
A faux braided bun is a great way to add some volume and style to your hair. The stylist will curl your medium length strands and arrange them to make the appearance of a bun. If you always wanted long locks, this is your chance to shine.
21. Flowery headband
If you are going for a boho or any other close to nature wedding style, there isn't anything you should do about your hair. This wedding hairstyle involves medium length hair, which you just allow to flow down. Add a flowery headband and voila!
Wedding Guest? Try These Hairstyles
22. Soft waves
Soft waves are always a great way out for girls with short or medium bobs. This 1950's hair hasn't gone out of fashion for the past 65 years and it's not about to leave any time soon. So take advantage of it!
23. Curls and flowers
Curls and flowers are just what you need to become the most beautiful bride with medium length hair. Take this photo to your hairstylist to show him or her how to arrange the curls and flowers in just the right manner.
24. Side part
A simple side part can create a wonderful wedding hairstyle on any length hair. Brushing part of your hair to one side to create volume and curling the other one is simple yet impressive. Add some flowery accessories to give the beauty a boost.
25. Top braid
If your hair is not long enough to create a low braid, make a top one. Braid one side of your hair starting from the top hairline and use a large hair accessory to cover the lack of hair on the bottom. Fast, easy, and very interesting!
Braiding is always accessible for women, even if their medium length hair doesn't seem to be long enough for a stunning wedding hairstyle. Using the top strands, you can create a loose French braid that looks amazing.
27. Wondrous arrangement
The beauty of a wedding hairstyle for medium length hair often depends on how thick your locks are. If you have thick tresses then it doesn't matter whether they are long or short. A good hairstylist can always create a wondrous arrangement.
28. Blonde layers
If your color of choice is blonde, you can take advantage of the special occasion to make it look even blonder. An ombre looks perfect on its own or when arranged into a hairstyle. Give it a try and enjoy the results!
29. Loose approach
A loose approach to wedding hair might seem inappropriate since the hairstyle needs to stay intact all day long. However, loose styles are so appealing that it wouldn't be good to ignore them altogether.
30. Straight and stray
Messy hairstyles are gaining momentum so why not take advantage of them? This one involves lifting the hair slightly up and pinning it in the back so some of the loose strands appear in the front. Easy to make and keep fresh!
31. Smart accessorizing
Choosing the right accessories can keep you from going all out with the wedding hairstyle especially if your medium length hair is hard to arrange into something feasible. Headbands and large flowery pins are your secret weapons.
32. Smart approach
If you want to let your hair down but avoid it getting into your face when dancing, this hairstyle can be a great choice. It can suit women with bobs or even shags. Long bangs are a great addition to the style.
A simple curly bob can become one of the most amazing wedding hairstyles if you just keep it simple. A voluminous mane can be a hairstyle all on its own. If you add just one simple accessory, you can shine.
34. Lift it up
If you have a bob, even if it's a stacked one, you can always lift it up and the rest is up to the stylist. Using large accessories can make it seem like a bun. Meanwhile, long loose bangs add your image a romantic touch.
35. Complex braiding
Braids are the most versatile choice for a wedding hairstyle on medium hair since they create a feeling of volume while looking truly festive. Even if this tutorial looks too complicated, you can still get a grand hairstyle by making an appointment with your barber.
36. Loose braided bun
A loose braided bun can save the day thanks to the volume it adds. You can start braiding at the top part of your hairline in order to give this hairstyle more complexity. Add some wedding hair accessories and voila!
37. One-sided style
Brushing all your medium hair to one side can create a superb wedding hairstyle. The locks fall down to reflect the beauty while being kept away from your face during the day. You can easily make this hairstyle on your own.
38. Runaround braids
Runaround French braids are a grand combination of the classics and festive hairstyling. All depends on how you use them. These asymmetrical runaround braids are easy to make. They look fantastic!
39. Wavy ombre
If you are into a natural look, this particular hairstyle is for you. While almost no styling is done, the wavy hair looks fantastic due to some good work with a curling iron and an amazing dyeing job.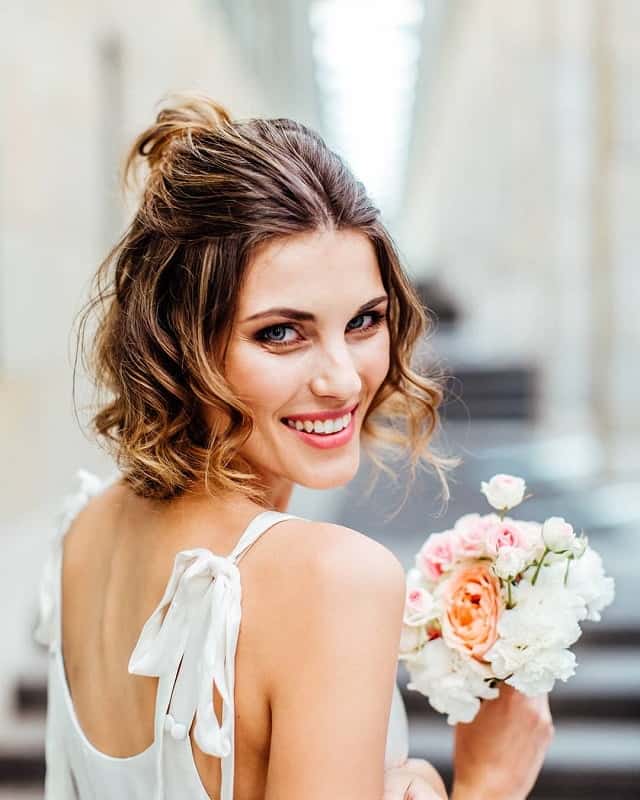 We hope these wedding hairstyles for medium hair allowed you to make the right choice today. Pick 5 and take them to the hairstylist to get further advice. Don't forget to pick the right accessories in advance.