Hairstyle for boys in adolescence period has endless possibilities. But at the age of 17, it becomes more important as they step into their college.
With the right hairstyle, teenage boys can boost their confidence. However, choosing the precise hairstyle becomes difficult at this age as every style may not look beautiful. As a result, boys tend to get confused about a perfect haircut.
However, getting the right hairdo according to personality and hair type is necessary. With that in mind, we have picked some of the best haircuts for 17-year-old boys.
Trendy Haircuts for 17-Year-Old Boys
We understand that choosing the perfect haircut can be challenging for teenage boys as they need something trendy yet appropriate for college and everyday life. Check out the following haircuts for boys aged 17.
1. Chopped Bangs
Here is a short haircut for a 17-year-old boy. The hair is randomly cropped at the front with a slightly longer length than the faded sides, and shorter back. The contrast between the shorter sides and longer tops creates a gorgeous look.
2. Upward Sweep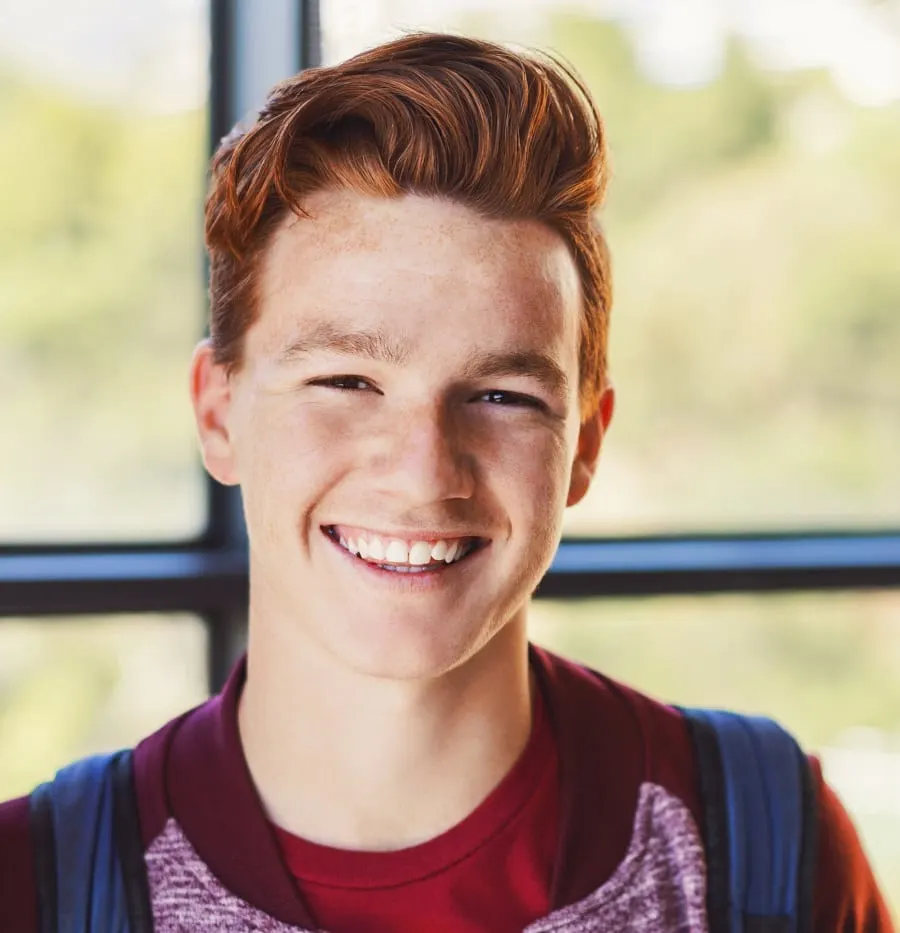 If you have medium-length hair, you can try an upward-swept style. It starts at the forehead and gradually waves backward.
While the style gives a dynamic and energetic appearance, the vibrant red hair offers an attention-grabbing look.
3. Cropped Bangs + Blonde Highlights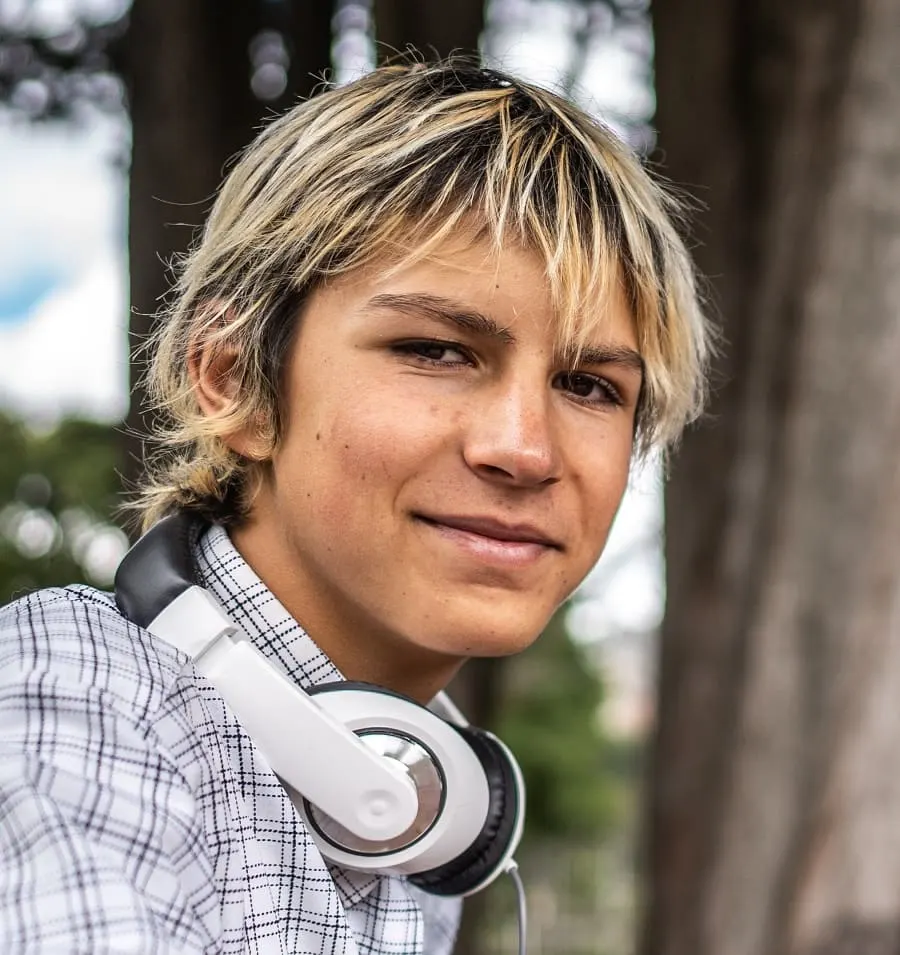 The combination of cropped bangs and the blonde highlights creates an appealing contrast for boys aged 17. Although the bangs are cut unevenly, it beautifully complements the natural length and gives a chic look.
4. Curly Buzz Cut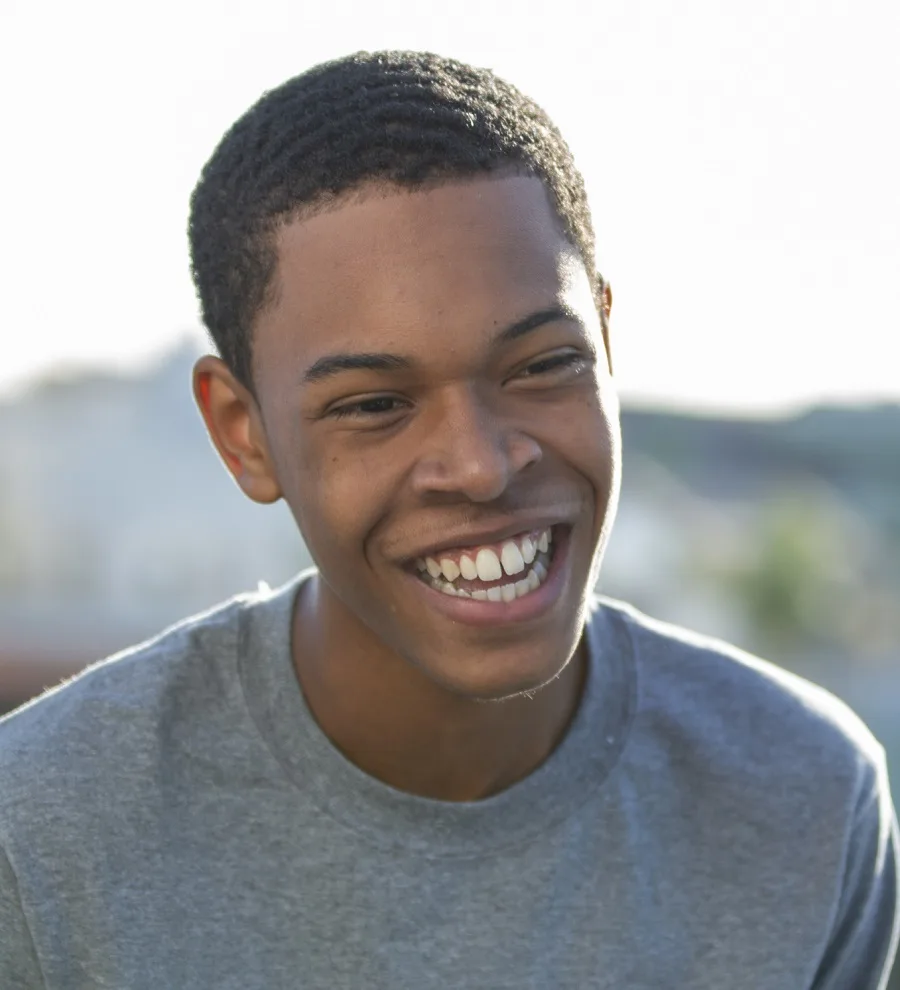 Teenage boys with natural curls will find this style effortless yet fashionable, as the hair remains uniform all over the head.
Therefore, no extra care is required for styling. Further, the line on the forehead complements the texture of curly hair.
5. Layered Two Block Haircut
This hairstyle has distinct layers of medium hair that create a puffy and voluminous middle part. Keep the sides shorter, and let the top part fall over on the sides, making an undercut appearance.
6. Crew Cut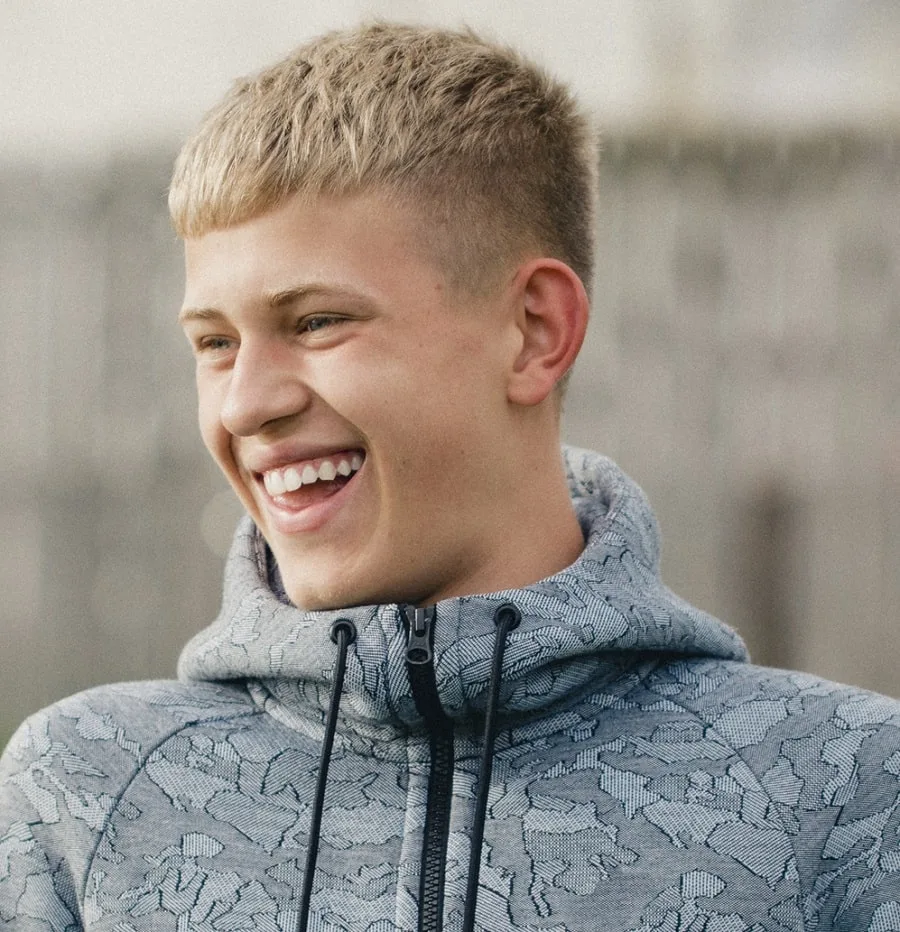 This hairdo has a tapered sides and short top. However, the top part may vary in length, but it must contrast with the sides.
The best part of this haircut is that it requires minimal styling. This short hairstyle looks great on teen boys who are 17 years old.
7. Puffy Curly Hair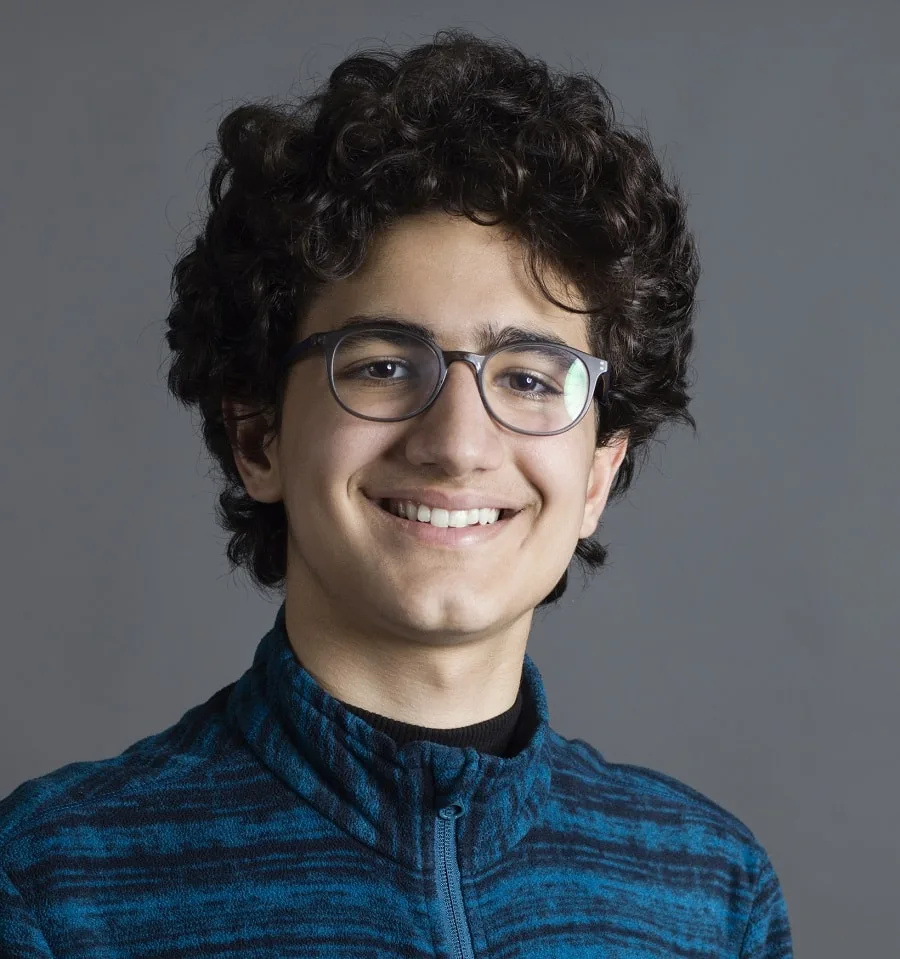 The puffy style features full-bodied and voluminous curls that stay away from the forehead. Use your fingers to get the tousled look. Additionally, apply some light hair spray all over the head to control and hold the hair in place.
8. Bowl Cut
While the regular bowl shape is typically cut straight across the forehead, this one has longer hair on the front.
However, the sides are kept short and gradually match the top. Nevertheless, this hairdo looks great on an Asian boy with straight hair.
9. Middle Part with Flyaway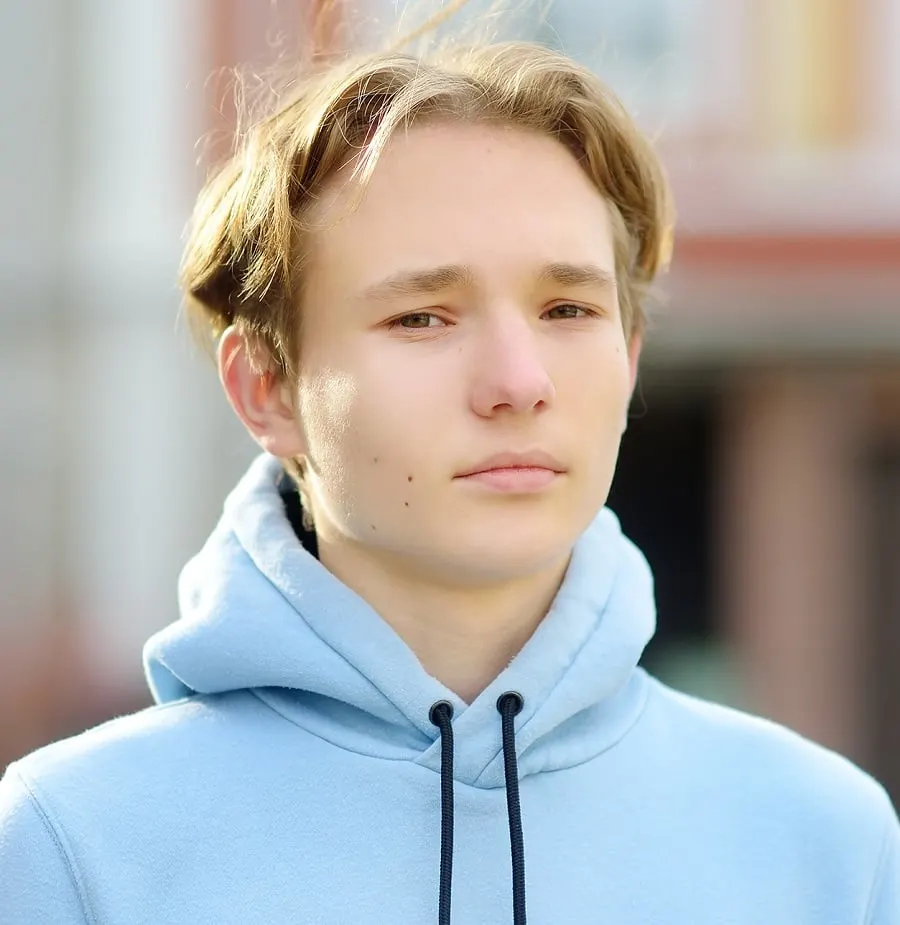 This style is perfect for 17-year-old boys with thin and medium-length hair. You can just part the hair with your fingers to get a symmetrical appearance. And the flyaway adds a casual coolness to the overall look.
10. Middle Parted Long hair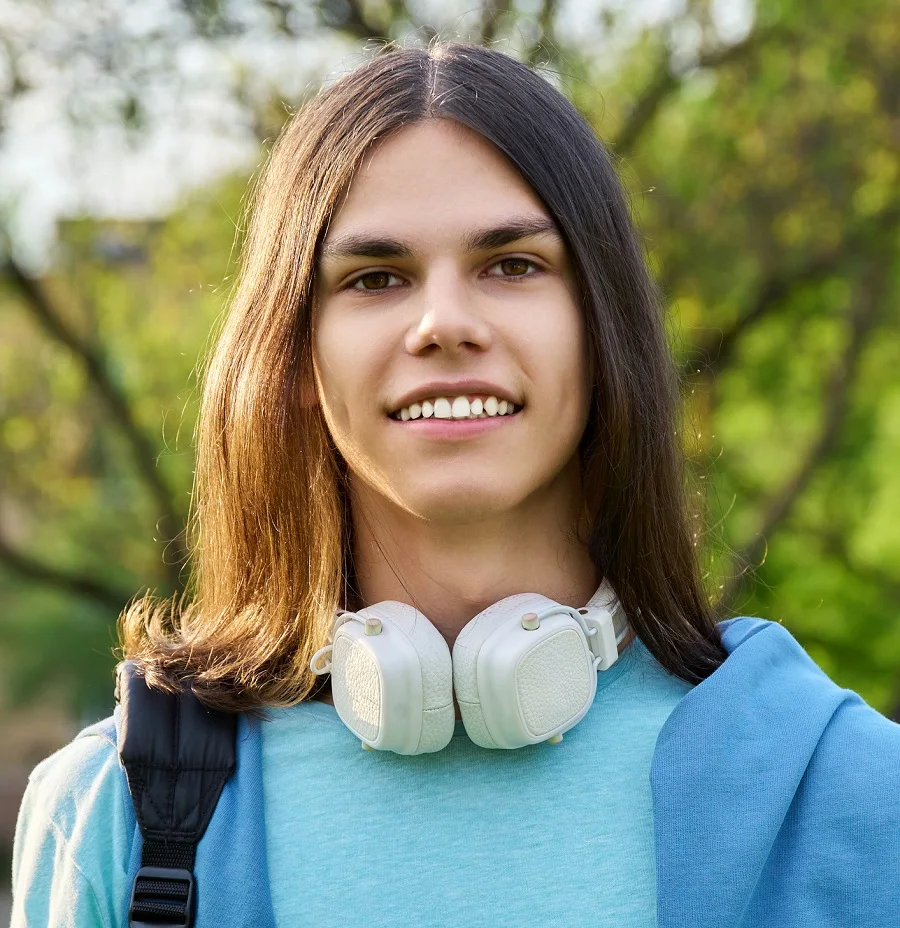 While the middle part gives a symmetric appearance, the long hair embraces the natural flow and texture of the straight soft wavy hair. It looks great on teenage boys with a long or rectangular face shape.
11. Forward Sweep Over
The hair is neatly combed forward and then swept smoothly to one side using hands. It allows the hair to fall gracefully across the forehead and temple area. However, medium-hold hair spray is needed to keep the hair in place.
12. Puffy Curls
It is one of the most lovable styles for young Afro boys as they can carry it to school or college. Growing the hair for a few months to a year will get you this style. But hair spray or textured cream is required for flaunting the curls.
13. Straight Curtain Haircut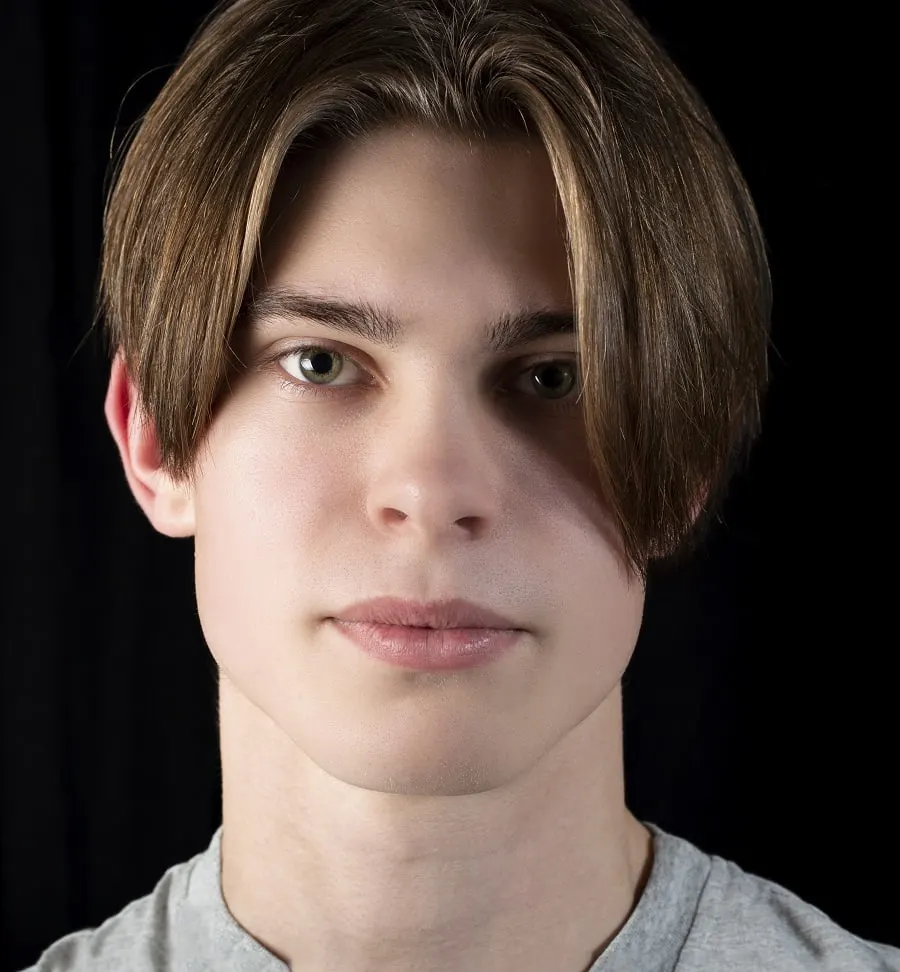 This vintage style is one of the most popular haircuts among 17-year-old boys. The hair is evenly split down the middle. The long hair covers the half ear while creating laid laid-back, cool appearance.
14. Mullet Haircut
Teenagers can show their individuality with this style as it resembles a rebellious appearance.
However, you can experiment with various lengths and textures in the back. But the front and sides should be short in length to get a distinctive contrast.
15. Ombre on Wide Curtain
Boys in their teens can try ombre on wide-curtain hair as a stylish and distinctive look. The gradual transition of color from dark to light gives an attention-grabbing appearance. Hence, this haircut helps anyone to stay ahead of the fashion curve.
16. Pointy Quiff
Unlike a regular quiff, this haircut has a voluminous and textured top. The front and side hair swept upward, styled into a sharp, pointy peak.
However, the sides and back are kept shorter to create a dramatic contrast with the top part to create quiff's prominence.
17. Short Soft Wavy Hair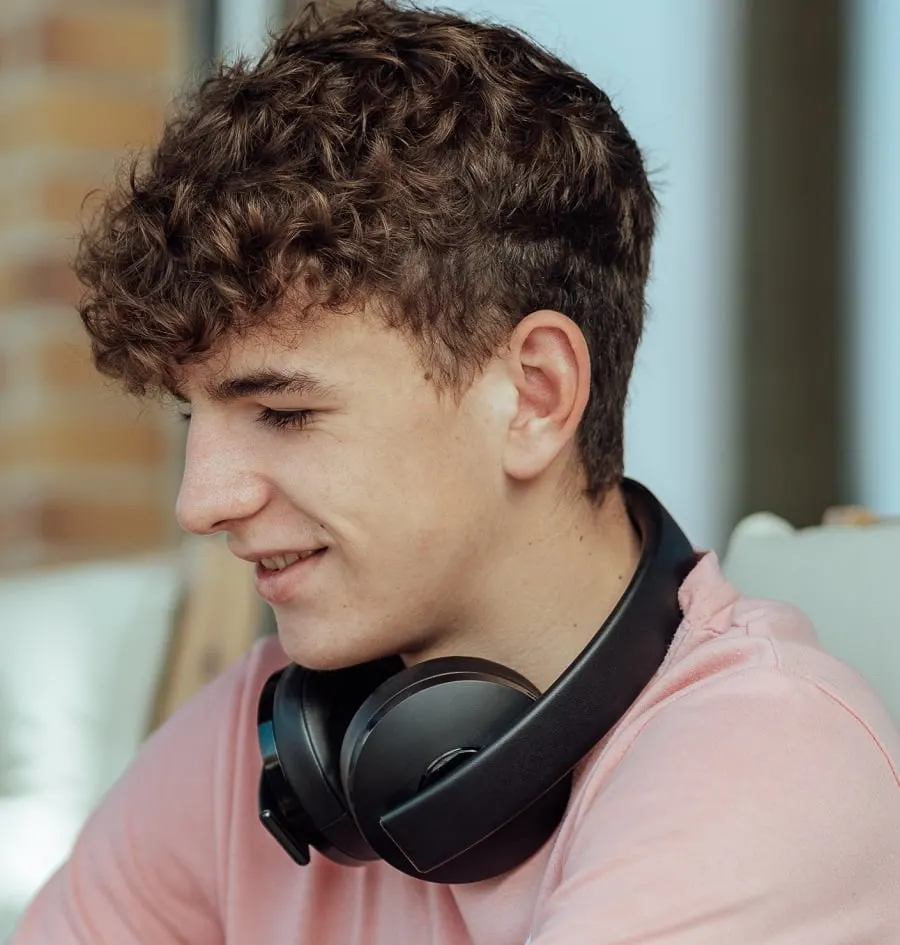 This haircut has soft and natural waves on short hair. Further, the slight layering adds texture and provides a flattering frame to the face.
The great part of this hairstyle is that it looks excellent on 17-year-old boys with any face shape.
18. Wavy Bangs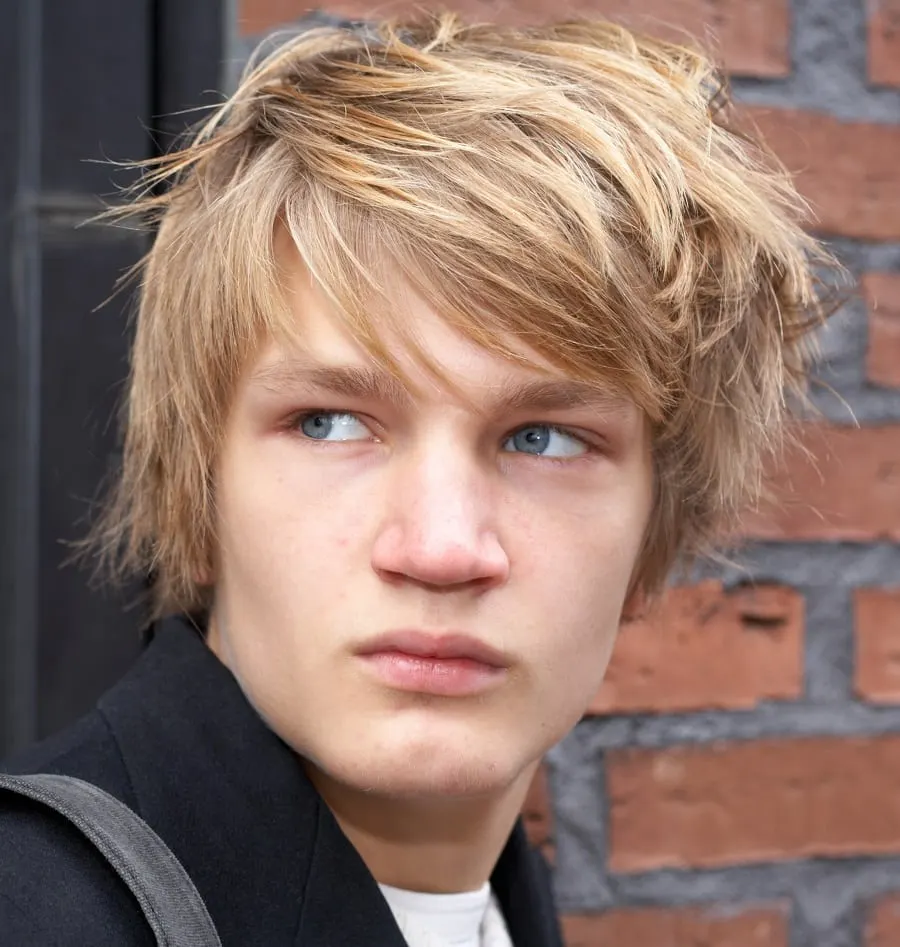 The wavy texture gives an effortless vibe, while the swept style helps to get focus on eyes and facial features.
Further, the swept bangs perfectly balance the casual look for school or college. It is suitable for teenage boys with straight and wavy hair.
19. Curly Top + Short Sides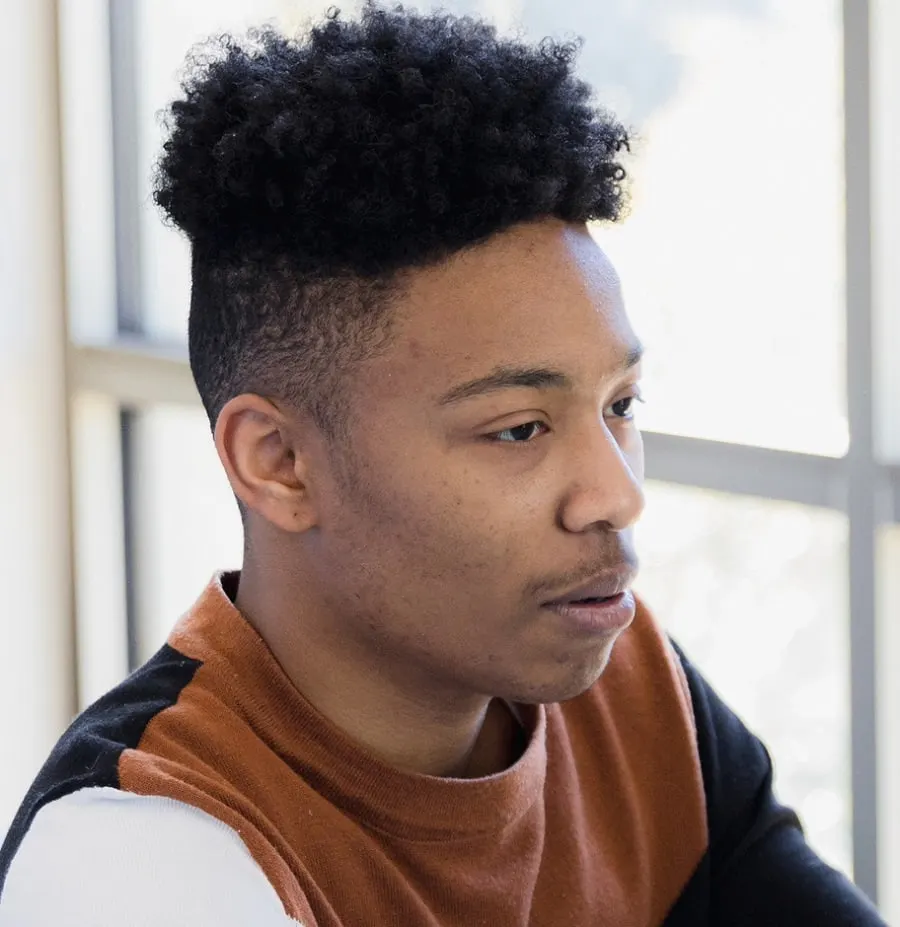 This hairstyle contains a voluminous and bushy top, which shows the beauty of natural afro curls. In addition to that, the trimmed sides create a sharp contrast and give a harmonious balance.
You can rock this style easily if you are a 17-year-old African-American boy with curly hair.
20. Angled Spike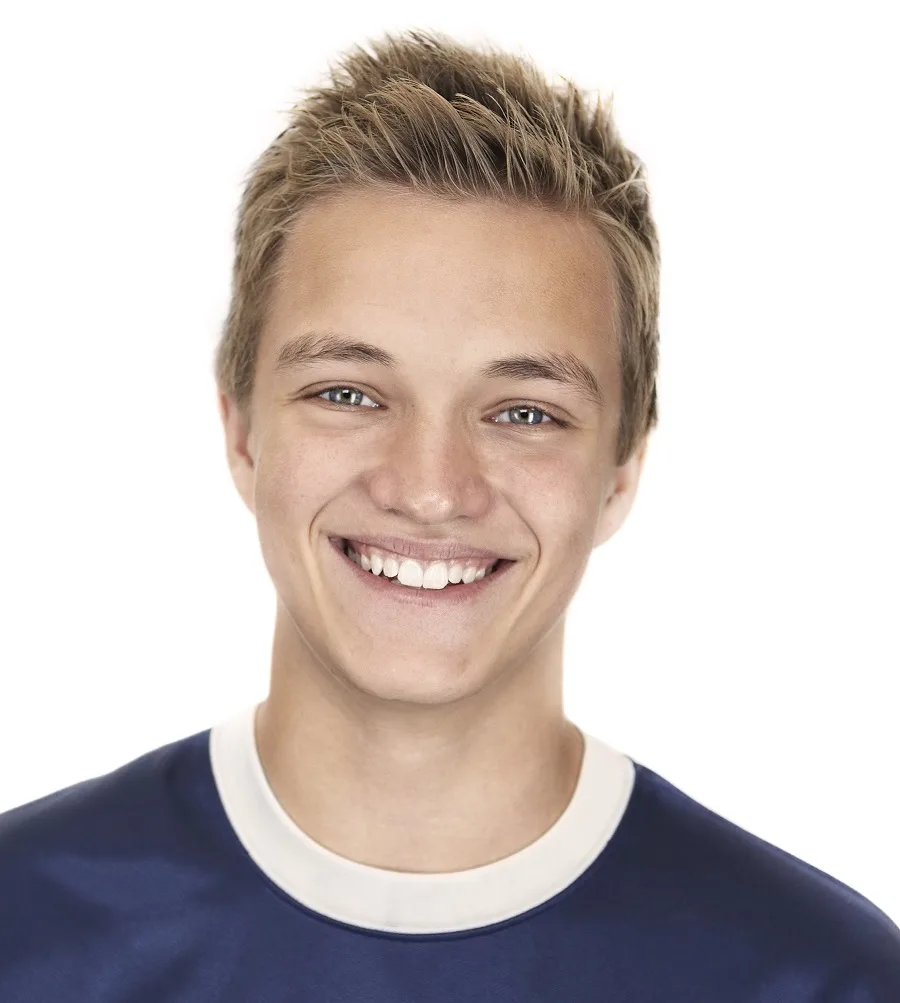 The angled spike is perfect for both 17 and 16-year-old high school boys who want to get a modern and edgy vibe.
The top part is left slightly longer than the sides and back. You will need to apply some hardhold hair gel before styling it.
21. Puffy Side Swept
Are you having issues styling medium-length dry hair? Just sweep the hair to one side using your fingers. The result will be a puffy and voluminous tip. However, you may apply some hairspray to remove any flyaway.
22. Soft Curly Bob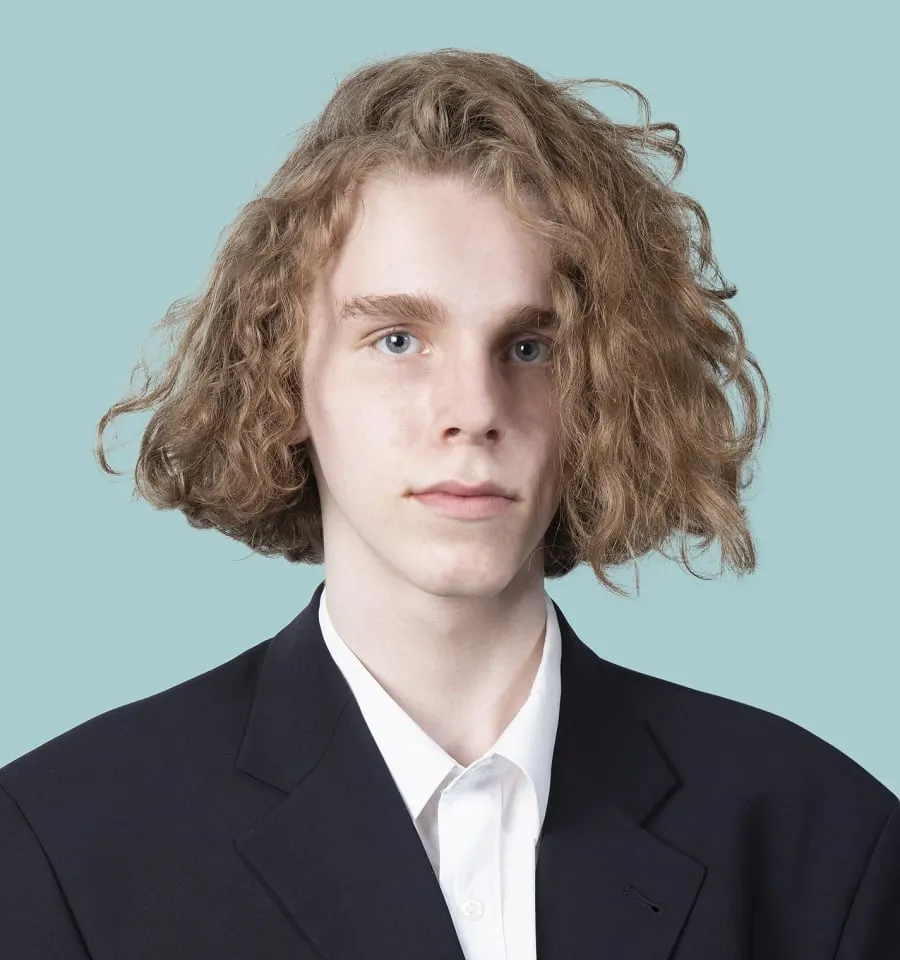 Looking for the perfect style for soft curly hair? You can get this style with a short to medium length bob, and it will surely frame any face. However, the boys with longer or rectangular face shapes will look great with this bob cut.
23. Blonde Quiff
This hairstyle has a textured blonde top while styled in a quiff. However, the sides faded short to keep all the focus on the puffy and brushed top.
24. Spiky Undercut
The spiky texture can add energy and attitude to any 17-year-old boy who is just about to step into college. Further, you can try different spike lengths while the short sides give an undercut vibe.
25. Curls with Flyaway
This hairdo resembles a carefree choice. It features medium to long hair that has soft and natural curls. The top is left unkempt and messy, while the flyaway adds playfulness and casual charm to the overall appearance.
26. Brushed Undercut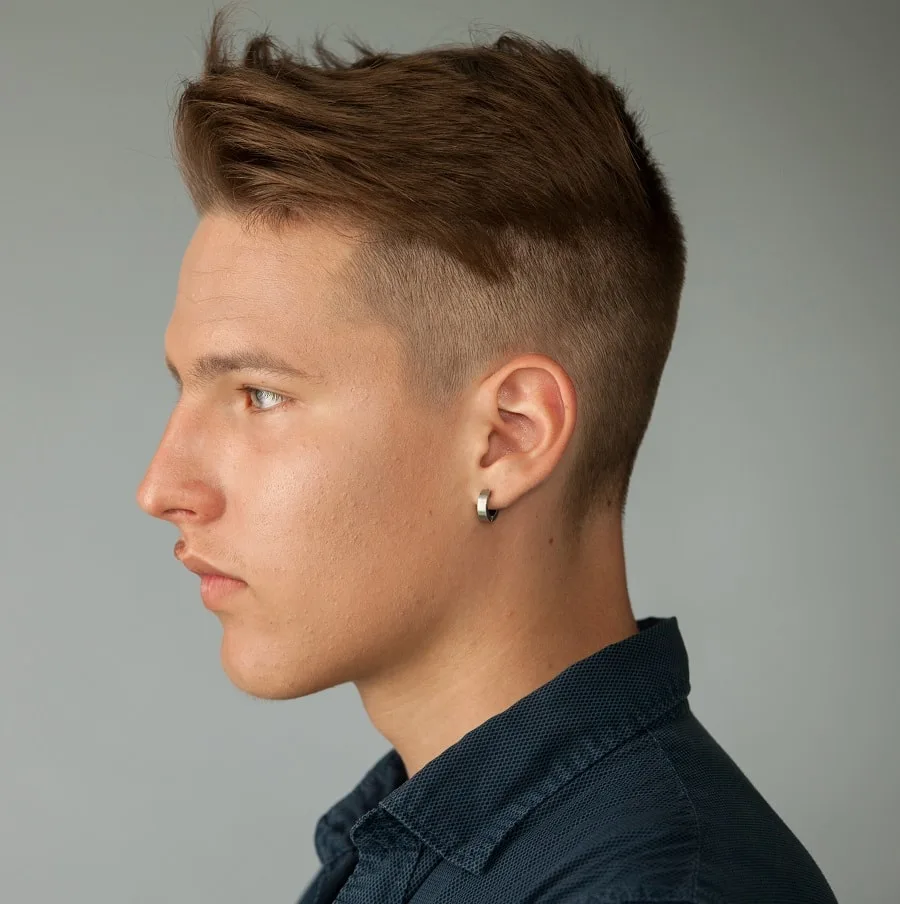 This haircut has evenly trimmed sides and back with a longer top. The top is brushed upward sideways, giving a sophisticated undercut look and making it perfect for any formal to semi casual look.
27. Hard Gel + Messy Hair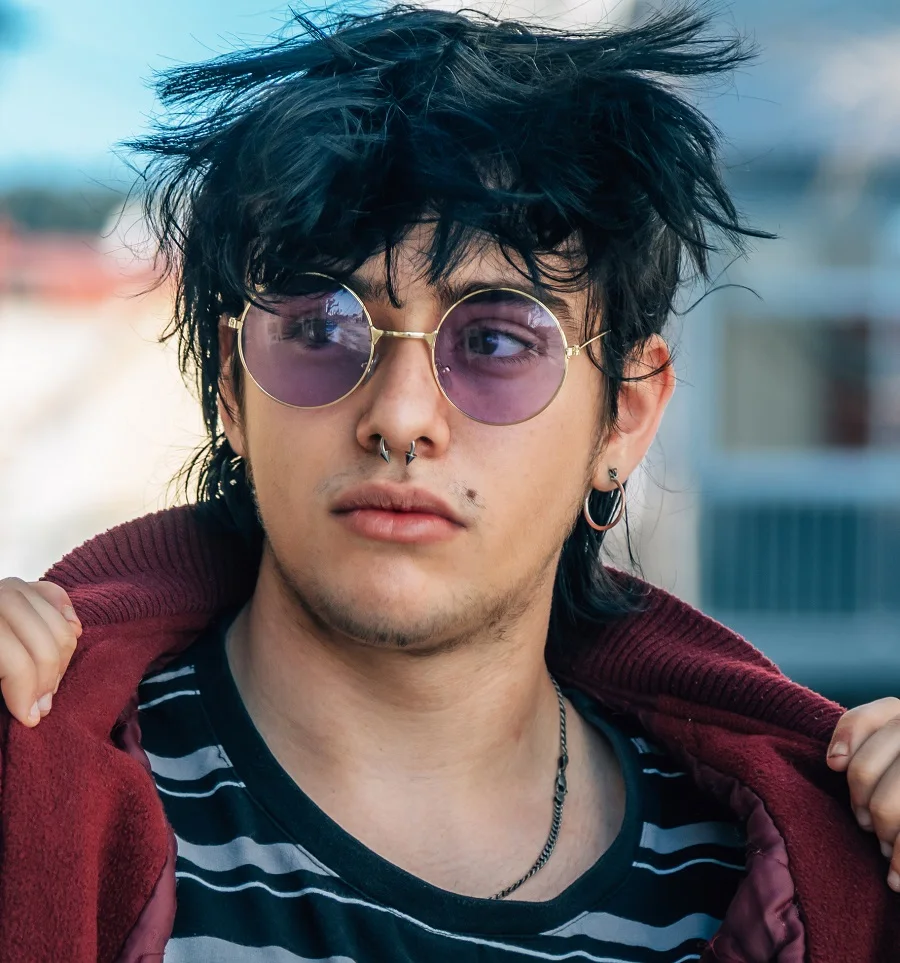 You may see it as an unusual hairstyle, but it surely will make any 17-year-old boy look cool and trendy. The textured and tousled appearance gives a carefree vibe. Adding the hardhold gel will allow the style to remain intact all day long.
These haircuts for 17-year-old boys aren't just random suggestions. We have picked them from hundreds of styles recommended by top hairstylists and grooming experts.
Trending Topics