If you'd like a stylish new haircut for your boy, you should try one of these 20 boy's undercut hairstyles. These haircuts are not only trendy for boys, but they are very popular among men too.
Coolest Boys Undercut Hairstyles
Have a look at these amazing styles and get brand new ideas on how to style your boy's hair with an undercut and making him be the centre of attraction at school.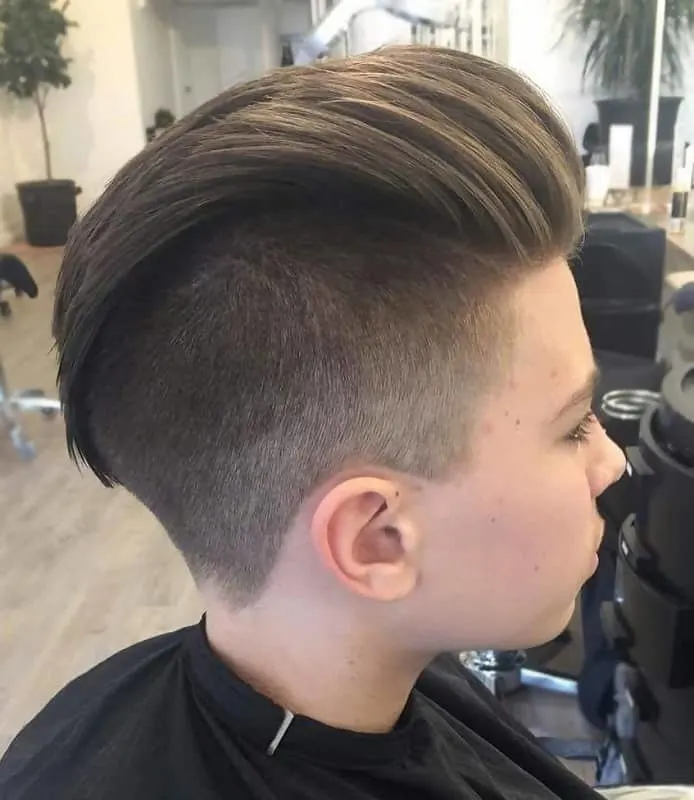 A slick back hairstyle gives a dose of sophistication to the undercut on boy's hair, so the combination of those two is just perfect.
Ideal for: Oval and heart-shaped faces.
How to style: Use clippers to shape and taper the undercut hair. Then comb the hair towards the back and use a little bit of hair wax to make it firmer but make sure it's not too greasy. Also, make sure the wax is not too strong so it doesn't damage the hair.
Amazing Pompadour Undercut Hairstyles for Men
Totally sleek hairstyles can look a bit too serious for your little boy who would probably prefer something more relaxed. Messy hair is a good option to style with boy's undercut.
Ideal for: Round and square-shaped faces.
How to style: With the help of a hair trimmer, cut the sides short and carefully shape some lines. Use scissors to carefully cut the hair on the top so that it can be styled in different styles. For starters, take some hair gel on your fingertips and mess the hair out towards the back.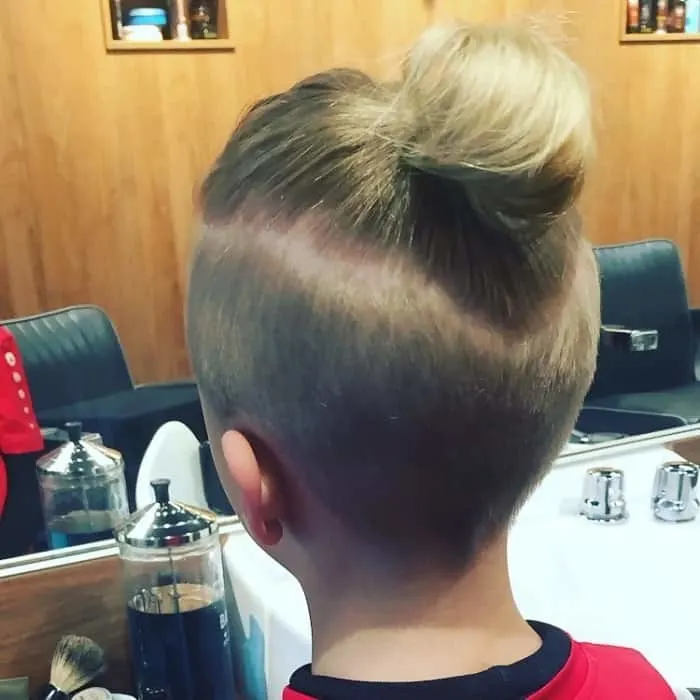 Not only is a man bun one of the hairstyles that the whole world has gone mad for, but it is also very practical for boys. By tying his hair into a bun, you will prevent the hair from falling all over his face and have a potentially damaging effect to his sight.
Ideal for: Oval and square-shaped faces.
How to style: With the help of a comb and a hair trimmer, trim your boy's undercut hair evenly. Leave the rest of the hair long and tie it into a man bun.
Undercut hairstyle for little boys probably looks the best combined with comb over. They are neat and flattering and your boy will love it too.
Ideal for: Oval and oval-shaped faces.
How to style: Using hair clippers, shape the short undercut. Comb the rest to the side and add just a little bit of hair gel if the hair is too soft.
5. Curly Top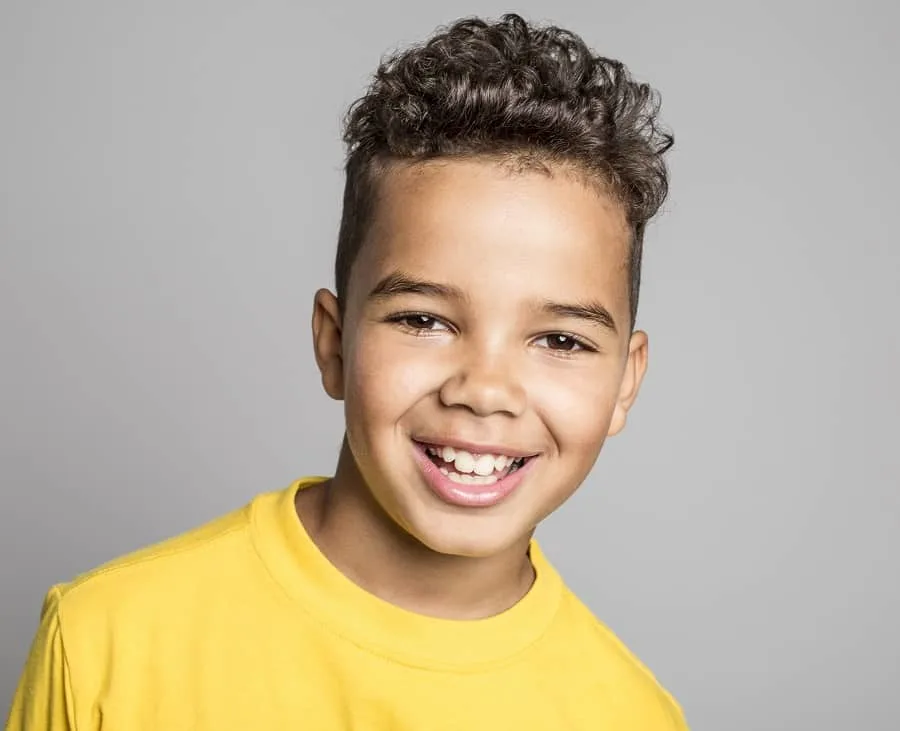 As they grow, kids start loving adult hairstyles. So your little one will certainly embrace this short side haircut with a long curly top.
Ideal for: Oval and oval-shaped faces.
How to style: This hairstyle looks amazing, especially if your kid has curly hair. Trim the sides and back short and let his crown curls develop.
6. Box Braids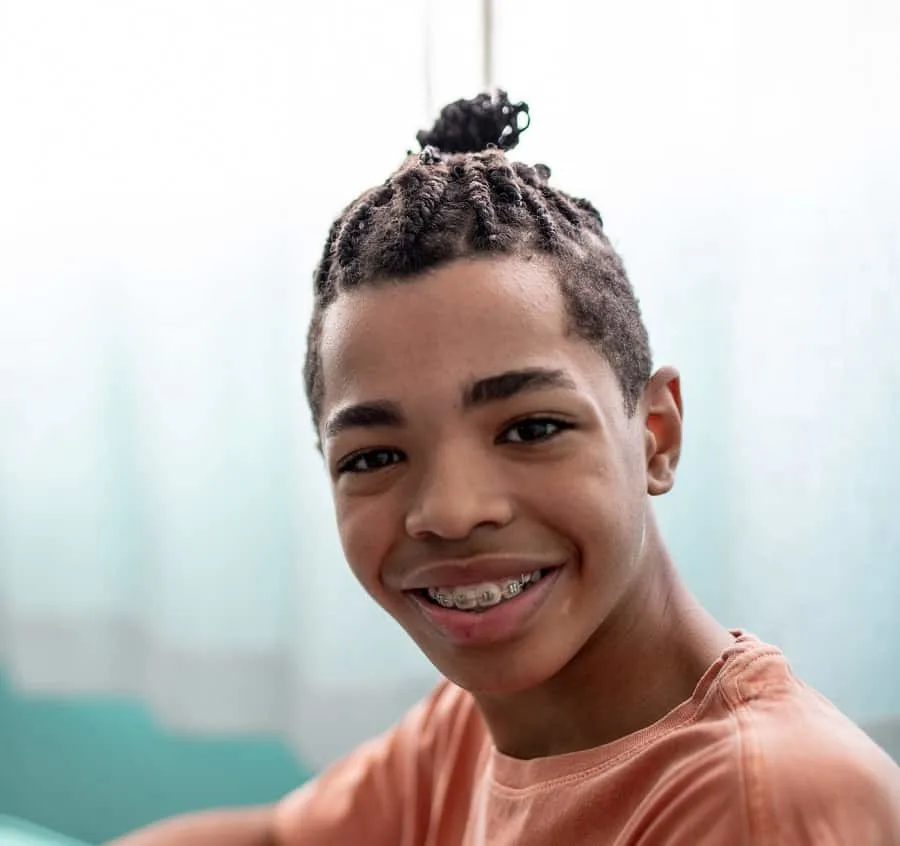 Such hairstyles will make your kid feel confident and cool. Braids are part of the Afro-American culture, are very practical, and they fit gorgeous on young kids with coarse hair.
Ideal for: Taming coarse and Afro hair.
How to style: Afro hair needs so much attention and if you want something that looks cute but is also low maintenance, trim the sides and create box braids for the top. Pin them in a back bun.
7. Side Swap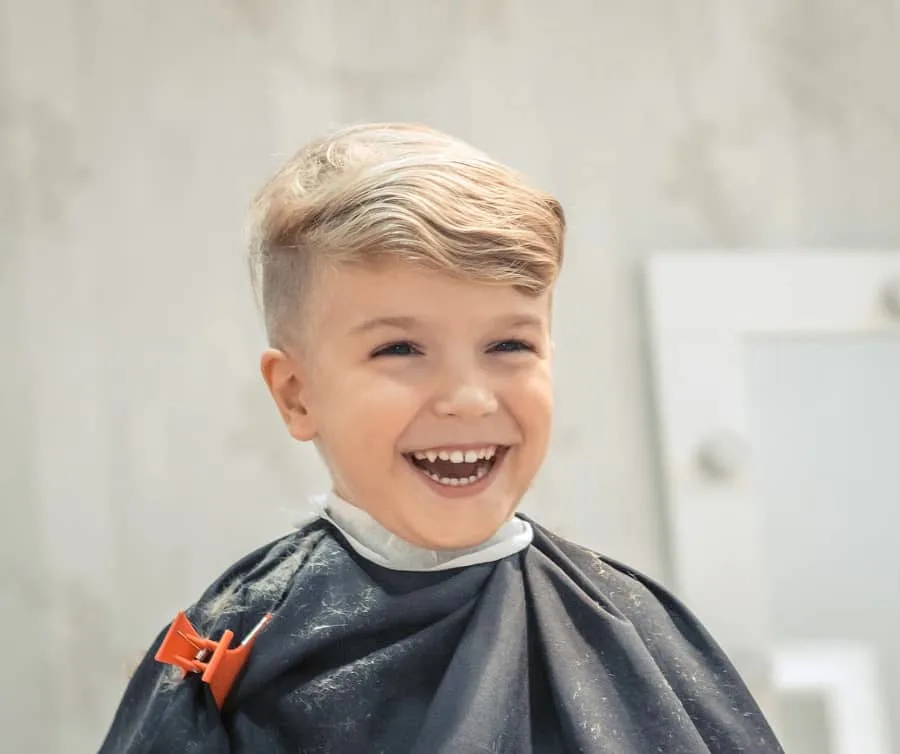 A side-swapped top will make your kid look like a real gentleman.
Ideal for: Kids who attend a kindergarten or school with strict regulations.
How to style: When your kid has such a beautiful natural blonde color, maintain the top longer and layered. Swipe it to one side but shortly trim the laterals.
8. Short Cut with Ultra Short Sides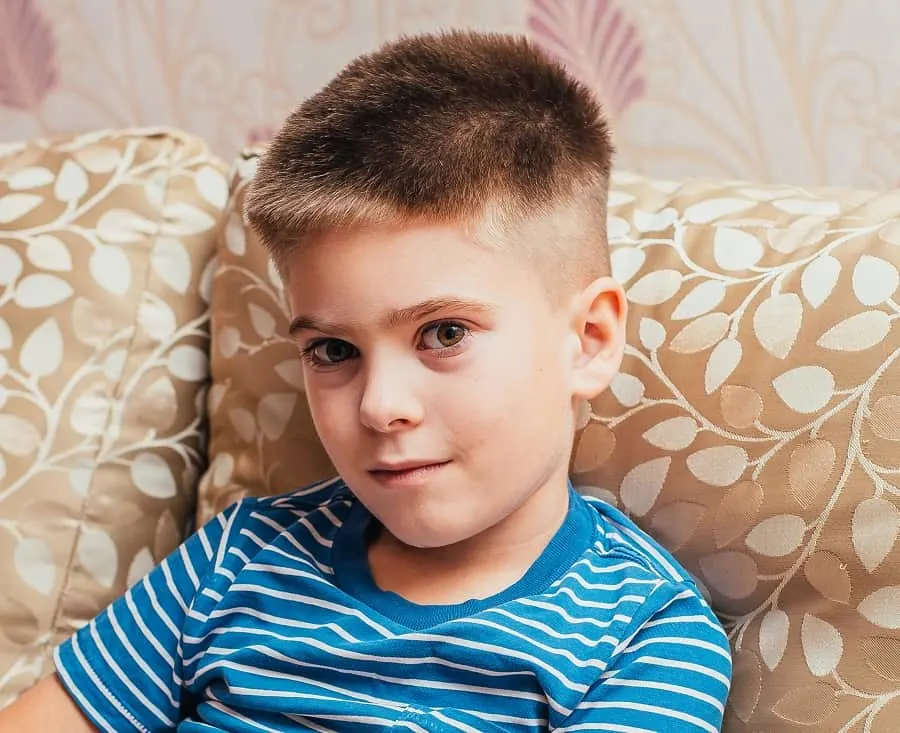 Short hairstyles are probably the most practical option for young kids.
Ideal for: Thick hair during summer days.
How to style: Probably one of the most low-maintenance hairstyles, this haircut with short sides and a slightly longer top is perfect for summer. If your kid can be patient, you can even do it yourself at home.
9. Samurai Look for Kids
When doing this hairstyle, make sure you define the hairline and edges. This practice makes the cut look flawless and tidy.
Ideal for: Asian kids with dark hair.
How to style: This hairstyle is perfect for Asian kids who love a Samurai-inspired cut. It features a short high fade on the sides and a longer top. These pieces are sleekly combed over and tied into a small pony.
10. Twisted Braids
Ideal for: Round and oval face shape.
How to style: For this hairstyle, you need a bald fade on the sides. The top should be considerably longer so that you'll be able to create those twisted braids. Tie them with small black rubber bands.
11. Rich Curls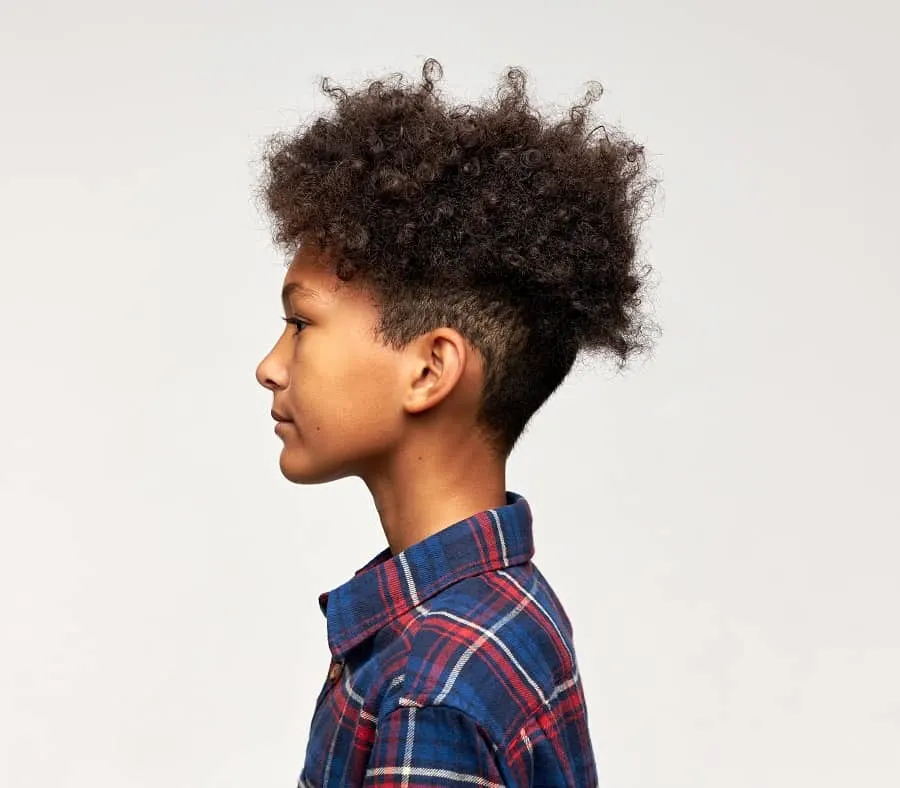 Ideal for: All face shapes.
How to style: Curly hair might seem lovable, but it is quite tricky to handle. So style a slightly visible fade for the laterals and layer the top. The curls will be tight and bouncy and with a lot of movement.
12. Mohawk with Colored Design
Ideal for: Small boys who love cartoons.
How to style: You can grant your kids' wish by styling a mohawk with red tips. In the back, on one side, allow him to get a character from his fav cartoon or his fav toy.
13. Platinum Blonde Hair
Ideal for: Heart-shaped faces.
How to style: If you don't have a problem with dyeing your son's hair, this hairstyle will make his day. He will feel like an adult. Cut the sides and keep longer top pieces that you can color in an ashy blonde nuance.
14. Braids with Shaved Design
Ideal for: All face shapes.
How to style: Section the top and roll those tresses. Braid them to build an intricate construct and use the trimming machine to style an abstract design on the sides.
15. Side Undercut
Ideal for: Kids who want something modern.
How to style: This medium trim with an undercut is certainly back in trend. Keep the crown a little bit longer and style to extended temple and ear undercuts on each lateral.
16. Faux Hawk
Ideal for: Black boys who need a gorgeous cut for school.
How to style: A faux cut is a proper hairstyle for a young boy that is growing up and want a hairdo that resembles a father figure. It's stylish, modern, and cool, and all kids at school will love his look.
17. Messy Top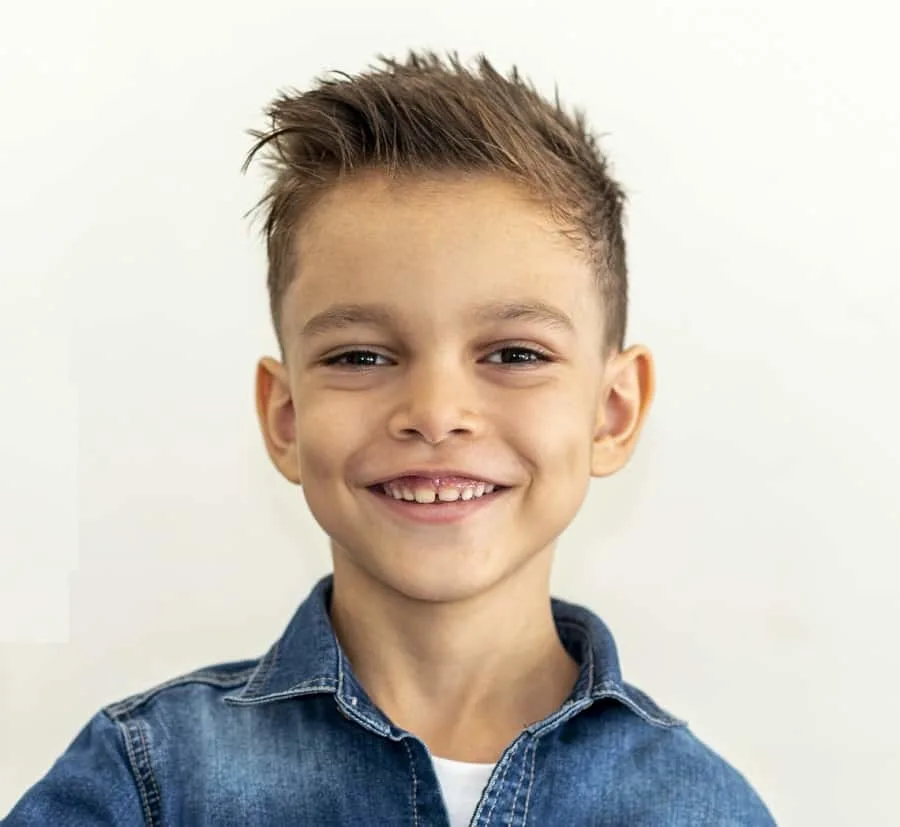 Ideal for: Boys with thin and fine hair.
How to style: If your little man is still young, his hair is fluffier and might seem thin. So get him a haircut that gives the top more volume and can be messily styled.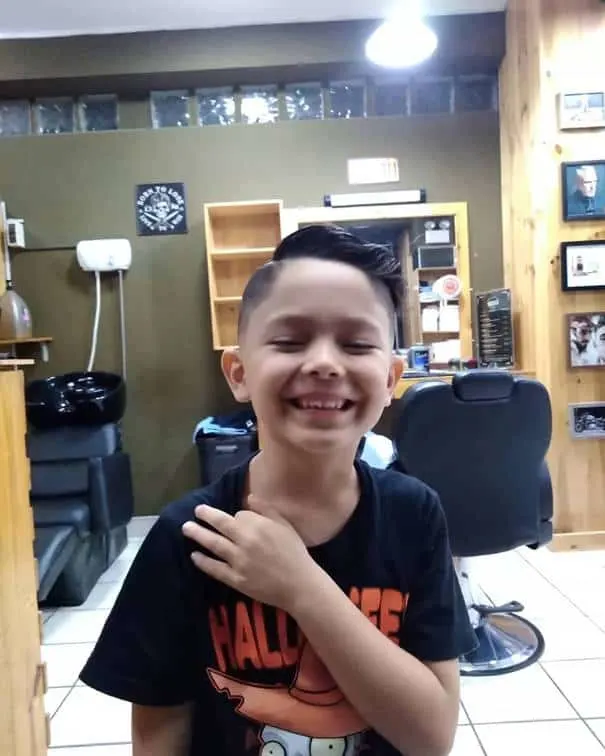 This side part undercut haircut shows that your boy is actually a little man, and it's terribly cute!
Ideal for: Heart and round-shaped faces.
How to style: Execute the skin fade using clippers, and then use a little bit of hair gel and a comb to style the hard part comb over.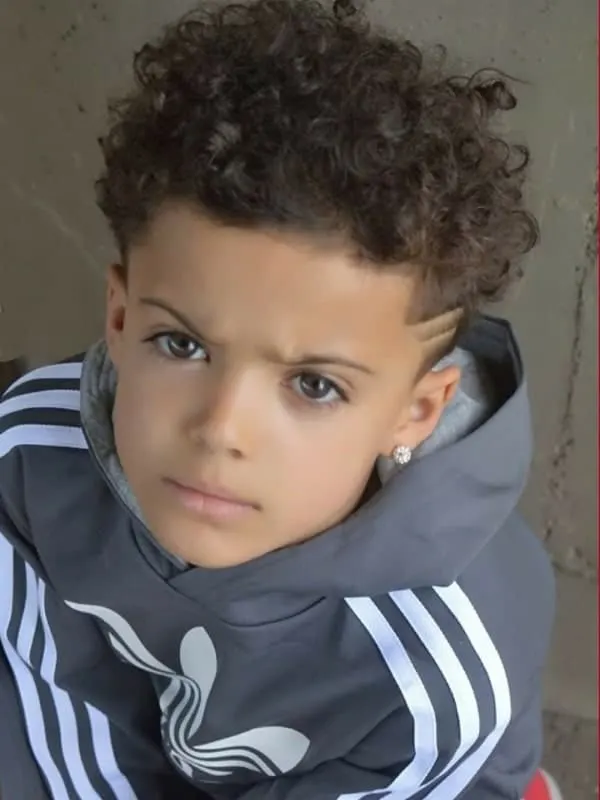 It would be a shame to cut off those beautiful angelic curls. That is why you can style them combining them with an undercut for boys and some lines that will make your boy fall in love with the new haircut.
Ideal for: Square and heart-shaped faces.
How to style: Carefully carve out the temp fade, the undercut and the lines using clippers. You will have to persuade your boy to sit very still for this process. Once that is done, let the curls shine.
Splendid Undercut Hairstyles for Men with Low Fade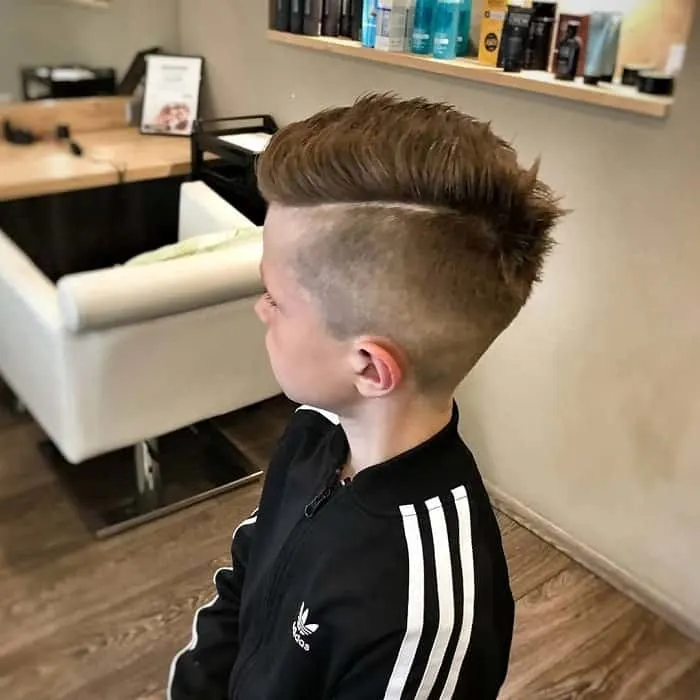 Boys love short spiky haircuts that match their playful energy.
Ideal for: Round and square-shaped faces.
How to style: Shape your boy's undercut with a trimmer and style the hair on the top using some hair wax.
We are cheering on you to pick one of these 20 amazing undercut styles for boys. They will look like little models with their new trendy haircut.