If you'd like a stylish new haircut for your boy, you should try one of these 7 boy's undercut hairstyles. These haircuts are not only trendy for boys, but they are very popular among men too.
Coolest Boys Undercut Hairstyles
Have a look at these amazing styles and get brand new ideas on how to style your boy's hair with an undercut and making him be the centre of attraction at school.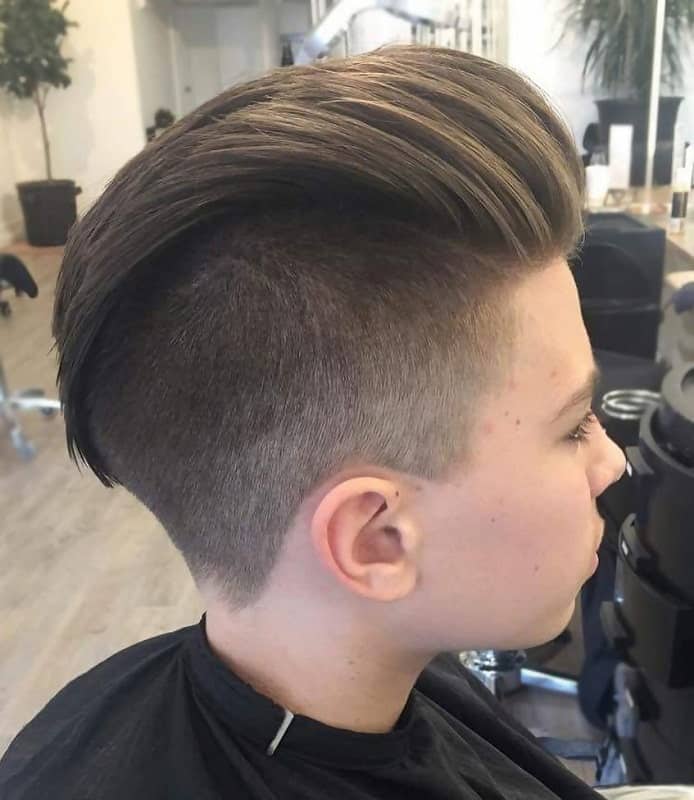 A slick back hairstyle gives a dose of sophistication to the undercut on boy's hair, so the combination of those two is just perfect.
Ideal for: Oval and heart-shaped faces.
How to style: Use clippers to shape and taper the undercut hair. Then comb the hair towards the back and use a little bit of hair wax to make it firmer but make sure it's not too greasy. Also, make sure the wax is not too strong so it doesn't damage the hair.
Amazing Pompadour Undercut Hairstyles for Men
Totally sleek hairstyles can look a bit too serious for your little boy who would probably prefer something more relaxed. Messy hair is a good option to style with boy's undercut.
Ideal for: Round and square-shaped faces.
How to style: With the help of a hair trimmer, cut the sides short and carefully shape some lines. Use scissors to carefully cut the hair on the top so that it can be styled in different styles. For starters, take some hair gel on your fingertips and mess the hair out towards the back.
Not only is a man bun one of the hairstyles that the whole world has gone mad for, but it is also very practical for boys. By tying his hair into a bun, you will prevent the hair from falling all over his face and have a potentially damaging effect to his sight.
Ideal for: Oval and square-shaped faces.
How to style: With the help of a comb and a hair trimmer, trim your boy's undercut hair evenly. Leave the rest of the hair long and tie it into a man bun.
Undercut hairstyle for little boys probably looks the best combined with comb over. They are neat and flattering and your boy will love it too.
Ideal for: Oval and oval-shaped faces.
How to style: Using hair clippers, shape the short undercut. Comb the rest to the side and add just a little bit of hair gel if the hair is too soft.
This side part undercut haircut shows that your boy is actually a little man, and it's terribly cute!
Ideal for: Heart and round-shaped faces.
How to style: Execute the skin fade using clippers, and then use a little bit of hair gel and a comb to style the hard part comb over.
It would be a shame to cut off those beautiful angelic curls. That is why you can style them combining them with an undercut for boys and some lines that will make your boy fall in love with the new haircut.
Ideal for: Square and heart-shaped faces.
How to style: Carefully carve out the temp fade, the undercut and the lines using clippers. You will have to persuade your boy to sit very still for this process. Once that is done, let the curls shine.
Splendid Undercut Hairstyles for Men with Low Fade
Boys love short spiky haircuts that match their playful energy.
Ideal for: Round and square-shaped faces.
How to style: Shape your boy's undercut with a trimmer and style the hair on the top using some hair wax.
We are cheering on you to pick one of these 7 amazing undercut styles for boys. They will look like little models with their new trendy haircut.