In their sweet 16's, all the boys care about are their looks. A stylish haircut plays an important role in this regard. The things you need to consider when choosing a hairstyle are your face shape, hair texture, maintenance, and the length you want to keep.
Best Haircuts for 16-Year-Old Boys
Here we have brought you 12 of the coolest 16-year-old boy hairstyles and haircuts that'll help you get innovative so as not to break the dress code at school but still be able to express yourselves.
1. Slicked Back with Undercut
This edgy hairstyle is all about the sharp contrast. Get a clean undercut on the sides and without blending keep the top part and back long. Comb back all of the hair and use any gel to get this sleek look.
2. Thick Curly Top
Show off your thick curls with this carefree look. Ask your hairstylist to buzz the sides and keep as much hair on top as possible. Let your curly strands hang over your clean sides. This is a favorite hairstyle for teenagers because of how good it looks.
3. The Buzz Cut
Referring to the lazy 16-year-olds out there, this is the haircut that you don't even need to brush. Achieve this look with a high and tight fade in addition to the buzz cut. A neat line up will make your look stand out.
4. Highlighted Fauxhawk
Make yourself noticeable among your friends by getting this fauxhawk haircut. Grow out your hair significantly enough and then get a mid-taper fade that blends into the top long part. Highlight your curly strands in a blonde hue to complete the look.
5. Spiky Look
Spikes are a timeless hair look. Almost every boy around 16 years old goes through the spiky hairstyle phase. This chic look can be achieved by a scissor trim along the sides while keeping the top longer. Brush the hair up to create spikes.
Young boys can also rock a stylish pompadour look. It goes ideally well with thick hair. Get a clean medium-length undercut to merge into the longer top part. With a subtle side part, brush back all the hair to create this low-maintenance hair look.
Tame your wavy strands with this short haircut. The hair is trimmed exceptionally short with a low fade. A sharp line up further sets off this look. This is a suitable boy hairstyle for 16-year-olds who want to keep it low-maintenance.
Turning 16? Bring a change in your haircut with this 90's inspired hairstyle to rock a shaggy look. Get a fade along the sides while keeping the rest long. The front and back strands are the longest and are tousled to get a carefree look.
9. Side Swept Short Hair
The side-swept short haircut is a minimalistic hairstyle that never gets old. Get a mid-fade and add subtle highlights to complete the look. Keep the side-swept top long enough to fall over your faded sides. This look is suitable for most face shapes and hair textures.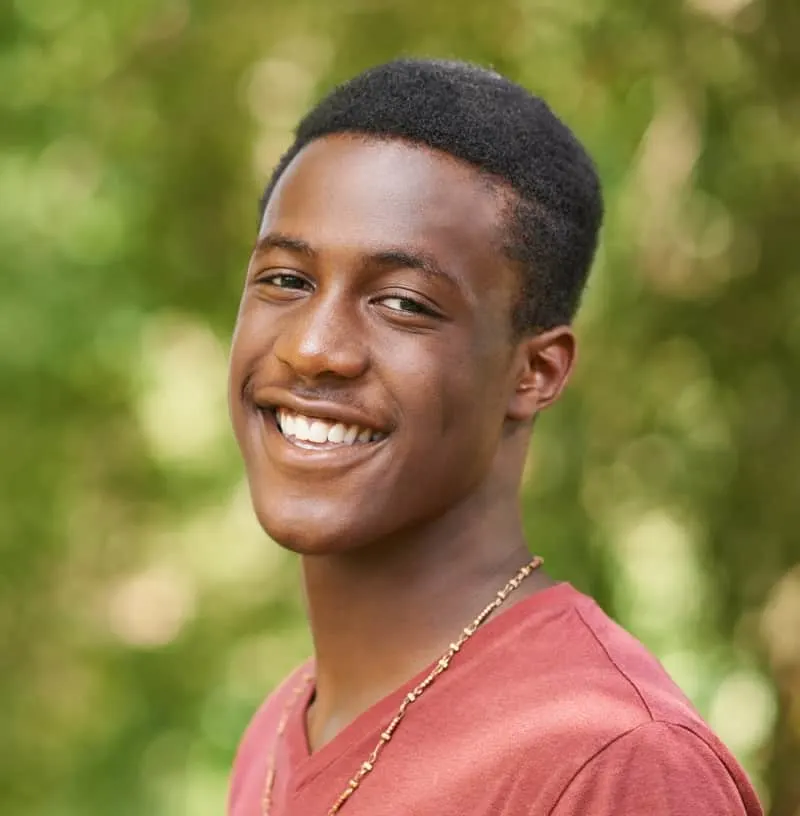 Teen afro boy's curls can be styled in a simple way and yet give an eye-catching look. Get a clean trim all over the head but keep the top slightly longer than the sides. Add a subtle faded line along the sides to give a disconnected look.
11. Classic Comb Over
Keep it classic, with this side-swept comb-over look. The side part keeps this style alive. You can pair the longer top with an undercut or a fade depending on your choice. This haircut will look cute on the face of any 16-year-old boy.
12. Highlighted Coils
Keep your curly coils short for a low-maintenance hairstyle. Get a neat undercut with long curls on the top and a subtle line-up. Add blonde highlights to complete this look. 16-year-olds can show off their curly hair with this chic haircut.
These 16-year-old boys' haircuts are trending this year. Whether your hair is straight or curly, long or short don't hesitate to take inspiration from these hairstyles and choose the style that suits you best. Dare to experiment with your hair because this is the age you can take the risk with your looks.
More Related Topics: