jeneliaAnime girls with curly hair have become exceedingly popular with the passage of time. Curls have always been cute and attractive, but anime girls have owned them in a way that leaves no doubt regarding the stylish and charming nature of curly hair.
Curly hair is frequently used for characters who must be innocent, naïve, and shy as well as have a girly charm. The curls are usually flying wildly in all directions and are quite untamed which shows just how carefree and fresh the anime characters are. Sometimes, villainous characters are given curls too, but their curls are always intense and sleek showing that they have negative energy about them.
No matter what the case is, anime girls often have curly hair and their hair is a style inspiration for girls across the globe. Anime curly hair is not always long or has a distinct pattern, rather it is usually free and has abstract styling which is idiosyncratic of each character.
Sometimes it is only the curls of hair which make anime girls favorite of people. And more surprisingly, the girl grows their hair long and dye them the same shade as their favorite anime girls who have curly hair.
Famous Anime Girl's Curly Hairstyles
Well, we have talked much about anime curly hair, now let's have a look at 23 most famous anime girl characters who have curly hair.
1. Nui Harime from Kill La Kill
Known for being child-like and happy-go-lucky, Nui is always smiling and forever friendly. The best part is her hairstyle suits her personality well. Her two-sided curly hairstyle with side bangs perfectly matches her sexy pink outfit and bubbly behavior.
But don't be fooled. Nui may have the best curly hairstyles, but she also has one of the darkest stories and strongest demeanor in Kill La Kill.
2. Kamado Nezuko from Demon Slayer
Kind and caring– these are the characteristics that best describe Nezuko. And eventhough she lost a lot of her memories when she became a demon, she's still fiercely protective of the people she loves the most.
There's no doubt that she's one brazen and courageous girl and her fabulously long dark and curly hair just suits her persona well. It's made even more glamorous with her chocolate brown ombre hair color.
3. Miura Yumiko from My Teen Romantic Comedy SNAFU
If there's one word to describe Miura, it's no other than charismatic which makes her quite a popular girl in her school. Aside from her charm, we believe that it's her long and curly blonde hair with wispy bangs that make her one of most beautiful "it" girls in her school.
Unfortunately, her popularity has gotten into her head and made her quite pompous. She has high self esteem which makes it difficult for her to care for and make friends with other people.
4. Emma from The Promised Neverland
Emma is one of the smartest girls in the Grace Field house. She's also extroverted, athletic, and just full of life which makes her quite a special girl and she has a unique hairstyle to boot!
Her light orange short hair suits her fair skin tone and emerald eyes. The hairstyle looks quite unique as compared to other anime curly hairstyles in this list because hers it's more on messy as the strands stick up at all angles around her head with a long lock that curves upward right where her hair is parted.
5. Angela Carpenter from Carole and Tuesday
From the outside, Angela Carpenter looks every inch like the perfect woman. She's a great model and a brilliant actress and has the perfect dark short hair that's curled upwards at the end. Her hairstyle looks so good with her dark tan and purple eyes and matches her slightly revealing wardrobe.
However, she's actually damaged and sad in the inside because of her dark past. But even if she's arrogant, bossy, and easily loses her temper, she wouldn't do anything to purposely harm the other characters in the show.
6. Koga Tomoe from Rascal Does Not Dream of Bunny Girl Senpai
Tomoe has always had a strong desire to fit in. To avoid being bullied, she decided to apply makeup and wear the most stylish clothes when they relocated to Tokyo.
Not only that, she also decided to have her styled in a salon and that was most probably the best decision she has ever made because her light brown bob haircut looks on point!
7. Saaya Yamabuki from BanG Dream!
Saaya is kind, empathetic, and deeply caring and these are the reasons why she's the go-to person of her friends and classmates. Her kind nature makes her one of the most beautiful characters in the show– literally and figuratively.
She has captivating blue eyes and glorious long curly brown locks which she usually wears in a high ponytail matched with spread-out bangs and curled hair strands at the front.
8. Launch from DragonBall Z
With her strange ability to switch to two different personalities every time she sneezes, Launch is probably one of the most interesting characters in Dragonball Z.
The picture shows the Bad Launch who has long and beautiful curly golden blonde hair styled with a big red ribbon. This version is angry and is trigger-happy (hence the machine gun in her hand).
9. Marie from Dies Irae
Locked in isolation for quite a while, Marie is probably the most innocent girl you'll ever meet. But even if she lacks social awareness, she's actually extremely loving and kind.
She's also well-poised and always graceful and has long curly caramel blonde hair with a middle part that makes her look extremely beautiful. It also matches her favorite blue uniform quite well.
10. Mai Valentine from Yu-Gi-Oh!
Mai Valentine's hairstyle is not like any others out there. While others have long, flowy hair, hers is thick and spiky which makes her a cut above the rest. Her long dyed hair also looks amazing with her purple eyes.
She also loves wearing purple clothes which showcases her love for authority, power, money, and personal satisfaction.
11. Quetzalcoatl from Miss Kobayashi's Dragon Maid
Even in her human form, Quetzalcoatl still looks every inch like a goddess with her fair skin and long curly hair. The ends of her hair feature an eye-catching green and turquoise color which makes it one-of-a-kind. She also has an hourglass body shape, and tall stature, so she really stands out in the crowd.
Her gorgeous appearance shines even brighter as she's always seen smiling. She's also caring and nurturing which makes her one of the most loved characters in the show.
12. Suzuka Dairenji from Tokyo Ravens
With her curly twin-tails with red ribbon, thin and wispy bangs, Suzuka seems like an innocent and shy girl. But the truth is, she's quite sadistic and a flirt. She's also known to spout negative comments and bad insults without a second thought.
Her mean personality may come as a result of her traumatizing childhood which includes being experimented on by her parents.
13. Mami Tomoe from Puella Magi Madoka Magica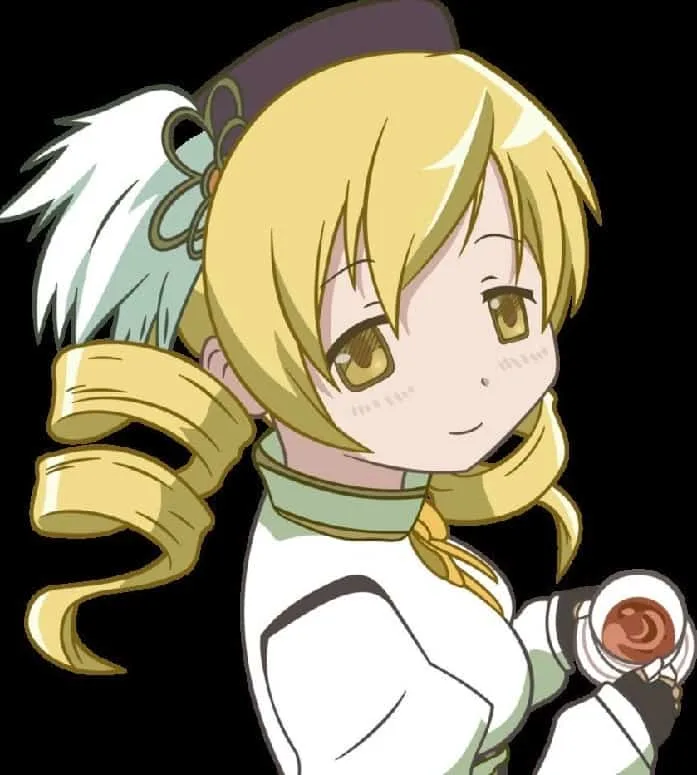 The two refined and exquisitely styled curls of Mami Tomoe have become symbolic of her character. Her kind yellow eyes and perfect magic skills are surely the reasons that people like her for, but her yellow curls have a major role in making her look as good as she does. She is mostly seen in uniform which highlights her curls, even more, making her look young and pretty.
14. Elizabeth Medford's Pigtails
Black Butler is a world-famous anime girl with pigtails which is still a favorite of most people since it has such great characters. The girl with classy curls in it, Elizabeth Medford, has been the perfect symbol of beauty and class in it.
This anime girl's curly hair is what distinguishes her in such a charming way and makes her look like a classy and impressive lady belonging to the high class. Her curly blond hair has helped the developers make her look sophisticated and lovely.
15. Selnia Lori Flameheart from Ladies Versus Butlers
One of the famous anime girls with curly hair of the list Selnia from Ladies versus Butlers has some sleek drill-shaped yellow blonde hair which looks quite intense, but she has a very humble and innocent personality. It changes when she attends Kakureiryo Academy and is continuously bullied over the shape of her hair.
She is often referred to as Drill Head but her hair remains a major source of her appeal and attraction. However, she manages to keep herself humble and kind on the inside even if she has to toughen up on the exterior and ward off the bullies.
16. Ravel Phoenix from High School DxD
Ravel from Phoenix is the youngest one in her family, but she possesses remarkable magical properties and beautiful anime curly hair. She usually wears pink dresses and has a very girly vibe to her character which is enhanced by the way she ties her hair in ribbons to keep it in a place. Ravel is quite loyal towards people that she cares about and has exquisite manners and a very friendly persona.
17. Chariot from Black Rock Shooter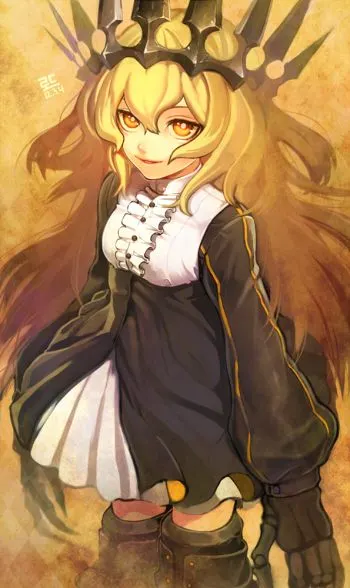 This antagonist from Black Rock Shooter has a serious style game. Her long curly blonde hair is let loose and makes her appear fiercer. The overall look is made more intimidating by the spiky black crown that she wears.
18. Ichigo Hoshimia from Aikatsu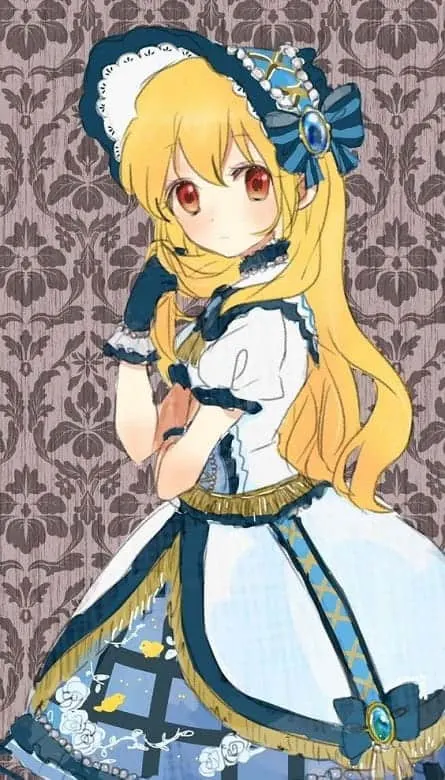 Ichigo Hoshimiya is an epitome of cute bubbliness with her long wavy blonde hair which makes her look very young and girly. She ties it up with a red ribbon mostly and the contrasting color of the ribbon makes it stand out more from the rest of her profile.
19. Biscuit Krueger from Hunter x Hunter
Biscuit Krueger from Hunter x Hunter is another one of highly powerful anime girl with curly hair which use her dainty appearance to hide her true powers. She has curly long blonde hair which goes perfectly with the kind of dresses that she usually wears. A girly pink is mostly worn by her which makes her look as much young and innocent as she wants to appear.
20. Sadi from One Piece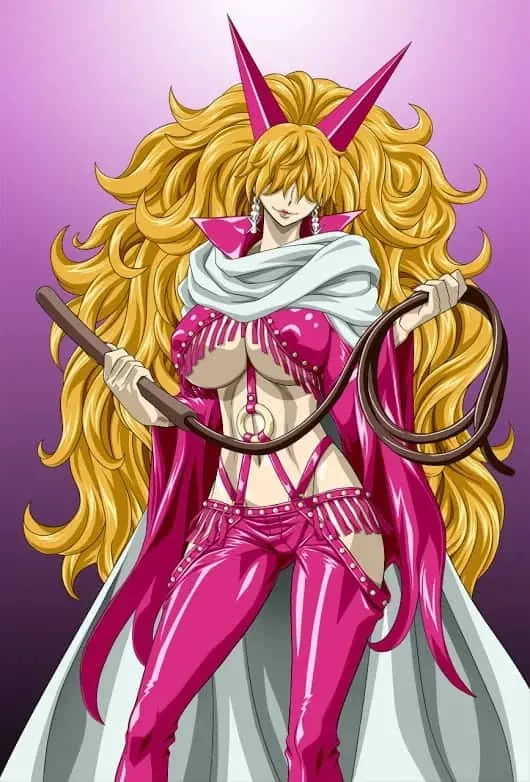 Anime curly hairstyles are not always about being innocent and shy, rather they look equally good on villains who have cunning minds and even more cunning schemes up their sleeve. Sadi from One Piece is just the right example of this and her hair matches her personality so well that it is hard to envision her without it.
21. Aria from Omega Quintet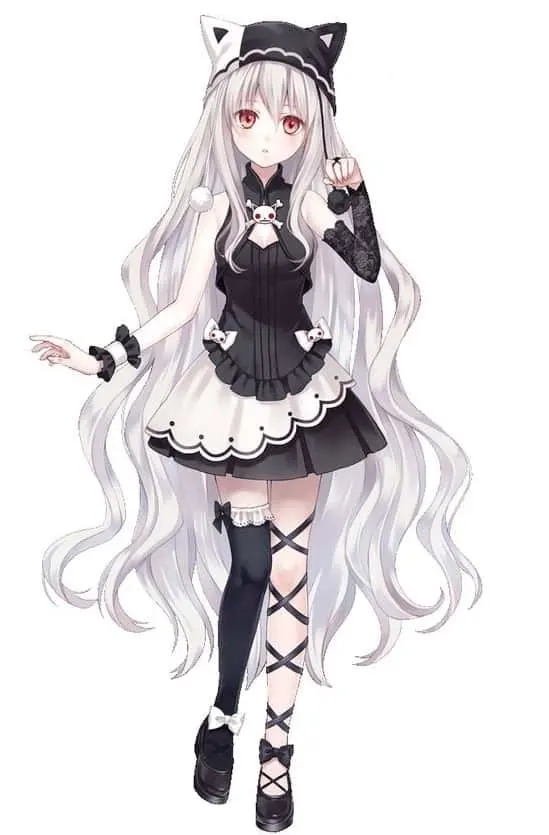 Aria is a strong and lovely anime girl with stylish white curly hair which is so long that it falls all the way down her calves. She leaves her hair in gentle and natural waves which makes it even more attractive.
22. Moeka Kiryu from Steins, Gate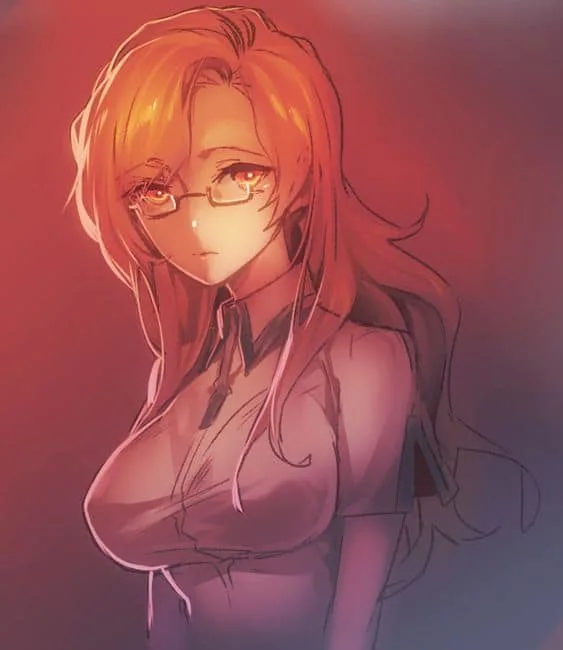 Moeka Kiryu is an editor and has a very nerdy look. Her light chestnut-brown hair is always styled in a natural manner giving more character and feel to her nerdy look. This lovely anime girl with curly hair just does not talk when she doesn't have her phone with her, don't we all too?
Popular Anime Girls With Brown Hair
23. Kagari Izuriha from Black Rock Shooter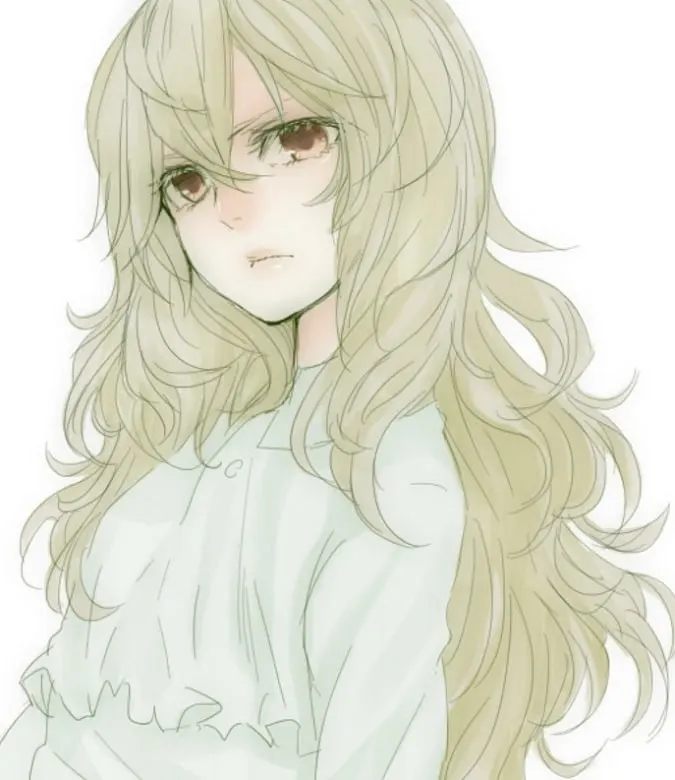 Kagari Izuriha from Black Rock Shooter has lovely curly hair which is blonde. Her anime curly hair is mostly messy and falls down in natural curls down her back. She used to use a wheelchair but soon she got better and started walking. Her messy blonde hair tied in a pink ribbon look quite cute.
These pretty anime girls with curly hair are all very popular and have become an iconic ambassador of curly hair all over the world.