Brown hair is quite comon natural hair color, but that doesn't make it anything less. Though finding the right hairstyle sometimes can be tricky, but narrowing it down to the style and cut from an anime girl can really help girls choose the best look for them.
No matter what eye color she has or how long or short she wants her hair to be, one of these 21 great anime brown hair ideas is sure to please the criteria.
Cute Anime Girl's Brown Hairstyles
Checkout these 21 of the cutest anime girl characters with brown hair to set your new brown hair goal for 2021.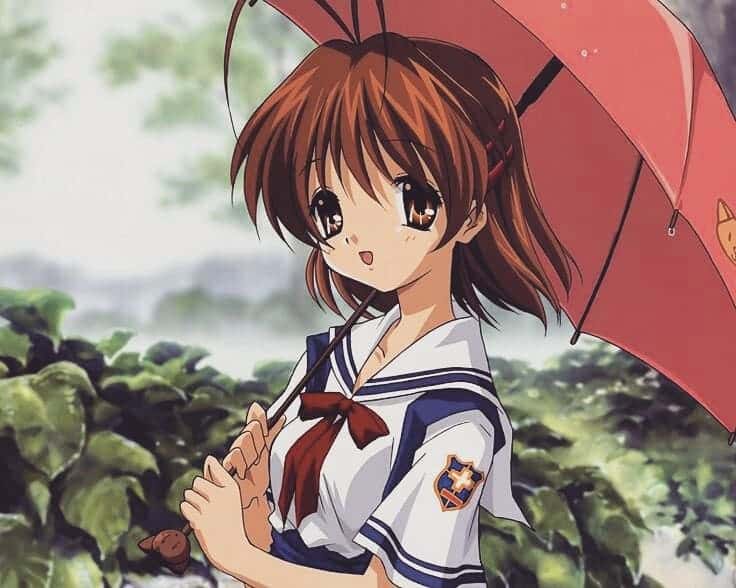 Lots of wispy layers are what give this anime girl with copper brown hair its personality and fun appearance.
Since the layers are highly textured, they give the style plenty of movement and prevent the hair from falling flat and from looking boring and drab. It's a great look thanks to the bangs and how they fall around the eyes and face.
A perfect bob is a wonderful style for any woman to wear. This bob has some bangs cut loosely into the hair, and the rest of the hair falls down to curl under right below the chin.
It's a common anime girl look, but one that is made more special thanks to the light brown color of the short hair, which gives the girl wearing this look depth and interest.
There are tons of choppy layers in this cut, which serve to give the long hair a lot of movement and body. Rather than blending the layers into the hair, which can make the style look a little boring, they are cut so that they are very blunt. This adds a lot more excitement to the style.
Popular Anime Girls with Curly Hair
Braids that pull hair back from the sides of the head are a wonderful way to tame hair. This fun anime brown hairstyle has some hair falling down around the face, which helps to soften the look and prevents it from appearing too harsh. The braids are small, with loose ends that stick out for fun.
Flowing layers that curl alluringly around the face make this a fun look for a special occasion. This brown-haired anime girl has a more grown-up style, and does take a little work, but the curl to the hair is very attractive. Plenty of highlights add a lot of depth to the cut.
Pinning back longer bangs with a flower placed perfectly on the side of the head makes this anime girl a very sweet look. The loose bangs and the attractive flower add to the sweet and relaxed feel of the style. Allowing the long brown hair to fall gently around the shoulders makes the look even more appealing.
7. Tohru Honda
There's nothing like bows to update any anime girl with brown hair look. This style features double bows – one on each side of the head. The bangs are cut to frame the face, while longer layers are allowed to hang down around the shoulders, which keeps the look appearing layered and more interesting.
Bangs don't have to be cut so that they are straight across, as this can be a harsh look that isn't always the best option for women.
Rather than having a blunt straight line across the face, separating the bangs with a small part is a better option. This is also a great choice for women who have a cowlick in the front, as it can hide the hair's movement.
A long and loose pony that is gathered low on the back is a great way to keep hair out of the way. Choppy bangs and layers around the face soften the look, while the low pony keeps hair contained without looking too fancy.
Iconic Anime Pink Hairstyles to Copy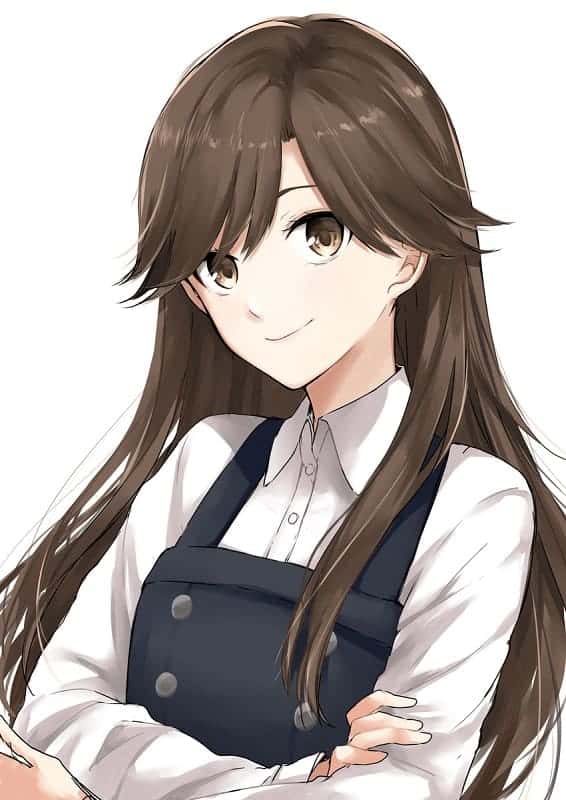 This anime girls with brown eyes have brown long hair styled with bangs. Rather than swooping bangs to side, this look has them swooping out to both sides, which is an interesting and updated look.
The bangs are longer and nice and thick, which ensures that they look intentional and not like an afterthought. The rest of the hair is worn nice and long so it hangs around the shoulders.
11. Ritsu Tainaka
Keeping hair out of the way can be tricky, especially for girls who have a lot of hair or want to grow out their bangs.
Using a headband is, by far, the best way to control short brown hair while it is growing out or when it is in the way. A headband can be chosen to complement an outfit.
Pushing bangs up in the front so that they show off the girl's brown eyes is a fun way to style this look. The great thing about pushing bangs up and to the side is that doing so adds a lot of visual interest to the cut. The rest of the hair can be curled so that it will have movement.
Longer bangs are a grown-up option for any woman looking for a cute style. This blue-eyed anime girl has brown hair that pairs the longer bangs with long layers that cascade around the shoulders, resulting in a very attractive style. With a bit of curl and movement to the hair, it never looks boring or outdated.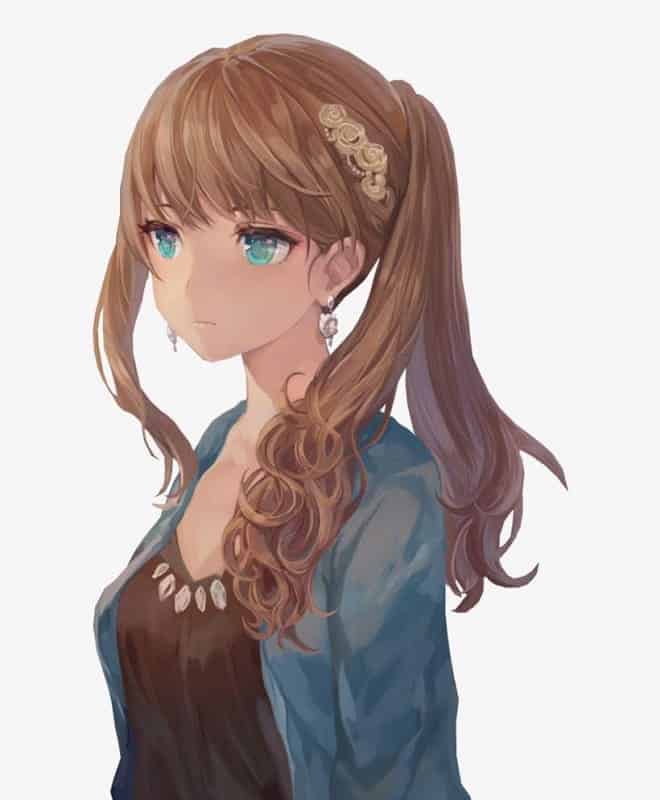 This look is a wonderful way to keep hair out of the face. The thick bangs barely brush the eyebrows, and the rest of the hair is held back in a ponytail and secured with an attractive clip. Curled ends add movement and body to the style and prevent it from falling flat.
A bonnet is a fun way to update this anime brown hairstyle and to keep hair out of the way. The bonnet can be worn in a number of ways, either to completely cover the head or to simply add some protection to the hair. It's a perfect way to manage flyaways that may otherwise get out of control.
Cutest Anime Pigtail Styles We Love
There's nothing like a chic bob for a woman on the go. This haracter's  short dark brown haircut has choppy ends that will allow for plenty of movement, as well as some shorter layers in the back.
It's a great cut for girls who don't take themselves too seriously and who want a style that is easy to take care of.
Light mousy brown hair with plenty of highlights looks amazing when allowed to grow longer. This anime haircut frames the face perfectly and is paired with gorgeous bangs that highlight the green eye color, making it a great choice for any woman with green eyes.
Rather than shying away from bangs, women who want to show off their green eyes can highlight them by cutting in more layers.
This anime characters with brown hair look is updated and bold, making it one that will stand out. The bangs can be styled to go in various directions, which keeps the look from being boring.
Short and choppy, this cut ensures that the focus is on the eyes. Lots of shorter layers are cut all over the head, which allows the hair to have plenty of bounce. It's a bold look and one that is ideal for women who are constantly on the go.
Long and sleek, these layers are elegant. The darker brown hair complements deep green eyes of this anime girl, and some layers cut to the chin add interest. With straight layers that hang and move as the woman walks, this is a sweeping look that is timeless and classic.
Funky Anime Girls with Blue Hairstyles
This girl's brown shaggy bob is a lot of fun, and using clips to pull the hair back and keep it out of the face is a good idea. Highly textured ends all over the head ensure that the look doesn't appear too boring or smooth, and gives the cut plenty of interest.
Any of these fun anime girl with brown hairstyles are a great update for girls looking for a refreshing take on an old style. Anime characters have great hair, and these 21 cuts are all sure to please!