If you are interested in seeing some of the cutest anime girl with pigtails hairdos, keep on reading! Nowadays it almost seems as if Anime has taken over the world! Both men and women have become obsessed with these comics, manga's, cartoons, and definitely quirky hairstyles.
Popular Anime Pigtail Hairstyles
If you want to try some cute and funky hairstyle, find here 21 amazing pigtail hairstyles of anime girls that will surely inspire you.
1. Aoba Suzukaze
Aoba Suzukaze exhibits her cheerful personality with her hip-length light purple-colored hair tied up into high pigtails with hair ties having a pink flower on each of them. The long twin tails are contrasted with blunt-cut bangs on the forehead completing her cute look.
2. Chinatsu Yoshikawa
This adorable innocent personality of the YuruYuri series has fluffy light dusty rose-pink hair tied up into pigtails that look like cotton candy with maroon-beaded hair ties. Her sideburns are short and accentuate the thick bangs at the front.
3. Chiyo Mihama
Chiyo Mihama, the main character of Azumanga Daioh series, is a adorable anime girl with pigtails. She carries her shoulder-length light brown hair differently. The strands are styled up into two oval-shaped ponytails that look like inverted eggs. Middle-parted wispy bangs finish off the style.
4. Izumi Akazawa
The mystic gaze of Izumi Akazawa can't be ignored and neither her attractive hairstyle. The waist-length auburn locks are tied up into two ponytails using blue ribbons with a side-swept front fringe grazing the eyebrows and two long strands in front of the ears.
5. Kotori Itsuka
The black ribbons of Kotori Itsuka's pigtails exhibit her strong character. Although her long light coral hair is tied up neatly, it is contrasted with a textured fringe framing the face beautifully. Don't forget about the anime antenna hair standing on the top of the head.
6. Krul Tepes
This vampire queen has light rosy pink locks reaching her calves that are tied up into half-up pigtails with black hairpieces that look like bat wings. The layered bangs cover the face with two protruding horns near the temples.
7. Kuroko Shirai
Kuroko Shirai plays the main role in A Certain Magical Index Series and has her auburn-copper wavy hair tied into two ponytails with red bows. The forehead is covered with middle-parted bangs and sets off the hair look of this laid-back anime girl.
8. Rin Tohsaka
This anime heroine of the Fate/stay night visual novel has a serious personality that is depicted in her dark brown locks. The hair is tied into half-up hairstyle with black bowknots while the remaining hangs loose. The wispy fringe falling on the eyes is middle-parted.
9. Rize Tedesa
Rize Tedesa has long hip-length hair with a violet tint as cool as her nature and matching her eyes. It is styled into pigtails and thick textured bangs with jaw-length side locks. A black hair clip on one side tops off her characteristic hairstyle.
10. Wendy Marvell
The main heroine of the Fairy Tale manga series has one of the cutest anime pigtails. The deep blue hair is styled into ponytails with white hair ties and an edgy front fringe accompanied by long side locks reaching the chest.
11. Nico Nico Nii with Long Pigtails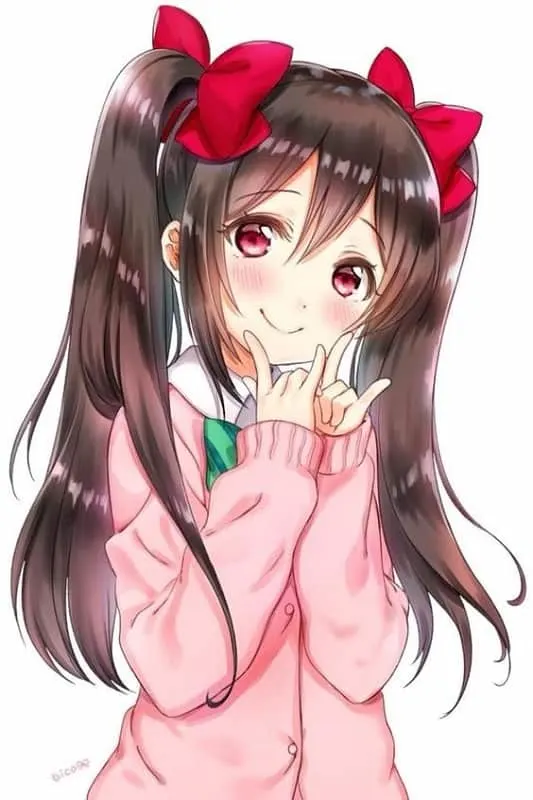 This anime pigtail hairstyle is very cute & playful, almost innocent looking. The chestnut brown hair color looks natural while its red buns add an element of surprise!
Everyone has watched an episode of Sailor Moon at one point in our lives, right? This fierce anime girl with pigtails is powerful, brave, and looks like a true queen with her golden colored hair & a tiara!
13. Watora's Light Brown Pigtails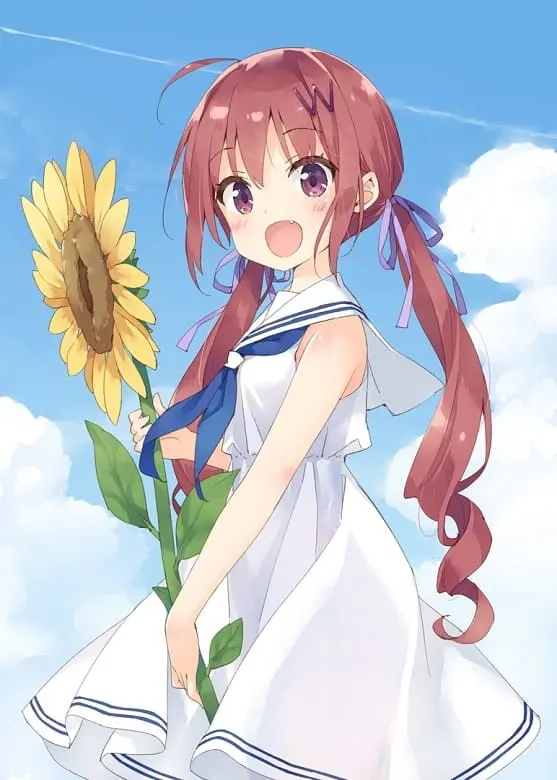 Soft & curly hairdos are very feminine, which is why this anime girl with pigtails looks like a true princess! Often spotted wearing girly hairdos, these anime characters are usually sweethearts underneath all of their though characters.
14. Ice Blonde Pigtails by Tama Sakai D Frag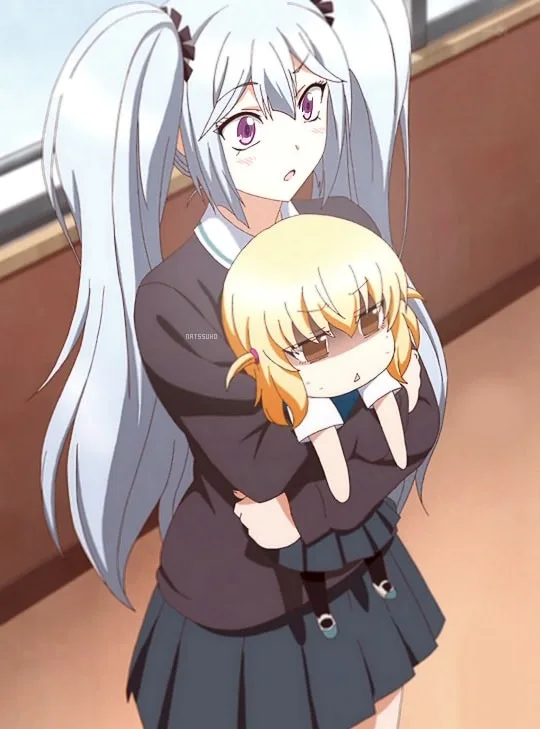 Last, but not least, silver colored hair on anime pigtails hairstyles usually presents the power of some sort, which is why silver is a must-go in these movies. Tama Sakai D Frag is rocking it like a true diva, as you can see. If you prefer unique & washed out colors know that this is a good choice, to begin with.
Some of the anime characters don't mind all the extra attention, so they've even gone a bit funky shade of blue color combo. This anime girl's pigtail style is very unique & beautiful, and not as typical for anime characters.
16. Sakura Chiyo's Pigtails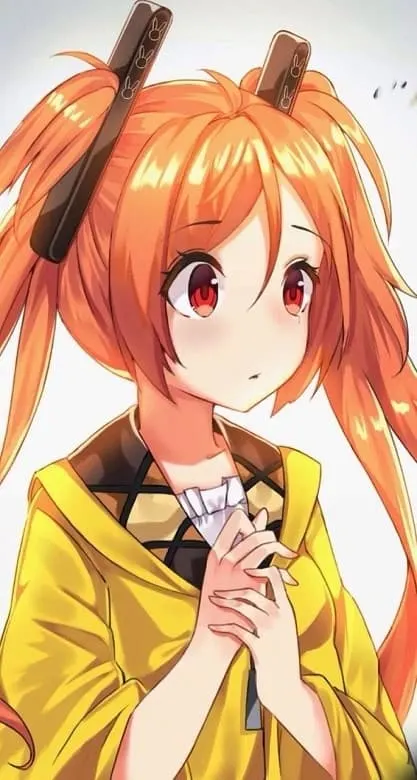 A cute anime pigtail style with a set of unique hair clippers is what makes this orange brown hairstyle so desirable! Often, Anime characters are spotted wearing chopsticks as their unique hair accessories, which is what makes them so presentable and beautiful. You can see that Sakura Chiyo is embracing this trend, and probably when getting ready for school.
17. Tamamo-no-Mae

Anime characters usually rock below the waist pigtails, which is exactly what Tamamo-no-Mae is doing. She looks fierce, and like she can take over the world! Rose gold hair is the way to go if you are not afraid of showing off your style and stepping out of your comfort zone.
18. Minami Iwasaki's Pigtails & Long Bangs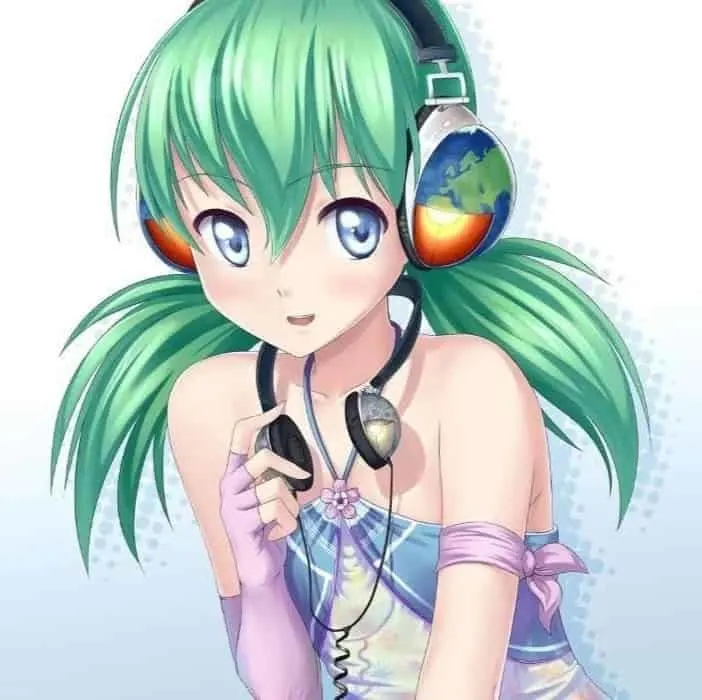 This minty dark green hair color is ideal for Minami Iwasaki since it gives her a mysterious look and a fierce vibe. Green is the color of power, money, and luck, and women should get their hair colored green if they want to feel a bit luckier.
19. Erio Touwa's Pigtail with Funky Bangs
This baby blue color can look good on girls as well, obviously! No reason to match everything super girly & pink since blue can definitely be worn by women. As you can tell, Erio Touwa is doing it just right, and she looks like she knows her fashion.
20. Bright Red Pigtails by Shuzen Kokoa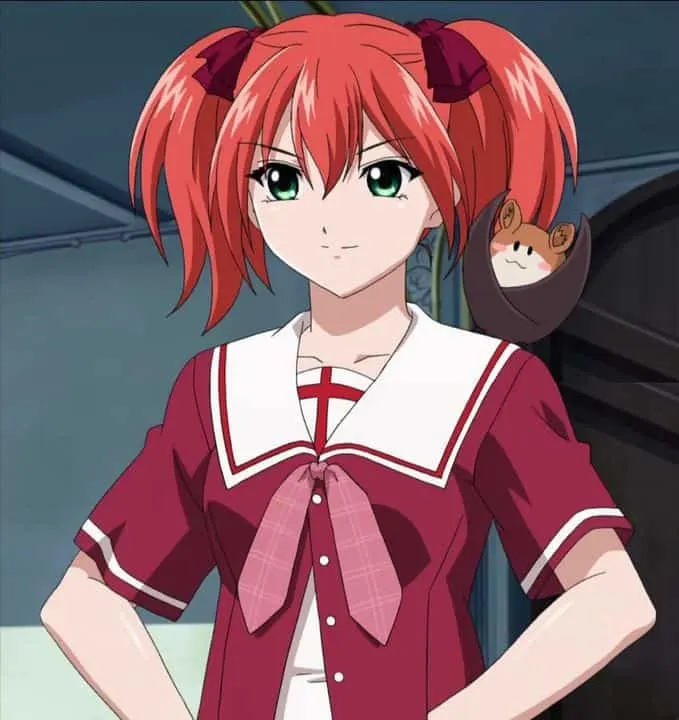 When in doubt and not too sure which way to sway Anime girls with pigtails will almost always end up with red & colorful accessories in their hair! Shuzen Kokoa looks a lot like Misty from Pokemon, which is only telling us that this copper red hairstyle has never gone out of fashion!
Pink is a soft color which is often spotted in the anime world. It looks powerful, classy, and it gives the character a sweet vibe. Women who prefer softer colors might enjoy this neon bright pink moment the most. Mine Akame Ga Kill looks so innocent with this pigtail hairdo, while we all know that she is a powerful and amazing anime girl with pink hair in the series.
If you haven't been obsessed with anime girls thus far you might fall in love with them right after looking through these pictures! All 11 of these anime girls with pigtails have got their own fun & amusing stories to tell while being very cute looking with the most fabulous hairdos! Do you have your favorite? It might be hard to choose since all of these hair colors are a must-try at one point in our lifetimes!