Blonde wavy hair is not reserved only for a Barbie. With the right products and just a bit of your time, you can have a wonderful hairstyle to rock all spring and summer.
'Blondies have more fun' is a phrase that is definitely true. However, achieving those gorgeous waves and perfect blonde shade is not that easy. You will need to practice a bit, but in the end, you will love it.
We have prepared some tips and tricks, plus some wonderful wavy blonde hairstyles that you definitely have to try. So, what we are waiting for? Let's start!
How to Get Blonde Wavy Hair
Even if you think that getting and having perfect blonde wavy hair is a piece of cake, in reality, it is not actually like that.
You need to devote some time to find your perfect blonde dye, that matches your skin tone and that you like and to maintain your waves in the best possible way.
Choosing the Right Dye
The easiest way to find out if your skin is warm or cool is to look at your veins. If your veins are mostly purple and blue the cool undertone dyes will work for you. However, if your veins are mostly green, warm undertones are the right solution for you.
Golden toned skin matches with golden and honey dyes. Pale skin will match perfectly with ash, beige blonde or baby dyes. If you think your skin tones are a combination of all of it – more choices for you!
Maintenance and Conditioning
Blonde hair more than any other dye needs good maintenance. Only with good products you will protect it from washing out quickly and make it look even prettier.
Another thing that you should have in mind before dying in blonde is your hair condition. The healthier your hair looks, the better your dye will appear. Now, when you opted for the right blonde shade, you can make wavy hair blonde!
If you want to make the process of making waves really quick, you will need to section your hair in half.
Apply a mousse – it will make your waves stay longer.
Blow dry the part of your hair with a mousse on really quickly.
Re-apply the mousse on the rest of your half section and with another one.
Brush through your whole hair and dry everything as you have done with the first section.
If you want or if you have fine hair you can an additional product such as a spray.
Now you should section your hair again, from ear to ear or how it works the best for you.
Waves are made with a wide or narrow curling wand, depending on how you want them to be.
Curl small strands of your hair and always curl them away from your face.
Curl until all your hair sections are done.
Use a bit of spray after finishing every section.
Go through your blonde wavy hair with your hands to make it look a bit messy, if you wish.
How to Make Wavy Hair Straight
Oh, it is so easy. For straightening your wavy blonde hair will need just a moment of your time in the morning or evening. This is how to do it easily and without a fuss.
Spray the heat-protector and humidity-resistant spray all over your hair.
Brush your blonde wavy hair well to prepare it for straightening.
You can section your hair diagonally or however, you think suits you the best. From ear to ear would be fine as well.
By selecting small strains of your hair pull then through straightener.
The slower you pass through the straightener the more polished your hair will look.
If your waves are natural, you will need to repeat this step a few times, until your hair is smooth.
Repeat these steps with every section of your hair.
Blonde Wavy Hairstyles
From golden and honey hues, long and short wavy blonde hair – we have gathered only the best examples for you to get inspired for your next haircut.
From black roots to wonderful honey gold ends – this hairstyle will make you look wonderful and so chic. This is an easy blonde hairstyle with waves to maintain – only 10 or 20 minutes a day would be enough.
Blonde dye is super popular. It is usually used for highlights – wherever you decide to put them on your hair. Strands of your front hair will be a great eye-catcher.
Even long blonde wavy hair can look wonderful. Only by adding waves you will upgrade your short hair from casual to extravagant. Platinum balayage is trending at the moment!
Throwing your hair at one side makes you look like a Hollywood dive. However, don't think that you can't wear this short wavy blonde hairstyle every day. You will absolutely adore these large waves and beautiful blonde hair.
The short bob is a haircut that is simply timeless look fab 0n blonde wavy hair. It is perfect for all seasons, and for all possible events. Make it pretty by making waves with your curling iron and dye your hair in blonde with even lighter hair ends.
For all those girls with warm skin complexion, these golden hues on your wavy blonde hair will make you look absolutely stunning. When your hair is long, healthy, and wavy like this, you can be sure that you won't pass unnoticed.
We can say that girls with extremely long blonde hair are very happy. They can make whatever hairstyle they wish. Braid might sound casual, but it always gives an amazing upgrade to your wavy hair with blonde dye.
For those girls who like their short blonde wavy hairstyle to be messy and not to take them so much time to make it – this is the right solution.
Don't think it looks less stylish if it is messy. On the contrary, you will appear bold and fierce with this hairstyle.
Blonde wavy hair with bangs is a way more eye-catching than any other hair dye. That is why it is perfect for all girls who like to gain attention and make a dramatic entrance wherever you are.
Short wavy blonde hair is a great cut for everyday wear. You can only add a twist at the back to make it elegant and wear it from day events to the night parties.
11. Blonde Wavy Hair with Crown Braids
Braided wavy blonde hairdo is great for all elegant occasions such as lovely summer weddings, parties by the pool or for engagements. It not only looks beautiful, but it will also make you look like a Greek goddess.
12. Bridal Hair Inspired
Romantic and sophisticated – that is how we can describe this lovely wedding hairstyle for short hair. It is perfect for brides that like something classy and chic at the same time. Waves, blonde hair and hair accessory – winning combination.
We can absolutely call this blonde wavy haircut universal one. Why you might ask? Because it looks great on all hair lengths, whether your hair is thick or thin. Everybody will be amazed by the shade of your hair and its waves.
There is nothing better than natural wavy hair. You won't only look 100% natural but your hair will always appear healthy. Make sure to always show off your wavy blonde hair wherever you go.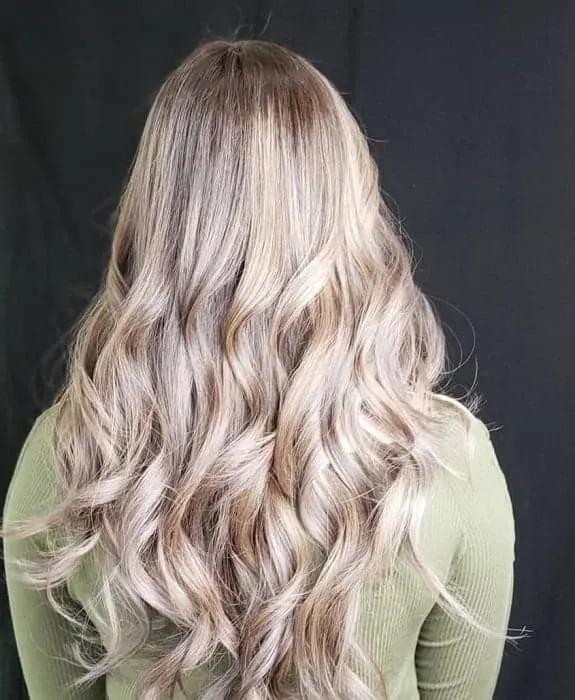 When you are not sure about dying your whole hair in blonde, then make a small transition with ombre technique. Blonde wavy hair and layers always make a perfect combination.
FAQs on Blonde Wavy Hairstyles
Can blonde dye make thin wavy hair look thicker?
The blonde dye itself can't make your hair look thicker, but if you opt for ombre or balayage technique you can definitely achieve what you want. Add a bit of contouring around your face and make your ends look lighter.
Does blonde wavy hair suits women of all ages?
Of course! You can wear wavy hair blonde no matter how old are you. From platinum to honey blonde – you can opt for any dye at any period of your life.
Which haircut looks good on blonde wavy hair?
It is well known that long wavy blonde hair looks absolutely amazing. If you add a few layers even better. You should also go with bob and lob haircuts.

They are great for blonde hair as well. Brave girls should try blonde pixie haircuts – everybody will be amazed by the results.
With just a few tricks you can achieve amazing blonde wavy hair. Now, you have learned how to make waves, as well as straighten your hair when you wish for something different.
Always take care of your blonde hair and there won't be any problems. After all, blondies always gain much more comments than all others.
You May Also Like