Although the icy blonde hair trend is still popular, yellow blonde hair is coming back strong. Instead of making your hair color as light as possible, a yellow blonde look strives for a warm golden tone.
Yellow blonde evokes sunny summer days, classic Barbie doll styles, and feminine glamor. The color works well for practically all hair lengths and textures and can be lower maintenance than a platinum blonde look.
Furthermore, opting for a yellow shade blonde usually requires less harsh bleaching and is healthier for your hair. If your natural hair color is light, you may not need any bleach to achieve the desired effect.
Is Yellow Blonde Hair Natural?
Yellow blonde hair is very rarely a natural hair color. All-natural blonde hair has shades of yellow in it, but the extremely yellow blonde hair is always the result of an intentional or accidental chemical reaction.
Natural blondes may experience yellow tones in their hair if they are over-exposed to chlorine or if their hair has been damaged by the sun. In those cases, natural blondes can also use purple shampoo to lift the yellow tones.
My Hair Is Too Yellow Blonde, What To Do?
It's a common predicament for a blonde dye job to end up too yellow, especially if your original hair color is dark. Dark hair that hasn't been properly bleached will prevent the blonde hair dye from appearing purely blonde. Dark undertones will create a yellow or brassy appearance.
Luckily, there are a couple of strategies for fixing blonde hair that is too yellow. One easy option is to use purple shampoo or conditioner. Treating your hair with a small amount of purple pigment will tone down the yellow color and help your hair have a more natural blonde appearance.
Another option is to try bleaching your hair again. Unless you have naturally light hair, you will need multiple rounds of bleaching to get your hair to a blonde color. If you are trying to lift your hair from a dark color to a blonde, you should work with a professional colorist.
Bleaching your hair can cause significant damage. An experienced professional will know which products are best to use and how to space out your bleaching sessions to avoid excessive damage. Your hair colorist can also recommend which post-bleaching products are best for your particular hair type.
How Can You Tone Down Yellow Blonde Hair
If you are okay with your yellow blonde hair and only want to tone it down, using purple shampoo and conditioner is your best option.
To maintain your yellow blonde hair for longer, invest in a high-quality purple shampoo. This shampoo is intended to tone your hair color, so you should still be using a regular cleansing shampoo as well.
Depending on your hair color, you may want to use the purple shampoo once or twice a week, or less if you prefer a more yellow tone. If you use purple shampoo too often you will lose all of the yellow tones in your hair, and it may even start to turn purple.
When you wash your hair with the purple shampoo, you should leave it for around two to three minutes to let the purple pigmentation work. You should then thoroughly rinse out your hair with cool water. Colder temperatures will help the color stay in your hair.
Yellow Blonde Hairstyle Ideas
If you need inspiration on yellow blonde hairstyles, look no further. Read on for 13 fabulous yellow blonde styles.
1. Subtle Melt Down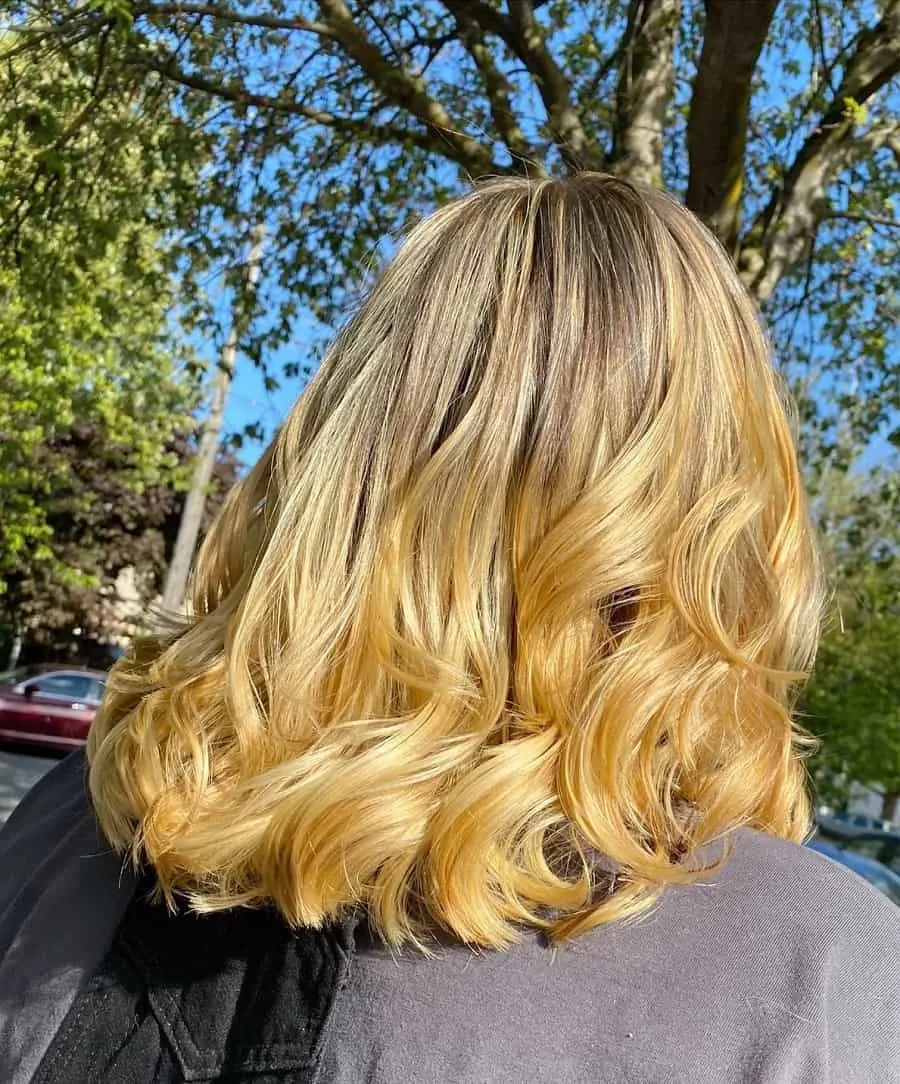 Wear a fabulous yellow blonde hue with utmost confidence by melting down the vanilla blonde top seamlessly into the yellow tinge while reaching the ends. Add loose waves to the medium-length lob to set off this subtle gradient hair look.
2. Sandy Blonde Highlights
Another way to amp up your yellow-tinted medium hair is by taking chunky strands all over the head and lightening them down into a sandy blonde shade to create a subtle highlighted effect. Go for curtain bangs to finish off this hairstyle.
3. Sassy Pixie Cut
Couple a sassy short pixie haircut with yellow hair for a lively appeal. The strands are chopped into wavy layers with a longer side-swept front fringe. This style is ideal for ladies who want to flaunt yellow blonde hair intentionally.
4. French Girl Bob
Embrace the yellow hue by going for a French girl bob. Clip the strands to a chin-length straight cut bob with blunt eyebrow-grazing bangs falling on the forehead. This classic look has stood the test of time and goes well with all face shapes.
5. Ombre Look
Flaunt the yellow color on your head by going for an ombre look. The top is kept natural or dyed in a light ash blonde hue that merges into the yellow tinge midway to the ends. This two-toned hair look is ideal for naturally blonde ladies.
6. Bold Buzz Cut
This yellow blonde hairstyle idea is not for the weak-hearted. The hair is buzzed neatly all over the head while a zigzagging line is shaved off on the scalp exposing the skin. This low-maintenance look will surely keep all the eyes on you.
7. Golden Butter Toned
This yellow blonde highlights the golden glow of butter and you can choose to wear your hair long or short. This looks cool in long straight hair or the ones with slightly wavy undertones.
8. Long Gold Yellow Blonde Hair
This is one of the classic textbook styles. It is long layered with waves that have a cascading effect like a waterfall.
Yellow blonde hair can add a warm glow to darker skin tones as well. It lends a vibrant and beach-like vibe to your personality. Quite contrary to belief, this blonde shade looks good on a wide range of skin tones including neutral, dark and medium dark.
This is a kind of bob hairstyle which is both functional and stylish all at once. It celebrates the yellow blonde look and the naturally wavy fall. In many ways, it seeks to combine a classic style and a conventional blonde look.
If you can wear your hair relatively short, this medium length haircut brings out the natural glow of your yellow blonde tresses and lightens up your face with its understated glow.
This wavy shoulder-length hairstyle with side swept bangs creates an intensely seductive look. It is all about creating a smoldering look that is hard to ignore.
The golden glow of these short blonde hair coupled with the side bangs adds a radiant glow to your face. It is chic, smart, and absolutely stunning in every possible way.
What Does Purple Shampoo Do to Yellow Blonde Hair
Purple shampoo lifts some of the yellow tones out of blonde hair. As the name implies, purple shampoo is a color-toning shampoo with purple pigment. It is meant specifically for neutralizing the yellow color in the hair.
To understand how this works, think about the color wheel. A basic color wheel consists of primary colors (red, yellow, and blue) and secondary colors (green, purple, and orange). Each primary color sits directly opposite a secondary color. These color pairs are called complementary colors. When complementary colors are combined, they cancel each other out.
Purple is a complementary color to yellow. If you mix purple and yellow paint, you will get a gray or brown color. If you add a small amount of purple pigment to yellow blonde hair, the hair will become more neutral, almost as if you added a bit of light brown dye.
FAQs On Yellow Blonde Hair
Here are answers to some of the most frequently asked questions about dealing with yellow blonde hair.
What level is yellow blonde hair?
The level for yellow blonde hair depends on the look you are trying to achieve. Yellow blonde hair describes a hair color aesthetic more than it describes a specific shade of hair dye. Most yellow blonde dye jobs will be anywhere from level seven to level nine, which falls in the dark blonde to the light blonde range.

When picking your color for yellow blonde hair, consider your skin tone, eye color, and natural hair color. You will want to avoid a hair color that will require excessive bleaching, as well as a shade of yellow that flatters your coloring.
Why does blonde hair turn yellow?
Blonde hair can turn yellow for several reasons. A common cause is improper bleaching. If your dark hair isn't bleached enough before applying the blonde dye, the darker tones will still come through and create a blonde appearance.

Similarly, the darker yellow tones in your hair will begin to appear when it has been a long time since your last color treatment.

Blonde hair can also turn yellow due to environmental factors. Exposure to minerals in water, sun and heat damage, and chlorine can cause blonde hair to take on a yellow tone.
What's the difference between a yellow blonde and an orange blonde?
Yellow blonde hair has a more golden hue, whereas orange blonde hair will have a warm, honey-like appearance.

Orange tones in blonde hair can also be caused by bleaching issues or environmental damage.
Do I need toner for yellow blonde hair?
A toner is a necessity to remove the brassy shades. It ensures that the yellow color retains its natural glow and is not overpowered by the orange undertones of color that might have remained.

The toning helps somber down the color and neutralize the undertones to pleasant levels. Moreover, it ensures that the yellow blonde hair is not overpowered by any of the residual color tones.
How can I make blonde hair long lasting?
If you want to make blonde hair long-lasting, it needs a regular care regime from serum, hair mask and washes at regular intervals to touch-ups every few weeks. If you do not have naturally blonde hair, you may need to reapply anywhere between 4-12 weeks.

It, however, depends on how dark or a light shade of blonde you prefer. Needless to mention, the blondes that are closer to platinum white are most difficult to achieve and need significantly more care and conditioning.

But overall, make sure that you are able to offset the impact of the damage done due to bleaching and application of other chemicals.
What toner to use for yellow blonde?
Use a purple toner for yellow blonde hair. Even using a purple shampoo a few times a month will help preserve your blonde hair color.

If you want to keep your hair a trendy yellow blonde color use purple toner sparingly. You will want to use purple shampoo enough that your hair doesn't become brassy. If you use it too frequently your hair will lose the yellow entirely and your hair will become a more neutral blonde
Amazing Light and White Blonde Hairstyles for Women
The yellow blonde hair is perhaps one of the most conventional blonde shades and is back in flavor once again. Blondes are traditionally high maintenance hairstyles, but the yellow one needs special care.
You need to balance proper care with appropriate toning for the best results. That is how it can help bring about the best shade with a proper glow. That will help smoothen and keep the shine of the yellow blonde intact.
You May Also Like