The yellow blonde hair is back with a bang. These light golden warm tones can bring a distinct vibrancy to your face and create a beach-like vibe even on an icy cold day. But getting the right shade of blonde is a gradual process and tricky too.
Yellow Blonde Hairstyle Ideas
1.
2.
3.
4.
5.
6.
7. Golden Butter Toned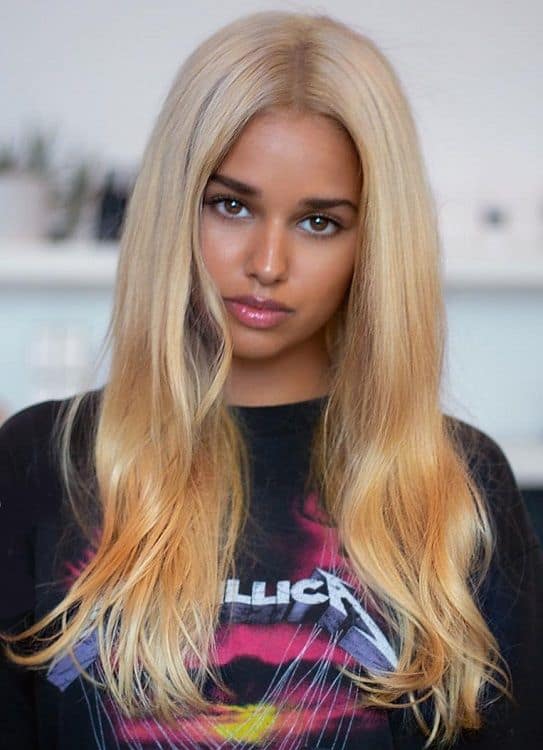 This yellow blonde highlights the golden glow of butter and you can choose to wear your hair long or short. This looks cool in long straight hair or the ones with slightly wavy undertones.
8. Long Gold Yellow Blonde Hair
This is one of the classic textbook styles. It is long layered with waves that have a cascading effect like a waterfall.
Yellow blonde hair can add a warm glow to darker skin tones as well. It lends a vibrant and beach-like vibe to your personality. Quite contrary to belief, this blonde shade looks good on a wide range of skin tones including neutral, dark and medium dark.
This is a kind of bob hairstyle which is both functional and stylish all at once. It celebrates the yellow blonde look and the naturally wavy fall. In many ways, it seeks to combine a classic style and a conventional blonde look.
If you can wear your hair relatively short, this medium length haircut brings out the natural glow of your yellow blonde tresses and lightens up your face with its understated glow.
This wavy shoulder-length hairstyle with side swept bangs creates an intensely seductive look. It is all about creating a smoldering look that is hard to ignore.
The golden glow of these short blonde hair coupled with the side bangs adds a radiant glow to your face. It is chic, smart and absolutely stunning in every possible way.
How to Fix Yellow Hair After Bleaching
But the yellow blonde hairstyle needs a lot of care and conditioning. Fixing yellow hair after bleaching is by far one of the toughest challenges around. As the bleaching process gets done, the hair turns into different shades of pale yellow and yellow.
In case, you have dark shades, it is almost impossible to have it completely bleached. But that does not mean you end up over-bleaching your hair.
You can use the toner to remove the yellow tones if they appear after the wash. That is one of the best ways to avoid brassy shades and helps keep the actual color bright and vivacious.
FAQs On Yellow Blonde Hair
Do You Need Toner for Yellow Blonde hair?
A toner is a necessity to remove the brassy shades. It ensures that the yellow color retains its natural glow and is not overpowered by the orange undertones of color that might have remained.
The toning helps somber down the color and neutralize the undertones to pleasant levels. Moreover, it ensures that the yellow blonde hair is not overpowered by any of the residual color tones.
How Can You Make Blonde Hair Long Lasting?
If you want to make blonde hair long-lasting, it needs a regular care regime from serum, hair mask and washes at regular intervals to touch-ups every few weeks. If you do not have naturally blonde hair, you may need to reapply anywhere between 4-12 weeks. It, however, depends on how dark or a light shade of blonde you prefer.
Needless to mention, the blondes that are closer to platinum white are most difficult to achieve and need significantly more care and conditioning. But overall, make sure that you are able to offset the impact of the damage done due to bleaching and application of other chemicals.
Amazing Light and White Blonde Hairstyles for Women
The yellow blonde hair is perhaps one of the most conventional blonde shades and is back in flavor once again. Blondes are traditionally high maintenance hairstyles, but the yellow one needs special care.
You need to balance proper care with appropriate toning for the best results. That is how it can help bring about the best shade with a proper glow. That will help smoothen and keep the shine of the yellow blonde intact.