Whether you're an NBA enthusiast or a casual watcher, you must have noticed the ever-changing hairstyles of the Los Angeles Lakers power forward Anthony Davis.
Since his NBA debut in 2012 and until today, Anthony Davis has rocked endless hairstyles that all showcase his facial features and personality.
Sometimes you see him with simple cornrows; the other game, he rocks a faded afro.
While Davis is highly regarded as one of the best NBA power forwards of all time, we're here to talk a bit about the evolution of his haircuts.
So let's take a glimpse into his stellar basketball career and some of the best haircuts of Anthony Davis throughout the journey.
Anthony Davis' Career Glimpse
Anthony Davis is an American basketball player who plays as a center and power forward for the Los Angeles Lakers.
Before his debut in 2012, Davis had an outstanding career with the Kentucky Wildcats, leading them to win the NCAA championship in 2012. In the same season, Davis won multiple awards, including the following:
NCAA Final Four Most Outstanding Player
NCAA blocks leader
National College Player of the Year
Following his astonishing performance in college, Anthony Davis was the first overall pick in the 2012 NBA draft by the New Orleans Hornets.
Davis's early days with the Hornets were somewhat shaky because of his injuries, however, every time he played, he had great scores and proved his potential.
The next season was exceptional for Davis as he became an NBA All-Star and had the most blocked shots per game in the NBA.
Davis didn't disappoint on the international level; he won two gold medals with the United States national team.
First, in the 2012 Olympics with Kevin Durant, Russell Westbrook, James Harden, and others; and next in the 2014 FIBA Basketball World Cup with Steph Curry, Kyrie Irving, and more.
Anthony Davis's career took a huge turn in 2019 when he was traded to the Lakers, forming a formidable duo with Lebron James. He played a crucial role and helped the Lakers win the NBA championship in 2020.
Best Anthony Davis Haircuts
Anthony Davis is notorious for his versatility as a power forward or a center player. But he is not only versatile in terms of position but he's also known for his hairstyles that have become trendy among men.
1. Faded Afro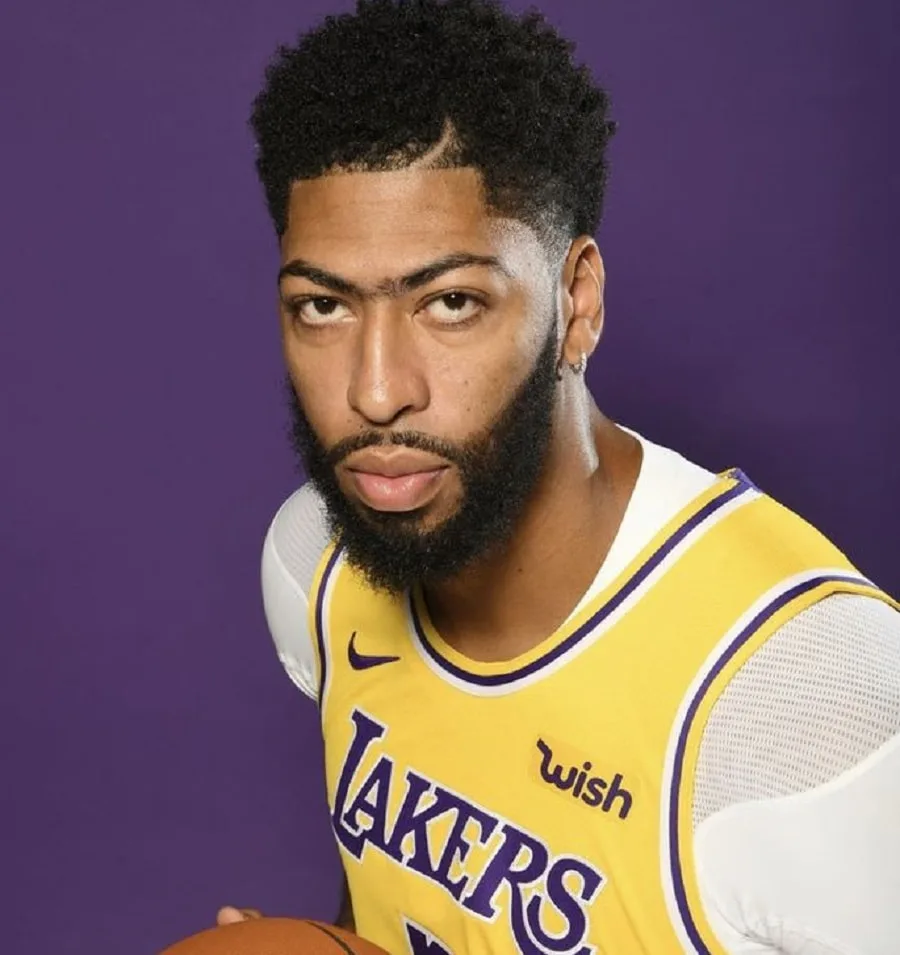 The Lakers power forward has rocked different variations of the afro haircut throughout his career. It looks great on Davis mainly because he has long, rounded top hair.
The faded afro combines the classic afro hairstyle with the modern fade, providing a gradual transition from the long top hair to the shorter hair on the back and sides.
Furthermore, the faded afro is a versatile haircut that suits many face shapes and personalities. Why? Because there are many variations and styles that can be added to this haircut to make it extra special.
For example, if you want a more classic look, go for a low-tapered afro, as it's more appropriate for business settings.
On the other hand, going for a high-tapered afro might be the better option if you have curly hair.
2. Cornrows
Speaking about Anthony Davis's haircuts, we can't help but mention his iconic cornrow braids. Davis was notorious for his unibrow cornrows during his time with the New Orleans Pelicans.
Rocked by various celebrities such as David Beckham, Drake, Stephen Curry, and more, cornrows are stylish and can last up to six weeks with no maintenance.
Throughout his career, Anthony Davis has rocked different cornrows styles such as zig-zag, faded, and braids with a side part.
3. Box Braids
Another distinctive hairstyle worn by Anthony Davis is the box braids. These thick and large braids are often created using synthetic hair extensions.
The Lakers power forward has rocked various box braids styles, including short and long ones. He has also been spotted sporting other types of braids, including down, half-up, top knot, and half-down boxed braids.
To elevate the look of his iconic box braids, Davis often incorporated blue and blonde highlights, adding a touch of color to his look.
On top of being a stylish and unique hairstyle, boxed braids are long-lasting; they're a protective hairstyle that can last up to six weeks.
Additionally, they add more volume and length to Davis's overall appearance.
4. Two Braids
Anthony Davis's love for unique hairstyles is inevitable. It looks like the traditional two braids weren't cool enough for him, so he went for the off-scalp braids.
This special hairstyle offers various benefits, such as longevity and low maintenance. On top of that, these braids are flexible as they can be styled as left-down, half-down, half-up, or a high ponytail.
If you opt for two crown braids, there are some things to consider. One essential step is to ensure your scalp is always hydrated to avoid hair damage.
Consider using moisturizing shampoos to prevent losing moisture. You should also minimize braiding to reduce the risk of breakage and hair loss when wearing off-scalp braids.
5. Twisted Dreadlocks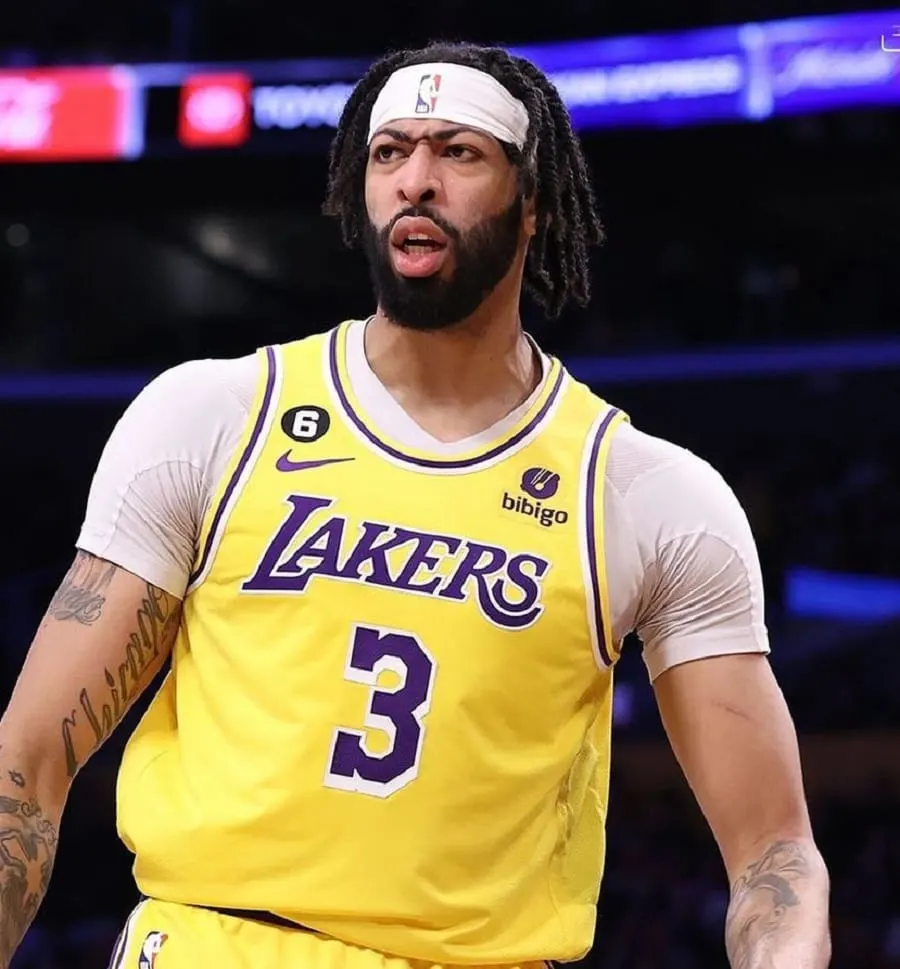 Twisted dreadlocks are another iconic hairstyle sported by Anthony Davis. This hairstyle involves twisting two thick hair sections around each other, creating rope-like structures. The ends are then tied to twisted dreadlocks.
If you want a versatile, low-maintenance haircut, twisted dreadlocks might be the go. For short hair, you can use extensions for better dreads. Meanwhile, if your hair is long enough, you can split it into segments and twist each individually.
Davis has sported variations of twisted dreadlocks, such as half-up, down, and top-braided knot styles.
6. The Unibrow
We can't be talking about Anthony Davis and neglect his iconic unibrow. You might have asked yourself, why he don't just shave it?
Well, he tried. In his sophomore year, Davis says that he got bullied by his teammates for his unibrow. He shaved it once, but it grew back much thicker.
But guess what? Keeping the unibrow was probably one of the best decisions he made in his career.
The unibrow has gained popularity as much as Davis, becoming a trademark for the Lakers' star. In 2012, Davis went for iconic phrases such as "Raise the Brow" and "Fear the Brow."
From making a unibrow-related nickname for himself to shooting commercials that revolved around the same idea, it looks like Davis did a decent job keeping his unibrow.
Who would have thought someone would create a trademark similar to Kobe Bryant's "Black Mamba" relying on their unibrows?
Anthony Davis is indeed one of the best power forwards in the history of the NBA. Since his start with the New Orleans Hornets and until today, Anthony Davis has sported various haircuts that complement his technical skills and character.
Whether he's rocking cornrows, off-scalp braids, twisted dreadlocks, or box braids, Anthony Davis haircuts never fail to impress the NBA community.
Trending Topic